Our reviews
Due to a strong demand, the New Balance 890 model is now back with promising techs and appealing design.
The New Balance 890 v6 features significant updates from the upper to the outsole.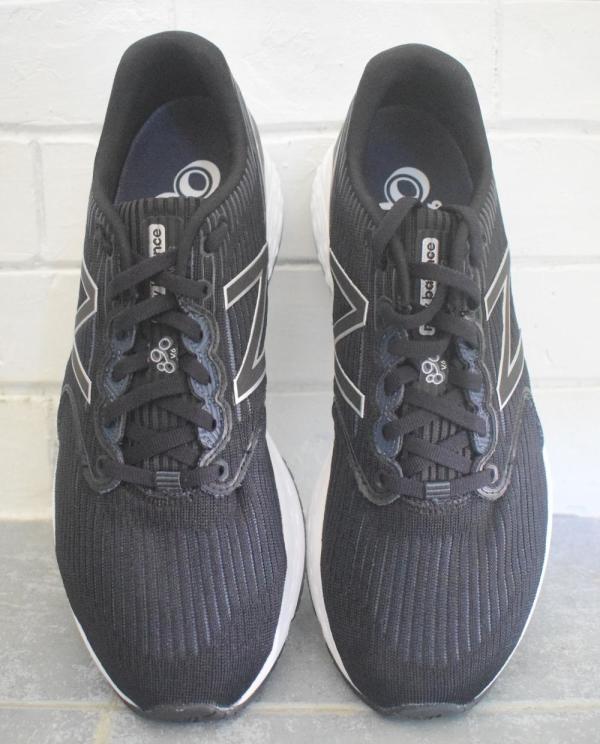 First Impression
Personally, I think the 6th version of the New Balance 890 has a more appealing design. I like the lightweight design and the changes in the upper that obviously can give the foot a very breathable coverage.
I haven't tried the older version of the shoe, but the techs incorporated into this version are promising enough to encourage me to try the model.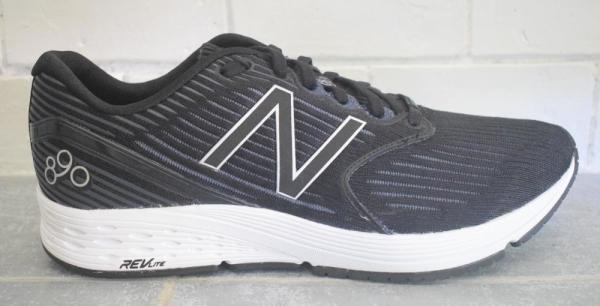 Comfort and Breathability
The upper of the New Balance 890 v6 uses a no-sew engineered mesh material that is breathable, keeping the foot well-ventilated. It is also stretchable enough to give the foot a comfortable fit.
The bootie construction offers a comfortable, smooth in-shoe feel. Since the materials are in no-sew design, the likelihood of developing blisters and irritations is reduced.
Fit
I usually wear a size 9 and so far, my other New Balance shoes fit perfectly on me.
But with the New Balance 890 v6, I find the fit a bit tight and the sizing to be small. I had to go a half-size up and lucky me, half sizes are available.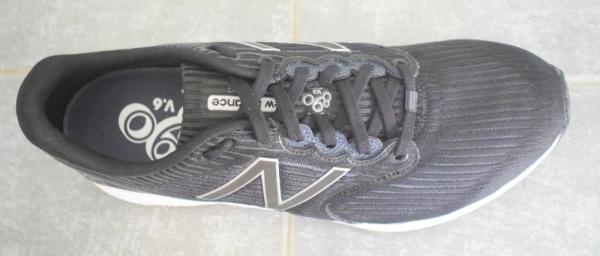 However, despite going a half-size larger, the overall fit of the shoe is still tight. It is tight in the heel and forefoot area. The toe-box is not roomy as well. I have big toes and I want them to have enough to move freely while I'm running.
Not to brag, but I also own several Brooks running shoes and they fit awesomely comfortable!
Ride Quality of the New Balance 890 v6
I initially thought that the New Balance 890 v6 is an amazing shoe when it comes road performance. I was disappointed – not really heart broken but a bit disappointed.
The cushioning is too firm for my preference and it is less responsive. I can't wear this shoe for a long period or for long distance runs. I was expecting this shoe to give me the bounce and flexibility I need for a more satisfying experience.
The ride quality of the 890 v6 is too firm, but the traction performs incredibly well. The shoe features a blown rubber material in its outsole with light tread patterns.
The shoe delivers the right amount of grip I needed on the road. The traction is indeed unquestionable.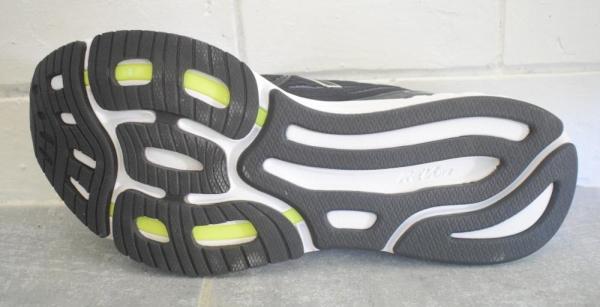 Durability
When it comes to the durability aspect, the newest version of the New Balance 890 is impressive. Everything, from the upper mesh to the rubber outsole material, is so durable.
All materials are of premium quality and the entire shoe is well-constructed. The upper still looks brand new and there are no signs of significant wear on the outsole after using it for a few miles.
Review Summary of the New Balance 890 v6
Good Points
Lightweight
Durable design
Breathable upper
Reliable traction
Bad Points
Too firm cushioning
Tight fitting
Verdict
My overall experience was not really bad despite the firm cushioning. It is a huge plus that the shoe is lightweight and durable.
Maybe some runners will find the cushioning enough (not too firm, not too soft) for their liking, so it is still worthy to give the New Balance 890 v6 a try.
Prism, offering more cushioning and shock absorption than both.
This shoe features a knitted upper that stretches well with wear. For the amount of cushioning that this shoe offers, it is remarkably lightweight and this is very noticeable during faster runs. The 890v6 is well thought out and versatile over many types of workouts.
Fit
The 890 v6 fits true to size lengthwise and has a knitted upper material that accommodates a wider foot.
The material will only stretch as far as needed, so average footers won't find this shoe exceedingly wide. This shoe was the perfect fit for me once it was broken in a tad.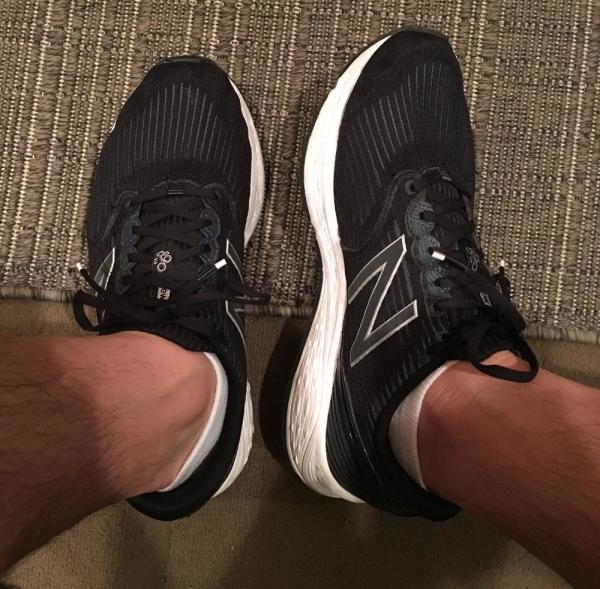 Value
The 890 v6 sits at $160 CAD retail and is at an above average price for running shoes. The fit and comfort of this shoe justify the slightly high price, as well as the shoe's versatility.
I, however, think this shoes upper is what makes it a good value purchase. This is the first time I've tried a shoe where the knit feels durable and stretches around my foot while still remaining snug.
Performance
The 890 v6 was at first very stiff and uncomfortable. While firmness isn't a bad thing for tempo and speed runs, this shoe was exceedingly firm and caused some heel pain during my first run. The knit upper also felt slightly abrasive against my foot.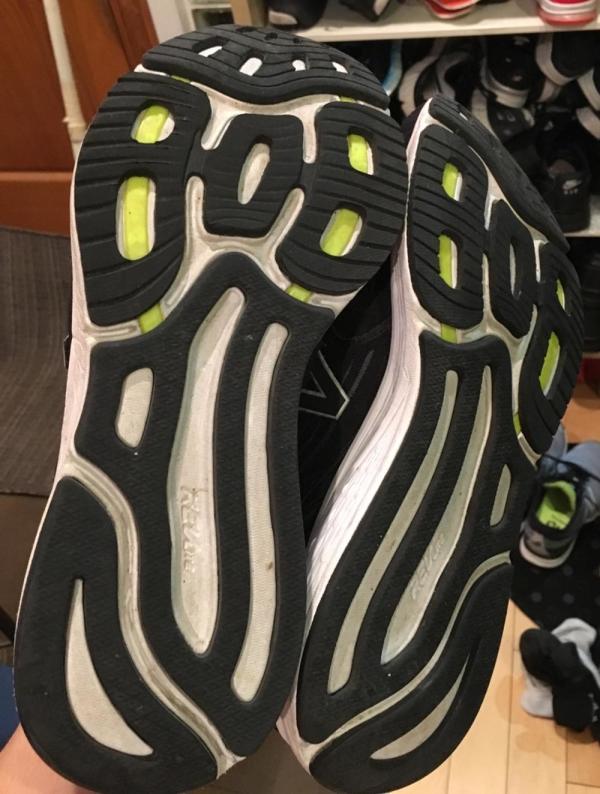 Needless to say, I was not too happy with this shoe during the first week of wearing them. RevLite usually breaks in well though, so I decided to give them a few more chances to impress me. Lucky that I did, as they have become my go-to runner for a wide range of distances.
Like Fine Wine
After about 2 weeks of moderate wear, around 40km of varying intensities, the shoe began to really soften up.
The midsole felt bouncier and more responsive while also providing enough cushioning to prevent heel pain.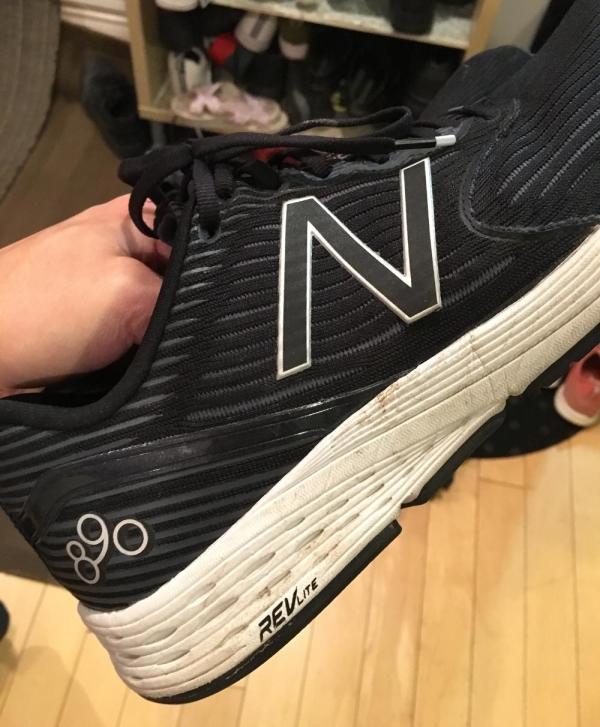 The knit upper also softened up, molding to my foot well enough that I hardly feel it there. The 890s are additionally extremely lightweight, and I use them exclusively for my tempo runs.
It's very rare for my opinion to make such a quick 180, but the difference between a pair that is fresh out of the box and a bit pre-loved is tremendous. My advice to others considering this shoe is to not judge it by how it feels in store, but just to buy the shoes and abuse them for a bit.
If I may nitpick...
These shoes feel great currently, but there is one thing that annoys me from time to time. There is a seam in the front of the toebox that sticks out a tad.
Sometimes my toes get caught in that seam and I have to adjust my stride a bit to free them up again. It's nothing major, but if it was fixed then the 890v6 would be nearly perfect in my books. I plan to get at least one more pair of these.
Overall
The New Balance 890 v6 has turned out to be the perfect shoe for my needs. It combines great cushioning with versatility and a great upper design.
I highly recommend it to anyone wanting a lightweight yet comfortable running shoe.
The New Balance 890 v6 is the gold standard in terms of being a very smooth ride. This shoe is made to go fast. Since New Balance does have as much notoriety as other brands, I do not recall purchasing one of their shoes in a long time.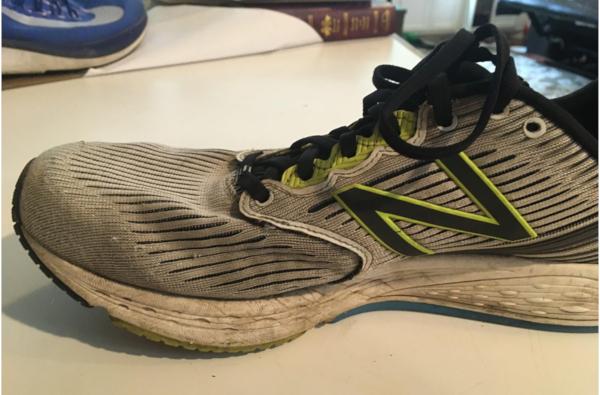 After trying on 8 to 10 shoes at my local store, something stood out when I tried on the New Balance 890 v6. The thing that struck me was how smoothly and easily my foot landed and got off the ground, without any interference from the shoe.
I gained a whole new respect for New Balance and their design team. I ordered the 2E wide version and the fit was nearly perfect.
I used to wear the Asics GT 2000 for years until I grew tired of its stability features. I still remember the sound of my foot slapping the ground as it corrected my imperfect form. As I moved onto neutral shoes like this one, I became to run more naturally and faster.
The smoothness of the ride translates directly into more speed. It is not a lightweight shoe, but it never felt heavy and never slowed me down.
Pros
Versatility
This is a shoe that is just as fast on the road as it is on the trail. The New Balance 890 v6 has an interesting pattern of circles of outsole rubber, which adds to its traction and saves it some weight.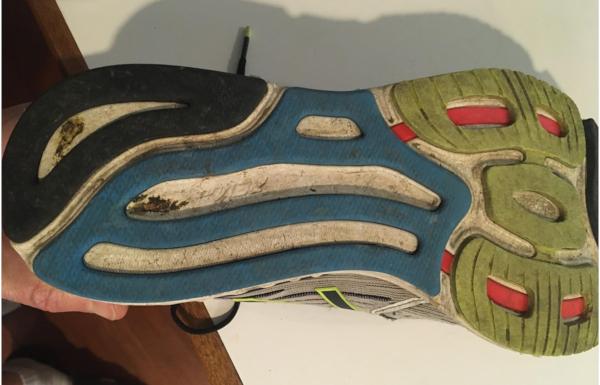 Outsole
It seems like for a shoe to be fast these days, durability has to suffer. Shoes like my beloved Saucony Kinvara have exposed foam outsoles, which make them fast, but difficult to use on trails during cross country season.
What I like about the New Balance 890 v6 is that the shoe is fast but has enough grip to use on the road and on trails.
Laces
It seems like a minor thing, but I absolutely love the laces on these shoes. This was the shoe that made me fall in love with stretchy laces.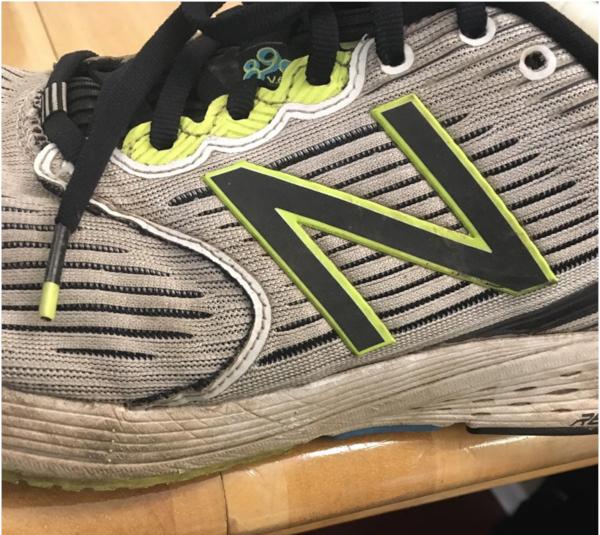 I promised myself when these shoes are ready for the trash can, I will salvage those laces. Another bonus is the seven eyelets for the laces, which provide a very comfortable and secure midfoot lockdown, which my calf muscles are very thankful for.
Durability
Another pro is the durability of this shoe, due in large part to a solid upper and durable outsole rubber. The white upper seems like traditional material that is not exotic or fancy but works well in the rainy Pacific Northwest.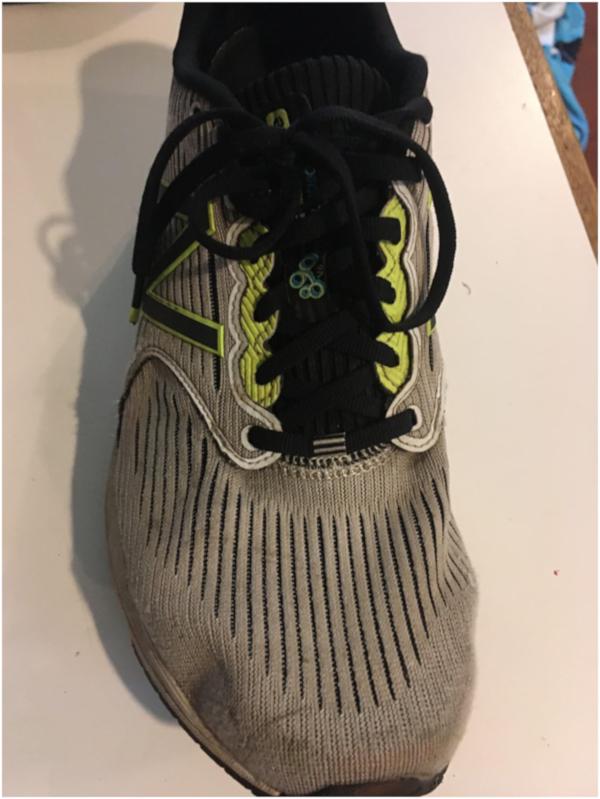 Cons
Cushioning
One of the only cons with the New Balance 890 v6 is the lack of cushioning. When I first tried on this shoe, it felt like there was no cushioning at all. I was a bit worried, but over time, the shoe did break in and I have put many miles on it.
Part of the issue was expectations - as long as you are ready for a responsive ride, I think you will be okay. I don't think I would enjoy running a half marathon in these unless they were a fairly new pair.
Price
Another small con is the price. I think they sell for about $110, which is affordable and worth it, but for that price,
I would hope for a bit more cushioning. I have used them as a daily trainer, but many times I have thought "this shoe needs more cushioning!"
Conclusion
Overall, this shoe lived up to my initial positive first impression in the shoe store. There is a New Balance outlet near my house and I will no longer consider them a cheaper alternative to Nike.
I look forward to trying more of their shoes in the future.
Updates to New Balance 890 v6
The New Balance 890 v6 is an everyday running shoe that's designed for the neutral runner. It makes use of the RevLite foam unit with extra cushioning to deliver more support during extended activities. TPU strips have been placed between the midsole and outsole to encourage a springier lift during the toe-off phase.
A rubber compound is used for the outsole unit of this New Balance shoe. It's fashioned in all areas that are meant to come in contact with the ground. This configuration permits a feeling of balance and control, especially when it comes to the fast and motion-centric nature of running.
A new-sew construction is applied to the upper unit. Such a design prevents irritation or any hot spots from affecting the foot of the wearer. The engineered mesh cover system functions like woven cloth, giving a wrap that's touted to be lightweight and breathable.
Size and fit
The New Balance 890 v6 features a standard shoe length. It is capable of following the preferences of consumers regarding size. The available widths for the women's version are B – Medium and D – Wide while the men's iteration has D – Medium and 2E – Wide. It has a semi-curved structure that can straightforwardly accommodate the natural curvature of the human foot.
Outsole
The outsole has a podular design that covers all the areas of the sole unit that come in contact with the ground. This configuration ensures traction and balance.
Blown rubber shields the midsole from wear and tear. It has a reactive nature that adds a bit of bounce to each step. Moreover, it's constructed to be flexible. The same outsole material is also used in the New Balance 990 v4.
Flex grooves allow the metatarsals to bend and move naturally, particularly when moving towards the toe-off phase of the gait cycle
Midsole
RevLite is a lightweight foam material that aims to support the foot and carry it throughout the activity with ease. The 890 v6 features more of it to heighten impact protection, durability, and long-term comfort.
TPU inserts are placed between the midsole and outsole. These add-ons encourage propulsion, chiefly when lifting off the ground.
Upper
The upper unit of the New Balance 890 v6 makes use of engineered mesh. It has a cloth-like quality that is lightweight, soft and flexible. Ventilation pores allow environmental air to enter the foot-chamber, thus keeping the foot cool and dry.
A no-sew construction is applied to the façade, which makes sure that the foot stays comfortable and free from irritation.
A soft fabric lining hugs the foot in a sock-like manner. It further staves off the potentially injurious effects of hot spots and fabric rubbing.
The tongue and collar are lightly padded. This design allows the shoe to hold the foot in place, preventing it from wobbling or exiting the foot-chamber unintentionally.
Flat laces make up the central lacing system. They snake through eyelets that are reinforced with stitches and printed overlays. They even go through a loop on the tongue unit to keep it in place. An extra pair of eyelets is added near the collar to enable a snugger heel fit when it is needed.
A strip of synthetic material is stitched onto the back of the shoe. The goal of this material is to help in securing the heel and keeping it steady. It also has a shiny texture that allows the runner to be seen in low-light conditions.
Compare popularity
Interactive
Compare the popularity of another shoe to New Balance 890 v6:
New Balance 890 v6 video reviews