Version number 3 of the New Balance FuelCell Rebel is an all-rounder daily trainer that impresses with its ability to cross the line into a performance shoe when needed. It's still surprisingly light and provides an amazing experience on the road. Runners are happy that it hasn't changed that much and the few adjustments are for the better.
Pros
Fantastic soft and fun ride
Versatile for different paces
Very lightweight
Excellent breathability
More stable than version 2
Great lockdown
Visible at night
Not expensive
Cons
Not great on wet surfaces
Durability could be improved
Bottoms out easily
Who should buy New Balance FuelCell Rebel v3
Get this shoe if you seek a super soft, lively ride, and want just one pair of shoes to go at almost all paces. It can be a good choice for race day too. Perfect for runners who prefer to train on short and middle distances.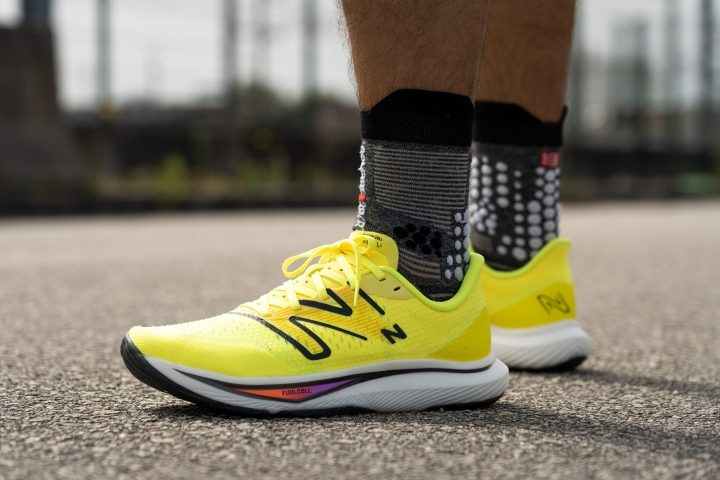 Who should not buy it
Don't buy it if you: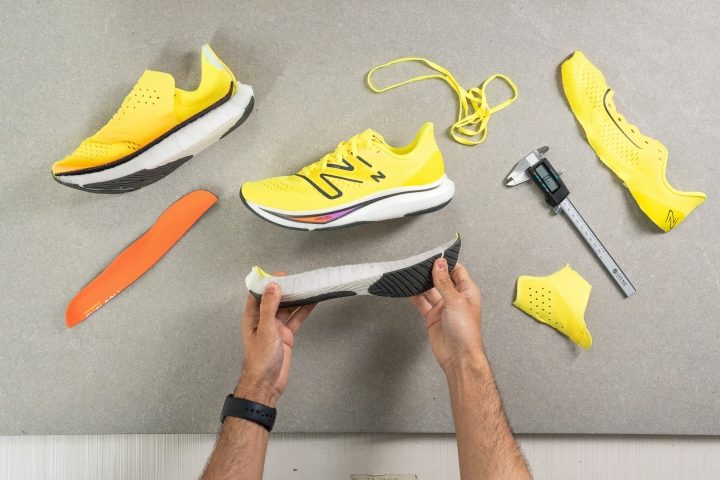 Great airflow in this New
Balance

shoe

No issues were reported regarding the shoe being too warm on summer days.
In fact, the extremely thin knit provides, according to a runner, "a very breathable on-foot experience."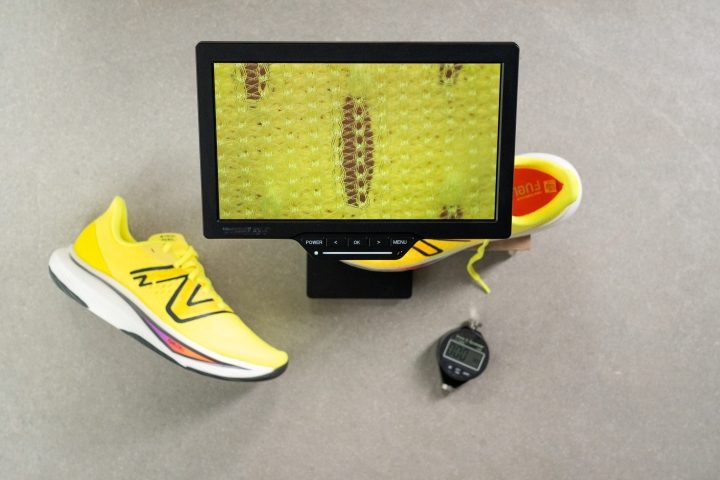 Fact check
The Rebel earned a perfect score (5/5) in our breathability test. To be absolutely certain, we examined the upper under a microscope and discovered that New Balance went above and beyond to promote airflow and heat dissipation. They ingeniously combined a layer of engineered knit with an ultra-thin layer of mesh for structure, without compromising the exceptional breathability in any way.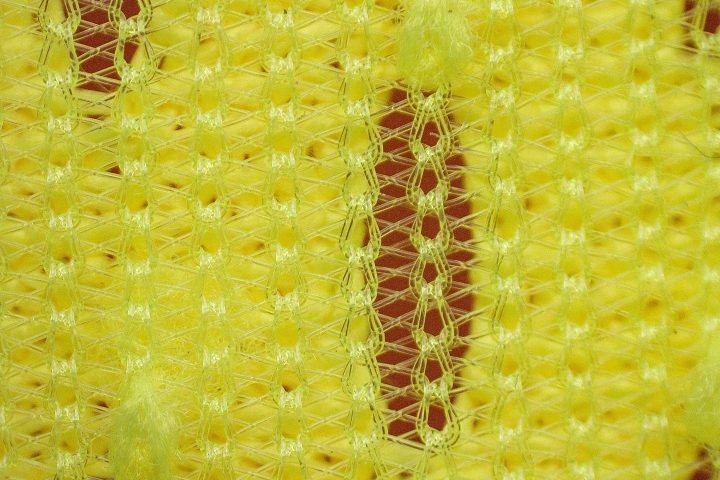 We must applaud NB for their clever design regarding breathability. As demonstrated in the video below, as the light moves toward the heel, less light passes through. This approach provides more structure where needed, without compromising breathability in the forefoot area.
Unfortunately, the trade-off for a soft and breathable upper is durability. This comes as no surprise since constructing a durable and breathable upper requires a rougher knit to resist friction, à la Nike Alphafly Next% 2.
New Balance chose to prioritize comfort, which is understandable as the Rebel is a training shoe, but you should know that this will affect the shoe's longevity.
As you can see, the damage from our standardized Dremel test is pretty evident, although not as scary as with other shoes.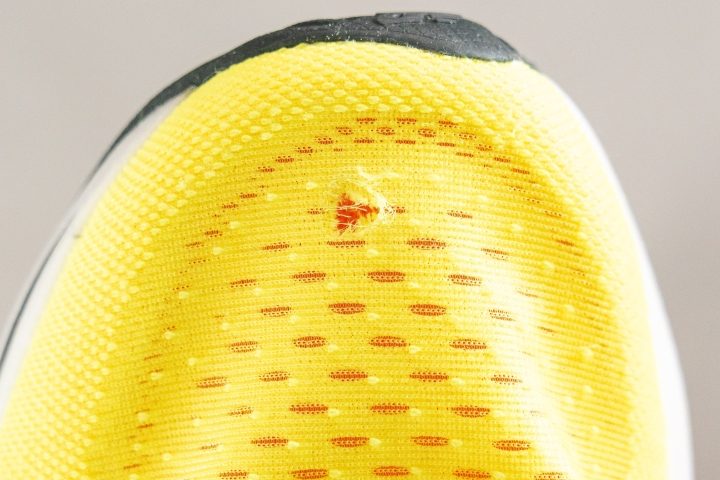 New Balance FuelCell Rebel v3 vs
Rebel v2
According to those who tested it, the major improvements from the previous iteration are found in the platform, which is slightly wider to enhance stability; in the upper, whose design is different; and in the outsole, which now sees more rubber and more resistance.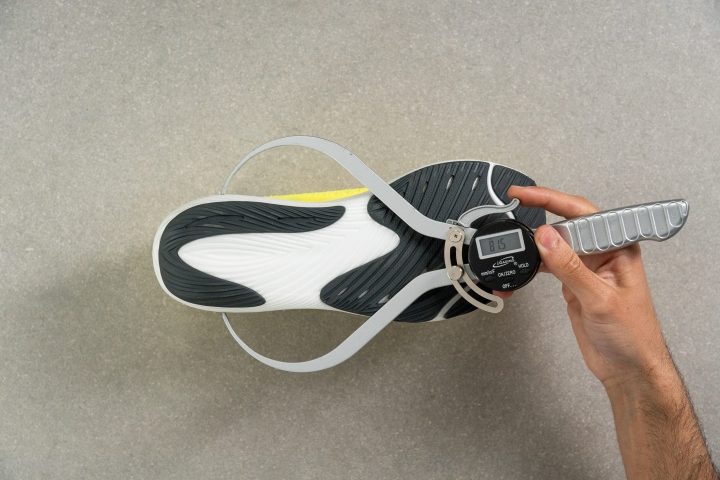 A tester had no doubt about this, it's "one of those trainers that just keeps getting better and better with each update" and another one pointed out that it "should be a part of any serious runner's daily training lineup."
Fact check
While the Rebel v3 felt wider to some testers, our measurements found that it is only 0.1% wider—which is barely noticeable—in the forefoot area. And surprisingly, it's actually 2% narrower in the heel. Overall, you shouldn't experience any significant changes in its landing platform from v2.
The midsole is THE reason to buy it
Probably the best part of the Rebel v3 is the FuelCell nitrogen-infused TPU midsole, which is superlative if you love soft-and-buttery foams. Fans even described it as spongy, responsive, and offers a smooth, natural ride. Those who tested it perfectly put it:
"it just provides an amazing pop"
"perfect blend of cushioning"
the midsole "gives the shoe its magic feel"
"a very unique experience."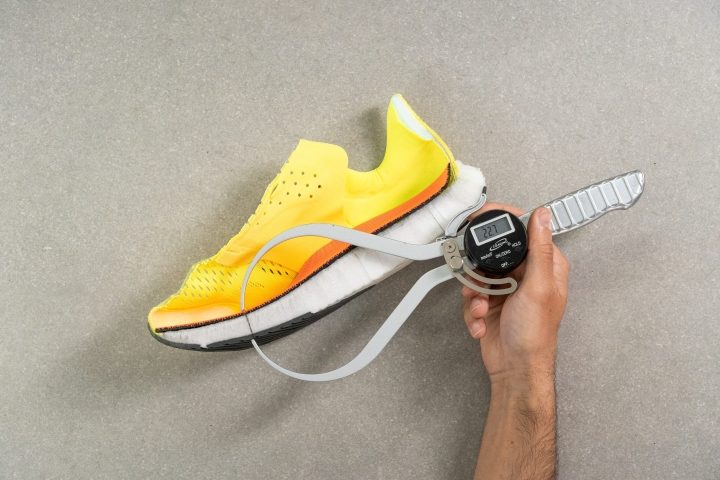 Fact check
New Balance asserts that the heel-to-toe drop of the Rebel v3 is 6 mm. Unfortunately, we disagree. Our meticulous measurements disclosed a stack height of 31.7 mm in the heel and 22.7 mm in the forefoot, resulting in a 9 mm drop. In other words, there's a 33% discrepancy between the brand's claims and the actual measurements.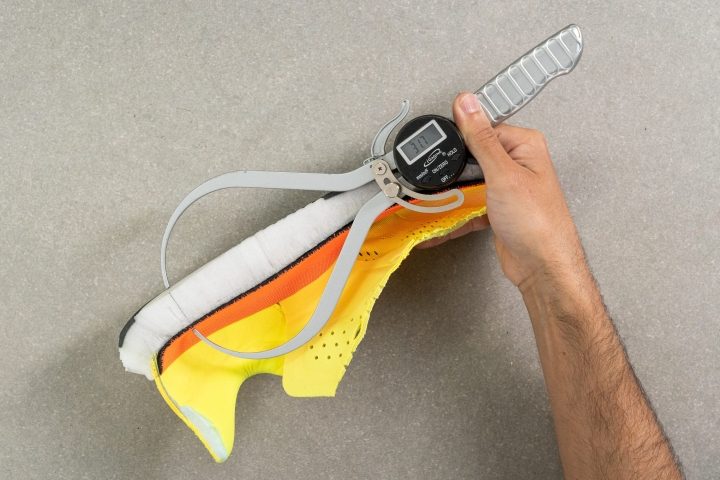 Fact check
The magic of this midsole lies in its softness. We concur with running experts that it's incredibly soft, as our durometer measured it at just 9.5 HA. This means that, out of nearly 200 shoes that have passed through our lab, it ranks as the second softest shoe we've ever tested!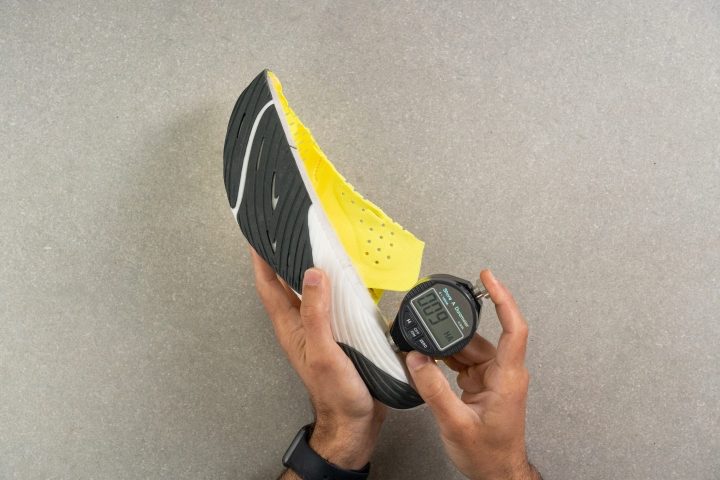 Disclaimer: We calculate the average of four durometer measurements, disregarding any outliers. The photo above shows one of the takes.
The downside of this fluffy midsole is the increased risk of "bottoming out" on it, particularly during summer as the foam gets really soft. If you're not a fan of that ground feel or you have stability issues, this shoe might not be the best choice for you.
Extraordinary flexibility
Flexibility is a polarizing thing in running. While it's undeniable that a stiffer shoe with a plate can elevate performance, for training purposes it's really interesting to stick with a more natural and flexible shoe. And the Rebel is one of the best in this regard.
A tester noted, "The 6mm drop and flexible forefoot make midfoot landing to push off feel extremely natural." In contrast, another one said that it was too flexible for faster workouts: "I find the flexible forefoot of the Rebel v3 a little too relaxed; I crave something stiffer with a plate for speedwork."
Fact check
It's quite clear that this shoe is highly flexible. We rated it 1 out of 5 in both longitudinal and torsional flexibility tests during our manual assessment. It required only 14.4 N of force to bend it to 90º, which is 56.8% less than the average shoe, making it the 6th most flexible shoe we have ever measured out of +190 kicks!
If you want stiffer and firmer ride with similar stack height, take a look at the Adidas Adizero Adios 7 or the carbon-plated NB SC Pacer.
Good lockdown in the Rebel v3
The lacing in this New Balance shoe was particularly appreciated because it works very well. As a runner said, that part is "extremely comfortable and [he] really liked the flat, wide laces."
The same goes for the back of the shoe, where, according to the same runner, the "heel lockdown is magnificent."
In terms of comfort, the tongue truly excels. It's semi-gusseted, not-that-much cushioned, and well-ventilated, providing the perfect combination for a tempo-focused shoe. In fact, a runner said that it "lays perfectly on the top of your foot."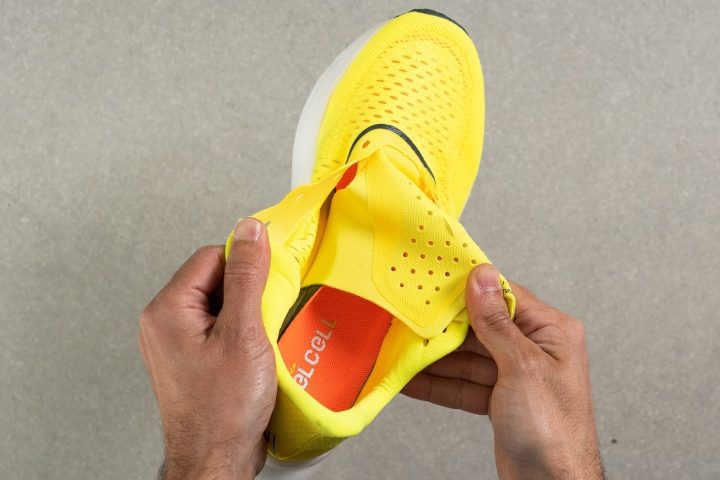 Fact check
A major concern with the previous Rebel model was its paper-thin tongue. This issue has been resolved in the v3, as the tongue is now 81.2% thicker.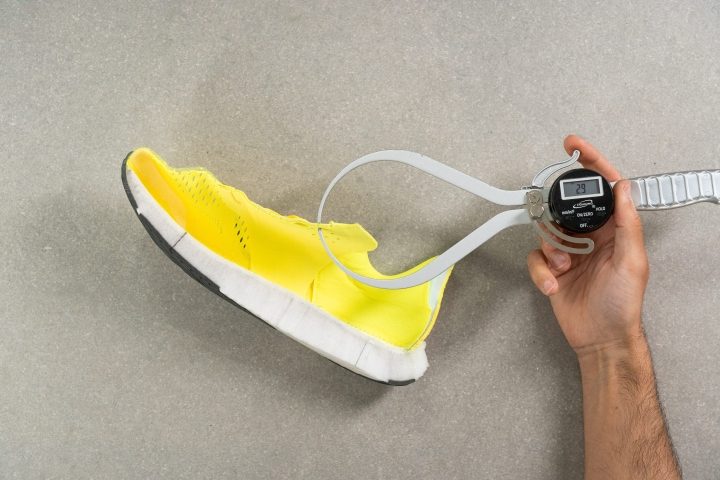 Snug-and-short but not overwhelmingly narrow fit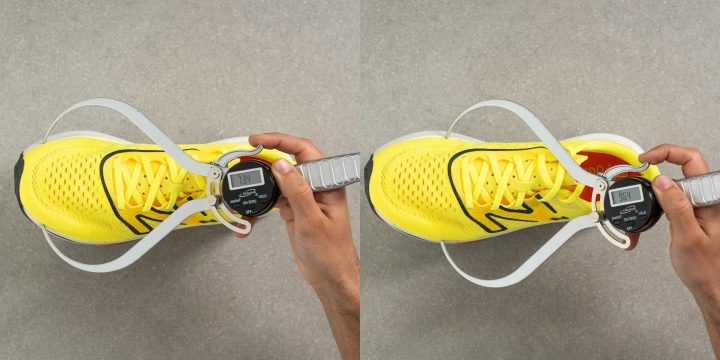 If you make a shoe that should work for everybody, you can't go crazy with the design. That's why New Balance went with a pretty-standard uppers in terms of fit for a tempo shoe. And how do we know that? Let's compare with some similar shoes:
| | | | |
| --- | --- | --- | --- |
| Shoe | Max width (mm) | Big toe measuring point (mm) | Tapers by |
| New Balance FuelCell Rebel v3 | 96.4 | 73.4 | 20.7% |
| Nike ZoomX Streakfly | 95.4 | 77.3 | 19% |
| Adidas Adizero Adios 7 | 99.1 | 67.6 | 31.6% |
| Nike Pegasus Turbo Next Nature | 95.4 | 74.9 | 21.4% |
| Saucony Kinvara 14 | 99.8 | 74.0 | 25.8% |
Embracing the Adizero design, the Adidas shoe is a little bit different, while the others remain fairly typical, resembling most tempo shoes in the shelves. Consequently, if you usually find comfort in most speed training shoes, the Rebel v3 is a safe choice.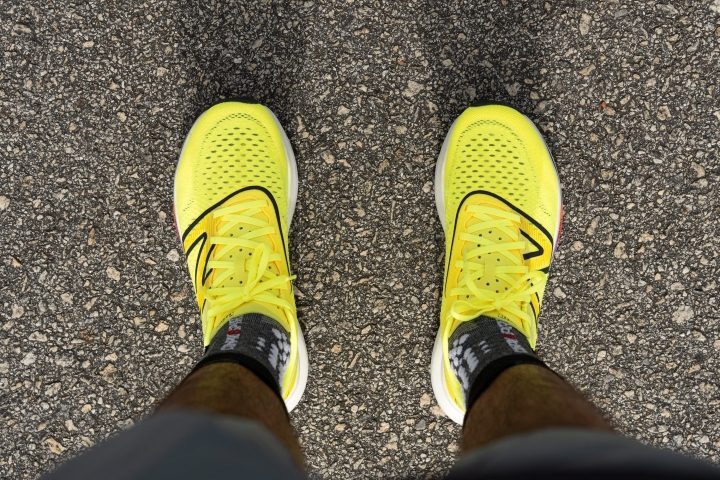 Regarding length, some testers had concerns:
"While the sizing does feel a mite short, going true to size will be the right call for most runners."
"Fit is off, need to size up."
"I was OK in my normal size, but going half a size up would create a more comfortable fit."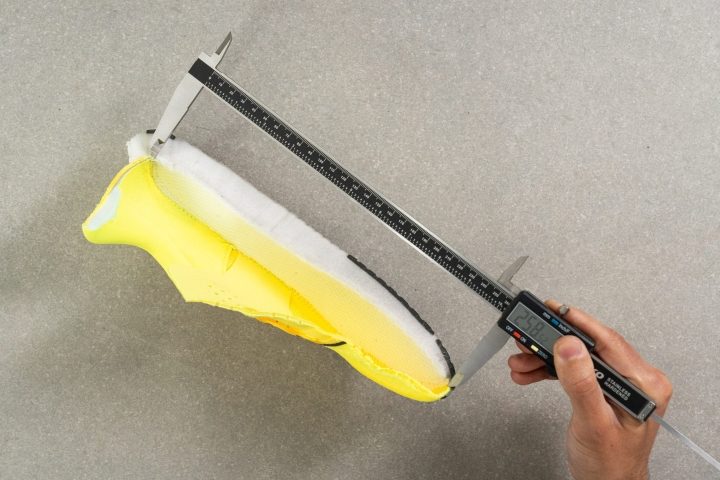 Fact check
Upon measuring the shoe, we can confirm that it runs shorter than usual. In fact, it's 1.3% or 3.4mm shorter than the average shoe. This difference is more substantial than it looks on paper and if you are between numbers, you can consider to go half-size up.
FuelCell Rebel v3 is a fast daily trainer
This New Balance is great for easy runs, but it's "really a shoe that you can use every day of the week," as a runner explained. It can definitely pick up the pace and be ideal for steady, tempo workouts. A tester went further and added that the Rebel v3 "wanted to go fast" and he "had to keep reigning it in." In contrast, is not the best shoe for long-distance runs.
Naturally, don't anticipate any rocker in this shoe And it shouldn't have one, either. It closely resembles a traditional racing flat.
Still work to do on the outsole
One aspect that disappoints in this shoe is the lack of traction in wet conditions, which is just acceptable and for sure is less effective than what we see in other similar shoes. According to an expert, this is because the outsole is quite flat and its lugs are not particularly protruding. Definitely not in the same ballpark as PumaGrip or Continental outsoles.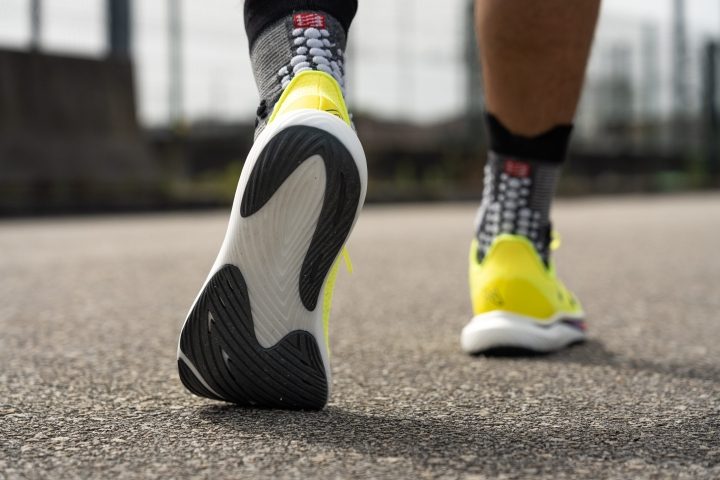 A tester noticed that in version 2 of this shoe the outsole didn't last long at all. This issue has been partly fixed in the Rebel v3 by adding more rubber.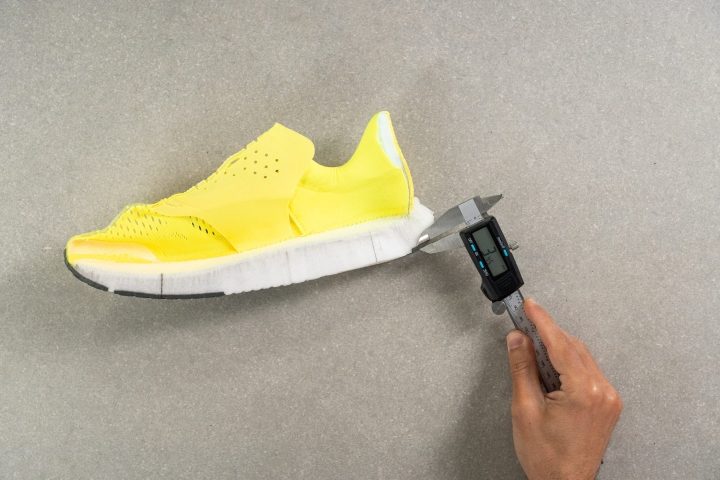 Fact check
While it's true that there is less exposed foam in the v3, the rubber in the outsole is 12.5% thinner than v2.
Yet, according to the same runner, there's still work to do on this part, as it remains a little below the average compared to other road running shoes.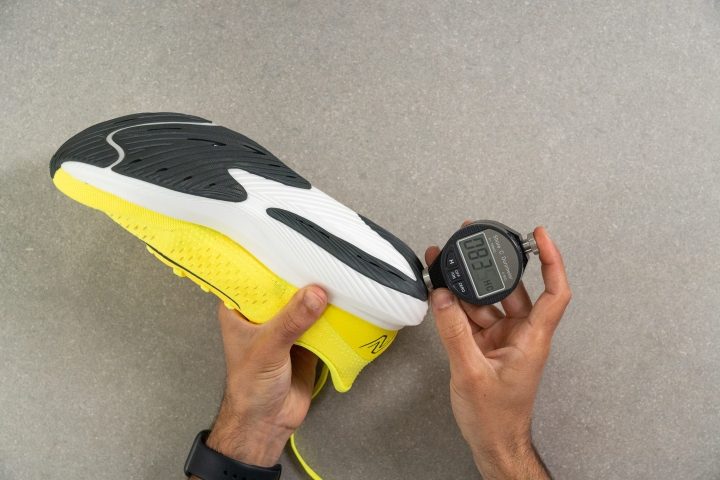 Disclaimer: We calculate the average of 4 durometer measurements, disregarding any outliers. The photo above shows only one of those.
Weight: 9/10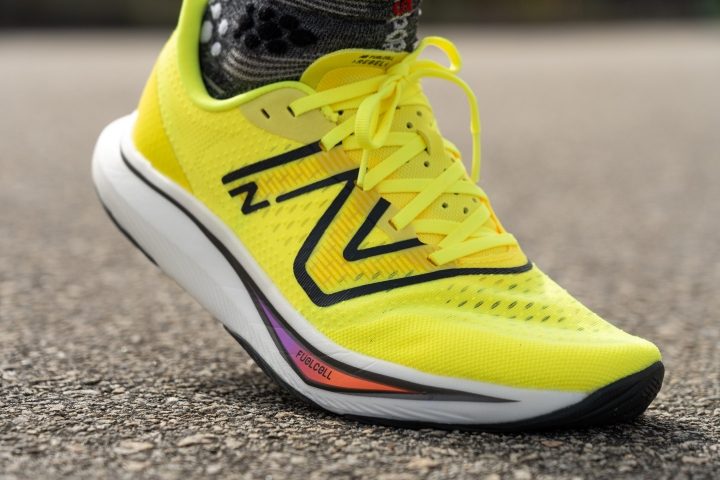 This new version weighs 211g in US size 9, so the Rebel v3 remains an extremely lightweight shoe compared to the average of road running shoes, which is 272g.
New Balance Rebel v3 doesn't c
ost you a fortune
According to a tester, the Rebel v3 is unique in the price too, which is $130. It's very close to the average for a road running shoe ($123), but there are not many shoes on the market that deliver "this much performance, this much responsiveness, this amazing of a foam at this great of a price point."