Easily, the Brooks Hyperion Tempo is a speed training shoe we'd HIGHLY recommend to those who want to run fast! This shoe is everything we could ask for in a speedster - it's light, supportive, and very responsive. It literally pushed us forward! What's even surprising is that it's a comfortable shoe too. Even better, after logging 60 miles, the shoe still looks pristine!
Pros
Very light
Fast shoe
Responsive ride
Secure fit
Breathable
Cons
Stretchy laces
Narrow toebox
Brooks Hyperion Tempo review
Are you ready for speed!? This is the shoe for you. In the speed arena that Nike has dominated recently with little competition, there is finally a worthy competitor.
In the past year, I have probably had 10-15 shoes that I've been running in and these are in the top three. In fact, with all the Brooks I have worn in the past five years, THESE ARE THE BEST!
I just love the simplistic nature of this shoe. It's very straightforward in providing speed. What's even better though is the fact you can still train in these. A wonderful training shoe that is ready for race day if called upon! If you are looking for a speed shoe, go and give these a try. I highly recommend them!
The upper works!
Light, mobile, and secure. The upper excels in functionality and in purpose.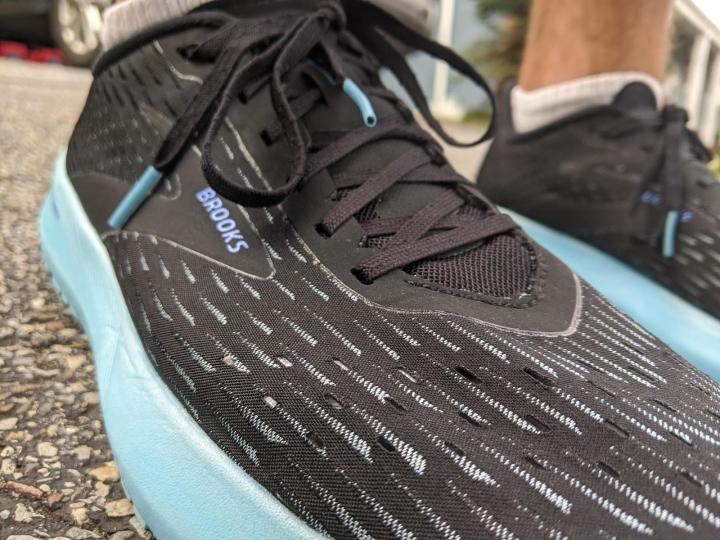 I get an extremely tight lockdown all the while experiencing all the perks of being lightweight to further help push the speed limit. The breathability is phenomenal and is supported by the many mesh-like holes, as you can see in the picture above.
Laces could be improved
The effective system here that isn't fancy. The Hyperion Tempo lacing system allows for a very secure fit. With a thin "racing" tongue comes along strategic padding throughout to help fit and also avoid any hot spots.
The only downside is the stretchy laces. Brooks has added these to many of their shoes and I just don't like it. They end up being too much lace when you tie tightly. Not a big deal considering how great the shoe is but something to note.
Hyperion Tempo gives support minus the bulk
In putting efforts to keep true to the goal of speed, all types of upper-added support you usually see on daily trainers are gone, and it wasn't missed at all.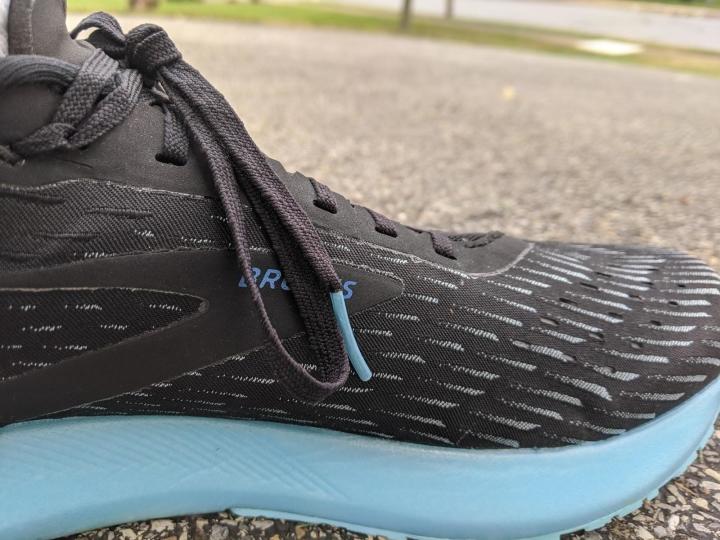 I felt nice and secured in my midfoot during all my runs, ranging from 9:00/mile - 6:00/mile pace. If you are a relatively efficient runner, then you will do great in these.
Could use more room in the toebox
The narrow toe box does not limit performance here but does limit comfort in longer runs. I am a wide-toe-box guy, but if it helps me attain speed, I can look past that. To be fair, I feel the toe box is adequate for the shoe.
Heel stays locked
Coming in at 7.3 oz, you don't expect much upper comfort but Brooks does a great job in these two areas.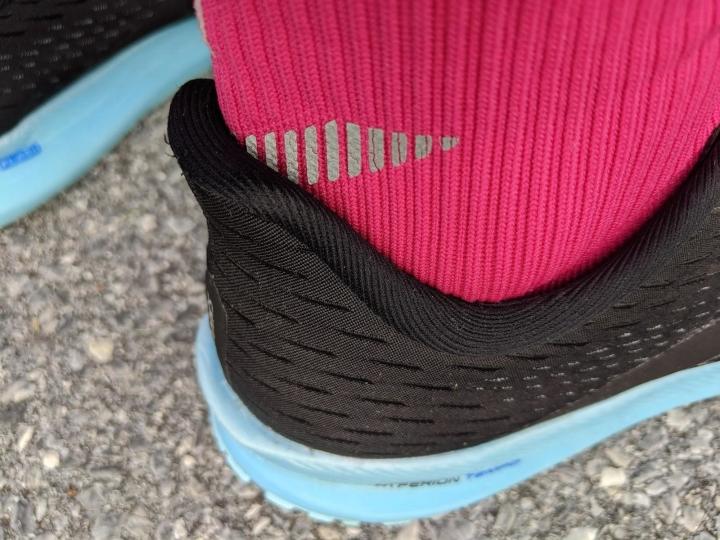 The collar is padded nicely and the heel is supported wonderfully to provide a great feeling of comfort and stability as you're blazing down the road.
Brooks' high-end cushioning
The midsole here is fantastic. The Hyperion Tempo rocks a DNA Flash technology which is extremely light, firm, and responsive—all the things you want for a fast-paced shoe. I was extremely impressed here. They are unlike any Brooks I have experienced!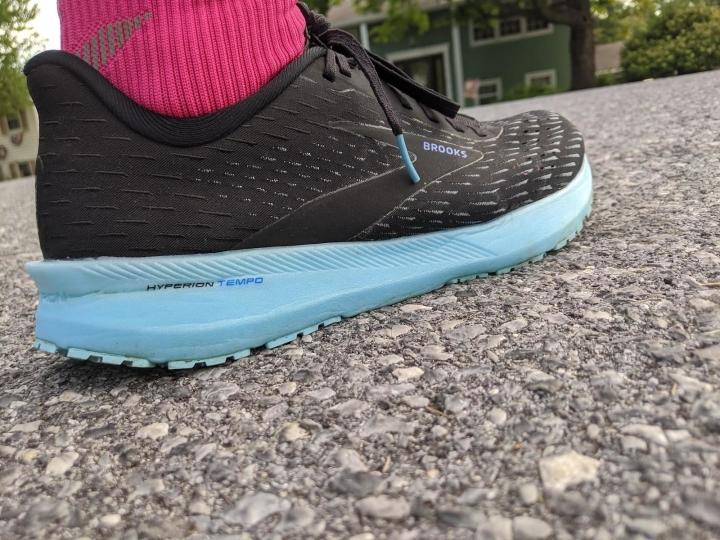 The midsole is more on the stiffer side which helps the energy return as you're killing your PRs! And I found the 8mm drop to be a wonderful amount for this shoe.
Overall, the midsole is simple but awesome! This is hands down my favorite midsole in recent memory!
Outsole lasts!
Looking at the outsole you will think "Huh, not much there!" Well, that's because there's not! In an effort to gain lighter weight and speed, Brooks chose to not have minimum to none, outer-layered rubber.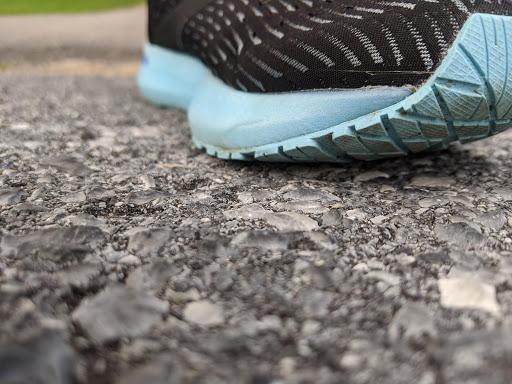 The cool thing here is that I noticed zero wear with over 60 miles! Not sure how the heck they did it but, I'll take it!
The outsole is a big win. Great traction, durability, and simplistic design is a huge success in my book!
True-to-size
The lightweight upper snugs the foot wonderfully, with a secure midfoot and heel lockdown. The toe box is on the moderate end, while the rest of the shoe feels more narrow-fitting. I enjoyed this snug fit, which still allowed room for my toes to splay.
The feel
Feel is what it's all about! It's the thing you want to find out most once you take the fresh shoes outta the box!
Come and feel these shoes, guys, and gals! You will be delighted in the amount of prolonged responsiveness and comfort as you pound out the miles.
The feel is more on the firm side but with just enough cushion to still keep some sort of comfort. I honestly would not want any more cushion. The firmness of ride in these allows for a solid response for speed as that is what you will be using these for.
Brooks Hyperion Tempo is a true speedster
Speed! The name says it: Hyperion Tempo! These can go fast and fast is what they are. I felt myself picking up the pace every time I wore these. The combination of response, secure fit, and lightness really helped me push the tempo for my training runs.
These have been my go-to "pace training" shoe and I don't plan on changing that anytime soon. The great thing with these shoes is you can train and race in them, which is what I have done. I wore these not only training but PRd in my recent ½ marathon with these.