The Nike ZoomX Streakfly is the Oregonian's answer to the critically acclaimed Adidas Adizero Takumi Sen 8, a phenomenal and fast modern-day racing flat. Made to go fast, this shoe surprised everyone by its comfortable ride and pleasant upper. While not the ultimate short-distance racing shoe, this non-plated hyper-light Nike racer is an excellent tool for a wide variety of workouts.
Pros
Screams fast and speed-ready
Nike's lightest racing shoe yet
Stable and good at cornering
Incredible lockdown
Splendid track workhorse
Roomy toe box
Grippy outsole
Eye-catching design
Not so expensive!
Cons
Narrow-footed runners may experience poor lockdown
Insanely thin laces
Falls short for racing
Heavy runners can "bottom out"
Who should buy the Nike ZoomX Streakfly
The Nike ZoomX Streakfly is a must-buy for:
Nike enthusiasts that want a racing shoe for distances up to 10K, but at a more affordable price than the Vaporfly.
Those who love traditional racing flats but want a modern, cushioned feel.
Anyone that needs a workhorse for doing tempos, intervals and track workouts.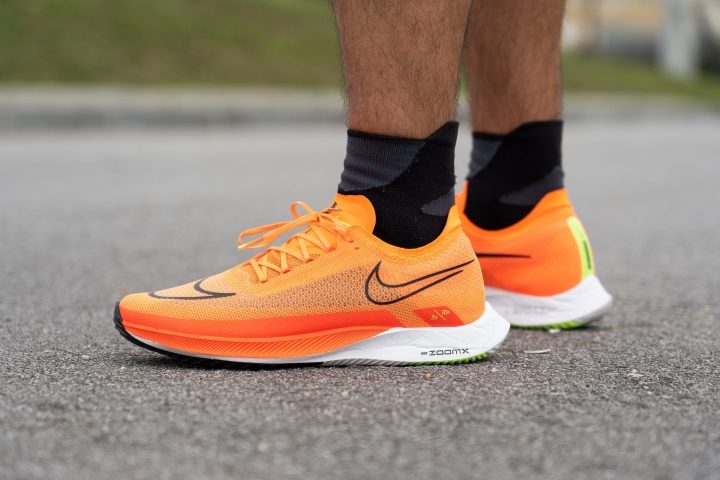 Who should NOT buy it
You won't get that trampoline-like feeling of a carbon-plated racer with the Nike ZoomX Streakfly.
For a genuine 5K/10K racer, check the Adidas Adizero Takumi Sen 8 or the New Balance SC Pacer.
On the other hand, if you love long-distance races, the Nike Vaporfly Next% 2's high-stack platform will do wonders for half-marathons and beyond.
A magnificent shoe, but not the one we expected
At every 5K or mile road race, the same question arose: when will Nike unveil a lighter, lower-stacked Vaporfly for us? Finally, the day arrived, but as great as it is, this was not the hyper-propulsive shoe that we anticipated.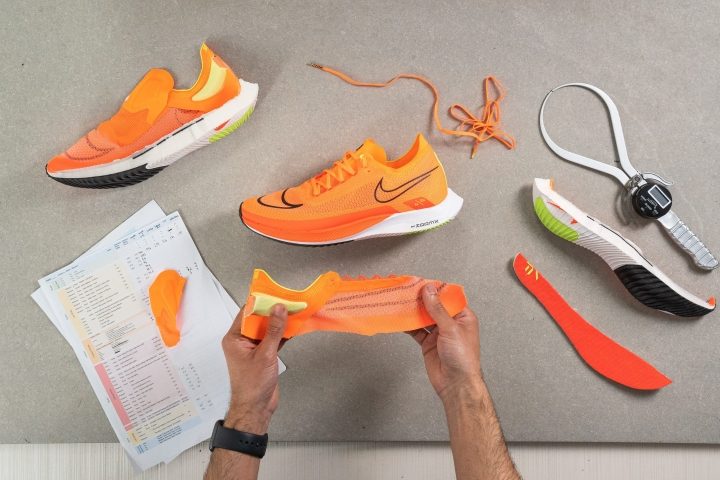 Some critics noted that "it's evident that the Streakfly is not a racing flat" and others compared this shoe to the original Pegasus Turbo. It's clear that this one won't be entering the ranks of the supershoes any time soon.
A really breathable upper
Nike ZoomX Streakfly (left) vs. Adidas Runfalcon (right)
Summer training is not a problem with the Nike ZoomX Streakfly. Regardless of your location, this shoe's upper made of engineered mesh allows air to flow freely, while heat escapes with every stride.
Fact check
The Streakfly scored a well-deserved 5/5 in our breathability test!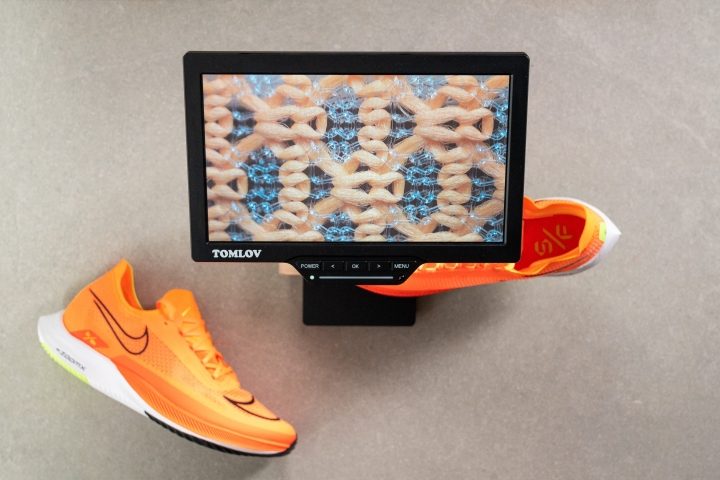 Fact check
As you can see in the images, the air can flow through the upper without any issue.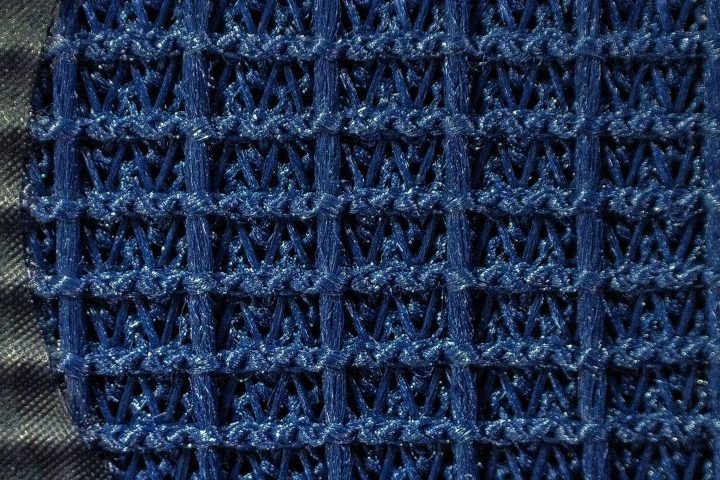 This is a low-breathability (2/5) mesh upper from a Nike Air Zoom Vapor Pro

And this is Streakfly's mesh upper, which scores 5/5 in our breathability test
Feather-like upper
One reviewer said that the "Streakfly is light, fast, and feels like it molds to your foot."
Fact check
At a weight of only 171g, this shoe is the lightest we've ever measured in our lab.
Remarkably soft and bouncy
The midsole is all you can expect from the critically-acclaimed ZoomX: soft, bouncy and comfortable. However, there is a catch. One reviewer pointed out that "the ride is too soft for above 4:00 min/km speeds." This is worrisome because the shoe is marketed for 5K/10K races, so if it "bottoms out" at faster paces, it may not be suitable for its intended purpose.
Based on this, the Streakfly will work better for runners who strike midfoot-to-forefoot, as they distribute the weight more evenly across the shoe, in contrast to those who strike the ground with their heel.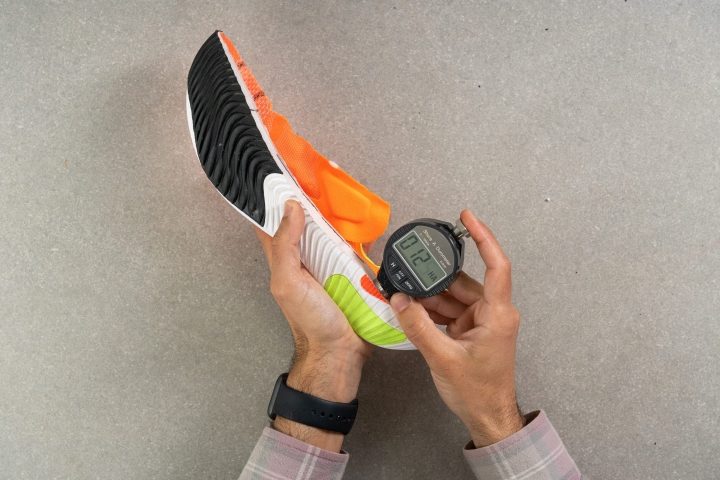 Fact check
Every user who tried the Nike ZoomX Streakfly found it to be incredibly soft. After we measured it, the numbers confirmed everyone's feelings: this shoe is all about plushness—a magnificent 109% softer than the average shoe!
Disclaimer: We calculate the average of four durometer measurements, disregarding any outliers. The photo above shows one of the takes.
Due to its exceptionally soft midsole, its 6 mm drop, and its lack of rockered geometry, it may not be the best option for heavier runners with stability issues.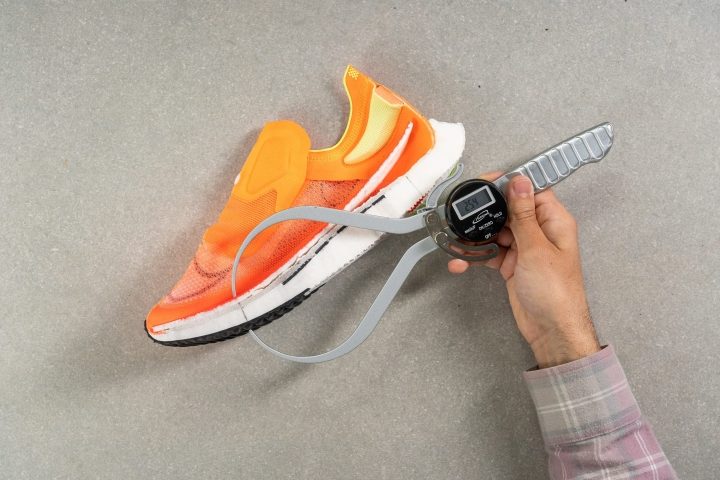 Fact check
The official drop measurement from Nike is 6 mm, whereas in our lab, we measured it at 6.3 mm. It's truly great when brands provide accurate drop measurements, right?
Disclaimer: We always include insoles in our stack measurements.
Subpar lacing experience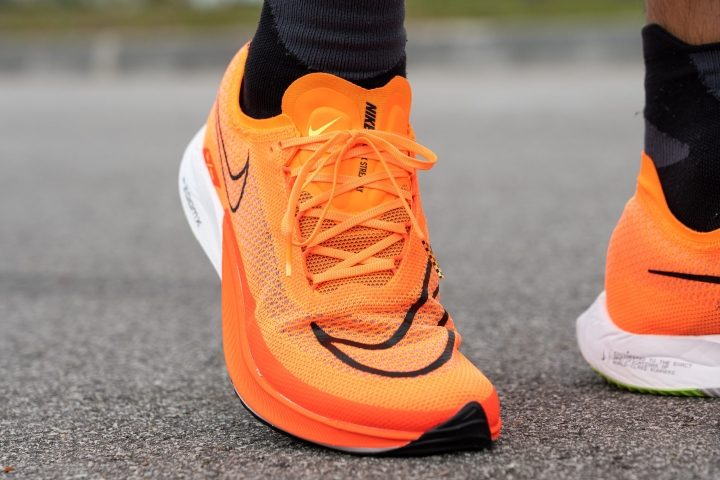 This shoe boasts a Vaporfly-inherited offset lacing system with flat slip-prone laces that go through large loops instead of eyelets.
A reviewer expressed his dissatisfaction with the laces stating that "these might be the worst laces I have ever seen." While this may have been a momentary frustration, it is true that the lacing system on the Streakfly does not deliver a great experience.
The absence of the critically-acclaimed notched laces of the Alphafly and Vaporfly is noticeable and disappointing. However, it is also understandable if Nike intends to position the Streakfly one step behind its two top racing shoes.
No plate, no party?
A critic noted this: "I was hopeful that it would have a full-length, stiff carbon plate." For better (lower MSRP) or worse (less springy ride), this modern racing flat only sports a small Pebax midfoot shank that is barely noticeable and allows the shoe to flex without almost any resistance.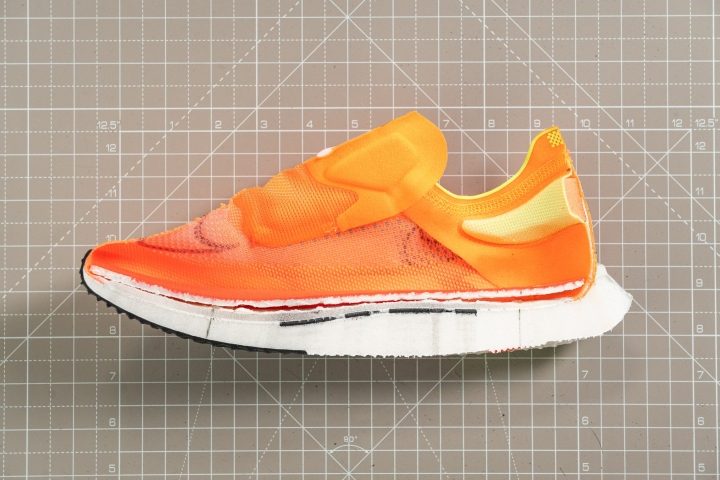 The lack of a full carbon-fiber plate has some other positive effects. For instance, it enhances the shoe's ability to turn tight corners while also making it more comfortable for training at easy or recovery paces.
Disclaimer: Please be advised that we take an average of 4 measurements and exclude any outliers. This video shows just one of our measurements.
Fact check
All testers of the Streakfly noted its mind-boggling flexibility, and it was confirmed in our lab tests. The shoe required 89%(!) less force to bend up to 90 degrees than other running shoes in our lab. This is remarkable even for a non-plated and unstructured shoe.
The Nike ZoomX Streakfly delivers an exceptional and secure fit
Streakfly's upper provides unbeatable comfort thanks to its generously thick (4.8 mm) fully gusseted tongue. To give you an idea, the beloved ASICS Metaspeed Sky+ has a paper-thin tongue measuring only 0.8 mm, which is enough for most runners. In comparison, this tongue is 5x as thick!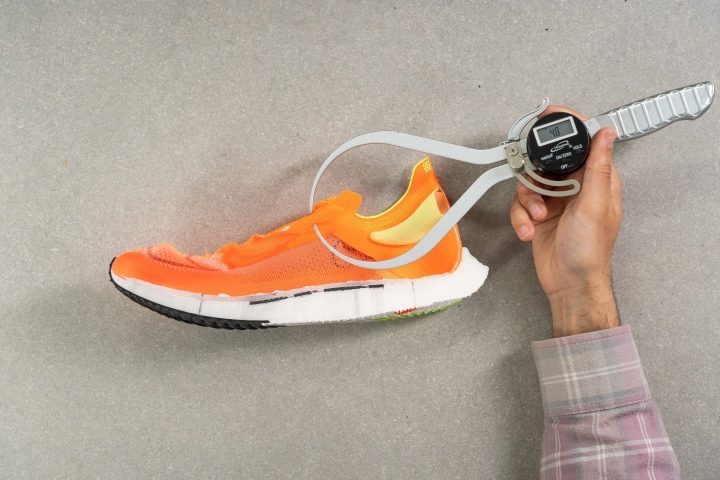 This is the padded tongue of the Nike ZoomX Streakfly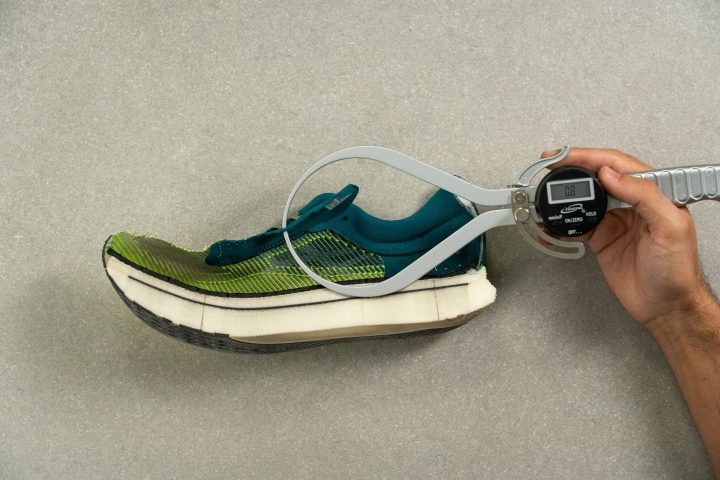 ASICS Metaspeed Sky tongue
The thick padding inside the heel helps to keep your feet secure without adding excess weight. Most runners won't have any problem, but if you experience any heel slippage, we suggest trying an alternative lacing technique from this guide.
In addition, an expert wrote that the "heel lockdown is great because there are double last row eyelets."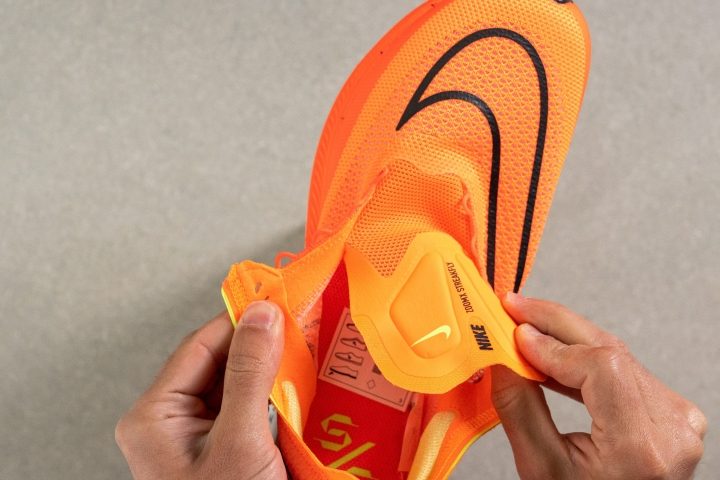 Fact check
Well, if you need to use a runner's knot, it typically indicates the absence of a rigid heel counter. That correlates with our findings in the lab, as on a 1-to-5 scale—where 5 is the stiffest—we rated it at 1!
Pain cave ready
The Nike ZoomX Streakfly excels on the treadmill at any speed:
The cushioning of the treadmill complements the shoe's lower stack—in comparison to most supershoes—and soft foam, providing exceptional comfort and stability.
Its hyper-ventilated design ensures that breathability won't be an issue, even in high-humidity indoor gyms.
The outsole of the shoe will last longer when used on the treadmill due to the reduced friction compared to roads or soft trails.
As you can see above, the New Balance shoe has a much larger rockered shape, while the Streakfly's is almost flat. This makes the Nike shoe perfect for moderate and fast paces, where shorter ground contact times are desirable. Additionally, it is better suited for treadmill running, where a less rockered and more stable ride is preferred.
Recovery, aerobic, tempo, intervals…
This shoe delivers a great experience across many paces if you keep the distance low. For instance, a reviewer said that at "anything longer than 10 km becomes uncomfortable", which is true as it's a really unstructured shoe.
But for distances below 6 miles or 10K, you can trust this shoe for fartleks, tempo intervals, and even your slowest recovery runs, and benefit from the outstanding and hyper-plush ZoomX foam.
Outsole: hard rubber and exposed foam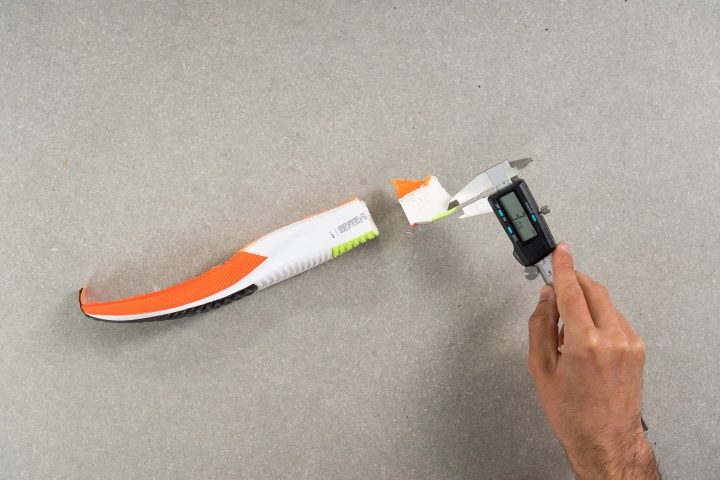 The forefoot offers a substantial block of hard and grippy rubber that goes down to the midfoot, with some borrowed details from the really durable first-generation Alphafly. In contrast, the midfoot reveals exposed ZoomX foam.
On the other hand, the heel features double 3.0 mm-thick rubber pads, protecting a sensitive area from wear and tear. That seems enough and it's really close to the average measurement of 3.4 mm.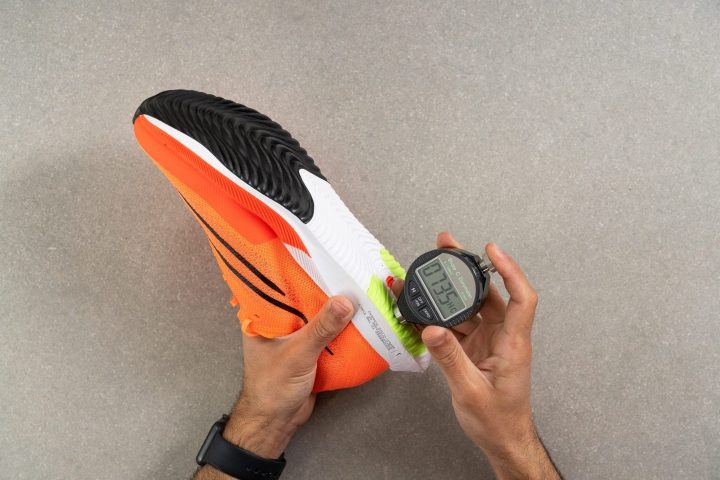 Seems obvious that the higher your forefoot impact, the longer this shoe will last.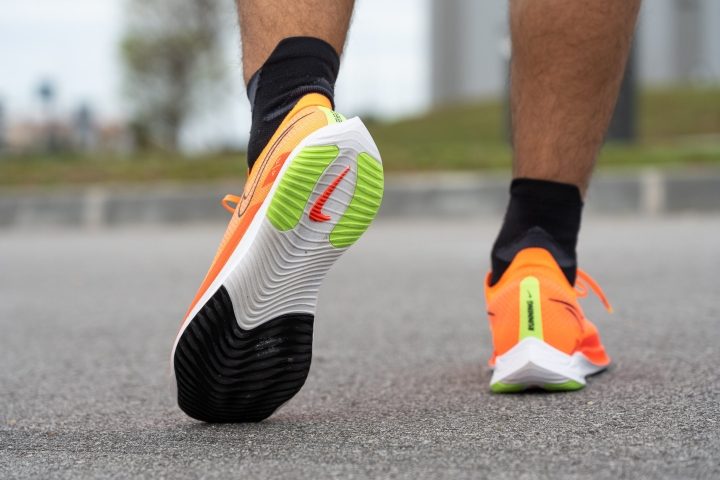 A lot of real estate for a Nike racer
A critic loved how comfortable the shoe was: "The engineered upper is just tight enough and thanks to the position of the lace cage, there is plenty of space for your forefoot to expand. The heels are basically cuddled by the heel pod; a brilliant fit overall."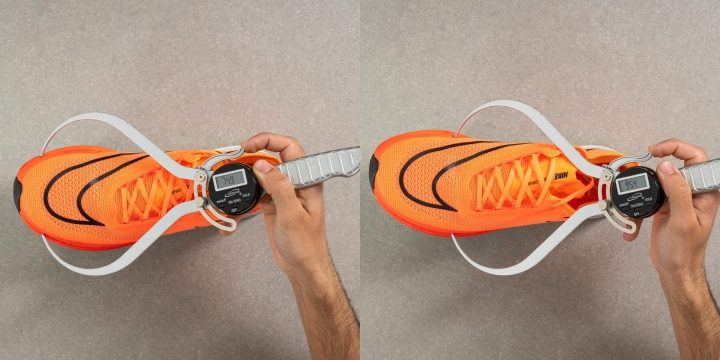 Fact check
We've taken two measurements in the toe box instead of one to provide you with a better understanding of how comfortable your feet will be in this shoe. The Nike ZoomX Streakfly (95.4 mm / 74.9 mm) only narrows by 27.4% between our two measuring points, while the Nike Zoom Fly 5 (95.0 mm / 71.1 mm) reduces its space by 33.6% in the front area.
Based on this, it's no surprise that the Streakfly is a fantastic choice for runners with medium to wide feet.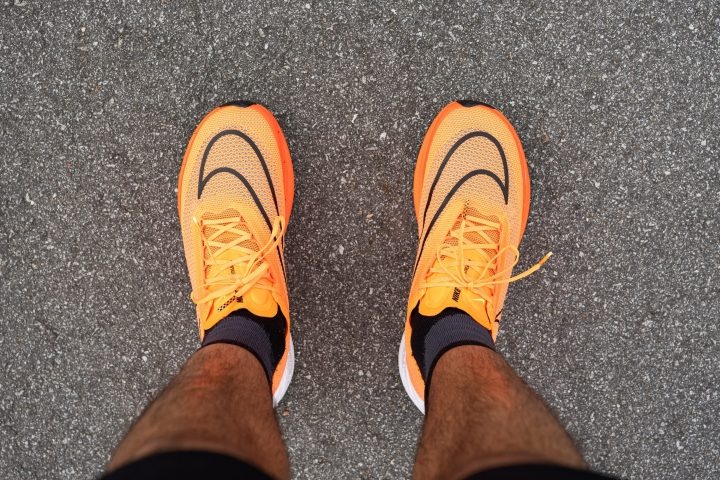 However, if you have narrow feet, it's a good idea to try it on first. One running expert pointed out that this shoe can be used by runners with narrow feet with a subtle trick: "the length is true to size but I had to wear my thickest socks in order to fill the space in the shoe and get a good lockdown."
Cold-proof, with a caveat
Embrace winter workouts outside with ease alongside with the Streakfly! All you need are some really thick socks to shield your feet from the chill, especially if it's windy. This can be a plus if you have narrow feet, as stated before.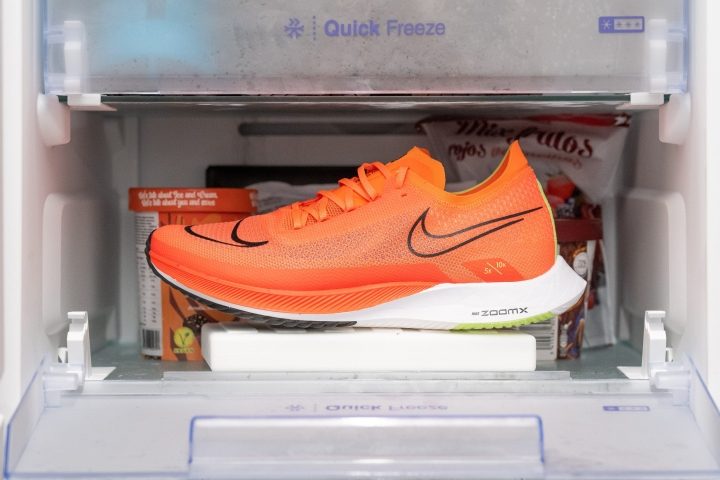 Fact check
On average, shoes harden by 26.9% after spending 20 minutes in our freezer. However, the Streakfly's cold-resistant PEBA-based foam only does it by 16.5%.
And what about stiffness changes based on temperature? The Streakfly excels one more time despite not having a carbon-fiber plate. Unlike the average shoe, which becomes 43.6% stiffer, the Streakfly only does it by 19.0%. Impressive, right?
Exceptional value for its worth
With an MSRP of $160, the Nike ZoomX Streakfly is cheaper than a Nike Pegasus Turbo 2 when it was released. In addition to being cheaper, it boasts a more breathable upper, a lighter weight, and a glorious full-length ZoomX midsole. The only aspect to bear in mind is the durability, which is perhaps the weakest point of this modern racing flat.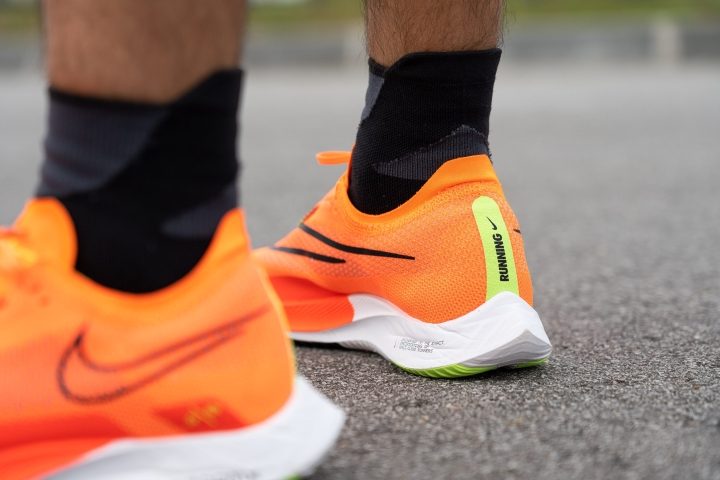 Complete lab-specs overview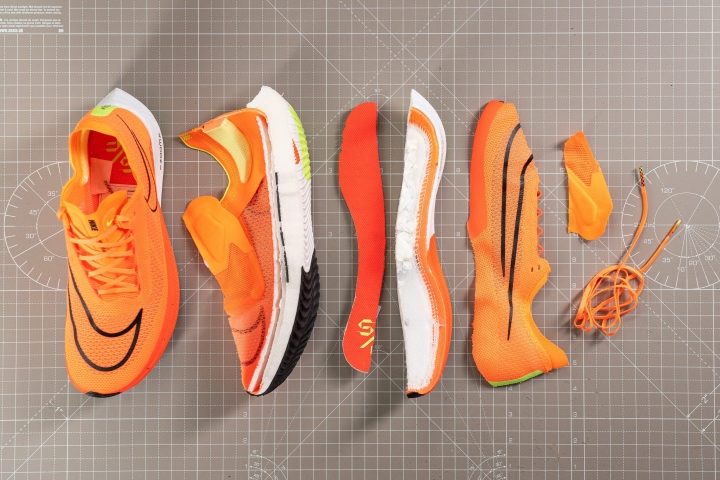 Nike ZoomX Streakfly
Average
Whole shoe

Weight (g)
166*
263
Drop (mm)
6.3
8.7
Overall Internal Length (mm)
259 (mens US 8.5)
Flexibility of the shoe (N)
13.0
33.9
Flexibility of the shoe (Freezer 20 min) (N)
15.5
46.6

Flexibility of the shoe (% of change)

19.0%
43.6
Longitudinal flexibility (1-5 scale, 5 being the stiffest)
1
2.9
Torsional flexibility (1-5 scale, 5 being the stiffest)
1
3.1
Upper

Thickness - Tongue (mm)
4.8
5.6
Width Upper - Forefoot: Max width (mm)
95.4
97.6
Widt Upper - Forefoot: Big toe (mm)
74.9
72.0
Flexibility of the heel counter (1-5 scale, 5 being the stiffest)
1
2.4
Tongue: gusset type
both sides (full)
-
Heel: pull tab
none
-
Midsole

Width Midsole - Forefoot (mm)
107.4
112.4
Width Midsole - Heel (mm)
77.3
89.4
Stack - Forefoot with insole (mm)
25.4
24.5
Stack - Heel with insole (mm)
31.1
33.2
Durometer Midsole Heel (Room temperature) (HA)
12.1
25.3
Durometer Midsole - Heel (Freezer 20 minutes)
14.1
32.1
Durometer Midsole - Heel (% of change) (TEST)
16.5%
26.9
Outsole

Outsole thickness (Heel) (mm)
3.1
3.4
Durometer Outsole Heel (Room temperature) (HC)
74.1
79.6
Insole
Insole Heel Thickness (mm)
3.9
4.5
Insole: removable
yes
-
*Disclaimer: The weight of the Nike ZoomX Streakfly was measured in a men's US 8.5. In a US size 9, this corresponds to 171g per shoe, based on the weight measurements of over 40 shoe sizes.