Who should buy the ASICS Metaspeed Sky+
Add the Metaspeed Sky+ to your buy list if you're craving a: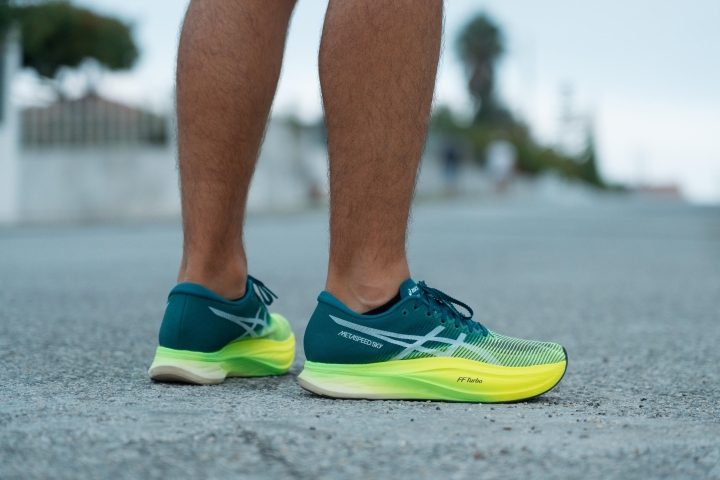 Who should NOT buy it
Since the carbon-fiber plate of the shoe has been moved higher up to be closer to the runner's foot, the ASICS Sky+ can feel a tad stiffer. This said, you can opt for the first version instead—ASICS Metaspeed Sky. Alternatively, the PUMA Fast-R Nitro Elite also comes highly recommended by experts. Even better, it's more durable.
ASICS Metaspeed Sky+ vs. Metaspeed Sky
If you loved the ASICS Metaspeed Sky, then you're in for a treat in the ASICS Metaspeed Sky+. "The designers at ASICS haven't messed up my favorite shoe of last year," excitedly shares one reviewer. This time around, minor touch-ups are made to the original to make it an even better marathon shoe:
For a snappier ride, its carbon-fiber plate has been moved closer to the runner's foot.
It has more foam for a springier ride. This also ups its weight from 167 grams/5.9 ounces to 205 grams/7.2 ounces.
To amp up comfort, the shoe's new mesh upper is also softer.
From snug to more welcoming, the toe box as a runner would put it is a "very welcome change!"
Taking comfort a notch higher, the liner over the shoe's padding feels smoother and finer.
The heel cap has been redesigned to support the foot better and be more luxurious-feeling.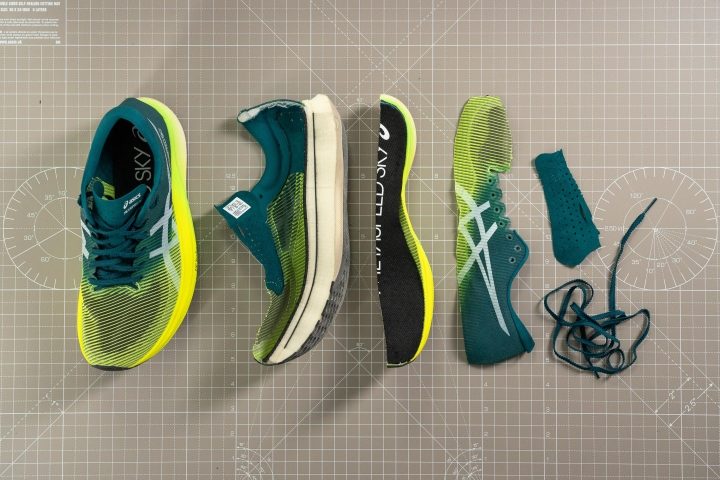 A speed expert
Overall, the Metaspeed Sky+ "is designed to be a shoe you slip on when you want to feel your fastest," shares one racer. Simply, the "devil is in the details!" a reviewer comments. Its now-repositioned carbon-fiber plate creates a snappier toe-off.
The shoe is also reported to have more foam underneath for a crazy bouncy ride.
Fact check
Checking the heel stack (33.5 mm with the insole included), we don't see any difference with the original Metaspeed Sky (33.7 mm). It is still a considerable amount of cushioning, which puts the Sky+ into the max-cushioned range.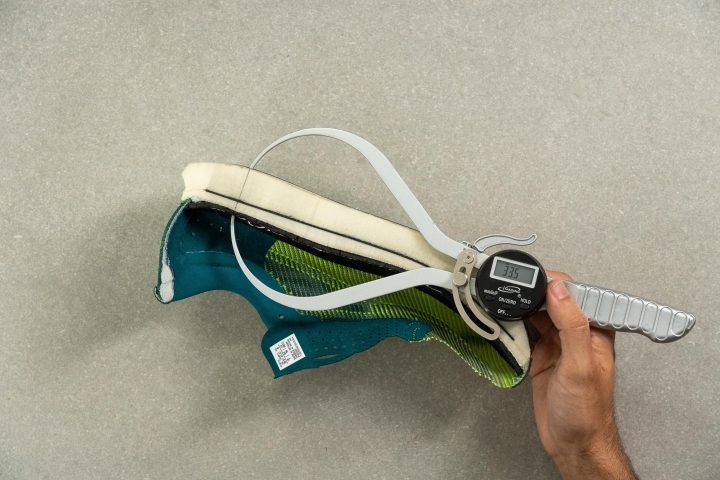 On top of this, it has a very smooth heel-to-toe transition, thanks to its pronounced rocker design. "Leaning forwards and running well, it felt fantastic," expresses another runner. And if you really demand speed, this shoe is 10/10 "a blast!" a critic mentions.
As light as light can be
Although it's heavier than the original Metaspeed Sky by 38 grams/1.3 ounces, a lot of road running athletes still find it very light. And they're not lying either because it is lighter than the average racer (205 grams/7.2 ounces vs. 215 grams/7.6 ounces in US men's 9). Compared to other plated shoes (227 grams/8 ounces, on average), it's even lighter.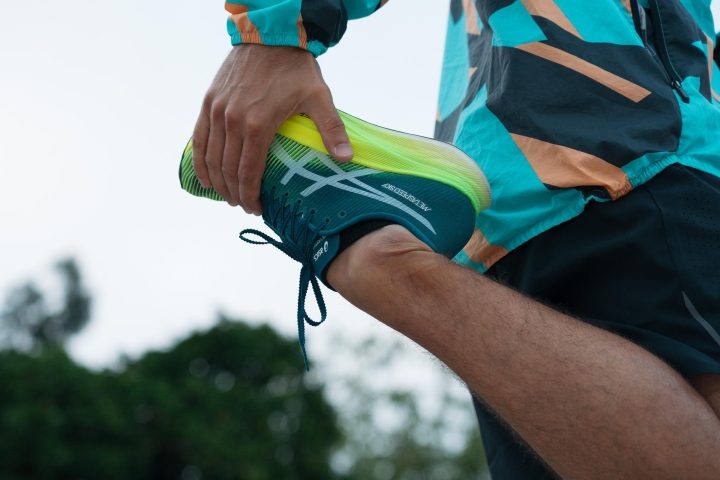 Long distances: Where it performs best
The ASICS Metaspeed Sky+ "truly comes into its own at half to marathon distances." This feedback from one expert summarizes the thoughts of almost all runners about this shoe. The forefoot bounce is felt more at these distances. And the added foam truly amps up the comfort and protection for the miles ahead.
Run with confidence in the ASICS Metaspeed Sky+
When it comes to support, lockdown, and stability, the Metaspeed Sky+ "never left anything to be desired," proudly remarks one reviewer. In winding sections and cobblestones, you won't feel tippy nor do you have to worry about missteps. This is all thanks, of course, to the wider base, and the redesigned heel cap.
Fact check
Looking at the base of the Metaspeed Sky+, the shoe's forefoot proves to be wider than the average (112.6 mm over 111.8 mm).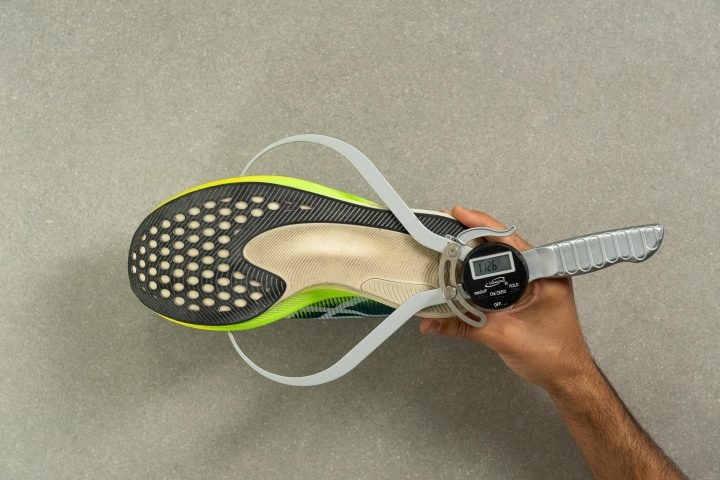 The heel deserves a thumbs up
Speaking of the heel cap, it's made more supportive this time. It has more structure, thus creating a better lockdown in the rear. But that's not the only thing about it that's great. It also has a liner that feels smoother.
A road runner who claims to use blister plasters as a preventive measure in last year's Metaspeed Sky says that "this problem has disappeared in the Sky+." Overall, this redesign is a "small but very welcome change!" adds another.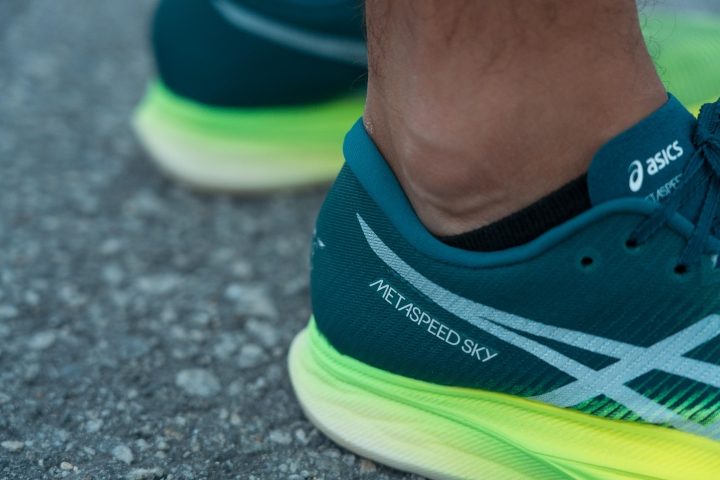 Experience pure goodness from the upper
It's "less stiff and nestles more comfortably against the foot," says one long-time runner. Even better, it "can hardly be made more breathable," observes another expert reviewer. A well-known video reviewer even adds that it's very breathable. And all in all, this upper is a very successful revision.
Fact check
See how quick and easy the smoke passes through the shoe's mesh in our breathability test below:
Race fit that's not harsh
For a narrow-footed runner, the fit can be quite roomy in this version of the ASICS Metaspeed Sky. But testers who have thin feet agree that this isn't an issue because it can be fixed quite easily by cinching the laces down.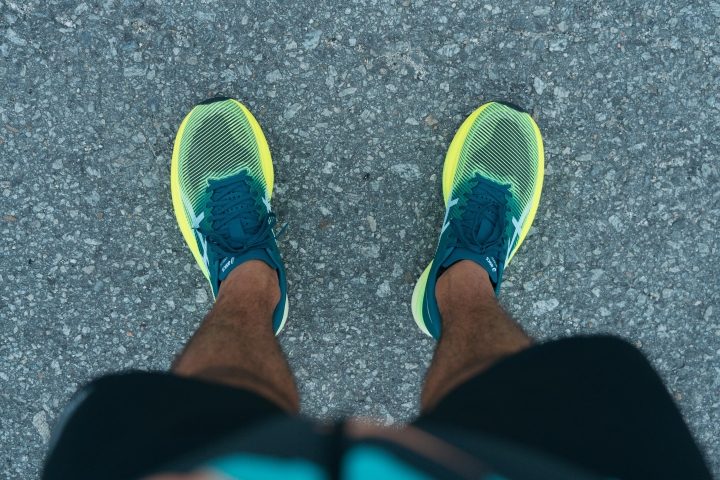 "The forefoot and midfoot are pleasantly wide," reports one road running athlete. According to another runner who has medium-width feet, the forefoot and midfoot's fit are top-notch. And the roomy fit has "not led to any loss of performance or comfort," he adds.
Fact check
We measured the shoe's upper at its widest area (92.2 mm) and can confirm that the shoe offers some ample forefoot space. However, it's not enough to impress someone with wider feet given that the average among our lab-tested shoes is 98.5 mm.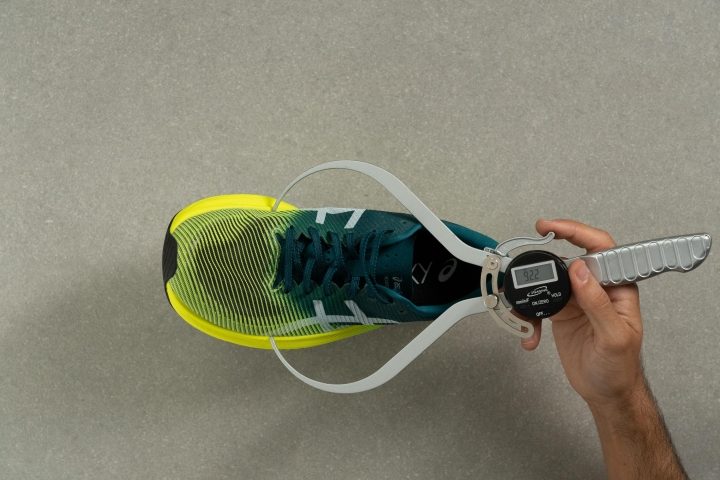 Toe box nails the job!
A shared gripe among marathoners with the past Metaspeed Sky is it hurts their toenails. As one runner shares, "The original Metaspeed Sky cost me two toenails." But this time around, ASICS is heading in the right direction because there's now more room up front for wider feet.
Another adds that this small but meaningful update is necessary because "Black toes, including losses thereof, should be a thing of the past."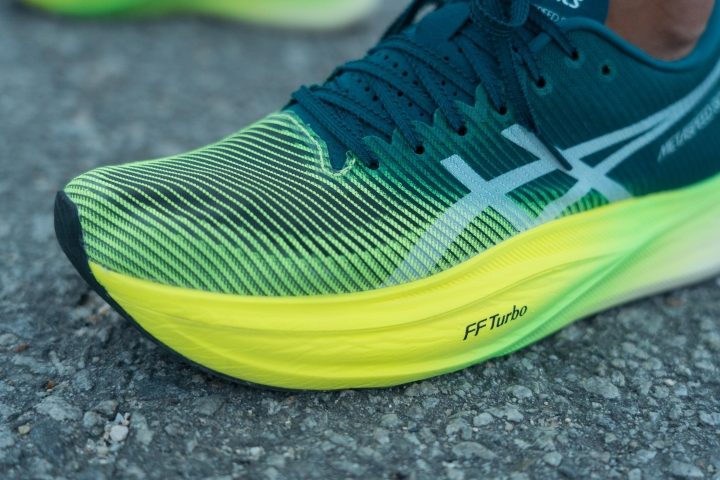 The outsole has to be better for this price
It's darn expensive at $250! That's for sure. On average, carbon-fiber plated running shoes cost $204 a pair while racing flats, on average, cost $145 per pair. And with its lack of outsole durability, this price just doesn't sit well with a handful of marathon runners. One of them even advises that this shoe "is one to save for race day and training at your race pace."
There's just not a lot of rubber coverage for it to last a long time. A runner who has wear-tested the shoe for 70km has already noticed significant wear on the outsole.
Fact check
The rubber layer covering the shoe's forefoot and part of the lateral side is indeed thin. We measured it at 2.0 mm which is less than the average 3.5 mm.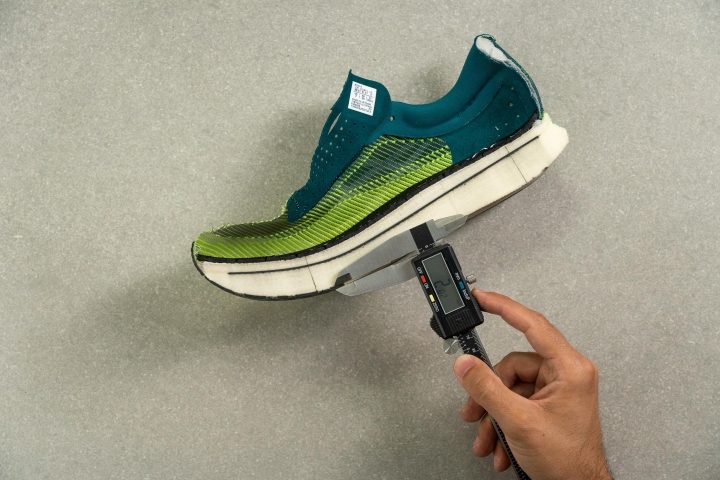 But grip-wise, the outsole is A-OK. "Traction on wet roads is as good as before!" commends a long-time ASICS fan.
ASICS Metaspeed Sky+
Average
Whole shoe

Weight (g)
193

273

Drop (mm)
2.7
8.6
Flexibility of the shoe (N)
67.0

31.9

Flexibility of the shoe (Freezer 20 min) (N)

81.2

43.5

Flexibility of the shoe (% of change)

21.2%

39.9%

Longitudinal flexibility (1-5 scale, 5 being the stiffest)
5

3.4

Torsional flexibility (1-5 scale, 5 being the stiffest)
4

3.4

Upper

Thickness - Tongue (mm)
0.8

5.9

Width Upper - Forefoot (mm)

92.2

111.8

Width Upper - Heel (mm)

58.1

88.7

Lace Stretch (1-5 scale, 5 being the most stretchy)

3

2.6

Flexibility of the heel counter (1-5 scale, 5 being the stiffest)
1

3.0

Tongue: gusset type
-
-
Heel: pull tab
-
-
Midsole

Width Midsole - Forefoot (mm)

112.6

111.8

Width Midsole - Heel (mm)

77.8

88.7

Stack - Forefoot with insole (mm)

30.8

24.2
Stack - Heel with insole (mm)

33.5

32.7

Durometer Midsole Heel (Room temperature) (HA)

28.8

29.0

Outsole

Outsole thickness (Heel) (mm)
2.0
3.5
Lugs Depth (mm)
-
-
Durometer Outsole Heel (Room temperature) (HC)
65.0
80.5
Insole
Insole Heel Thickness (mm)
3.0

4.6

Insole: removable
-
-
Compare popularity
Interactive
Compare the popularity of another shoe to ASICS Metaspeed Sky+: