The ASICS MetaSpeed Sky must be the BEST racing flat of the year! It's ultralight, responsive, and supportive in all the right places, zooming you forward to your next PB with fun and confidence! Even better, in comparison to all other carbon-plated race shoes, this is by far, the most stable - even at slower speeds!
Pros
Bouncy and responsive
Fast
Fantastic grip
Ultra breathable
Stable even at slower speeds
Ultra-lightweight
Perfect fit
Superb foot lockdown
Fits wider feet
Cons
Not so durable
Expensive
Not for cold weather
No heel tab
ASICS MetaSpeed Sky review and lab test
Shed a tear cutting this shoe in half. Hands down, this is the best race shoe on the market (that I've tested).
Short intro
I don't normally gush over a shoe, I like to nitpick all the problems I can find, but I'm just going to start off with a strong opinion here, the ASICS MetaSpeed Sky is the best carbon-plated race shoe available.
First, it's a race shoe that fits my wider foot, that's rare, but it's also comfortable, responsive, springy, stable, breathable, ultra-lightweight, fast, and a blast to run in!
I loved running in the ASICS MetaSpeed Sky, my only dilemma now is I need to find a way to get ASICS to send me a second pair.
Who the shoe is (not) for
The MetaSpeed Sky is ideal for the runner who:
has a slightly wider foot,
is looking for the top-of-the-line technology for race day,
wants to lengthen their stride when running fast rather than speeding up their cadence (don't worry ASICS is preparing the MetaSpeed Edge for you as well), and
demands not only speed, but comfort, fit, breathability, and grip to carry them long distances at speed.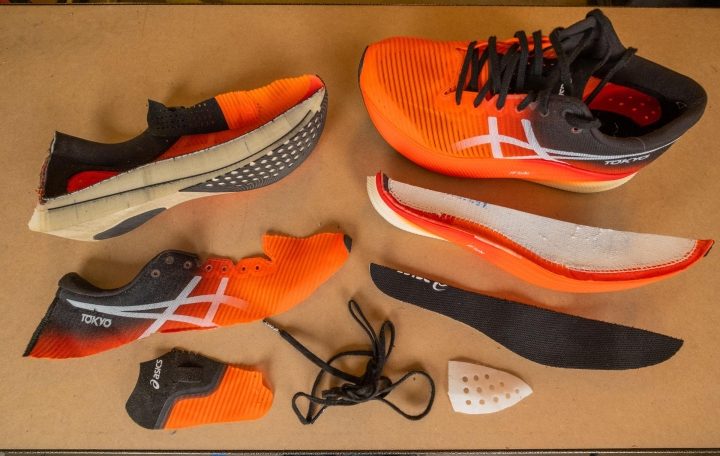 This shoe is not for the thrifty, at $250 you need to be a hedge fund manager or made out big on GameStop stock to realistically afford this shoe, but that's about the only downside I can find to be honest.
If you're not an ASICS fan, check out the Nike Vaporfly Next% 2 or the New Balance RC Elite v2, but I'd say the MetaSpeed Sky is worth a detailed look if those two shoes are at the top of your list.
Fit doesn't get better than this
For my slightly wider foot, the MetaSpeed Sky was the best fitting race shoe I've tried to date. The toe box is roomy and the midfoot didn't need time to stretch and break in (which I don't think the 100% recycled polyester upper would anyway).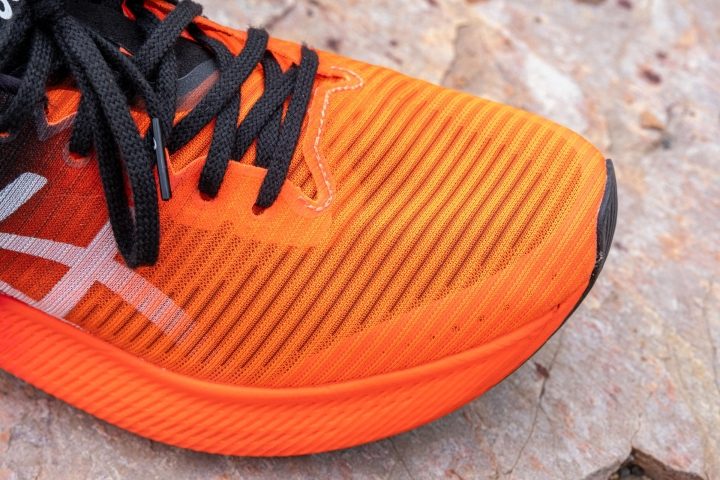 The heel runs a bit narrow, which was great for my foot, as the lockdown was impeccable in an area I tend to have slip. There's basically zero padding in the upper, except for a well-placed 9.5mm ring of foam in the ankle collar.
As with most race shoes, the heel counter was soft and flexible, but stiff enough that it didn't just fold under your heel every time you went to put the shoe on.
The ride on MetaSpeed sky is what the dreams are made of
The ride, wow! I mean this shoe is a dream.
The MetaSpeed is the debut of ASICS' Flytefoam Blast Turbo midsole, which makes my blood heat up with excitement!
It's a knockoff Pebax (nylon-based foam) that's a lot like Nike's ZoomX in feel, it's bouncy and responsive, but
thanks to the full-length carbon plate this shoe feels well balanced underfoot, stable (especially when you are on your toes and moving fast), and with just the right amount of pep, meaning it isn't too pogo-stick like (see our review of the Nike ZoomX Invincible Run).
For reference, the Invincible measured in at 14.2HA on the durometer, this shoe is a bit more firm at 22.5HA (the average is 27.3HA) affording that added stability over the Invincible Run.
The rocker in the shoe pushes you effortlessly through your stride, and the carbon assisted toe-off is subtle but energetic. You feel fast, and in fact, you are going fast.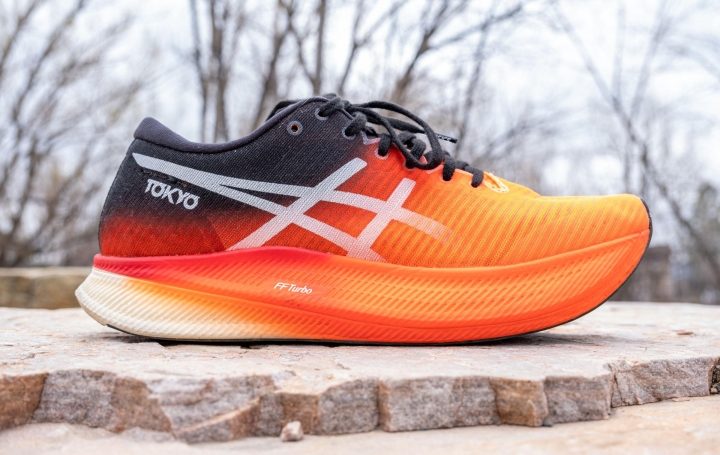 This shoe made tempo and threshold runs seem easy, and I was surprised at my splits as I whisked through miles.
Difficult to put on
It fits like a glove, or well, like a sock, and my only gripe is that it's a bit hard to get onto your foot. I wish they would have added a pull tap or loop to the heel.
Perfect lockdown
For a shoe with literally zero padding, I have to say it's comfortable. The upper is a stiff plastic-like polyester, but it's so thin (.7mm) it's basically translucent, which allows it to form to your foot nicely without stretching at all, giving it its race-ready lockdown.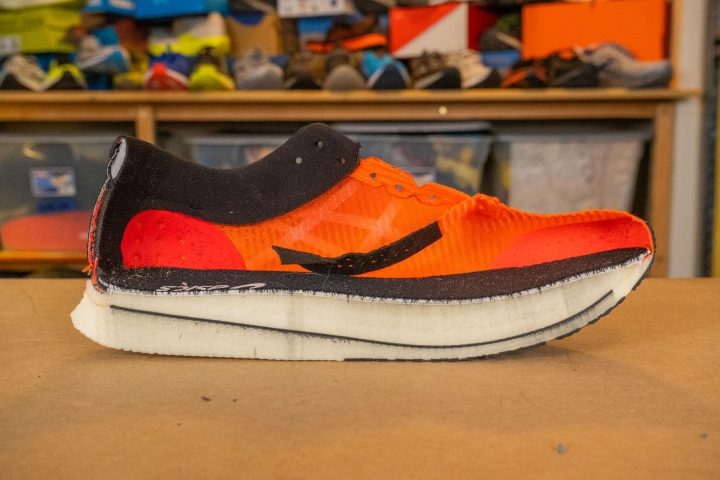 Race shoes are normally too narrow for my feet, but not the MetaSpeed Sky, well done ASICS!
The tongue is not gusseted (to keep weight down) but it didn't move at all on my test runs once I got it positioned correctly, which did take a little effort at first.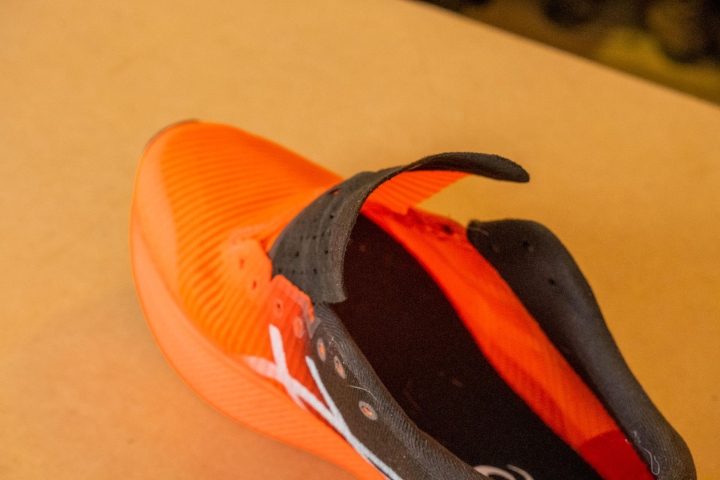 And the heel doesn't slip!
I would say, it's easy to over-tighten these and feel a bit of pressure on the top of your foot thanks to the paper-thin tongue, but once you have them adjusted appropriately they felt as comfortable as any plush daily trainer.
Badass laces
At first, I saw these cotton-like braided laces and thought they were an oversight. Why would ASICS put such chincy laces on a $250 shoe?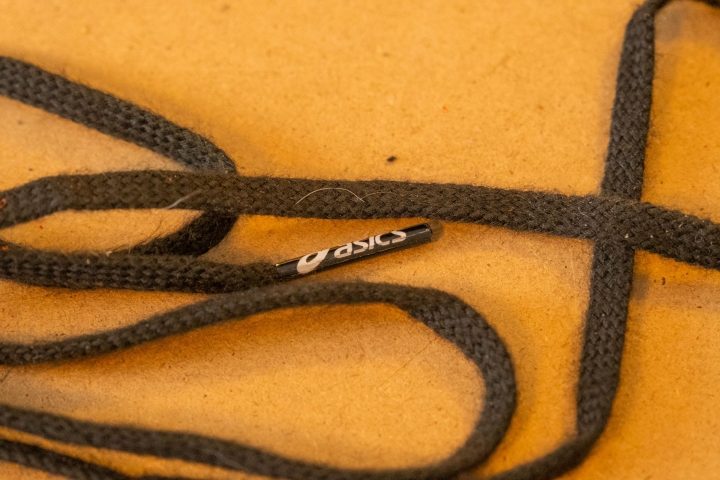 I mean, sure they are lightweight, but how many more grams could better laces weigh?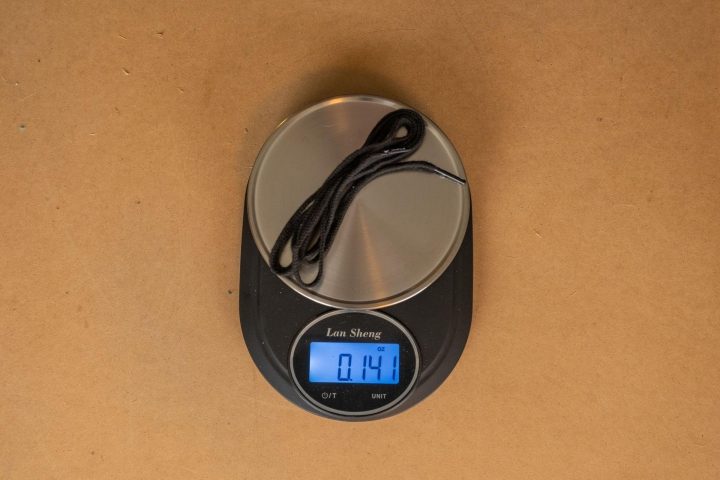 But then I got to business, they don't have much stretch, just 7.4% compared to the average of 17% (this is good for lockdown) and the cottonish finish, although it feels cheap, keeps these bad boys tight. In our lace slip test, it took on average 41.3N for these to come free, compared to 30N on the average lace, a 38% improvement.
Stable even at slower speeds
There is a caveat, this shoe likes you to push your pace, although it's more stable at slower speeds than most race shoes, you'll want to be moving quickly to experience its true potential. I'm not sure why these race shoes need to be so tall, I think a lot of them could solve any instability issues with a few fewer millimeters of foam under foot.
The MetaSpeed Sky strikes a good balance here and ultimately is surprisingly stable even at slower speeds.
Asics MetaSpeed Sky works straight out of the box
One of the best parts of the MetaSpeed Sky is there was no break-in period for me. With my wider feet, I normally need to really beat up a pair of race shoes before they start feeling like I'd want to run in them, and these fit my foot right out of the box.
I even found myself wearing them to the gym, and around town, rather than stripping them off the second a run was over, like most other race shoes I've run in.
Lightweight and feels weightless
Race shoes should be light, and at 6.7 ounces (191g) ASICS MetaSpeed Sky meets the bill. This may be one of the lightest shoes on the market today.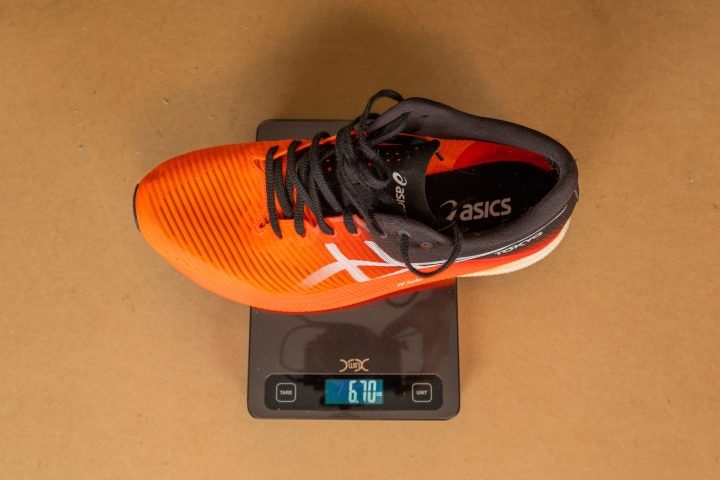 These are insanely weightless on your feet and they feel nimble despite the tall stack heights (31.2mm in the forefoot and 33.7mm in the heel).
The thin upper is the perfect match to the cushioned, bouncy midsole. It's literally see-through, you can see my fingers inside the shoe from just about any angle, even from the heel.
As durable as a race shoe
Durability may be an issue, but this is a race shoe, so you should only be wearing it on a race day!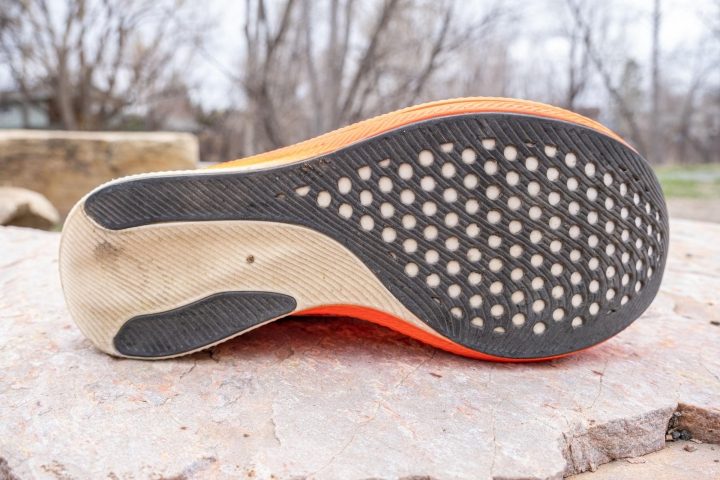 There's a lot of exposed midsole material in the heel which could degrade quickly if you're not on your toes (which you should be in these shoes, they basically force it).
I also have fears that the outsole material is a bit too soft, and will wear out quickly. At just 58.3HC on the durometer, it's 23% softer than an average outsole material.
Fantastic grip
The AsicsGrip outsole is super soft and grippy, which is fantastic. It's a great product on dry and wet surfaces, making it confidence-inspiring even around corners.
But, the softer the outsole material, the more quickly it tends to wear down.
I ran the MetaSpeed Sky hard, mainly on concrete bike paths, but I also took it to the gym for some speed work on the treadmill. It performed well everywhere, and at 5min/mile pace on the tread, I felt like I was floating.
Cold weather: warning
This is a good time to mention that this shoe may have issues in cold weather. Obviously, shoes tend to get a bit stiffer in cold temps, and although the MetaSpeed Sky's midsole did stiffen up, it was the outsole that was more concerning.
The midsole didn't change that significantly, just 14% stiffer, but the average running shoe gets about 21% stiffer in this cold test. The outsole though had the largest percentage change in stiffness we've seen to date with the rubber getting 31% firmer, where the average outsole only firms up at about 6%. This makes me think this shoe may possibly have grip issues in the cold weather, beware.
Superb breathability
I've mentioned the upper a few times above, but it's one of the most breathable shoes I have ever worn.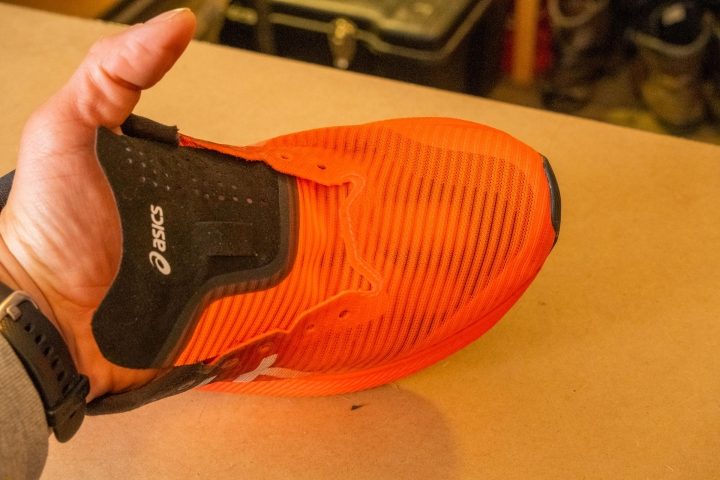 It's transparent, and I love this for a race shoe.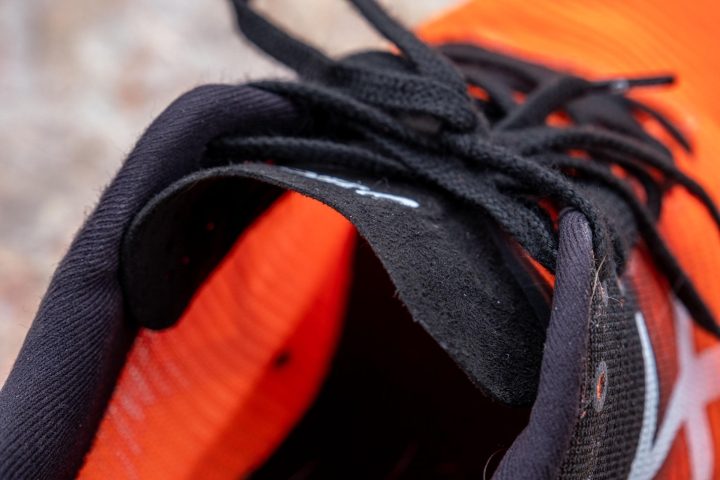 When you are expending maximum effort on race day, the last thing you want is to be losing efficiency to heat loss through your feet.
It scores 5 out of 5 on our tests and you can see the heat easily dissipating from the upper as a whole.
The sexiest looking ASICS shoe
Before I forget, I want to say I love the looks of these shoes too. ASICS normally creates pretty dull, and uninspiring-looking shoes in my opinion, but lately I've liked where they are heading with the likes of the Nimbus Lite 2, and the Kayano Lite, but dang the MetaSpeed Sky is fantastic! I dig how the bright color fades to black at the ankle, I normally wear black socks, and they look great fading into my socks.
I know it's a performance shoe, so who cares how it looks, but I may label this the sexiest ASICS shoe ever!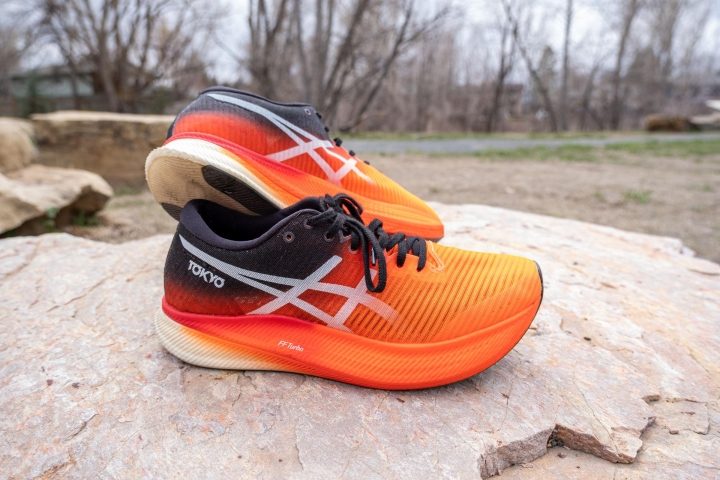 Also, it looks like the logo design should be reflective, but it's really not. Just beware if you're running in the dark there are really no reflective elements, but how many people race in the dark?
Conclusion
It's a better fitting race shoe that can go head-to-head with or beat Nike come race day. After my experience, I'd say ASICS is 100% back in the game.
It's spendy at $250, but in my opinion, it's worth it if you need THE top performing race shoe on the market.
YES to ASICS! The MetaSpeed Sky is amazing!