Effects of temperature on running shoes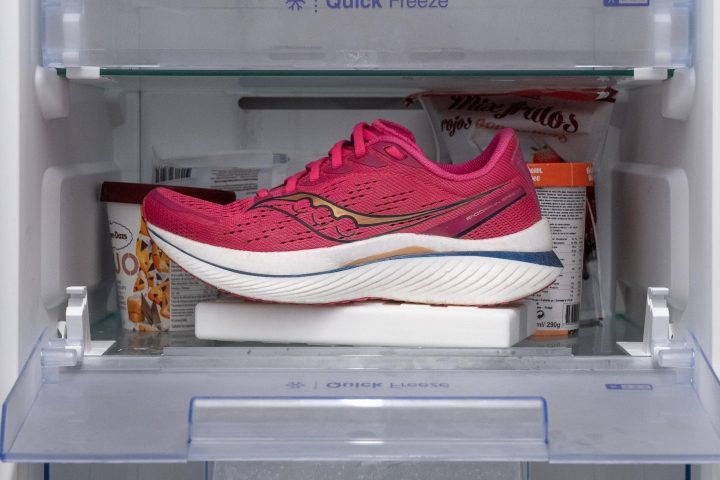 Cold temperatures, especially the ones below freezing, harden up the foam, and demand more "work" from the shoe on every stride. Thus, softness and durability are compromised.
We have tested in our lab more than 100 shoes following the same standard procedure for each one: 20 minutes in the freezer (0-degree Fahrenheit) and, after that, we measure the softness of the midsole to understand how the shoe performs under cold temperatures. In this article we will explain all you need to know about this based on multiple scientific studies and our own lab tests.
This happens because foam (rubber) expands when exposed to frosty temperatures. Yes it does, like water! That's the reason why cold is an important wear factor, because the more expansion/contraction is done by the foam itself because of temperatures, the sooner this will lose its best efficiency.
To begin with, these are the changes in softness of 20 popular running shoes.
| | | | |
| --- | --- | --- | --- |
| Shoe | Durometer Room Temp (HC) | Durometer after 20 min Freezer (HC) | Change |
| | 29.0 | 35.0 | 20.7% |
| | 19.5 | 24.0 | 23.1% |
| | 25.5 | 29.0 | 13.7% |
| | 20.5 | 25.0 | 22.0% |
| | 6.5 | 14.0 | 115.0% |
| | 14.5 | 25.0 | 72.4% |
| | 28.0 | 29.5 | 5.4% |
| | 23.5 | 27.5 | 17.0% |
| | 22.5 | 23.5 | 4.4% |
| | 35.0 | 37.2 | 6.2% |
| | 39.5 | 44.0 | 11.4% |
| | 13.5 | 20.5 | 51.9% |
| | 15.0 | 24.0 | 60% |
| | 19.75 | 22.5 | 13.9% |
| | 25.3 | 47.0 | 85.8% |
| | 14.5 | 16.0 | 10.3% |
| | 26.8 | 28.3 | 5.5% |
| | 52.0 | 75 | 44.2% |
How to know if any running shoe will harden up in winter
You only need to know the type of foam used on that particular shoe.
It's also important to mention that +80% of the shoes in the market are based on EVA foam, and EVA is the worst performer under freezing temperatures. So chances are high that you have at least one EVA-based running shoe in your closet.
To make it easier for you, we've made a table that covers the most popular foams in the market, and their relationship with cold weather.
| | | | | |
| --- | --- | --- | --- | --- |
| Brand | Foam name | Type | Cold resistant | Example |
| Nike | ZoomX | PEBA | Yes | |
| Nike | React | TPE + EVA | No | |
| Nike | Not named (low tier running shoes) | EVA/Phylon | No | |
| Adidas | Boost | TPU | Yes | |
| Adidas | Lightstrike | EVA | No | |
| Adidas | Lightstrike Pro | TPEE | Yes | |
| ASICS | FlyteFoam Blast / FlyteFoam Blast+ | EVA + Olefin | No | |
| ASICS | FlyteFoam Turbo | PEBA | Yes | |
| New Balance | FuelCell | TPU + Nitrogen | No | |
| New Balance | Fresh Foam | EVA | No | |
| Saucony | PWWRUN PB/HG | PEBA | Yes | |
| Saucony | PWRRUN / PWRRUN+ | TPU + EVA | Yes | |
| HOKA | ProFly / ProFly+ | EVA | No | |
| Brooks | DNA AMP | TPU | Yes | |
| Brooks | DNA Flash | EVA + Nitrogen | No | |
| Brooks | DNA Loft v1/v2/v3 | EVA + Nitrogen | No | |
| Skechers | Hyper Burst | EVA + CO2 | No | |
| Altra | EGO / EGO Max | EVA + TPU | No | |
| Puma | Nitro | TPEE + Nitrogen | Yes | |
| Mizuno | Enerzy | TPU | Yes | |
| Salomon | Opti·vibe | EVA | No | |
| On | CouldTec | EVA + Olefin | No | |
Additionally, here you have some examples of cold-resistant shoes for the 3 main categories:
And these are the biggest/smallest changes of all the shoes we've tested:
Biggest increase in firmness: ASICS Magic Speed 2 (125.0%)
Lowest increase in firmness: Saucony Triumph 19 (3.6%)
Biggest increase in flexibility: Saucony Kinvara 13 (148.3%)
Lowest increase in flexibility: Saucony Endorphin Pro+ (2.6%)
It's easy to think that increases like 125.0% or 148.3% on firmness will transform any shoe into a brick. Well, that's not the case, because most shoes are soft enough that, when exposed to freezing temperatures, they still feel considerably soft. The only caveat is that you can feel them firm since your mind will instantly compare with the room temperature feeling of that same shoe.
This is a chart showing the relationship between hardness in all of our lab tested shoes. As you can see, most shoes are on the softer side even after the freezer.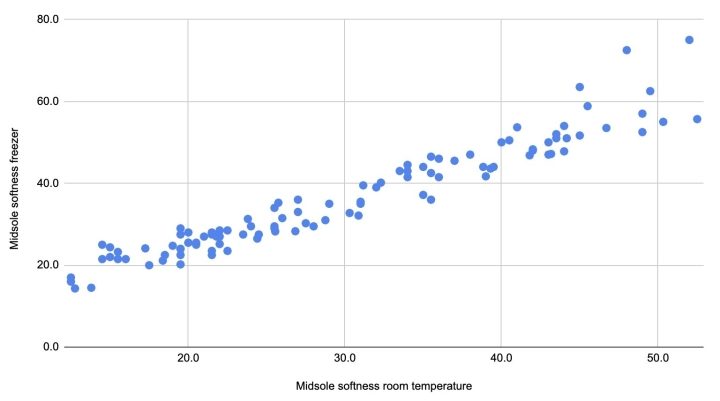 So it's clear that nowadays it's hard to run in a very firm shoe, especially at room temperature. Again, it's much easier to understand that from a visual perspective. As you can see below, most shoes on the shelves are on the softer side, being 18.64 to 23.18 (HC) the mainstream range by far.
Firm vs. stiff it's not the same!
This is a pretty common mistake in the running world, but a firm shoe and a stiff shoe are two totally different things.
Stiff is the opposite of flexible.
A firm midsole is the opposite of a soft one.
It's probably easier to have a visual perspective, right?. Here you have a super flexible Nike compared to a stiff Puma shoe (that's right, the Puma one has a carbon plate):
Now, this is a firm shoe (Saucony) compared to a soft one (New Balance):
Tip: We have two full guides in case you want to further explore all about soft/firm and flexible vs. stiff running shoes. For example, we explain how a stiffer shoe is usually faster… but less comfortable.
Cold weather decreases shoe flexibility
Temperature has a powerful impact on the flexibility of every running shoe (study). Unlike midsole softness, which it's all about one thing, here we have ranked 4 factors based on their influence:
Carbon plate: Any shoe with a carbon plate will be really stiff. And most shoes without carbon plates are relatively flexible.
Midsole: The type of foam used by the manufacturer and the stack height play a major role in rigidity. Some like FlyteFoam Turbo or Lightstrike Pro are very stiff, while others like FuelCell are super soft.
Outsole: Some rubber compounds are really hard and can have a big impact on shoe flexibility. Also, the amount of rubber used and its thickness can make huge changes in flexibility.
Upper: Motion control and other plastic parts can make any shoe more rigid.
Let's make it easier to understand those by comparing 3 shoes from the same brand with different plate and foam configurations:
| | | | | | |
| --- | --- | --- | --- | --- | --- |
| Shoe | Plate | Foam | Flexibility at room temperature (N) | Flexibility after 20 minutes in the freezer (N) | Change |
| Saucony Endorphin Shift 3 | No | PWRRUN (TPU) | 30.3 | 38.9 | 28.3% |
| Saucony Endorphin Speed 3 | Nylon | PWRRUN PB (PEBA) | 23.5 | 31.0 | 31.9% |
| Saucony Endorphin Pro 3 | Carbon | PWRRUN PB (PEBA) | 94.4 | 110.2 | 16.7% |
Remember that the higher the number, the more rigid the shoe, because it's the force in Newtons that was required to bend it. We can draw some quick conclusions from this data:
Carbon plates do not suffer from cold weather, unless you run at -40ºC, which is unlikely. What's more, it has been proved that a mix of concrete and carbon fiber is more resilient than concrete alone under freeze/thaw cycles. Nylon plates don't play any significant role in flexibility under cold weather, either.
A carbon-fiber plated shoe is super stiff and it will become even stiffer in freezing conditions, mostly because of the midsole.
Daily trainers like Endorphin Shift 3 usually have thicker and rigid uppers, plus reinforcements or motion control parts, and those elements play a bigger role in rigidity than a nylon or TPU plate, which is very flexible. That's why the Endorphin Speed 3 is the most flexible of the 3 shoes in both mild and cold weather.
If we exclude the plate, you may recall that we pointed to the midsole in the next place when it comes to the impact on flexibility under cold temperatures. Going deep again on our lab data, we found huge differences between foams, and unsurprisingly, EVA-based foams are again the worst performers. These examples show the increase of stiffness of the shoe when the foam is exposed to cold temperatures (all non-plated shoes):
Firm running shoes can cause injuries: true or false?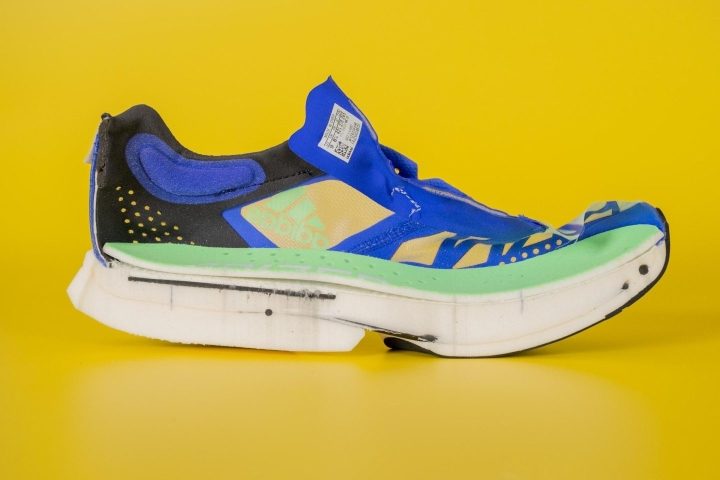 Word on the street is that injury rates are growing in recent years. The truth is that, since the release of the game-changer Nike Vaporfly 4%, there has been an uptick in bone stress injuries and other pathologies. Any sports-oriented doctor will tell you the same, especially in the elite level.
We still don't know clearly if there is a direct correlation between carbon plated shoes and many injuries, but everybody is asking that question right now, even the scientific world.
For now, it seems that the so-called supershoes can modify your gait and force running form changes that can lead to ankle, calf or hamstring injuries. And carbon fiber plates probably play a role in bone stress injuries because of the increased stiffness. But, on the other hand, other investigations support that lightweight shoes without motion control features are the best to prevent injuries, so it's safe to say that this is very personal and we need more time to discover how big is the role played by very soft or firm midsoles.
What happens to running shoes under hot weather?
All running shoes feel softer under hot temperatures. And for many, that means nicer. But that also comes with some consequences.
On top of studies like this one, that already proved that midsoles get softer under hot weather, we did our own tests. We exposed the midsoles of a Nike Invincible Run 3 (PEBA) and a Hoka Bondi 8 (EVA) to a temperature of 50ºC during 20 minutes, and then measured it in a standardized way: using a durometer for softness (HC), and a digital force gauge for firmness (Newtons). As we said before: the higher the number in both Newtons or HC, the more rigid/firm the shoe is.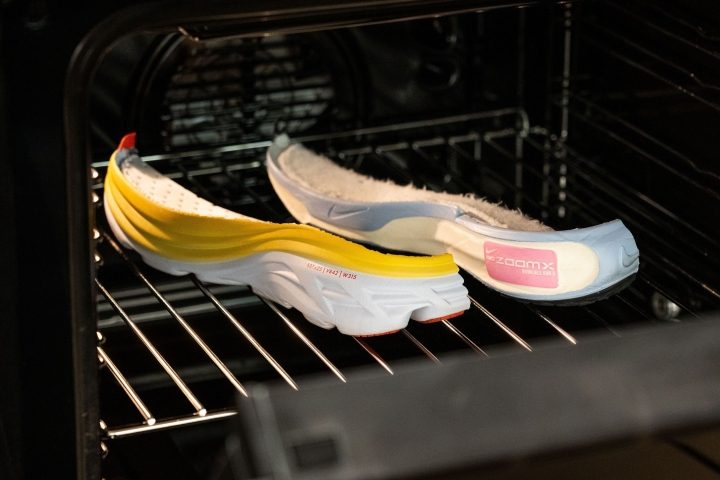 | | | | |
| --- | --- | --- | --- |
| Test | HOKA Bondi 8 (EVA) | Nike ZoomX Invincible 3 (PEBA) | Change |
| Durometer - Midsole (50ºC - 20 minutes) | 15.0 (HC) | 11.0 (HC) | -26.0% |
| Durometer - Midsole (Room temperature) | 18.0 (HC) | 14.5 (HC) | -19.4% |
| Durometer - Midsole (Freezer - 20 minutes) | 26.8 (HC) | 16.0 (HC) | -40.3% |
| Flexibility (50ºC - 20 minutes) | 44.4 (N) | 30.6 (N) | -31.0% |
| Flexibility (Room temperature) | 49.3 (N) | 32.0 (N) | -35.1% |
| Flexibility (Freezer - 20 minutes) | 70.1 (N) | 45.2 (N) | -35.5% |
3 takeaways from our testing:
Higher temperatures correlate to softer midsoles, the same way that cold hardens up all shoes, with no exception.
Unlike in winter, where EVA hardened up a lot and PEBA remained almost the same, changes caused by hot weather are pretty similar across all foam types.
Heat doesn't have a pronounced effect on flexibility, but as expected, it's more noticeable on EVA foams, where the shoe becomes considerably softer when you touch it or run with it.
Although changes are not dramatic, it's important to remember that all shoes are designed based on a certain foam softness. When the foam softens up too much, the shoe can become too unstable and lead to injuries. For example, a study made in 1996 by Hiroshi Kinoshita and Barry T. Bates found rearfoot control problems while running under hot weather on EVA shoes, which can lead to Achilles and calf problems. But take this with a grain of salt because it's been some decades since then, and all foams, including the EVA based ones, have improved a lot.
Tip: if you choose a low stack soft shoe like the NB Rebel v2 for your next summer run, chances are high that you will "bottom out". In order to avoid that problem just go for a higher stack shoe or choose a firmer one, because on a hot day it will be softer than expected.
All in all, if you want to avoid problems like instability or "bottoming out" on the hottest days of the year, just leave your shoes with EVA foams in the closet and pick another foam.
How to pick the right shoe for every season
There are 2 things you need to know before going deep on every season:
If you are going to train in very cold or hot temperatures, it's a good idea to run as little as possible on EVA based foams. Go with TPU (Boost, PWRRUN, DNA AMP…), PEBA (ZoomX, PWRRUN PB, FlyteFoam Turbo…) or TPEE (Lightstrike Pro) because these foams mostly stay the same despite of temperature changes.
Under mild weather or treadmill running, you can choose almost any shoe, as all foams will work as expected.
Based on this, if you live in a place with variable weather like Boston, Berlin or Madrid, it is advisable to have specific shoes for every season. For example:
Summer: Your best choice is a breathable shoe whose foam doesn't lose any cushion with hot conditions. Nike ZoomX Invincible Run 3 scored a 4 out of 5 in our breathability test and has full PEBA foam, so at least on paper it's a solid choice for training on the hottest days of the year. And if you want to race, check the Metaspeed Sky+ (5/5 on breathability + PEBA foam).
Winter: You should focus on good traction, isolating your feet from humidity (with Gore-Tex if needed) and avoiding EVA foams. A good option can be the Puma Deviate Nitro 2 because of its foam and excellent grip. If we speak about racing, Adidas Adizero Prime X Strung has cold-resistant foam and the acclaimed Continental outsole.
Autumn/spring/indoors: If you run between 10ºC and 30ºC, you can pick any shoe you want!
Is durability also affected by cold and hot weather?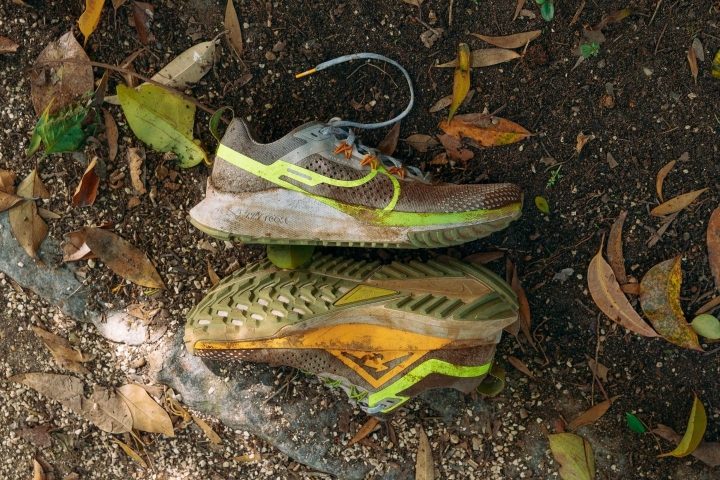 Yes, it is. Extreme temperatures will wear down your shoes quicker than expected. So, as you may guess, the best scenario for any running shoe is to work at mild temperatures as much as possible.
Like water, foam expands when exposed to freezing temperatures and contracts under hot weather. That makes temperature an important wear factor, because the more expansion/contraction movement is done by the foam itself to reach its normal status, the sooner it will lose its cushion. And that applies even when you're not running on shoes.
Shelf life: 5 tips to improve shoe storage!
Mileage is the main factor that wrecks a midsole, but not the only one. And shoe storage is probably the most underestimated of all. Most people don't even think about it, although their shoes are 99% of the time affected by those conditions.
Here you have 5 tips to improve your shoes' health while they're resting:
Let the shoes breathe some fresh air for 1-2h after every run.
After that, put the shoes in an indoor, dry, climate-controlled, clean and preferably dark place (like food!).
Avoid low or high temperatures. Anything between 15-25ºC is perfect, but under or over that range can accelerate foam degradation. If you have to choose between heat and cold, pick the first option.
Don't put any chemicals like cleaners near your running shoes. Volatile organic compounds (VOCs) can harm certain foams like EVA and other parts of the upper.
Don't put any weight over the shoes, or stack them one on top of another. Even if the pressure is low, it will put continuous pressure over the foam that can modify its structure.
A shoe rack or closet in any indoor room will work wonders. On the contrary, skip the garage or any non climate-controlled place. Although it is a common choice for many runners, it's also a very bad idea. Even if you live in a perfect-weather country, it is likely that humidity is high during summer months, and your midsoles want to avoid being exposed to that 24/7.
Finally, remember that shoes naturally degrade over time. You shouldn't get worried about this if your pair has 6 or 12 months, but depending on various factors (foam type, glues used, upper material, room temperature…) the degradation of the shoe from the second year of life can be really substantial, and probably it's a good idea to retire them if you feel any discomfort while or after running. It's never worth the risk to get some extra miles at the expense of a niggle or injury!