It's a comfy daily running shoe. It can go fast. It can go far. In the words of an expert, the Novablast 3 from ASICS "sets the standard for what a daily trainer should be." What's more, you can race in it in your next marathon too. Talk about versatility! And if you want a light shoe that won't drag you down, the ASICS Novablast 3 is the all-rounder you need.
Pros
Super bouncy
Cushy feel for miles
Breathable
Light AF
Ready for cornering
Locks you in
Tongue stays in place
Grippy outsole
Mad durable
Sets the bar for a do-it-all shoe
Cons
For narrow-to-medium feet only
Stack heights higher than advertised
Who should buy the ASICS Novablast 3
"It's still a do-it-all beast of a shoe," and, "I think my favorite thing about the Novablast is its versatility" are some of the comments runners have for the third version of the ASICS Novablast.
This said, it's pretty obvious that this shoe can do many things. And if you're eyeing getting a shoe that's any of the following, the Novablast 3 might be the one for you:
a running shoe for jogs and long, slow runs
a daily trainer that's light and responsive for uptempo training
a solid option for marathon runs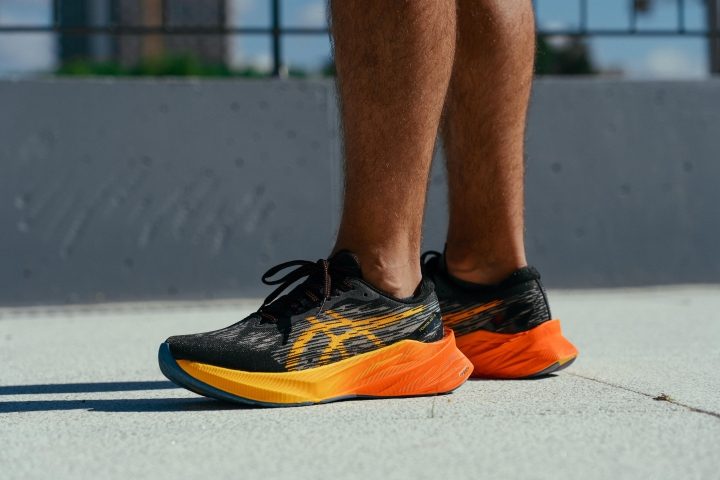 Who should NOT buy it
Although most runners, if not all, love the ASICS Novablast 3, it still has a few caveats here and there. One, it's a tad too long. And two, it's more expensive now by $10.
If you don't want too much room in the forefoot, you can go for the older yet better-fitting version, the ASICS Novablast 2. And if you want a shoe that won't break the bank, the ASICS Gel Contend 7 is a budget option that will surprise you.
Novablast 3 vs. 2
Overall, the ASICS Novablast 3 and 2 "don't look radically different, yet they have significant differences," remarks one expert. And these are the changes that make the Novablast different:
lighter (from 280 grams/9.9 ounces to 252 grams/8.9 ounces in US men's 9)
has more spring
new mesh upper plus gusseted tongue allow a supportive fit
added stack (going from 30/22mm to 31/23mm) for that extra cushiness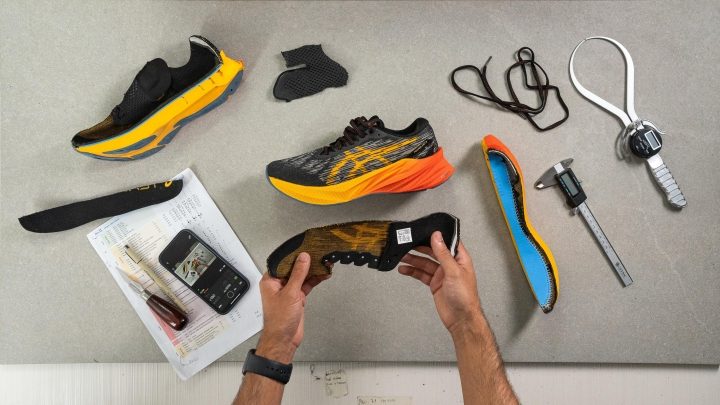 Fact check
Measuring the heel stack height (insole included), we found it to be even taller! It is 37.2 mm, given that the average is 32.6 mm.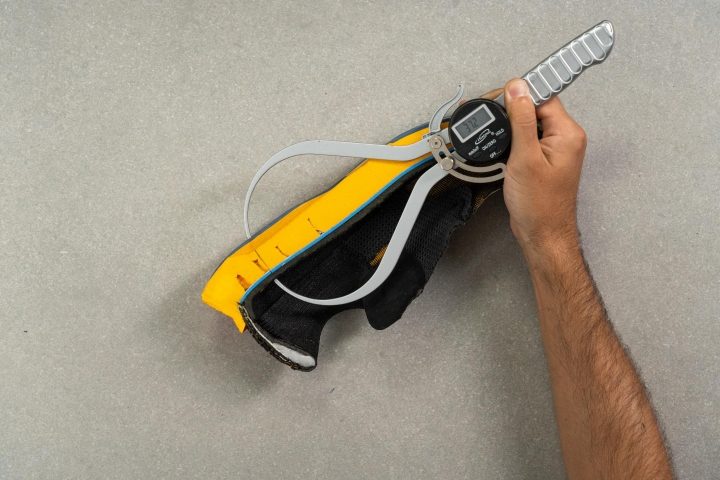 Fact check
However, to our surprise, the heel-to-toe drop is a little lower than stated. We measured it at 6.8 mm, while it is stated to be 8 mm.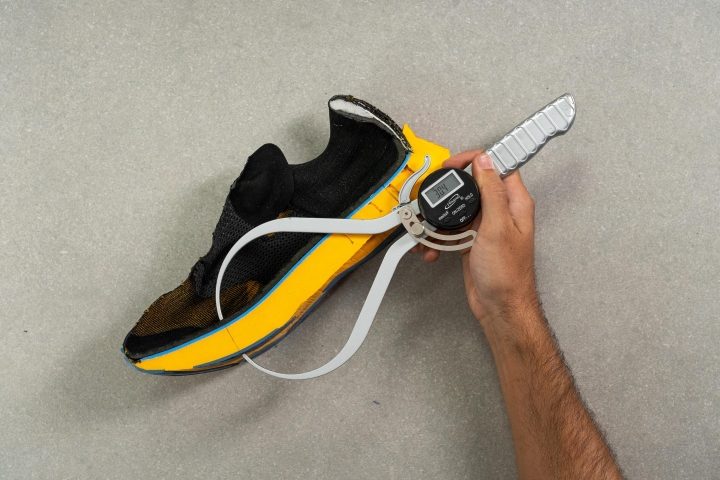 A comfortable cruise with the Novablast 3
It's comfy as hell. And these statements from various reviewers will prove to you why:
"feels great from mile 1 to mile 20"
"easy on the body"
"I was on my feet for hours, and the Novablast 3 never let me down."
As one runner states, "the new foam is the star attraction." And that's on its very cushy and forgiving ride.
Fact check
Checking the foam softness with a durometer, we can confirm that it is indeed one of the softest shoes not only from ASICS but on the market in general. It is 52% softer than the average.
Disclaimer: The photo below shows 1 out of 5 measurements that we took with the durometer to ensure accuracy.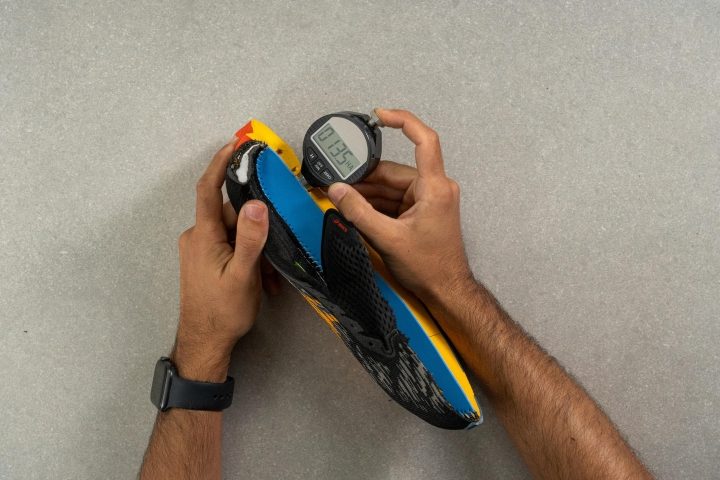 Even when exposed to cold temperatures (20 minutes in our freezer) and getting 52% firmer, the Flytefoam Blast+ still remains much softer than most running shoes in room temperature.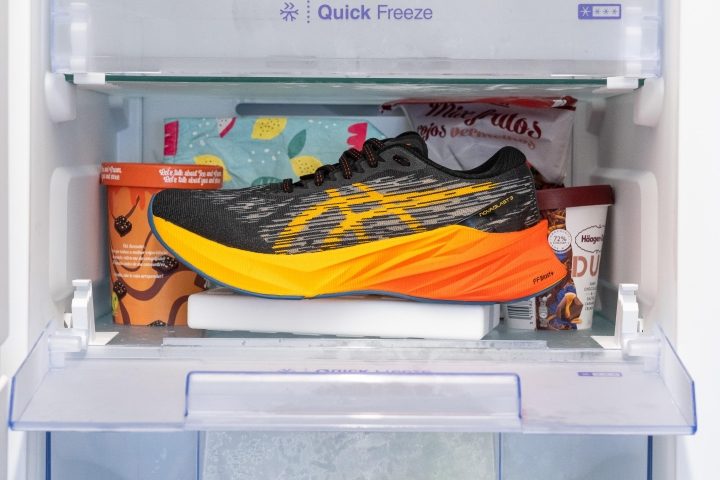 Well-ventilated for warm days
The mesh upper on the Novablast 3 scores high on our breathability tests. You can see how much more smoke passes through it compared to the ASICS Kayano 29 on the right.
You can also see how porous the upper is not only in the toebox but all throughout its length.
Won't be too much of a weight
"Basically, Flytefoam Blast+ is the jam." This is one comment from a tester who can't believe how light the Novablast 3 is, especially now that it has more foam. Because of this, another adds that the shoe "seems to defy the law of Physics." But what's more important is it's so light; it "doesn't get in the way when you run fast or slow paces," says one road runner.
For reference, the ASICS Novablast 3 weighs 252 grams/8.9 ounces. On average, daily trainers weigh 282 grams/9.9 ounces.
Exciting times ahead
The new Flytefoam Blast+ midsole of the shoe has lots of pop (even though it's not a tempo trainer); a runner reports that it's "capable at quick paces."
A moderate level of stiffness makes the shoe's ride more propulsive. The shoe is not from the flexible bunch but it's right at the average across all of our lab-tested shoes.
Disclaimer: We took the measurement 5 times for higher accuracy.
As for the torsional and longitudinal flexibility, the Novablast 3 comes on the stiffer side. In our subjective assessment, we gave it 3/5 and 4/5 correspondingly.
The Novablast 3 will have your feet fastened
Despite the extra stack, the ride feels secure. That's because of the combination of the snug-fitting upper and the stable midsole. Prior to this version, the foam was too squishy, which compromised the shoe's surefootedness.
But in this version, "it doesn't feel like I'm gonna topple over," claims one expert reviewer.
The Novablast 3 also gets a good deal of stability from a rather wide platform. It is a whopping 115.9 mm in the forefoot and 93.9 mm in the heel. The former is 4.2 mm wider than the average and the latter is 5.3 mm wider.
How an all-rounder should be
Whether you're running fast or slow or running short or long distances, the ASICS Novablast 3 "can cover so many bases," complimented one critic. It's an out-and-out versatile shoe. Attesting to this, a runner leaves this feedback: "I've done just about everything in this running shoe."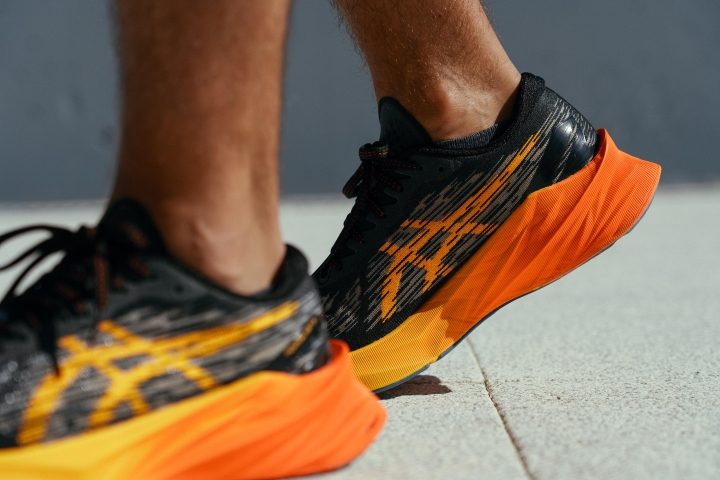 The tongue is next level
It "gets out of way," states one long-time runner. Plus, it's protective against lace bites; it molds to the ankle.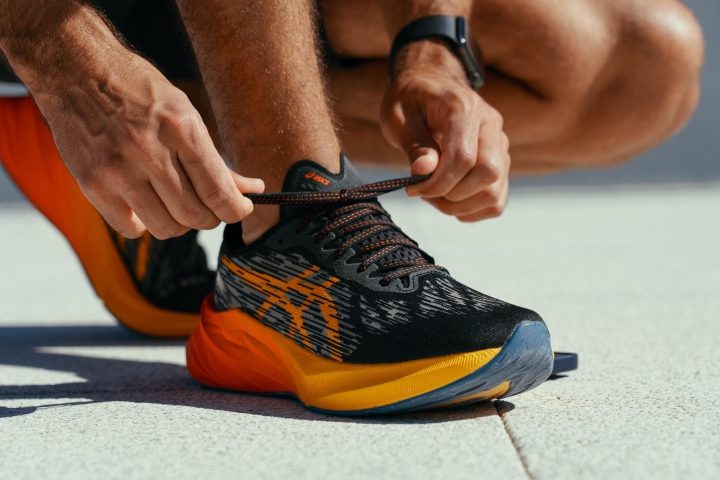 Fact check
To our great surprise, the tongue is only 1.3 mm thick and yet does the job!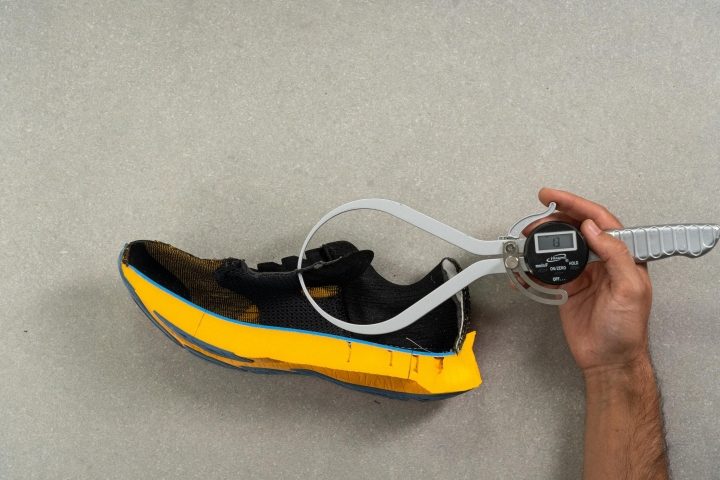 And it stays in place, thanks to its gussets.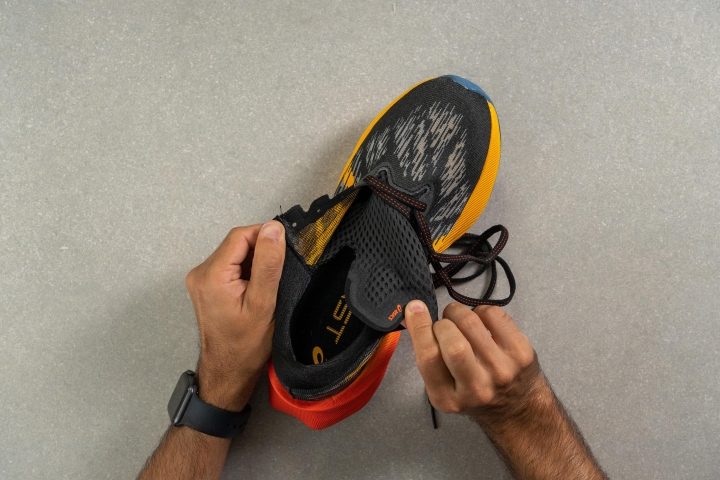 Beware of sizing up
Width-wise, the fit is true-to-size.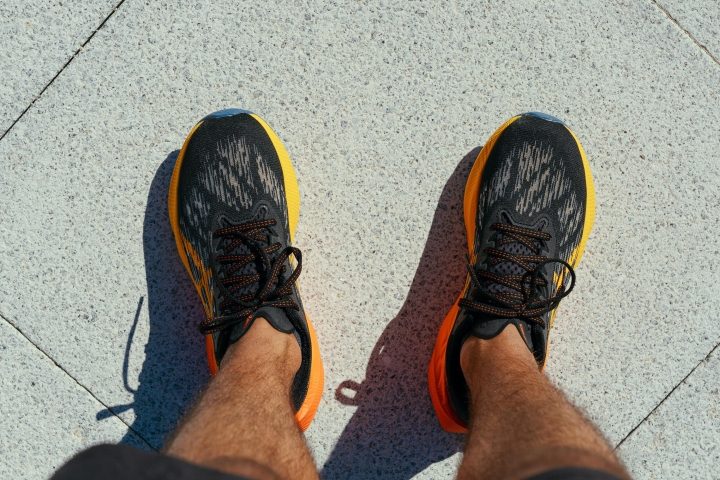 But when it comes to length, it feels a tad long. If you prefer a roomier fit, then this shoe will suit you. But if you plan on sizing up, you might want to think it through. You might end up with your feet swimming in the shoe.
Fact check
We measured the inner length of the shoe (26.2 cm) and it falls in between men's US size 8 (26 cm) and US 8.5 (26.5 cm), according to Asics' official size chart. So, it indeed might feel a tiny bit long.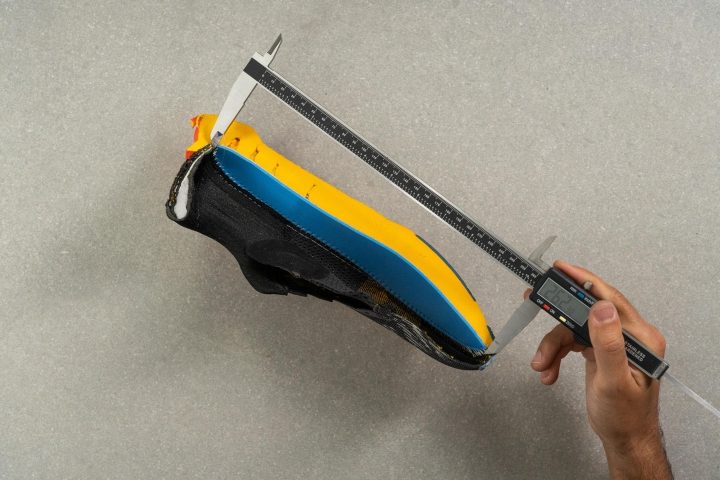 As for the heel portion of the shoe, despite having a softer and more flexible characteristic, there have been no complaints regarding its ability to hold the heel in place. Subjectively assessing the heel stiffness, we gave it 2 out of 5, where 5 is the stiffest.
The outsole is a superstar
Whether you're running city miles or on paved surfaces, dirt roads, steep, wet, and loose gravel, the outsole of the third Novablast is awesome. A reviewer adds that it's "a surprisingly capable shoe" on unfriendly surfaces.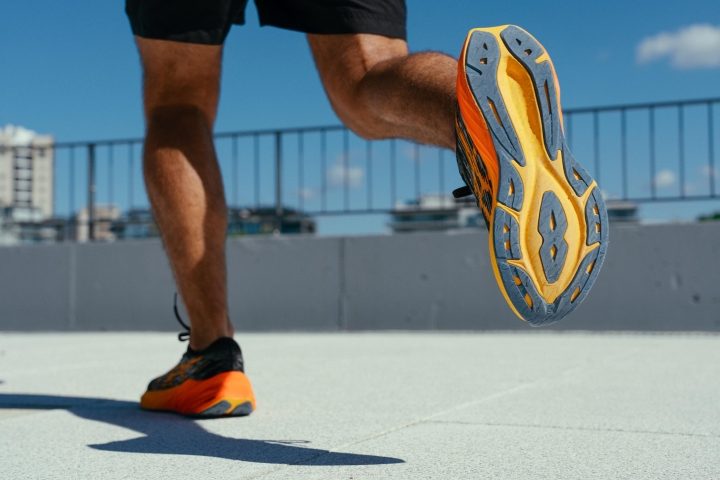 What's more, it shows minimal wear even after 100 miles of wear testing.
The foam is just as durable
After 150 miles, the only issue the midsole has is its visual creasing. As one reviewer puts it, it's a foam that "shows its age," which is not necessarily a deal-breaker because it's a minor cosmetic issue.
The ride still feels bouncy. It "still has so much life left in it," commends one commenter.
Is the $10 price increase necessary?
The price of the ASICS Novablast 3 wouldn't have been a con if it stayed at $130, similar to its precursor. As one runner notes, this is the "only negative change [they've] seen from last year."