Who should buy the ASICS Gel Kayano 29
Don't miss the ASICS Gel Kayano 29 if you're any of the following runners:
an overpronator (feet roll inward) who wants a non-bulky support
a long-distance runner who needs lots of protection and cushion
a road runner who highly values durability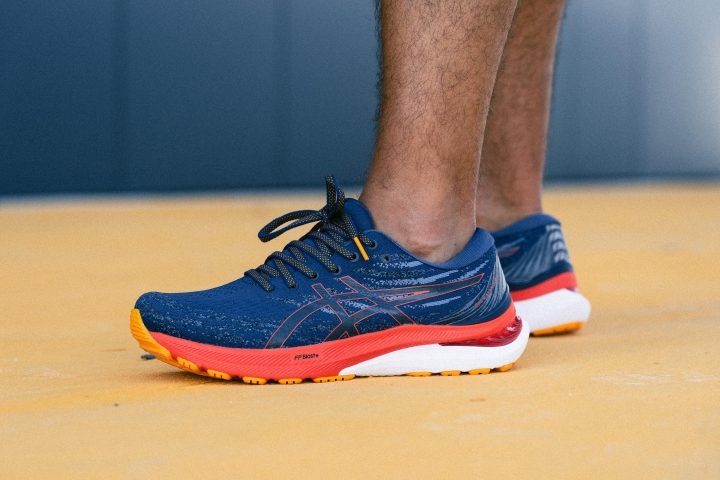 Who should NOT buy it
Although better than its precursor, the Kayano 29 can still use some improvements. And if you can't wait for that to happen, there are ASICS alternatives that you might enjoy.
For an airier in-shoe feel, the ASICS GT 1000 11 will keep your feet feeling fresh. Those with wide feet, meanwhile, can go for the ASICS GT 2000 10. What's more, the shoe's asking price is only $100.
Kayano 29 vs. 28
For a little bit of a spoiler of how the 29th turned out, an expert leaves this comment: "Every year, ASICS continues to modernize its legends and stay up to date with the competition."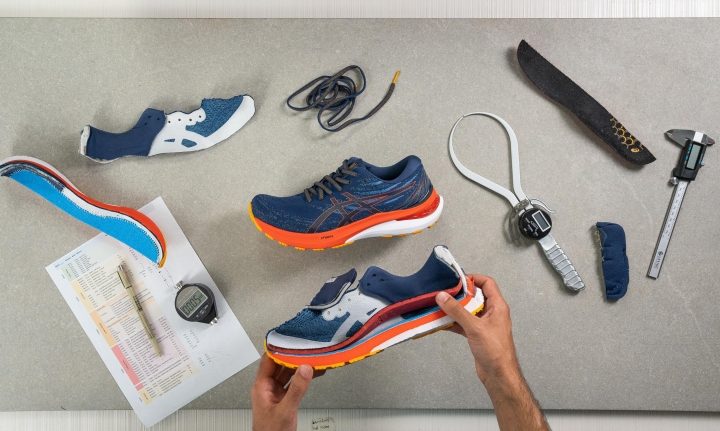 Yup, the Kayano 29 is a better version, and this is owed to its:
lighter weight (from 305 grams/10.8 ounces to 299 grams/10.5 ounces in US men's 9)
less invasive support that keeps the foot and the leg comfy at all times
new midsole that offers squishier landings
higher stack (from 23mm in the heel to 25mm) for better protection
Fact check
Including the outsole rubber and the insole, the heel stack actually shows to be 33.1 mm. This is considered above-average among our lab-tested running shoes.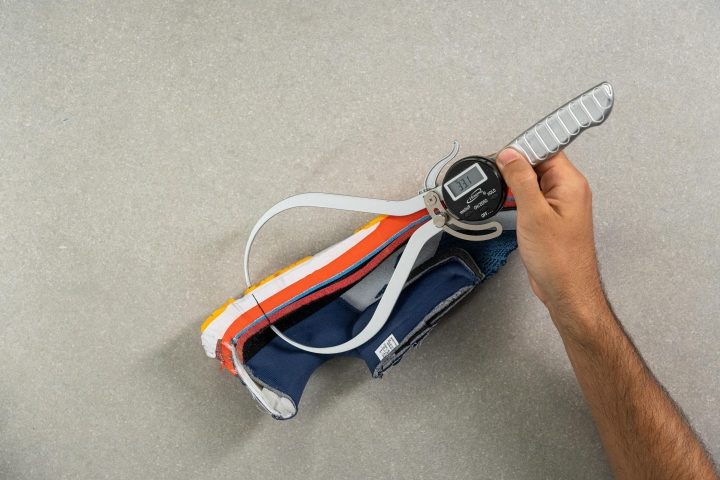 Doesn't lose its identity
It's still the supportive ASICS Kayano runners have come to love. In the words of a reviewer, the Kayano line with its twenty-ninth iteration "still lives up to its classic reputation." Meaning, that it's stable and doesn't let your foot roll to the side.
But "while there are plenty of anchors to the past," says another reviewer, the Kayano 29 is "aimed at the future," he continues. And that's on the now comfier and lighter feel it offers, which will be discussed more in the coming sections.
A comfort-loaded miler
The Kayano now features Asics' softest foam yet — the Flytefoam Blast+. Because of this, it's cushier in feel. "Within a minute of tearing open the box, I was out the door and flying," boasts one reviewer. Another adds, "it's safe to say this ain't your dad's Kayano" as this version forgoes the brick-like property of past Kayanos.
Fact check
Checking the foam's softness with a durometer, we couldn't believe it was a Kayano! It is 26% softer than the average across running shoes!
Disclaimer: We take 5 measurements to ensure accuracy. The photo below shows one of the measurements taken.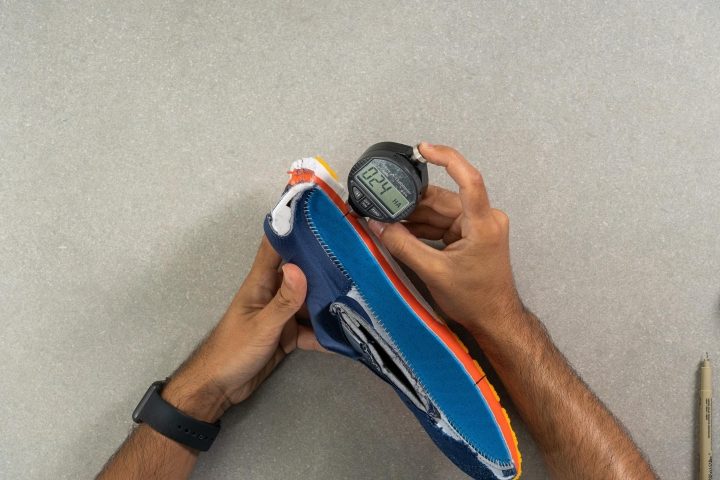 The foam does get 36% denser when put in a cold temperature. However, even in its "frozen" condition, the Kayano 29 shows average softness of a running shoe in a room temperature.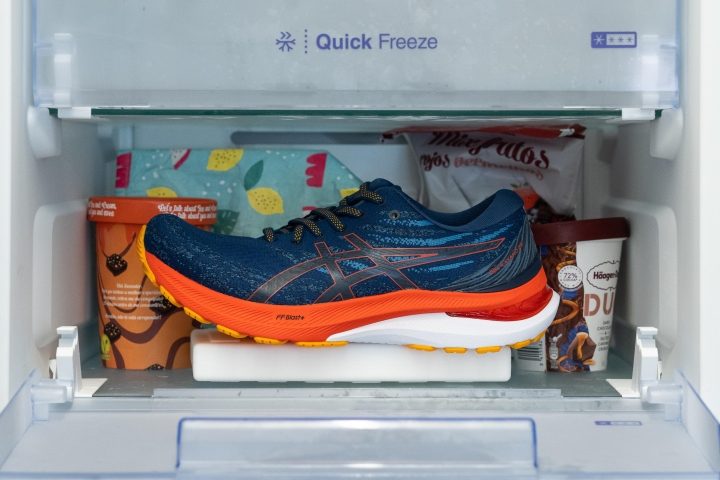 But what's even better is that the shoe doesn't compromise stability either. It's just as supportive as you would expect from a Kayano.
And if you like to go far, "this is a shoe built for miles — hundreds of them," shares another road runner. And that's on the shoe's very cushioned and durable design.
Let some air in, ASICS!
"This shoe is toasty." This comment perfectly sums up what's the state of breathability the ASICS Gel Kayano 29 has. It's hot as hell because of its heavily padded upper design.
Fact check
The lack of ventilation in the shoe's upper is easy to see in our smoke test.
Note: If you're wondering, the shoe on the right is Saucony Triumph 20.
It is also visible how little light comes through the shoe's dense upper fabric.
While all the padding is great for winter runs, a long-time runner who runs in humid conditions says that it's a little too much for his usual 90-degree setup. He even adds, "I don't need to be heating up more than that."
Fact check
The Kayano 29 has a record-breaking tongue thickness among running shoes - 9.7 mm! That is an insane amount of padding given that the average is 5.8 mm.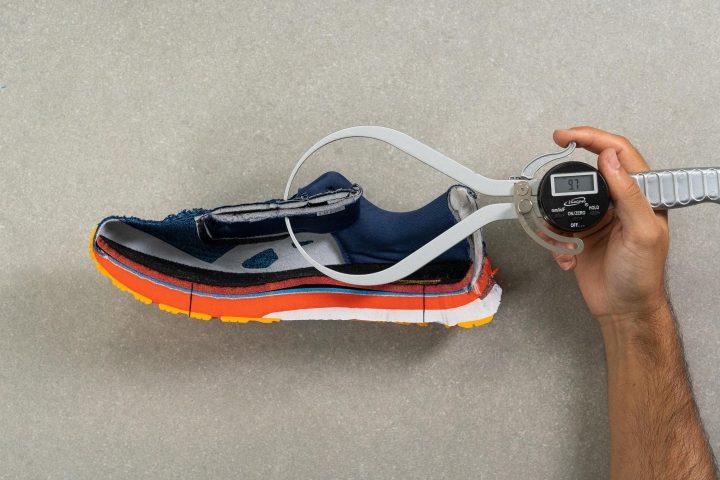 Fact check
The insole is just as generously padded: it is 5.5 mm thick while the average is 4.5 mm.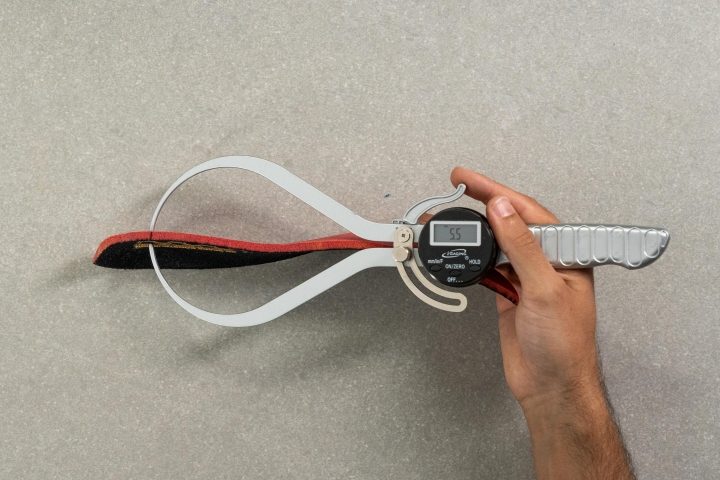 The Kayano 29 won't let you feel any impact
More than comfort, the copious amount of foam also gobbles up the impact. Because of this, a runner leaves this feedback: "I had zero issues over long miles, and my legs felt surprisingly fresh the next day."
No need to push it forward...
...because the shoe will do it for you. Runners report that the rocker geometry makes heel-to-toe transitions seamless and smooth.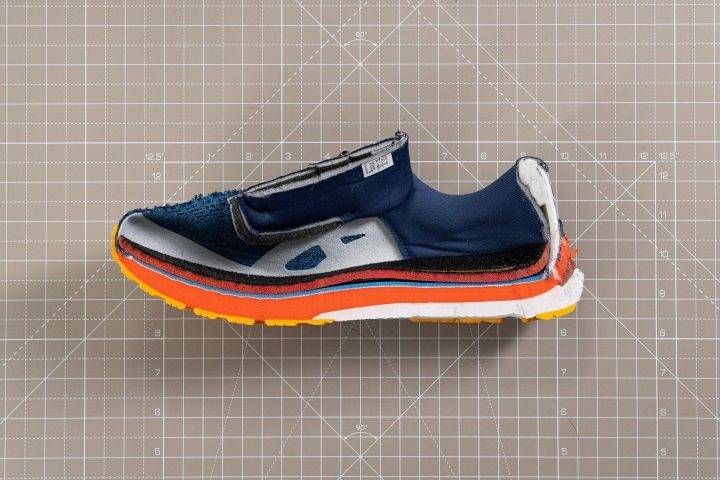 Based on the general users' feedback, you don't have to put much effort as the shoe will glide your strides.
Runs and feels lighter than it actually is
At 299 grams/10.5 ounces, the ASICS Kayano 29 is not the lightest stability shoe. As a matter of fact, it's a few grams heavier than most stability shoes (which weigh 297 grams/10.4 ounces, on average).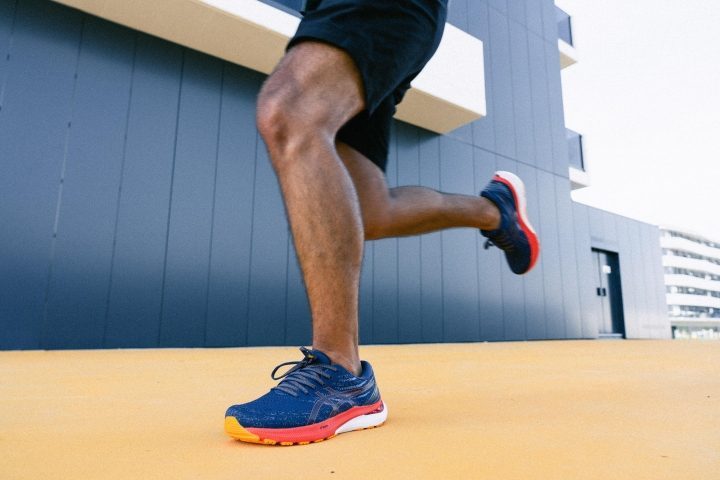 But don't be discouraged because it's not heavy on foot. "This runs lighter than its weight," reports one tester.
Quite flexible for a Kayano
Just because it is a stability shoe, it doesn't mean that it must be stiff, And this iteration of the Kayano proves it to be true. Based on our lab measurements, the shoe is actually 6.5% more flexible than the average.
On a scale from 1 to 5, where 5 is the stiffest, we gave the shoe's longitudinal flexibility 2/5 and 3/5 to its torsional flex.
Support is also provided by the upper
Like most ASICS running shoes, the Kayano maintains a snug hold from the rearfoot to the midfoot and opens up in the forefoot.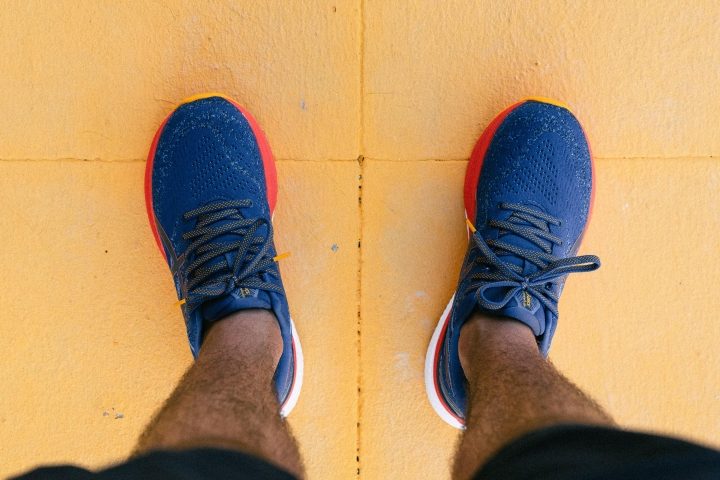 With this, runners love the shoe's overall fit. One of them perfectly summarizes everyone's thoughts on the shoe's foothold: "can keep you in the saddle for miles at a time."
Fact check
The Kayano's heel stiffness received 4 out of 5 in our subjective assessment. It is not as hard as in the classic Kayano and yet solid enough to hold your ankle tight.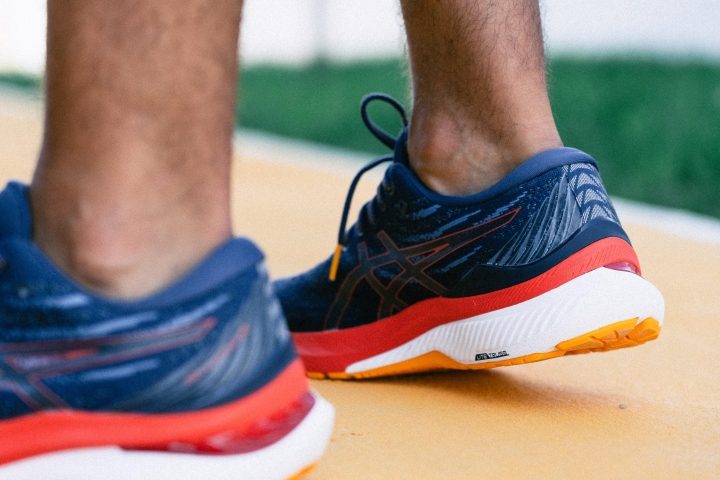 Although the shoe's tongue is not gusseted, it is designed in a way that doesn't let it shift or slide.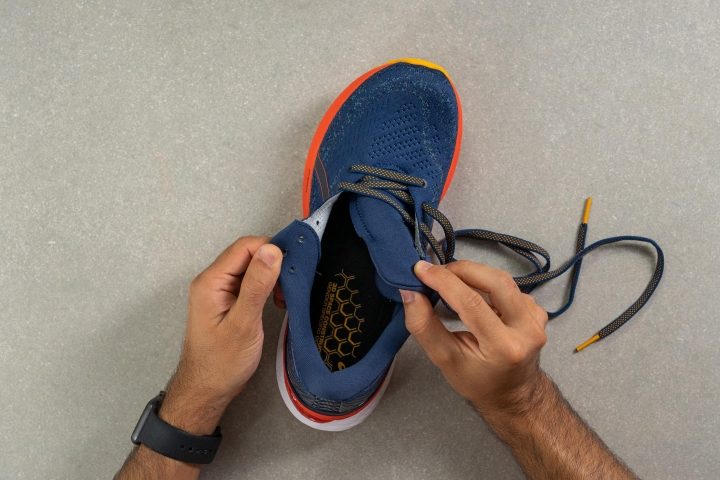 There's room for your toes
The shoe "loosens up in the toes giving you ample room to wiggle the dogs around" is a remark from one running shoe expert who appreciates the Kayano 29's roomy toe box.
Fact check
There is a good amount of toe room in the Kayano 29 (96.9 mm in the widest part). However, it turns out to be narrower than the average (98.3 mm).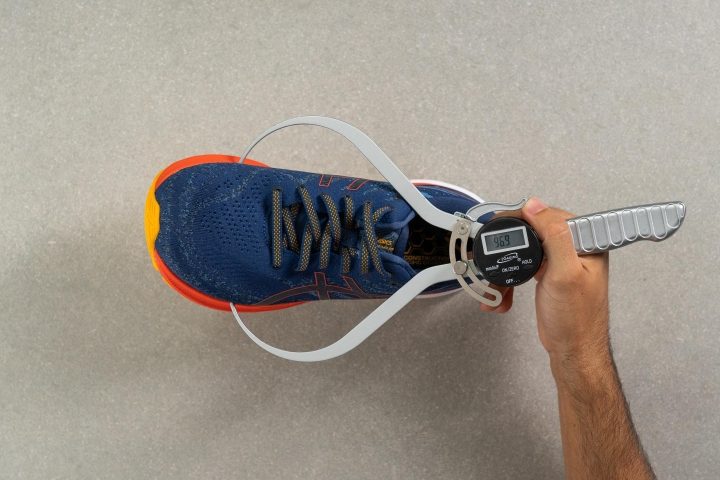 That's why there is not enough room to accommodate wider feet. Those with broader feet have complained about the following:
"started building a slight hotspot around the medial side of both my big toes."
"developed a slight hotspot behind my big toe on the medial side."
According to these runners, it's not necessarily a deal-breaker. It's just something that wide-footed runners should be aware of. And it's easily resolved by sizing up.
Ready for serious miles
The outsole is a definite tank. As one expert puts it, "this is a shoe built for miles." And not just any miles because he's estimating it to last between the 400 to 500-mile mark. After putting the Kayano 29 through a series of wear tests, the outsole is still unscathed.
Fact check
The outsole rubber is 4.1 mm, which is 15% thicker than the average.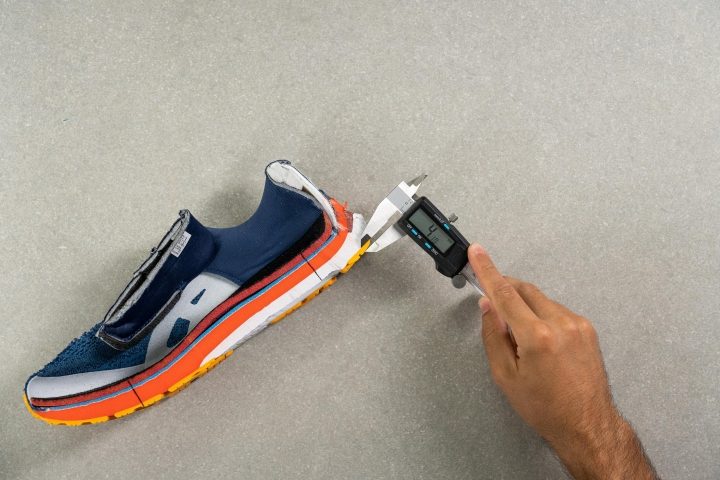 Complete lab data and measurements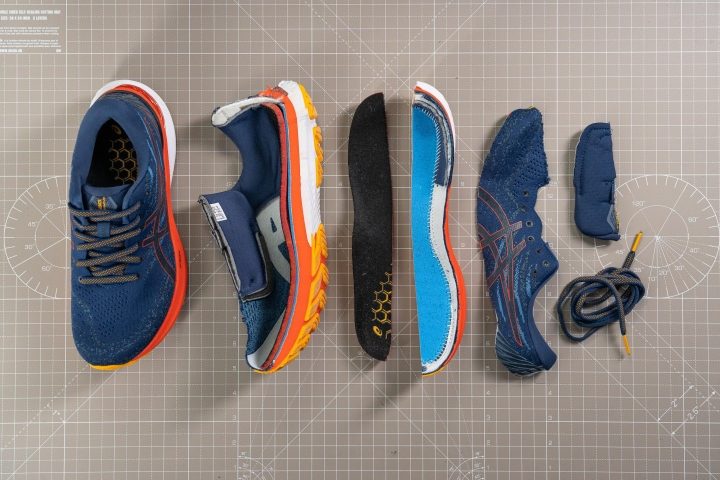 ASICS Gel Kayano 29
Average
Whole shoe

Weight (g)
285
272
Drop (mm)
8.6
8.6
Flexibility of the shoe (N)
28.8
30.8
Flexibility of the shoe (Freezer 20 min) (N)
39.0
42.3

Flexibility of the shoe (% of change)

35.4
40.4
Longitudinal flexibility (1-5 scale, 5 being the stiffest)
2
3.2
Torsional flexibility (1-5 scale, 5 being the stiffest)
3
3.3
Upper

Thickness - Tongue (mm)
9.7
5.8
Width Upper - Forefoot (mm)
96.9
98.3
Width Upper - Heel (mm)
76.1
75.5
Flexibility of the heel counter (1-5 scale, 5 being the stiffest)
4
2.9
Tongue: gusset type
none
-
Heel: pull tab
none
-
Midsole

Width Midsole - Forefoot (mm)
111.3
111.6
Width Midsole - Heel (mm)
90.4
88.5
Stack - Forefoot with insole (mm)
24.5
24.0
Stack - Heel with insole (mm)
33.1
32.5
Durometer Midsole Heel (Room temperature) (HA)
21.0
28.5
Durometer Midsole - Heel (Freezer 20 minutes)
28.5
35.7
Durometer Midsole - Heel (% of change) (TEST)
35.4
22.0
Outsole

Outsole thickness (Heel) (mm)
4.1
3.5
Durometer Outsole Heel (Room temperature) (HC)
83.5
80.8
Insole
Insole Heel Thickness (mm)
5.5

4.5

Insole: removable
yes
-
Compare popularity
Interactive
Compare the popularity of another shoe to ASICS Gel Kayano 29: