The Triumph 20 from Saucony is a daily running shoe that brings back the roots of the OG Triumph. As one runner put it, "the Triumph lost its way with the past two versions." But now, it's better than ever! It's more cushioned and has some bounce to offer. If you want a leg-saving ride that will keep you feeling excited, the Saucony Triumph 20 will do just that.
Pros
It's now livelier
Comfy as expected
Fits like a glove!
Heel clutch couldn't be better
No lace bites
...and they stay in place
Lighter than before
Plush yet breezy upper
Cons
Price is way up there
Rocker geometry isn't as pronounced
Who should buy the Saucony Triumph 20
The twentieth version of the Saucony Triumph is a must-have for those who want a: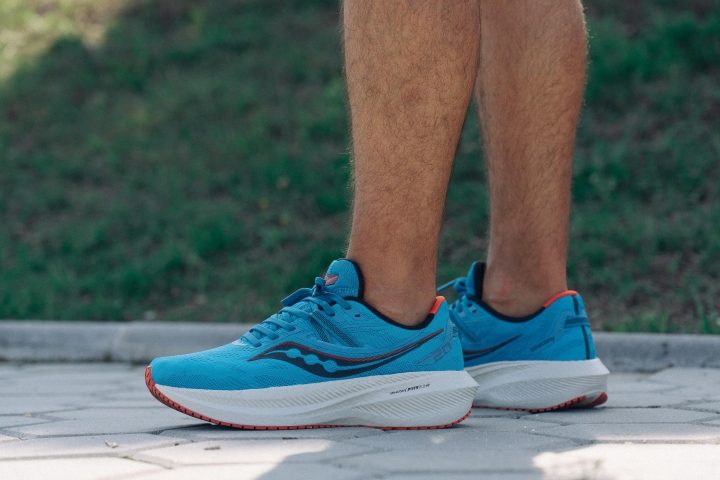 Who should NOT buy it
If you're looking for a cheaper alternative that's just as comfortable, add the Saucony Ride ISO 2 to your cart instead of the Triumph 20. And if you want to really feel that rockered ride moving you to your next step, the Saucony Ride 15 will fit you to a T!
Triumph 20 vs. 19
The general design idea behind the Saucony Triumph 20 is to create a more cushioned yet lighter version of the Triumph 19.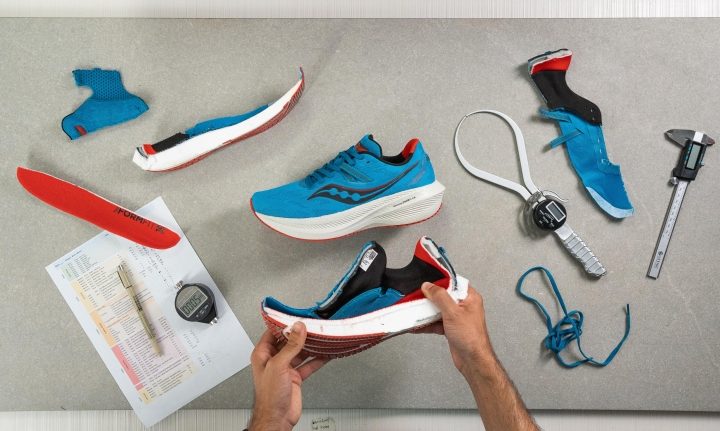 And to attain this, Saucony made the following changes:
Departing from an 8mm drop (heel stack: 32.5mm; forefoot stack: 24.5mm), the Saucony Triumph 20 now has a 10mm drop (heel stack: 37mm; forefoot stack: 27mm).
This update implies better comfort and responsiveness for that fun, forgiving ride.
Fact check
Our measurements of the heel-to-toe drop confirm the brand's statement. The difference is 10.4 mm.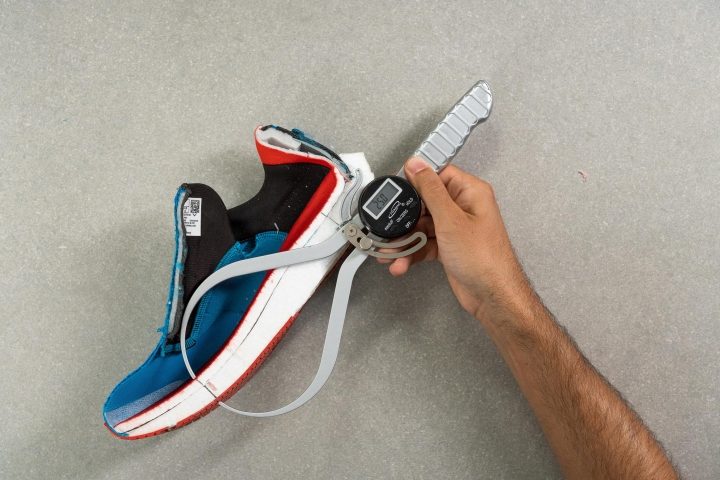 There is also a copious amount of heel cushioning in the Triumph. Given that it is the brand's max-cushioned shoe series, it is no surprise. With 35.4 mm os heel stack, it is 8% thicker than the average across running shoes.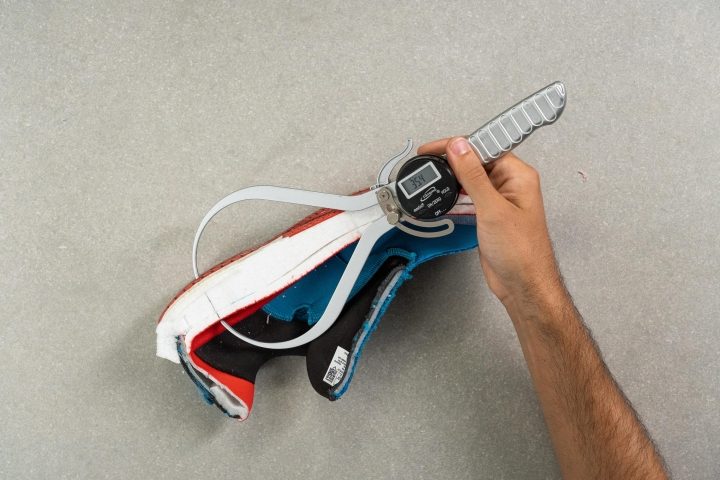 Although more cushioned, the Triumph 20 goes on a diet. It trims down weight to 9.7 oz. from 10.2 oz. in men's US 9.
To keep the laces tied and locked in position, the eyelets are reinforced.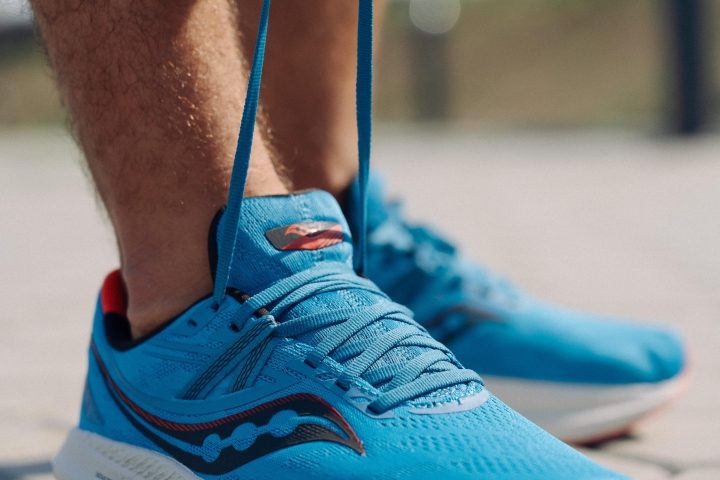 It ain't boring
The Saucony Triumph 20 "gave me a nice bit of a pep in my step," happily expresses one long-time runner. Another adds that "you get a little bit of bounce back from the foam as you sink into it," making the ride very enjoyable, especially for long miles.
This also makes the shoe very fun "when easing through the gears on a long progression run," shares another reviewer. Overall, this "helps make it the best of this shoe in years," confidently remarks one expert.
Comfortable on all fronts
From top to bottom, the Saucony Triumph is uber comfy. The upper is well-padded, it lodges the foot without the fear of blisters.
Fact check
Lace bites are also out of question with the shoe's extra padded tongue. At 7.9 mm, it is significantly thicker than the average 5.8 mm.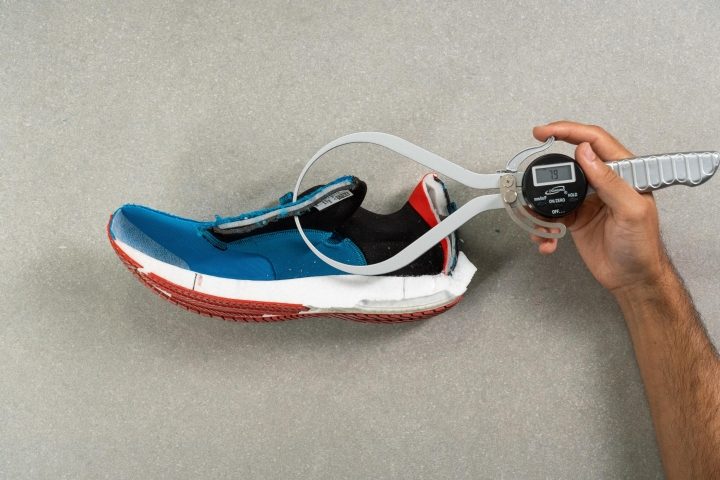 And if you want to feel like you were "bouncing around on a cloud" as you're walking or running, this Triumph 20's midsole foam will "keep your feet happy over longer distances," boasts one Saucony fan.
Overall, it is described as incredibly soft and comfortable. "I felt as though I could run for miles and miles," says one commenter.
Fact check
We also checked the foam density with a durometer and it looks like the Triumph lives up to its reputation as one of the softest shoes from Saucony. It is 34% softer than the average!
Disclaimer: The image below shows 1 out of 5 measurements that we took with the durometer.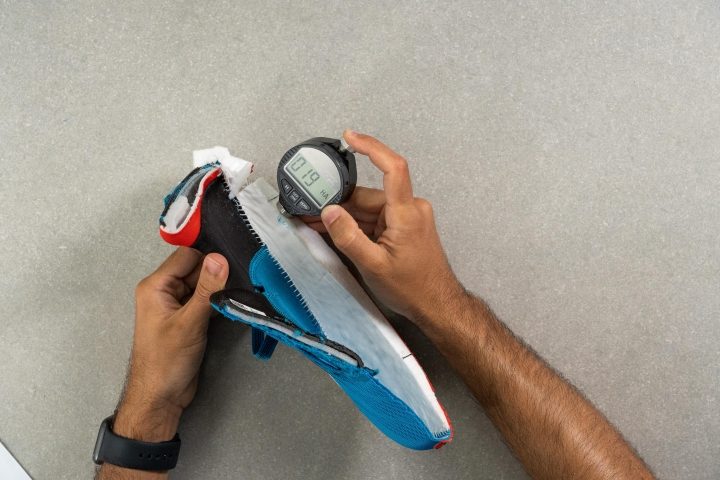 Even when exposed to cold temperatures and getting 26.9% firmer, the foam on the Triumph 20 remains relatively soft. The Triumph's "frozen" foam is 16.5% softer than the average of running shoe foams in a regular room temperature.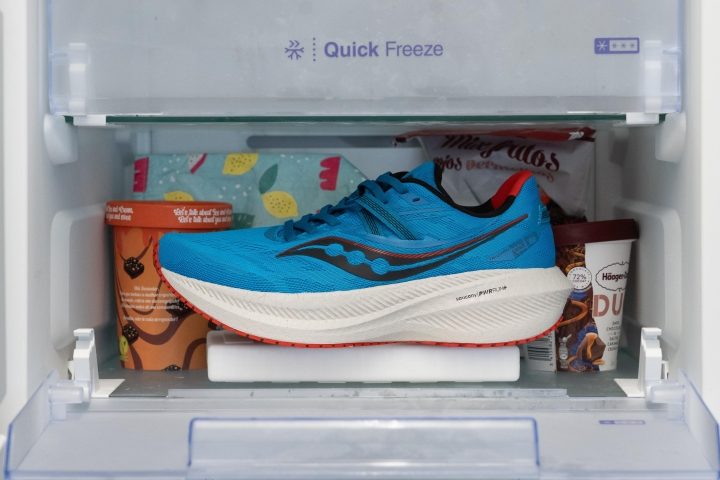 The foam eats up all the impact
On top of the midsole being super comfy, it also dampens all impact. "The foam protects the legs well," remarks one tester. Another one adds that the impact protection became "especially helpful as [they] got more tired on those longer runs."
It's not a warmer
Despite the upper being very padded and plush, it is so "without being overbearing or too hot," states one reviewer. Even when running long distances under warm conditions, the shoe doesn't heat the foot up.
Fact check
We used a smoke machine test to see how easily the air would pass through the shoe's mesh upper. It is indeed on the breathable side. For reference, the shoe on the right is ASICS Gel Kayano 29.
You can also see how much light shines through the upper fabric in the test below:
The seemingly non-existent rocker design
It doesn't necessarily make the ride seamless. It's there, but its benefits aren't necessarily felt by the runners.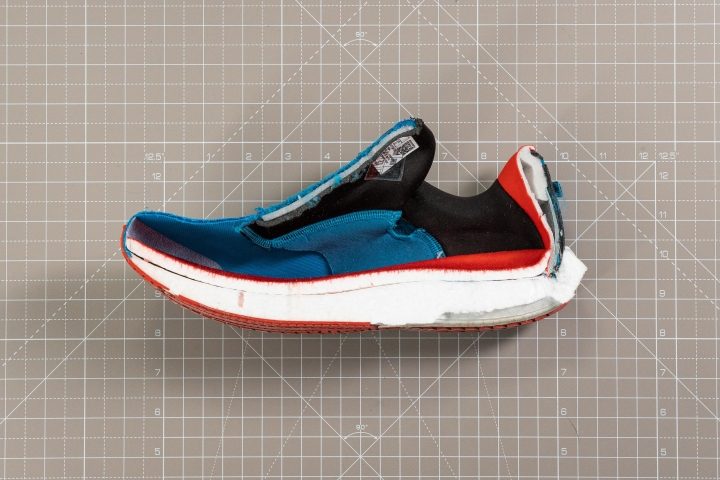 Surprisingly flexible with all that foam!
The Triumph 20 is full of surprises. WIth an above-average stack height, it still manages to be 10% more flexible than running shoes on average.
Disclaimer: We take 5 measurements to ensure accuracy.
The shoe is also pretty bendy when twisted sideways. We gave its longtitudal flexibility 3/5 (where 5 is the stiffest) and 2/5 to its torsional flexibility.
The Triumph 20's fit is nothing short of awesome
"Like a dream!" This is a statement from one of the experts who was asked about the shoe's fit. According to her, it is so good that she "totally forgot about them," referring to her shoes.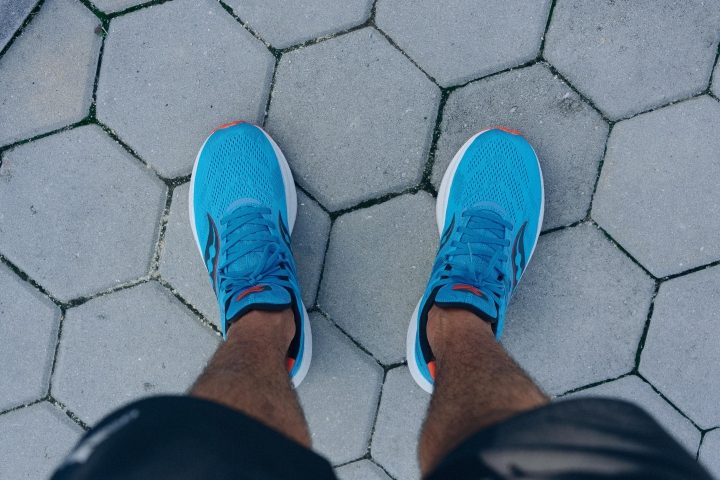 The midfoot and the rearfoot fit really snugly, and in the toe box, there's enough room for some toe wiggling, especially when they start to swell.
Fact check
Based on our measurements, the forefoot doesn't seem to be the widest out there. At 95.6 mm, it is slightly narrower than the average (98.3 mm). If you'd like to see a wider Saucony shoe, the Endorphin Speed 3 has a forefoot width of 98.5 mm.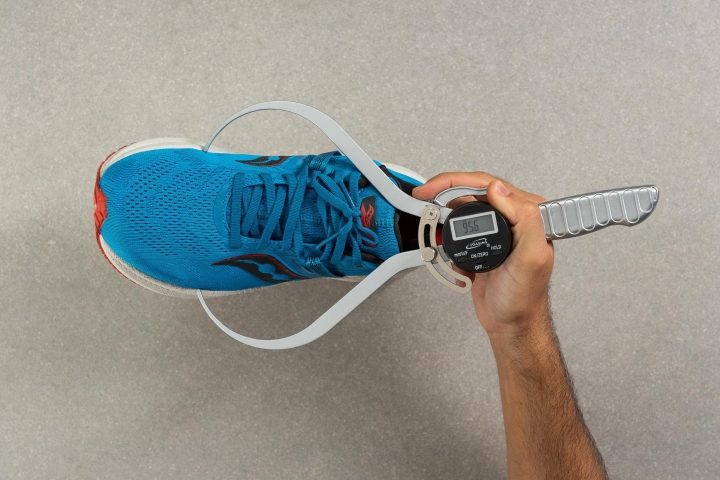 The gusseted tongue deserves special attention. Based on the general users' feedback, it plays its part in keeping the foot nice and locked in place.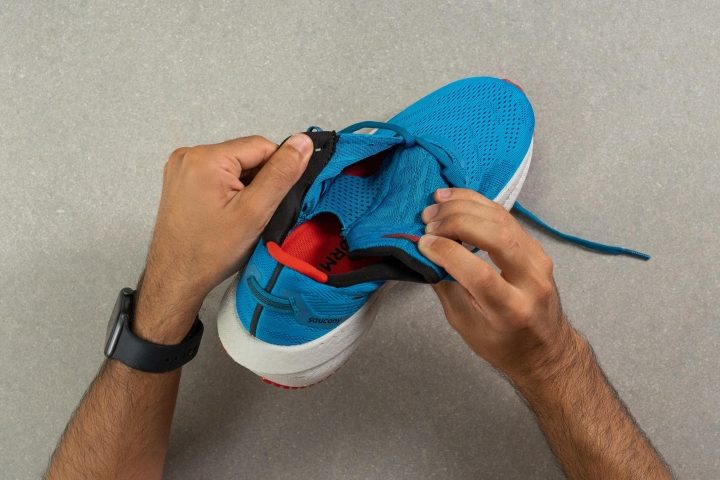 Heel lockdown is just as terrific
"I have a bit of a bugbear around the ankle fit in some running shoes," shares one road runner. But according to her, in the Saucony Triumph 20, she doesn't seem to have this issue.
The shoe's reinforced heel counter provides extra stability; you don't have to worry over heel slips.
Fact check
In our subjective assessment of the heel counter stiffness, we gave it 3/5. So, it's nowhere near the "ASICS clutch" on the Kayanos but feels solid for sure.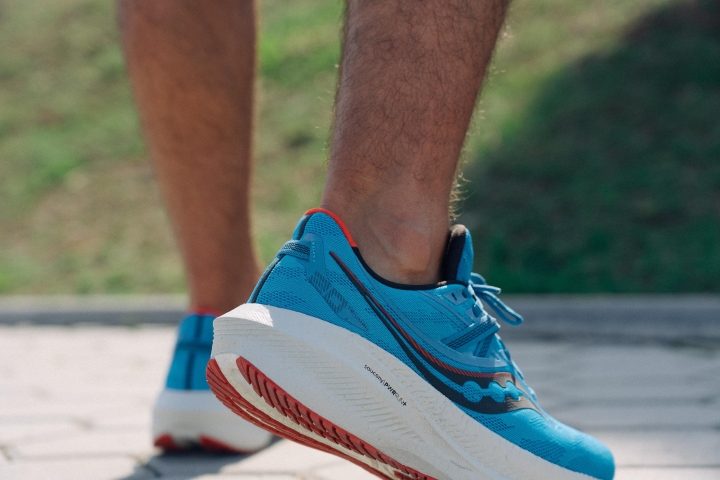 The laces stay where they are
Saucony really thought their updates through. With the reinforced lacing eyelets, the laces stay where they should. What's more, it doesn't cause any blisters. "Nothing rubbed in a weird place," says one of the reviewers.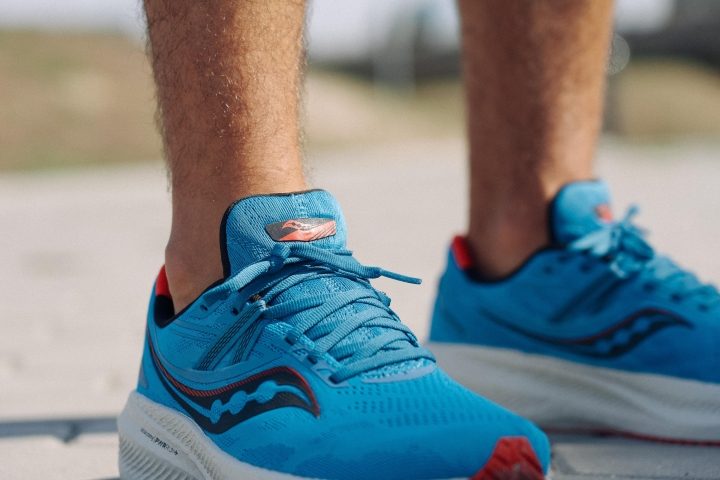 Lost some grams
Weight loss is always great. And the Triumph's trimmed-down weight is actually one of the many reasons why it's among runners' most favorite cushioned daily trainers as of the moment.
From 10.2 oz. to 9.7 oz. in US men's 9, the difference is not just seen on paper, but also felt on the run. "The lighter weight is more appreciated the longer your run goes," adds another running shoe expert.
So how did this shoe lose weight? It's all thanks to the pruned outsole.
Having measured the rubber thickness though, we can tell that it is a solid slab of 3.5 mm. This is right at the average of running shoes, both road and trail shoes mixed together.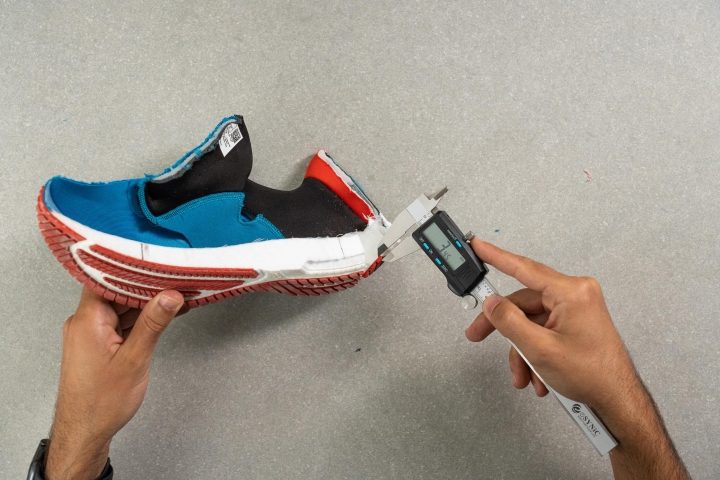 And don't worry, it doesn't skimp on grip either. "It has gripped well for me on roads and light trails," reassures one tester.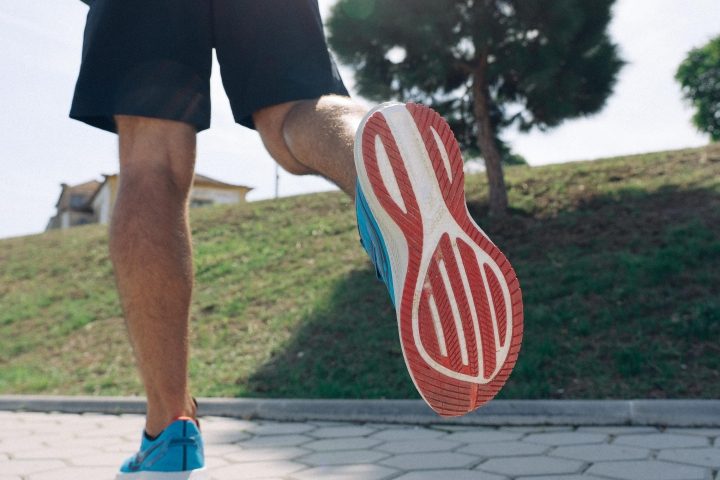 A price cut, please.
Contrary to its precursor, the Saucony Triumph 19, the Saucony Triumph 20 is expensive by $10.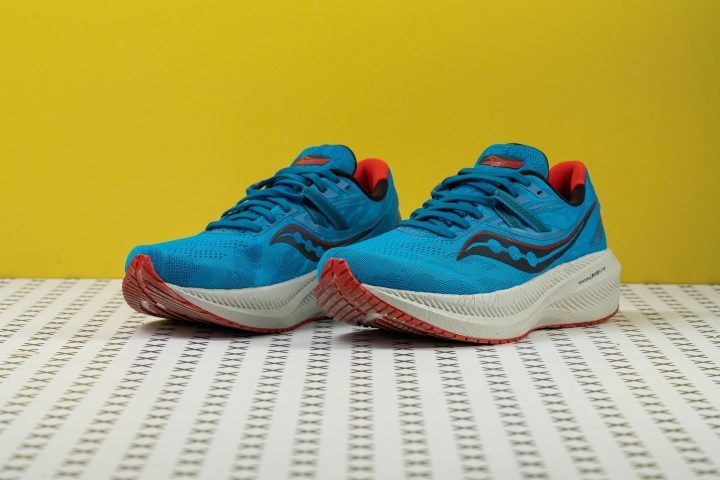 What's worse is it's way pricier than most daily trainers (which cost $119 per pair, on average).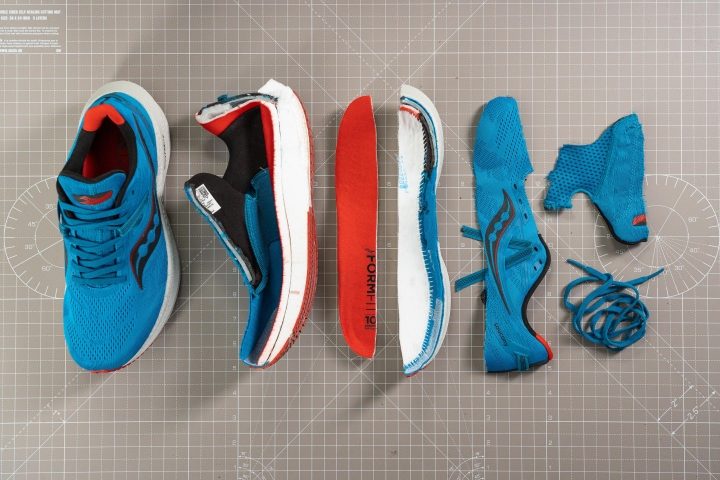 Saucony Triumph 20
Average
Whole shoe

Weight (g)
266
272
Drop (mm)
10.4
8.6
Flexibility of the shoe (N)
27.7
30.8
Flexibility of the shoe (Freezer 20 min) (N)
35.5
42.3

Flexibility of the shoe (% of change)

28.2
40.4
Longitudinal flexibility (1-5 scale, 5 being the stiffest)
3
3.2
Torsional flexibility (1-5 scale, 5 being the stiffest)
2
3.3
Upper

Thickness - Tongue (mm)
7.9
5.8
Width Upper - Forefoot (mm)
95.6
98.3
Width Upper - Heel (mm)
75.9
75.5
Flexibility of the heel counter (1-5 scale, 5 being the stiffest)
3
2.9
Tongue: gusset type
semi-gusseted
-
Heel: pull tab
finger loop
-
Midsole

Width Midsole - Forefoot (mm)
112.3
111.6
Width Midsole - Heel (mm)
87.0
88.5
Stack - Forefoot with insole (mm)
25.0
24.0
Stack - Heel with insole (mm)
35.4
32.5
Durometer Midsole Heel (Room temperature) (HA)
18.8
28.5
Durometer Midsole - Heel (Freezer 20 minutes)
23.8
35.7
Durometer Midsole - Heel (% of change) (TEST)
26.9
22.0
Outsole

Outsole thickness (Heel) (mm)
3.5
3.5
Durometer Outsole Heel (Room temperature) (HC)
82.5
80.8
Insole
Insole Heel Thickness (mm)
6.5

4.5

Insole: removable
yes
-