7 Best Walking Shoes in 2023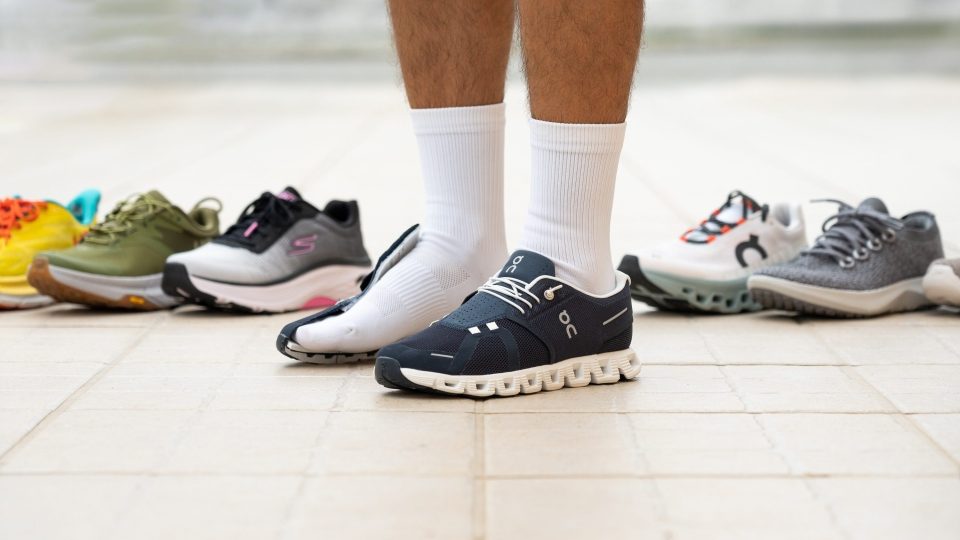 We earn affiliate commissions at no extra cost to you when you buy through us. Why trust us
Walking is rarely considered a fitness activity on its own. That's why people usually go with their running shoes or gym trainers for taking strolls and getting around. And these shoes do get the job done in many cases.
But when your feet start craving more comfort and support in your daily walks, it's time to consider a dedicated walking shoe. 
We have tested over 80 pairs of walking shoes to help you find the best one. Understanding that people may expect different things from their walking shoes, we have selected top picks in different categories.
Comparison of the 7 best walking shoes
| | | | | | | | | |
| --- | --- | --- | --- | --- | --- | --- | --- | --- |
| Best | | | | | | | | |
| CoreScore | | | | | | | | |
| Users rating | | | | | | | | |
| Experts | | | | | | | | |
| Best price | | | | | | | | |
| Ranking | | | | | | | | |
| Popularity | | | | | | | | |
| # of colorways | | | | | | | | |
3 types of walking shoes
Depending on how you are going to use your pair of walking shoes will help you decide on the kind of shoe you need. Here are the three most common categories of walking footwear based on their intended use:
All-day wear

Shoes in this range are meant for walking and standing all day long, be it for leisure, errands, fitness, casual outings, or a trip to Disneyland.

They will keep you comfortable on concrete or any other urban surface, as well as cobblestone, and not too rocky trails.

Additionally, you can consider running shoes designed for walking to expand your options.

See our selection of comfy walking shoes for all-day wear.

Travelling

These are lightweight, airy shoes that are barely noticeable on foot. Most of them have a slip-on design, which makes them easy to put on and take off.

This footwear will cushion your feet in long airport lines, on sightseeing trips, and while meandering around your vacation spot.

Check out the full list of travel walking shoes.

Work

These models are meant for the workers of healthcare, food, and other essential industries. They typically come with a leather upper which makes them hard-wearing and easy to maintain.

The outsole often features a slip-resistant characteristic to keep the wearer sure-footed on dusty and wet tile floors.

Medical staff might specifically look into walking shoes for nurses.

See our collection of footwear for work.
Walking shoes for flat feet, plantar fasciitis, and other foot conditions
Do your feet have special needs? 
Be it a proven condition like diabetes or just a periodic heel pain, your walking shoe should relieve discomfort and not aggravate it. Here are some general guidelines on what type of footwear to choose for various health issues:
Flat feet / Overpronation
stabilising components prevent excessive inward rolling of the foot
the heel is held firmly by a solid ankle collar or an external stabiliser
Go for stability walking shoes if the overpronation is moderate and choose motion control footwear in severe cases.
Plantar fasciitis
moderate cushioning: soft enough to protect the foot from the impact but firm enough to prevent wobbling
more padding in the heel takes the strain off the plantar fascia ligament
a broad sole ensures stability and cushioning in the entire heel area
the heel is locked inside a firm heel counter
See walking shoes for plantar fasciitis that meet these criteria.
Bunions
a spacious toe box doesn't constrain the forefoot
flexible upper material stretches in the ball foot area
If you need even more space in the forefoot, go for wide and extra-wide walking shoes.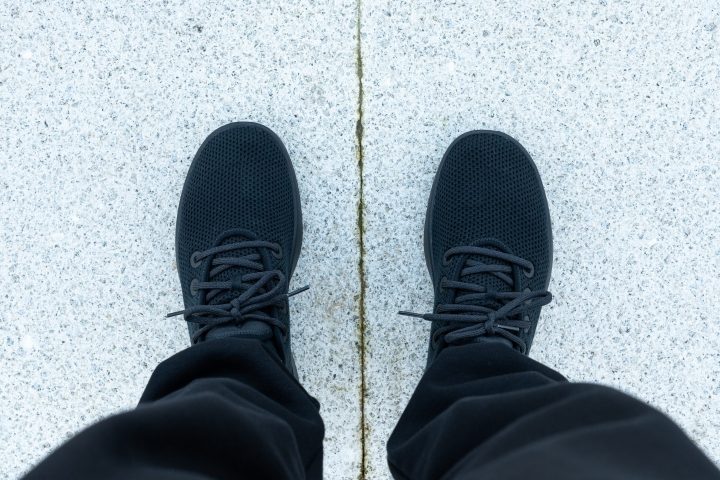 Diabetes
spacious toe box doesn't cramp the forefoot and helps to accommodate foot deformities if any
a moderately-soft midsole keeps the foot cushioned and ensures stable movement
the interior is seamless, minimising any chance of chafing and blistering
the midsole has supportive elements that don't let the foot roll excessively
These shoes are marked with an A5500 code, which makes them subject to compensation by Medicare.
Heavy weight / Obesity
extra space in the toe box can fit a larger foot
firmer and thicker cushioning helps to absorb impact effectively under heavy load
more durable materials prevent the shoe from wearing out too soon
Consider shoes for heavy walkers.
Disclaimer: These recommendations are based on the general podiatrists' advice and are not meant as a substitute for professional medical treatment.
Choosing the right material in walking shoes
For a soft, light, and airy experience, choose knit or mesh walking shoes. You can expect a more supportive feel and longer service from shoes with leather or suede uppers.
Knit

Mesh
Leather
Suede
Pros

vegan

more breathable

softer feel

more durable

more supportive

take longer to soak

Cons

less durable

less supportive

soak easily

not waterproof

non-vegan

less breathable

stiffer feel

Other properties
stretchy, conforming
moderately stretchy
stretch to a small degree with usage
easier to clean and maintain

require special maintenance
Leather vs. mesh: difference in breathability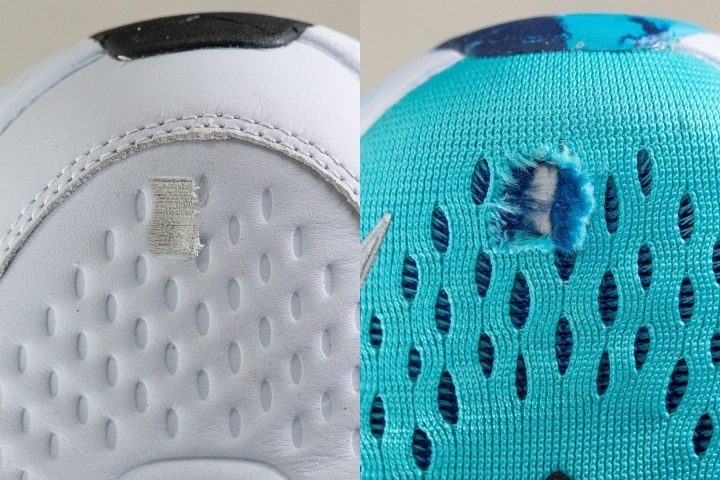 Leather vs. mesh: difference in durability
How we test walking shoes
We are a team of shoe fanatics who has dived into the nitty-gritty details of 80+ walking shoes from over 10 brands. We spend 7 hours of standing, walking, and generally doing daily activities per product on average, to deliver you the most comprehensive review about each walking shoe. And mind you, we got all the shoes using our own funds!
Our reviews would not be complete without our lab tests. We subject the shoes to different tests, and we emphasise the results of those that indicate the walking shoes' superiority in endless hours of wear. Flexibility, breathability, and lightness are just a few examples! It doesn't stop there: we delve even deeper by cutting the shoes in half to obtain other quantitative data, such as insole and cushioning thickness, which are both measured using our calliper.