6 Best Hiking Shoes in 2023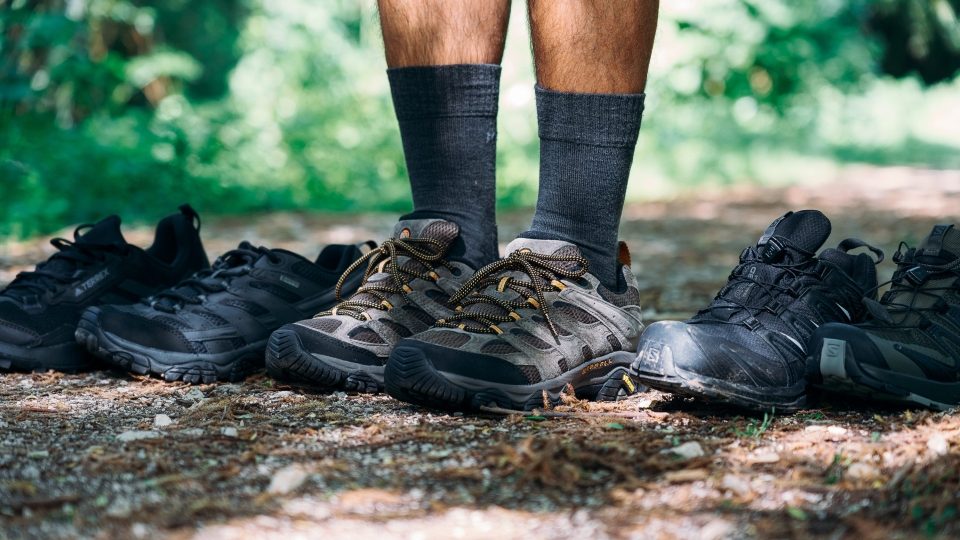 We earn affiliate commissions at no extra cost to you when you buy through us. Why trust us
Nowadays, exploring the outdoors is one of the many things included in people's to-do-lists. When it comes to getting the right footgear though, many are still at a loss. But don't fret. Choosing the right pair need not be a nightmare thanks to our best hiking boots list and our handy buyer's guide.
We have reviewed over 300 hiking shoes to single out the best options. Whether you are after a light, urban hiking pair or something a bit more rugged for a multi-day hike, we've got our top picks in five different categories.
To learn more about the differences between hiking shoes and boots along with some of the important aspects of choosing the right pair, scroll down to the guide below.
How we test hiking shoes
At RunRepeat want to make sure you get the most up-to-date and honest reviews on the best hiking shoe options out there. Here is our approach:
We buy shoes ourselves: As an independent review website, we avoid sponsorships and purchase all hiking shoes with our own money to stay unbiased.
We test in real conditions: Our testers take each shoe on a series of hikes on various distances and terrains to check every important aspect, including durability, comfort, waterproofness, and more.
We go extra hard on popular shoes: We are especially wary of the most sought-after models, so we put them through our rigorous lab tests.
We consider other opinions: To make our reviews as comprehensive as they can be, we gather thousands of reviews from expert hikers and regular buyers. These are summarized in a simple pros-and-cons format to save your time.
In the end, all of the above is reflected in the CoreScore, a number from 0 to 100 which is assigned to each model. This is our proprietary scoring system which helps us select the top picks in each category.
Comparison of the 6 best hiking shoes
| | | | | | | | |
| --- | --- | --- | --- | --- | --- | --- | --- |
| Best | | | | | | | |
| CoreScore | | | | | | | |
| Users rating | | | | | | | |
| Experts | | | | | | | |
| Best price | | | | | | | |
| Ranking | | | | | | | |
| Popularity | | | | | | | |
| # of colorways | | | | | | | |
Hiking shoes vs other types of trail footwear
Generally, your common hiking shoes offer more protection, traction, and stability than your trail runners and sneakers. If you're the athletic type then opting for your running shoes might do just fine. If, however, you're the exact opposite, then choosing a pair of sturdy, supportive, and grippy pair of hikers might just be what you need.
Check out the image below to understand what makes a hiking shoe different from your trail runners, hiking boots, and your daily beaters.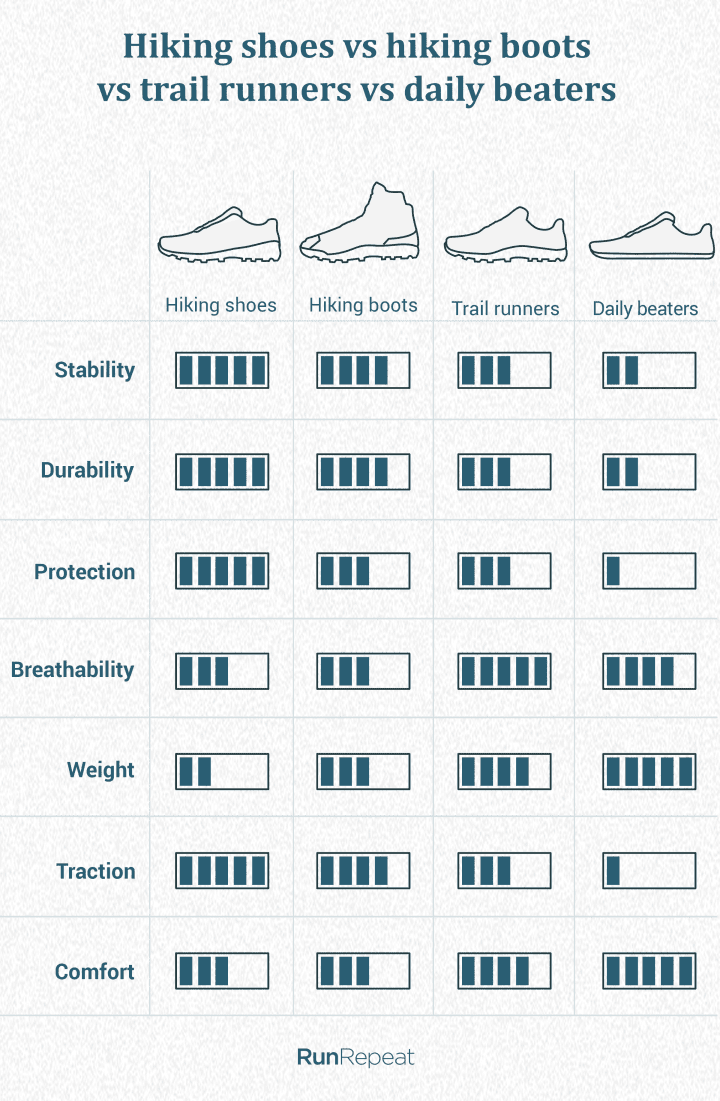 NOTE: The ratings are based on how each type of footwear performs in general. This does not, however, apply to each model that exists. The ratings will vary depending on the make and model of the shoes.
Hiking shoe anatomy: Materials and their benefits
People often underestimate hiking. While it may seem like a simple walk in the park, it actually requires endurance, stamina, and strength. The type of footwear to use will depend on the kind of hike you plan to pursue and your individual traits.
When it comes to gauging a hiking shoes' performance comfort-, traction-, stability-, and durability-wise, it all boils down to the shoe's configuration. To help you pick the best hiking shoe, here are the basic parts of the shoe, the materials commonly used for each, their benefits, and could-be-betters.
Common Materials Used
Key Benefits
Could-be-betters

Upper

Leather (Suede/ Nubuck/ Full-grain)
- Durable (material can last for years)
- Stable and supportive
- Comfortable overtime (this material most often molds to the shape of the foot over time giving hikers a customized fit)
- Feels warm (making it perfect for cold-weather conditions)
- Naturally capable of repelling water
-Takes a long time to break-in
-Full-grain leather shoes are heavier on the feet
-Less breathable
Synthetic Mesh/Nylon
-Breathable
-Dries quickly
-Weighs less
-A more affordable option
-Feels softer out of the box
-Prone to wear and tear
-Provides limited support and stability
-Tends to absorb water

Midsole

EVA
-Soft to mildly stiff cushioning underfoot
-Much more flexible
-Lightweight
-Less supportive
-Tends to compress over time
PU
-Supportive (helps when carrying a heavy pack)
-Durable
-Feels stiff out of the box
-Weighs more
Nice to know: Some shoes are made with shanks or plates placed in between the midsole and outsole improving its stability. This equates to less foot-fatigue. The plates also prevent bruising underfoot caused by sharp rocks.

Outsole

Soft rubber
-Stickier
-Flexible
-Lighter
-Best used when scrambling in rocky terrain
-Mediocre performance on muddy trails
Hard Rubber
-Durable
-Stable
-More protective
-Lacks flexibility
-Feels heavy underfoot
-Less traction on sleek surfaces like wet rocks
Nice to know: Deeper outsole lugs offer better grip on muddy terrain and shed debris with ease
Waterproof, water-resistant, and water-repellent hiking shoes
When talking about hiking shoes, its ability to repel water is something worth considering especially when your adventure involves snowy or rainy weather conditions and trudging through muddy trails or crossing rivers and streams. However, labels like waterproof, water-repellent, and water-resistant often cause confusion.
Well, you need not be confused after all. Decoding the labels is actually easy. Check out the table below.
Water-resistant
Water-repellent
Waterproof
General characteristics
a tightly woven fabric that is naturally capable of resisting water upon contact
fabric treated with durable water-repellent (DWR) or hydrophobic chemicals
-fabric treated with DWR
-have waterproofing membranes like Gore-Tex and OutDry
-have seam-sealed construction for extra protection
Water protection level
low water protection
moderate water protection
high water protection
Water pressure resistance
0-5000 mm (no pressure or moisture)
6000-10000 mm (light pressure)
10000-20000 mm (high to very high pressure)
Weather conditions best used in
light rain shower and dry snow
light rain and average snow
moderate to heavy rain and average to wet snow
While waterproofing has its own set of benefits, this feature can be counterproductive especially in warmer conditions. Yes, we've all heard of their claims of being breathable. However, the fact remains that waterproof hiking shoes are less breathable than its non-waterproof or water-resistant counterparts. They also feel heavier underfoot.
So, if you're prone to blisters (like everyone else are), then looking at breathable hiking shoes made of quick-drying materials is another great alternative. In case you're worried about light rain and the like, you can always buy waterproofing sprays that can turn your regular kicks into repellent ones.
Your 5-step guide to choosing the best hiking shoes
After going through all the hiking shoe models in the list, picking the right one might still be challenging. Thankfully, there are a few expert tips which you just need to keep in mind in order to find the right one.
1. Know the duration and the difficulty level of the hike
The difficulty and the duration of the hike are two things you ought to consider when selecting your next pair of hikers. A more strenuous type of terrain will require shoes that are more stable, supportive, and durable.
When it comes to difficulty, the National Park Service (NPS) classifies the trails into 5 difficulty levels - easy to very strenuous. Below you'll find what type of shoe works best for each difficulty level.
NOTE: The weather condition or season will definitely affect your choice. Hiking during the summer will require you to wear breathable kicks. On the one hand, insulated hiking shoes are recommended for winter hiking.
2. The weight of your pack matters
The load you carry on your back has the most impact on you during your hike. Thus, packing light and bringing just the essentials is always a good practice.
There are times though that you can't avoid carrying a heavy pack especially when thru-hiking or backpacking. When the trip calls you to carry loads on your back, make sure to find shoes that offer ample lateral support (disregard this if you have strong ankles).
3. Take a closer look at your feet
Knowing your foot type makes a whole lot of difference. Aside from gauging if your feet are wide or narrow, determining your arch type would also help you figure out which shoe will work best for you.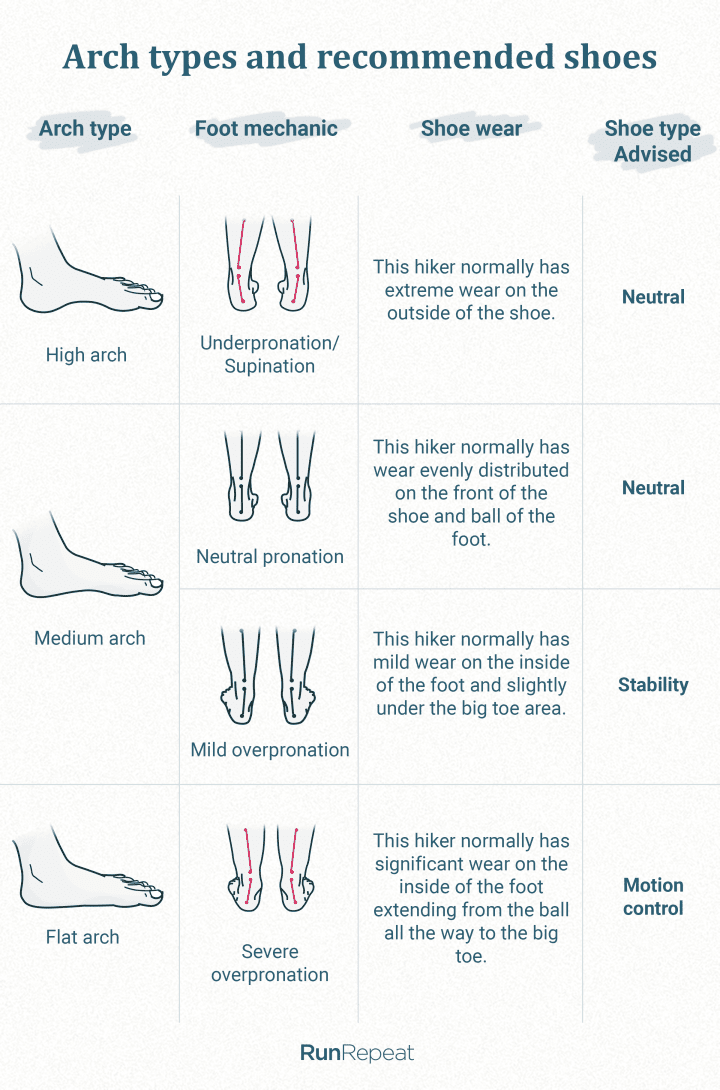 4. Find the perfect fit and right size
Finding the perfect fit and right size can be a bit tricky especially for a first-timer. However, getting the best fit ain't that hard if you follow these 6 simple tips.
Go shoe shopping in the afternoon. Expect your feet to swell after a day of activities. The same thing happens when hiking. So, it's best to try on those new hikers late in the afternoon to get the best fit.
Try it on, lace it up, and check for pressure points. There should be a thumb's width space between your toes and the front of your shoes. If your feet move from side to side, then the hiking shoes are too wide. It should feel snug - comfortable and non-constricting.
Make sure to try the shoes with your hiking socks on. Bring the socks that you plan to wear with your hikers when shoe shopping. Avoid using cotton since this type of fabric retains moisture and fails to provide insulation. Instead, choose wool or synthetic socks.
Take your preferred insoles or orthotics with you. Default insoles often leave users disappointed. Aftermarket insoles or your custom orthotics can greatly improve the fit of the shoe. If this fails, you can always try another pair from another brand.
Use the ramp and walk up and down. This tests the shoe's snugness. When you go up the board, observe for any heel lift. When you go down, check if your toes hit the front of the shoes. If your heel rises more than a quarter of an inch or if your toes hit the front, adjust the laces or try sizing up.
Make sure to break in your shoes before your trip. Hiking shoes, especially the heavy, leather ones, require a different break-in time. Start small by wearing the shoes inside your house with your preferred socks. This might feel awkward but in the end, your feet will surely thank you). From there, increase your miles gradually.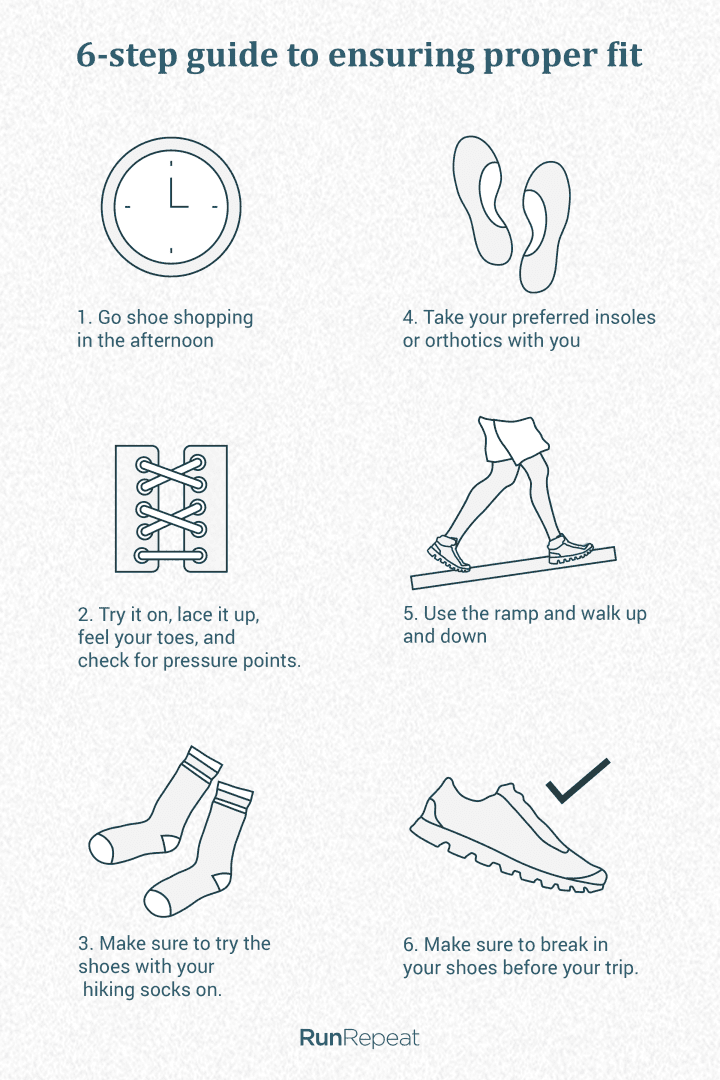 5. Learn a few lacing techniques
Knowing a few lacing techniques might sound elementary, but this can actually help you avoid unnecessary mishaps when hiking. Lacing too loose might not give you the support you need while lacing it too tight may lead to blisters and hotspots. Here are a few techniques worth learning to remedy the most common foot problems when hiking.