New Balance Fresh Foam More v3 review
89
The Corescore is a score from 0-100 that summarizes opinions from users and experts. Below shows the distribution of scores for all running shoes.
Verdict
The New Balance Fresh Foam More is a maximalist daily trainer that amazes you with its cushy and impact-absorbing ride! It's on the superlatives of comfort and is just perfect for long runs and recovery days. Apart from its uber plush construction, what sets it apart from other max-cushioned shoes is that it's velvety smooth in its ride. It rolls you through your gait effortlessly and seamlessly.
Pros
Insanely soft underfoot
Efficient stride
True to size
Accommodates wide feet
Stable platform
Should last a lot of miles
Max cushioned
No break-in
Good lockdown
Cons
Runs warm
Feels a bit heavy
Grip is subpar on loose terrain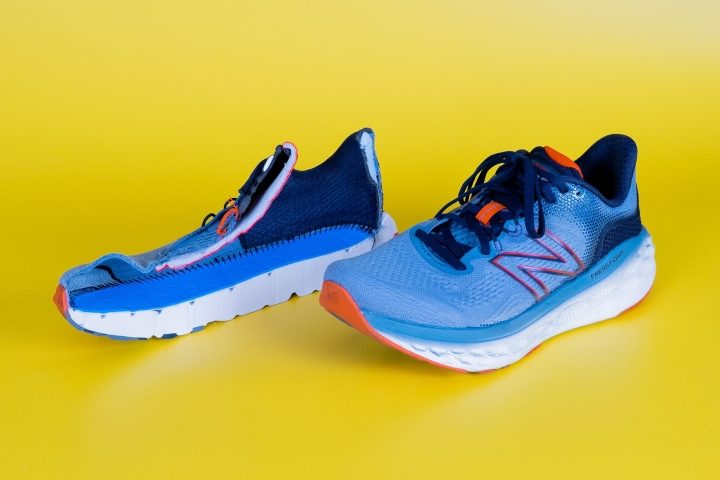 86% say it's true to size.
We earn affiliate commissions at no extra cost to you when you buy through us.
Comparison to similar running shoes
| | | | | | | | |
| --- | --- | --- | --- | --- | --- | --- | --- |
| CoreScore | | | | | | | |
| Users rating | | | | | | | |
| Experts | | | | | | | |
| Best price | | | | | | | |
| Ranking | | | | | | | |
| Popularity | | | | | | | |
| # of colorways | | | | | | | |
New Balance Fresh Foam More v3 review and lab test
Is MORE better?
YES! More v3 is anyway.
The New Balance Fresh Foam More v3 is a heavily cushioned, plush, maximalist trainer with a wide, stable platform designed for those looking for ultimate comfort and impact dampening.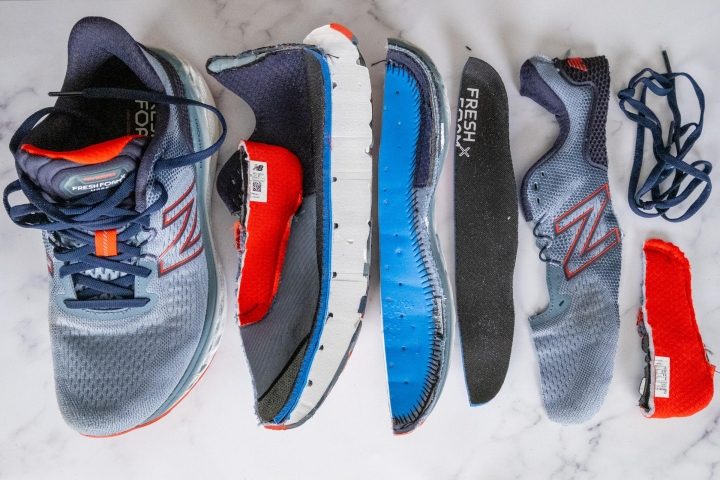 The updates from a disappointing v2 are in, and this shoe is worth another look!
Watch out Hoka, you're not the only one that can do max cushioned right.
Who should buy the New Balance Fresh Foam More v3
Anyone looking at the Hoka Clifton or Bondi, or that's in the market for a max-cushioned, long-run/recovery-day shoe should consider the NB FF More v3.
New Balance made a few very intentional updates on version 3 that really bring this shoe to life.
If you're training for upcoming races, running daily, have a wider foot, or are a heavier runner, you should buy this shoe. Treat your legs well, the More v3 is the ticket.
Who should not buy it
Don't buy the New Balance Fresh Foam More v3 if:
More v3 runs wide
The More v3 has a flexible upper and accommodates a lot of foot shapes, but if you have a narrow foot it may feel roomy.
Wide-footed runners will rejoice though as the More v3 has plenty of room.
The heel pocket is deep too. If you like higher-cut shoes, this feels like a mid-top shoe with its voluminous heel.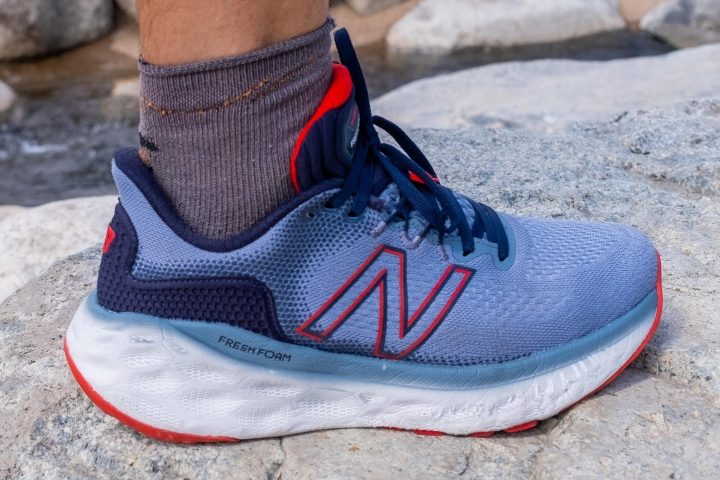 If you struggle with Hokas feeling a bit too narrow in the forefoot, the More v3 is what you should be looking at.
Comfort, comfort, and MORE comfort
Ok hands down, this shoe is f***ing comfortable!
The upper is padded to the nines. Hell, it has a 9.9mm thick tongue to lusciously drape over the top of your foot (compare that to the average of 5.5mm and you get the point).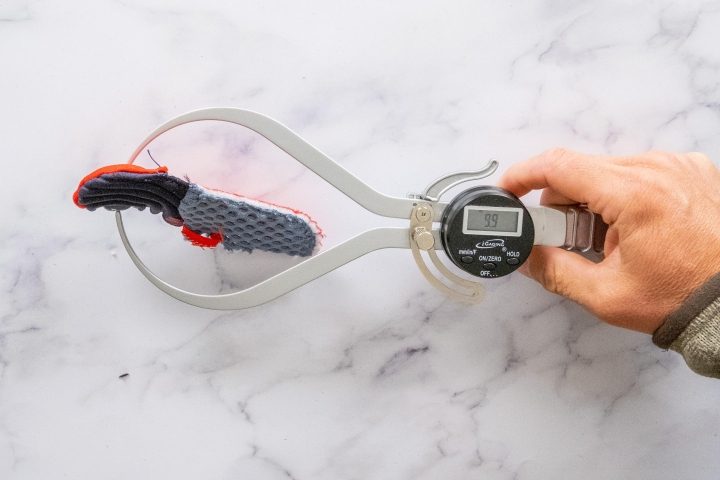 New Balance also realized the molded heel cup in v2 was not ideal and swapped it out for a more traditional padded heel cup/ankle collar that hugs your foot nicely.
But the upper is just the icing on top of the cake. The insanely thick slab of soft New Balance "Fresh Foam" underfoot is the show stopper. This midsole material is plush, and soft with every step and the More v3 has more Fresh Foam than any other New Balance shoe.
This shoe is very close in design and purpose to the Hoka Bondi 7, and if you saw our review of that shoe I just thought it was too stiff. The Bondi is really designed for heavier runners, and the ample amounts of foam underfoot were not that useful in my tests.
The More v3 however, nailed the foam density, and it's a real treat for your feet and legs no matter the runner's weight.
The ride leaves you speechless
I've compared this shoe to the Bondi for obvious reasons, but the ride really sets it apart.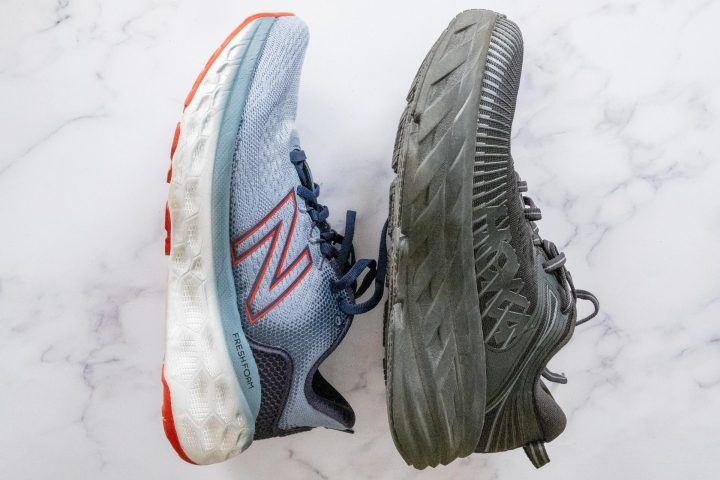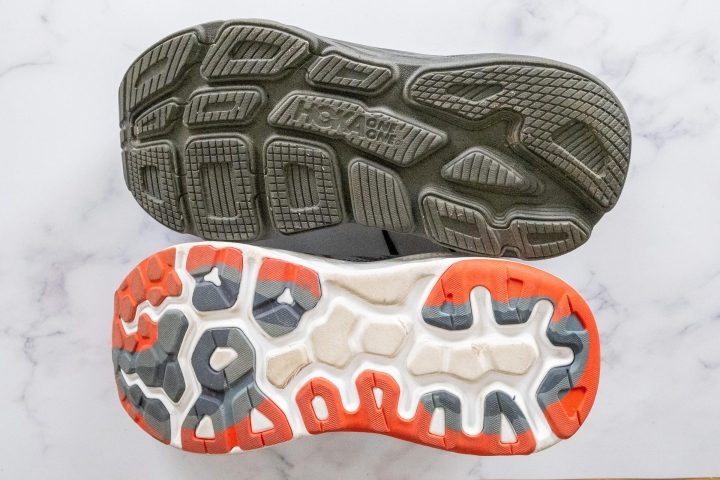 NB added a bit more rocker in this update and it feels way better. For a max-cushioned shoe, it surprisingly rolls along smoothly. To be honest, I'd compare this more to the Hoka Clifton 7 in its performance (a shoe I loved) than the Bondi.
Another thing NB got right with the More v3 is the platform width. This is a wide shoe, at 119.2mm in the forefoot and 102.1mm in the heel (average shoes are 112.6mm/89.2mm) it's super stable which is needed since the Fresh Foam historically in my opinion has been a touch too soft.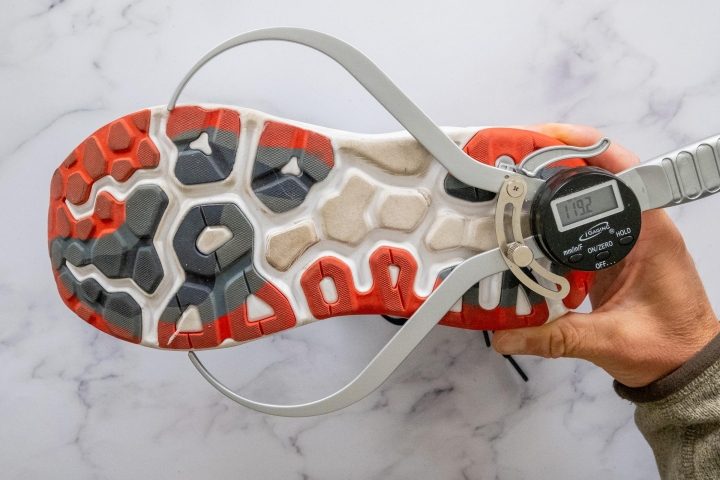 Shoes utilizing FF have felt a bit wobbly to me. The NB FF 1080 v11 is one that comes to mind, it was just too unstable. Problem solved here though, well done NB.
I loved running in this shoe, it's soft, but not unstable, it's rockered and efficient even though it's wide and heavy, and it can go quickly when needed, which other max shoes struggle with.
One thing to mention, with this much foam under your foot, it has the potential to harden up significantly when cold. In our freezer test this firmed up 58.4% (compared to 26.4% on average) so just know on really cold days it may not feel like clouds and pillows.
Zero adaptation period on the More v3
Zero break-in needed. This shoe is luxury from day one. Slide your foot in, lace it up, and HEAD off into the sunset.
New Balance Fresh Foam More v3 needs a diet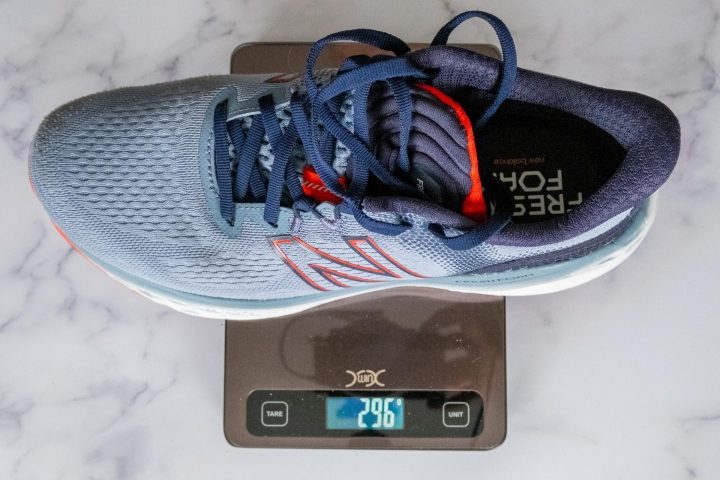 At 10.4 ounces (296g) in men's US9, this is not a lightweight shoe. How could it be, there's 37.5mm of stack in the heel and 29.7mm in the forefoot. There's a ton of foam underfoot.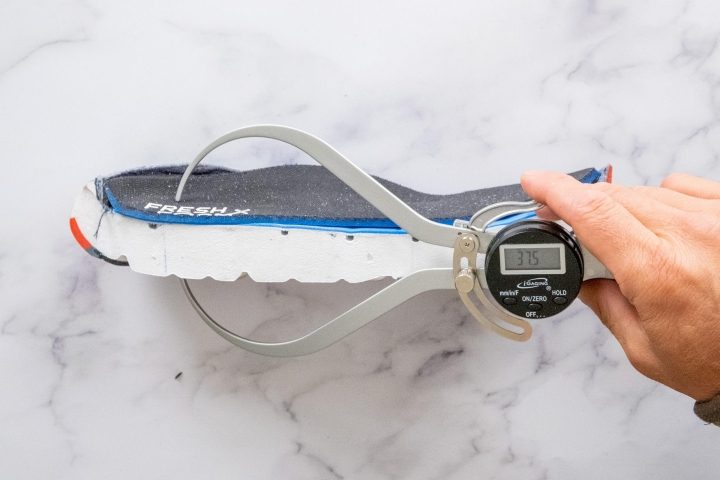 It's one of only a few gripes, this shoe needs to be lighter. The Clifton is almost an ounce lighter. If NB could solve the weight problem and cut an ounce or two from it, this shoe would be an A+!
It's a tank
This shoe is stout, durability should not be a concern. There's a full rubber outsole covering insane amounts of foam, and the thick upper is built to withstand any abrasion issues. This shoe should easily go over 500 miles.
Stay on the hard pack
Grip could be better. Although there's a rubber outsole, it's wide and flat and anything loose underfoot makes it squirrely.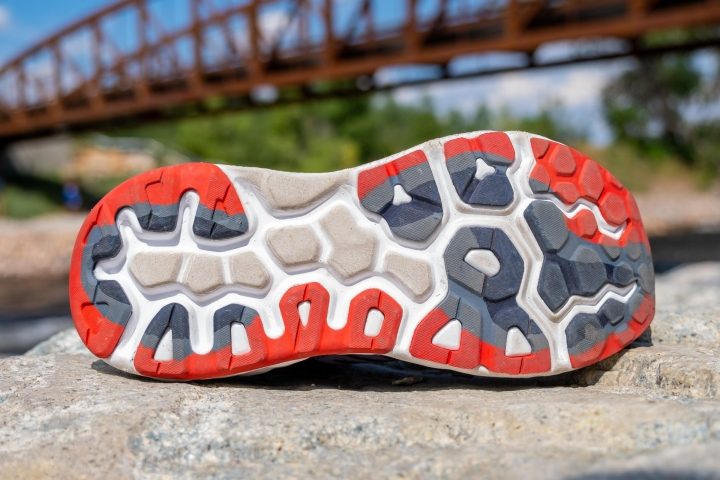 Stick to the pavement.
More v3 best suited as a recovery shoe
This shoe is best designed for long, slow, recovery runs. It's a break for your feet and legs. But surprisingly its rockered design is aggressive enough that you can pick up the pace.
I ran some 5 min/mile paced intervals in these and they went… I don't think I'd buy this as a tempo shoe obviously, but if you need to chase down the ice cream truck in them it shouldn't be a problem.
Gripe #2 they don't breathe well
Only a few gripes here, but this is a big one. These are hot.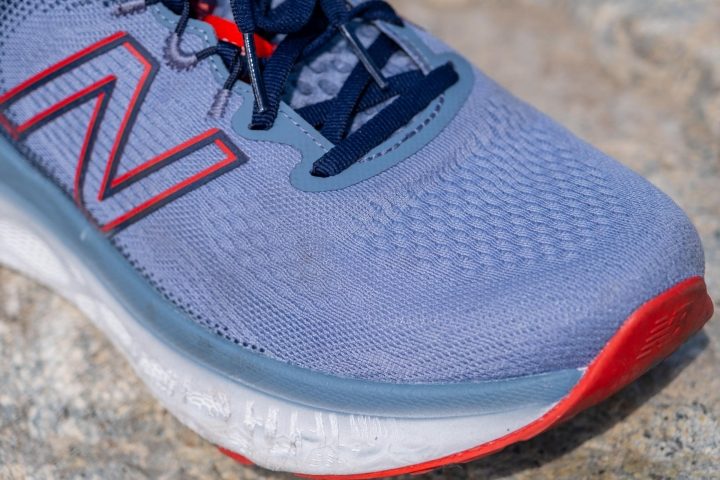 Granted it's mid-summer, even Canada is seeing 121F (what's happening!!) but they run warm. Even in the cool AC of a gym, they were toasty.
They have a ton of padding and layers of fabric on the upper, and it's just not ideal for super hot days.
They only scored a 1 out of 5 on our breathability tests. As you can see, some heat escapes from the bottom of the tongue but the upper itself barely lets any fog out at all
NB FF More v3 hugs your feet
Zero issues with lockdown in the More v3. I think updating the heel really helped. This shoe just hugged my foot well and there was no movement.
Of course, I like a gusseted tongue, and the More v3 doesn't have one, but I guess it would just be more fabric, making it heavier and hotter, so it's fine without.
More v3 costs more
The price is a bit steep. At $165 it's not a bargain. But you do get a lot of shoe for your money, and if you want your legs to feel like they had a day at the spa, it costs…
Last gripe then go buy this shoe
I'll stop after I get this off my chest. They are ugly. Sorry I just don't like the looks of Maximalist Shoes. They are clunky and chunky and wide, and tall, and…. I wish they could feel this good and look sexier, but they don't.
If these were all white with a blue N on the side, they'd be on my grandpa's feet.
NB, make these sexier and put them on a diet and you'll have more than just my attention, you'll have my dollars.
Complete lab-specs overview
More v3
Average
Whole shoe

Weight (g)

296

268

Drop (mm)
10.4
9.4
Flexibility of the shoe (N)

36.8

43.8

Flexibility of the shoe (Freezer 20 min) (N)

58.3

53.3

Flexibility of the shoe (% of change)

58.4%

26.4%

Lace slip test with the knot (N)

11.2

24.0

Longitudinal flexibility (1-5 scale, 5 being the stiffest)

3.0

2.9

Torsional flexibility (1-5 scale, 5 being the stiffest)

3.0

3.1

Upper

Thickness - Tongue (mm)

9.9

5.5

Width Upper - Forefoot (mm)

98.7

98.6

Width Upper - Heel (mm)

82.5

75.8

Lace Stretch (1-5 scale, 5 being the most stretchy)

4.0

2.8
Flexibility of the heel counter (1-5 scale, 5 being the stiffest)
3.0
2.6
Tongue: gusset type

none

-

Heel: pull tab

none

-

Midsole

Width Midsole - Forefoot (mm)

119.2

112.6

Width Midsole - Heel (mm)

102.1

89.2

Stack - Forefoot with insole (mm)

29.7

25.1

Stack - Heel with insole (mm)

37.5

33.1

Durometer Midsole Heel (Room temperature) (HA)

16.0

23.6

Outsole

Outsole thickness (Heel) (mm)

3.6

3.7

Lugs Depth (mm)

N/A

3.1

Durometer Outsole Heel (Room temperature) (HC)

83.5

79.0

Insole
Insole Heel Thickness (mm)

3.8

4.4

Insole: removable

yes
Compare popularity
Interactive
Compare the popularity of another shoe to New Balance Fresh Foam More v3:
New Balance Fresh Foam More v3 video reviews