If you're looking for a great middle between the more traditional, lower-stacked NB 880 v11 and the uber-cushy NB Fresh Foam More v3, that's where the Fresh Foam X 1080 v12 sits. It's a comfortable cruiser that's perfect for anything easy to moderate. And with the copious amount of foam it possesses, it's a gem in long-distance runs where protection and stability are at the forefront.
Pros
Protective cushion
Lively ride
Smooth transitions
Stable when cornering
Comfy upper
Durable outsole
Welcomes wide feet
For heavy runners
Grippy on snow, slush, and slick surfaces
No lace bites
Great heel hold
An eye-catcher
Cons
Not for narrow feet
Bottom-heavy for fast runs
Questionable breathability
Who should buy it
Take the Fresh Foam X 1080 v12 from New Balance if you're looking for a:
highly cushioned daily trainer for long miles on the road
running shoes for easy to moderate days or progressive runs (where you start easy and finish fast)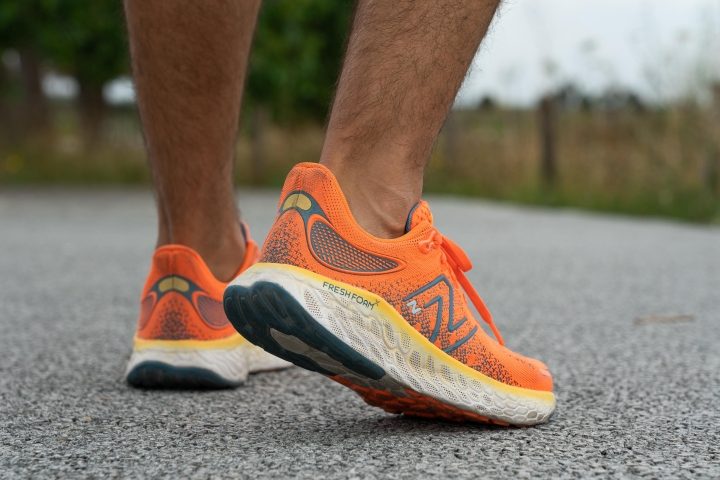 Who should NOT buy it
Those with narrow feet can have a more locked-in fit with the NB 880 v11 instead of the NB 1080 v12. And if you're looking for a true tempo speedster that won't weigh you down, get the NB FuelCell Rebel v2 or the NB FuelCell Propel v3.
New Balance Fresh Foam X 1080 v12 vs. v11
Gone is the "dreaded" UltraHeel design (less padding) in this iteration. For a comfier, more locked-in heel hold, it has more padding in the rear.
To have a stickier grip, the twelfth version has larger lugs.
For a more stable ride, it also has a wider base.
Surprisingly low drop (not as advertised)
We have measured the heel drop to be 3.3 mm instead of the advertised 8 mm!
This means that the advertised stack heights (both forefoot and heel) were not confirmed in the lab as well and we covered that just below.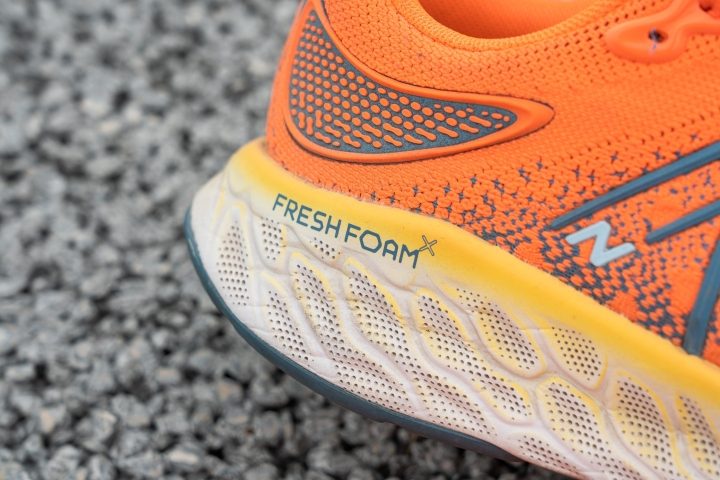 Mellows out the impact
As a more cushioned sibling to the NB 880, the NB 1080 v12 kills it when it comes to protection. Even when pounding hard and heavy miles on the pavement, our feet never felt strained.
This is quite surprising given that on paper, this NB shoe's midsole is not the thickest one. Using a caliper, we measured the forefoot stack height at 23.6 mm and the heel stack at 26.9 mm.
If more cushioning is what you need, check out the NB Fresh Foam X More v4 (stack height: 32.5 mm/27.9 mm).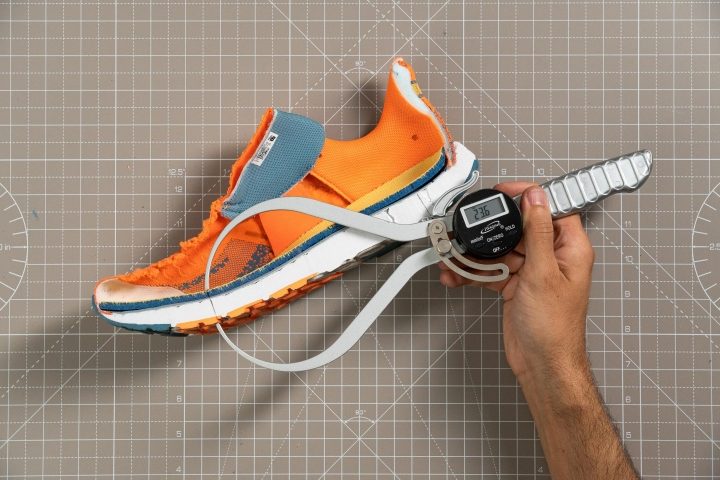 Stays soft in cold weather
On average, shoes get 21% stiffer after being exposed to cold in our lab (20 mins in the freezer). What's surprising about the FF 1080 v12 is that, even after the cold, it is still soft: it goes from 12.5 HA to 16 HA on our durometer.
For reference, the average midsole softness of shoes at room temperature is 29.8 HA. So, even after the freezer, the v12 is almost 2x softer than other shoes at room temp.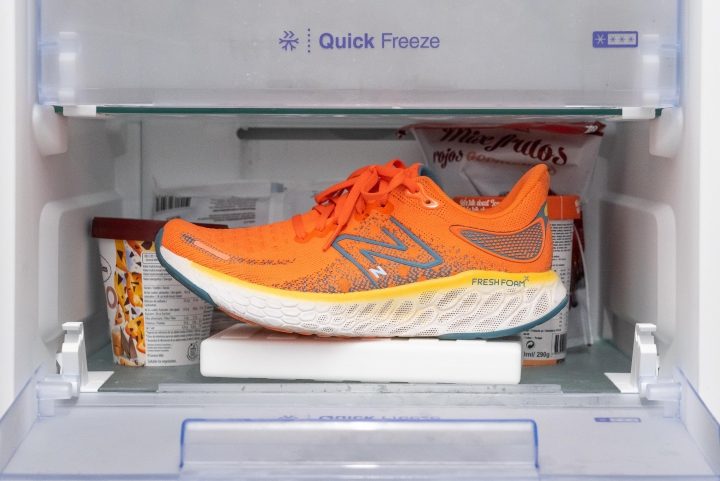 The same applies to flexibility. Even though FF 1080 v12 scored 51.5% when the average difference between the flexibility at room temp and after freezer exposure is 33.3%, the start and end numbers still make this a flexible shoe. Even in cold temperatures!
A little less weight would do
Although it has a bit of responsiveness for a quick change in pace and a fun ride, we still think that it's not the best choice for fast runs. When placed head to head with lighter shoes like the ASICS Novablast 2, NB Fresh Foam X 1080 pales in comparison because of its bottom-heavy design.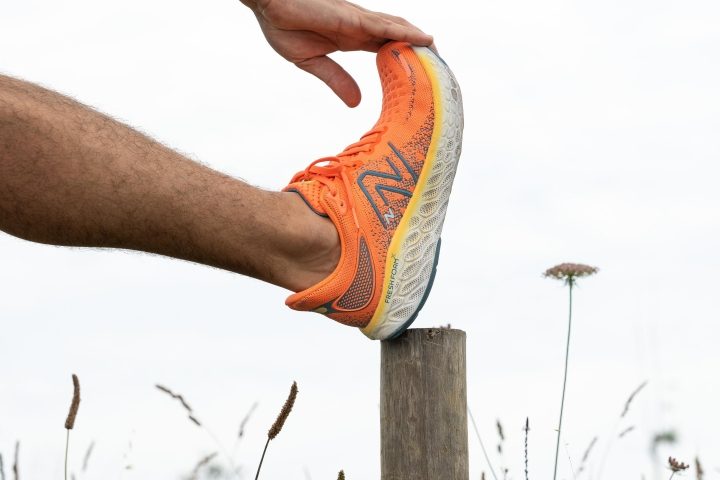 New Balance FF 1080 v12 is very soft
We LOVE the overall softness that is noticeable momentarily at the step-in. And the fact that it's not a mushy or unstable kind of soft.
The lab numbers confirm it: this is one of the softest shoes we have ever tested! In the durometer measurements, the midsole at the heel scored 12.5 HA which is a crazy 90% softer than average!
Perfect for night runs
Look at it shine!
Smooth like butter
The heel-to-toe transitions are A-OK! A slight rocker in the midsole allowed for pretty quick turnovers in this NB shoe.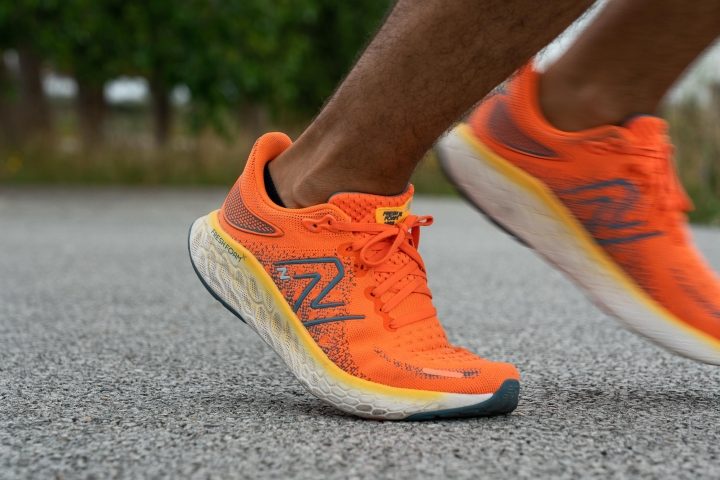 We believe that transitions felt softer and smoother also because there is no full-length outsole and the rubber is separated into pods.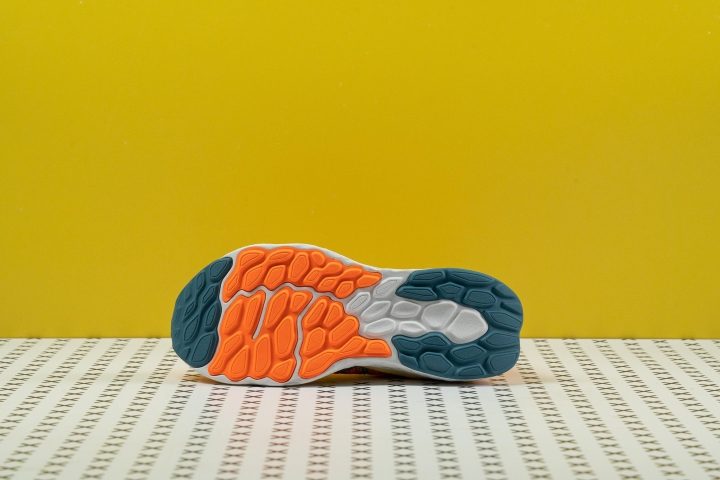 The new upper slays!
The NB Fresh Foam X 1080 v12's new Hypoknit upper is unlike other knitted uppers. It feels premium and extra soft and doesn't cause any rubbing or abrasion. We think that you can even go sockless quite comfortably in this upper. There is also a bit of stretch to it, which feels very accommodating.
The heel only takes this feeling up a notch as it has more padding now than the v11. If you weren't a fan of the past version's elf collar, it's going to be a welcome update. It eliminates the digging sensation of the last edition.
Experience a slip-free run
Apart from the comfort it delivers, the upper also generates a locked-in foothold that inspires confidence even when cornering. And with the heel's more padded design, the heel clutch has been nothing but awesome.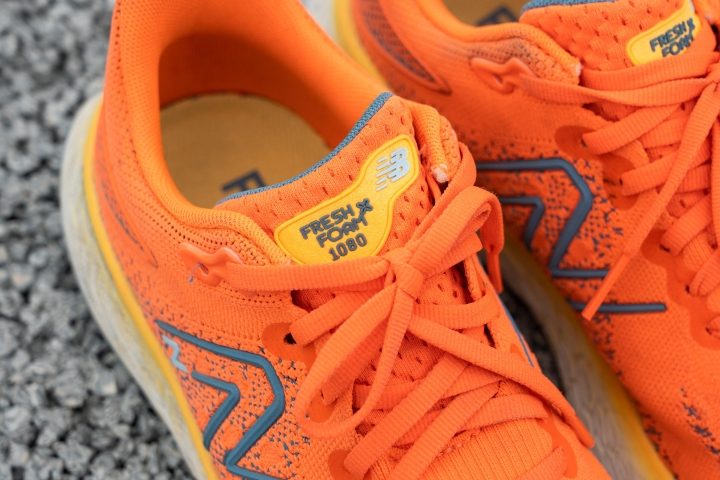 We found that there's no need to lace lock this shoe at all.
Wide feet won't feel constricted in the Fresh Foam X 1080 v12
It's very roomy and accommodating upfront; it doesn't feel tight even when the foot starts to swell.
Looking at the numbers though, the forefoot is 97.0 mm wide. This is just about regular fit.
Hit-or-miss breathability
The 1080 v12 has fairly average breathability. It didn't make our feet awfully sweaty on a summer run but it also wasn't the most well-ventilated.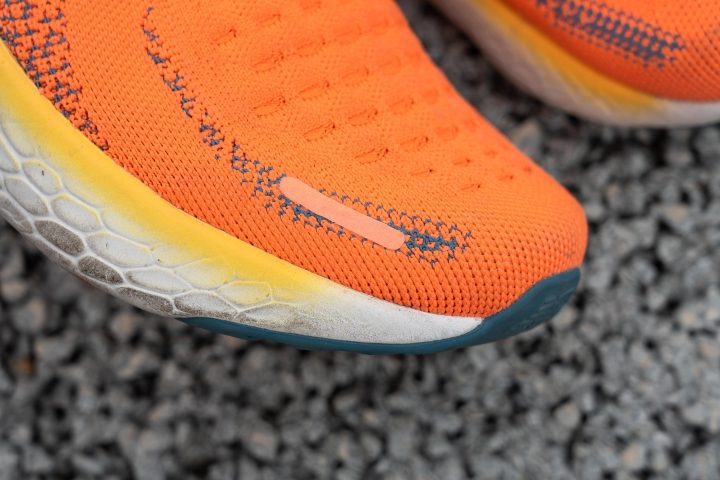 Tongue that protects
Speaking of tongue, the Fresh Foam X 1080 has just the right amount of padding. It is well-padded and holds the foot very securely. It also protects the instep from tight lacing.
Using a caliper, we measured the tongue's thickness at 3.6 mm thick. Much thinner than the average: 6 mm.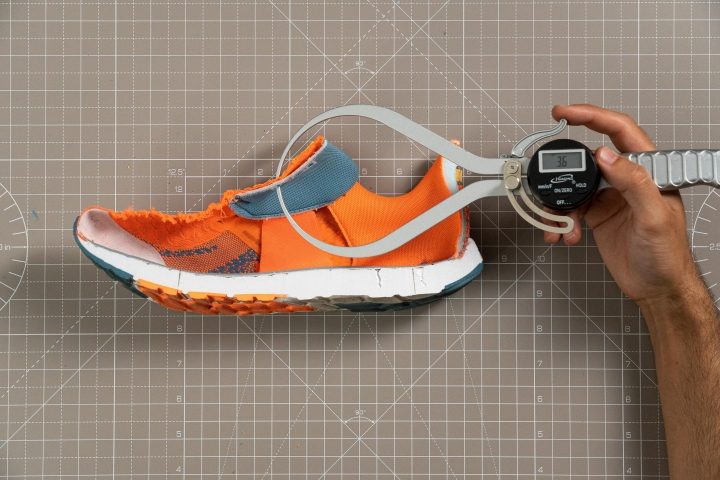 Traction is solid on New Balance Fresh Foam 1080 v12
For a road shoe, the New Balance Fresh Foam 1080 v12's grip is exceptional. On snow, slush, wet, and dry pavement, the outsole remains tacky. What's more, the lugs don't store rocks and pebbles.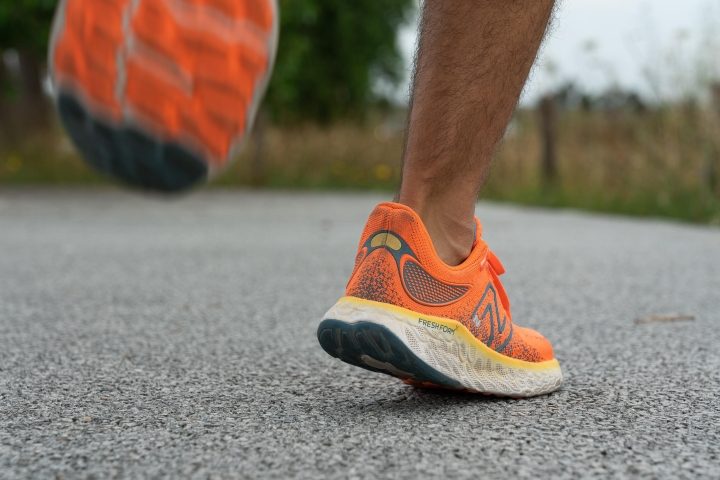 For the long haul
It's not just great for long miles, it also lasts long. After 30 miles of heavy wear testing, we barely saw any wear on the outsole!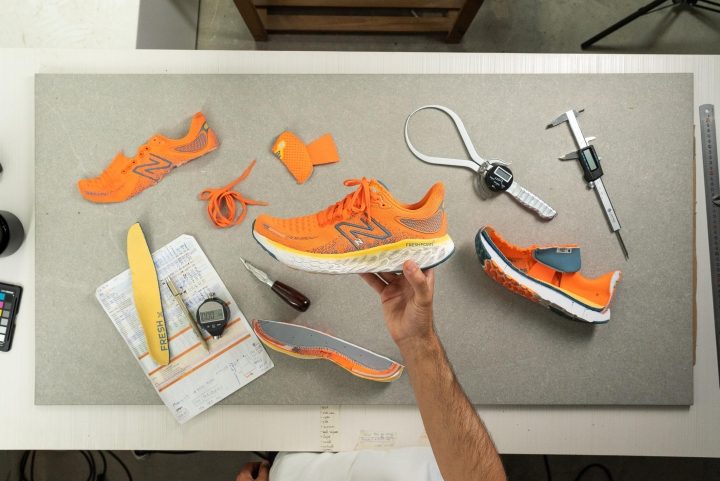 Hey there, good lookin'
Last but not least, we think that the 1080 v12 nails it in the style department. The vibrant colorways really make this NB shoe a standout. Get ready for the praises from onlookers!