Category + brand ranking lists
Busting the Myth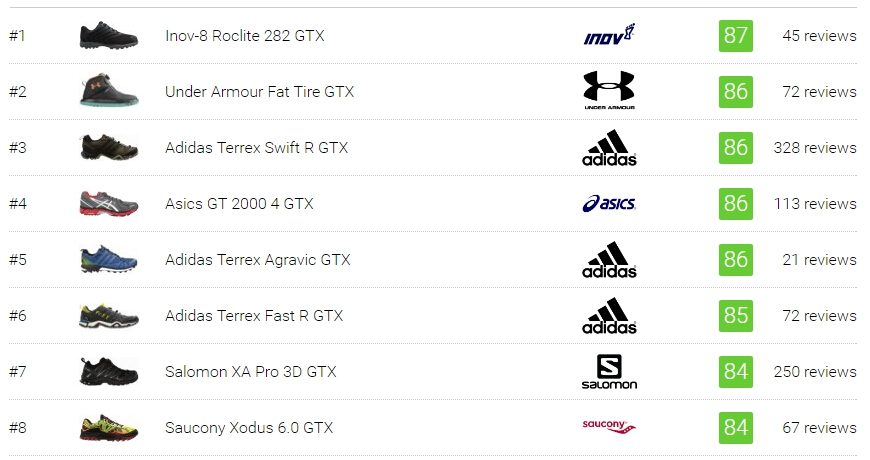 There are completely no waterproof running shoes when the sky lets it all out. During heavy rains, the water slides around the legs, calves, ankles, and to the inside of your foot.
Even with the help of gaiters and other accessories, a decent amount of rain for an extended amount of time is sure to get your foot soaking wet.
Wading through ankle deep water is the quickest way to bust this myth.
That being said, waterproof shoes are exceptionally effective in keeping the foot dry if the above conditions do not happen. Hence, these shoes are quite popular among runners and hikers.
What is a waterproof shoe?
A waterproof running shoe is lined or covered with an impermeable membrane to seal the foot from dampness or water. This is usually a regular model of a standard shoe with the added water-sealing protection.
The membrane used to protect the shoe from water comes in different designs using different technologies. Some brands use the protection on top of the mesh while others use it beneath this standard upper layout.
Because of this enhanced upper membrane and added protection, this type of shoe is usually about 10% heavier and a bit more expensive than the standard edition.
Runners or hikers who normally face weather as part of the challenge sometimes prefer waterproof running shoes over its regular version.
How does the shoe remain breathable when there is a waterproofing membrane?
The latest technology makes this possible. Although different brands use varying technologies, they all have one thing in common. The water-sealing membrane is made up of billions of minute holes that allow air to pass, but effectively shields the shoe or the foot from water.
Although it does compromise ventilation a bit, the shoe breathability should be enough to keep the foot from getting soaked in sweat.
Is shoe breathability proven in rainproof shoes?
Yes, it is. There is solid proof coming from countless reviewers heaping praise on this type of running shoe's breathability.
There are also thousands of hikers who have switched to running shoes with waterproof features as they prevent their feet from getting drenched in sweat.
What are the benefits of a waterproof shoe?
For starters, it prevents you from making weather as a justification not to get up from the couch and do your runs. Running in wintry conditions becomes doable with this kind of shoe.
The protection that these shoe gives allows uninhibited forays during inclement weather conditions. With this type of shoe, the foot normally remains warm and dry when frolicking outside.
You should be generally protected from frostbite as well.
What are the other factors to consider when buying waterproof shoes?
Comfort
In the face of difficult conditions, having the most comfortable ride should be on top of the list. Even when it rains or even when the foot gets bone wet, comfort should still be as good as possible. Look for shoes that you feel good and supremely comfortable with.
Basics
The essentials are always a staple in this type of shoe. Runners with too much inside movement with every stride could opt for something with enhanced support.
Stability shoes are generally endorsed for those with distinct overpronation. Excellent arch support, particularly in a slippery environment is very important.
Flexibility and cushioning are suggested for those who roll inwards upon impact. These features compensate for their usually rigid feet.
As always, runners with medium arches and with efficient strides have a ton of options where neutral runners are concerned.
Whether you are a neutral, an overpronator or a supinator, waterproof running shoes are easily obtainable.
Terrain
As the rain or the wintry conditions make all sorts of surfaces more challenging, choosing a shoe with the preferred terrain in mind is really important.
Look for shoes, whether for the road or trail, with proven track record on wet conditions. Ask for recommendations from your local running store or try to read reviews.
Having a good idea about how a specific shoe performs in slick conditions is a good start before making a purchase.
Trail enthusiasts should consider getting something with more sizeable lugs in the outsole. Besides having a sticky rubber compound, the extra size in lugs will greatly improve leverage and bite on wet and rugged terrain.
Quick-drying
The next best thing to have is a quick-drying shoe. As there is no absolute protection from water, getting the shoe to dry as quickly as possible lessens the risks of blisters or irritation.
Since there is no way to test a shoe's quick-drying capability before a purchase, a little research or recommendation from friends is a logical thing to do.
Some shoes have drainage ports so this helps drain water away faster than those that don't have one. Shoes with thick padding or more cushioning also dry relatively slower than those with lesser foam or cushioning.
Weight
The weight on your foot depletes your energy faster than any weight carried by any part of the body. Hence, getting a water-protected shoe that does not burden you is another element to consider.
For easy runs or recreational runners, a burly or brawny shoe with excellent cushioning is a really solid option. Shoes of this kind are substantially protective, supportive, and durable.
Runners who want to stretch the miles with every run may opt for something with average weight. This will prevent them from getting too fatigued as the finish line draws nearer.