Overall ranking lists
Similar ranking lists
"Waterproof" by Definition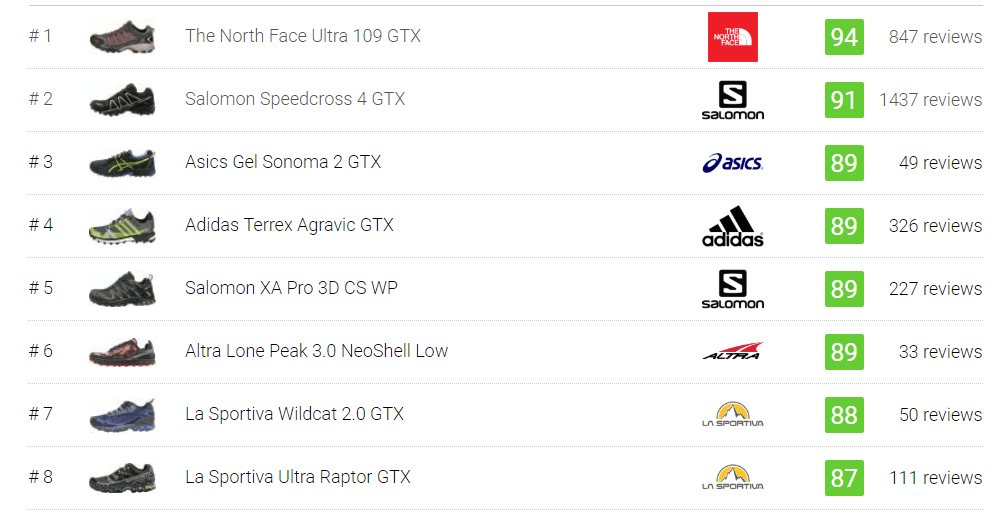 Simply put, a waterproof object is something that is impervious to water. In a waterproofing process, an object is covered or treated with a unique material that works by averting water from flooding the inside, using a substance or sheeting (membrane).
The word "waterproof" is sometimes confused with "water-resistant" and "water-repellent." Although all terms work under the same concept – protection against water – the words mean different.
"Water-resistant" and "water-repellent" objects have low levels of protection. They have a light coating of a substance that resists regular (but not substantial) exposure to water, such as light rain showers or splashes from puddles, streams, or other similar water sources.
"Waterproof" means the entire surface is completely sealed to prevent water. In a waterproof running shoe, stitch holes and seams are covered in a unique fabric to seal them from external conditions.
What is a waterproof running shoe?
A waterproof running shoe is lined or covered with an impermeable membrane to seal the foot from dampness or water. Sometimes, instead of developing an entirely new shoe, brands take a regular or existing model and improve it with the water-sealing protection.
The membrane used to protect the shoe from water comes in assorted designs using different technologies. Some brands use the protection on top of the mesh while others use it beneath this standard upper layout.
Because of this enhanced upper membrane and added protection, this type of shoe is usually about 10% heavier and a bit more expensive than the standard edition. Runners or hikers who commonly face weather as part of the challenge sometimes prefer a waterproof running shoe over its regular version.
The science behind waterproof running shoes
How a waterproof running shoe is made
A waterproof running shoe starts with the creation of the waterproof fabric for the upper. This procedure is done by taking the waterproofing membrane and bonding it between the internal lining and the knit backer. The waterproofing membrane can also be installed above the fabric upper to serve as the upfront protection.
For internal waterproofing membranes, a form of waterproofing laminate sews into the bootie, and a particular kind of tape seals the seams shut. The formed bootie is placed beneath the upper, thus creating a running shoe that is ready to take on wet and muddy paths.
How a waterproof running shoe works
The waterproofing membrane inside a running shoe is a synthetic material made up of billions of tiny pores. Its uniqueness comes from the fact that when stretched, the pores stay intact and in place, without expanding or tearing.
Water molecules are too big to fit into the pores of the membrane; thus, the shoe evaporates sweat and keeps it off the foot.
On the other hand, water vapor molecules are smaller. Thus, sweat can escape the membrane, allowing the foot to release heat and "breathe" comfortably.
Benefits of a waterproof running shoe
The main advantage of a waterproof running shoe – and probably the first reason you want to buy one – is that it keeps your feet dry. The unique material used in this kind of shoe prevents water from coming in and wetting the foot.
The protection that this shoe gives allows uninhibited forays during inclement weather conditions. With this type of shoe, the foot remains typically warm and dry when frolicking outside. Some waterproof shoes can also protect from frostbite as well when running during the winter.
A waterproof running shoe can also decrease the risk of blisters, as it helps maintain the dryness of the foot.
Aside from water, the protective membrane covering a waterproof shoe is also useful in keeping dirt and dust from the foot, thus particularly useful when running on trails, especially mud-covered
Lastly, with a waterproof shoe, your running frequency can increase, as you now have an opportunity to go out even when it is raining.
Disadvantages of a waterproof running shoe
A running shoe that carries more technology packs on more weight as well. Heavyweight shoes tend to be on the uncomfortable side for some runners.
Because of the unique feature and the technology used, a waterproof running shoe is relatively more expensive compared to traditional running shoes.
The added material and weight makes a waterproof shoe less flexible than non-waterproof shoes.
Some running shoes sacrifice comfort for waterproofing efficiency. They end up making the feet feel hot and cramped, especially during warm days.
Misconceptions about waterproof running shoes
Most consumers in search of running shoes in the market, especially beginners, tend to think that waterproof means completely wetproof. The following are some situations where your waterproof running shoe can "fail" your expectations:
When the sky lets it all out, getting wet is inevitable. During heavy rains, the water slides around the legs, calves, ankles, and to the inside of your foot.
Even with the help of cuffs, gaiters, and other accessories, a substantial amount of rain for an extended amount of time is sure to get your foot soaking wet.
A waterproof running shoe is different from swimrun gear, wherein the latter is primarily designed to endure wetness and soaking. Your waterproof shoes will not be able to handle being submerged under water.
Not regarding the conditions listed above, a waterproof shoe is exceptionally useful in keeping the foot dry, as well as enabling an efficient run. The outstanding feature of these shoes makes them a favorite among active runners and running competitors.
Notable technologies used in waterproof shoes
Consumers can find out if a running shoe is waterproof by the type of technology that is placed by the brand. Conversely, a quicker way would be checking the shoe name. Most brands name their shoe after the most significant feature in it. While some brands partner with other companies for waterproofing technology, other brands develop their patents that work mainly with their shoes.
Below is a list of some essential techniques that play a part in the creation of waterproof running shoes, and a few examples of running shoes with the feature.
Gore-Tex®
Possibly the most famous waterproofing tech that is trusted by numerous brands. Gore-Tex® is a thin membrane made of a material discovered by the Gore company itself: the expanded polytetrafluoroethylene (ePTFE). The Gore-Tex® membrane fits 9 million pores per square inch; when used in running shoes, it lends waterproof, windproof and breathable properties.
The Inov-8 Roclite 282 GTX is a trail-running shoe that can be used by the minimalist runner. This is a flexible shoe that consumers have found to provide a balance of support and comfort. Many users have found this waterproof shoe to be comfortable enough to use for daily running. Aside from its efficient features, the Roclite 282 GTX will also gain the favor of runners who want a stylish running shoe.
With its one-piece mesh waterproof upper, the La Sportiva Wildcat 2.0 GTX manages to provide a comfortable and adaptable fit, which impressed wearers. It has an excellent rubber outsole with a traction that excels on icy and snowy terrains.
Meanwhile, the Asics Gel Sonoma 2 GTX amazed runners with its durability and versatility. It has a reliable performance that makes long-distance running effortless. This shoe is recommended for beginner runners. It has aggressive outsole lugs that enable quick, efficient turns and transitions when the pace starts to pick up.
The Under Armour Verge Low GTX is well-praised for its responsive midsole. For this shoe, the brand has partnered with Michelin for their tire rubber compound used in the outsole. The result is a waterproof shoe that delivers a steady performance even in the most rugged and challenging trails.
The Salomon Wings Flyte 2 GTX delivers a precise fit and a smooth ride, according to its users. The shoe's structure was preferred by many, as they found it was sufficient and effective in trail running. It has a waterproof upper that is aided by a gusseted tongue to further cover the foot from water and debris.
NeoShell®
A protective fabric designed by the PolarTec company, NeoShell® claims to be the most breathable waterproof material on the market. While traditional waterproofing membrane tends to be hot on the foot, NeoShell® maintain foot ventilation by lowering the required internal pressure for vapor evaporation, resulting in a more efficient moisture release and air circulation.
The Altra Lone Peak 3.0 NeoShell Low is a durable shoe for the trails that boasts of a lightweight cushioning and a secure fit. Runners were impressed by the outsole's traction on wet ground. This shoe is highly recommended for running at low temperatures because it provides a snug and warm feeling.
An alternative to the above shoe, the Altra Lone Peak 3.0 NeoShell Mid features the same waterproofing technology, only on a higher ankle collar. This waterproof shoe is for runners who prefer more coverage on their ankle area, especially during chilly weather. Runners have found the upper of this shoe to be effective in shielding the foot from water, as well as protecting it from abrasions.
ClimaSalomon
A waterproofing material exclusively developed by Salomon, the ClimaShield is a flexible membrane that claims to be weatherproof and is used primarily for the brand's trail running shoes. The technology boasts of both waterproofing and quick-drying capabilities.
The Salomon XA Pro 3D CS WP is a supportive, heavy-duty shoe for the trails that runners have felt is comfortable enough to be worn every day. The shoe's interior provides warmth for winter running aside from keeping the foot dry. It delivers a steady performance in a durable package, thus ideal for running at slow to moderate speeds.
A trail shoe intended for winter running, the Salomon Snowcross 2 CSWP delivers superior performance under the rain, snow, and sleet. It features a unique design that thoroughly covers the foot, ensuring absolute protection and warmth. Many users liked the secure yet comfortable fit and the fantastic underfoot protection offered by the shoe.
The Salomon X-Mission 3 CS claims to be an all-weather and all-terrain running shoe that can handle long-distances without sacrificing support. Although more expensive than other waterproof shoes, consumers found the X-Mission 3 CS to be worth the price. Its reliable sole unit is lightweight but possesses heavy-duty lugs that deliver substantial grip. This is a versatile running shoe that will gain the interest of the active runner.
DVdryLT
The DVdryLT is a concept created by the eVent Fabrics company for Topo Athletics' running shoes. DV stands for Direct Venting, which is their patented technology present in the waterproofing membrane. DVdryLT is present in a one-piece fabric that works double-duty by protecting against water while also venting sweat to keep the foot dry.
Aside from being waterproof, the Topo Athletic Hydroventure prides itself on providing a firm and steady underfoot support, as well as an optimal grip that excels on off-road grounds. Many users were positively surprised by the lightweight shoe that excelled in traction; they also noticed the smooth ride it presented. Beginner runners will find this shoe a decent pick for their trail runs.
On Membrane
Developed by On Running, this waterproof feature is unique because it is physically coated, unlike other membranes that have a chemical application. Such a method allows the material to be more durable and last longer.
The On Cloudventure Waterproof is a trail-running shoe that runners have commended for its roomy interiors, flexible sole unit, and adaptable fit. Considered to be a dependable running companion because of its efficient features and performance.
Factors to consider when buying waterproof shoes
Terrain
Before looking into any other factors, such as design or price, consider firstly the ground where running will take place. Waterproof running shoes for road and trail have different structures and features; pick the one that is more suitable for the running environment.
Look for shoes, whether for the road or trail, with a proven track record on wet conditions. Ask for recommendations from your local running store or try to read reviews.
Prior researching about a shoe's technology or features is ideal; you avoid getting overwhelmed by unfamiliar terms. It makes the decision process easier as well.
Trail enthusiasts should consider getting something with more sizeable lugs in the outsole. Besides having a sticky rubber compound, the extra size in lugs improve leverage and give the shoe an extra height before water can reach the collar.
Comfort
Although waterproof running shoes are not as soft and flexible as traditional models, they should still be able to give a comfortable ride. An awkward-fitting shoe will end up spending more time on the rack than on your foot.
Whereas waterproofing membranes run the risk of making the upper stiff or rigid, you should feel as if the midsole compensates by providing an adequate cushioning and an adaptable fit. However, the latest shoe technologies allow for uppers to be waterproof without sacrificing comfort, allowing the runner to enjoy their run while maintaining a dry foot.
Decent waterproof shoes should not make the feet feel like it is in the desert. They should keep wetness at bay, but not at the expense of sufficient ventilation. A practical and well-made waterproofing membrane must work both ways: keep the water outside and get the sweat out. If you feel that your waterproof shoe traps sweat within, then it means the waterproofing membrane is not working as it should; it is not effective in providing your foot comfort and protection.
Do not sacrifice comfort for the "ultimate" waterproof shoe. A comfortable yet damp foot will run more efficiently than a dry yet cramped one.
Fit
Aside from comfort, the fit of your waterproof running shoe is also essential and should be non-negotiable. Make sure to buy one that is your exact size; a shoe that is too big or too small for your foot will yield a poor running experience.
Your pronation should also be kept in mind. If you either slightly or severely overpronate, there are waterproof stability or motion-control shoes available to support your feet and keep them dry at the same time.
You should also consider the width of your foot. Before selecting your running shoes, make sure you know if your foot volume is narrow, regular, or wide. Find out if the shoe is available in your width profile before purchasing.
It is always best to buy your waterproof running shoes in person, as you get to try them on first and ensure a correct fit. You also get to have an initial impression of the shoes without spending money right away. If not permissible, most online retailers allow returns or exchanges without additional cost, in case the shoes do not fit you properly. Check this information before trying to buy.
Quick-drying
A quick-drying capability is an excellent feature to have in a waterproof running shoe. As mentioned above, a waterproof running shoe is not entirely wetproof; there is still a small probability your foot can get wet if water enters the shoe. If this happens, a shoe with a quick-drying property will come in handy, as it lessens the risks of your skin developing blisters or irritation.
Some retailers will openly claim a waterproof shoe is quick-drying, but there is no way to confirm this inside the store. If this factor is non-negotiable for you, make it a point to research before buying. Consumer reviews and expert opinions are a reliable source of information regarding the consistency of a shoe's feature.
Some waterproof running shoes have drainage ports, so this helps drain water away faster than those that don't have one. Shoes with a thick padding or more cushioning also dry relatively slower than those with less foam or cushioning.
Weight
The weight carried by your foot depletes your energy faster than anything else shouldered by the rest of the body. Hence, getting a waterproof running shoe that does not burden you is another element to consider.
For easy runs or recreational runners, a burly or brawny shoe with excellent cushioning is a reliable option. Shoes of this kind are substantially protective, supportive, and durable.
Runners who want to stretch the miles with every run may opt for something with average weight. A shoe with an adequate bulk will prevent them from getting too fatigued as the finish line draws nearer.
Popular waterproof shoes
To make it easier for you to choose a shoe that fits your needs and lifestyle, here is a list of road and trail waterproof running shoes ranked according to popularity. The higher the rank, the more frequently it is searched for or talked about by consumers; it does not necessarily mean more positive reviews than the lower ranked ones.
Road running shoes
Trail running shoes
Adidas Terrex Swift R GTX. A rugged trail runner and a lightweight hiking boot in one shoe, this was how Adidas constructed the Terrex Swift R GTX. Many users appreciated its superior cushioning, comfort, durability, and versatility. This waterproof shoe will excel on the mountain and off-road trails, with its tough and bulky structure that is guaranteed to withstand heavy use.
Salomon Speedcross 4 GTX. A waterproof trail running shoe that is ideal for long distances and muddy paths. Many runners found the upper to efficiently prevent (aside from water) debris and other hazardous elements; while others praised the comfortable and precise fit. The Gore-Tex upper provides superior waterproofing while the outsole proved to be efficient even on snowed trails. This shoe is ideal for neutral pronators who have a narrow foot volume.
Adidas Kanadia 7 GTX. This running shoe caters to heel strikers with its high stack height and heel Runners were satisfied with its performance on obstacle races and muddy trails. The shoe's midsole was commended for being plush and comfortable, but not at the expense of weight. The Kanadia 7 GTX is ideal for users who are willing to splurge for a firm and steady running shoe.
Adidas Terrex Agravic GTX. Runners who are looking for a lightweight waterproof running shoe will like the Terrex Agravic GTX. It boasts an upper that, while waterproof, is also resistant to abrasion. The outsole also performs exceptionally on uneven trails. Various runners praised the shoe for its minimal weight, responsive cushioning, and its overall stylish design that allowed wearing for leisure. However, it is important to note that the sizing might be a hit or miss to some users. Others also claimed to be uncomfortable with the upper materials.
Adidas Terrex Fast R GTX. It is a heavy-duty shoe that most users found to perform efficiently on mountain runs. Aside from being waterproof, another notable feature of this shoe is its Continental™ outsole that makes uphill and downhill runs effortless. Built for neutral pronators, this shoe gained positive marks for its midsole that provided responsive cushioning and efficient forward motions.
Frequently asked questions
How does the shoe remain breathable when there is a waterproofing membrane?
The latest technology makes this possible. Although brands use different techniques, they all have one thing in common. The water-sealing membrane is made up of billions of minute holes that allow air to pass, but efficiently shields the shoe or the foot from the water.
Although it does compromise ventilation a bit, the breathability of waterproof running shoes should be enough to keep the foot from getting soaked in sweat. Some running shoes are made of lightweight and soft materials, allowing to be worn even without a sock, thus increasing chances of ventilation.
Is air circulation guaranteed in waterproof running shoes?
Yes, it is. Air circulation is scientifically-proven in the material used for the waterproofing membrane of running shoes. Waterproofing membranes are specially-designed to prevent outside water from entering the shoe, while also wicking away sweat and moisture from the foot, thus ensuring absolute dryness.
Aside from scientific evidence, numerous consumers have provided their firsthand experience on the effectiveness of waterproof running shoes, mainly commenting on the technology used by the brand for waterproofing.
There are also thousands of hikers who have switched to waterproof running shoes as they prevent their feet from getting drenched in sweat.
Do I need to wear waterproof socks with my waterproof shoes?
Your waterproof running shoe should be able to shield your foot enough from water if you are running under light precipitation or when you are confident that the elements in the environment – such as water, mud, or snow – will not reach the inside of your shoe.
A waterproof sock can serve two purposes. It allows the foot to remain dry if water gets inside the shoe, which could happen if you are wading in the water or if there is deep snow that reaches beyond the shoe collar. It also keeps the foot warm if the outside temperature is too low. Determining if you would need a waterproof sock depends on your running habits and environments.
What is a gaiter? Do I need one?
A gaiter is a piece of garment worn around the lower leg, above the shoe. It aids your waterproof running shoe in protecting the foot, by preventing various elements like water, dirt, and pebbles from entering the shoe. Some gaiters have additional features, like insect-repellent and abrasion-resistant.
Like waterproof socks, a gaiter is an accessory, and wearing a pair is optional. For road runners, typically the waterproof shoe is enough protection for a comfortable and secure run. Trail runners, on the other hand, might prefer to purchase gaiters, especially if the terrain involves water, debris, mud, or deep snow. The gaiter can also protect your legs if you are running on a path with tall grass.
I cannot afford a waterproof running shoe. Can I buy a waterproofing treatment instead?
Some items in the market claim to make your ordinary running shoes into a waterproof pair, once you apply it to them. Although it is effective, this is not recommended by running enthusiasts because of the following reasons:
Typical waterproofing chemicals on the market are in the form of wax or grease, and these substances cover the fibers of the upper material, thus removing your shoe's breathable quality. Waterproofing membranes are specially-designed to keep water out and maintain air circulation around the foot without the need for chemicals.
Waterproofing treatments applied on the shoe will fade away over time, thus requiring repurchase and reapplication.
Some ingredients in waterproofing treatments may have adverse chemical reactions with the materials of your running shoe and destroy it in the process.
Considering these factors, using a waterproofing treatment proves to be counterproductive and more expensive in the long run. It is ideal to invest in a waterproof running shoe that is specially designed using materials that can handle the job.
I run for only 2 hours a day. Do I still need a waterproof shoe?
Some consumers are under the impression that a waterproof running shoe is only a requirement for active runners who run all-year round, regardless of the weather. While it is not an absolute necessity, a waterproof shoe proves to be beneficial for all types of runners, whether an enthusiast or just exercising. You may check the list above for the various advantages a waterproof running shoe can bring you.
I run mostly on off-road trails and mountainsides. Should I get a waterproof hiking boot instead?
Although both types of shoes are beneficial to your lifestyle, a waterproof running shoe would be more suitable if you do more running than trekking. The structure of a typical hiking boot will not sustain the stress and movements that occur during running; they are also relatively more cumbersome compared to running shoes.
There are various selections of waterproof running shoes that are specifically for off-road trails and mountains. There are even shoes that are weather-specific – these are uniquely designed to protect the foot and keep it warm. You can be sure to find a pair that applies to your usual terrain.
How should I care for my waterproof running shoes?
You might be wondering how it would be possible to wash dirty shoes if they are waterproof – it won't get wet! Waterproof running shoes consist of a distinct material; thus, it requires careful attention. Here are some tips on how to care for waterproof shoes:
The waterproofing membrane is a delicate material, and its minuscule pores could potentially be destroyed by pressure – such as the force of water in a washing machine. The best way to clean the shoe is by hand.
Shoelaces are usually made of fabric. They should be removed and separated from the rest of the shoe, so they can both dry quicker.
If the surface is dirty, use lukewarm water to remove dirt and grime from the shoe. If the shoe's upper is of textile or fabric, use a washcloth or a sponge; if it is of leather, use a soft brush. Wipe or brush the shoe gently to avoid puncturing the membrane.
Do not use chemicals such as bleach or stain removers; these can potentially tamper with the shoe's breathable quality.
Let the shoe air-dry at room temperature. Avoid direct heat as it can damage the waterproofing material; your waterproof shoes should avoid direct sunlight, open fires, and even the warmth from radiators.
Ideally, a runner should own at least two pairs of waterproof running shoes to be worn alternately, letting one pair "rest" after use, or while it dries out. This tip is particularly useful for competitive runners who have frequent activities and for fitness enthusiasts who run daily as part of their workouts.
Do waterproof running shoes have a shorter lifespan?
A waterproof running shoe has the same life expectancy and mileage range as an ordinary running shoe. The waterproofing membrane, on the other hand, is made of synthetic and is designed to be durable and to last for a long time – provided that the shoe is used correctly (for its intended purpose).
If your waterproof running shoe is cared for, no matter the brand, you can expect it to give you many miles of reliable performance.
When should waterproof running shoes be replaced?
Like any other footwear, your waterproof running shoes will not last forever. Over time, the materials and the structure of the shoe will deteriorate from frequent usage and exposure to the elements.
Evidently, if the shoe leaks, or if it gets your foot wet, the waterproofing material is beginning to lose its effectiveness and should be retired soon. However, if other parts of the shoe are starting to give as well, you should not wait for the waterproofing membrane to weaken before getting a replacement.
To find out if your shoes have reached the end of their lifespan, try to look for these signs:
Frayed laces. The friction from frequent tying and loosening will wear out shoelaces over time.
Compression lines. These are commonly seen in the midsole or the sock liner. If the shoe's underfoot structure is starting to crack, the support is no longer sufficient.
Worn-out outsole. The outsole does a lot of work with it constantly being in contact with the ground, thus making it vulnerable to deterioration. A worn-out outsole can potentially cause injuries.
Final note
Whether you are a seasoned runner, a beginner, or a mere running hobbyist, a waterproof running shoe is a sound investment and a worthy addition to your running gear. A waterproof shoe has few disadvantages, but these are mostly relative; the benefits certainly outweigh the negatives. Purchasing a running shoe will protect you not only from water but other elements as well, and you have more chances of running without worrying about outdoor conditions.
There are numerous waterproof running shoes on the market; one might get overwhelmed in their search for the best pair. Before you start shopping, it is ideal to learn about the technologies used by brands in their waterproof shoes. It is also important to consider factors such as the terrain you will be running in, your preferences for shoe fit, weight, and what you believe as comfortable. You might also consider buying accessories to go with your waterproof shoe.
You must care for your waterproof running shoe to maintain its effectiveness and ensure its longevity. Because waterproof shoes are unique, they require a different maintenance than ordinary running shoes. Pay attention to what you use to clean your waterproof shoe to prevent it from getting damaged or deteriorated.
Overall, choosing your waterproof shoe should be based on your preference and your foot's "decision." While opinions about waterproof shoes from other runners are valuable, they should be taken with a grain of salt, as what one person thinks as acceptable might not be the same for another person. It is ultimately up to you to determine which waterproof shoe will work well with your lifestyle.
This shoe has recently been added to RunRepeat. There are still not enough reviews for us to assign it a
Corescore
.
Corescore
A score from 1 to 100 that summarizes opinions from users and experts. The average Corescore is 78.
More...