Overall ranking lists
Jordan categories
Established in 1984, Jordan Brand is the leading name in athletic footwear and is renowned for producing high-quality Air Jordan basketball shoes. The brand is globally recognized and has quickly become a household name for its impact on basketball and streetwear culture.
After initially focusing on developing Michael Jordan's on-court footwear, the brand has since expanded its operations to include the production of ready-to-wear performance gear, apparel, and leisure attire.
Being Like Mike: A Peek Inside Jordan Brand's Exclusive Club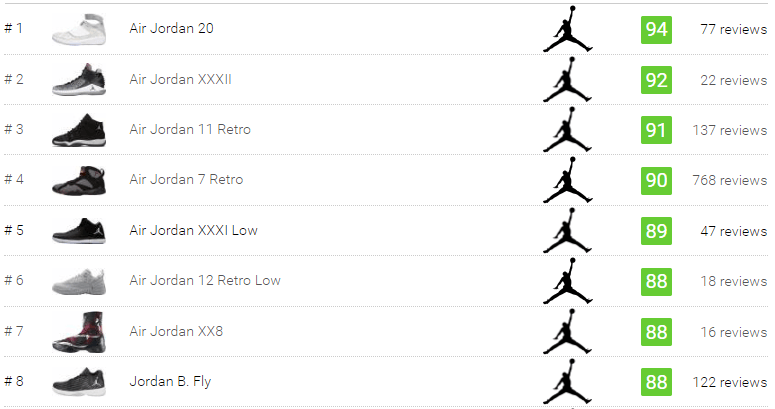 Aside from housing Michael Jordan's Air Jordan basketball shoes, the already long Jordan basketball shoes list continues to grow with the signing of several NBA stars, with a select few releasing their very own signature lines with the brand.
Russell Westbrook
The star point guard of the Oklahoma City Thunder Russell Westbrook is a six-time All-Star, two-time All-Star Game MVP, and two-time Scoring Champion. He is also one of the only two players in NBA history to average a triple-double throughout an entire season.
As the current frontman of Jordan basketball shoes, Westbrook's winning attitude and passion for the game earned praise from Michael Jordan himself. "Thirty years ago, that's me," Jordan said of Westbrook.
After winning the 2017 NBA regular season MVP award, Russell Westbrook is set to become the highest paid Jordan Brand athlete by signing a massive ten-year extension that sees him partnering with the brand well beyond his retirement.
Jordan Westbrook 0. When it was time for Jordan Brand to offer Russ a signature model, he opted for a lifestyle sneaker that shows his love for fashion. Released in 2015, the Jordan Westbrook 0 comes in both mid and low-top designs.
Jordan Westbrook 0.2. Russell Westbrook's swagger shows on and off the court. With a high-top silhouette, the Jordan Westbrook 0.2 draws inspiration from the Air Jordan 1. Released the year after his first signature lifestyle model, Russ shows his dynamic style with the Westbrook 0.2.
Jordan Why Not Zer0.1. Russ's very first on-court signature model, the Jordan Why Not Zer0.1 debuts in a limited release Mirror Image colorway to celebrate the winning mindset shared by Russ and MJ. He is always on his toes, constantly running and jumping. To complement his explosiveness and make him feel secure, Jordan Brand included a smooth vamp that ensures forefoot lockdown. "The biggest part is the amount of comfort and security the shoe provides," Russ said in an interview. "It allows me to move and jump at a fast pace, something that I think is very, very important."
Chris Paul
Chris Paul was drafted fourth overall by the Charlotte Hornets during the 2005 NBA Draft. With averages of 16.1 points, 7.8 assists, and 2.24 steals, and after notching 21 double-doubles during his rookie season, Paul was named the 2006 Rookie of the Year. He helped the Hornets improve by 20 more wins over their previous season.
Arguably the best pure point guard in the league today, Chris Paul is a nine-time All-Star and is the 2013 All-Star Game MVP. He has won two Olympic gold medals and has been selected to nine NBA All-Defensive teams and eight All-NBA teams.
As one of the most recognizable athletes of the brand, Chris Paul's Jordan brand shoes list goes on. His signature CP3 line features the most innovative technologies and is already on its tenth version.
Jordan CP3.I. Released in 2008, the CP3.I boast of forefoot Zoom and heel Max Air units. It was Chris's first signature sneaker, and it included details of his personal life.
Jordan CP3.II. The CP3.II is faster than its forerunner since Jordan Brand made a few key updates. Also made available in 2008, these Chris Paul shoes feature forefoot Zoom Air, DHIP foam in the heel, an external heel counter, and a Nufoam padded collar.
Jordan CP3.III. Podulon was first used on the CP3.III, and it quickly became Chris Paul's preferred cushioning. These sneakers were launched in 2009, and a special Tribute pack was released the following year in honor of the Air Jordan III.
Jordan CP3.IV. A hyperfuse-like upper was used on the CP3.IV to keep Chris cool and dry while breaking ankles on the hardwood. Its key features are a breathable mesh upper, lockdown heel counter, and an aggressively designed outsole that delivers grippy traction.
Jordan CP3.IV Advance. The mesh upper was re-equipped with

midfoot cross-straps

connected to the lacing system for added support. The revamped CP3.IV was released in the Summer of 2011.
Jordan CP 2'Quick. To keep up with Chris Paul's lightning-fast moves, Jordan Brand unveiled a low-top signature model called the CP 2'Quick. It set him apart from his competition. This pair of Chris Paul shoes feature an outer heel cage that provides support and stability while he's shaming the defense with his killer crossovers.
Jordan CP3.V. Featuring Podulon cushioning with forefoot Zoom and a breathable Hyperfuse upper with supportive Flywire cables, the CP3.V is lighter and more responsive than other CP3 models released.
Jordan CP3.VI. Improving upon the design of the CP3.V, the CP3.VI caters more to Paul's style of play with its beastly traction and excellent lockdown. It features a three-layer hyperfuse upper, herringbone outsole, and Podulon cushioning.
Jordan CP3.VI AE. The CP3.VI Artisan Edition has the same outsole and midsole tooling as the original version, but it features a Dynamic Fit system with a fully redesigned upper for better on-court performance.
Jordan CP3.VII. These lightweight sneakers draw inspiration from the 80s era and East LA where Chris Paul grew up. Designed for Chris's speed and aggressive play style, the CP3.VII features dynamic Flywire, Nike Zoom technology, and a herringbone traction pattern on the outsole. Podulon was also swapped with Podulite cushioning to increase responsiveness. "This shoe was made for speed and flight," Chris said. "It's a great feeling when I'm out there to know I've got the technical support to do what I need to do. The designers at Jordan really know my style of play and continue to make products that elevates my quickness on the court."
Jordan CP3.VII AE. The retooled version of Chris Paul's seventh pair of signature Jordan basketball shoes features a Hyperfuse construction with exposed Flywire cables. This playoff-ready model was released in April 2014.
Jordan CP3.VIII. After seven models of Chris Paul shoes, the signature line has evolved into a must-try shoe for any guard. Made for maximum performance, the CP3.VIII features a Flight web, a TPU chassis, forefoot Zoom air, and herringbone for traction.
Jordan CP3.VIII AE. With performance-oriented updates, the CP3.VIII AE is built for the postseason. The upper was refitted with a mesh-like material to enhance the shoe's on-court performance.
Jordan CP3.IX. Over the course of his career, Chris Paul has shown that speed plus control equate to on-court dominance. With the CP3.IX, Jordan Brand presents "Striking Control." The shoe features a number of performance-oriented technologies to satisfy the demands of Paul's aggressive play.
Jordan CP3.IX AE. The 2015-2016 regular season was only half-way through when Jordan Brand launched Chris Paul's playoffs sneakers. As with previous Artisan Editions, the upper was retooled to meet the demands of the postseason. The CP.IX AE features a seamless engineered upper, allowing Paul to be light on his feet.
Jordan CP3.X. One of the last remaining traditional point guards in the league, Chris Paul is still able to leave his fingerprint on the game with his creative playmaking, insane court vision, and hot handles. A rare talent, he's only the second athlete to reach a tenth signature model with the brand. The

Jordan CP3.X has a polarizing silhouette

that's certain to leave its mark on the court. These light and responsive Jordan shoes feature a one-piece woven upper and Nike Zoom Air units, allowing Chris Paul to shift his game to the highest gear.
Jordan CP3.X AE. Made for Chris Paul's 2017 playoff run, the CP3.X AE has a more streamlined design that features a performance woven upper for lightweight support.
Carmelo Anthony
A perennial All-Star, Carmelo Anthony was selected to six All-NBA teams since being picked third overall by the Denver Nuggets in the 2003 NBA Draft. Prior to joining the league, Melo was named the NCAA's Most Outstanding Player by leading the Syracuse Orangemen to their only Championship. He has made ten All-Star appearances and was the NBA Scoring Champion during the 2012-2013 season.
A versatile scorer, Anthony can play both the small and power forward positions with ease. He has been selected to the USA Basketball men's team four times and has surpassed LeBron James as Team USA's all-time leading Olympic scorer.
Carmelo Anthony requested to be traded from the New York Knicks during the 2017 offseason after a falling out with former team president Phil Jackson. His preferred landing spot was the Houston Rockets. However, he was ultimately traded to the Oklahoma City Thunder to form their big three alongside fellow All-Stars Russell Westbrook and Paul George.
As a top prospect, Anthony was the first rookie signed to the brand with a signature shoe already lined up. He agreed to a long-term deal at the beginning of 2017, but before the year ended, rumors surfaced about his signature line being canceled. Jordan Brand has since denied the accuracy of these reports and clarified that no decisions have been made regarding future Melo models.
Anthony's Jordan Melo series is the fifth-longest running signature line in NBA history, behind NBA greats Michael Jordan, Kobe Bryant, Lebron James, and Allen Iverson. Listed below are the Carmelo Anthony shoes that fans love.
Air Jordan Melo 1.5. During Carmelo's second NBA season, his first signature sneaker was released. Using a unique numbering system, the number 1.5 is a play of Anthony's Nuggets jersey number. Tailor-made for Carmelo, the Melo 1.5 features a headband tongue detail and encapsulated Air.
Air Jordan Melo 5.5. The Melo 5.5 takes cues from the Air Jordan V and Air Jordan VI. It has Jade birthstone details and encapsulated Zoom. The shoes also debuted the Melo script on the heel counter.
Jordan Melo M3. With an entirely new design, Carmelo's logo was introduced in this model. The M3 features forefoot Zoom Air and encapsulated Air in the heel. Its smooth styling and clean colors perfectly match his on-court demeanor.
Jordan Melo M4. Carmelo would always double sock to achieve a snugger fit. With this in mind, Jordan Brand implemented a removable ankle sleeve and a Foamposite collar that allows him to attain his desired fit.
Jordan Melo M5. 2007 was a notable year for Jordan Brand as the company celebrated its 23rd anniversary. The brand was open to interesting ideas to catapult the Melo M5 from looking like an updated retro to a luxury basketball sneaker. The upper boasts a unique graphic print, a nod to Melo's fondness for designer brands.
Jordan Melo M6. Going back to a classic look, the Melo M6 has an 80s inspired vibe to it with perforations on the toe box and prominent stitching on the midsole. It features forefoot Zoom Air that delivers both comfort and stability, perfect for Melo's bully-ball post play.
Jordan Melo M6 Future Sole. The Melo M6 took part in the future sole program where aspiring designers created their rendition of the M6. High schooler Austin Jermacans's design was selected. The M6 Future Sole features design elements from some of Melo's favorite Air Jordan basketball shoes such as the textured nubuck from the Jordan IX, a ballistic mesh panel from the Jordan XIII, and patent leather from the Jordan XI.
Jordan Melo M7. This was the last pair of Carmelo Anthony shoes that rocked a Nuggets colorway. This pair of Foamposite-inspired Jordan basketball shoes features a unibody construction, forefoot Zoom, and an exposed Max Air under the heel.
Jordan Melo M7 Advance. Following Carmelo's trade to the New York Knicks, Jordan Brand unveiled the Melo M7 Advance. Dressed in Knicks colors, the updated Melo M7 features the Flywire technology.
Jordan Melo M8. Jordan Brand stepped up their game with Carmelo's first full season as a Knick. The brand created an incredible sneaker that complements his quick jumping ability. The M8 features a Flywire upper, encapsulated Zoom in the heel, and forefoot Zoom Air.
Jordan Melo M8 Advance. The updated version of the Melo M8 utilizes a Hyperfuse construction and has a lower cut look than the original version.
Jordan Melo M9. The Melo M9's unique design is inspired by Anthony's love for designer watches. Engineered to deliver increased responsiveness and lightweight support, the M9 features forefoot and heel Zoom Air, a full-length TPU cage, and a Dynamic Fit technology with Nike Flywire. "I love the idea of being locked in, whether I'm on the perimeter or making a move in the post," Carmelo said in an interview. "I want to protect my ankles while not restricting my cutting ability. After working closely with the Jordan Brand team during development stages, the JORDAN MELO M9 fits my game perfectly."
Jordan Melo M10. To celebrate Carmelo's tenth pair of Jordan Brand shoes, the company brought in legendary designer Tinker Hatfield to create a unique anniversary sneaker with sophisticated styling and industry-leading innovation. The sneaker's design is influenced by Carmelo's skill and ability on the court. The Melo M10 features heel and forefoot Zoom Air and the Flight Plate technology for maximum responsiveness. It also comes with a molded heel counter and the Dynamic fit technology that enhances performance. The M10 is considered to be one of the best performing and most comfortable Jordan shoes for basketball ever made.
Jordan Melo M11. After 12 NBA seasons and 11 signature models, Anthony became Jordan Brand's most tenured athlete. Through the years, the brand's designers have closely worked with Carmelo to create signature Jordan shoes that mirror the evolution of his playing style. The Melo M11 features Flight Plate, forefoot Zoom Air, and a molded collar to support his versatile game.
Jordan Melo M12. Now in his 13th NBA season, Carmelo already understands what it takes to remain successful in the league. His appreciation of his journey has helped him develop a strong work ethic that pushes him to hone his skills continuously. The

Melo M12 echoes this ongoing transformation

. Its low-profile design delivers better ankle lockdown while its two Zoom units that are coupled with FlightSpeed maximize responsiveness.
Jordan Melo M13. Rumored to be Carmelo's last signature model, the M13 is designed with support and comfort in mind. It features a mesh and Kurim upper for lightweight protection. It also has the FlightSpeed technology for increased responsiveness.
Kawhi Leonard
Regarded as the league's premier two-way player, Kawhi Leonard has silently emerged from a role player specializing in defense to the Spurs' main man and a legitimate MVP contender. He has won back-to-back NBA Defensive Player of the Year awards, has been selected to two All-NBA First teams, four All-Defensive teams, and two All-Star teams.
Drafted 15th overall by the Indiana Pacers in the 2011 NBA Draft, the small forward was sent to San Antonio in exchange for point guard George Hill during a draft night deal. Seeing their risk pay off, the Spurs won their fifth NBA Championship with Leonard taking over down the stretch and ultimately being recognized as the 2014 NBA Finals MVP.
Growing up, Air Jordan basketball shoes have been Kawhi's favorite sneakers. So, when Jordan Brand invited him to join their exclusive club, he was more than excited to get on board. "I've been wearing Jordans really ever since I started playing," Kawhi said in an interview. "I'm excited he decided to bring me along."
Since being sidelined during the start of the 2017-2018 campaign, Jordan Brand has kept Kawhi busy by making him the face of the new Gatorade-Air Jordan collaboration. The collection features "Like Mike" Jordan shoes in the form of the Air Jordan I, Air Jordan VI, and Air Jordan XXXII.
Although having his custom apparel line, Jordan Brand is yet to give Leonard a nod for his signature sneaker despite his status as one of the top ten players in the league today. In the meantime, he has been rocking several player exclusives (PEs) that display The Claw logo that he designed. His Air Jordan PEs perfectly complement his competitive and unflashy attitude.
Air Jordan V Gold PE. Kawhi has a unique Gold Air Jordan Collection that is exclusive to him. The public has only seen sightings of this special collection, and he was spotted wearing his gold Air Jordan 5 during an event in Miami.
Air Jordan VI

"The Claw". This ring night exclusive was donned by the Spurs swingman during the presentation of their 2014 NBA Championship rings. Kawhi's Claw logo debuted on the heel of these sneakers.
Air Jordan XI Retro Metallic Gold PE. Christmas day kicks are always special, and Kawhi broke out a unique pair after their 119-100 win over the Bulls last 2016. Covered in gold, Kawhi's Air Jordan 11 colorway has never been used in any retail version and most likely, it will never be.
Air Jordan XII Retro Metallic Gold PE. Jordan Brand has been dressing their shoes with gold accents after Team USA won a gold medal at the 2016 Summer Olympics. Leonard showed off his eye-catching gold-based Jordan 12 during a community outreach event in San Antonio.
Air Jordan XX8 SE Finals. Worn during the Spurs 2014 Championship run, Kawhi's exclusive Air Jordan 28 shoes feature gold and white uppers with elegant Jordan elephant print along the edge.
Air Jordan XX9 Low PE. There are a lot of Air Jordan XX9 PEs around, but the Low version hasn't seen the same kind of treatment. Michael Jordan was seen wearing a pair AJ 29 Lows; however, it wasn't clear if it were PEs. Matching his Spurs colors, Leonard rocked his subtle pair complete with "The Claw" logo on-court.
Air Jordan XXX PE. The second round of the 2016 Playoffs saw an exciting match-up between Jordan Brand athletes Kawhi Leonard and Russell Westbrook, who both graced the floor in their Air Jordan XXX PEs PEs. Leonard's PE complements his Spurs uniform, and it sports "The Claw" logo on the tongue.
Air Jordan XXXI PE. Kawhi and the Spurs started the 2016-2017 season on the right foot. After blowing out the Golden State Warriors on opening night, Kawhi followed it up with a win over the Kings. He put up an impressive 30-point performance while wearing his black and white Air Jordan 31.
Jordan Melo M10 PE. Kawhi has been wearing the Air Jordan XX8 SE during the majority of the 2013-2014 regular season. However, he switched it up with a PE of the Melo M10 during the playoffs. Carmelo may not have played in the postseason, but at least someone was wearing his signature shoes.
Blake Griffin
Blake Griffin was recognized as the 2009 NCAA AP Player of the Year during his sophomore season with the Oklahoma Sooners. During the same year, he joined the NBA Draft and was selected first overall by the Los Angeles Clippers.
In spite of a strong showing during the Summer League, Griffin suffered a knee injury during his last preseason game and had to sit out the entire 2009-2010 season. His highly anticipated NBA debut came a season later where he won the 2011 Slam Dunk Contest by jumping over a car, and ultimately winning Rookie of the Year with averages of 22.5 points, 12.1 rebounds, and 3.8 assists. He has since been selected to four All-NBA and five All-Star teams.
The Clippers' star power forward was already a Nike endorser before signing with Brand Jordan. He is the de facto athlete of Jordan's Super.Fly line, and even though it is not his official signature sneaker, the brand involves Griffin with the shoe's development.
Jordan Super.Fly 1. Launched in 2012, the first Super.Fly features a three-layer hyperfuse in the upper, Lunarlon in the forefoot, and Zoom Air in the heel. These game day sneakers are designed to match the foot's anatomy for an unrivaled fit.
Jordan Super.Fly 2. Wear-tested by Griffin, these versatile sneakers are inspired by his high-flying style.The Super.Fly 2 features Jordan Brand's Flight Plate technology paired with forefoot Zoom for tremendous explosiveness. "The Super.Fly2 is by far the most responsive and most innovative shoe I have ever played in," Blake said. "The way it fits coupled with the responsiveness of Flight Plate really helps me perform at the highest level possible every time I am on the court."
Jordan Super.Fly 2 PO. During the 2014 postseason, Jordan Brand released their four-sneaker Playoffs pack that included the Super.Fly 2 PO. Revamped for the playoffs, the Super.Fly 2 PO features a three-layer Hyperfuse upper with a carbon fiber heel overlay and Dynamic Flywire eyelets.
Jordan Super.Fly 3. For the Super.Fly 3; Blake wanted a shoe that provides him an explosive edge on the court. With that, Jordan Brand designers included an evolved Flight Plate that provides maximum responsiveness and delivers the power of flight
Jordan Super.Fly 3 PO. The playoffs version of Blake's Super.Fly 3 features an engineered textile upper that adds breathability, making it ideal for high-intensity games.
Jordan Super.Fly 4. Molded after Blake's game, the Super.Fly 4 features FlightSpeed to withstand quick cuts and explosive jumps. These Marvin the Martian-themed sneakers combine performance with nostalgia.
Jordan Super.Fly 2017. Fashioned after Blake's explosive game, the Super.Fly 2017 features some of Nike's most innovative technologies to meet his on-court needs. These groundbreaking Jordan basketball shoes boast a full-length Nike React foam that optimizes cushioning on every footfall. "Right away you notice the responsiveness of Nike React," Griffin says. "Whatever move you make, it goes along with you."
Engineered for Flight: Air Jordan Basketball Shoes for Men and the Technologies that Defy Gravity
Providing the greatest basketball player of all time with performance Jordan Brand shoes all through his hall-of-fame career is no easy task, that is why Jordan Brand has always been at the forefront of innovative footwear technologies.
Flight Plate
Unique to Jordan Brand, the Flight Plate technology maximizes responsiveness by unlocking the power of the Zoom Air units underneath.
A Pebax moderator plate optimizes the Zoom unit's performance through compression and deflection. It also serves as a bridge between the heel and forefoot, allowing for smoother heel-to-toe transitions.
FlightSpeed
Similar to the Flight Plate system, FlightSpeed utilizes a carbon fiber plate sitting on top of a Zoom Air unit to distribute pressure evenly and optimize energy return.
The Zoom Air unit absorbs impact energy then transfers it across the carbon fiber plate and all over the FlightSpeed system, unleashing its power and energizing the wearer's every step.
Podulon
Inspired by the I.P.S. (Independent Podular Suspension) cushioning system, Podulon is engineered to provide cushioning precisely where it is needed without compromising the shoe's integrity.
Podulon's innovation lies with the modified build of the Cushlon foam. Foam pillars are strategically placed in high-impact areas to maintain comfort and responsiveness.
Podulite
Podulite is a lighter and more responsive version of the Podulon cushioning system. The Podulite system integrates three zoned pods inside a light midsole for enhanced responsiveness.
Nike React
Nike tasked their cushioning experts and chemical engineers to redefine what's possible with existing cushioning platforms, pretty much like what was done on the Nike Zoom Vaporfly 4% whose midsole featured ZoomX and Nike Air VaporMax. Their goal is to create a foam that is lightweight, resilient, and durable to deliver better options to every athlete across more sports.
Debuting in the Jordan Super.Fly 2017 is Nike React, the latest foam innovation Nike has to offer. This breakthrough foam allows the most energy return and is the most durable among Nike's current foams and cushioning platforms. Once pressure is applied, the foam reacts by quickly bouncing back to its original state, ensuring a consistent feel underfoot.
Flyweave
Making its basketball debut in the Air Jordan XX9, Nike Flyweave forms a textile upper that maximizes the foot's natural motion and acts as a second skin. The Flyweave technology provides targeted support; considering the specific strength, durability, and stability requirement of athletes in different sports.
Flight Web Fit System
The Flight Web Fit System utilizes webbed straps that wrap the midfoot and integrate with the laces to provide superior lockdown that adapts to your movements.
Dynamic Fit Technology
Nike developed Dynamic Fit to limit internal slippage and deliver a snug fit. The Dynamic Fit technology molds to your foot, effectively removing the gap between the foot and the shoe. It can accommodate all types of foot shapes and sizes, delivering adaptive support and unparalleled comfort.
The technology incorporates soft material "fingers" that wrap the arch and midfoot. When the laces are cinched tight, the interior fit fingers pull around the foot for a secure and supportive fit that moves with you.
She's Got Game: Women Striving for Greatness
Air Jordan basketball shoes have been regularly launched as for-men items. Over the years, the brand has been attempting to fill the gap in order to offer a broader selection in their women's category. Brand Jordan's efforts have been inconsistent, to say the least, as the releases in their women's line are few and far between.
In 1998, the first and only pair of Air Jordan shoes for women was released. 2010 saw the first-ever female Air Jordan II collaboration with New York-based fashion designer Vashtie Kola. Since then, there has not been any real progress aside from Nike and Jordan Brand expanding their GS releases. However, this move is not enough to meet the growing demand since female sneakerheads want the same Jordan Brand shoes offered to men's, but in their sizes.
Until their Jordan basketball shoes list is expanded, the ladies will have to make do with the what's offered to men. They just need to subtract 1.5 from their actual size. This method is not an exact science, so hopefully, female enthusiasts will be able to get a pair that fits well and in the design they love.
Time and again, the shoe industry has undervalued women sneaker presence. As a testament, female brand endorsers are hard to come by. So, in an effort to obtain a greater market share, Jordan Brand signed their first WNBA player in 2011.
Maya Moore
A University of Connecticut phenom, Maya Moore joined the WNBA in 2011 after being picked first overall by the Minnesota Lynx. During her sophomore and junior years, Maya led the Huskies to back-to-back undefeated national championships. She won the 2009 John Wooden award and is UConn's all-time scoring leader totaling 3,036 points.
Named Sports Illustrated Performer of the year last 2017, Maya has been hailed as the greatest winner in women's basketball history. She was named the 2011 Rookie of the Year, 2013 WNBA Finals MVP, 2014 WNBA MVP, and the WNBA All-Star Game MVP twice. She has won four WNBA Championships and was also selected to five All-WNBA first teams.
To celebrate her stellar career and growing list of accomplishments, Jordan Brand released a two-shoe collection. The Maya-inspired Air Jordan I Retro High and Air Jordan X Retro are both dressed in Fuchsia Flash, her favorite color. The shoes also bear personal touches such as her favorite Bible verse (Colossians 3:23), and her "MM" logo.
Flight Schedule (Release Dates of Jordan Basketball Shoes)
The most successful signature line ever, Air Jordan basketball shoes are a yearly set of sneakers that debuted in 1985 and are already in its 32nd model. Because of its cult following, popular Air Jordan models are continuously being restocked and released in a variety of styles and colors.
Aside from Michael Jordan's prominent signature shoes, there are only three other athletes who have their signature lines with the brand. New Jordan Brand signature models are typically released a few months before the NBA regular season starts with updated versions being launched before the playoffs.
Throughout the year, sneakerheads can expect the release of limited-edition colorways to commemorate special events such as the All-Star Weekend, Black History Month, Christmas Day, and Chinese New Year to name a few. Unique designs are also released to raise awareness to causes and charities.
Enthusiasts can also watch out for special packages and anniversary issues that celebrate a signature athlete's achievements.
Bang for Your Buck: When to Buy Your Next Pair of Jordan Brand Shoes for Sale
If you are on a tight budget but want the best pair of performance Jordan Brand shoes for sale, then knowing when to buy is crucial. Seasoned sneakerheads will advise you to never buy at full retail. Rather, they recommend to wait it out until new Jordan shoes hit the shelves. That's the perfect time to cop the pair you have been eyeing since the old stock usually goes on clearance sale and are also placed in outlet stores. Checking out online stores is also a great way to get the best deals since they offer promo codes and provide steep discounts on their clearance/sale pages.
Below are some additional buying tips on when to pick up new kicks.
January. Start the year with a fresh pair of sneakers. Retailers often greet the New Year by running promotional offers to take advantage of lifestyle changes brought about by resolutions. Time to shed those extra pounds gained over the holidays.
April. As the temperature warms up, more people want to experience the outdoors. Expect to see discounts on running shoes as joggers start to hit the pavement.
May. Prepare to stock up on new shoes as retailers go on sale. Discounts during this time usually range from 30 to 60 percent off as merchants clear out last season's inventory and prepare for the upcoming season's catalog.
November. Most consumers customarily start their holiday shopping during this month. Retailers try to lure in shoppers with holiday discounts that peak during Black Friday.
Trivia Time!
Is Jordan Brand under Nike?
A subsidiary of number 1 sport apparel producer Nike, Jordan Brand officially stepped out of Nike's shadow in 1997 and became a sub-brand. The Air Jordan XIII was the first model out of the newly established brand. Because of its strong following, what started as a signature line turned into an iconic brand that include not only Air Jordans but also other kinds of Jordan shoes.
How much is Michael Jordan's Contract with Nike?
Although the current value of the contract is a closely guarded secret, Nike provided some glimpses of their deal with Michael Jordan. In a 2016 interview, Nike co-founder Phil Knight disclosed that Michael's original contract was for $250,000 a year. In 2015, court documents revealed that Nike paid Michael $480 million from 2002-2012. In a 2017 report, Forbes estimated that Michael earned around $110 million throughout the past 12 months.
To put things into perspective, Michael's estimated yearly earnings of $100 million through his Nike endorsement is more than his entire NBA career earnings amounting to $93 million. To this day, Michael Jordan's contract with Nike remains the most significant shoe deal in NBA history.
This shoe has recently been added to RunRepeat. There are still not enough reviews for us to assign it a
Corescore
.
Corescore
A score from 1 to 100 that summarizes opinions from users and experts. The average Corescore is 78.
More...