Reasons to choose hiking sandals over other hiking footwear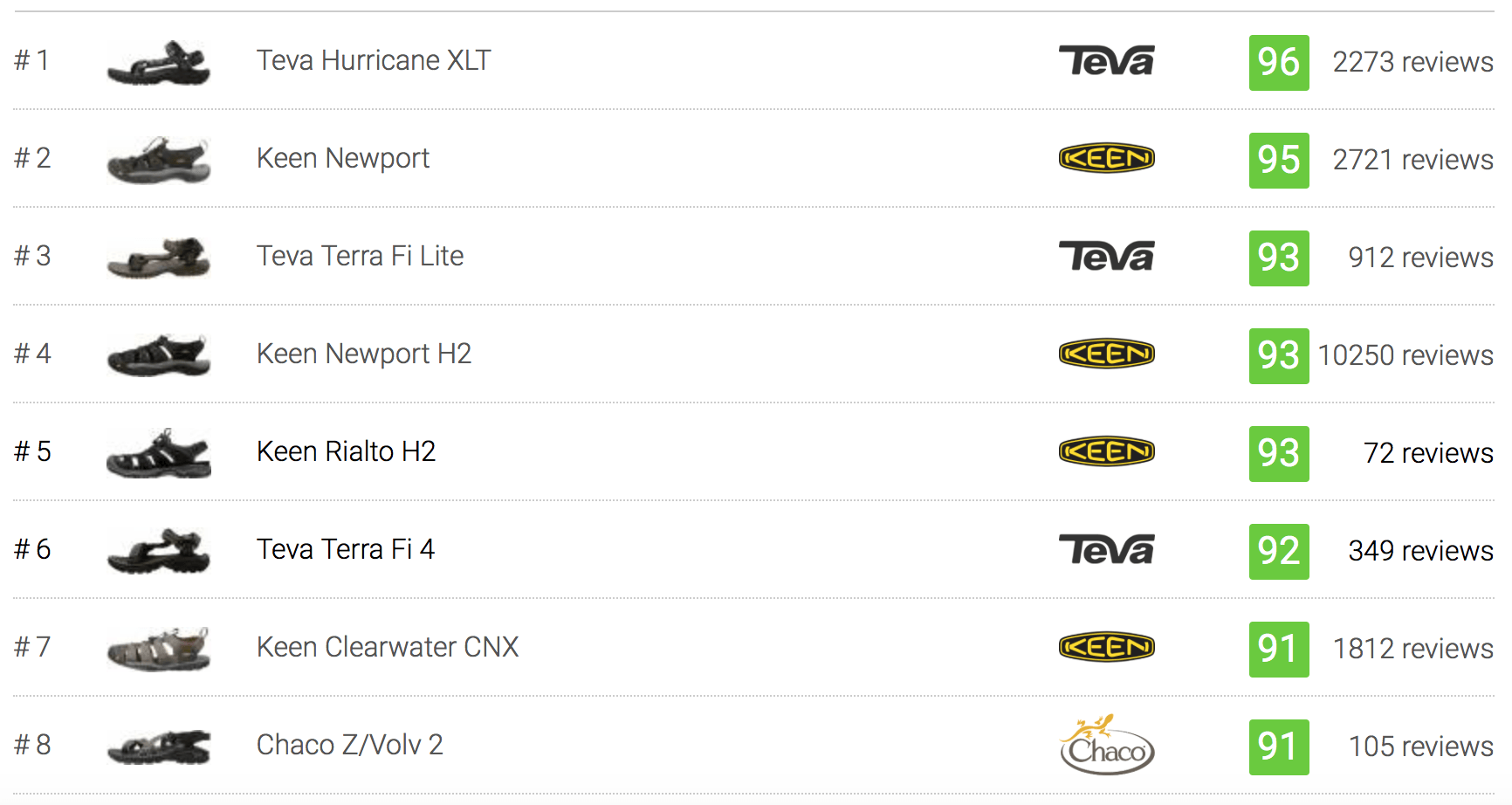 Best hiking sandals - June 2018
Four categories. There are four hiking footwear categories here at RunRepeat: hiking sandals, hiking shoes, hiking boots and mountaineering boots.
Lightweight. Sandals designed for hiking are usually very lightweight, weighing no more than 700 grams a pair on average. Light, synthetic materials and plastic components are commonly used in most pairs to make them lightweight. The lighter the footwear, the less energy is expended by the user.
Better ventilation. Since hiking sandals have less upper coverage, they easily disperse heat through the vent holes, effectively preventing heat buildup, and expelling perspiration. They are perfect during hot seasons as they are extremely breathable. Multi-sport use. There are some varieties known as multi-sport sandals. Aside from hiking, they are engineered for various sporting activities, such as biking, kayaking, and track.
Quick-drying upper. Most hiking sandals have upper webbings typically made of synthetic fabrics which are fast drying. That's why there are hikers who prefer wearing hiking sandals when traversing shallow waters, such as streams, rivers, and creeks.
Personalized fit. Sandals for hiking give wearers a custom fit with their highly adjustable straps, bungee (speed) laces, or both. Bungee laces are especially elastic, so a more personalized fit may be achieved with them.
Easy on and off. Wearers will find convenient on and off with most hiking sandals, especially slip-on types and those with removable heel straps.
Casually versatile. Many hiking sandals have a minimalistic design and construction. This simplicity makes them wearable not only for outdoor adventures but also for casual events and everyday use.
Affordable. Sandals specifically crafted for hikers are the cheapest among the hiking footwear categories. If you are thinking about venturing into the world of hiking for the first time, a pair of hiking sandals is a good choice.
Virtually non-existent break-in. Practically every sandal designed for hiking does not require a long break-in period. This convenient feature is especially true in a pair with a webbing upper made of synthetic fabrics. A sandal with less closure coverage also breaks in quickly.
Washable. Most hiking sandals, especially those with synthetic uppers, can be hand-washed to improve their lifespan. Some footwear makers even design their strappy hikers to be washer-friendly.
What to look for in hiking sandals
Outsole and lug pattern. Hiking sandals depend on the outsole for traction. Without this piece of durable rubber (or sometimes PVC), grip on various terrain and surface types will be quite impossible. Lugs come in a variety of shapes that determine the sandal's traction upon ground contact and during maneuvers.
What lug patterns should I keep an eye on?
Try multi-directional lug patterns, usually V- or diamond-shaped, if you are planning to take on a trail characterized by uneven terrain. If your preferred route is often wet or muddy, an outsole with circular lugs may prove to be beneficial as this lug shape systematically disperses water, preventing hydroplaning in the process.
Is there anything else I need to know about lugs?
Yes. Note that the amount of space between the outsole's lugs and treads determines the sandal's effectiveness to shed accumulated dirt and mud. The wider the space, the more mud is shed.
Midsole. When it comes to stability, virtually every hiking sandal relies on its midsole. This rubber component is often made stiff to preserve the wearer's balance, but with the right amount of flex to allow for better maneuverability and transitions. Look for a pair with a midsole that has a nice combination of these two characteristics. This stabilizing platform also provides shock absorption, so a sandal with an extra-thick midsole should be considered if the trails you often take on are multi-level and feature high impact zones.
If you are really particular with stability, try a sandal that comes embedded with a steel or nylon shank. This additional component further enhances your bearings and doubles down on underfoot support.
Weight. A pair of men's hiking sandals normally weighs anywhere between 500 grams and 900 grams. Hiking sandals for women, on the other hand, weigh anywhere between 400 grams and 600 grams a pair on average.
Why should I consider a lighter sandal?
A lighter pair will allow you to be nimbler and have better mobility; however, a drop in protection and stability should be expected as lightweight hiking sandals often feature less upper coverage and a thinner midsole.
Should I even bother with heavier, bulkier hiking sandals?
Yes. If you wish to have a more stable and protected hiking experience, go with a heavier sandal that features a more enclosed upper and thicker sole with more defined lugs.
Arch support. Most hiking sandals for men and women are engineered to have defined arch zones, so finding a pair with good arch support should not be too difficult. Since a hiking sandal largely depends on its midsole's contour for arch support, and its insole is likely to be non-removable, wisely choose a pair that responds to your pronation needs. Normal pronators may opt for a less contoured arch.
Webbing upper. Interconnected straps are virtually what make up a hiking sandal's upper. The more straps a sandal has, the more secure of a lockdown you will get. More strap coverage also means better protection from outside elements such as sharp rocks and abrasive roots. The webbing upper of hiking sandals can be either synthetic or leather.
What do I need to know about a synthetic webbing upper?
An upper made of synthetic fabrics—think polyester and nylon—makes most sandals inexpensive, washable, and fast-drying. Hiking sandals featuring a synthetic upper provide the utmost comfort. They're lightweight but may not have the lasting durability of hiking shoes and hiking boots.
What about an upper made of leather?
A webbing upper made of genuine leather, on the other hand, is hypoallergenic and takes the shape of your foot naturally over time. Leather also makes footwear comfortable straight out of the box and gives most sandals a premium look and feel. However, expect leather hiking sandals to be a bit pricier and heavier than their synthetic counterparts.
What do I choose then?
If you are an agile hiker who cannot be bothered with weight and does not have sensitive skin, go with synthetic. Otherwise, opt for a pair with leather straps if you are after comfort and wish to avoid allergic reactions at all costs.
Water readiness. Do you often find yourself treading through streams, puddles, and murky waters in your hiking adventures? Or perhaps you simply like the challenge of conquering unpredictable terrain while there is a downpour in the area? If your answer is a resounding yes, we suggest you get either waterproof hiking sandals or water-repellent hiking sandals. Water-ready footwear often sports a breathable, hydrophobic mesh upper which effectively drains water and dries quickly. Also, some brands manufacturing hiking sandals have started to incorporate trademarked waterproofing technology in their products. They will not completely keep your feet dry, considering they are still sandals with open vents, but they will ward off water and not get soaked—considerably lessening the time it takes them to dry.
Odor control. Sandals made for hikers are commonly used in the summer where the sun is high up, and feet sweat a lot. Because of this excessive sweating, many people find their strappy pairs unbearably smelly over time. If you have sweaty feet and are tired of odor-causing bacteria leaving your hiking sandals awfully stinky, shop for a pair that has a stink-resistant lining and odor-repellent footbed. A number of footwear makers have come up with their proprietary odor-fighting technology while some brands teamed up with companies, the likes of which include Microban and The Stewart Group (Cleansport NXT), to strengthen the defenses of their hiking sandals against odor and stink.
Secure footbed. Do your feet get displaced easily even after all the straps are tightly adjusted and secured? Do your heels slip to the sides while navigating an uneven terrain? Then consider getting a sandal with a concave footbed. This deep contour gives the hiking sandals a crater-like border which prevents underfoot slippage from virtually every angle. A pair having this kind of footbed, however, might lack the proper drainage through which debris and water may escape easily. Try a flatter insole that has defined textures and aggressive patterns instead if you find a concave design too restrictive.
Toe protection. Open-toe hiking sandals are commonplace and generally preferred by many for their comfy design and breathability. However, if toe stubbing and forefoot injuries happen too often in your daily outdoor adventures, give a pair with a closed-toe upper a try. In a closed-toe sandal, the usually exposed forefoot area has in its place a protective cap—a sturdy rubber bumper which may or may not be part of the footwear's outsole, but still offers a level of toe protection unseen in standard sandals. Since this toe bumper is made of reinforced rubber, expect a slightly heavier hiking experience.
Closure system. Sandals engineered specifically for hiking do away with standard shoelaces and use a quick "no-tie" lacing system instead. This type of closure system features either a set of bungee laces or hook and loop (Velcro-like) fasteners.
Bungee laces? What are they?
Bungee laces are made of highly stretchable cords intertwined together within a fabric covering. With bungee laces, lacing up may be performed with one hand and simply require pulling on the cords from the upper eyelets to get a custom fit. Bungee laces are quite elastic, however, so expect them to stretch as you perform flex maneuvers, especially during ascents.
What can I expect from hook and loop fasteners?
Hook and loop fasteners, on the other hand, give a personalized fit by adjusting the straps to your preference. Most hiking sandals have at least two adjustable straps with hook and loop fasteners, so this type of lockdown mechanism can be configured to varying degrees.
Choosing the best hiking sandals that fit perfectly
Have an extra space for your toes. There must be at least a half inch extra space in front of your big toe. This space ensures your toes do not touch the ground, especially during descents. The rest of your foot should also stay within the confines of the footbed—no heel or midfoot overlaps. If you prefer closed-toe sandals, look for a roomy toe box with enough wiggle room.
Purchase hiking sandals in the afternoon. The human foot slightly enlarges towards the end of the day due to swelling caused by strenuous activities. Because of this, it is a good idea to try on sandals sometime in the afternoon or evening.
Get it in half size. Getting the perfect size can be tricky at times. Fortunately, most brands offer their hiking sandals in half sizes. Consider getting a half size smaller or larger if your preferred whole size keeps missing the mark.
Try on every sandal you handpick. Make sure you test fit every pair you select at a store, especially if these sandals are from different brands. One footwear company's size 8 might be slightly smaller than another brand's sandal of the same size. Bottom line: never assume your size, whether across brands or not.
Test your soon-to-be sandal. After finally choosing the pair that fits you perfectly, walk in it around the store to have a preview of its performance. Some stores would have an outdoor-like space where you can experience it in action.
What if my local store does not have such a space?
If such a space is not available in your local store, try walking on inclined surfaces or going up and down a series of stairs instead.
What should I be aware of while testing hiking sandals?
You should get minimal heel lift or none at all. If you get too much heel lift during transitions, adjust the tightness of the straps or laces. Sizing up or down until heel lift is considerably reduced is also advised.
In open-toe sandals, make sure your toes do not slip beyond the front of the footbed.
In closed-toe sandals, ensure that your toes do not hit the end of the enclosure during descents.
Go wide instead of going large. If after trying several sizes your feet still feel cramped and restricted, especially around the sides, ask for a wide version of that sandal. Some feet are extra bulky, so some footwear brands offer their products in wide width.
Bring your socks. Some people prefer to wear socks under their strappy hikers for added warmth and protection. If you belong to this group, it is advisable to bring your favorite hiking socks and wear them while shopping for your next pair of hiking sandals.
What sort of socks go well with hiking sandals?
The socks you should wear depend on several factors, like weather condition and personal preference. With that said, many hikers prefer wool socks as they are light and can effectively disperse heat and wick away moisture. If your feet do not sweat a lot and you are after comfort above all else, go with cotton.
Give it some time. If you have the size and width locked in but feel like your winning pair still lacks something you can't quite put your finger on, chances are you just need to break it in. Hiking sandals, much like most shoes and boots, expand slightly and take the natural contours of your foot when broken in. Footwear break-in period varies, but most sandals crafted for hiking require less break-in time than regular shoes and boots.
Go beyond gender borders. When you have tried everything and none of the hiking sandals you have tested gave you a perfect fit, consider trying on the women's version of those sandals. Some men have quite the narrow feet which are by no means something to be ashamed of. That said, if you fall into this category, do not be embarrassed to try a women's pair. Conversely, women who have feet bulkier than usual should not be ashamed to try a men's pair.
Finding the best hiking sandals
Conduct some research. Not sure what sort of hiking sandals to buy? Research on the next batch of products from your favorite brands online. Footwear companies often post their newest items on their website right away, so it would be wise to browse through their online catalogs on a regular basis. Footwear availability is also something that can be easily checked on the internet or through the phone.
I can't seem to find the hiking sandal info I am looking for. What else can I do?
Reach out to a brand's customer support through live chat or email. You may also inquire through their social media channels, like Facebook and Twitter.
Be adventurous. It is quite alright to stay faithful to your preferred brand when it comes to hiking sandals. However, it is also okay to try out other brands from time to time. Who knows? That better, more inexpensive alternative could be lurking around the adjacent shelf under a different brand waiting for you to try it on.
Know your terrain. The type of hiking sandals you are shopping for should be able to meet the demands of the areas you frequent. Terrain types and trail conditions are major considerations when selecting the best hiking sandals for yourself.
Consider recommendations from experts. They say mothers know best, but in the realm of hiking, your go-to guys (and gals) for footwear recommendations are the experts and the knowledgeable. If you have friends who are quite experienced in outdoor adventuring, bring them along when out sandal shopping. Their insights would prove valuable especially when you are just starting out, and there seem to be tons of sandals from which to choose.
Focus on your needs. Finding the perfect hiking sandals can be a real challenge, especially when you are on a tight budget, and you have an overabundance of options to choose from. Zero in on the technical features of the sandal and make aesthetic design secondary (if not a non-factor) to expedite your decision-making. At the end of the day, the primary functions of the footwear matter more than style.
Try several pairs before making that purchase. Sandals designed for hikers have exponentially grown in number over the past decade as more and more people started to open up to their adventurous spirits and brave the outside world. You can use this to your advantage by gathering several pairs of sandals from different brands before finally choosing the ideal pair—or pairs if your budget permits. Also, if you are extra patient, try on a second time previously fitted sandals just to make sure you are favoring the right ones.
Consult with your podiatrist. Do you have flat feet and overpronate? Or maybe you have high arches and supinate? If you are unsure as to the type of pronator you are, it is advisable to consult with your local podiatrist first. Your podiatrist can help you determine the sort of hiking sandals that best suits your pronating needs. It is also imperative to seek your podiatrist's advice if you have had a previous foot injury or are recovering from one.
What are the three types of pronators?
Normal pronators. Normal pronators have their feet rolling slightly inwards as they walk or run. Their feet effectively absorb shock and evenly support body weight. If you are a normal pronator, look for a pair with neutral arch support and cushioning.
Underpronators. People with high arches are usually underpronators (supinators). Their feet roll outward and do not absorb and distribute shock properly. Because of this, they are advised to get a pair of hiking sandals that promotes balance and has better cushioning.
Overpronators. Flat-footed folks, or those with low arches, overpronate. Their feet and ankles roll inwards excessively. Overpronators should look for a pair with a stiffer midsole and more prominent arch for added support.
Know your local store's return policy. If your go-to footwear store, whether brick-and-mortar or online, has quite a customer-friendly return policy, and something in your newly bought pair rubs you the wrong way—maybe even quite literally at that—do not hesitate to return it and get the sandal you should have bought in the first place. That or simply get a full refund.
How do I smartly take advantage of a store's return policy?
If you are torn between two pairs of hiking sandals, and if your local store has a money-back guarantee, get both. The idea here is for you to get a longer testing period, whether at home or outdoors, and have a better assessment of which one to keep and which one to return.
Frequently asked questions
What are hiking sandals?
Hiking sandals are like slippers but with sturdier straps and reinforced soles, or like shoes (in cases of closed-toe ones) minus the bulky weight. They are designed to aid outdoor adventurers in their single-day hikes without weighing them down. They, however, are not appropriate for multi-day trips which involve carrying heavy packs and navigating unforgiving terrains.
Why is it not advisable for me to carry a heavy pack while in my hiking sandals?
Hiking sandals have minimal ankle support and may not have a stiff enough midsole to maintain your balance and cushion your feet under the added stress of your pack.
Are hiking sandals really good for me?
It all boils down to the terrain you are planning to conquer and your preference. Remember that hiking sandals are built for day hikes on well-maintained trails. If it is great mobility and comfort you are after, with as minimal restraint as possible, then hiking sandals are for you.
Do they make hiking sandals with Vibram soles?
Absolutely. Vibram has great partnerships with different hiking footwear companies, so finding a pair that sports Vibram's grippy outsole should be quite an easy task.
What can I wear with hiking sandals?
If you need extra protection from the cold, and if you can ignore the fashion police no matter what they say, you can slip on a pair of wool socks. If you want to double down on mobility, you can never go wrong with a pair of outdoor shorts (cargo shorts are a favorite among many). If exposing too much skin is not your thing, go ahead and complement your sandals with a pair of pants.
Where can I buy hiking sandals?
There are many footwear retailers from which you can buy hiking sandals. You can buy them either at a physical store or online. Try physical, brand-specific stores first. If you can't find the retailer specific to your preferred brand, try visiting sports and fitness apparel stores in a shopping center near you. When it comes to online shopping, it goes without saying that test fitting sandals is not possible. That said, e-shopping is undeniably convenient, and some of the great deals happen online, so browse to your heart's content and—if you are lucky—save some cash.
This shoe has recently been added to RunRepeat. There are still not enough reviews for us to assign it a
Corescore
.
Corescore
A score from 1 to 100 that summarizes opinions from users and experts. The average Corescore is 78.
More...