This piece is remarkable with its excellence in footing security and lavish provision of comfort. While pricier than most hiking sandals, the Hopara from Hoka can make your hikes quite inspiring (or way less of a slog)!
Pros
Incredible cushioning
High level of comfort
Excellent wet-surface traction
Rock-solid build
Accommodating fit
Supportive for a neutral shoe
Worth the price
Cons
A bit heavy
Gives blisters
Not for narrow feet
Who should buy the Hoka Hopara
The Hopara has what it takes to be your next go-to trail or all-day wear companion. You will appreciate this Hoka offering if you want a sandal that is extremely versatile. it can handle easy-to-moderate hiking, camping, walking, fishing, boating, beach, and swimming. etc.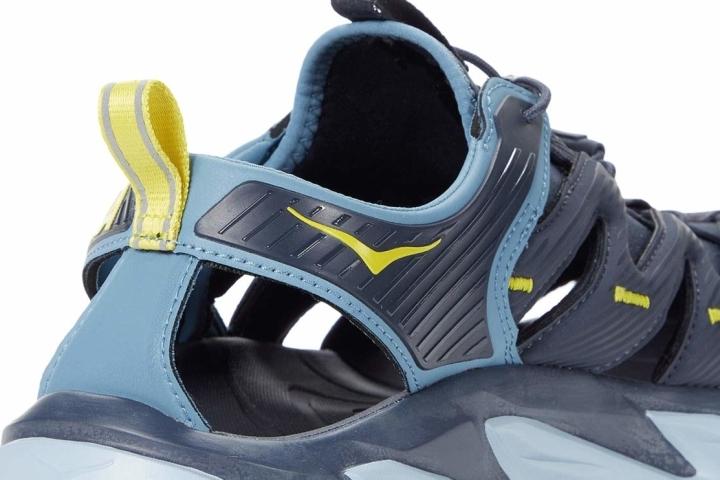 Who should NOT buy the sandal
If you'd like to explore a similar closed-toe hiking sandal that would weigh less and feel lighter on foot, consider the KEEN Clearwater CNX or the KEEN Targhee III Sandal.
Cushioning is unrivaled
"Probably the most comfortable shoe I have ever had on my foot," claims one of the reviewers. A lot of other wearers of the Hopara can subscribe to this statement due to the sandal's comfort-loaded build.
Another person was amazed "at the support they offer." Even for a neutral shoe, its platform is pretty stable and has a little bit of arch support. Somebody even notes that it has more cushioning than most running shoes.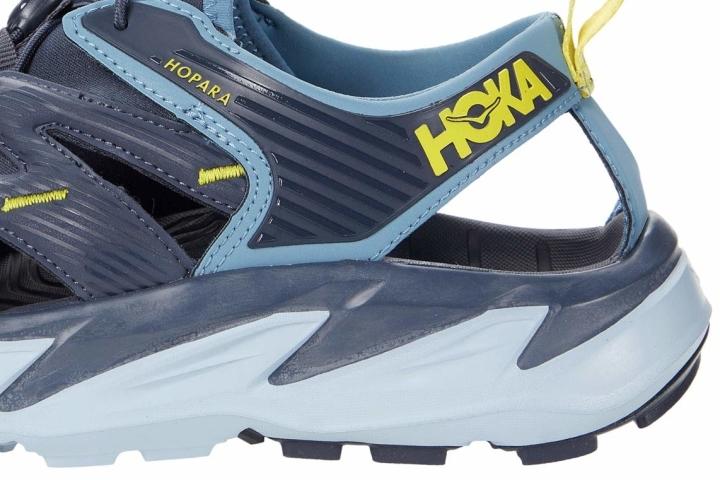 What's more, with its plush yet springy midsole, stepping on almost anything that pokes underfoot is not a problem.
This is what makes the Hoka Hopara so enjoyable for all-day wear for many people.
Welcoming upper fit
Most reviewers were elated with the fact that the shoe has enough room in the toe area. There is no squeezing or pinching. Even those with bunions reported that there is enough space for them to feel comfortable.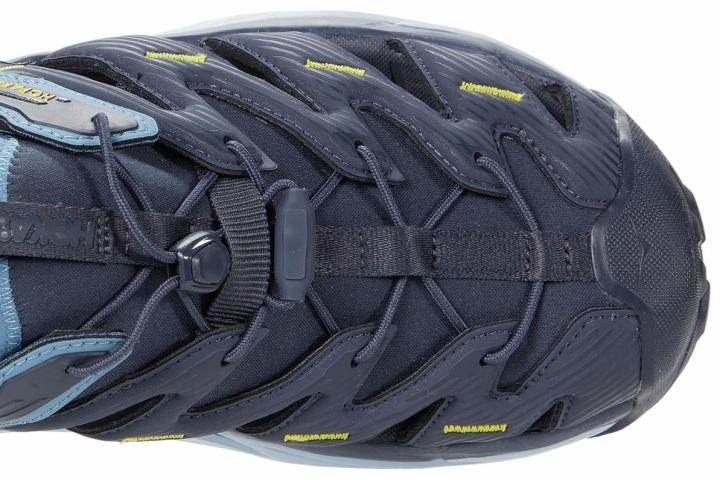 The bungee lacing also makes for an effortless on-and-off.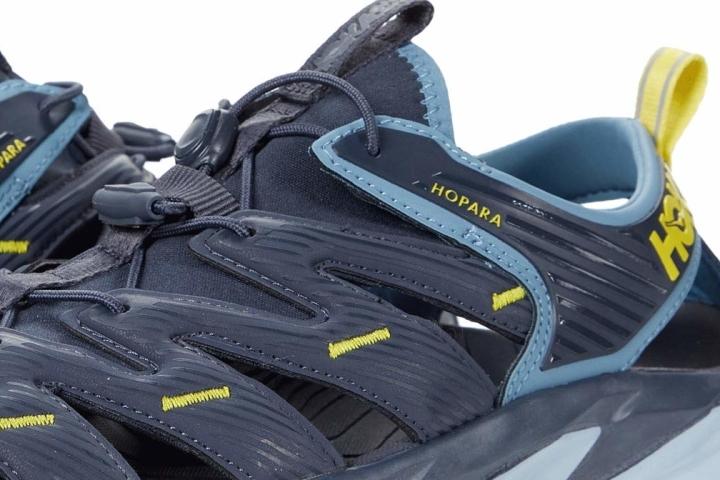 However, there were some complaints too. One came from people with narrower feet. Apparently, they cannot tighten the cords enough to achieve a good fit. Another one was the blistering issue in the heel which happened to a few wearers.
Hoka Hopara keeps you covered on the hike
Its protective upper with sufficient water-channeling cutouts translates to unhindered strides, especially through shallow streams and the like.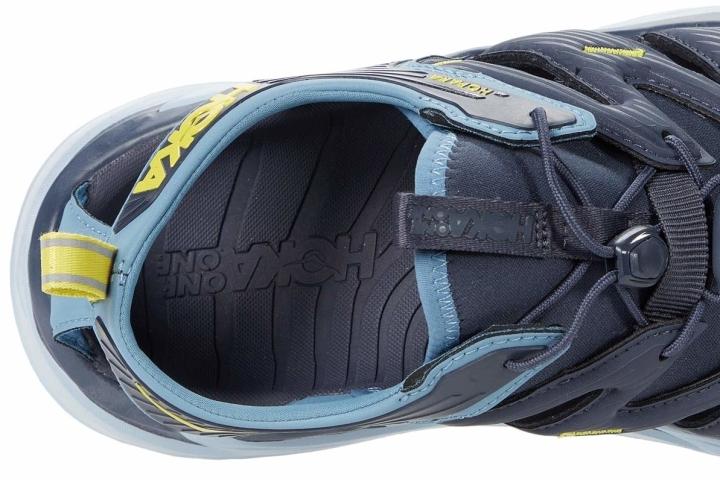 The thick enough rubber toe cap of the Hopara also lets you bump into rocks and other immovable hazards with nary a scratch on your precious piggies.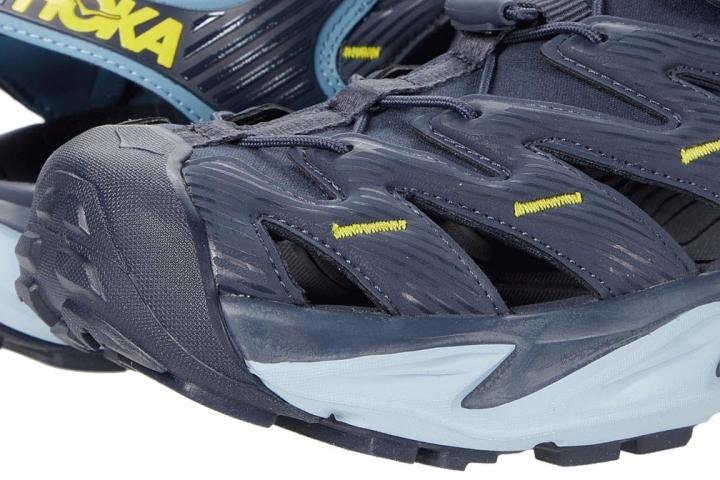 Grip is supreme
The Hopara outplays many of its contemporaries by having some aggressive lugs (4 inches in depth), which give more bite on loose soil. Slippery stones, lava rocks, smooth surfaces - it handles them all, according to the wearers.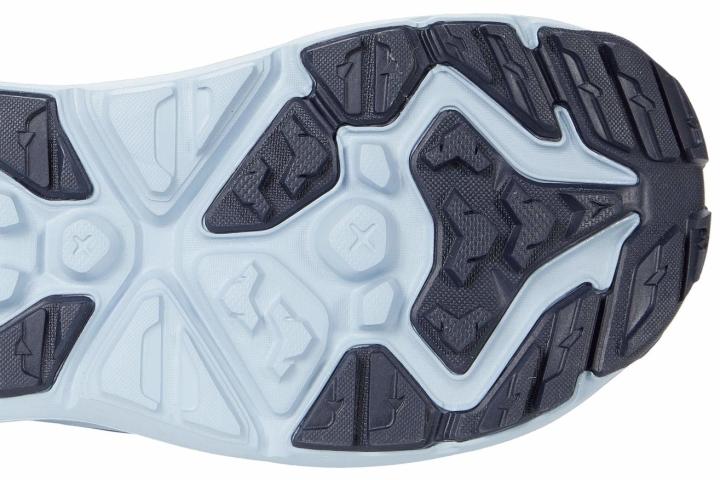 On the heavy side
Unfortunately, all that cushioning comes with a price. The Hopara weighs 12 oz (340 g) per shoe. For reference, the average for hiking sandals is 11.3 oz (319 g).
Good to know
The sandal's back strap is not adjustable.
Its footbed is non-removable. Using your preferred insert might lead to a tighter fit around the instep.
"Hopara" is also a Maori term, which means "to explore" in English.