5 Best Teva Hiking Sandals in 2023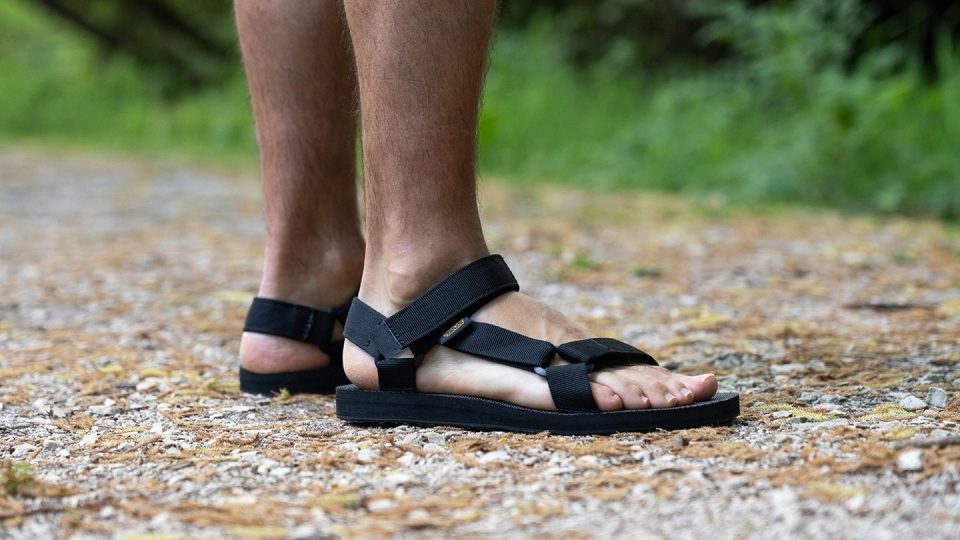 We earn affiliate commissions at no extra cost to you when you buy through us. Why trust us
In the realm of hiking sandals, Teva is among the top brands that never fail to impress. On the other hand, the meticulous process through which we were able to handpick Teva's cream of the crop is equally flooring. We invested a lengthy period of time puzzling out which pairs are deserving of our vote to be on the top.
We have tested over 20 pairs of Teva hiking sandals and we have selected the best ones in different categories. So, whether you need a super-affordable sandal or an agile hiker that can also be used in a variety of outdoor pursuits, we got you covered.
Comparison of the 5 best Teva hiking sandals
| | | | | | | |
| --- | --- | --- | --- | --- | --- | --- |
| Best | | | | | | |
| CoreScore | | | | | | |
| Users rating | | | | | | |
| Experts | | | | | | |
| Best price | | | | | | |
| Ranking | | | | | | |
| Popularity | | | | | | |
| # of colorways | | | | | | |
Back in the day, it was generally understood that to venture into the great outdoors, you needed to don big and bulky boots to protect your feet from the elements. However, a lot has changed since the conception of that idea.
Specifically, hiking footwear has gotten increasingly more lightweight. For example, hiking shoes resemble sneakers you can wear around town but have extra features for better hiking performance, like grippy outsoles and extra rock plates in the midsole for protection.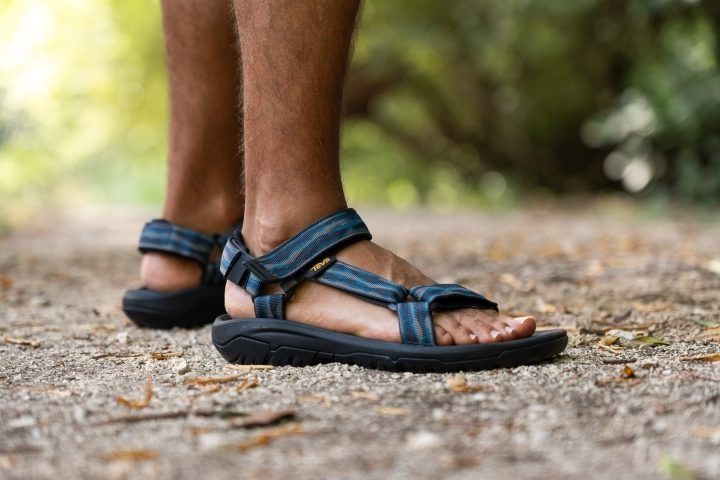 Part of that transition to more lightweight footwear is hiking sandals.
The Teva hiking sandal craze
Sandals as footwear is not a new idea by any means. Some of the first examples of footwear manufactured and worn by ancient cultures look like the sandals you wear today.
That's because there is something timeless about the simple and versatile design that sandals have. And Teva understands that, perhaps more than anyone else.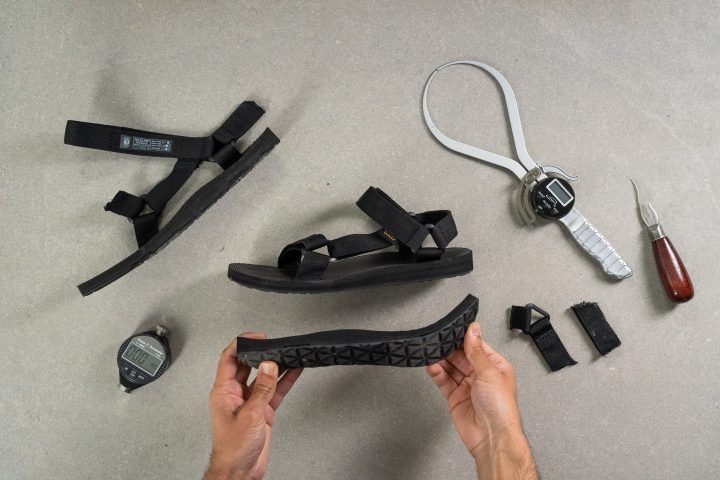 Teva has long been a major contender in the hiking footwear industry. In particular, they've become well-known for their hiking sandals. At any given moment, during the correct seasons of the year, namely the summer, there is probably someone wearing sandals on the hiking trail you are enjoying.
That's because Teva sandals refuse to disappoint. Teva hiking sandals continue to shine as examples of rugged, lightweight, and versatile footwear for almost any hiking adventure. Now, let's get into the details.
Essential pieces of Teva hiking sandals
Above, we mentioned that the design of hiking sandals is simple. That's absolutely correct. However, hiking sandals' simplicity does not denote poor quality.
We would argue that it's the opposite– the simplicity of hiking sandals' design, most notably Teva sandals, contributes to Teva's ability to go above and beyond with high-quality materials and craftsmanship.
For the most part, Teva hiking sandals have three core components.
1. Secure closure system
Teva hiking sandals rely on a strap and buckle closure system to secure the sandals to your feet. Teva sandals' closure systems are super easy to use and highly effective. For example, the Teva Hurricane XLT features two Velcro straps, one above your foot and the other behind your heel, to securely lock in your feet every time.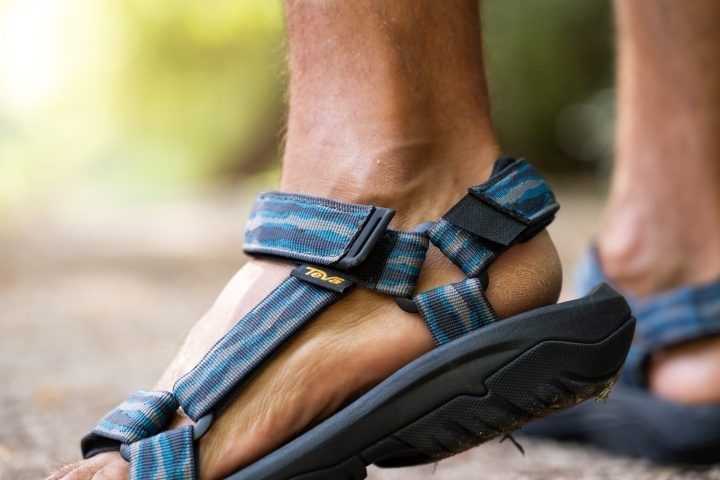 Strap Closure System (with buckles or Velcro)

Pros

Cons

Easy to customize and lock your foot in place

Velcro can lose its stickiness over time

Velcro is super quick and convenient
2. Cushy midsole
The primary job of the midsole in a hiking sandal is to offer stability and support. The midsole also absorbs the impacts your feet feel when you're hiking along rough trails.
The midsoles in Teva hiking sandals are constructed with EVA foam. EVA foam is super effective at dissipating the forces your feet feel as they make contact with the ground.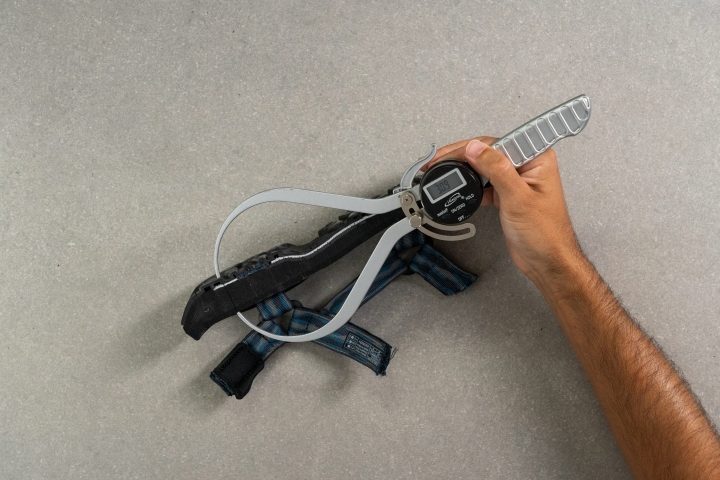 The amount of cushioning and its softness varies from one Teva sandal to another. For example, you can go for the more cushioned Hurricane XLT2 (31 mm) or the more minimal Original Universal (16 mm).
3. Grippy outsole
The foundation of any pair of high-quality Teva hiking sandals is the outsole. The outsole of a hiking sandal is responsible for providing traction on various surface types like dirt, sand, gravel, pavement, or grass.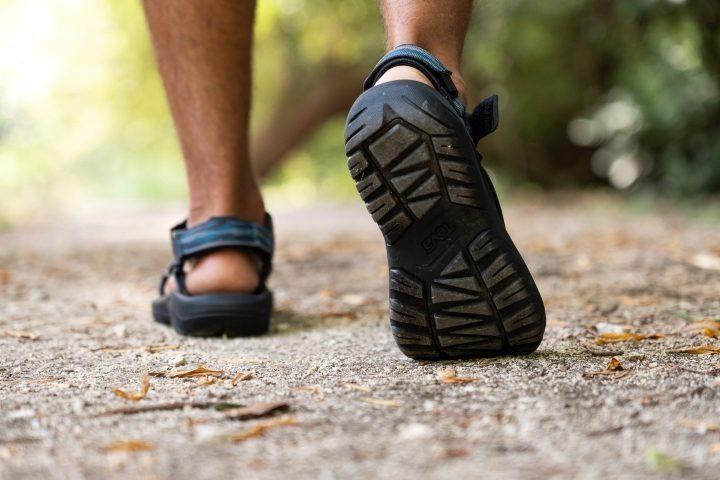 Outsoles in hiking sandals are made with special rubber compounds. The rubber is soft enough to provide grip yet durable enough to last a long time. In addition, hiking sandal outsoles are equipped with lugs with special sizes, shapes, and patterns that provide traction on loose and uneven off-pavement surfaces.
For example, the Teva Tirra Sandal features an outsole with a water-shedding tread pattern that prevents losing traction on wet surfaces. It also has multi-directional lugs that provide grip no matter the surface. And the outsole is non-marking, which is an extra bonus.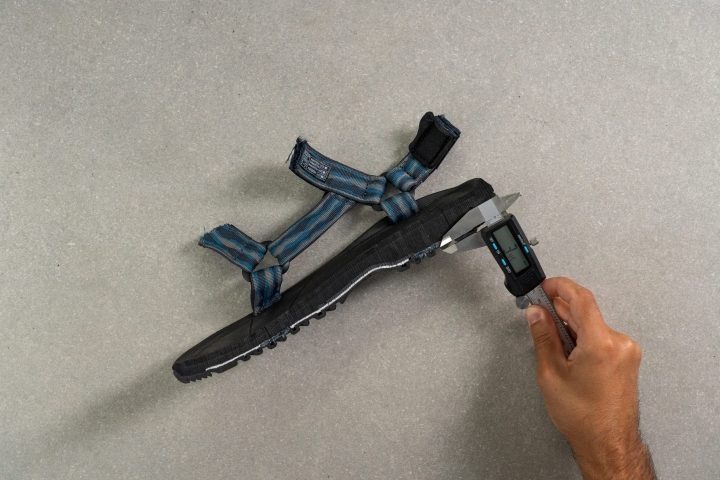 Lug depth ranges from 0 mm to 3.5 mm in Teva sandals.
Advantages of Teva hiking sandals
Lightweight design prevents foot fatigue
Over the years, hiking shoe manufacturers have been obsessed with making light and lighter hiking footwear. If you are into lightweight footwear, well, there isn't anything much lighter than sandals.
Hiking sandals weigh less because they are made with fewer materials. Therefore, you move over miles and miles of terrain without feeling like you've got two blocks of cement attached to your feet.
For example, the Teva Original Universal Sandal only weighs 6.7 ounces. On the other hand, the average weight of hiking boots is 18.5 ounces. That's a big difference!
Getting wet doesn't matter
We already mentioned this briefly, but Teva's hiking sandals dry extremely fast. That's partly because there isn't much material to hold moisture. But it's also because Teva uses quick-drying materials.
Therefore, when it comes time to cross a river or hike along the ocean's shoreline, you can get your feet wet without thinking twice or trying to avoid the water.
Hiking sandals are super versatile
One of our favorite characteristics of Teva hiking sandals is their versatility. You can practically wear them anywhere and do anything in them, assuming the weather is warm enough. But then again, if it's cold, just add socks!
Disadvantages of Teva hiking sandals
Hopefully, at this point, the benefits of Teva hiking sandals have become clear. However, that doesn't mean that they are perfect. There are a couple of disadvantages to wearing hiking sandals that we should mention.
Overall, hiking sandals simply do not offer the same level of protection to your feet as traditional hiking footwear does. In other words, when you wear hiking sandals, your feet are more exposed.
For example, in sandals, your feet are more at risk of abrasions, bruises, and cuts from rough hiking terrain.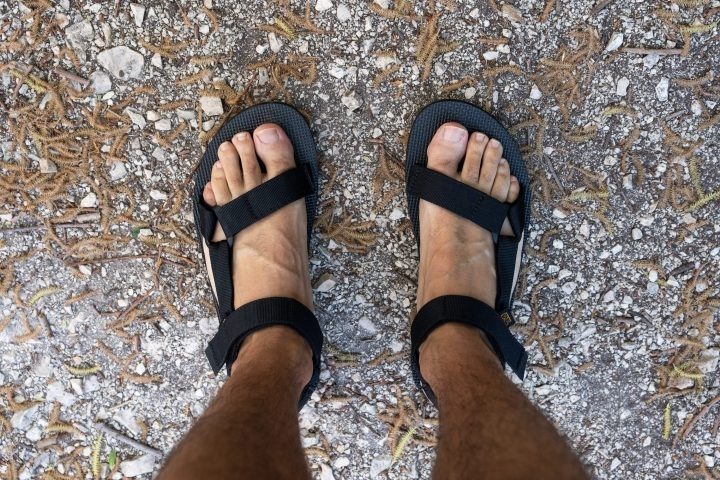 Your feet are also more exposed to the sun. Therefore, on hot and sunny days, we recommend applying sunscreens to the tops of your feet. Sunburns are not fun, but sunburns on your feet are even worse!
Lastly, your feet are more exposed to insect and animal bites. Therefore, some additional precautions may be necessary, like insect repellent and refraining from wearing sandals if you are concerned about biting animals like snakes.
Ideal scenarios for Teva hiking sandals
We mentioned above that one of our favorite characteristics of Teva hiking sandals is their versatility. That's because we think they are the ideal footwear for a wide array of scenarios.
Casual hikes
They wouldn't be called "hiking sandals" if they couldn't handle the trails. That's because Teva sandals come equipped with attractive features ready for off-road travel.
For example, the Teva Hurricane XLT2 has a grippy outsole that mitigates slips and falls and offers more traction on wet surfaces. In addition, the Hurricane XLT2 has a very supportive and contoured footbed that stabilizes your arch and keeps your heel centered in the heel cup.
However, if we were going on a technical hike with a rough trail or a backpacking trip with a heavy pack, we'd probably opt for something more robust, like hiking shoes or boots.
Water-related activities
Hiking sandals are fantastic for water-related activities. They can offer you a grip on wet and slippery surfaces and dry out water faster than hiking boots and shoes.
Furthermore, some hiking sandals have purpose-built features, such as drainage parts, protective toe guards, and flat outsoles, that allow them to specialize in water-related activities, like kayaking, fishing, rafting, and paddleboarding.
Around the campsite
Hiking sandals are our favorite footwear for around the campsite. For example, on backpacking trips, you can pack additional hiking sandals to function as camp shoes to switch into after a long day in boots or shoes.
Or if you are car camping, you can wear sandals around the camp and to and from the bathrooms instead of wearing hot and stuffy shoes.
Everyday Use
Teva sandals are purpose-built for hiking. However, that does not mean you can't use them for normal everyday usage. For example, Teva sandals are ideal for running errands around town and walking the dog. Especially during the hot summer months of the year!
Final thoughts: Hiking sandals are the footwear you didn't know you needed
If you are a hiker, adding a pair of hiking sandals to your quiver of hiking footwear could be the upgrade you didn't know you needed.
Sandals have many advantages in hiking contexts– they are lightweight, breathable, quick-drying, and provide great traction. Sandals can function as your everyday shoe, a piece of specialized footwear for water-related activities, or as your camp sandals when it's time to relax around the campfire.
Overall, the versatility of a good pair of hiking sandals cannot be beaten by traditional types of hiking footwear like boots and shoes.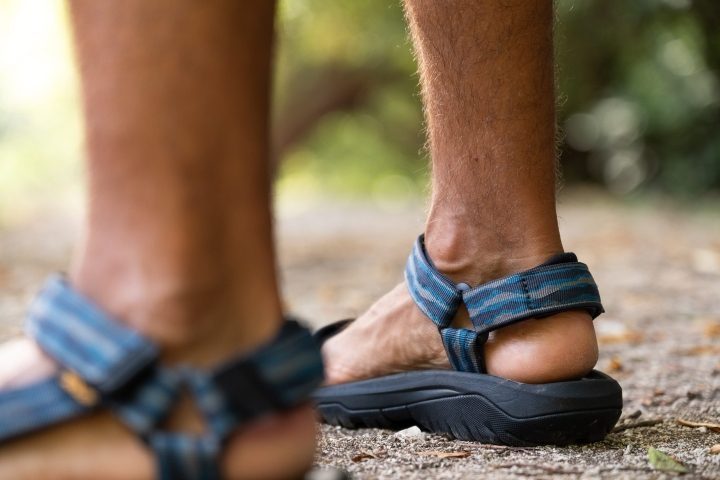 How we test hiking sandals
Have you ever come across gear reviews that seemed too biased? At RunRepeat, we swim in the opposite direction and toward objectivity. The points that follow detail our approach:
We use our own funds to purchase Teva hiking sandals.
We put every Teva hiker through a series of tests both on and off the trail. We gauge each sandal's comfort level, durability, and performance—from cushioning and shock absorption to surface traction.
We take everything to the next level by splitting the shoes in half and checking even the littlest details. We also whip our tools out to measure, weigh, and score the various parameters of the shoes.