10 Best Teva Hiking Sandals in 2021
In the realm of hiking sandals, Teva is among the top brands that never fail to impress. Equally flooring is the meticulous process through which we were able to handpick Teva's cream of the crop.
We have tested over 30 pairs of Teva hiking sandals to give you our top picks. So, whether you need a super-affordable sandal or an agile hiker that can also be used in a variety of outdoor pursuits, we got you covered.
Overview of this guide
How we review Teva hiking sandals
Have you ever come across gear reviews that seemed too bias? At RunRepeat, we swim in the opposite direction and toward objectivity. The points that follow detail our approach:
We use our own funds to purchase Teva hiking sandals.
We put every Teva hiker through a series of tests both on and off the trail. We gauge each sandal's comfort level, durability, and performance—from cushioning and shock absorption to surface traction.
Hundreds of expert critiques and user reviews are reflected in our findings.
We then come up with a CoreScore for each. This exclusive scoring system is among the major factors in determining which Teva hiking sandals deserve recognition.
Best overall
22 colorways available
Top pick
After testing dozens of Teva hiking sandals and covering long distances on the beaten path and the beachside, we are proud to hail the Hurricane XLT2 as greatness fully realized!
Supporting the foot, particularly the arch, is the Teva Hurricane XLT2's ballgame. No one from our team reported pain or premature leg fatigue while we got this strapped up. Its arch zone is raised and contoured just right, which we believe made the day of the flat-footed among us.
While not Teva's lightest hiking sandal, the Hurricane XLT2 moved at our pace and didn't weigh us down. Just in case you're wondering, this must-buy weighs a measly 310 g per shoe.
Aside from being incredibly supportive, the Hurricane XLT2's footbed is also super-comfy. It was just so nice to have our feet on. The lining behind each strap felt nice, too! Overall, this hiking sandal is a generous giver in the comfort department!
On dry terrain, the Hurricane XLT2 kept us striding without slipping. That said, the sandal in question was even more powerful through and beside streams and creeks. Yes, this amazing kick is also a strong ally on wet adventures.
Get the Hurricane XLT2 now! It's only $70 MSRP, if you didn't know!
See our full review and facts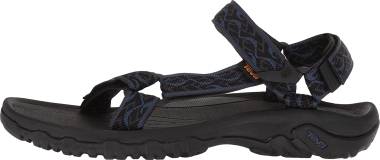 2 colorways available
Also great
Are you up for blazing past your outdoorsy friends in something incredibly agile? Then slip inside the Teva Hurricane 4, and move like never before!
We pretty much got the same amount of midfoot support here as in the Hurricane XLT2. This means that our arches came out of our pairs not feeling beaten up after this so-called battle across moderately rocky terrain.
Just like our top pick, the Hurricane 4 is splendidly comfy, and the chief suspect, of course, is none other than its textured-yet-plush footbed. We were particularly impressed with its cratered heel zone for pampering our heels for hours. And after our testing day was over—no blisters!
While a little heavier than our top pick (by approximately 30 g per sandal), the Hurricane 4 still kept us highly mobile. Its hydrophobic straps also did a superb job of shedding water, which helped the sandal maintain its lightness even after getting soaked.
And about the Hurricane 4's price—wow! At $65 a pair, this versatile sandal blew us away at the sight of its price tag. So, what are you waiting for? Snag the Hurricane 4 ASAP!
See our full review and facts
Best quality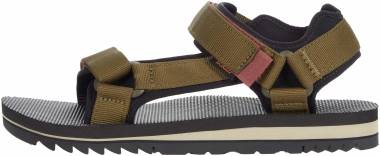 5 colorways available
Top pick
If you've been looking for a sandal that reflects Teva's excellence in design quality, the Universal Trail must be it! Yes, from its sleek construction to its no-thread-sticking-out finish, this kick beats out 30+ other Teva sandals build-wise.
Its straps and footbed are super-comfy. The Universal Trail felt like worn-in home slippers fresh from the box. The padding around the heel was quite plush and didn't rub.
The saw-like design of its lugs gave us enough purchase on wet terrain. The Universal Trail's outsole also did incredibly well on misty grass and mossy roots!
We were floored by how the Universal Trail kept us stable on rocky ground, too. The cushiness of its midsole deserves extra accolades here for adapting to the terrain we traveled on.
And its arch zone? Very supportive! Yes, the Universal Trail felt mighty secure around the midfoot, keeping us miles away from tired feet and achy arches.
Oh, and before we forget—the Universal Trail weighs no more than 600 g per pair. Despite being padded all over and having a powerful sole unit, the sandal in question still granted us enhanced mobility, thanks to its feather-like lightness!
See our full review and facts
Solid yet sexy—this is how we describe the Terra Fi 5 Universal from Teva.
The sexy part is quite obvious. Just one look at its slender construction, and it's easy to see how. As for its solid build, the Terra Fi 5 Universal's sole unit is the culprit. That said, the sandal's strap posts also felt mighty for us, giving us the assurance that, yes, the hiker can withstand beatings and abuse for months!
While not as light as our top pick for quality (a.k.a. the Universal trail), the Terra Fi 5 Universal made us go extra nimble. On level hardpacked soil, the sandal moved fluidly, thanks to its heel and toe rockers.
The Terra Fi 5 Universal is among Teva's kicks that sport a more aggressive outsole. With it, we found confidence-inspiring purchase on slick mud and slippery inclines. The sandal's fantastic heel brake got us down rocky slopes safely, as well!
What about the Terra Fi 5 Universal's comfort level? Well, let's just say that we didn't want to take off the sandal at all after a long day of testing. That said, we did need to break it in for a few hours days prior.
See our full review and facts
Best budget sandal

Top pick
Hold on to your portable seats. The Teva Original Universal has something to say, and it's somewhere along the lines of $50 a pair!
You might think that at its MSRP, the Original Universal is a pushover in performance. Not at all! This amazingly low-priced gem got us striding past obstacles on loose soil as if we had glue underfoot. And since it's among Teva's water hiking sandals, we tested it on wet logs and pebbles. The result? Let's just say its lugs stuck on them like a boss!
At 190 g per shoe, the Teva Original Universal felt like a cloud. If there is a Teva hiker that deserves the "barely-there" or "feels like you got nothing on" description, this is it!
Equally deserving of much praise is the Original Universal's slipper-like comfort. Its textured-yet-plush footbed and supple vegan upper pampered our fresh tootsies straight out of the gate.
The Original Universal is pretty breathable, too. We were specifically impressed with its footbed for not giving us sweaty feet underfoot.
And yes, the Original Universal dries quickly. Thanks to its unlined fabric upper and water-repellent sole unit, the sandal got dry less than five minutes after negotiating the ankle-deep part of this one stream.
See our full review and facts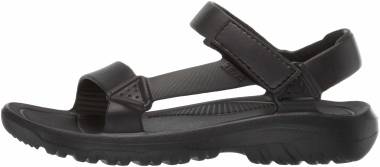 7 colorways available
Also great
Here's another win budget-wise for you. Yes, the Hurricane Drift comes your way at $40 a pop!
Virtually as light as our budget-friendly top pick, the Hurricane Drift keeps things simple in terms of design. Its almost seamless midsole-to-upper construction made the sandal feel quite firm and secure.
As for adjustability, the Hurricane Drift is also quite straightforward, with its ankle strap being the only one that's adjustable. This means that you have to work with its default fit around the toes.
In the area of traction, the Hurricane Drift didn't disappoint. We tested its rubber outsole on a variety of surfaces, including wet grass and mossy planks and logs, and it found purchase without a hitch. That said, we'd steer clear of extremely muddy inclines if we were you.
The Teva Hurricane Drift's midsole is not to be scoffed at on the cushioning front. It's also surprisingly stable underfoot, giving us more than enough support and balance on the more rugged parts of the trail.
And while its overall fit could be roomier, the Hurricane Drift did give us generous amounts of comfort right from the off. We didn't detect any hotspots during our testing, and toe blisters didn't happen.
See our full review and facts
Other buying guides