7 Best Hiking Sandals in 2023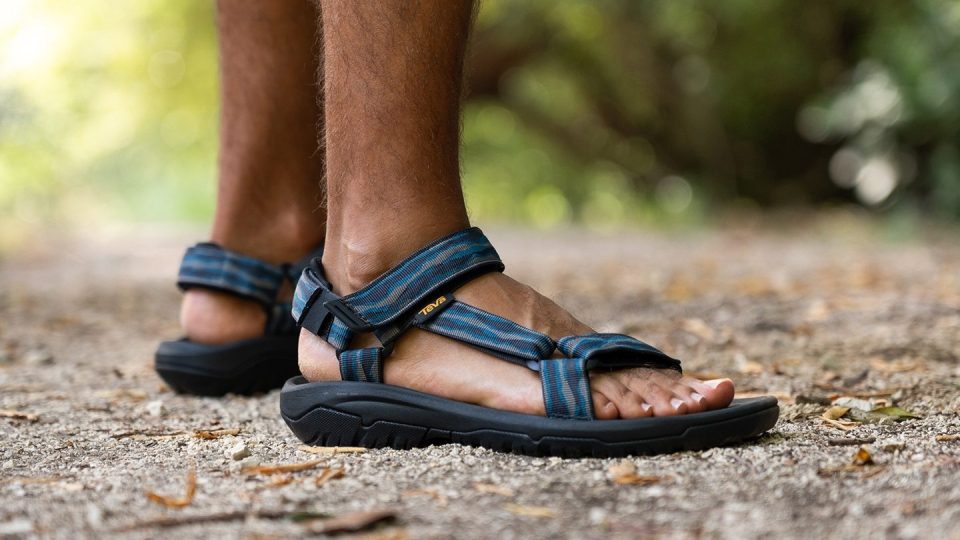 We earn affiliate commissions at no extra cost to you when you buy through us. Why trust us
Finding the best hiking sandal can be a drag considering the many options available. But having the basic know-how of what hiking sandals are all about would make a whole lot of difference.
To help you narrow down the choice, we have reviewed 20+ hiking sandals and selected the best ones. Open or closed-toe, water-ready, minimalist - whatever your preferences are, we've got a top pick in different categories.
Also, see the guide section to learn a few expert tips on choosing the best hiking sandal for your purpose.
Comparison of the 7 best hiking sandals
| | | | | | | | | |
| --- | --- | --- | --- | --- | --- | --- | --- | --- |
| Best | | | | | | | | |
| CoreScore | | | | | | | | |
| Users rating | | | | | | | | |
| Experts | | | | | | | | |
| Best price | | | | | | | | |
| Ranking | | | | | | | | |
| Popularity | | | | | | | | |
| # of colorways | | | | | | | | |
Hiking sandals: Are they any good?
If you're someone from Arizona, Texas, or Florida, flip-flops, and sandals are a must especially in the scorching hot months of summer. They're our go-to pair when strolling around town or when frolicking on the beach. But, are they any good for outdoor adventures that entail muddy trails, scrambling, and crossing rivers?
The short answer here is Yes and No.
It all boils down to the terrain you are planning to conquer and your preference. Hiking sandals are generally built for hikes on well-maintained trails while carrying a light pack. If you're after mobility and comfort, then hiking sandals are for you. Here are a few more reasons why hiking sandals are a must-consider footgear for your upcoming spring or summer outdoor escapade.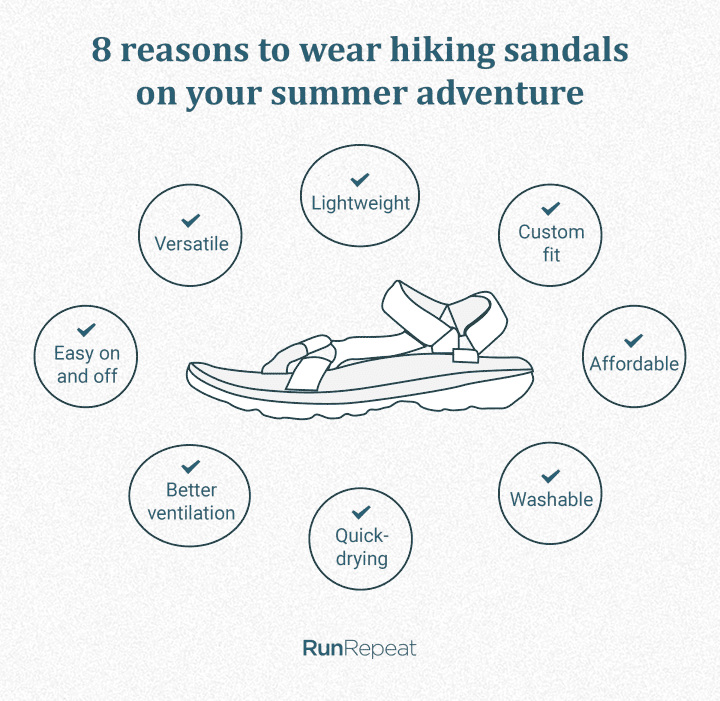 What makes up the best hiking sandals?
Hiking sandals, like flip-flops, are made lightweight and breathable. However, unlike your everyday slippers, these are engineered to be trail-worthy. Some are even designed with technologies that make it an eligible alternative for ultralight thru-hiking or backpacking trips.
To pick out the best type that's capable of meeting the demands of your next quest, getting the lowdown of how each of its components work makes a whole lot of difference. See below the sandals' main components, the usual things it's made out of, its love-its, and not to mention its could-be-betters.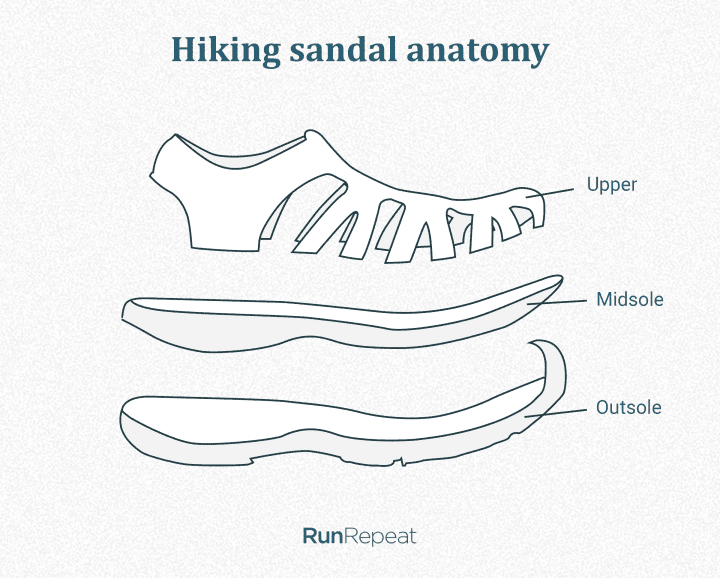 Common Materials Used
Key Benefits
Could-be-betters

Upper

Leather
- Durable (material can last for years)
- Stable and supportive
- Comfortable overtime (this material most often molds to the shape of the foot over time giving hikers a customized fit)
- Hypoallergenic
-Takes a long time to break-in
-Heavier on the feet
-Stays wet longer
-Pricier
Synthetic
-Breathable
-Dries quickly
-Weighs less
-A more affordable option
-Feels softer out of the box
-The preferred material of vegans
-Prone to wear and tear
-Provides limited support and stability

Midsole

EVA
-Soft to mildly stiff cushioning underfoot
-Much more flexible
-Lightweight
-Less supportive
-Tends to compress over time
PU
-Supportive (helps when carrying a heavy pack weighing over 30lbs)
-Durable
-Feels stiff out of the box
-Weighs more
Nice to know: Some sandals are made with shanks placed in between the midsole and outsole improving its stability. This equates to less foot-fatigue. It also prevents bruising underfoot caused by sharp rocks.

Outsole

Soft rubber
-Stickier
-Flexible
-Lighter
-Best used when scrambling in rocky terrain
-Mediocre performance on muddy trails
-Breaks down faster
Hard Rubber
-Durable
-Stable
-More protective
-Lacks flexibility
-Feels heavy underfoot
-Less traction on sleek surfaces like wet rocks
Nice to know: Deeper outsole lugs offer better grip on muddy terrain and shed debris with ease
Choosing the right type of outsole
Hiking sandals depend on the outsole for traction. Its sticky outsoles often provide great traction on wet rocks. Compared to boots though, the lugs found on sandals are less aggressive making them less ideal for backcountry hikes.
Lugs come in a variety of shapes that determine the sandal's traction upon ground contact. Here are the most common lug patterns and their benefits.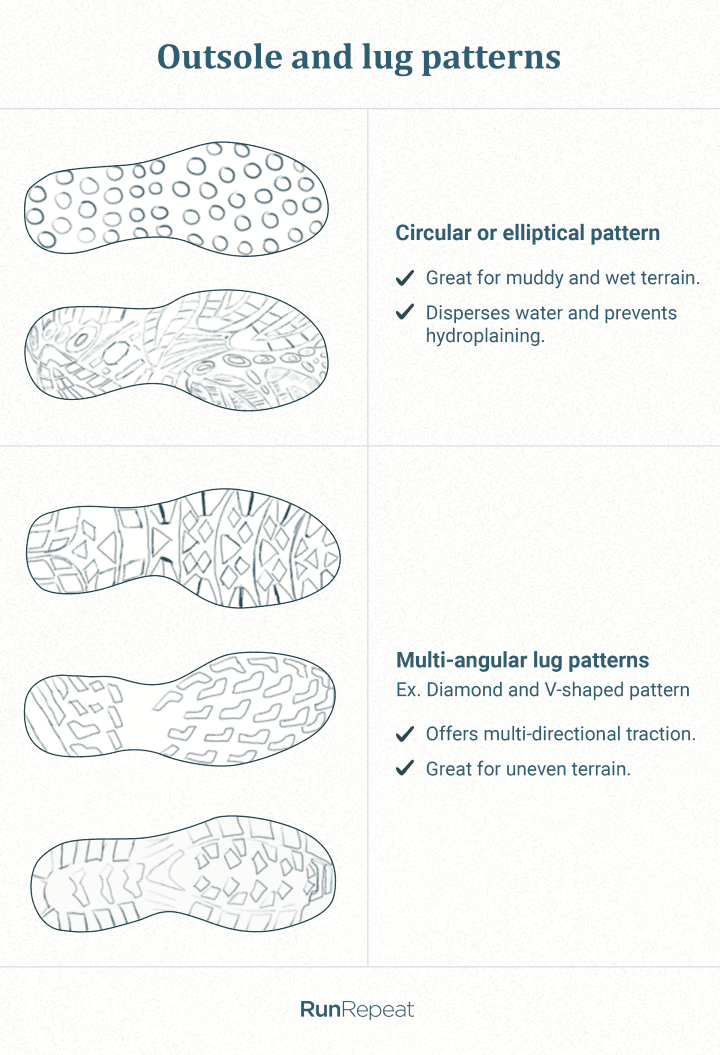 Other things to consider in hiking sandals
Apart from the materials, there are in fact other features worth looking at when looking for the best hiking sandal. Here are a few:
Water readiness
Breathable, water-ready sandals (like those made of waterproof or water-repellent materials) effectively drain water and dry quickly. While these won't completely keep your feet dry, this type of sandals won't get soaked too much.
Toe protection
If toe-stubbing and forefoot injuries happen to you too often, a closed-toe sandal is worth looking at. With this type of sandal, you can keep your tootsies protected.
Take note though that this won't offer the same protection provided by your rugged hiking boots. You can also expect these to weigh slightly heavier than your open-toe sandals.
Odor control
Yes, sandals are naturally well-ventilated but this won't stop the funk. If you have sweaty feet, it's always a good idea to check out sandals equipped with antimicrobial linings or stink-resistant footbeds.
Pick the RIGHT hiking sandal with these 6 expert tips
When out hunting for the best hiking sandal, there are other aspects that are worth looking into. Just take note of these 6 expert tips and there won't be any second-guessing which one to pick.
1. Focus on your needs
The type of hiking sandals you are shopping for should be able to meet the demands of the areas you frequent.
If you're after versatility, then cushioned and lightweight sandals might just be what you need. These types are great for travel and would also work well for rafting or when out camping.
On the other hand, if your adventure involves thru-hiking on easy to moderately difficult terrain with slight inclines, then you're better off choosing trail-worthy hiking sandals that offer stability and grip. Sandals that provide toe protection are also worth considering.
2. Consider recommendations from experts
While mothers know best, your go-to guys (and gals) for footwear recommendations are the experts and the seasoned hikers in the realm of hiking.
If you have friends who are quite experienced in outdoor adventuring, bring them along when out sandal shopping. Their insights would prove valuable especially when you are just starting out.
3. Know your foot type
Ever tried checking the sole of your shoes? Well, it's actually a good idea. Unknown to many, the location of the most wear and tear on the soles tells a lot about your foot type and the type of sandal or shoe that would work best for you. Check out the image below to find out more.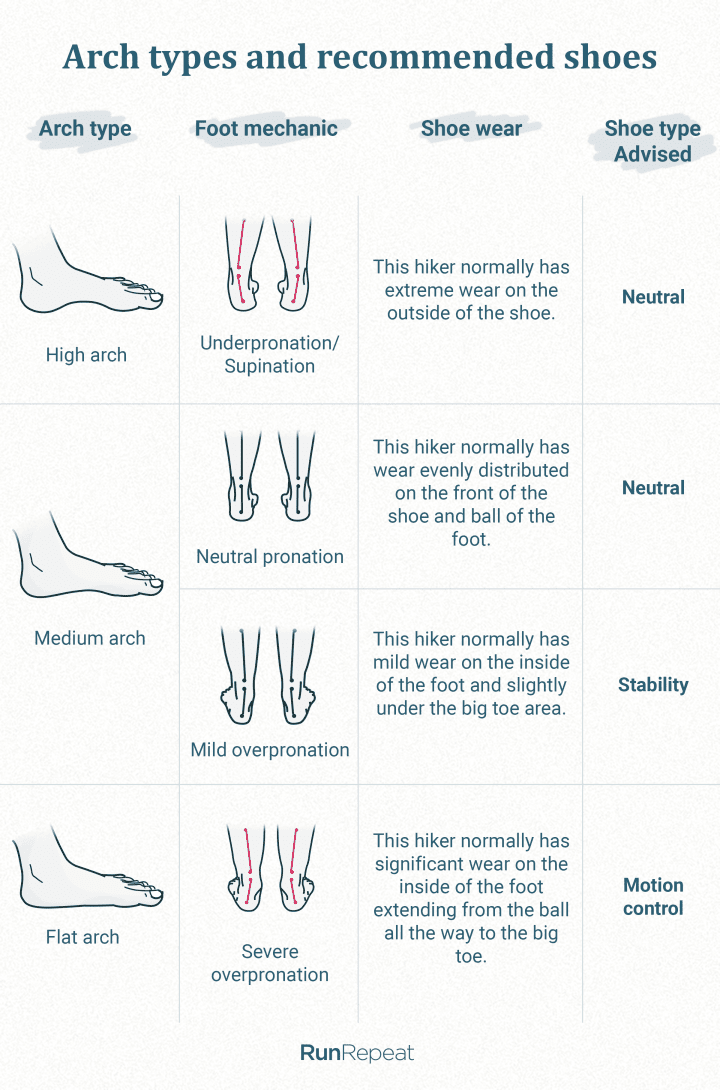 4. Choose a pair of hiking sandals that fit perfectly
Finding the best hiking shoe or outdoor boot that provides the perfect fit can be tricky, the same goes when fitting hiking sandals. But, it does not have to be thanks to these 6 pointers:
Purchase hiking sandals in the afternoon. The human foot slightly enlarges towards the end of the day due to swelling. Because of this, it is a good idea to try on sandals sometime in the afternoon or evening.
Bring your socks. If you're the type who likes to wear socks with sandals (which is 100% alright), it is advisable to bring your favorite hiking socks. It's best if your socks are made of wool or synthetic since this is moisture-wicking and provides warmth or insulation.
Get it in half size. Getting the perfect size can be tricky at times. Fortunately, most brands offer their hiking sandals in half sizes. Consider getting a half size smaller or larger if your preferred whole size keeps missing the mark.
Have an extra space for your toes. There must be at least a half-inch extra space in front of your big toe. This space ensures your toes do not touch the ground, especially during descents. The rest of your foot should also stay within the confines of the footbed—no heel or midfoot overlaps. If you prefer closed-toe sandals, look for a roomy toe box with enough wiggle room.
Go wide instead of going large. If after trying several sizes your feet still feel cramped and restricted, especially around the sides, ask for a wide version of that sandal. Some feet are extra bulky, so some footwear brands offer their products in wide width.
Test your soon-to-be sandal. After choosing the pair that fits you perfectly, walk up and down an inclined surface and make sure your toes do not slip beyond the front of the footbed or hit the end of the enclosure during descents. You should also get minimal heel lift or none at all. If it does, adjust the tightness of the straps or laces. Sizing up or down is also advised.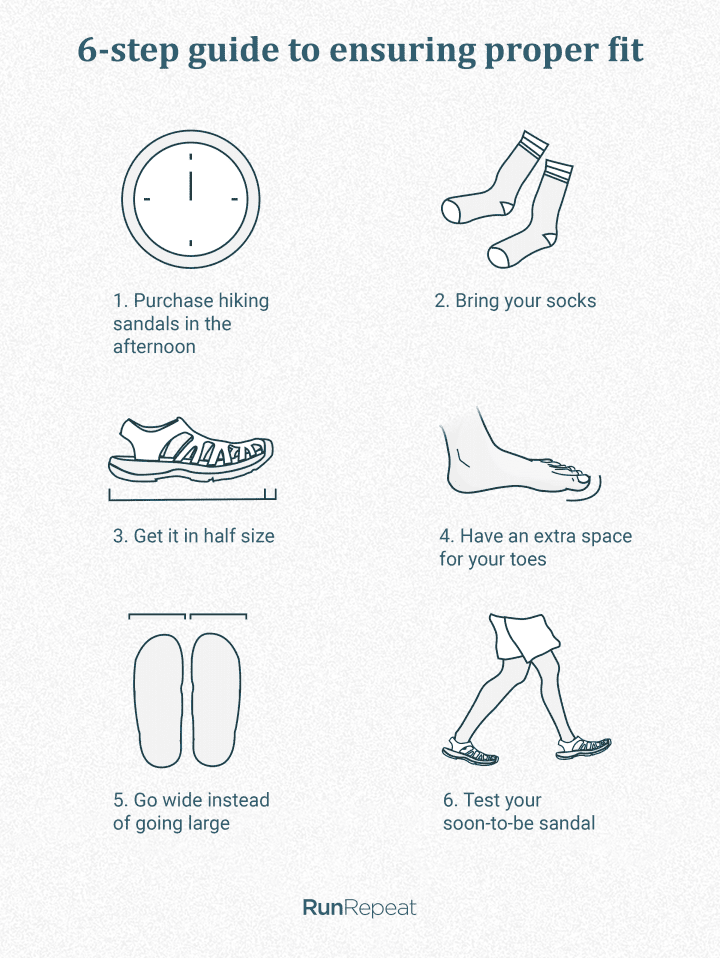 5. Be adventurous and try several pairs before making a purchase
It is quite alright to stay faithful to your preferred brand, however, it is also okay to try out other brands from time to time.
When shopping for the right hiking sandal, it's a good idea to gather several pairs of sandals from different brands before finally choosing the ideal pair. Also, if you are extra patient, try on previously fitted sandals the second time to make sure you are favoring the right ones.
6. Check its adjustability
Sandals often come with webbing upper or interconnected straps. Aside from giving wearers a secure and custom fit with their adjustable straps.
The more straps a sandal has, the more secure of a lockdown you will get (which is especially handy if you have oddly-shaped feet). Apart from the number of straps, take into account how easy it is for you to adjust these. No one wants to deal with hard-to-adjust straps while in the middle of a hike.
Bonus Topic: Must-know hiking sandal fails
While it's always good to know the benefits you get from the best hiking sandal, knowing its flaws is equally important.
Obviously, given its open-air construction, you'd already expect sandals to lack ankle support and protection. While you can't really do anything about the absence of ankle support, some of its flaws can be remedied. Here's how:
Sandal Fails
Remedy
Exposure of tootsies to sun, cold, critters, and loose rocks
-protect your feet from the heat of the sun by applying generous amounts of SPF Sunscreen on the top of your feet. Re-apply after a few hours or after crossing rivers and streams
-wear socks with your sandals to avoid cold feet or to protect them from critters
-step carefully to avoid stubbing your toes on loose rocks
Abrasive straps
-use a towel to keep your feet and the straps of your sandals dry
-apply athletic tape or vaseline on areas that are prone to hotspots.
Fraying or worn out straps
-inspect the status of the straps regularly
-keep a small sewing kit or a duct tape on your pack in case field repairs are needed
How we test hiking sandals
At RunRepeat, our review database is one of the largest, so makes it possible for sandal lovers to get what they want in a matter of minutes. And by review, we mean super extensive ones! Now, you can save lots of time picking the most suitable for you because:
We, ourselves, buy these hiking sandals for us to try on. FYI, we do not tolerate brand-biased opinions here, so we strictly acquire them using our own funds.
We get to inform you everything about the shoes, from feel, fit, weight, durability, and more, all from our individual experiences. We hike in them on different terrains, may it be muddy, rocky, dry, or whatever. We also cross water streams, trek on ascends and descends, and pass different obstacles with these sandals.
We bring it to our lab to collect additional figures by performing tests on them. From waterproofness to measuring the sandals' lug size, we have a test for those. Furthermore, we cut the sandals in half, to bring light to each component and measurement.