Its comfortable feel, versatility, and breathability were just some of the features that made the KEEN Uneek a likable sandal. A general-purpose hiking sandal, the Uneek works incredibly for short hikes, daily wear, and water sports. Not meant for technical terrain, the KEEN Uneek is still worth checking out as it seems able to tick all the basics, performance-wise.
Pros
Breathable
Excellent grip
Very supportive
Durable
Comfortable fit
Cons
Needs break-in
Not for long hikes or technical terrain
KEEN Uneek review
The KEEN Uneek hybrid sandal is an eye-catching, adaptive sandal that works well for short hikes, water sports, and daily wear. This hiking sandal comes in a TON of colors to match every personality and offer a supportive and comfortable fit.
Who should buy it
People looking for a comfortable, and quirky sandal should give the Uneek a look. It's quite unique (pun intended) in its looks but if you can get past that, you'll experience the comfort and support these offer.
Who should NOT buy it
Look away if you:
want a multi-sport hiking sandal (the KEEN Clearwater CNX is worth checking out)
prefer a more performance-oriented sandal (in this case, consider the water-repellent Newport)
Fun and comfy sandals for daily wear or general outdoor use
The Uneek Sandal is pegged as a general-purpose outdoor shoe/sandal, but it offers amazing arch support and a fun look that breathes quite well.
A sandal consisting of 3 pieces is hard to mess up
These are proving to be quite durable and haven't shown any signs of premature wear or tear. I've worn them for daily activities (going to the farmer's market, grocery store, playground, and dinner) as well as some light hiking and creek play, and the paracord upper is just plain tough! The PU sole is light and bouncy with feels great underfoot.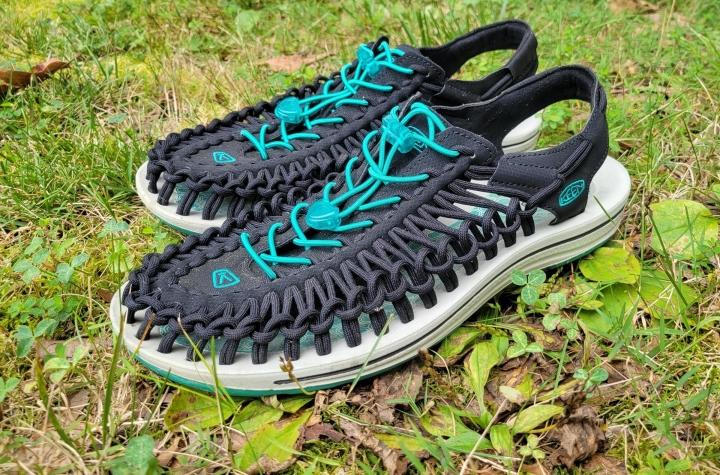 Uneek outsole is great for everything
KEEN put a siped (little zig-zag cuts) in the outsole so when the foot bends they open up to offer more grip. It works great and is a no fuss setup. They aren't, in any way, a hiking sandal and therefore aren't soled as that. No real lugs exist.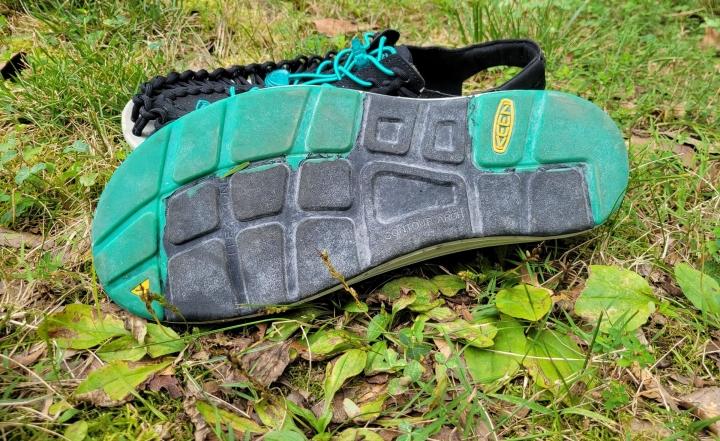 One pull adjustment
The "lacing" is just a piece of elastic cordage and a toggle. Pull it to tighten the sandal and loosen the toggle to loosen the sandal. Easy!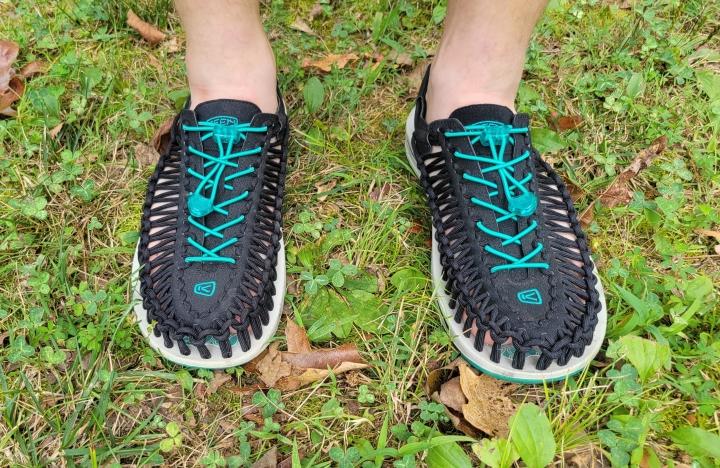 Comfort is top-notch
KEEN makes comfortable shoes and these are no exception. They offer excellent arch support and great room for your toes to breathe. I never experienced any hotspots or blisters and while the paracord upper is a little stiff at first, that only lasted a couple of days.
The KEEN Uneek is light on foot
The Uneek is definitely light on the foot and makes a great option for all-day wear. The midsole is bouncy and responsive and hasn't lost its supportive feel even after close to 100 miles of wear.