New Balance Fresh Foam Zante v3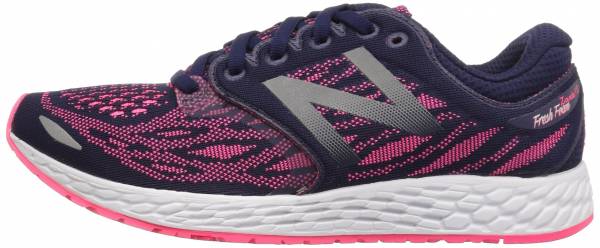 The Zante v3 is easily one of New Balance's most popular and sought after shoes. Not only because of the very reasonable $100 price tag, but also because of the magic brought about by the original shoe's release. It brings a stiffer, more stable, and faster ride than any of the past models. The shoe may not necessarily keep the original's fans, but should also gain a new following of its own. At its price point, it is hard NOT to see and enjoy what this shoe brings to the table.
---
Verdict from 18 experts and 100+ user reviews
11 reasons to buy
The 3rd version of the Zante is amazingly comfortable, according to many of the reviewers.
At $100, the price is easily worth the value.
Several runners loved the added stability in this shoe.
The Zante 3 has more substantial reflective details than any of the past models.
It remains to be very light.
A handful of runners valued the shoe's traction, even on wet surfaces.
A good number of reviewers noticed that it is very breathable.
Some runners felt really fast because of the firmer ride.
Optional widths are available.
A few runners said that they received complimentary looks while wearing the Fresh Foam Zante v3.
Some expert reviewers agreed that the shoe is more responsive and efficient than the prior model.Some expert reviewers agreed that the shoe is more responsive and efficient than the prior model.
2 reasons not to buy
More than a few experts consider the New Balance Zante v3 as a couple of levels below the ride quality and performance of the original Zante.
A handful of reviewers found it to be a hair smaller and narrower than the previous editions.
Bottom line
The Zante v3 is easily one of New Balance's most popular and sought after shoes. Not only because of the very reasonable $100 price tag, but also because of the magic brought about by the original shoe's release. It brings a stiffer, more stable, and faster ride than any of the past models. The shoe may not necessarily keep the original's fans, but should also gain a new following of its own. At its price point, it is hard NOT to see and enjoy what this shoe brings to the table.
Best price from 50 shops
We earn affiliate commissions at no extra cost to you when you buy through us.
70% say it's true to size.
Our reviews
An extremely versatile shoe that manages to offer great cushioning with a lightness and responsiveness that makes them a pleasure to run in at any time
Pros
Fantastic all-rounder
Good cushioning
Lightweight
Very comfortable
Seamless upper
Cons
Suitable for neutral runners only
Foot movement on tight corners
Road use only
Why the Fresh Foam Zante v3?
I bought the Fresh Foam Zante as something of a last resort, but I'm now extremely pleased that I did. At 6'2" and currently around 90kg, cushioning is important to me, especially when building for a marathon.
Throw into the mix a few historical injury niggles, and a large foot (UK13.5, US 14), and perhaps it's not surprising that once I find a shoe I like, I tend to stick to it!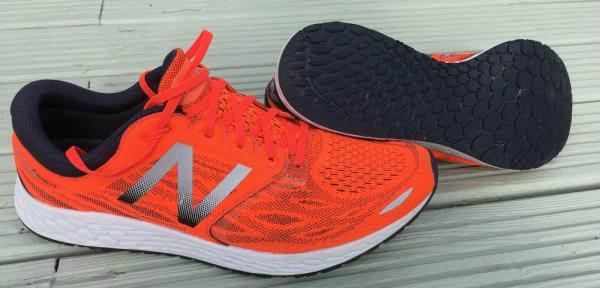 For the last few years, I've stayed true to the New Balance 1080, from the v3 through to the v6, sometimes buying a couple of pairs at a time. This time around I couldn't find a 1080 in my size anywhere in the UK, and believe me, I spent a lot of time online.
After resigning myself to trying out a different pair, I looked for a similar pair of shoes and finally settled for the Fresh Foam Zante v3. Although the research suggested they'd be a little more lightweight than my usual shoes, and with less cushioning, I decided they'd be my best option.
I've now run over 500km in these shoes, and having just achieved a marathon PB in them, feel that I've tested them out thoroughly enough to review them! Given my recent history with shoes, I'll provide comparisons with the NB 1080 v6 and also with the Hoka One One Clifton 2 with which I had a brief dalliance last year.
Appearance
I could only find 2 pairs of this shoe in the whole of the UK; one was white, and the other orange. As you can see, I opted for the orange, and to be honest, when I first opened the box, my first reaction was to reach for the sunglasses!
These shoes are bright – really bright! They also have plenty of reflective strips incorporated into the design, lighting up as car headlights approach.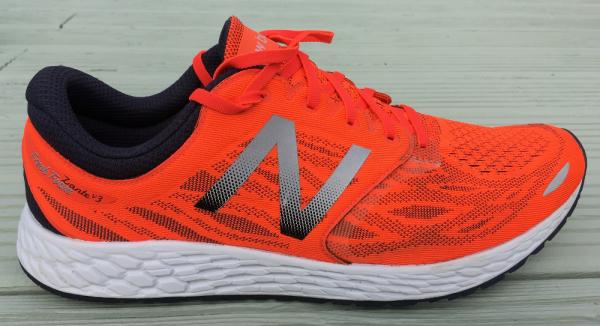 Even after running for a couple of months on Welsh country lanes, you can still pick them out half a mile off (literally - my son recently drove past me whilst I was out for a run and later told me that he saw the shoes long before the rest of me came into view!).
This is great as the days begin to shorten and much of my running is now done by headtorch on country roads without pavements.
The picture below shows the appearance of the Hoka Clifton 2. Each of these shoes is the same size, so any variation is merely due to the angle of the picture.
In the case of the shoes shown, the Hokas have covered 400km, the 1080 v6 almost 1000km, and the Fresh Foam Zante over 500km.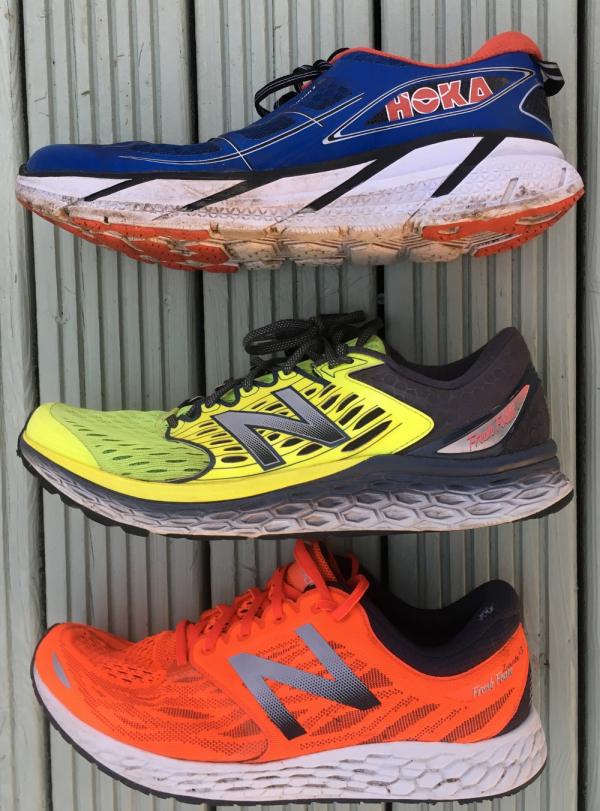 Runners will be familiar with the design of the Hoka One One which makes it appear to have a much higher ride and level of cushioning.
In reality, the Hoka heel sits 29mm off the ground, with the NB1080 v6 at 30mm, while the Fresh Foam Zante sits lower at 23mm off the ground.
Weight
The Fresh Foam Zante v3 is listed at 250g, which makes it a pretty light shoe, especially given the cushioning incorporated into it. It compares favorably to the NB 1080 v6 at 294g and is slightly heavier than the listed weight of the Clifton 2 at 235g.
As expected, my UK 13.5 (UK) shoe weighed in heavier at 301g (1080 v6 is 366g).
Interestingly, it was also lighter than the Clifton 2 which weighs in marginally heavier at 308g leading me to speculate that the listed weight of the Hokas may be based on a smaller shoe than other brands, which may account for the disparity?
Most importantly, the Fresh Foam Zante v3 feels very light when I put it on, and when running.
Fit
As with all New Balance shoes, I find that I need a ½ size larger than would be my "normal" size.
The shoe then fits comfortably right out of the box. In this case, I wear a UK 13.5, US 14, which is the same size I've used in all other New Balance shoes, the Hokas, and my Salomon Trail shoes. For comparison, I generally use a UK13 in ASICS, though these do feel a little snug.
The shoe has a "no sew" construction, which makes for an extremely comfortable fit with no noticeable seams glued joints to rub the foot.
Within a couple of days of buying the shoe, I took it out for a long run where it felt comfortable throughout. I'd have no hesitation in recommending this shoe to triathletes or others who may run without socks.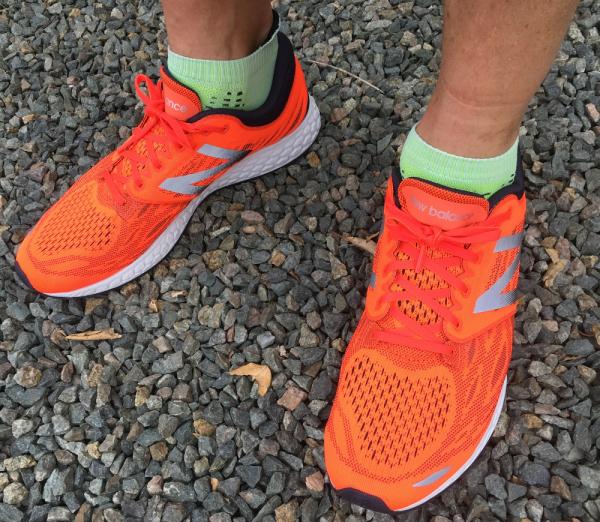 I did notice that the shoe did look a little "baggy" at the front when not being worn, as shown in the picture.
This is primarily because the upper is constructed of extremely lightweight mesh which simply doesn't have the rigidity to hold itself up! Don't be put off – as soon as you put your foot in, you'll find that the upper fits snugly around the foot with no excess of material.
Construction
Midsole
The midsole of the shoe is constructed with a single piece of New Balance's "Fresh Foam" which provides an exceptionally comfortable ride whilst remaining firmer, and therefore more responsive than either the NB 1080 v6 or the Clifton 2 shoes.
The heel drop on the Zante is 6mm compared to 8mm for the 1080 v6.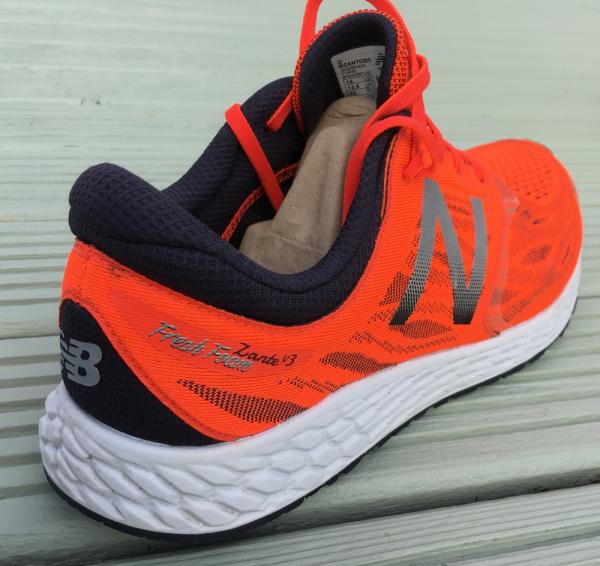 Given my experience, I admit to having been a little concerned about using a shoe with what appeared to be significantly less cushioning than I have been used to.
As detailed above, the heel sits 7mm (1/2") lower than the 1080 v6's, suggesting a significantly reduced level of foam. The lower heel drop also worried me following an Achilles injury which sidelined me for 3 months last year.
I needn't have worried. These shoes have taken me through my most intense marathon preparation cycle to date, including over 90km (60 miles) per week for much of the last month.
I've had no injuries, nor any of the soreness in the legs that sometimes accompanies an increase in mileage, and "double run days", especially for a heavy runner.
Outsole
The sole itself is well suited to road running, and provides excellent grip on all road surfaces, in both the wet and the dry.
It is not designed for anything else other than possibly very light/level trails, and I wouldn't recommend it for rougher terrain. This is more to do with the stability provided by the upper than the sole itself (see below).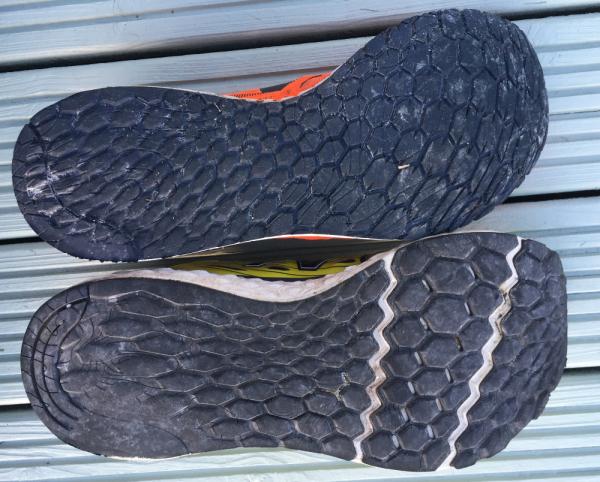 The picture to the right shows the sole of the the NB 1080 v6 (below). The soles have a similar appearance, though the 1080 v6 incorporates two lateral "breaks" in the blown rubber to provide additional flexibility.
The Fresh Foam Zante v3 does consequently have less flexibility than the 1080 v6, though I personally did not find that to detract from their effectiveness or comfort.
The Fresh Foam Zante has a narrower footprint than the 1080 v6, as you may notice from the above picture.
At the widest point, the Zante is approx. 12cm, when compared to the NB 1080 v6 which is just over 13cm, and maintains a wider footprint through the length of the shoe. The consequence of this is that the 1080 v6 provides a more stable feel when out running, whilst the Fresh Foam Zante feels more responsive.
Upper
The upper of the Fresh Foam Zante v3 is marketed as having "engineered mesh". I'm not entirely sure what that means, so I'll simply describe what I can see and how it feels.
At the front of the shoe, the sides are constructed using what appears to be a two-layer, tightly weaved fabric mesh. Over the top of the forefoot, the two layers appear more distinct, with larger holes in the top layer, as shown left (using my fingers from inside the shoe to exaggerate the holes).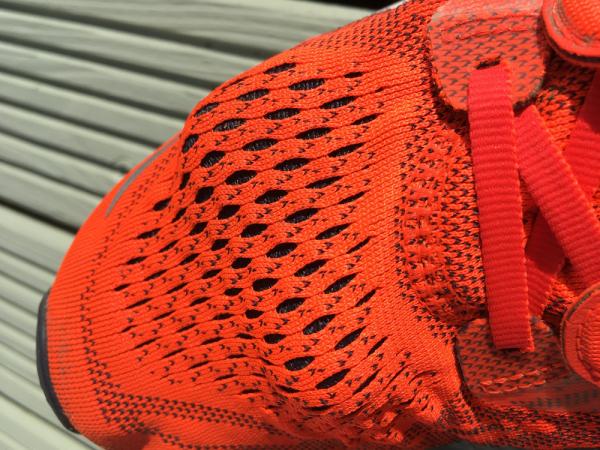 There is a thicker side panel around the midfoot, which continues around the back of the shoe, and incorporates the eyelets for the laces (apart from the lowest pair which is located on the section above the forefoot).
Whilst necessarily thicker than the front of the shoe, this does not have any of the plasticky overlays that characterized many of the earlier New Balance shoes.
The toe box holds its shape through the use of a small section of foam glued inside the fabric.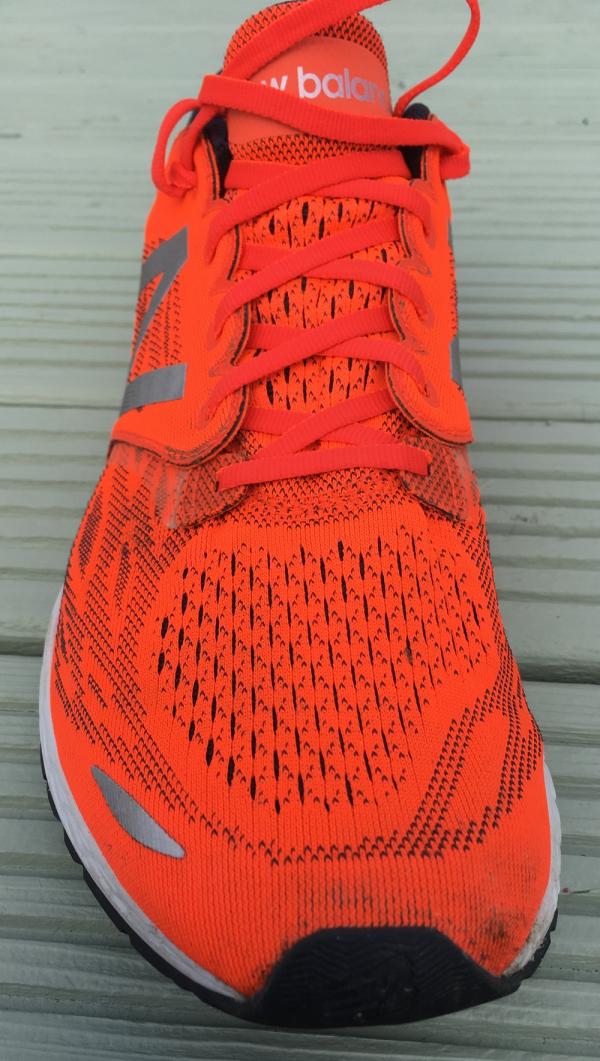 In all, the upper of this shoe is excellent. As mentioned above, the no-sew construction makes it extremely comfortable for the foot, with no rubbing experienced at all.
The light mesh provides fantastic ventilation and keeps the foot cool. You can expect your feet to get wet when it rains, but I always feel that if you're running in the rain, then getting wet is all part of the experience!
The heel cup feels comfortable, as I have found with all other New Balance Shoes I have used. It holds the heel well, with no rubbing on the Achilles tendon.
There's no discernible wear after 500km (shown left) which is exactly what I'd expect, as my 1080 v6 similarly has very little wear after almost 100km (shown right)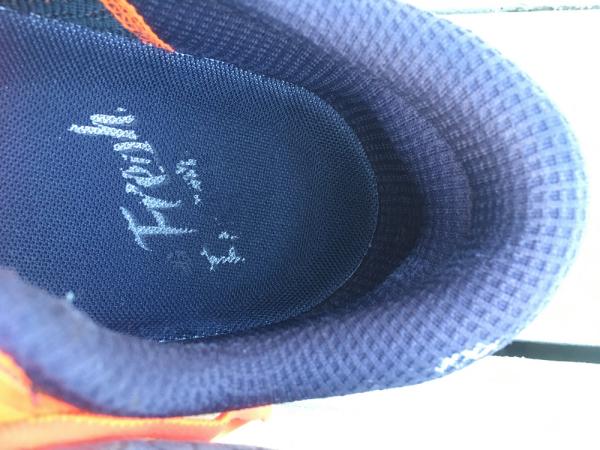 Durability
The blown rubber outsole is extremely durable. I first found this with the NB 1080 v6 which I found to have improved in durability significantly compared to its predecessor, and I was very pleased to find that the Fresh Foam Zante v2 provided a similar resistance to wear.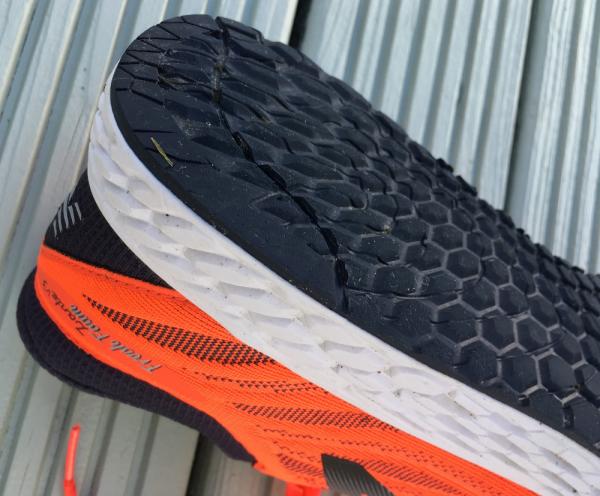 My running style means that my shoes will generally begin to wear from the outer heel.
The picture above left was taken after approx. 500km of use, and shows some wear to the heel. There is still plenty of rubber remaining on the shoe, and I am confident that these shoes will take me to 1000km like their NB 1080 v6 predecessors.The
The picture below compares the soles of the three shoes. At the time the photo was taken, the Fresh Foam Zante (bottom) had run 500km. The NB 1080v6 (middle) has run almost 1000km.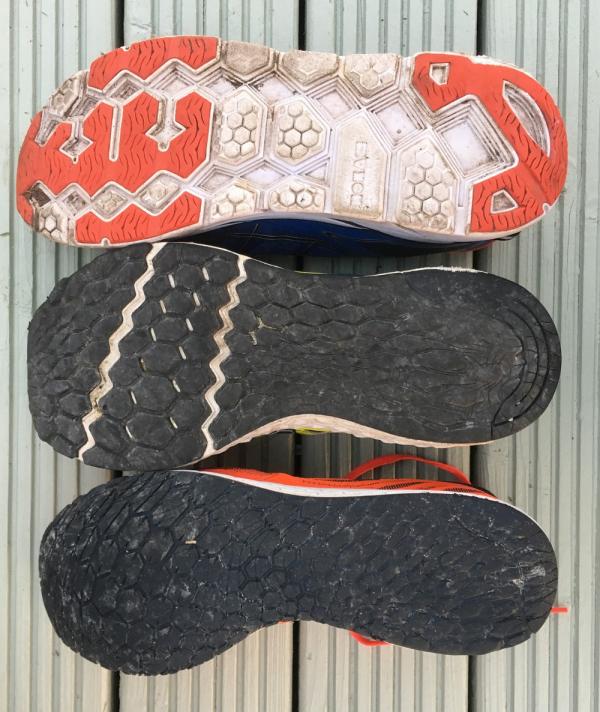 The Hoka One One Clifton 2 has run approx. 400km. Unfortunately, my experience was that the small amount of rubber on the heel wore down to the foam after just over 200km. I then nurtured them to 400km with generous applications of "Shoe Goo" before giving up on the shoes.
Incidentally, I did write to Hoka about the rapid wear of their shoes and their answer was that they are not designed for anyone over 85kg (you will not find that in any of their marketing material).
Performance
I really enjoyed running in these shoes.
As mentioned above, I was a little concerned initially as to whether they would provide sufficient cushioning. After a full marathon training cycle, I'm happy to report that there is more than adequate for even the longest training runs of a heavier-than-the-average marathon runner.
The beauty of these shoes, however, is their versatility.
This is not just a long-distance training shoe. Somehow, New Balance has managed to create a shoe that provides sufficient cushioning for the long stuff, but also feels fast and responsive when running at pace, giving an excellent feel of the road beneath the foot.
To put it in perspective, "pace" for me means 5k race pace or long interval pace, so generally just over 6 min/mile. The foot feels secure in the shoe and provides the confidence to change the pace in an interval or Fartlek type session.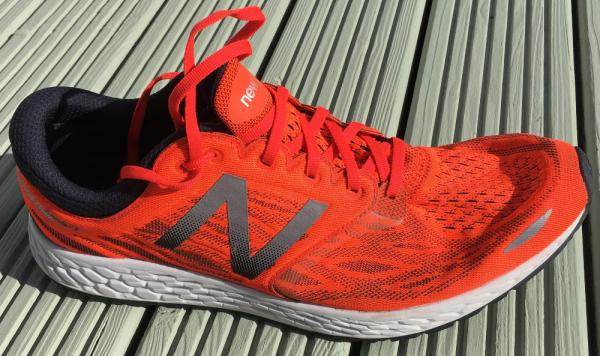 Responsiveness
This responsiveness carries across to the longer runs. I've run comfortably in NB 1080s for years, and they feel stable and comfortable, and you can almost feel the cushioning beneath your feet as you grind out the long runs.
The Clifton 2s provided a very similar feel. By contrast, when running in the Fresh Foam Zante, I feel lighter on my feet. The foot seems to be in contact with the ground for a little less time and doesn't need to sink into a thick cushioned sole on each stride as it does with more cushioned shoes.
The shoe is obviously designed for road use and is very well suited to the roads.
It could be used on light trails if these are reasonably smooth and level, but I would not recommend it on anything rougher than that. The mesh construction of the upper provides very little stability, and the foot will begin to move around on uneven surfaces.
A few weeks after getting these shoes, a route change took us on a descent of steep slate quarry tracks by headtorch, and I certainly wouldn't want to go through that experience again as the foot was sliding around in the show with every uneven step.
This is in sharp contrast to the NB 1080 v6 which, whilst not a fell shoe, feels much more secure comfortable on rougher trails.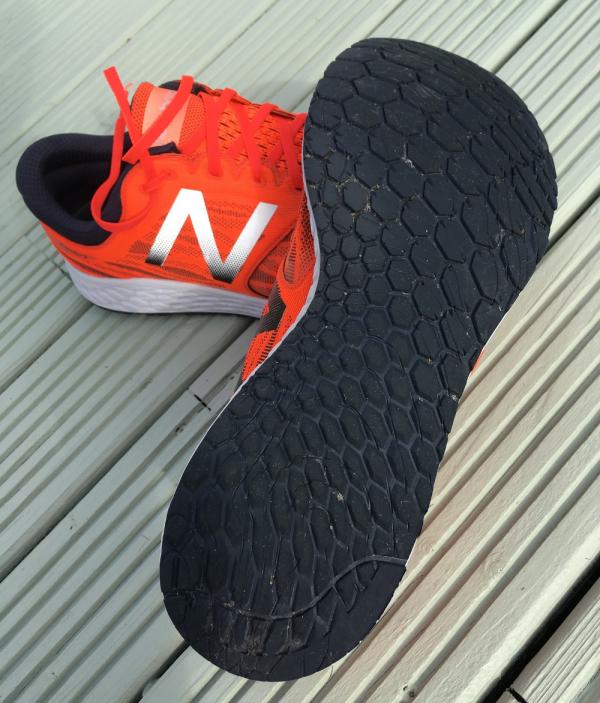 On a similar theme, I would not recommend these shoes for training runs or races involving a lot of tight bends and turns, as I could feel my foot moving when taking corners at pace.
This lack of support within the upper would also lead me to recommend this shoe to Neutral Runners only. If you feel that you are susceptible to any degree of pronation, or need support for any other reason, then you'd be better to look elsewhere.
Summary
The Fresh Foam Zante v3 is my new favorite shoe. A highly versatile and exceptionally comfortable all-rounder which I'd have no hesitation to put on for most my training runs and races.
In my opinion, I'd choose this shoe for pretty well all road races from 10km through to the marathon. For a 5k it would be a tough choice between this and the Vazee Rush 2 which I've reviewed earlier this year here, and which I'd choose for a race involving sharper cornering or slightly rougher trails.
I began to train for the Philadelphia Marathon a month ago, and the only shoe at my disposal, though outdated, has been the New Balance Zante v3 Boston Edition.
After 200 miles spent in the shoe over the past month, I love certain aspects, like it's simplicity, versatility, durable outsole, speediness, and look. It has, however, some drawbacks such as a somewhat narrow fit, lack of durability in the midsole, and dull feel.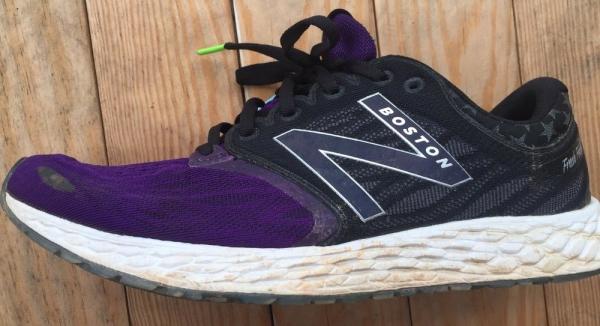 Simplicity
When I decide if I like a shoe, I first want it to disappear on my feet and not interfere. The Zante, since its release, has been a simple shoe that people can count on without any gimmicks.
The third version does not disappoint in that regard. With its seamless and sock-like upper, low profile, and minimal design, it never distracted, which I really appreciate.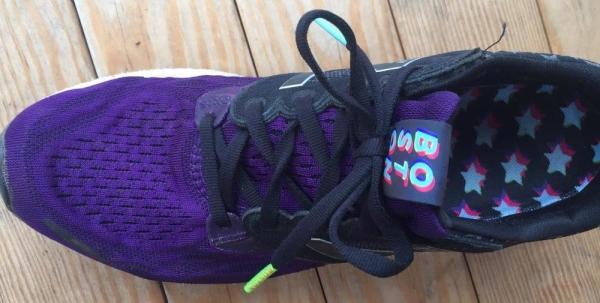 Versatility
The shoe can also be used for nearly any distance.
It has a significant cushion—despite its relatively light weight—and is a shoe I could race anywhere from a 5k to half or full marathon in comfortably. I used it for a two-mile time trial, a 14-mile trail run, and everything in between.
Ride
The Zante v3 feels firm yet not that responsive underfoot; I would even argue that it's a touch too firm. I prefer if a shoe has a soft heel and springy forefoot.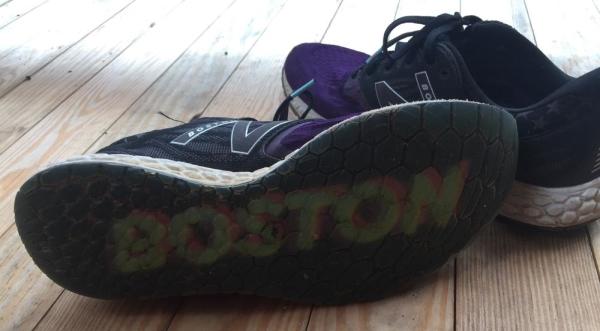 The shoe was smooth and transitioned well with each stride, but its firmness turned my runs into a fairly dull experience in comparison to shoes, like the Adidas Boston Boost 6 that also fits into the lightweight-trainer category.
Though with that said, I do still really like the shoe. Even as I have quickly increased my tempo and mileage in it, I have not had any problems with regard to injuries or significant discomfort.
Fit
I am very particular about shoe fits, and this is another area where the Zante v3 could have been better. Although the stretch-knit upper was nice against the skin and adapts a bit to one's foot shape, the shoe felt a bit too snug.
I had a full thumb-nail width at the end in my usual size 9.5; however, my toes, especially my pinkies, felt a bit scrunched. This did not cause any major concerns during my runs, but I felt a bit of uncomfortable pressure that became unnoticeable after about two miles. It was not a deal breaker but something you may want to be aware of if you have wider feet.
Durability
Even now, the full-rubber outsole and upper have few noticeable signs of wear, which really impressed me, especially for a $100 shoe. Unfortunately, I do not think these shoes have much life to offer beyond 300 miles due to the midsole.
I noticed that they lost a large amount of cushion and responsiveness after my first 100 miles, and they've been in a decline since. I recently bought a new pair of shoes, because I don't think these will last much longer than the 200-mile mark. I am fairly light on my feet at 5'11 and 145 lbs., so I'm a bit surprised I wore the Zante v3 at a quick rate.
Look
I love how the shoe looks.
The Zante v3 Boston Edition has many cool features that pay homage to the Boston Marathon: retro-reflective "Boston" tongue tags and "N" logo, "Run" and "Boston" rubber soles and lace ends, starred and striped insoles, and a star-imprinted heel counter.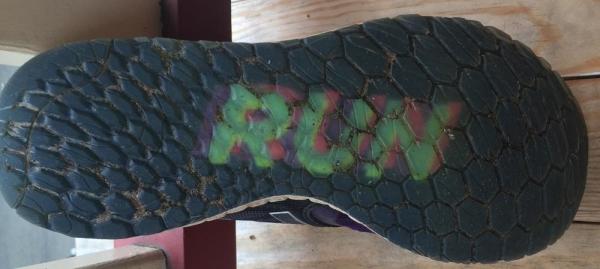 Conclusion
The New Balance Zante performs well as a lightweight, versatile, and simple shoe that gets the job done. It's fairly priced, even though the midsole durability could be better.
They'll retire from running soon, but the upper and outsole are still in phenomenal shape. I'd definitely recommend the Zante v3 if you like a firm feel that can handle nearly any distance.
Updates to New Balance Fresh Foam Zante v3
New Balance brings in more than a fair share of modifications in the Zante v3. Fans of the line will quickly notice that there is a thicker midfoot saddle that is designed for improved durability and midfoot hold. It is adequately executed that it does not restrict the foot's movement.
Another change is the new engineered mesh that has a good blend of flexibility and denseness. The mesh also has bigger forefoot holes for even better breathability.
The forefoot overlay of the earlier model is completely removed for more room in the toe box. It is also for this reason that the engineered mesh has the right tightness where the overlays were supposed to be for support.
A subtle change in the midsole side wall changes the ride into something a little firmer, based on New Balance's studies. From a combination of convex and concave hexagons in the side wall, these are now made of convex hexagons as it provides cushioning a little less than before.
The outsole configuration is also remarkably changed. From a more vertical design of the hexagons, these are now almost laid out vertically, and positioned towards a more medial-oriented placing. It brings a more efficient and smoother ride.
Size and fit
The fit of the 3rd instalment of the popular Fresh Foam Zante is generally very similar to the previous rides of this shoe. One very good improvement is more room in the toe box as this should be good news for those with slightly wider feet. The midfoot's hold is superb because of the structured saddle while the heel has adequate security. It runs fairly true to size.
Outsole
The very unique outsole of the New Balance Zante v3 is large mass of hexagons in varying sizes with a little variation. Pointed to the medial side, this helps with more stability and efficiency. The full contact outsole should provide a better platform for runners to run on. Most of the outsole is blown rubber for traction while a harder carbon rubber is located in the heel for durability.
Midsole
New Balance's Fresh Foam gets slightly modified with new hexagon convex shapes. This new design gives a bit more firmness and responsiveness. As it spans the whole midsole, it creates a smoother heel to toe transition. This midsole is also present in the Zante v4 and other New Balance shoes.
Upper
The sleek upper features an engineered mesh that provides flexibility and hold in the right areas. There are more open holes in the forefoot for increased breathability. New Balance added a midfoot saddle in the Fresh Foam Zante v3 to give more life and structure to the upper. It also has an inner sleeve, which helps create the glove-like feel. The ankle collar and tongue have good padding without overdoing it. There's' more than enough reflective details in the upper for low-visibility running.
Rankings
How New Balance Fresh Foam Zante v3 ranks compared to all other shoes
Popularity
The current trend of New Balance Fresh Foam Zante v3.