New Balance Fresh Foam Zante Pursuit
The New Balance Fresh Foam Zante Pursuit is a lightweight road running shoe that made most users happy and satisfied. Runners admired the shoe's design, responsiveness, and durability. Though it had minor issues on heel fit and the sole being too stiff, most users would still recommend the shoe because it is comfortable and breathable.
---
Verdict from 16 experts and 100+ user reviews
8 reasons to buy
Many users admired the lightweight construction of the New Balance Fresh Foam Zante Pursuit.
Several runners lauded the shoe's breathable coverage.
According to many user reviews, the shoe is very comfortable, especially for those with plantar fasciitis.
The running shoe has a roomier and softer toe box, as mentioned by most buyers.
Majority of the purchasers said that it is true to size.
The Fresh Foam Zante Pursuit has a great, eye-catching design, said a few comments.
A few reviews mentioned that the shoe is very responsive.
The shoe has a durable design, said a couple of buyers.
2 reasons not to buy
A few users mentioned that the sole of the Zante Pursuit is not flexible.
A couple of runners were disappointed by the shoe's loose heel fit.
Bottom line
The New Balance Fresh Foam Zante Pursuit is a lightweight road running shoe that made most users happy and satisfied. Runners admired the shoe's design, responsiveness, and durability. Though it had minor issues on heel fit and the sole being too stiff, most users would still recommend the shoe because it is comfortable and breathable.
Best price from 50 shops
We earn affiliate commissions at no extra cost to you when you buy through us.
84% say it's true to size.
Our reviews
Over the past seven years, I have had 2 major shoe regrets. The first was not buying the Hoka Clifton 1, and second, was not buying the New Balance Fresh Foam Zante 1.
Legend has it that the original Zante was the perfect combination of soft, bouncy and responsive. It was a shoe that was way ahead of its time.
The following year, I bought the second version, but by that time, the shoe was a completely different animal. It was firm, flat, and lifeless.
I tried to find the original version but couldn't find it in my size. To this day, I get jealous on the rare occasions that I see somebody wearing a pair.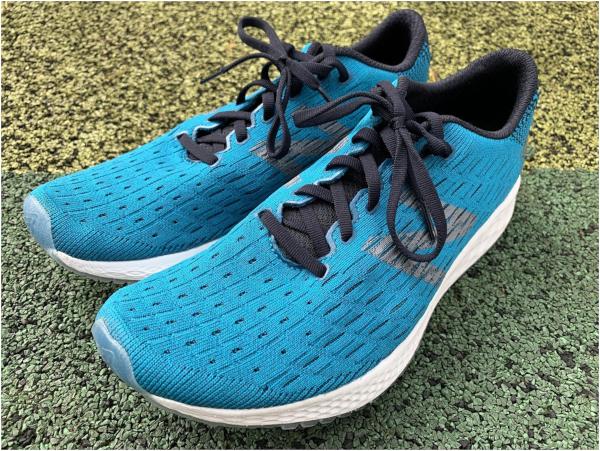 The next 2 versions of the shoe didn't come close to the first version. And then New Balance released the Zante Pursuit.
The Zante Pursuit is a complete rework of one of their most popular running shoes. The mesh upper is replaced with a single piece knit upper.
The blown rubber outsole replaced with crystal rubber and the midsole is a softer and more lively version of Fresh Foam. The Zante Pursuit breathes new life into a stale, boring Zante line.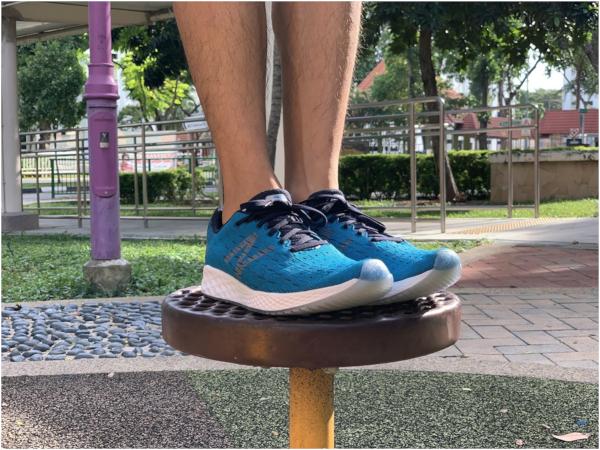 | | |
| --- | --- |
| PRICE | $110 |
| WEIGHT | 208g |
| DROP | 6mm |
| TECHNOLOGY | Hypoknit, Fresh Foam |
Upper
The uber comfortable knitted upper is something that you would see on a casual shoe. Its simplistic and relaxed design puts even casual shoes like the Adidas Ultra Boost to shame.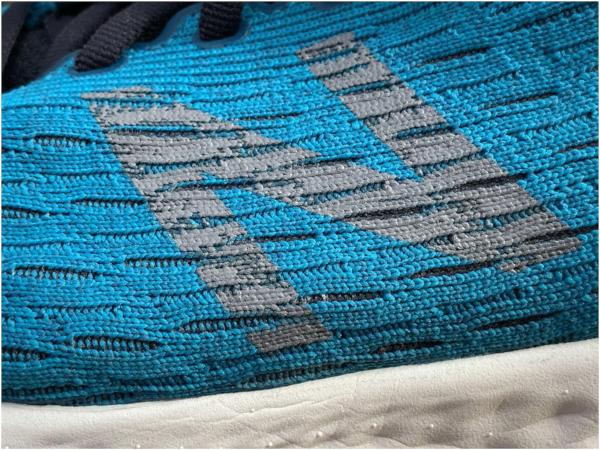 The New Balance logo is printed onto the upper, so there are no seems. You get a reflective NB logo at the back for nighttime visibility.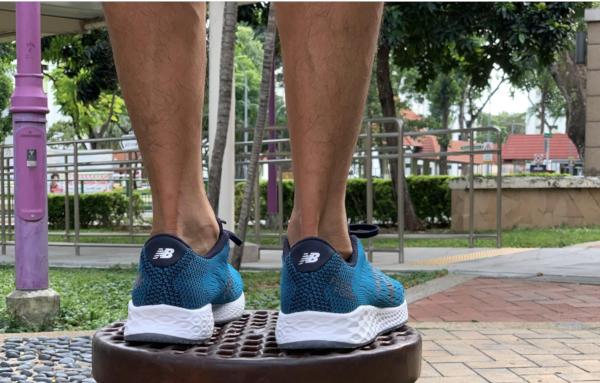 It not only looks but feels casual on runs. The knit is very soft and stretchy: a little too stretchy.
My feet never felt locked down or secure on runs, and I had to do heel lock lacing to ensure that my heel didn't slip out.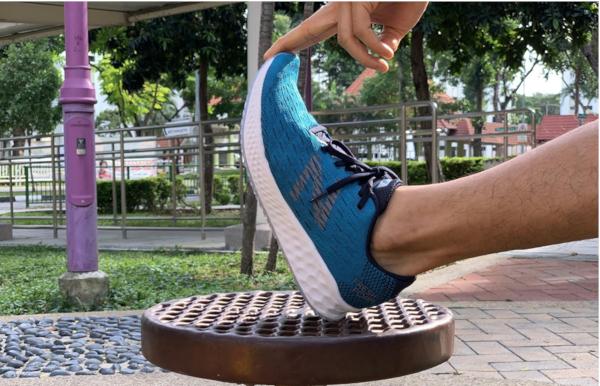 The fit is true to size. The toe box is wide, and the knit will stretch if you have extra wide feet. The tongue is gusseted so you won't get any tongue slide.
Midsole & ride
This new version of Fresh Foam feels softer and more responsive than the Fresh Foams of the previous Zantes.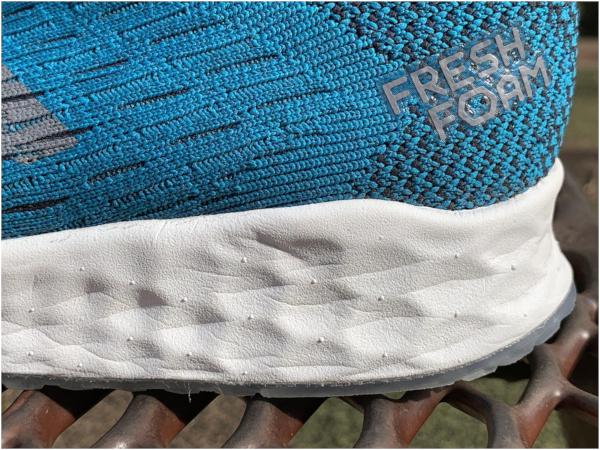 It has a firm undertone to it which feels best on paces of 6 minutes per kilometre or less, on distances no longer than 10km.
By the 8th kilometre of a run in the Zante Pursuits, I wish that there was a tad more cushioning, so I wouldn't want to take it on a far, two-hour weekend run.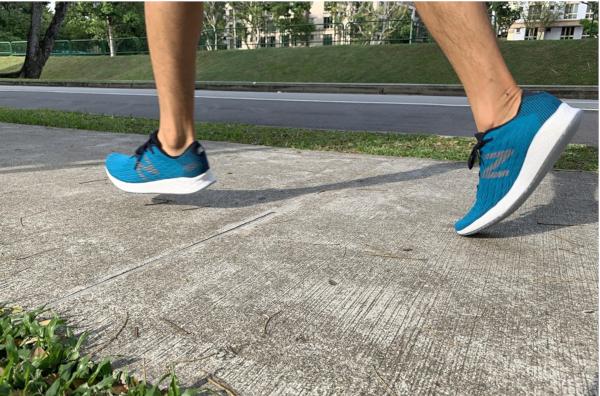 It provides a nice firm toe off, which results in a snappy ride. Transitions are buttery smooth because of the one-piece midsole and the full contact outsole.
The firm midsole being so thin results in fantastic ground feel. It reminds me of a low to the ground sports car with lowered suspension.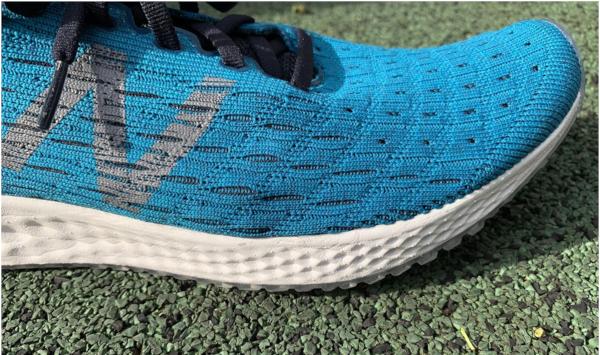 Outsole & durability
The crystal rubber outsole used on the Zante Pursuit is leading the durability race along with Continental and Asics High Abrasion Rubber outsoles.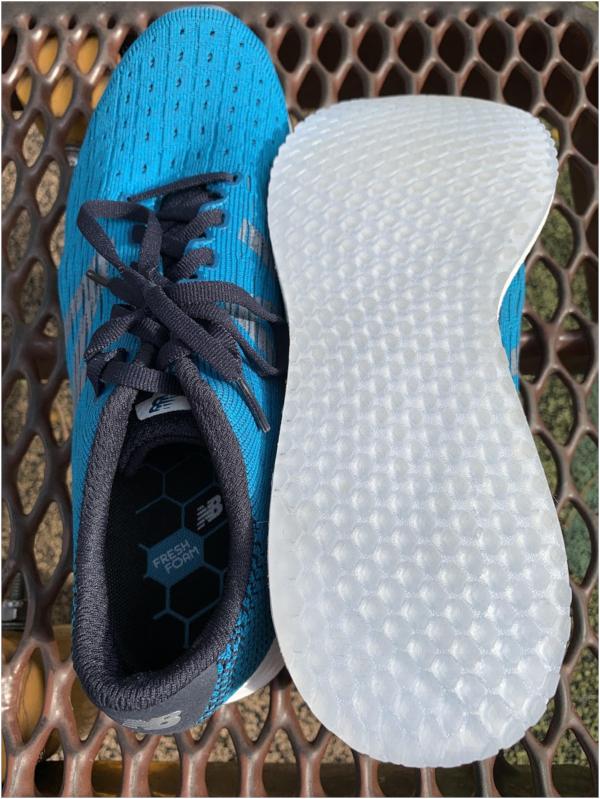 I would love it if more brands started using crystal rubber outsoles because it is super tough.
On my pair, wear is barely noticeable. There is a little smoothing on the outer heel area where I normally see the most wear on my shoes.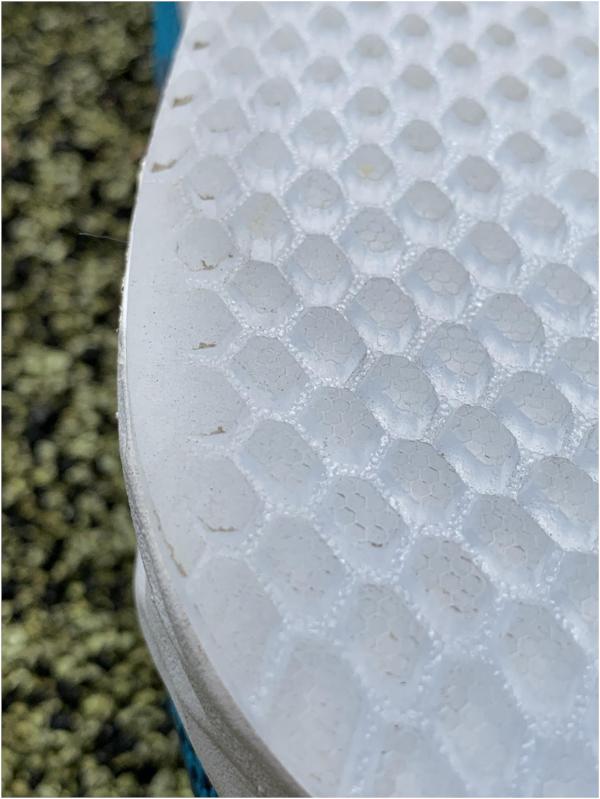 I expect these shoes to last me well over 1000 km.
The grip is great on dry surfaces but lacks a bit on wet surfaces: a common trait of crystal rubber.
Insole
The smooth insole is thin and provides no cushioning. The lack of cushioning ensures that all the cushioning is contained in the midsole.
This also makes the Zante Pursuit best suited to tempo workouts and not long distances.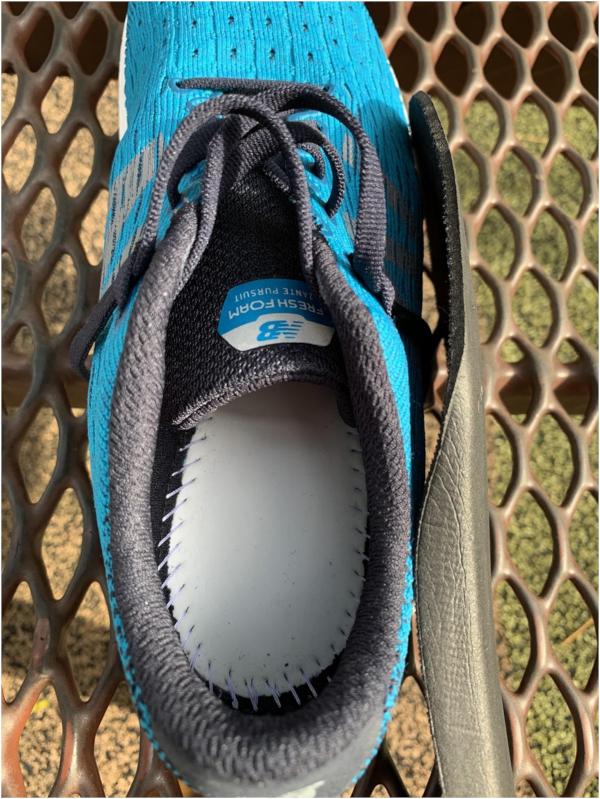 Flexibility
The Zante Pursuits are quite stiff. However, when you do force them to flex, they do a weird thing where the left shoe flexes in a different part of the shoe to the right shoe.
The left shoe flexes in the middle of the shoe, the right shoe in the front. This is the first time I've ever seen anything like this.
It doesn't make a difference in the ride, but I thought it was really interesting.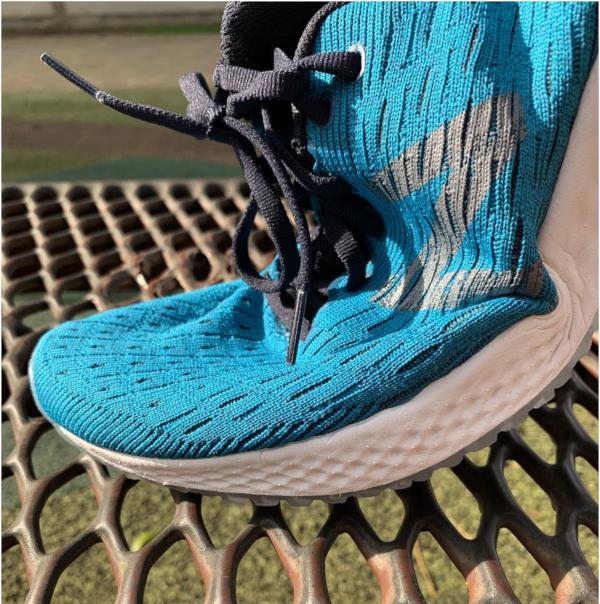 The absence of flex grooves combined with the thick crystal rubber outsole makes the Zante Pursuits a stiff shoe.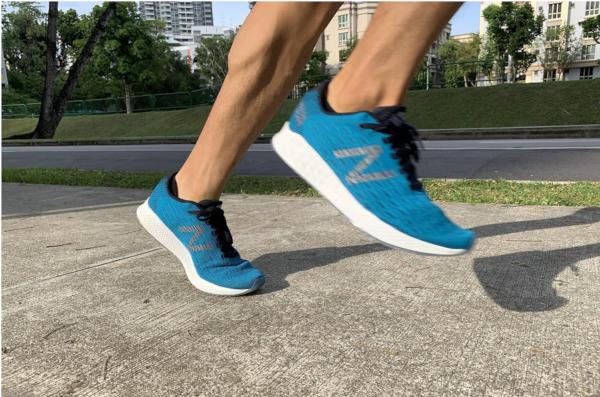 Verdict
The New Balance Fresh Foam Zante Pursuit is a perfect shoe for tempo or fartlek workouts of less than 10 km. The comfortable upper and thin midsole make the shoe a pleasure to run in.
If I were to change anything about the Zante Pursuits, I would make the upper less stretchy so that the foot lockdown is better.
I would also make the midsole a touch softer so that they can be used for distances up to 21 km. Those changes would make it more versatile and improve on an already excellent shoe.
Welcome back, Zante!
These road runners from New Balance might not just be a great big mouthful of a name.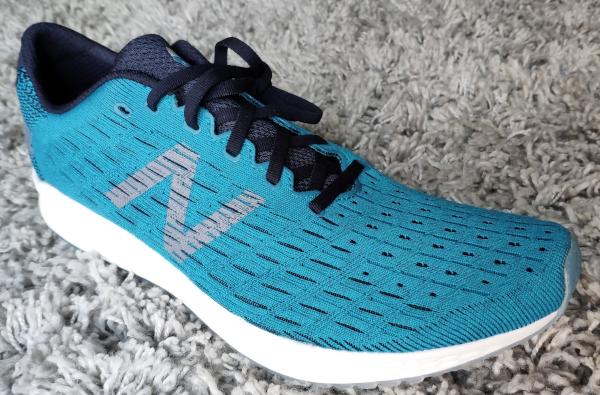 New Balance says: "Our Fresh Foam midsole technology delivers a driven responsiveness and a lightweight ride."
Now, I'm not entirely sure what 'driven responsiveness' means, but I think they're saying that the Zante Pursuit is going to be a reactive road shoe.
Shall we find out if they are?
Tech specs
A 6 mm drop: due to variances created during the development and manufacturing processes, all references to 6 mm drop are approximate
Bootie construction for a custom-like fit
Fresh Foam innovative midsole created from a single piece of foam that provides a plush, more natural ride
No-sew material application
Synthetic/mesh upper
Hypoknit (not sure what this is, but I'm pretty sure it's just New Balance trying to give a cool name to their knit upper technology)
Translucent rubber sole
Weight 239 g (UK11, EU46)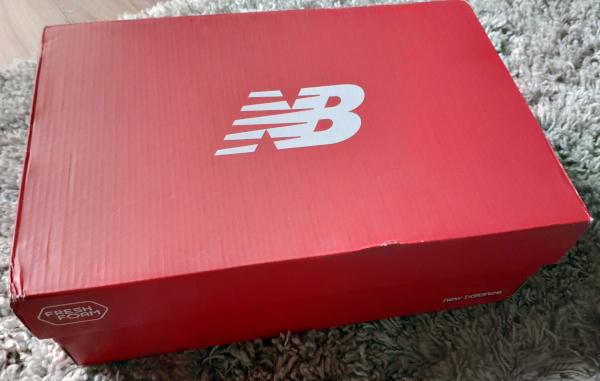 Design overview
My first impressions of the Zante Pursuit out of the box were very positive. The colour and style work really well together, and they feel very well made. Which is to be expected from a New Balance runner.
I have to say that I am a bit confused by New Balance's description of the upper being a bootie construction because this is definitely not the case here. I have to wonder whether or not the tech specs section is to be trusted at all!
Other than this slip-up, I have to say I definitely like the overall look and feel of the Zante Pursuit. I was excited to get them on and get out on the road with them.
Upper
I was a fan of the upper on the Hovr Phantom and wasn't sure if anything else could come close, but these are definitely up there as competitors.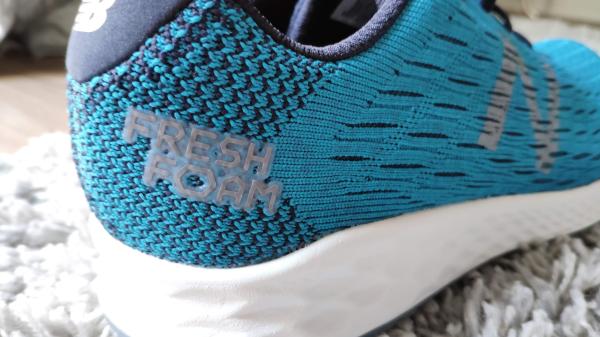 The Zante Pursuit upper looks and feels quite simplistic on the face of it, but I think there's a bit more going on than it may seem.
Beneath the soft and stretchy "knit" outer, there's what seems to be an elasticated inner layer. Both of these together provide a snug, comfortable and very flexible upper, which I like.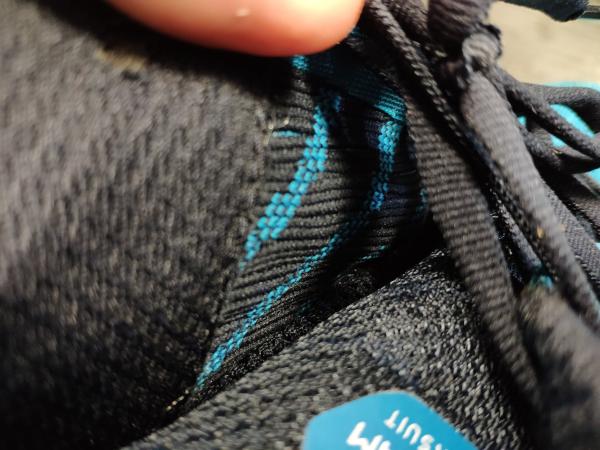 Laces
Simple yet effective. Nothing much to get excited about here. They're flat and soft, which is ideal. I have no complaints.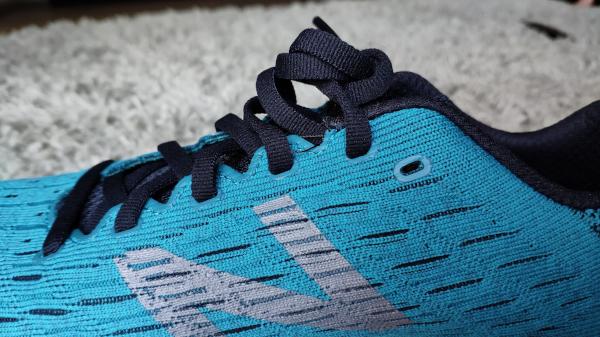 Heel counter
There is a bit of one on the Zante Pursuit, but it's not overly excessive. I prefer the heel to be completely soft and unsupported, but you can't always get everything you want.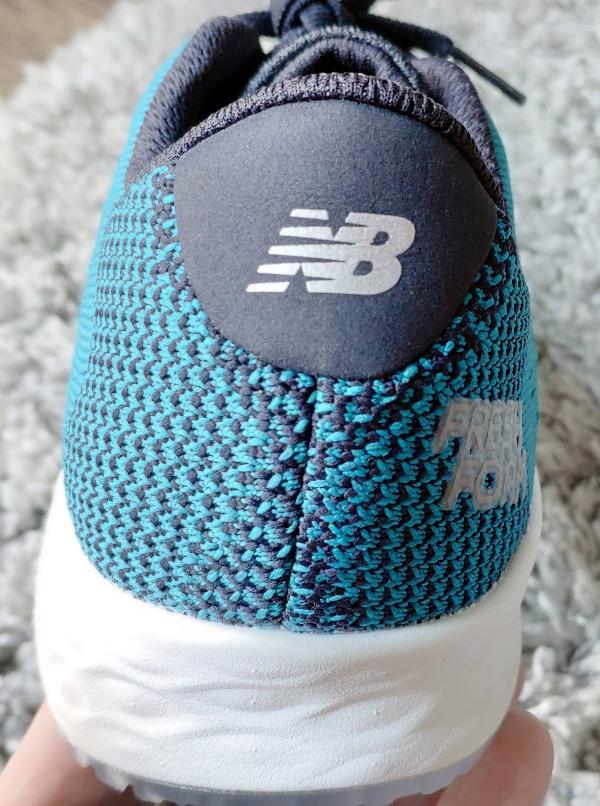 Collar
This is a bit of a negative for me. It's a little over-padded—not tons but more than I usually like. It's not uncomfortable and does hug my ankle quite nicely but definitely could be better.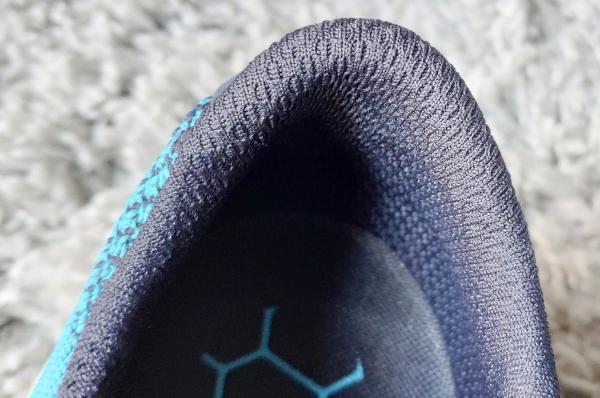 If I compare the Fresh Foam Zante Pursuit to the Under Armour HOVR Phantom or Nike Epic React Flyknit (shoe name torture), I prefer the sock-like design of the other two shoes.
Tongue
Despite claiming to be a bootie style shoe, the Zante Pursuit do unfortunately actually have a tongue, and I wish they didn't. It's connected to the upper with stretchy gussets, but honestly, if it were just seamlessly connected, it would be so much better.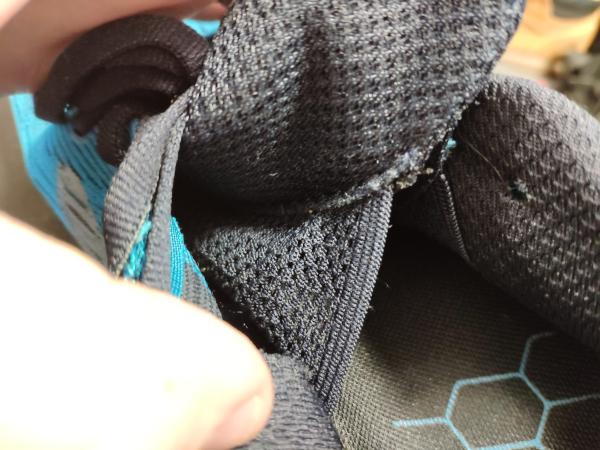 It's not overly thick or too thin, however, so it does the job of protecting the top of your feet from pinchy laces. So, it's not all bad.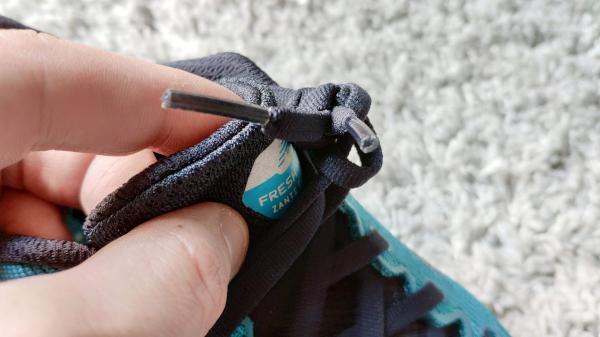 Safety
Nothing to see here—nothing at all. Thank goodness!!
Sole
The 6 mm heel to toe drop on these transparent soled road shoes is a refreshing change to the typical 10 mm drop that so many running shoes have.
The fresh foam midsole is pretty decent. It's not overly absorbent or reactive. I'd say that it's a good day to day training shoe as well as it making quite a 'nice' casual shoe.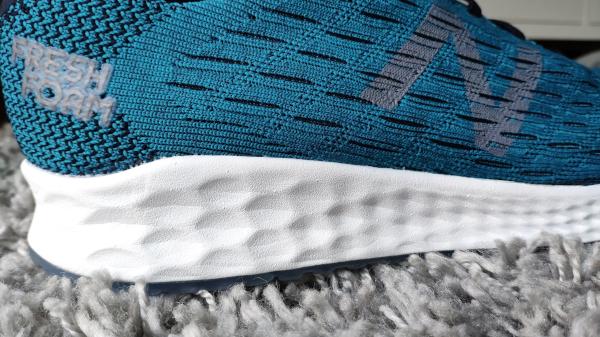 I was pretty comfortable over short and long runs but missed the zippiness of the more reactive shoes like the Epic React Flyknit.
That being said, I didn't dislike running in the Zante Pursuit. In fact, I found the overall design made for a really comfortable slow run shoe.
It is ideal for those long, hilly, road runs when you want to take the world in a little bit and aren't too focused on training pace.
The midsole foam did start to distort quite quickly in the heel area, which is strange as that was only from walking. I'm not sure if that's a bad thing or not but I'm not sure how long the shoes will hold up for based on this.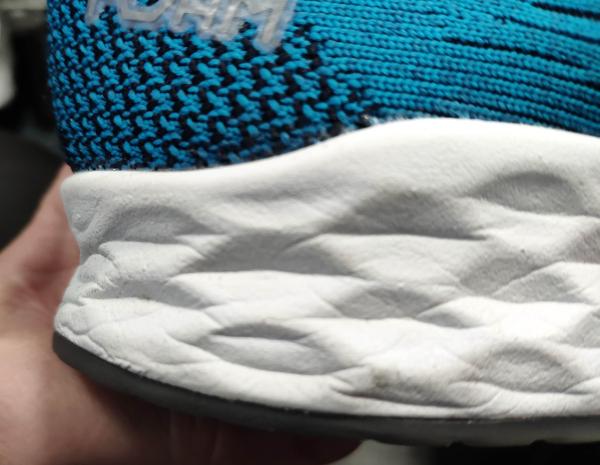 Support
There's not enough support in the arch area to cause any issues for me (I like a nice flat sole with minimal support), so no real complaints here.
I'm not sure if there will be enough support for anyone looking for something more substantial, however.
Flexibility
How can I put this… Flexibility is lacking with the Zante Pursuit without a doubt. It's a little strange because although on foot the sole feels soft and squishy, it's nowhere near as flexible as it feels like it should be. It is a bit of a disappointment here.
Tread
I'm not sure what you'd call this tread. It's something like an inverted waffle of sorts. The lugs don't have huge gaps between them, and they're not very deep, which is perfect for road running.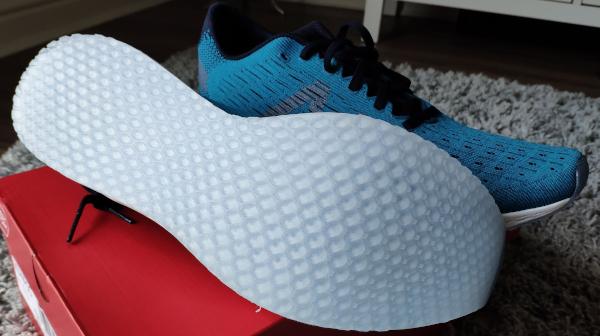 Oh, and it's a transparent rubber, though I'm not sure why.
Grip
It's adequate but not as good as I'd hoped for. Fresh on they were very slippery and to be honest they haven't got much better after bedding them in.
Fit & comfort
For me, this is where things really start looking up. The soft supple upper is very comfortable, and the fit is spot on. I'm usually a UK 11, EU 46, and in my size the Zante Pursuit are perfect.
I've worn these shoes as a daily shoe for the last few weeks as well as for runs because they are so pleasing to wear—almost slipper-like!
Toe box
On the face of it, you'd think that there wouldn't be a ton of space for your toes in these, but because the upper is so stretchy, I found it to be adequate enough.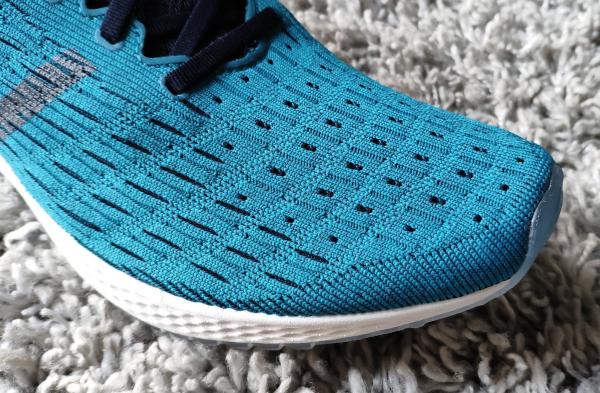 No, there isn't as much room as you'd get with a pair of minimal shoes or Altras, for example. But, my feet didn't feel cramped or squashed at all.
Heel
The heel is soft and cups the back of my foot nicely. It does a reasonable job of securing my foot in place whilst offering good comfort.
Saying that, it's not the best of all the shoes I've worn and reviewed and doesn't do as good a job on runs as I'd hoped for. The heel cup on the HOVR Phantom was much more secure and more comfortable.
Performance
Overall, the Zante Pursuit performed reasonably well. They're a decent training shoe, and I thoroughly enjoyed my slower long runs in them.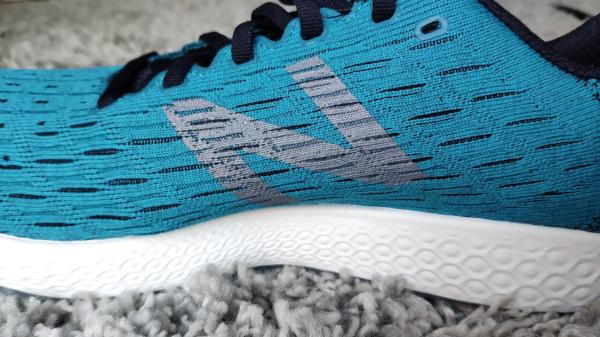 They are a good balance of reactiveness and shock absorption though not the best in this area. The Nike Epic React Flyknit performed far better.
On-road
Good but not great. They grip adequately but aren't perfect, and I certainly didn't enjoy wet runs in them so much.
Off-road
Just don't even go there!
For speed
The Pursuit isn't built for speed, in my opinion. I much prefer to run in either my Vibram KSO EVOs or even my Nike Zoom Streak LT 4's.
I definitely wouldn't advise trying to break any records in these shoes.
For distance
This is where these road runners from New Balance shine. They're great over slow long runs. I didn't find them laboursome to wear, and they didn't cause me any pain either.
The good
Very comfortable stretchy upper
Decent toe space for a standard shaped shoe
Cushioned sole, good for long runs
The bad
Not very reactive
No all in one upper
Outsole lacking and grip isn't the best
Dear New Balance
With a more reactive and flexible midsole foam and better grip, this shoe could be something really special. It's so close, yet so far.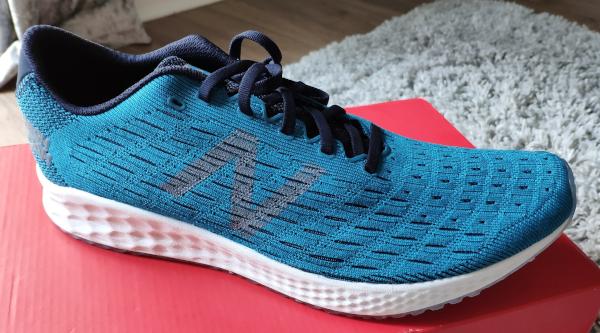 Ratings
Appearance: 7/10
Build Quality: 9/10
Comfort: 8/10
Sole: 6/10
Run Score: 6/10
Overall Score: 7.2/10
Bottom line
The Zante Pursuit is a decent long-distance shoe that's both comfortable and good looking. Wear it for day to day training or even casual wear.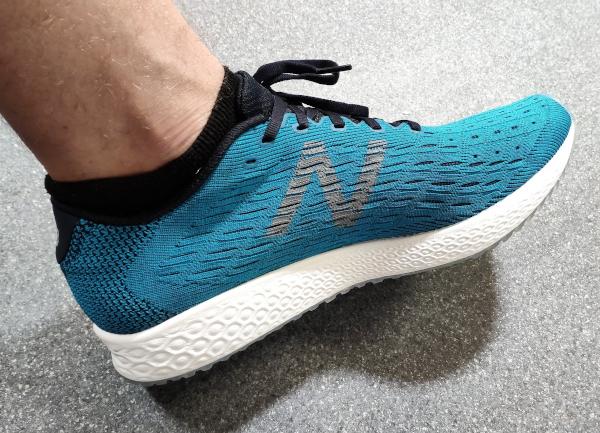 But, there are better ways to spend your money if you're a more serious runner.
New Balance has introduced a new addition into its Zante line up after launching Zante Solas, the Zante Pursuit. This shoe is a slimmer version of original Zante.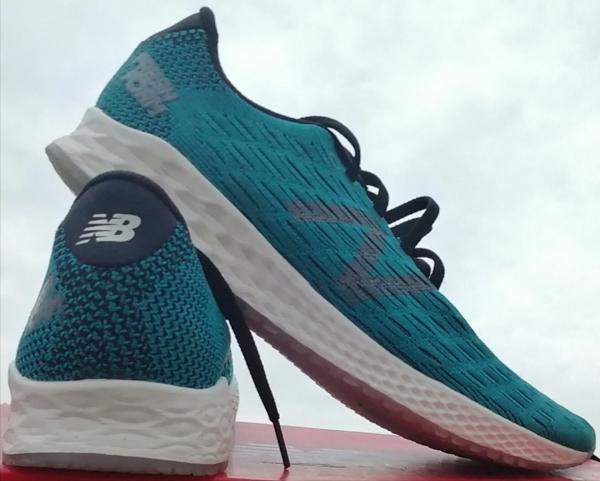 Zante Pursuit is a different shoe as compared to the earlier version of Zante. Let's find out what this shoe has to offer:
Technology used
Hypoknit upper
Fresh Foam midsole
Laser-etched midsole
Transparent rubber outsole
Specifications
Pronation: Neutral
Cushion: Firm
Offset: 6mm
Weight: 208g (7.03oz)
Closure: Lace-up
Arch: Normal, high
Surface: Road
Best use: Tempo runs/Races up to a half marathon
Terrain: Road
Waterproof: No
Fit: True to size
Upper
The Zante Pursuit has the best upper in the whole New Balance line up. New Balance uses Hypoknit, which is seamless and provides a very snug and secure fit.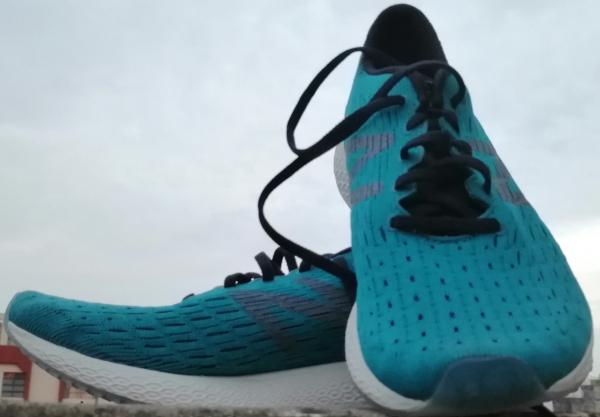 The Hypoknit is very stretchy, and it wraps the foot amazingly. It feels like you are wearing a sock, which has Fresh Foam.
Zante Pursuit has a gusseted tongue, which wraps the midfoot perfectly, and keeps it in place during sharp turns.
However, the upper's breathability is average—nothing too crazy. After running four miles, my feet were a little bit warm.
The shoe is very snug around midfoot and much more giving around the toe box. There are some horizontally placed laser cuts all around the shoe for more breathability and stretch.
Toe box
This shoe has a narrow toe box. My forefoot has an average width, yet I found a lack of space in the toe box.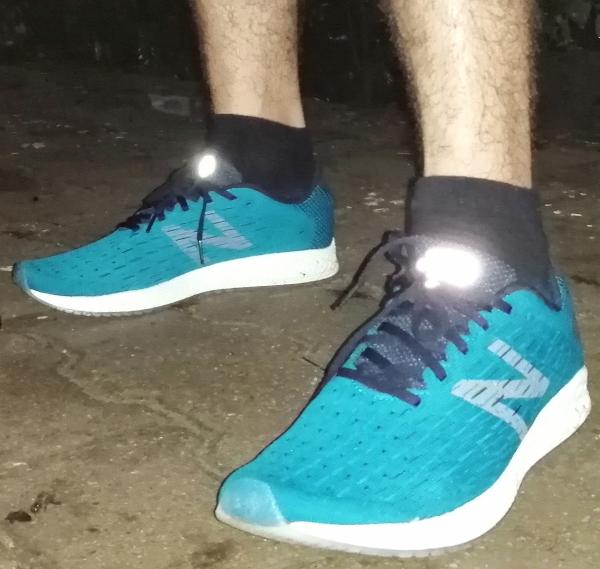 On longer runs, when my feet get beat up and my toes want some space to wiggle, it will not provide enough space for that. People with wider forefoot will have to go for the 2E width option.
Tongue
Zante Pursuit has a gusseted tongue. This provides a snug fit around midfoot and keeps the foot locked in.
The tongue is made up of mesh, which has very less padding as compared to previous Zante v4.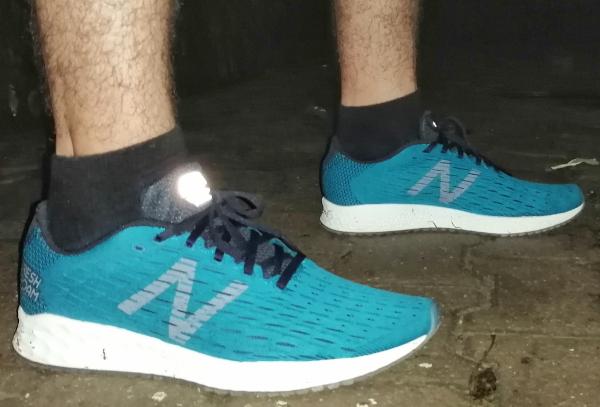 The only issue with the tongue is the extra pressure on my foot when tied down the laces tightly.
Heel counter
Zante Pursuit does not have much padding in the heel. Nevertheless, I cannot complain about it as these shoes are meant for faster day workouts or race days.
The materials used around the heel counter is very soft and did not cause any chafing against the heel.
Meanwhile, at the top of the heel counter, there is a New Balance logo, which reflects in low light conditions.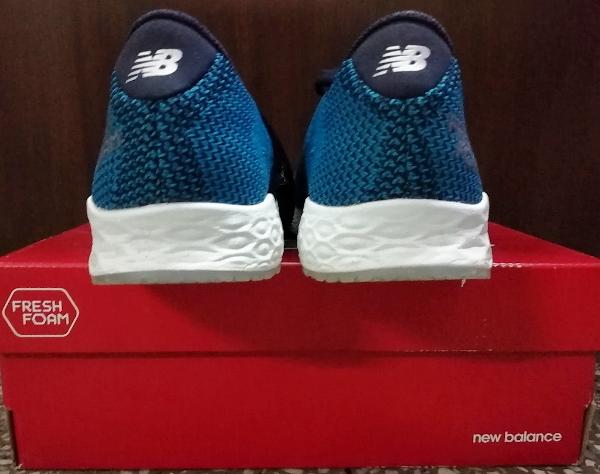 Zante Pursuit's heel counter has a pretty awkward shape. It is like somewhere between the design of normal rounded heel cup and new aerodynamic design of Nike.
It has an inward curve, which might be not everyone's cup of tea, but it did its job pretty well. It kept the heel in place while taking turns and prevented the heel from riding up during faster paces.
Lacing
This shoe has a traditional lacing system, which tends to put extra pressure on the feet when tied tightly. There are enough lacing eyelets to get the snug fit.
Besides, I think some runners will have to use the last holes of lace loops to get the snug fit around the heel.
The laces are very elastic, and it did not get undone while running. Thus, there is no need to double knot it when going for longer runs.
Midsole
Zante Pursuit has the New Balance's mainline foam, the Fresh Foam. Fresh Foam comes in various feel like soft and firm. In Zante Pursuit, it feels firmer as compared to the Beacon.
Zante Pursuit provides a very responsive and peppery ride. If you want to go slow in this shoe, it won't let you. Instead, it will force you to increase speed, mainly because of its rocker shape.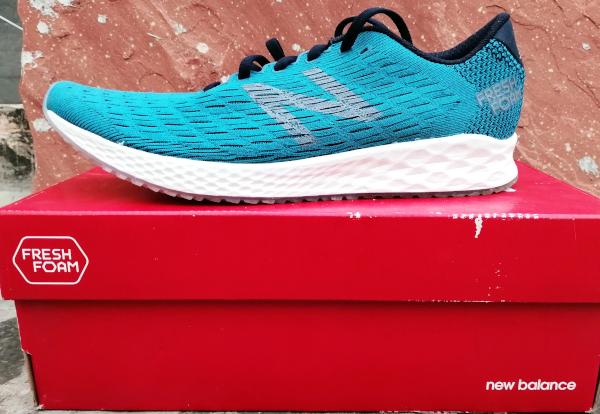 The rocker shape (upward curve) provides a more responsive ride. This helps in a very smooth and effortless transition from heel to toe.
This shoe is meant for midfoot and forefoot strikers. Meanwhile, heel strikers will have to look for other options like 890 v7.
The midsole is laser-etched, which leads to lesser weight and a softer feel. However, due to the hard transparent rubber outsole, the cushioning underfoot feels firm.
This shoe has enough cushioning for races up to a half marathon. This shoe can also be used as a daily trainer for those who like a firm feel.
But many runners would prefer this shoe for faster days when they want to shatter their PB.
Outsole
Zante Pursuit has a transparent rubber outsole, which looks cool and also provides very nice grip on all kind of surfaces—be it wet grass or road.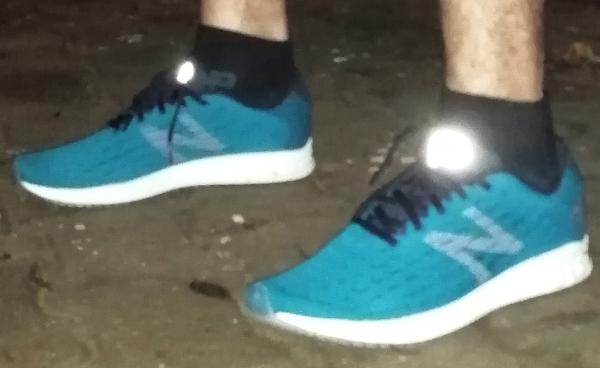 However, I have not used them on trails, so I can't comment on that.
The transparent rubber outsole is very durable. I mostly run on roads, and after use of around 30 miles, I have not seen any wear and tear. It looks like it has not been used yet.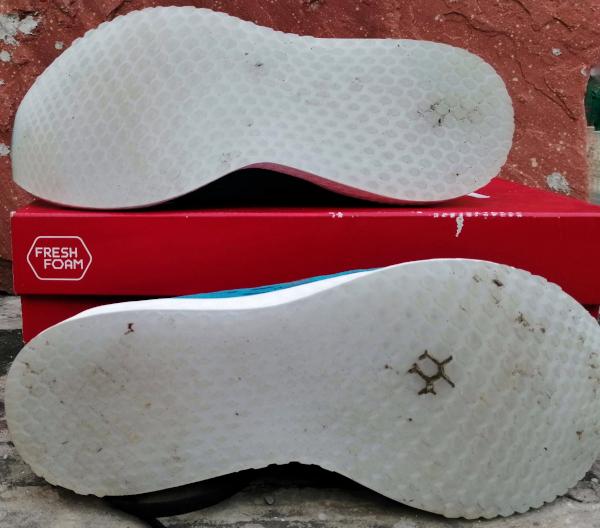 This transparent outsole looks very ugly after using it for a few miles, Outsole has stains of different colours all over, which I think is the only downside of this outsole.
The transparent outsole is very stiff because it does not have any grooves for flexibility. It took me a few runs to break into the shoe.
Ride and flexibility
Zante Pursuit is meant for tempo runs or race days. Its weight and high ground feel force you to put extra effort every time. I found the shoe responsive only because of the rocker shape.
This shoe is only meant for midfoot forefoot strikers. Heel strikers will not be able to enjoy the ride of the shoe.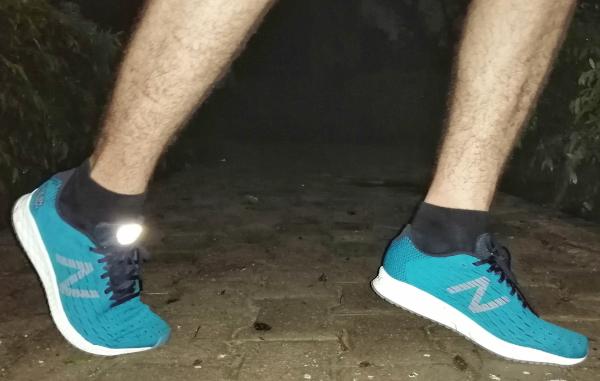 This shoe is not flexible enough because of the hard transparent rubber outsole and lacking grooves for flexibility. I tried to flex the shoe but failed.
Traction
The traction of this rubber outsole is terrific. When I took these shoe for the first run, it started raining. But, thanks to this outsole, the shoe provided enough traction on the wet road.
I also tried them on wet grass, and they performed pretty well. One can step onto any road in confidence in Zante Pursuit.
Ground feel
Fast day shoes are expected to have a high ground feel, and Zante Pursuit meets these expectations. It has a 6mm offset and low stack height, which gives a high ground feel.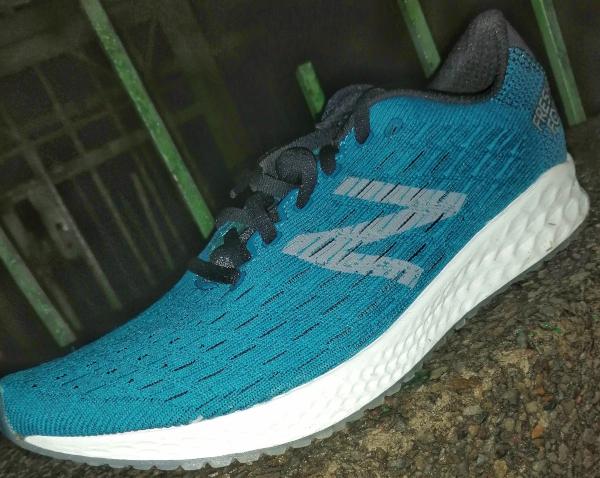 Thus, going fast in these shoes is just a piece of cake.
Responsiveness and impact protection
Fresh Foam is not as responsive as REVLITE. When I took these shoes for 12km long run, the Fresh Foam did not feel as responsive as it was during the first kilometre.
I think Zante pursuit can only be used up to a half marathon and anything above that will be like a punishment.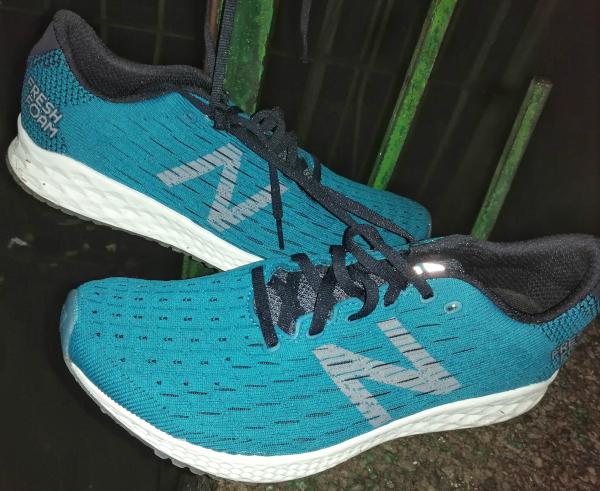 Zante pursuit does not provide enough impact protection due to its low stack height and firm cushioning. When I took these for 15km run, after the 12km mark, I started feeling pain in my midfoot.
Durability
Quality of materials used in Zante Pursuit is pretty good. After using them for 70km, there is no sign of fraying of upper and the outsole is looking almost new.
The only thing that will break down first is Fresh Foam. I don't think the foam will last more than 250 miles.
Style
Zante Pursuit is a sleek-looking shoe. It is a stripped-down version of Zante v4. Meanwhile, Zante Solas is a stripped-down version of Zante Pursuit.
This is the first shoe wherein they have used their Hypoknit upper. I think looks and style of shoe can be subjective, but I found Zante Pursuit to be an attractive shoe.
Price
New Balance Zante Pursuit retails at 110$, which is not too low nor too high according to the materials and performance of the shoe. I found the shoe totally worth every penny.
Pros
Very lightweight
Fairly responsive
Seamless hypoknit
Durable outsole
Cons
Narrow toe box
Not enough breathability
Bottom line
Zante pursuit is a simple shoe. It gets the job done without any fancy technology like carbon fiber plate. I found Zante Pursuit to be a very versatile shoe.
It can be used in mid-range runs like 7-8km, as well as, for tempo runs and on race day.
However, if anyone wants a more responsive ride and more impact protection, I think one should go with New Balance FuelCell Propel or Rebel, which are almost same in price.
New Balance is an increasing force in the sports shoe market. They are now well-known in running circle for sponsoring races and for their shoes.
I have been testing out the New Balance Fresh Foam Zante Pursuit to see what the fuss about New Balance is. I have never run in any New Balance shoes, so I was curious to see how good they were.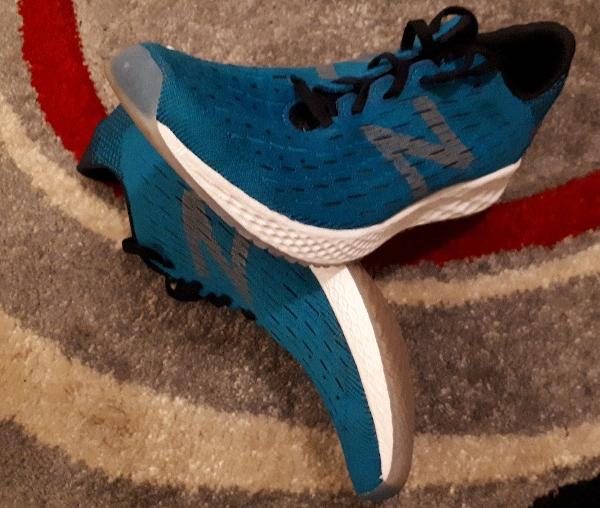 Shoe specs
| | |
| --- | --- |
| Weight | 210g (Men), 173g (Women) |
| Arch support | Neutral |
| Heel to toe drop | 6mm |
| Upper | Hypoknit upper |
| Midsole | Fresh Foam |
| Outsole | Translucent rubber |
First impressions
When I unboxed the shoe, the first thing that I noticed was the looks and the weight. Whilst the shoe isn't the lightest on the market, any shoe that pushes 200g is more than enough to run fast in.
I was also surprised that it was 210g—it feels a lot lighter when you are running in it, and I almost forgot that I was wearing shoes!
The shoe looks good. The white midsole coupled with the blue upper and translucent outsole gives the shoe a clean appearance.
Unlike some shoes that have overcomplicated designs, New Balance has opted to keep patterns to sensible levels, which I think improves the aesthetics of the shoe.
The New Balance logo fits with the colourway and offers a simple but effective break from the overall colour.
A good colourway for a shoe is almost as important as the shoe's performance!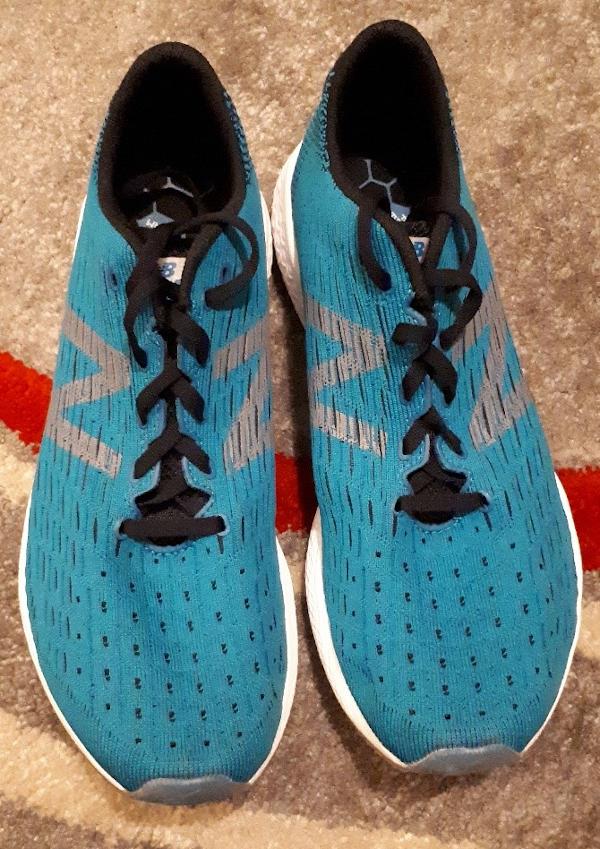 Upper
The upper of the Zante Pursuit is made out of New Balance's Hypoknit material. I am a fan of this as it is snug to the foot and feels like you are wearing a sock. It is very stretchy so really wraps around your foot and keeps it pretty secure.
It is also lightweight and very breathable. I did some track workouts in the shoe in temperatures of up to 25°C and did not notice any hot spots or excessive heating whilst training in the shoe.
The material is also durable, and after over 50 miles in the shoe, it looks just as good as when it came out of the box.
The Hypoknit upper is stretchy, breathable and light.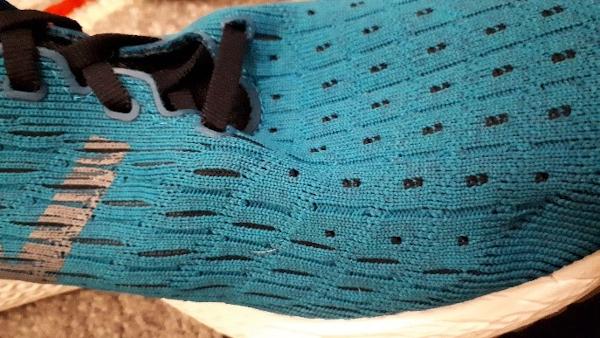 Heel
The heel of the shoe is made out of the Hypoknit material, but I was slightly disappointed with the lack of support the heel area offered. Whilst my foot didn't feel like it was pushing out of the back of the shoe, I think that New Balance may have left some rigidity out of the heel in an aim to save weight.
For races, tempo workouts, or shorter speed work, the heel support is perfectly adequate. However, for longer or considerably slower runs, I could feel that support was lacking in this area.
For prominent heel strikers, I would consider what length of runs you are doing in this shoe. For forefoot runners, the heel support is certainly sufficient enough to help the performance of the shoe.
The New Balance logo is reflective. The black and blue knitted material gives the shoe a sleek appearance from behind.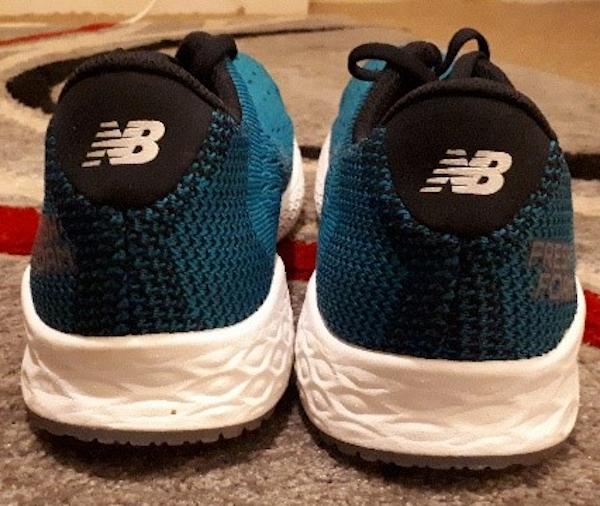 The New Balance logo on the heel is reflective, which adds a nice safety element to the shoe and looks good at night. The heel area has black and blue material knitted together, which certainly looks good and helps the seam at the back of the heel blend in.
Tongue
The Zante Pursuit has a gusseted tongue (which means that it is sewn to the upper). This is an interesting choice by New Balance but is one that I think works well. It certainly makes your foot feel more secure in the shoe and does a brilliant job of keeping any grit and debris out of the shoe.
The tongue is black, which matches the laces and adds differentiation to the blue upper. It is also a nice transition from the black inner.
The tongue has a reflective panel at the top, which contains the New Balance logo and a couple of the shoe's features. The reflective decal looks good in both the day and night with the silver also matching the silver New Balance logos on the upper.
The one problem I did find was that the tongue and lacing system was hard to get right. The tongue isn't padded, so if you tie the laces too tightly then you can feel it whilst too loosely and your foot slips a little bit. This isn't anything major but may see you retying your shoes a couple of times at first.
The logo on the tongue stands out in the dark and looks good when running and when looking at the shoe.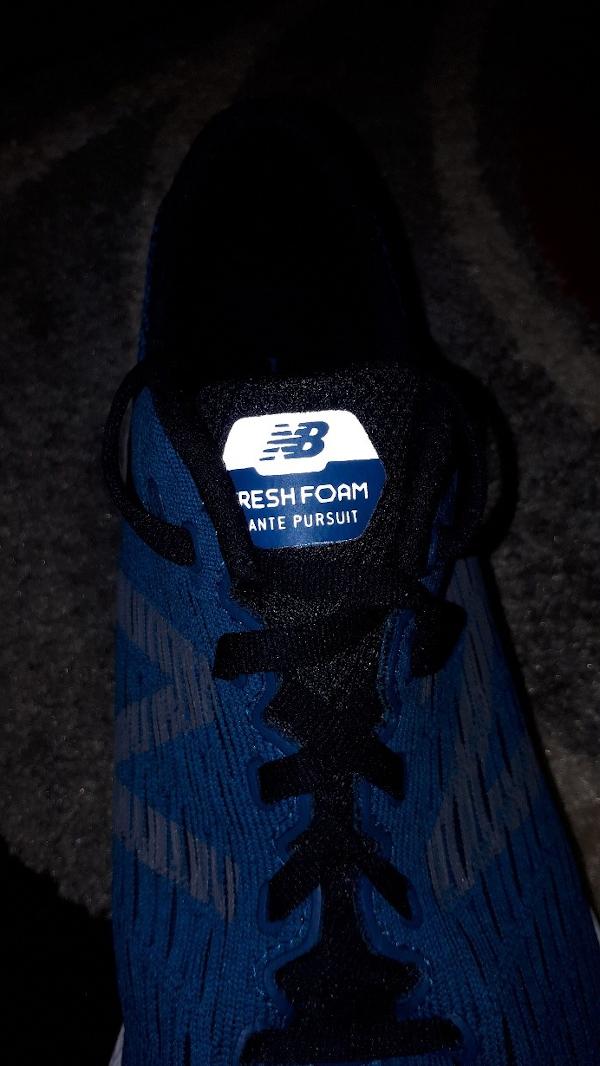 Toe box
The toe box is large enough for people with wider feet whilst also hugging thinner feet. It allows room for your toes to splay, which is important when running.
The Hypoknit material is stretchy, allowing for a wide variety of feet widths. However, I would say that people with thinner feet may feel more comfortable in this shoe.
Crucially, I didn't experience any sort of rubbing even whilst wearing thin socks and my foot did not slip around within the toe box.
The toe box is roomy without it being excessively wide. The upper helps keep your feet secure.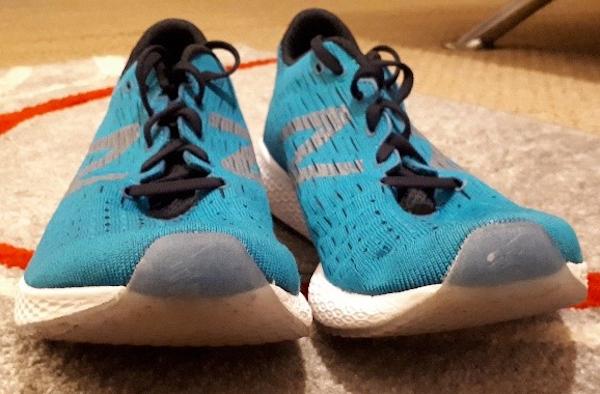 Outsole
One of the key features of the Zante Pursuit is the translucent rubber outsole. This does look very cool, and I was surprised that it didn't pick up dirt either.
The tread in the outsole isn't the most substantial, so I would definitely recommend sicking to roads in this shoe. The tread is perfectly sufficient on wet roads or a dry running track.
But, I did slip a couple of times on a very wet running track when starting reps. Once I was moving in the reps slipping was not a problem.
The rubber appears to be durable with not much visible wear after 50 miles of road and track running in the shoe. This seems promising, even for someone who pronates like me.
The outsole is shaped around the transition through the stride (it slopes upwards towards the toe). This is effective in transitioning through the stride and pushes you onto your toes more, which is good for fast running.
I ran a 10k race in these shoes and did not feel that they were too tapered even over that distance.
The outsole is durable and doesn't attract excessive amounts of dirt.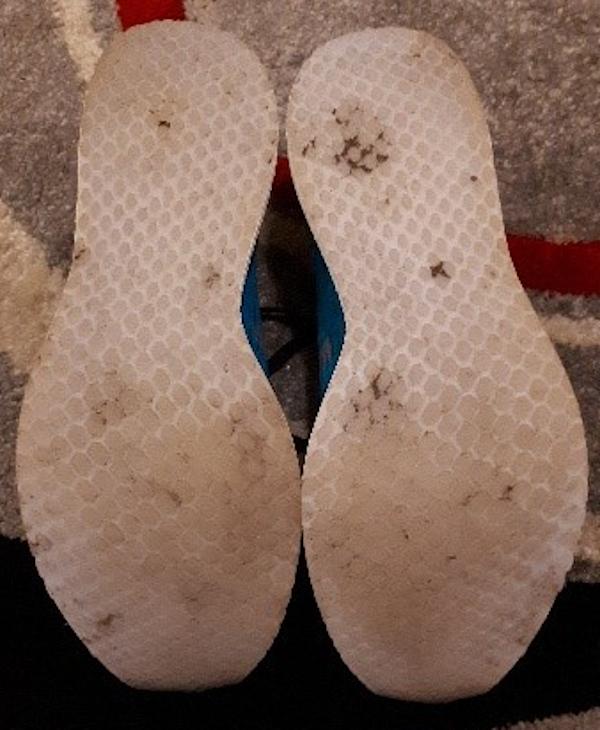 Midsole
The midsole of the Zante Pursuit is laser-cut to offer extra protection to the foot and is made out of the Fresh Foam. This is my first experience of running in the Fresh Foam, and I was impressed by the cushioning that it offers for the low weight.
I would be happy doing longer tempo runs in this shoe in addition to speedwork or races. My legs did not feel beaten up after running in the shoe, which I attribute to the good amount of cushioning in the midsole.
After 50 miles, the shoe still feels cushioned and more importantly for a speed shoe, responsive. It is rare to find a shoe that is both cushioned and responsive, but the Fresh Foam midsole achieves both of these with the additional bonus of being light.
I would normally say that 6mm is too small. However, with the tapered toe section, I found that this is sufficient to push you forward.
The midsole is a good thickness and is rockered to push you through your stride.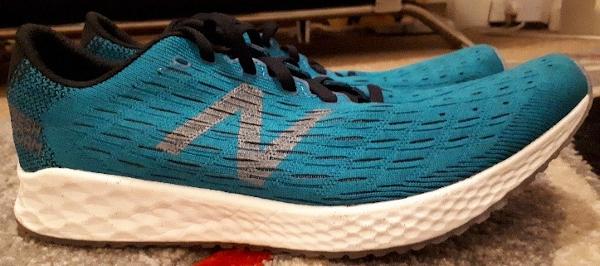 Overall
Overall, I am a big fan of the Zante Pursuit. They look cool, they feel cool, and most importantly, they are fast. The tapered outsole shape provides a good transition through the stride whilst the Fresh Foam laser-cut midsole is lightweight, responsive, and supportive.
In fact, that was one of my favourite features about the shoe—the responsive cushioning. The hypoknit upper is a step forward in upper materials and hugs your foot to make you feel like you're wearing a sock. It is breathable, lightweight and looks good.
I would recommend the shoe to most runners, specifically to people who are wanting to chase down PBs or who want a shoe that is fast for speedwork and tempos but won't take too much out of your legs.
It is purely a road shoe, and you can tell when running fast that it has been designed exactly for this.
| | |
| --- | --- |
| Pros | Cons |
| Lightweight | Sole doesn't provide amazing grip |
| Cushioned but responsive | Struggled to tie the laces in a way that secured my foot |
| Looks good | Heel lacks support for longer runs |
Now, I am a pretty logical person. I know what I like and like to think that I know the sort of trainers that suit my running style.
If you have read any of my reviews before, you would know that I strike with my forefoot and have struggled with finding the right shoes to enable me to run efficiently and without the issues of lack of cushioning on the forefoot.
Normally, the shoes I find suit me most are the ones that are more flexible in the forefoot and those on the cushioned side of the comfort scale.
Although thinking I know what I want, I am also always open to being convinced that what I believe is true may not be. And this is what these shoes have done during 75+ miles I have trialled these for.
Out of the box
The shoes I received were the teal blue versions, and what is striking is that there is a lack of seams over the whole of the Hypoknit upper.
This lack of seams is going to be good news for those of you that suffer from blisters from rubbing. The lightweight material feels a lot thinner and lightweight than the material used in the Nike Flyknit range of trainers.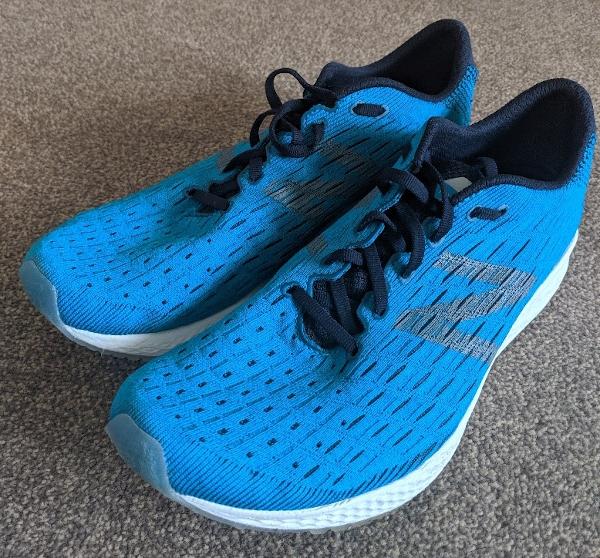 The other things that you will notice are going be the laser cut single piece Fresh Foam midsole and the translucent single piece outsole.
This outsole makes the sole of the shoe quite stiff. Thus, it puts a niggle of doubt in my mind as to whether these shoes would be suitable for my running or not.
The combination of lightweight upper, mid, and outer sole results in a shoe that is lightweight at around 210g and feels well-balanced in your hand.
Hypoknit upper
As I previously mentioned, the Zante Pursuit has a Hypoknit upper, which follows the trend of many of the manufacturers looking to make lightweight and seamless uppers.
The success of these has been varied across brands, with a recent review of the Under Armour Phantom SE showing that this needs to be executed well for the benefits to be shown.
The Zante Pursuits feel like they have executed this perfectly. They have quite a bit of stretch, and it is easy to get a good fit by tensioning the laces depending upon the shape of your foot.
The heel cup of the shoe is lightweight and minimal, but very effective. I have never once felt like the shoe has been loose on my foot, and this is probably helped by the sock liner style tongue that aids to hole the foot into the shoe securely.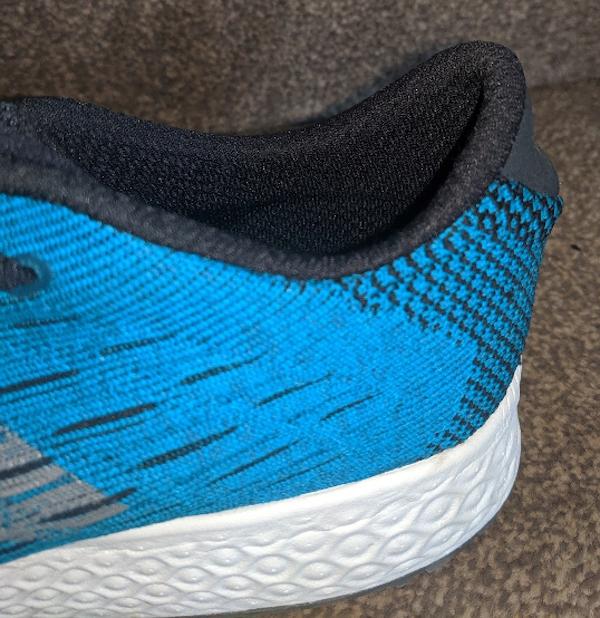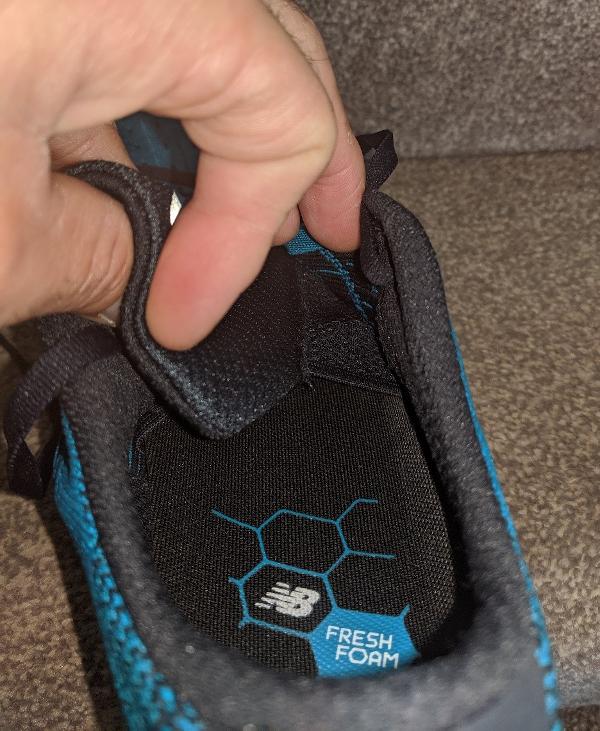 My initial run in the Zante Pursuits did reveal that I needed to lock my foot in using the extra eyehole on the shoe cuff to ensure that my foot did not move forward in the shoe.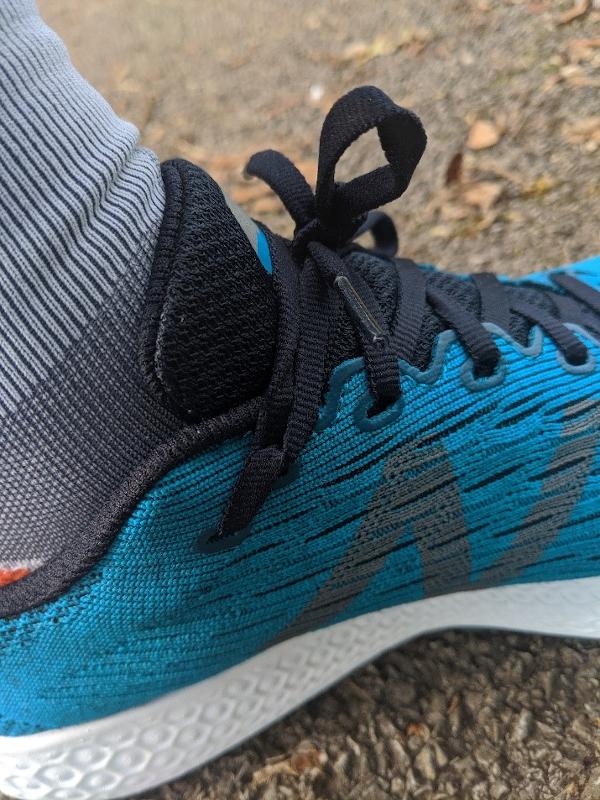 This is nothing to do with the design of the shoe, but more to do with the way my foot strike results in my foot moving forward in the shoe during slower runs. I have found this in the past with shoes, especially with the flywire type of lacing.
Fresh Foam midsole
The Fresh Foam midsole is made from a single piece of foam. New Balance state that it has laser-cut perforations to add the design. What this means in real terms is that there is only one layer to compress.
When running, it feels like the impact is dispersed more evenly than I have found with shoes like the Pegasus 35, where I suffered from the airbag bottoming out and my feet feeling fatigued around the 13-mile mark.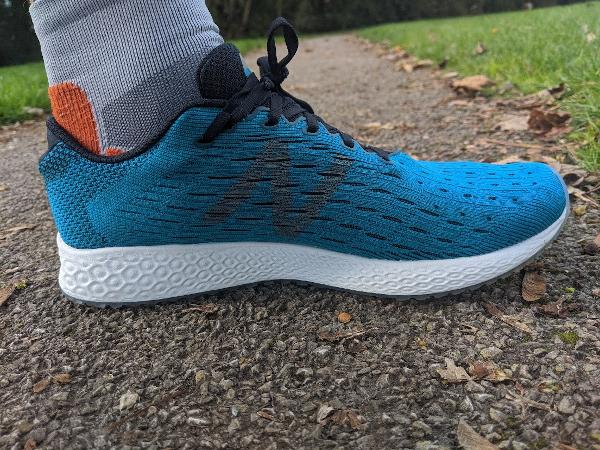 During my runs in this shoe, I have been surprised at how comfortable my feet have felt even during long runs in such a lightweight shoe.
Impact through the foot has not been an issue, and I have lacked any real pressure points that would indicate to me that there is a lack of cushioning in the midsole.
The sole that changed my mind
The sole of the Zante Pursuit was the part of the shoe that I was most curious about. Firstly, I was interested to see how the translucent sole would stand up to the wear and tear of the road and trails I run.
Any doubts that the sole would just discolour and be distracting from the shoe's good looks were dispelled quite quickly. Even after 75+ miles, they only show small signs of discolouration.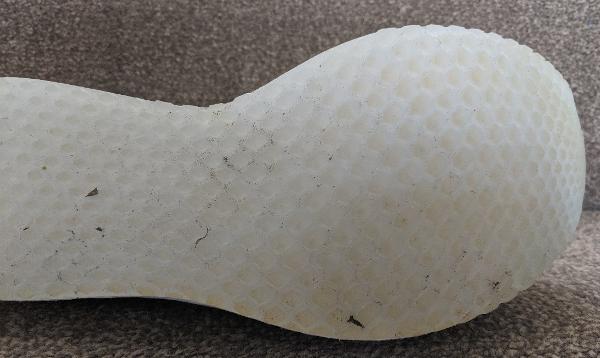 Secondly, the grip on the sole is the same pattern all over. So, it is not modified in any way for additional grip. Interestingly this works.
On tarmac and running in a straight line, there is no feeling of the sole catching on the surface, and your feet just roll through the strides. But, when it comes to corners, the grip seems to work, and there is no indication that your grip might fail.
Even now as the roads are starting to get slippery with the autumn leaves, I feel like I can run without being concerned that I may lose traction.
Lastly, the stiffness of the sole had me thinking that I was going to suffer from the difficulties I have experienced with stiff-soled shoes such as the Nike Flyknit Flyzoom and the Hoka Bondi 6. Both these shoes have caused hotspots on my forefoot and stop using the shoes for anything beyond 7 or 8 miles.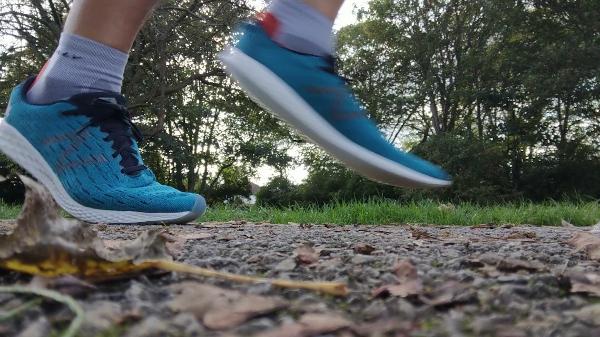 I need not have worried though, right from the first run it was apparent that the outsole flexes really well with the midsole and working together they give some snap to the return of the shoe and adds a bounce to your stride.
The results of this weren't apparent to me entirely until I ran a local 5k race in these having run the same route the previous month in a pair of Nike Flyknit Flyzoom.
Although I ran an almost identical time 18.59 Vs 19.01, the most noticeable thing was the fatigue I felt in my feet and the surefootedness I felt while running in the New Balance when compared to the Nike.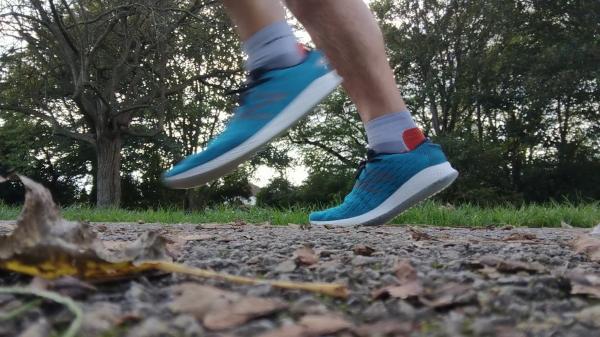 I'm sold!
There is only one thing that I struggled with while reviewing the Zante Pursuits, and that was trying to find something wrong with them.
I used to have a pair of Fresh Foam 1080 v7 as my go-to long run shoe, but they changed the stiffness of the sole in later versions, and I have drifted over to Nike as my usual brand now.
These shoes, however, have convinced me to give New Balance another go. I find myself slipping these shoes on for a lot of my runs now, and I aim to up the distances I run in these to see how they (or my feet) stand up.
If you are looking for a lightweight shoe that could also become a good, all-round shoe in your shoe rotation (if you have one), these could fit in perfectly.
They are lightweight, have a good grip, and also absorb the shocks from your miles of training, which can only be a good thing as we all know that if we can eliminate the fatigue from our training, then we can train harder and perform better.
Would I buy these?
Yes! I am convinced by these and will definitely look at replacing these with the same shoe once these are worn out. In fact, they have convinced me to try another pair of New Balance shoes.
So, I have a pair of New Balance Fuelcell Rebel in the post as I type this. I'll let you know how they work out!
I really like what New Balance did. They are my preferred brand for road running shoes, and I wanted to try out the Zante Pursuit as it advertises that they will enhance your run, based on data from real life runners.
As I have no arch in my foot, I have supportive insoles which have been heated, so they mold to my feet. Using these, I thought I would still be able to test the Zante Pursuits but also have the support for my flat feet through my insoles, (as the Zante Pursuit is labeled as a neutral trainer).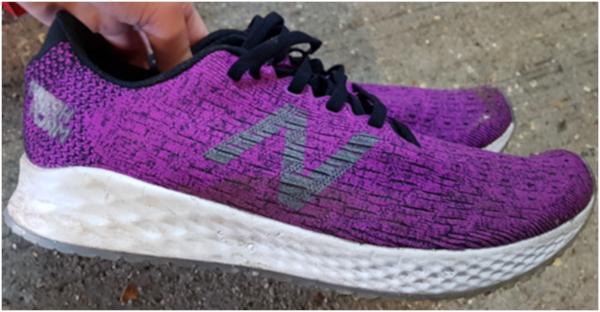 In my bid to help support my feet and try/create an arch in my foot, I have been using a lot of barefoot shoes as well. However, at the moment, I am training for the London marathon and will not be able to push my feet so far as to run in barefoot shoes for distances longer than 10 miles.
As a competitive shoe, and with around 3 months until the marathon, I thought it was a good place to start in trying the Zante Pursuits, as they could shave off some time for the marathon!
Tech Specs
| | |
| --- | --- |
| Terrain | Road |
| Arch support | Neutral |
| Use | Competition |
| Weight | 173g |
| Heel to toe drop | 6mm |
| Width | Normal, wide |
First impressions
Love the color! The upper material is soft, thin and looks very breathable. These are also very light. The heel looks larger than previous road shoes I have run in but is actually 2mm lower than my New Balance 860 v9.
As a runner who looks for support, these shoes look like they will provide me with comfort, but I am apprehensive on its stability. When I put these on, they did feel quite different from my New Balance 860 v7 and 860 v9.
The heel seems to lift you slightly. This may be a good thing and allow me to forefoot run more. Overall, the upper material felt like it hugged my foot.
Upper & comfortability
The material is made from Hypoknit and is designed to provide specific areas of stretch and support. The material did feel like it molded around my foot, and perhaps this is why they felt snugger on the sides of my feet compared to other trainers.
However, it did not feel as stable as my 860 v9, and so I was unsure if my feet would cope with me taking these out on longer runs (over 5 miles).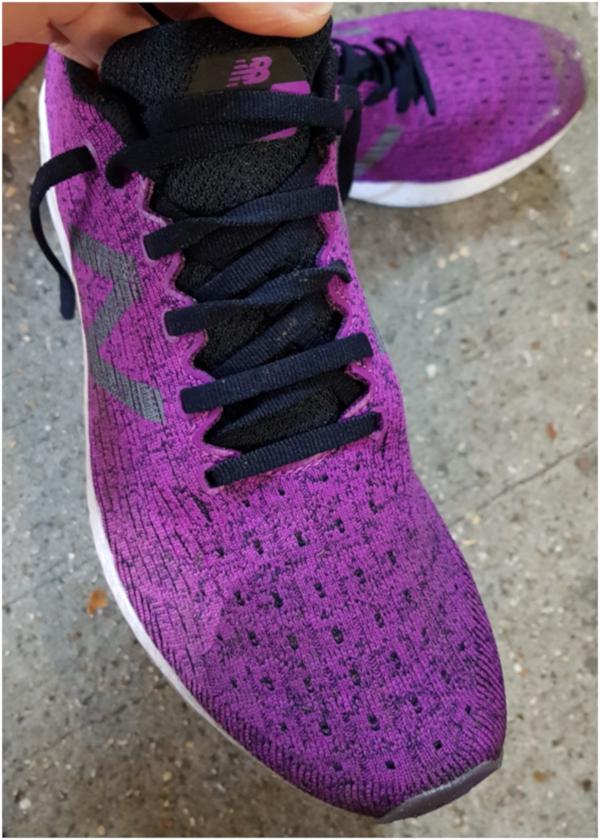 At 173g, these are a light running shoe, and definitely the lightest I have run in. You do feel the light nature of these. I felt a bit like I was running on air at times especially when you run downhill. I did feel like I would lift off at a couple of points.
Laces are as standard, and as you can see from the photo, I always lace my running trainers, so they prevent from bruising of my nails. It's effortless to do this on the Zante Pursuits, as with most trainers.
I would say that the collar is not as supportive as other trainers. It is a little lower, and not as thickly cushioned as my 860 v9. However, I did not find this an issue when using these for road running and did not experience any ankle pain.
The longest distance I took these on was 10 miles though, so unsure if further mileage may need more support.
Midsole & cushioning
These shoes do feel really cushioned. I think due to the Hypoknit, and the Fresh Foam. The only negative I have for these shoes is I do not know if they would provide me with the support I need for longer (marathon) distance, such as my 860 v9 or 1500v4.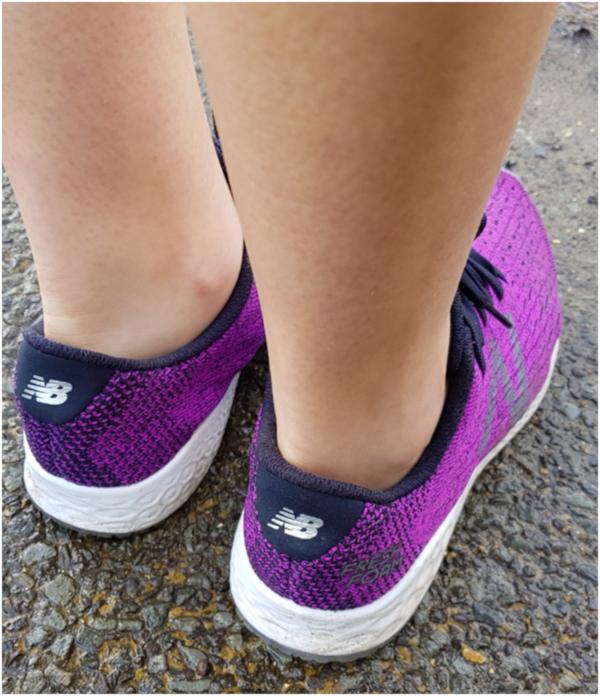 I need the stability due to not having an arch in my foot, and it does feel that with the Hypoknit, it can let your foot "roll" so you may end up over/under pronating. I think it would be absolutely fine though to use the Zante Pursuit on a rotational basis with other shoes.
These are the shoes that do provide support if you have flat feet, tend to over/under pronate, as this is what I did when testing these shoes, and I didn't seem to have any issues. They are a very comfortable shoe to run in though, that's for sure.
Widths & sizing
These come available in normal and wide. If you feel like these are too narrow for you, you can try the wide version. I do have flat and wide feet though, and the normal was fine for me.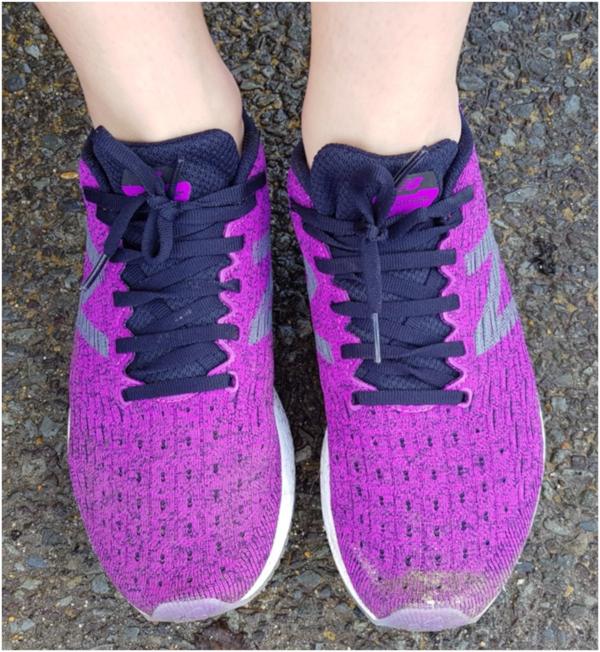 With regards to sizing, I ordered my normal size 8 in these, and they fit fine. These are half a size bigger than my actual foot size, but I always go up half a size when buying running shoes.
As above, the only negative is that the Hypoknit may not provide enough support especially if you do have wider feet, as they do hug your foot, but don't prevent it from 'spilling' over.
Heel
These shoes are no doubt for road running. Makes you feel super light in road running. I think this is due to the Fresh foam heels.
As I have never run in Fresh foam before, I can completely agree with the hype and felt the difference compared with my1500 v4 and 860 v9.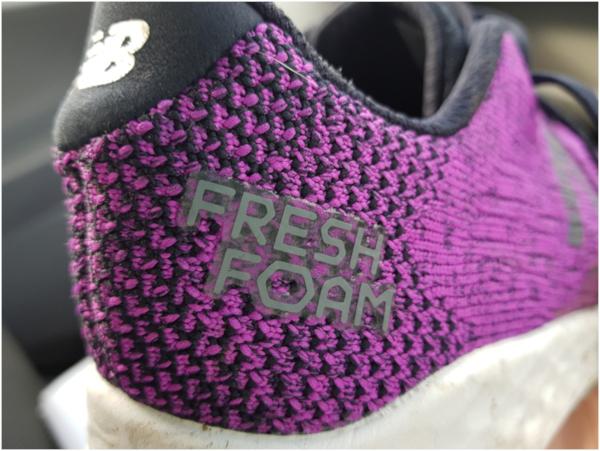 The heel to toe drop is 8mm. It's 2mm lower than my 860 v9. At 50 miles use, the wear on the soles of the shoe hasn't reduced as you can see in the photo below. Therefore, the soles quite durable.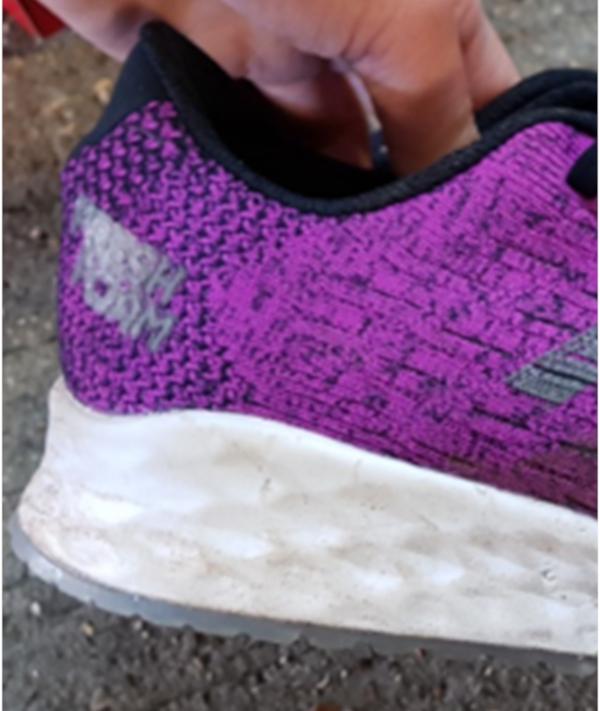 Outsole
The outsole of the shoe is made out of rubber, which is lightweight and provides grip. I don't believe having this extra grip through extra material reduces the lightweight nature of the shoe in any way.
Although I haven't actually tried these out of any race events, they definitely feel like they would shave off some time compared with my 860 v9, and even my New Balance 1500v4. I don't believe this affected my running in any way and didn't notice a difference through running in the Zante Pursuits.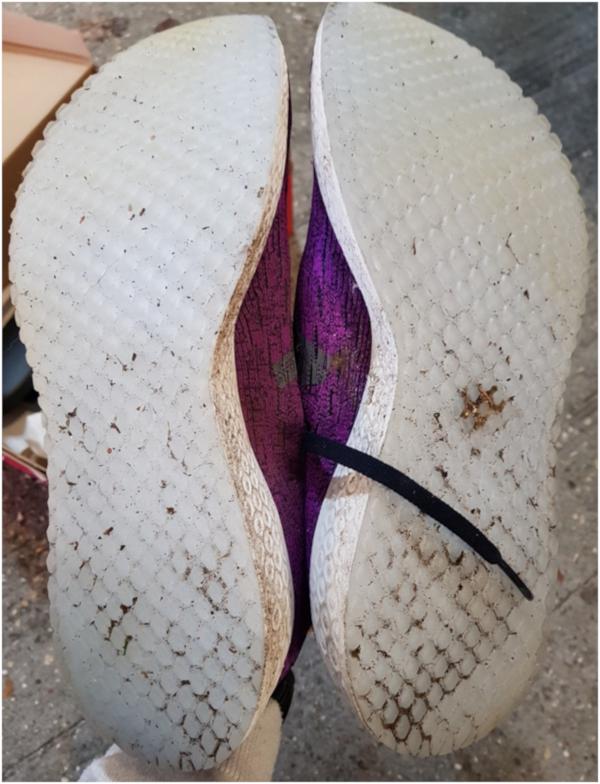 Flexibility
The toe flex is also very stiff, but I am used to this from New Balance. I didn't find this a problem and the toe box is wider as well which they claim makes your toes splay out more.
I like this as I have been reading more about barefoot running, and this is recommended - so it's a plus from me. I didn't have any toe pain, and also didn't get any blisters, which is something I was wary of without the support of the built-in arch that I have from my New Balance 860 v9.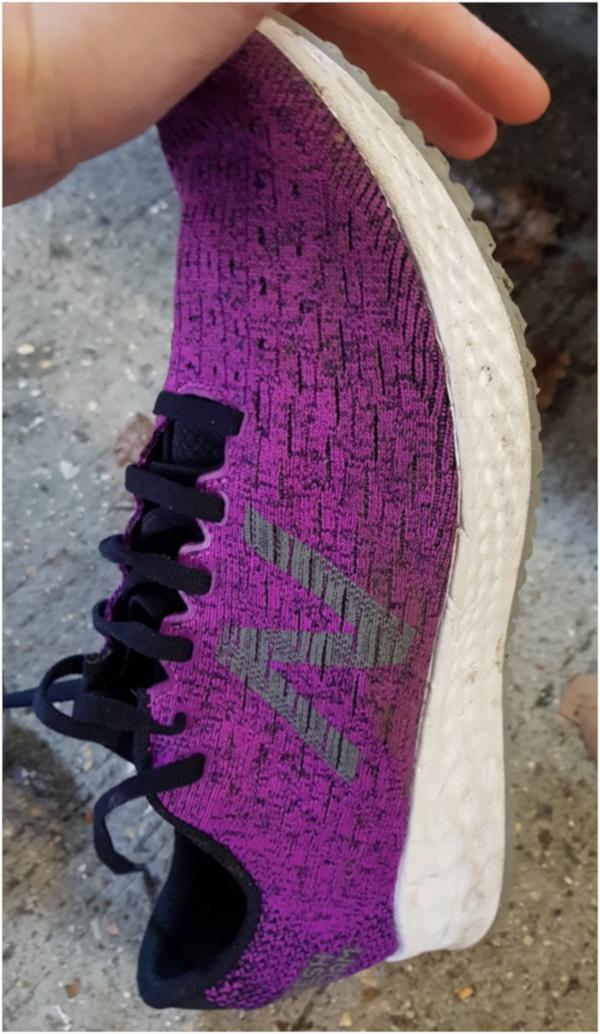 Variation
They come in 5 different colors for women and 5 for men. This is a good variety of colors from bright purple to pale grey.
They also come in wide and normal fit. And with the Hypoknit, I think would suit most foot shapes.
Price
As the Zante Pursuit are quite new to the market, the price tag reflects this. However, I believe they are extremely good as a competitive shoe, which is what they are designed to do.
Most people are willing to pay higher prices for a shoe that will provide them support, comfort, and of course, help with reducing their times. I would say the Zante Pursuit does all that.
So, I would be happy to pay this price. But I am also sure the price will come down the longer they have been on the market.
Pros
Very comfortable
Reduction of blisters
Dry quickly
Cushioning is snug
Colors and design is eye-catching
Cons
Slightly expensive
Not sure if support is provided for longer distances
Not preventative of weather elements reaching feet
Upper and comfortability
Midsole and cushioning
Widths/sizing
Heel and outsole
Variation
Price
Summary
As a flat-footed runner who is looking into barefoot running more and more, I was worried about the neutral support of these shoes. However, New Balance Zante Pursuit does exactly what they say on the tin.
They make you faster; they make you feel like you are running on air. They pushed me to forefoot run more, which is something I am trying to do, and they were extremely comfortable.
The longest run I took these on was 10 miles, but I could have taken them out for a half, as I didn't have any qualms by 10 miles. They didn't give me blisters as I thought they might have done without the support and no heel or toe pain.
If you want a trainer that will help you competitively, I would recommend these. If you do lack an arch, just rotate these with other supportive trainers to ensure you aren't constantly running without the support.
On a leisure level, I would actually wear these shoes on a daily basis, especially in the taupe color for women
I was waiting for something like this for some time, and then actually missed the release of this shoe. After a long road running romance with my old Fresh Foam Zante shoes, Zante series won a place in my heart as a super comfy shoe for daily training and races.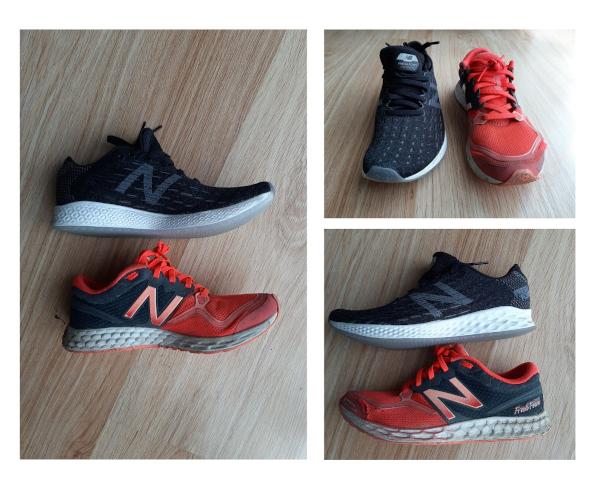 Some previous models looked kind of bulky, but Pursuit takes it back to slick and classy look, what is exactly what I'm looking for. Comparison with old and new ones—it is evident that those were one of my favourites as they are run until holes started to appear.
Design & overall impression
The shoe is very light (173g, lady size 38 EU). The overall design is classical and very unified—most elements are one-piece (upper, outsole, midsole). The first impression—the shoe is well-made, in a good proportion (against the current trend of bulky soles).
The Zanre Pursuit is true to size. In an aspect of width, I got regular version, but also, a wider version is available.
Similarly, as with my old ones, there was no time necessary to break them in. Therefore, there is no need to reschedule the training plan when starting with these.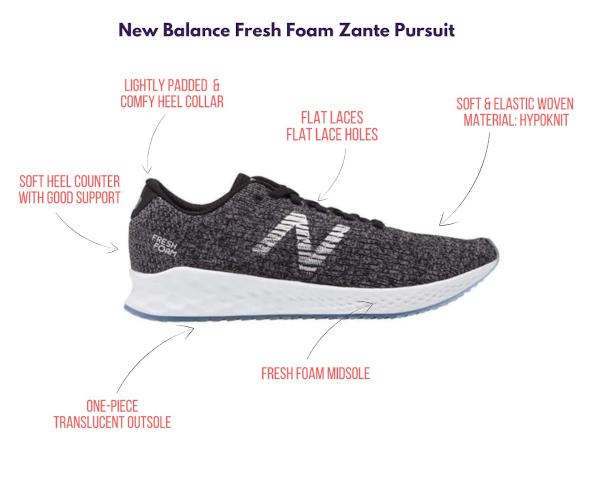 Upper
The one-piece upper is made out of woven material (Hypoknit). The toe box part is stretchy, giving some natural movement to the toes, yet it is enough to keep feet fixed.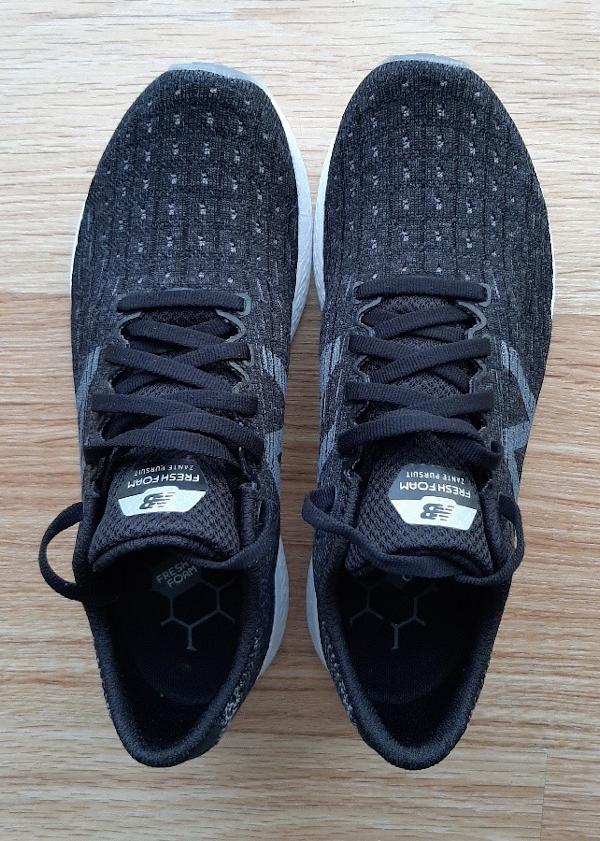 The material is breathable. Therefore, it might not be the best option for late autumn and early spring, when it is still quite cold.
I was delighted with heel counter and collar, lightly cushioned and moderately firm, still provides enough support and padding to avoid any discomfort. The heel is usually one of the parts that get pain with new shoes—not with these.
For those runners who prefer very firm or multilayer heel support, I would suggest looking for an alternative model.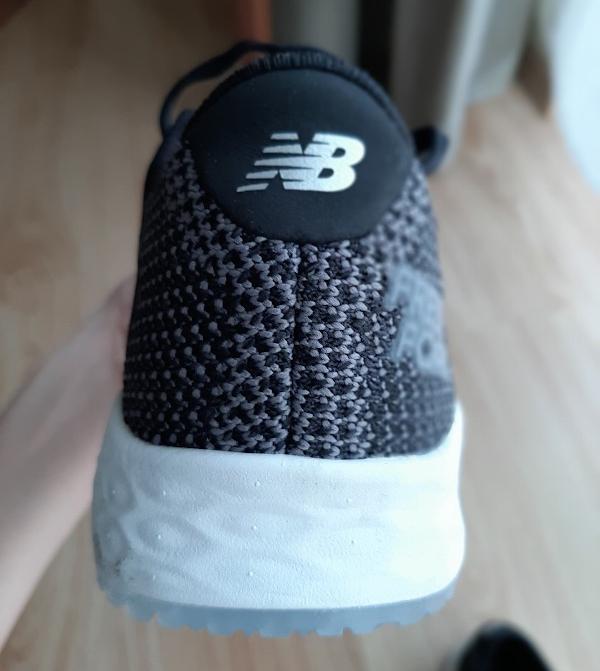 The tongue is thin, linked to the sole by elastic fabric. Laces are flat. Also, the lace holes are flat, which helps laces to sit in the correct position. Hence, these do not tend to untie.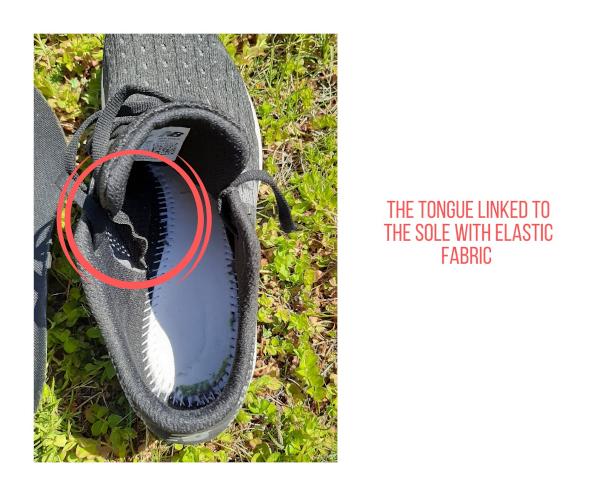 Soles
The one-piece midsole is made out of fresh foam. The midsole is thin but cushioned. New Balance says sole is even laser-etched to enhance cushion and keep the shoe lightweight.
Sounds like from sci-fi movie, but I guess they actually found the way to make this thin sole to be responsive and make a shoe itself fast.
The outsole is made of translucent rubber, needless to say—also a one-piece element. The outsole looks trendy and nice. It supposes to be more durable than previous versions, but I have noticed that bit of a pattern got off on the outer heel sides pretty quickly after around 50-60km.
Those may be just edges affected that usually goes off very quickly, will see. Other than that, traction is good on pavement dry or wet.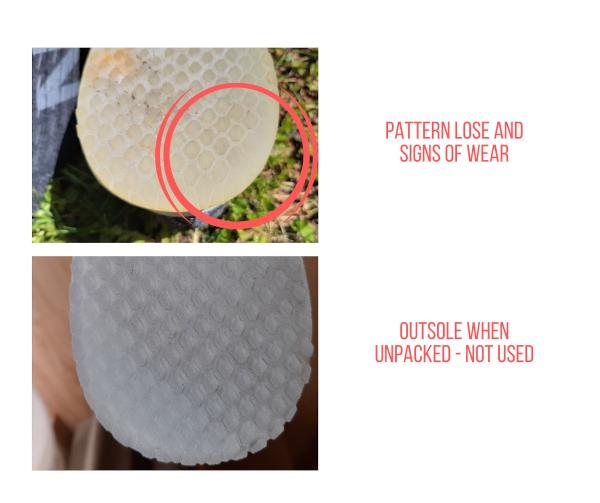 Terrain & ride
As I take rides on diverse terrains, I also gave the shoe a try in a forest and on gravel. Sure, this is a road shoe and a very good one. It is not that bad on trails, but not that great on gravel as it has little protection in upper construction—rocks will get you.
For the road running this is a great choice. I have used the shoe for 5-15k trainings, and the longest distance run was 20k, also, during 20k, no pain or weird notions to my feet, ankles, knees, or back.
After a long-distance, it is great to actually not feel the weight on your feet when you start to get a bit tired. The shoe will be the best solution for fast training runs and races up to half-marathon.
However, I could not recommend longer races as I have not tested shoe for that length.
Specification
Weight: 173g per shoe (size 38)
Drop: 6mm
Width: Regular (also available: 2E – Wide)
Upper: Hypoknit, engineered mesh (single piece)
Midsole: Fresh foam (single piece)
Outsole: Translucent rubber (single piece)
Laces: Flat
Advertised advantages: Lightweight, fast, responsive
Summary
I honestly think that this is one great deal I got. I found a perfect offer ~60 EUR. This model is perfect in terms of comfort. If you are a road runner and comfort is the main criteria for a running shoe, this might be one for you.
I still have some doubt about the durability of the shoe, considering that many elastic woven toe boxes wear off very fast. Time will show, but even though, I think that price-performance is excellent.
Pros
Light & fast
Classy & neat design
Super comfortable—no break-in time needed
Great price-performance ratio
Available great deals at ~60 EUR
Cons
Doubts about durability
Some wear marks on the outsole
Marketing, marketing, marketing it's everywhere.
So often pre-conceived ideas about running brands can cloud one's judgment when searching for a new trainer.
Clever marketing regularly plays a part in our purchasing patterns and because of this, there are many running shoes that may well pass us by.
When RunRepeat offered me the opportunity to try the New Balance Zante Pursuit it enabled me to step into a shoe and that whilst not necessarily my first brand choice, has certainly made enough noise to grab my attention over the years.
However, the important question is - could this shoe have me on the Zante pursuit in the future or not?
Shoe specs
| | |
| --- | --- |
| Brand | New Balance |
| Model | Zante Pursuit |
| Weight | 241 grams |
| Heel drop | 6 mm |
| Midsole | Fresh foam |
| Outsole | Translucent rubber |
First impression & appearance
The Zante Pursuit is modest in its appearance boasting a minimalist yet vibrant appeal.
On unboxing it is their eye-catching colour scheme that immediately stands out, not to mention the noticeable lightweight feel as you first pick up the shoes.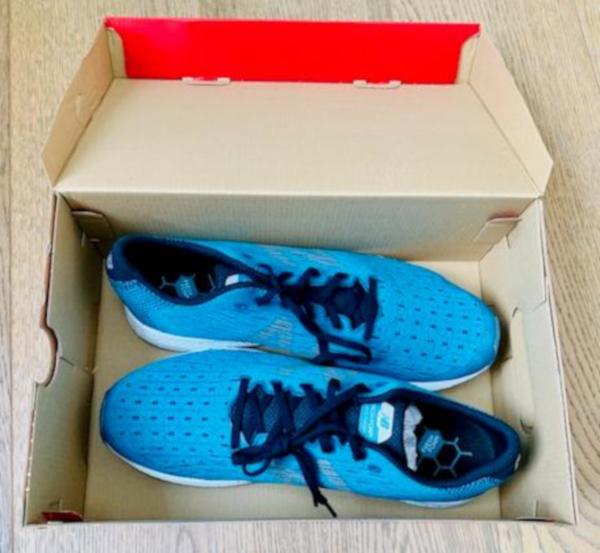 It is clear from first impressions that this shoe is built for speed. Every aspect of the design appears to be focused on maximizing speed efficiency from the light weight stretchy upper to the lightweight outsole.
It is a testament to the design of the shoe that I can already envisage my first personal best in these shoes and I haven't even tried them on.
Comfort & fit
The Zante Pursuit feels as good on the feet as they are easy on the eye.
It is apparent even from their appearance and touches that the Hypoknit material being both malleable and stretchy, is an ideal combination for comfort.
The fit around the midfoot does feel extremely snug, however, even as a runner with a wider foot the stretchable quality of the hypoknit still allows an extremely comfortable fit.
The toe box again offers a compact fit but with a reassuring comfort and wiggle room which is in keeping with the entire theme of the upper.
Upper
As mentioned above, the upper itself consists of a hypoknit synthetic mesh which is designed to provide stretch and support. It is extremely stretchy and lightweight, so much so that you could be forgiven for thinking that you are wearing a sports sock; such is the snug and lightweight fit around the foot.
The shoe itself is also extremely breathable thanks in part to the horizontal laser cuts emblazoned into the mesh which means that your feet remain well ventilated which is great during the summer months.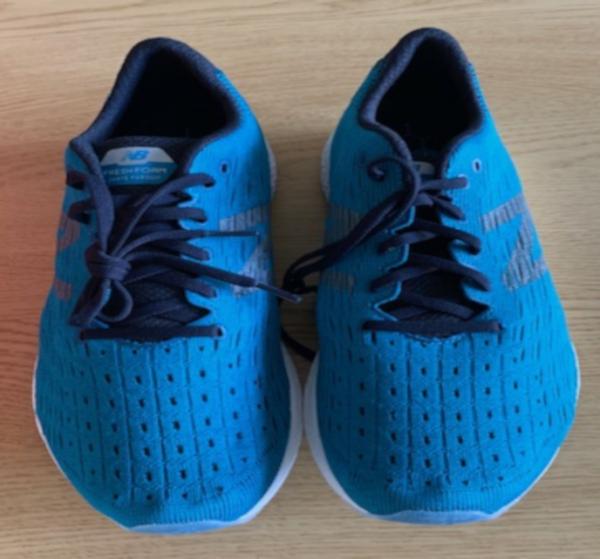 However, the comfort, lightness, and breathability do come at a slight cost as the Zante pursuit really isn't built for the elements. Any prolonged deluge or splashing through puddles is likely to mean that your feet/socks will be at risk of becoming wet.
As a runner living in Wales and who really feels the lower temperatures, I have experienced times when my feet have been extremely wet and painfully cold. Heavy cold feet are not the best combination for moving quickly so you have been warned.
Midsole
The Midsole consists of the New Balance Fresh foam and whilst this offers sufficient cushioning you certainly experience a firmer ride within this shoe than many other shoes on the market.
Thanks to a 6mm heel/toe drop your foot is closer to the ground than in most standard running shoes and I can't deny it feels that way however, for me this is a positive.
What I love about this midsole is that I find myself landing more on the midfoot and forefoot thus propelling me into the next step oppose to breaking.
Interestingly as a conventional heel planter myself there has been much debate over the correlation with speed efficiency and how one plants the foot on landing.
Whether that is on the heel or the midsole essentially determines the efficiency of the transition into the next step. The Zante pursuit certainly allows me to run in a more efficient style.
The shoe is also designed in a rocker shape which means that it offers responsiveness and forward momentum which might also explain my transition into a more efficient runner and faster runner.
Undoubtedly this shoe is the most minimalist shoe I have worn to date; it is stripped back and offers an effortless simplicity with a raw and natural ride that I haven't experienced before.
If I could draw parallels, it would be akin to a sports car that has forsaken its buoyant suspension for a lowered, aerodynamic and faster performance.
With this in mind although the fresh foam offers some comfort very much like a sports car you might consider a more forgiving alternative for anything longer than a half marathon.
Outsole
The outsole of the Zante pursuit consists of translucent rubber. There are no bells and whistles within the design of the outsole, however sometimes the notion of' keeping it simple' can offer more than overly complex designs.
In the context of 'keeping it simple' the outsole, therefore, is the one aspect of this shoe that took me by surprise.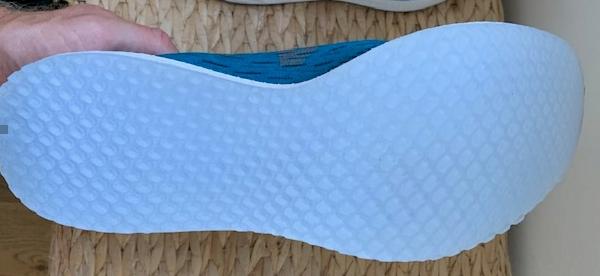 To the naked eye they appear basic and because of this provoke small doubts that perhaps the shoe may not offer sufficient traction for the more challenging surfaces such as wet, steep, etc.
However, on closer inspection, the outsole features slightly raised ridges and grooves that provide reassuring traction. I have run in these shoes of multiple terrains and distances and have felt nothing but balanced and secure underfoot.
Performance
This shoe is undoubtedly made for speed. It is light and comfortable with an impressive energy return from the minimalist yet responsive fresh foam midsole.
It is no coincidence that my first outing in the Zante pursuit which was incidentally intended to be a slow recovery run found me morphing into Mo Farah such is the speed orientated design of the shoe.
I find the Zante Pursuit well suited for most distances particularly 5km to half marathons, however, due to the minimalist cushioning I do find that you start to feel the impact on the soles of the feet over longer distances.
That said I don't think I have tried a better shoe yet for the shorter distances. This shoe is ultra-responsive and when you need that extra kick the Zante pursuit is the shoe for me.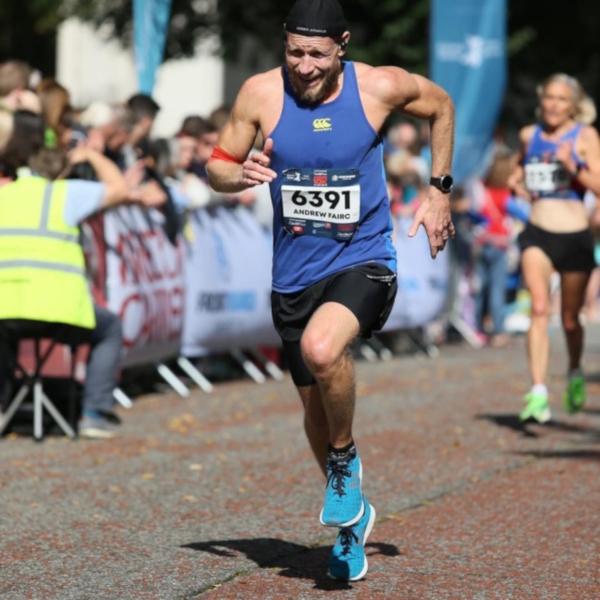 I opted for the Zante Pursuit as my choice of trainer to bring me my 10 km PB and I wasn't disappointed as I cruised to a sub 40.
The Zante Pursuit essentially brings together all the qualities that any runner looking to improve their speed efficiency would look for. That is comfort, lightweight, and responsiveness.
The rocker design makes each step feel full of momentum and for that reason is it difficult not to get the best out of the shoe.
I genuinely enjoy running in these shoes but I am selective over when I slip them on as I do not feel that they are an appropriate choice for those longs arduous training runs.
However, if you are looking for that PB you might want to be on the (Zante) pursuit for these bad boys!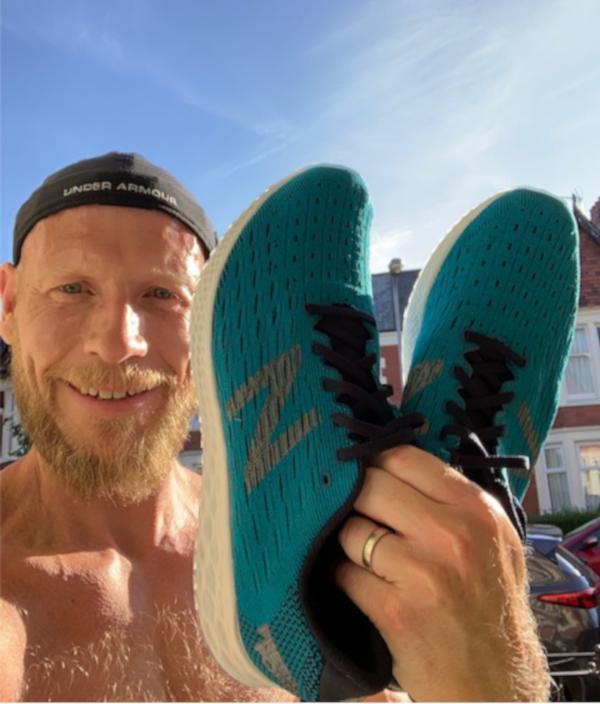 Pros
Lightweight
Extremely comfortable
Fast
Cons
Cushioning effect limited over longer distances
Not waterproof
Conclusion
In summary, The Zante Pursuit is a great running shoe. Not only is it easy on the eye but they deliver speed and comfort that I find really impressive. This is reflected in the fact they brought me a PB in my first race.
If you are looking for a fast, lightweight comfortable running shoe that is ideal for summer running and/or treadmill sessions the Zante Pursuit is a shoe I would seriously recommend.
Just remember that your feet might get a little wetter if you are running in the rain but in all seriousness who cares if you are getting to the finish line quicker anyway?
Being similar to my favourite running shoe the Adidas Ultraboost Uncaged, in their lightweight yet cushioned design, I was keen to give New Balance's Fresh Foam Zante Pursuit a try.
Key features of this shoe include the 6mm drop and use New Balance's innovative HypoKnit upper, making it the natural follow to the original Zante trainer.
With an RRP of £110, they are often reduced to around the £60 mark meaning this shoe is reasonably inexpensive in comparison to similar substitutes.
The good
Along with the low price point, there are many features of this shoe that I loved!
These shoes are light given the cushioning they provide. At 200 grams (women's size 8) there are obviously lighter shoes available on the market, however, these shoes are undeniably on the lighter side.
This makes them perfect for racing in over 5km and 10km, as they provide a good balance between comfort and speed when covering these distances.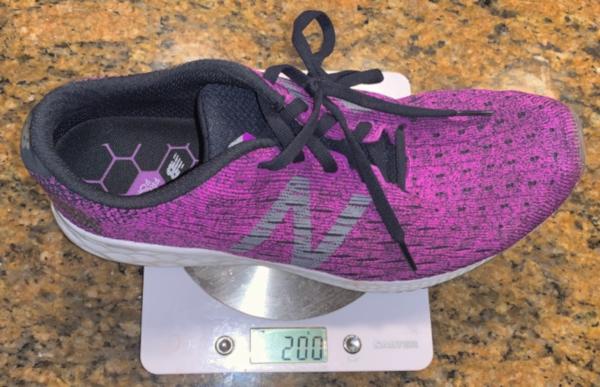 Another thing I really like about these shoes is the knit. New Balance's HypoKnit is soft and provides specific areas of stretch and support. It certainly gives the shoe the "support from heel to forefoot" the website claims.
Less relevant to the performance of the shoe, I also love the colour of the knit ('voltage violet' is shown in the photos).
They make them stand out, yet don't appear to look too muddy following a run. The laces are also another feature which I like, as they don't come undone, as I have found with many shoes.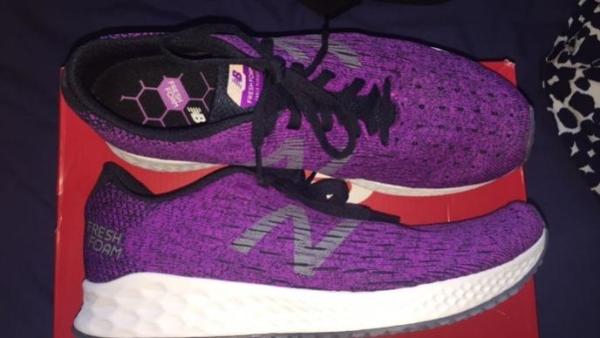 Most importantly these shoes are comfy to run in. On my first run, they immediately felt fast yet providing me with the right amount of cushioning to make my run feel smooth.
The fresh foam laser-etched one-piece midsole allows the shoe to remain comfortable over long distances, and the snug construction of the shoe around the heel gave me just the right amount of support. The energy return and responsiveness are also notable features of this shoe.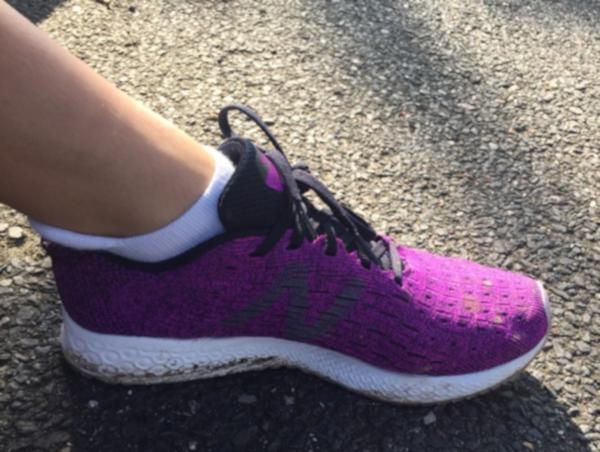 The disappointment
Despite having many features I loved, there were a few disappointing features that let this shoe down.
The fit of this shoe was extremely narrow. Although the shoe became wider at the toe box, it wasn't wide enough to give me enough support under the ball of my foot.
This led to me leaning on the outside of my feet while running, so avoid this shoe if you don't have narrow feet!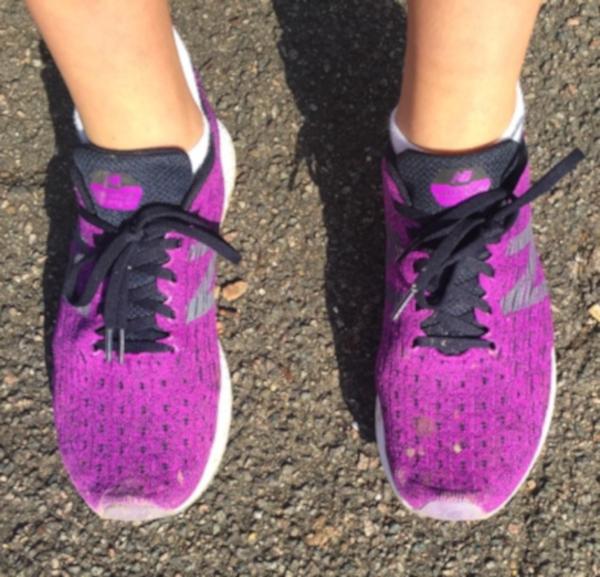 The grip on this shoe was also a bit disappointing. The translucent rubber outsole was one of the shoe's key advertising points, yet when it came to running on a rainy day I found myself lacking stability and grip on the road.
The outsole also wore down after a few runs, so much so that I found them slippy even running on a treadmill, and lacking friction between them and the ground even when the ground was dry.
Conclusion
If the narrow fit of the shoe fits your feet well, these shoes successfully manage to combine features of a light-weight shoe while having comfort also at the forefront of the design.
However, the lack of durability of the outsole leaves the well-designed shoe falling short of its potential.
Updates to New Balance Fresh Foam Zante Pursuit
The New Balance Fresh Foam Zante Pursuit is the new running shoes under the Zante line. The shoe features a design similar to the Zante 4, but it has a much lighter and faster feel. It is packed with technologies that are made based on data from real runners.
In the upper of the Fresh Foam Zante Pursuit road running shoe is the HypoKnit material. It gives the foot a very light and breathable coverage. Its cleatie construction and no-sew design give the foot an irritation-free environment.
Just like the New Balance 1080 v9, this lightweight running shoe uses the notable Fresh Foam midsole material. It has been modified with laser engravings for a smoother landing.
In the outsole of the New Balance Fresh Foam Zante Pursuit is the full-length translucent rubber material. It is thin and lightweight but durable enough to protect the outer sole from abrasion. It also gives a reasonable amount of grip for road running.
Size and fit
The New Balance Zante Pursuit runs true to size. It is available in standard medium and wide sizing for both men's and women's versions. It also has a roomy toe-box that allows the toes to splay whenever necessary.
The HypoKnit upper wraps the foot comfortably, and the overall fit, from the heel to the forefoot, is snug as well.
Outsole
Designed for the roads, the New Balance Fresh Foam Zante Pursuit uses a rubber material in its outer sole. The lightweight, translucent rubber covers the entire outsole to provide durability. It also gives grip and additional cushioning to the foot.
Midsole
In the midsole of the Zante Pursuit is the innovate Fresh Foam technology. The Fresh Foam is a midsole compound formulated by New Balance to give runners a more comfortable and durable underfoot cushioning. This lightweight, single-piece midsole foam is designed for a fluid, smooth, and more natural ride.
The running shoe also has a removable molded sockliner which provides additional underfoot cushioning and enhances overall fit.
Upper
The HypoKnit is one of the highlights of the New Balance Fresh Foam Zante Pursuit. It is a lightweight and breathable upper material that keeps the foot well-ventilated through the run. There are enough perforations in the upper that allows the air to efficiently pass-through the shoe.
The cleatie construction of the shoe provides a custom-like fit, and the seamless, no-sew upper construction offers a smooth, irritation-free coverage.
This New Balance running shoe has a lace-up closure and it uses semi-elastic, flat lace to secure the foot while running. To further secure the heel and ankle, extra eyelets are also available.
Lastly, the Zante Pursuit has a padded tongue and collar which enhances comfort, fit and overall foot lockdown.
Rankings
How New Balance Fresh Foam Zante Pursuit ranks compared to all other shoes
Popularity
The current trend of New Balance Fresh Foam Zante Pursuit.