New Balance Fresh Foam Zante v2
The New Balance Fresh Foam Zante v2 is a great shoe with efficient design and performance. It is a reliable running shoe for training, tempo runs, and for long miles as well. It can handle different work outs and running routines as well. The shoe delivers a fresh running experience in the comfort, arch support, and protection that it offers.
---
Verdict from 24 experts and 100+ user reviews
6 reasons to buy
A generous amount of padding is noticeable around the heel for added comfort, according to some runners.
Nice and plush insole is great and comfortable, as noted in most reviews.
The New Balance Fresh Foam Zante v2 offers a great barefoot-like running, but maintains a nice underfoot cushioning as observed by some testers.
There is a seamless and irritation-free upper that enhances the comfortable feel.
The changes in the forefoot and toe box area, and in the geometry design, are quite impressive according to several users.
Plenty of colors to choose from.
4 reasons not to buy
It is not technically made for racing.
The tightness in the mid-foot wrap is felt and caused some blisters.
It is not as fast and snappy as the first version as complained by some testers.
Too narrow for some runners.
Bottom line
The New Balance Fresh Foam Zante v2 is a great shoe with efficient design and performance. It is a reliable running shoe for training, tempo runs, and for long miles as well. It can handle different work outs and running routines as well. The shoe delivers a fresh running experience in the comfort, arch support, and protection that it offers.
Best price from 50 shops
We earn affiliate commissions at no extra cost to you when you buy through us.
73% say it's true to size.


Our reviews
During last year, I have been concentrating on trail running, leaving road running second in the line. Till the moment, I got a good deal on nice road shoes, which turned out way better than expected.
First, tried them out on long walks – easy to break in. But honestly, it did not feel like breaking in as they fit well at the first time worn. After that, many pieces of training and two half marathons comfortably finished with this pair.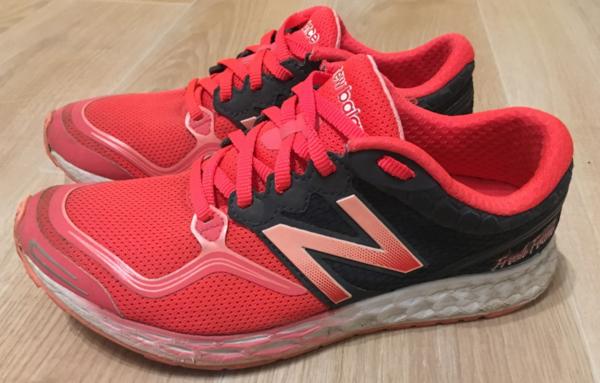 Design & fit
In the aspect of a design, the New Balance Fresh Foam Zante is my personal favorite of all Fresh Foam Zante models. Shoe visually looks smaller, more classy and more clung to the feet.
The shoe is true to size; size 38 fit perfect to my standard 38 feet (inner lengths 24,5cm). Even though the shoe is small, it still has enough padding at the heel counter and soft mesh at toe box that manages to give a comfortable fit during walks or runs.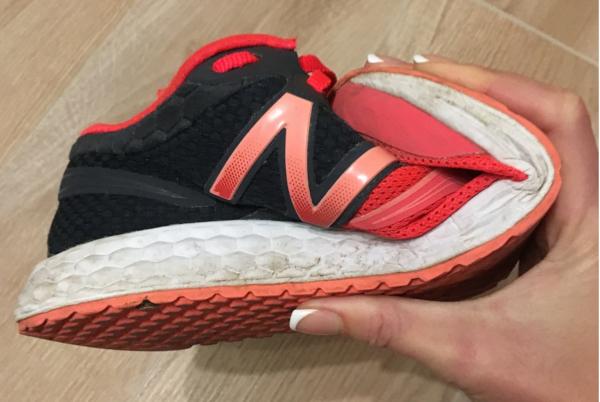 Ride
The ride is fast and easy – it is not only light and breathable, but it is also comfortable and stable enough for longer runs. It is a road shoe, but so far it has proven to be good on wet pavement and bit muddy pathways as well.
It is ok also on trails, but for flatter ones and in dry weather only. The photo below was taken at Tartu half-marathon.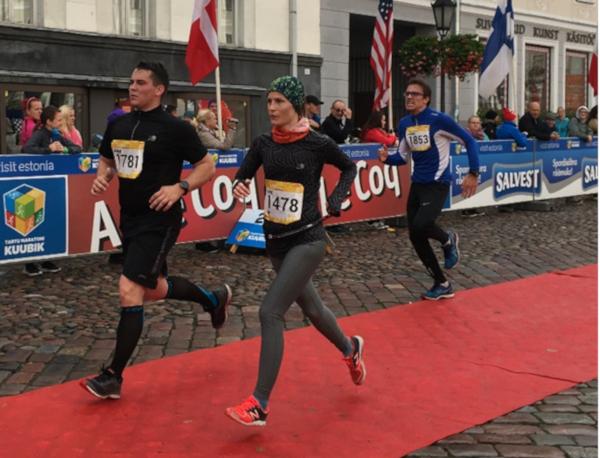 Upper
Upper is made of seamless, breathable mesh mixed with synthetic overlays. Mesh does its work well – the shoe is breathable, making this one of my last summer's favorite walking shoes.
Mesh is light, so it dries quickly as well. It does not hold in water in case of rain or puddles. The tongue is sewn together with upper, and it adds to better fit and fixation of feet. No tongue sliding sideways. It is thin padded, yet it is enough for a good fit.
The only concern is about the durability of the upper which is considerably thin. But so far, I have no evidence of shoe wearing out faster than other running shoe. Regarding laces, they fixate well, no problem.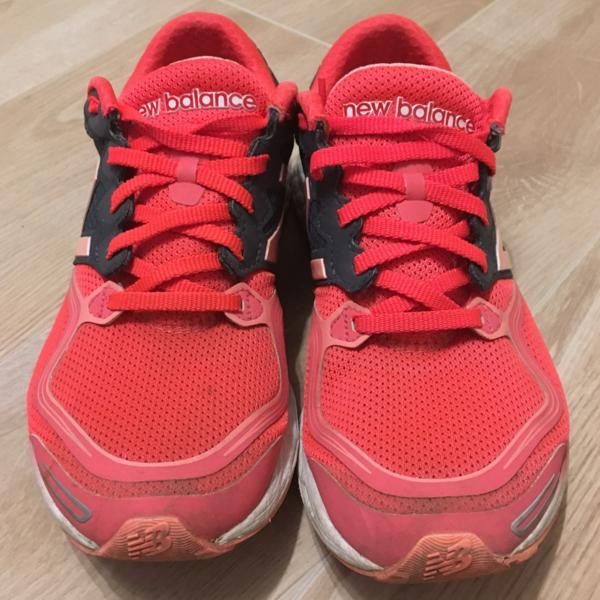 Midsole & sole
The one-piece Fresh Foam Lite midsole is one of the most advertised and emphasized advantages of the shoe. Well, this is actually a very good midsole. It is cushioned and stable, good traction and integrity.
A thing to consider that even manufacturer is concerned about is durability. The rubber is soft and because of that, they may have a shorter life than other shoes of the same category. But, considering all good aspects, it might be just worth it.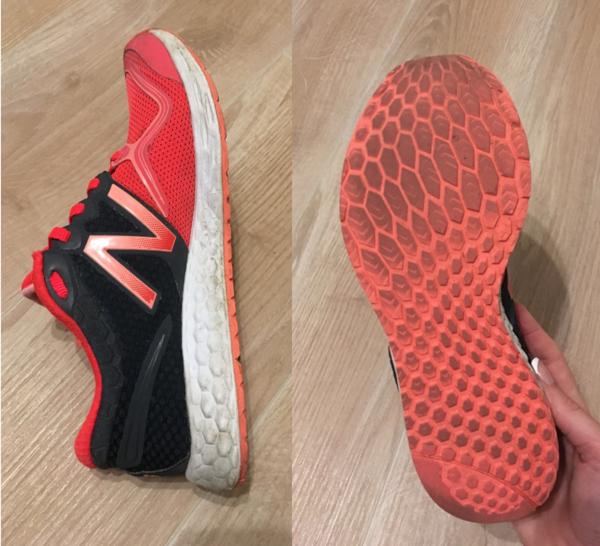 Parameters
| | |
| --- | --- |
| Weight | 172g (size 38, single shoe) |
| Heel to toe drop | 6mm |
| Heel height | 50mm |
| Heel type | Flat |
| Material composition | Fabric/foam/synthetic/rubber |
| Outer material | Synthetic |
| Inner material | Unlined |
| Sole | Eva |
| Closure | Speed-laces |
Pros
Light, soft and fast
Good energy return
Dries quickly
True to size
Classy design
Wallet-friendly deal can be found
Cons
Limited availability (not the latest model, so not all offers these)
Limited colorways
Concerns about durability
Conclusion
All in all, this shoe is real road running treasure – light and fast, comfortable and good looking. If I get a good deal, I will take one more pair to use later. This shoe brought to trust in this brand, which I have bought the first time in my life.
Equally at home, during a trip to the store, or a morning jog, the Zante v2 boasts an athletic, but casual look.
I frequently wear these shoes for easy training days and will pair them with jeans to pick up groceries later on that day. The subtle orange detailing on the black color gives this shoe the "pop" needed to stand out, without being excessively flashy.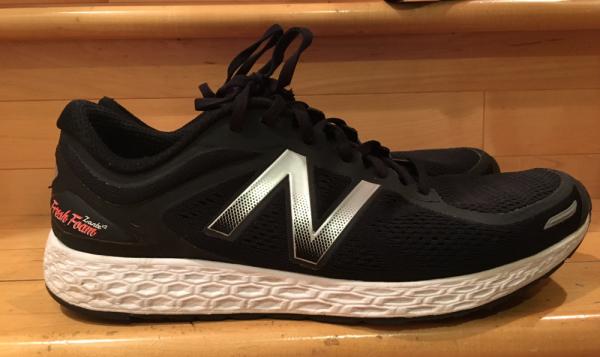 Fit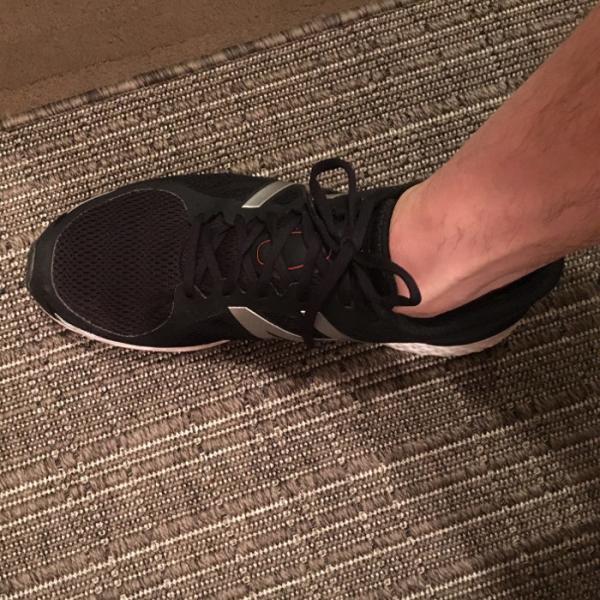 The Zante v2 has a more generous fit compared to the previous version, but that is both a bad thing and a good thing.
My feet are slightly wider than average, and the 2E in the v1 fit me perfectly. Because of the more roomy fit, I was stuck in between widths for the v2; D being slightly narrow and 2E being a bit too wide.
Personally, I am not a huge fan of the way the Zante v2 fits.
Affordability
The price of the Zante v2 is $100 but you can find pairs on sale for $90 or lower. For the shoe, this is a very reasonable price.
The shoe is superior in almost every way to other shoes in the same price range in terms of cushioning, and comfort ( e.g. Nike Free Run). Overall, this is a very reasonably priced shoe for the quality that you receive.
Performance

The Zante v2 possesses a fresh foam midsole that provides soft cushioning without sacrificing the light weight design of the shoe.
As a sprinter, I do my speed work in track spikes, so I use the Zantes exclusively for warm up drills and tempo runs.
In my opinion, the shoe does not have a lot of "pop" to it compared to the REV-lite midsoles that are present on other models such as the Pace. However, the shoe's soft cushioning makes it great for tempo runs and prevents my shin splints from hurting.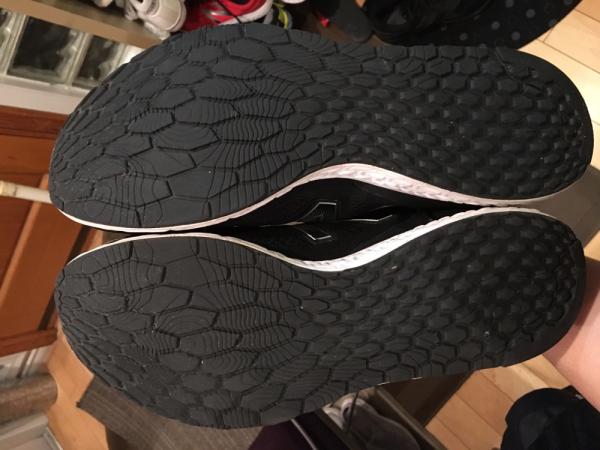 I have performed a lot of high impact exercises on the Zantes, and the cushioning has held up amazingly.
All in all, this shoe is a very comfortable runner that would be amazing on any short runs. The fresh foam midsole provides a plush ride that will surely satisfy any runner looking for a soft, reliable shoe.
Conclusion
The Zante v2 is a great looking shoe that can be worn for your hard workouts, and out for dinner a few hours later.
The fit of the shoe was a disappointment for me, but the shoe more than made up for it with its fantastic price point and great cushioning!
Updates to New Balance Fresh Foam Zante v2
The Fresh Foam Zante v2 is Reebok's answer to the fit issues that plagued the performance of the original model. What is most significant in the updated version is the removal of the arch bump that made the run a bit jarring and the fit slightly constrictive. New Balance also moved the midfoot straddle further ahead and loosened by just a hair this area. The result is a snug but comfortable fit that still delivers adequate support for runners doing short or long-distance training sessions.
New Balance also improves the cushioning and flexibility in this shoe. The forefoot in particular is more cushioned than before. The flexibility is introduced by adding numerous cuts in the outsole, especially near the heel where New Balance now uses a slightly thicker rubber.
The geometry of the outsole treads is significantly changed as well. This new hexagonal pattern makes the transition a bit faster and helps ease off the fatigue for long-distance runs.
The midsole uses convex hexagons instead of concave. Since the new convex hexagons are generously spaced out, they provide more pop and energy return.
Size and fit
The fit of the 2nd version of the Zante still hugs the foot with enough breathing space, particularly in the midfoot. This is basically the difference between the original version and the new model. Runners with average measurements will find the fit superb while those who want more room in the toe box could also go half a size up. Available widths are medium and wide while standard sizes are from 7-16 for the men's and 5 to 12 for the women's.
Outsole
The outsole features new hexagonal patterns covered in blown rubber. This gives the shoe superior traction. A crash pad in the heel is designed to isolate shock.
Midsole
The midsole offers a really nice blend of shock-absorbing features and responsiveness. New Balance made a few tweaks in the midsole by changing the hexagonal patterns from concave to convex. With this new configuration, the larger hexagons in the heel absorb shock while the elongated hexagons going to the forefoot deliver a nice and firm propulsion. The Fresh Foam layer, which is also used in the Zante v4 running shoe, makes every stride feel cushioned particularly in the heel.
Upper
To provide excellent fit and support, the upper has different expansion points. The front half has more flexibility to allow the upper to move together with the foot. It also gives the feel of a roomy forefoot area than the previous version of the shoe. The back end of the upper carries more structure. This is designed to give some support both for the shoe and the runner. Light and welded overlays also contribute to overall shoe support and fit. Heel support is made possible by a relatively flexible heel counter. Cleatie-like construction in the inner portion of the shoe allows for superb comfort and snug fit. An open mesh gives incredible breathability.
As mentioned, the bump in the arch has been removed and the midfoot straddle stretched a bit for a more relaxed midfoot fit without taking away the snug comfort.
Rankings
How New Balance Fresh Foam Zante v2 ranks compared to all other shoes
Popularity
The current trend of New Balance Fresh Foam Zante v2.