How many versions will New Balance make of their 860 running shoes?
Only they know for sure, but "new" does not come with a guarantee. Initially, my new 860 v7 appeared to surpass my old v6's, but unfortunately, the verdict is still out.
When runners purchase New Balance 860 v7, decisions must be made based on:
New Balance uses their own color lingo. For example, my aqua shoes are technically called ozone blue and lime glo. They look so clean, I dread getting this spring color dirty.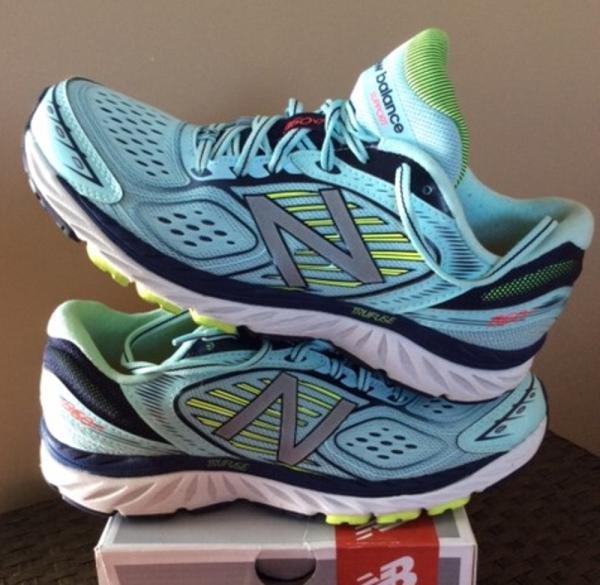 Sizing
When ordering online, color and sizing can be risky so plan a visit to your local running store beforehand for exact foot measurements. Length needs a thumbs space, but remember not all brands run true to size.
So go ahead and try on several different brands. Next time I plan to compare New Balance against Saucony Hurricance ISO and Asics Gel Kayano.
Since my old New Balance 860 v6 were wearing out fast with no time to shop, I confidently purchased the same size of Version 7. Once out of the box, it was like trying on a glass slipper conforming perfectly to my foot.
I love these shoes already and I haven't even gone anywhere yet!
I was almost ready to road test these babies but remembered Toledo, Ohio's upcoming half marathon so decided to wait. Every now and then I'd take a peek inside and here's what I noticed.
Comparison
Rubber overlays scaled down
The "N" emblem replaced with lighter material
Mesh material softer, smoother and more flexible
Outer soles redesigned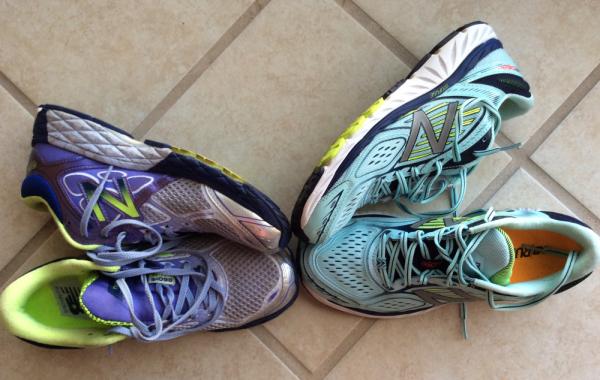 Cushioning
Immediately my first step was like walking on a cushion of air. I could feel a huge difference compared to my purple 860 v6.
The insole was pure comfort and I thought how beneficial they are, for people on their feet all day. Obviously, New Balance is targeting larger audiences, not just us runners.
Since the overall comfort exceeded my old 860 v6, it provoked me to read up on New Balance. I learned the manufacturer uses "Trufuse" with two different foams and a patented insole called "ortholite". Now there's a couple of secret ingredients!
The cushioning of the top collar and tongue feels extremely thick and is noticeably comfortable. The only discomfort a runner may initially feel in their 860 v7 is lacing up too tight.
If it's hard to believe, try out for yourself because you will not be disappointed. Intuition told me these shoes would perform even better than they look and I was right for the most part.
Break In
To break in new running shoes, I run several times around an indoor track or on a treadmill before hitting the outdoor pavement. This way if I experience any issues, I can easily send back.
I've only returned shoes once to an Under Armor Outlet because their version took on a negative change. This is not the case comparing New Balance 860 v6 to 860 v7 because so far I'm experiencing positive change!
Tongue
There was, however, a flaw on my very first run when one shoe felt better than the other. The tongue bothered me to the point where I had to stop early and I hate when that happens.
From then on, I carefully lay tongues out to prevent discomfort. The discrepancy was hard to pinpoint, but the v6 tongue had better material, is larger in size and perhaps even sewn in differently.
See for yourself how the v6 tongue held its shape with no inside creases to bother your foot.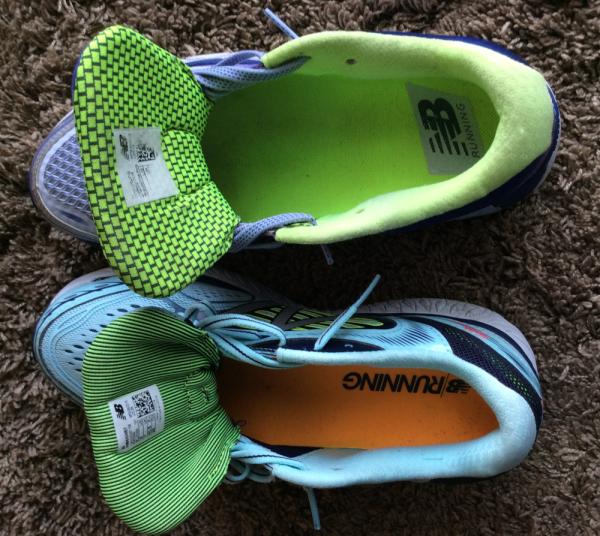 Heel Counter
New Balance does have suburb thickness and durability in their heel counters. Both versions provide outstanding stability and motion control with extra soft heel cushioning and comfort.
The back of my old v6 still look and feel brand new! Obviously, these 860 v6 can withstand more mileage which is why I'm still running them into the ground.
Current calculations tally 350 hard earned miles and counting! With all this bang for your buck, you see why I'm a New Balance return customer.
Support
Mainly, I buy running shoes to correct overpronation, provide stability and support my flat feet.
Brands such as Asics Gel Kayano 23, Mizuno Wave Inspire 13, Saucony Redeemer, or Brooks Adrenaline GTS 17 are also on my radar list, but so far New Balance 860 series meets my needs.
I started out running 3 to 7 miles in my new 860 v7. Gradually, I worked in a few 10 to 17-mile runs. Bravely, after 42 road miles, I attempted that half marathon in Toledo, Ohio.
Afterward, I had no regrets and was satisfied with New Balance's support and stability. Luckily, I did not develop any blisters either!
However, do not heed this advice to race in fairly new shoes. I forgot most runners allow more time to break in properly. When it comes to distance racing, ultimate comfort is mandatory at the finish line!
Nonetheless, I continued my intense Chicago Marathon Training in my fairly new 860 v7. Unfortunately, after 81 road miles, I started noticing a severe lack of cushioning throughout the insoles.
Running longer miles started hurting the bottom of both feet. This shocked me because the 860 v6 still feel great no matter what distance I run.
Sad to say, I replaced sock liners with inserts to survive longer miles. I am not sure what New Balance changed, but I didn't buy these shoes to run 5k's or 10k's.
However, if you're a runner specializing in these shorter distances, then 860 v7 will be perfect!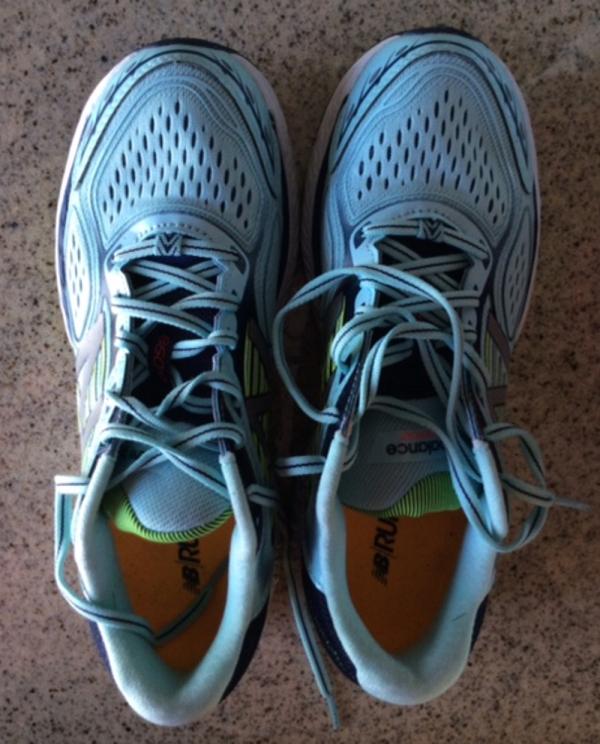 Flexibility
New Balance did make a soft, breathable upper with precise areas flexing and conforming to your feet. You can see how the material is staring to bend and take on the shape of my foot. This is a runners dream when shoes adapt to individual runners.
This "engineered mesh" may be the same material used for Saucony's New Guide 10 version. This makes you wonder if manufacturers share and sell the same state-of-the art ideas.
In any event, New Balance improved v7 with ultra smooth fabric for comfortable running. The enhanced upper already has me coming back for more because comfortable shoes make running worthwhile.
Conclusion
Nowadays, when manufacturers introduce new versions to the market runners never know what has changed. It definitely pays to do some homework, research brands and read reviews.
Websites like runrepeat.com are valuable tools at our fingertips. There are many expert opinions and non-biased reviews and looking up the facts always helps too!
I wish I had known
New Balance 869 v7 is heavier than 860 v6.
New Balance 860 v7 provide less insole cushioning than 860 v6.
New Balance 860 v7 has a different tongue than 860 v6.
Pleading the fifth may be a good excuse why I didn't PR my last half marathon. Nonetheless, I still recommended New Balance 860 v7 to my son who recently Boston qualified.
Currently, he rotates this "Hi-Lite" color with an identical white pair. Fortunately for him, his physical therapist recommended adding ProStep orthotics right from the get-go.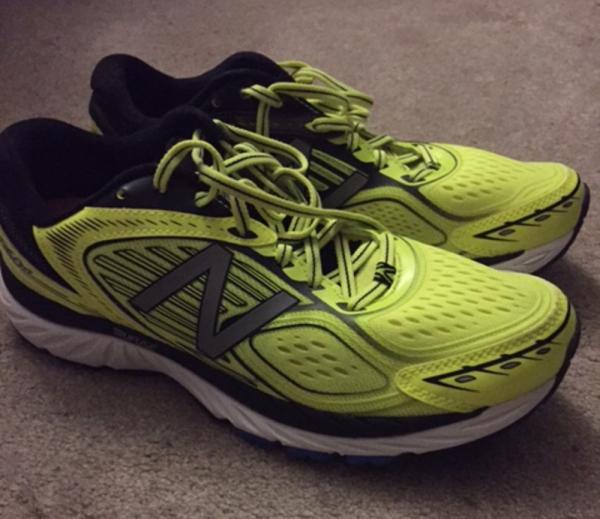 Should I write New Balance to suggest incorporating "new insole technology" for their next 860 upgrade? As a customer, I will continue to shop for running shoe loyalty.
After all, many Senior Citizens remain loyal to New Balance's because of their awesome Medicare reimbursement policy.
In today's global economy, the athletic footwear industry has its marketing and competition cut out for them. I may try New Balance 1500 v3 or 1400 v5 racing flats or switch brands completely.
Whichever I choose, my only hope is to PR my next race and I'm pretty sure that's based on running ability, not running shoes.
Until we meet again, happy running!