The New Balance 860 v7 is a stability shoe designed for road running. It provides a great combination of cushioning, comfort and breathability. Several liked the overall performance of the shoe, but a few were disappointed by its expensive price and limited color options. Made as a stability shoe, the shoe does not disappoint runners who are looking for support.
---
Verdict from 6 experts and 100+ user reviews
6 reasons to buy
Reviews mentioned that the shoe provides great stability and support.
The no-sew construction reduced the risk of blisters and irritation.
The upper felts soft and breathable, based on a review.
Based on reviews, the New Balance 860 v7 was a comfortable shoe.
The shoe's cushioning system delivers a soft, responsive ride.
Testers mentioned that the added cushioning in the heel provided a comfortable foot lock down.
3 reasons not to buy
The New Balance 860 v7 is slightly expensive.
Few users mentioned that the shoe was heavy.
Available in limited color options.
Bottom line
The New Balance 860 v7 is a stability shoe designed for road running. It provides a great combination of cushioning, comfort and breathability. Several liked the overall performance of the shoe, but a few were disappointed by its expensive price and limited color options. Made as a stability shoe, the shoe does not disappoint runners who are looking for support.
Best price from 50 shops
We earn affiliate commissions at no extra cost to you when you buy through us.
84% say it's true to size.


Our reviews
The New Balance 860 V7 looks and feels good. The color is subtle, without being too bright and without being monotone.
As a runner who looks for support, these shoes look like they will provide both stability and comfort.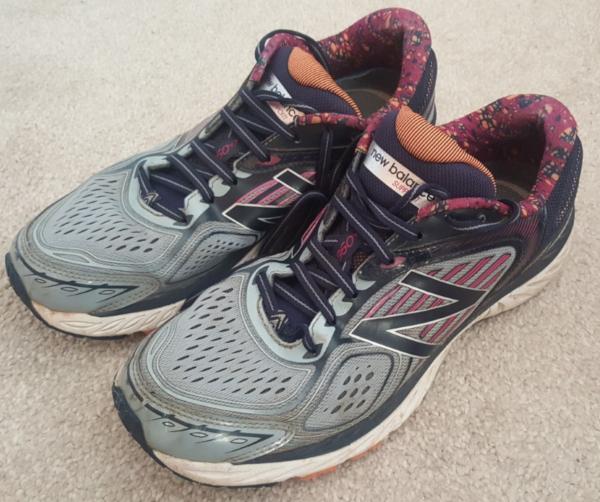 Upper & Comfortability
One of the first things I noticed about these shoes when using them, is that they offer an engineered upper mesh that provides breathability. I found this is important particularly when going for a run in all weathers as they dry quickly after a wet race.
I also find that they let my feet breath even on a warmer run, which is needed when your feet are sweating more than usual. They are flexible and fit around the foot snugly, but not too tight.
They also provide midfoot support which is of particular importance for me as a runner who overpronates, and with flat feet.
With previous shoes, I have found the midfoot support not to be as sufficient, and have ended up with large blisters on the inside of my foot. I have also ended up with shin splints which I believe could be a cause of the lack of midfoot support in other shoes. The shoe has neoprene stretch tongue and lace.
At 326g these are heavier than other running shoes on the market, however, I was previously using Asics Gel Kayano 22 Lite-Show which is heavier, but I found the New Balance felt much lighter.
When first wearing these, I felt the difference positively. It took me only a few miles to get used to, but the combination of the support from the shoe, and the lightweight design meant that my running experience was definitely more pleasurable.
Although these are made for road running, I have sometimes taken them off-road, and they do cope very well. However, I would only take them for mild trails, as they don't provide the support you need from a proper trail shoe especially in muddy conditions.
I used them once for a very muddy run and ended up slipping about (not a great experience)!
Widths
Due to the cushioning technology, the shoe is very adaptable to different foot shapes. I would say it would suit all foot types. I have flat, relatively wide feet and these supported me extremely well.
Midsole & Cushioning
These shoes use TRUFUSE cushioning technology, combined with ACTEVA and ABZORB foam.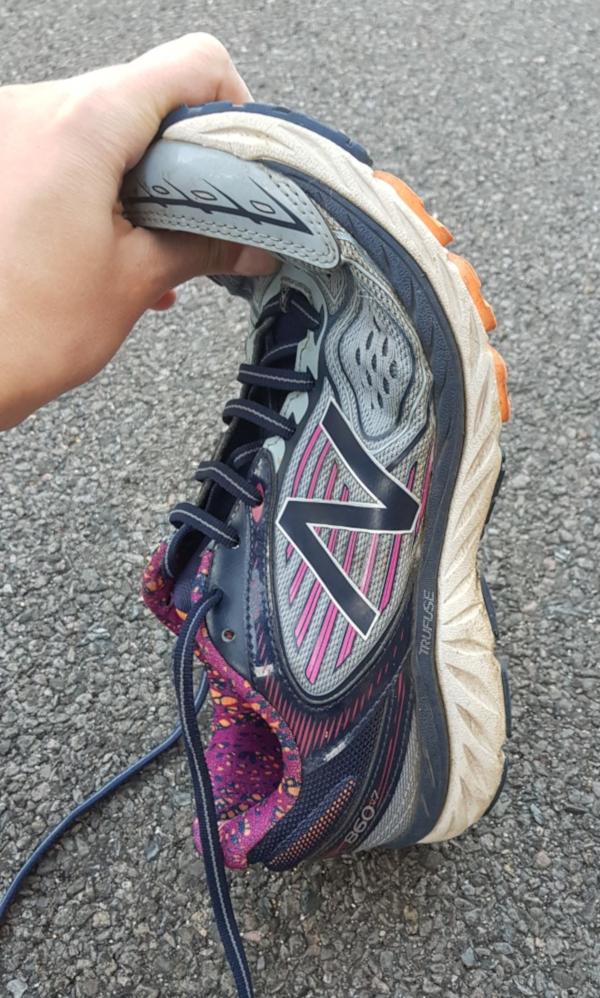 New Balance state that this provides the ideal balance for cushioning and support and I can concur with this. Although these felt lighter and thinner than my previous running shoe, I felt supported, and I think this was due to the foam, providing a bounce back for my feet.
I suffer from overpronation. It is essential to me that a shoe provides this support. It also provides an asymmetric heel counter and midfoot support.
Having previously suffered from occasional pain in my shins, this seems to have disappeared following the use of these shoes, so I can only conclude that this has reduced the impact my foot was having when contacting the floor, reducing my recurring injury.
Outsole
The shoes have a blown rubber compound which in the outsole. When doing research, I have found out a blown rubber compound is typically used only for optimum performance in running shoes as it is lightweight and has good physical properties decreasing the impact on your foot.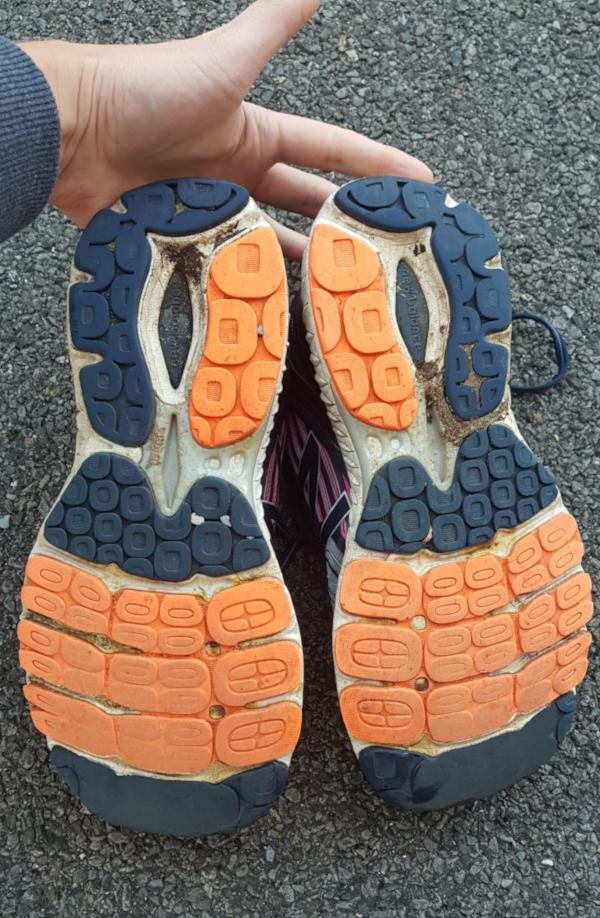 At around 50-100 miles usage, the midsole, outsole and cushioning is holding up exceptionally well and has continued to hold up well up to approximately 200 miles.
In the beginning, I was quite comfortable with taking these shoes out on consecutive days, as the midsole cushioning was supportive and didn't seem to reduce with repetitive compression through running.
However now I have exceeded 200 miles, the cushioning is not springing back as before, and I would not take these out on consecutive days. The outsole has also begun to wear down at the front of the shoe.
As a pronated runner, you can see that there is no wearing on the inside of the shoe, as I would have thought I might experience as an overpronator. I can only assume that the shoe is helping me stop overpronating, which is what I bought them for.
Variation
The variation of colors that come with the New Balance v860 v7 is not extensive, but you can choose between paler grey colors, cooler minty green blues, and greys. The different colorings on the shoe make an attractive shoe.
Pros
Very comfortable
Great stability and support
Reduction of blisters
Dry quickly
Cushioning is snug
Cons
Slightly expensive
Limited color
Summary
After completing a recorded run which highlighted the overpronation in my running, I was advised to look into shoes that would support and correct it.
I would definitely recommend these shoes to anyone who requires extra support but still needs a lighter shoe, and one that will support you over longer distances. I have used these shoes to run regular 5km park runs all the way up to half marathons, and they have held up extremely well.
My only concerns are that the wearing of the outsole at around 200 miles, and the cushioning has begun to take longer to 'reset' after runs. They are towards the higher price range for comparable shoes, but as an excellent all-around shoe for overpronators.
I would say it is worth spending the extra money. On a side note, I used to get regularly get blisters from my previous shoes, but I haven't had them yet in these shoes!
How many versions will New Balance make of their 860 running shoes?
Only they know for sure, but "new" does not come with a guarantee. Initially, my new my old v6's, but unfortunately, the verdict is still out.
When runners purchase New Balance 860 v7, decisions must be made based on:
New Balance uses their own color lingo. For example, my aqua shoes are technically called ozone blue and lime glo. They look so clean, I dread getting this spring color dirty.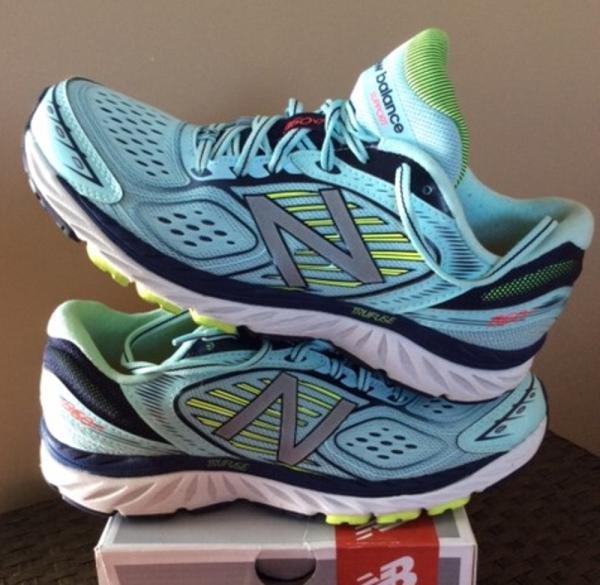 Sizing
When ordering online, color and sizing can be risky so plan a visit to your local running store beforehand for exact foot measurements. Length needs a thumbs space, but remember not all brands run true to size.
So go ahead and try on several different brands. Next time I plan to compare New Balance against Saucony Hurricance ISO and Asics Gel Kayano.
Since my old Version 7. Once out of the box, it was like trying on a glass slipper conforming perfectly to my foot.
I love these shoes already and I haven't even gone anywhere yet!
I was almost ready to road test these babies but remembered Toledo, Ohio's upcoming half marathon so decided to wait. Every now and then I'd take a peek inside and here's what I noticed.
Comparison
Rubber overlays scaled down
The "N" emblem replaced with lighter material
Mesh material softer, smoother and more flexible
Outer soles redesigned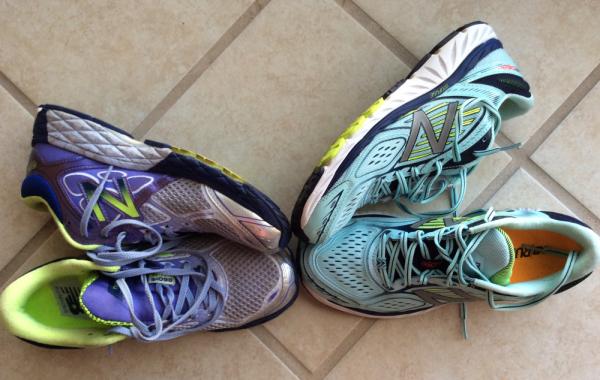 Cushioning
Immediately my first step was like walking on a cushion of air. I could feel a huge difference compared to my purple 860 v6.
The insole was pure comfort and I thought how beneficial they are, for people on their feet all day. Obviously, New Balance is targeting larger audiences, not just us runners.
Since the overall comfort exceeded my old 860 v6, it provoked me to read up on New Balance. I learned the manufacturer uses "Trufuse" with two different foams and a patented insole called "ortholite". Now there's a couple of secret ingredients!
The cushioning of the top collar and tongue feels extremely thick and is noticeably comfortable. The only discomfort a runner may initially feel in their 860 v7 is lacing up too tight.
If it's hard to believe, try out for yourself because you will not be disappointed. Intuition told me these shoes would perform even better than they look and I was right for the most part.
Break In
To break in new running shoes, I run several times around an indoor track or on a treadmill before hitting the outdoor pavement. This way if I experience any issues, I can easily send back.
I've only returned shoes once to an 860 v7 because so far I'm experiencing positive change!
Tongue
There was, however, a flaw on my very first run when one shoe felt better than the other. The tongue bothered me to the point where I had to stop early and I hate when that happens.
From then on, I carefully lay tongues out to prevent discomfort. The discrepancy was hard to pinpoint, but the v6 tongue had better material, is larger in size and perhaps even sewn in differently.
See for yourself how the v6 tongue held its shape with no inside creases to bother your foot.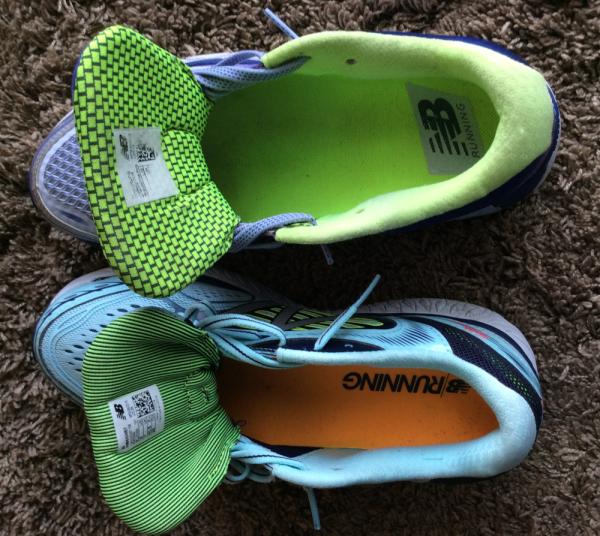 Heel Counter
New Balance does have suburb thickness and durability in their heel counters. Both versions provide outstanding stability and motion control with extra soft heel cushioning and comfort.
The back of my old v6 still look and feel brand new! Obviously, these 860 v6 can withstand more mileage which is why I'm still running them into the ground.
Current calculations tally 350 hard earned miles and counting! With all this bang for your buck, you see why I'm a New Balance return customer.
Support
Mainly, I buy running shoes to correct overpronation, provide stability and support my flat feet.
Brands such as New Balance 860 series meets my needs.
I started out running 3 to 7 miles in my new 860 v7. Gradually, I worked in a few 10 to 17-mile runs. Bravely, after 42 road miles, I attempted that half marathon in Toledo, Ohio.
Afterward, I had no regrets and was satisfied with New Balance's support and stability. Luckily, I did not develop any blisters either!
However, do not heed this advice to race in fairly new shoes. I forgot most runners allow more time to break in properly. When it comes to distance racing, ultimate comfort is mandatory at the finish line!
Nonetheless, I continued my intense Chicago Marathon Training in my fairly new 860 v7. Unfortunately, after 81 road miles, I started noticing a severe lack of cushioning throughout the insoles.
Running longer miles started hurting the bottom of both feet. This shocked me because the 860 v6 still feel great no matter what distance I run.
Sad to say, I replaced sock liners with inserts to survive longer miles. I am not sure what New Balance changed, but I didn't buy these shoes to run 5k's or 10k's.
However, if you're a runner specializing in these shorter distances, then 860 v7 will be perfect!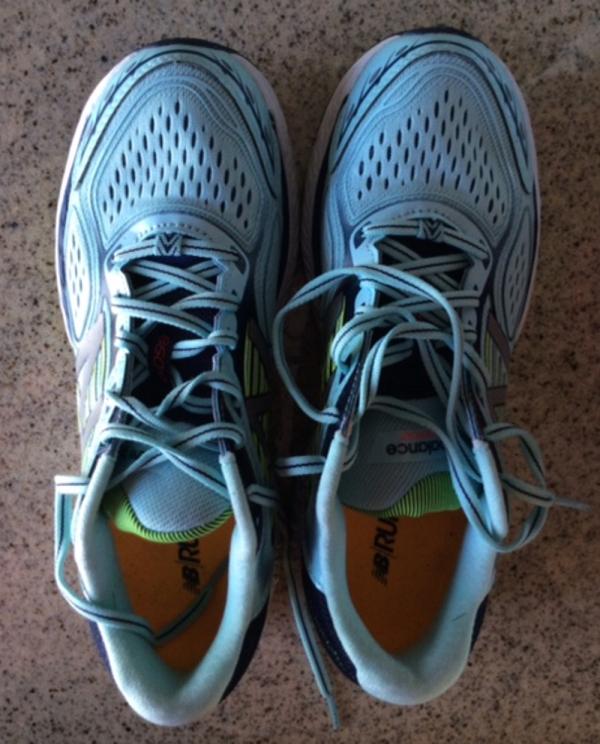 Flexibility
New Balance did make a soft, breathable upper with precise areas flexing and conforming to your feet. You can see how the material is staring to bend and take on the shape of my foot. This is a runners dream when shoes adapt to individual runners.
This "engineered mesh" may be the same material used for Saucony's New Guide 10 version. This makes you wonder if manufacturers share and sell the same state-of-the art ideas.
In any event, New Balance improved v7 with ultra smooth fabric for comfortable running. The enhanced upper already has me coming back for more because comfortable shoes make running worthwhile.
Conclusion
Nowadays, when manufacturers introduce new versions to the market runners never know what has changed. It definitely pays to do some homework, research brands and read reviews.
Websites like runrepeat.com are valuable tools at our fingertips. There are many expert opinions and non-biased reviews and looking up the facts always helps too!
I wish I had known
New Balance 869 v7 is heavier than 860 v6.
New Balance 860 v7 provide less insole cushioning than 860 v6.
New Balance 860 v7 has a different tongue than 860 v6.
Pleading the fifth may be a good excuse why I didn't PR my last half marathon. Nonetheless, I still recommended New Balance 860 v7 to my son who recently Boston qualified.
Currently, he rotates this "Hi-Lite" color with an identical white pair. Fortunately for him, his physical therapist recommended adding ProStep orthotics right from the get-go.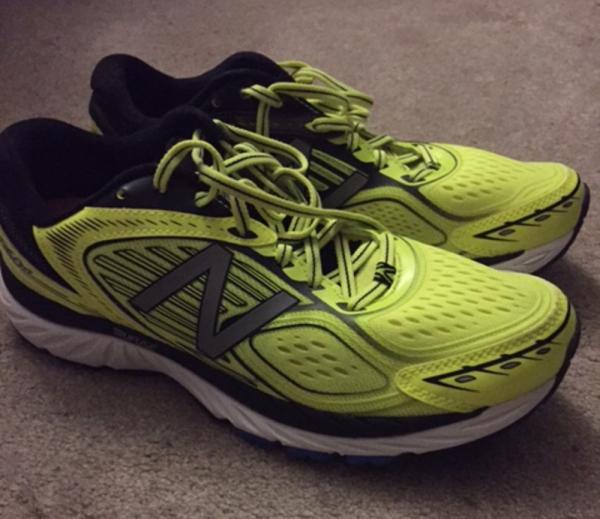 Should I write New Balance to suggest incorporating "new insole technology" for their next 860 upgrade? As a customer, I will continue to shop for running shoe loyalty.
After all, many Senior Citizens remain loyal to New Balance's because of their awesome Medicare reimbursement policy.
In today's global economy, the athletic footwear industry has its marketing and competition cut out for them. I may try New Balance 1500 v3 or 1400 v5 racing flats or switch brands completely.
Whichever I choose, my only hope is to PR my next race and I'm pretty sure that's based on running ability, not running shoes.
Until we meet again, happy running!
Updates to New Balance 860 v7
The New Balance 860 v7 features a few major updates to provide a great balance of cushioning and stability. One of the updates is the TRUFUSE cushioning technology that is designed to deliver a reliable cushioning and responsive ride for long mile runs.
The shoe also comes with a lower heel drop. Its predecessor has a 12mm offset while the 7th version of the New Balance 860 has a 10mm offset. The 2mm difference will give runners a more natural and enhanced ride without sacrificing stability.
The New Balance 860 v7 features an engineered mesh that is designed for an exceptional fit and added support. The flexible mesh allows the shoe to accommodate a wider range of foot shapes. With fewer stitched overlays, the upper wraps the foot securely and comfortably.
Size and fit
The shoe has a standard running shoe length. The engineered upper mesh that is very stretchable provides excellent fit to a wide range of foot measurements and shapes. The men's version is available in medium, wide and extra-wide widths while the women's version is available in medium and wide widths.
Outsole
The shoe utilizes a blown rubber compound that is strategically placed in the outsole unit. It delivers reliable traction while running on the road and it gives durability on high-abrasion areas. This outsole material is used in some popular New Balance shoes, like the New Balance 860 v9.
Midsole
The midsole of the New Balance 860 v7 features the new TRUFUSE cushioning technology. It is a combination of the softer ACTEVA foam and firmer ABZORB foam that provides a great balance of support and cushioning. The dual-density medial post designed to reduce overpronation and the T-BEAM technology offers torsional stability.
Upper
The New Balance 860 v7 features an engineered upper mesh that provides breathability. It is also flexible to comfortably wrap the foot. It still utilizes the asymmetrical heel counter and the midfoot support. The shoe retains the neoprene stretch tongue and lace.
Popularity
The current trend of New Balance 860 v7.