As experts of nitpicking, it was a struggle for us to find flaws from the Hoka Clifton 7. It's cushy, protective, and stable, making it the best Clifton we've ever put our feet on. And yes, that's a bold statement we gladly stand by. With its plush, generous cushioning, it's best suited for long, easy runs. If you're searching for something that can also go fast, this is not the shoe.
Pros
Comfortable
Lightweight
Breathable
Soft
Wide option
Fits true to size
Stable
Cons
Not for speed runs
No heel tab
The verdict from 19 experts and 100+ user reviews
It's a consensus that Hoka Clifton 7 is "the best Clifton Hoka has produced." Experts struggled to find something seriously wrong with the shoe. Disclaimer: Previous disappointing Clifton models might have set the bar too low.
We usually see comments like "most stable shoe ever," "1st choice for easy runs," etc. in the reviews. However, experts weren't vocal about Clifton 7 as a standalone shoe (outside the Clifton family). This raises a red flag and makes us wonder: What is the best Clifton ever lacking so it's not the best shoe ever?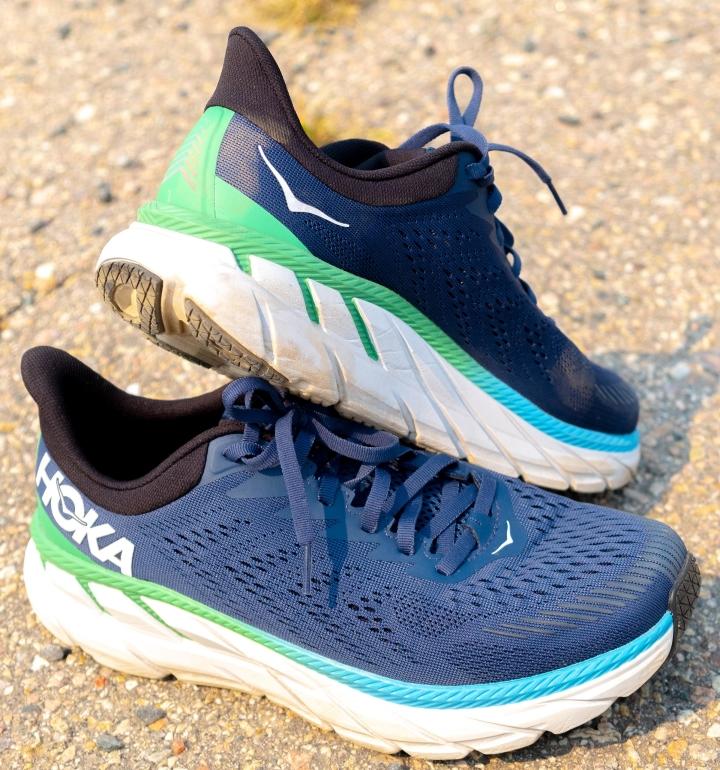 Experts have also reported for the Clifton 7 to offer minimal to no ground feel.
Who should buy Hoka Clifton 7
This is a lightweight maximalist shoe, made for everyday runs and walks. It's a trainer ideal for runners looking for a soft ride during longer road runs.
Who should NOT buy Hoka Clifton 7
Don't buy it if:
you're looking for a race shoe or something to pick up the pace in. In this case, look at Hoka's Rincon 2 or Hoka Carbon X if you're feeling elite.
you're a heavy overpronator. Then, Hoka Arahi 4 is worth looking at as it's a stability shoe that looks and weighs similar.
Clifton 7 vs. Clifton 6: Clifton exemplary
Hoka sticks to what works, but do you need to upgrade to Clifton 7? Only if a gusseted tongue and breathability are important to you. Otherwise, go with Clifton 6. Its price tag is more favorable as well.
While experts say Clifton 7 was "slightly improved" and "hasn't strayed far from 6," they also find it "spectacular" and "as great as it has ever been." This is because Clifton 6 was already good. Even with the slightest improvements, it was easy for Clifton 7 to be the best Clifton ever.
Here's how the 7th iteration differs from the 6th:
Clifton 7 vs. Clifton 6
What got better
Heel pull tab
More breathable
Gusseted tongue
More stable
More snug
Wider toebox
What got worse
No heel loop
Bad responsiveness
Negligible weight reduction
No major improvements
Improved upper, improved breathability
The upper feels comfortable and provides a structure while also allowing for foot flex. This is a very breathable shoe or, as experts described it, "incredibly breathable" and "super breathable."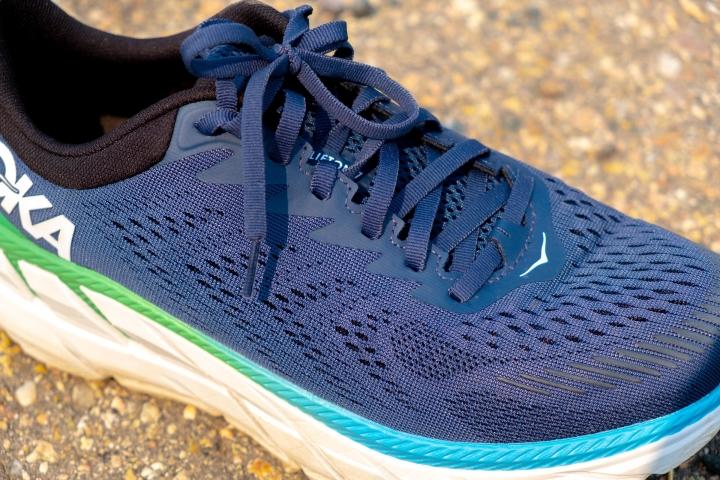 Tongue stays put
"No more side migrating tongue." Finally a gusseted tongue. No more moving around mid-run.
Smooth & stable ride
Experts said
"it rides very smoothly,"
"encourages an efficient gait cycle," and
"the rocker feels just amazing."
The base of the shoe is wide, so the shoe feels and is more stable.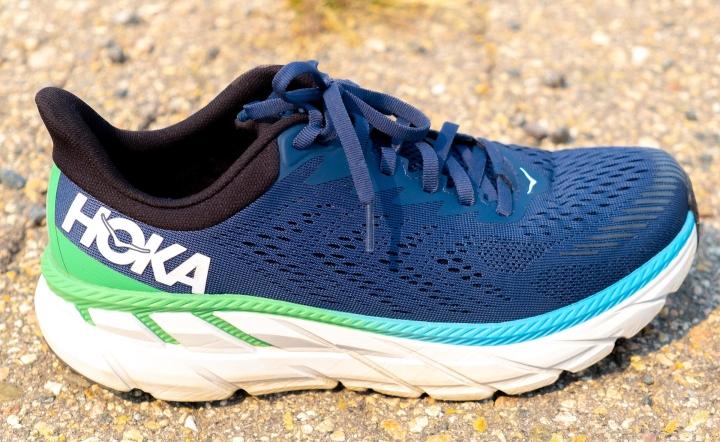 Clifton 7 is really comfortable
"Hugs your foot," "your feet are going to thank you," "incredibly comfortable," are just some of the phrases used by the experts to describe the comfort level of Clifton 7.
This is a comfortable shoe, but not the softest Hoka. If you're looking for a maximally cushioned and soft Hoka shoe, check out Bondi 7.
Heel loop is gone
No more good-old hook tab. Hoka's Clifton 7 has a vertical pull tab that goes up high against the Achilles. Experts refer to it as "elf curl."
This curl allows for an easier entry and helps keep chafing at bay. Those who questioned the comfort said "has a little padding for comfort" and "adds some Achilles support."
Overall, experts miss the pull tab but find this extra lip useful.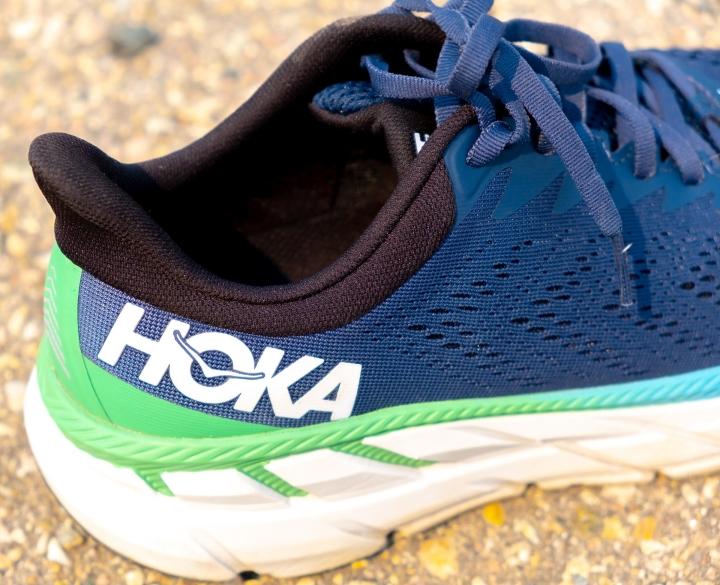 So long, speed runs!
This is a plush daily trainer. Clifton 7 was not made for fast runs and races. It's not responsive enough and if you want to pick up the pace, you'll have to work harder than in other shoes.
There are other running shoes in Hoka family made for these kinds of runs: Rincon 2 for fast runs and Carbon X for races.
Weight you should not worry about
Experts noticed how lightweight Clifton 7 is and said it's "very light" and "perfect balance of lightweight and max cushion."
While maximalist running shoes tend to weigh more, Clifton 7 weighs (8.7oz or 247g) significantly less than other popular shoes in the same range:
Questionable responsiveness of the Clifton 7
Experts simply can't agree on this one.
There were comments praising the shoe saying it's "as responsive as ever" and "springy on the toe-off." And there were comments sharing critique: "feels like it's working against me," "could use more pop," "doesn't give off a high-energy, bouncy sensation."
True to size + ample toe room
Hoka's Clifton 7 fits true to size with a relaxed toe box. Overall, this is a snug shoe so look for a wide option if needed. As one expert said, it "envelops your foot and holds you snugly."