Verdict from 11 experts and +100 user reviews
5 reasons to buy
Cushioning: Multiple athletes praise the comfortable midsole foam of the Brooks Cascadia 15.
Construction: Several buyers have observed that this model is much sturdier than its predecessor.
Outsole: The tread pattern, according to many purchasers, creates stable and surefooted steps.
Heel fir: The supportive wrap of the platform ensures zero heel slippage.
Midsole: Various runners have shared that the shoe encourages the natural bend of the foot.
2 reasons not to buy
Minimal toe protection: Some wearers felt pain on the toes because of the lack of forefoot reinforcement.
A tad bit heavy: Some racers find the shoe too bulky, claiming it's not really for speed enhancement.
Bottom line
Designed to conquer the trails, the Brooks Cascadia 15 is crafted to secure a steady foot plant. Continuing the hallmark of the Cascadia series, this model boosts comfort and breathability. As a complement to the shoe's overall design, its upper locks the foot securely in place for zero chances of slipping.
Tip: see the best running shoes.
Our reviews
The Brooks Cascadia 15 is the first Brooks shoe I have worn since my first ultra back in 2013. I didn't stop wearing Brooks because I didn't like them, I just wanted to try other brands and styles.
With that being said, I have been very pleased with the Cascadia 15. My review is based on runs over the varying terrain of Oahu, HI. I ran in them for distances of 3 to 9 miles in dry and wet conditions.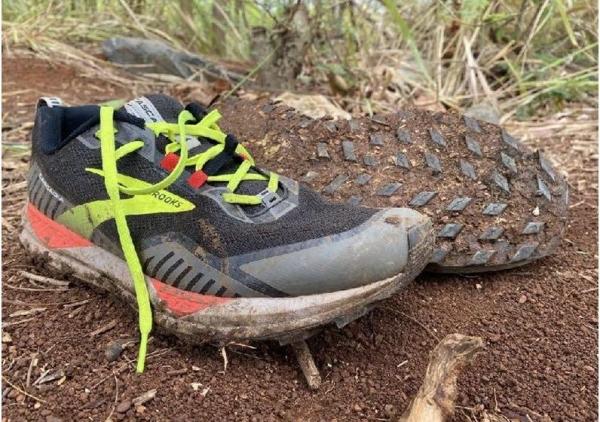 Style
Let's be honest, many of us choose a shoe based on the look and Brooks has done a great job at making the Cascadia eye-catching but not over the top. I like the colors of the pair I tested and the subtle lines and triangles used that resemble mountains.
My favorite design feature of the shoe is the elastic band on the tongue to secure the laces. While not a necessity, it is a thoughtful addition and can prevent laces from getting snagged on twigs and such.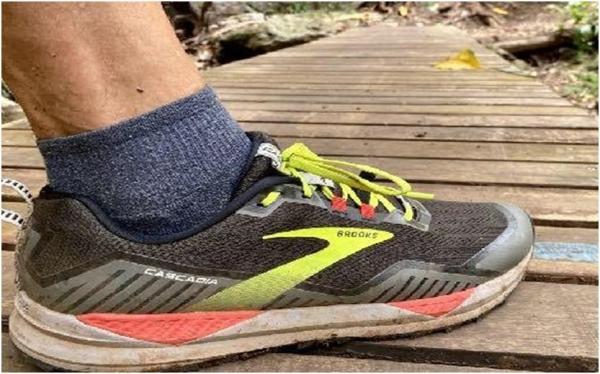 Comfort
The Cascadia 15 is a comfortable shoe. It isn't plush like some other brands but it can handle short to mid-distance runs.
This is a good option for those spending 2-3 hours on trails that are not extremely rocky or technical. You may find that a lot of downhill running may cause some toe discomfort.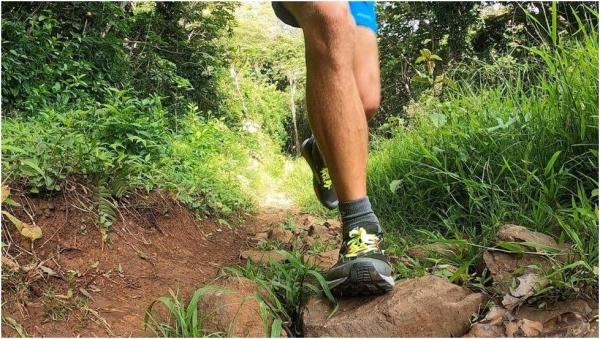 Toe box
Over the last few years, I have become accustomed to a more open toe box and find it as a key feature to a trail shoe. With that being said, a toe box can be too spacious, reducing lateral stability.
The Cascadia 15 has an average toe box. It's comfortable on shorter runs with minimal downhill running. On runs where I'm doing a lot of downhill, I find my small toe pressing against the outside of the toe box.
It's not uncomfortable but noticeable. I feel that it could be a potential problem for longer, hilly runs.
Toe box preference varies for everyone so I recommend trying them on, you may find that the Cascadia is perfect. For me though, not quite.
Durability
The Cascadia 15 is built to last. After 50+ miles on various terrain, I have found no significant wear on any part of the shoe. Brooks has used quality materials and craftsmanship to construct a shoe that will last.
Traction
I was very impressed by the traction of the Cascadia 15. They gripped everything I ran on: clay, mud, dry and wet rock, and wooden bridges. Uphill, downhill, and in turns, I felt sure-footed at all times. The lugs dig into everything!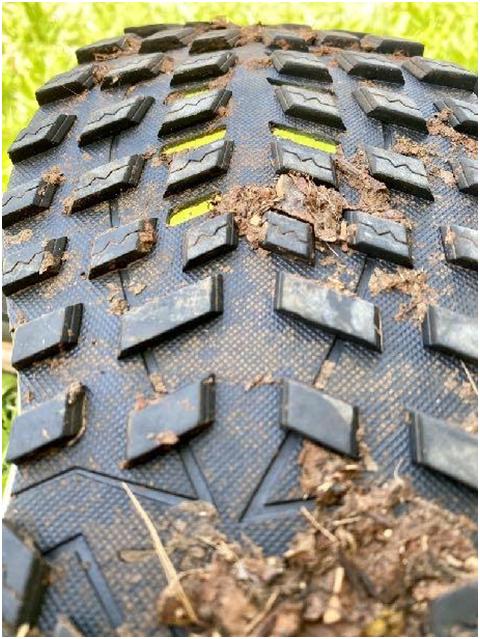 Weight
At 12.5 oz. per shoe, the Cascadia 15 has a perfect balance. For me, I want a trail shoe that isn't so heavy where I feel weighed down during long days but also not so light that I feel unprotected from the elements of the trail.
The Cascadia 15 is a great option for those that do intervals on the trail.
Breathability
Running in Hawaii, it can get pretty humid (70-90%) and I sweat a lot. I've had previous shoes that seem to collect sweat and hold it.
The Cascadia 15 is not one of those shoes. At no point did they feel waterlogged. Even during a short rain, I felt relatively dry.
I filled the shoe with water and it completely drained within 3-5 seconds. This shoe will be great for runs that have water crossings.
Stability
Stability-wise, the Cascadia 15 didn't stand out to me. I'm not saying it was bad, just not great.
I didn't turn my ankle but over uneven terrain, I wasn't extremely confident. I'd say it is comparable to the average trail shoe.
Fit
In my opinion, this is the weakest part of Cascadia 15. I could never quite get the ideal fit around the foot.
On multiple runs, after a couple of miles, the shoe would feel loose and I'd have to re-lace it, really cranking down on it. This would generally do the trick but I've never worn a shoe that I've had to tighten mid-run.
With this in mind, before my last run, I tightened them down but I found my foot going numb after 30 minutes or so and had to make another adjustment. Perhaps it's just me, but I just could not get the fit dialed in. It may be something as simple as swapping out the laces.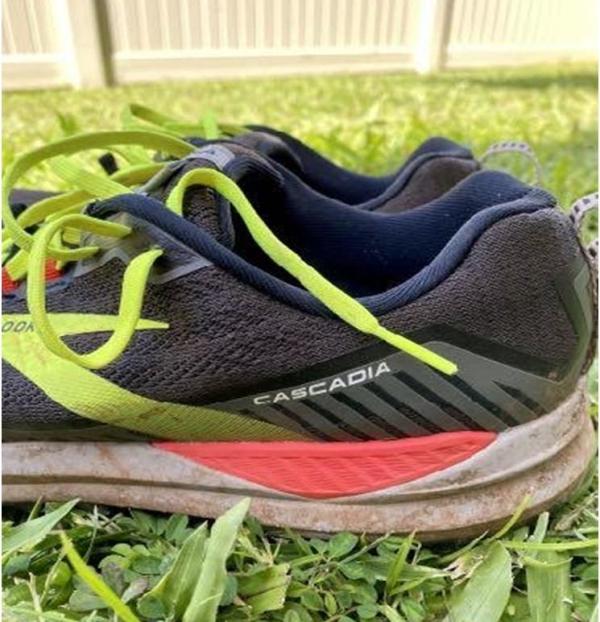 Heel
The heel of the Cascadia 15 is a height that kept my foot secure. Even though I had issues getting the laces dialed in, at no time I did feel slippage in the heel.
The Brooks Cascadia 7 was my first trail running shoe back in 2012. I was training for my first ultramarathon: the Harding Hustle 50K.
I was crazy enough to pick a 50K with 5000 feet of elevation gain, in July, that finishes 90+ degree heat! I loved the shoe and it took me through a couple of trail half marathons, and another 50K that year.
When I returned to trail running/racing in 2018, I picked up the Cascadia 12s and loved them as well. I raced the Noble Canyon 50K and the Mt Laguna Marathon in the Cascadia 12, and then the 2019 Black Canyon 100K in Arizona in the Cascadia 13. They were my go-to trail shoe.
Until version 14. Which broke my heart. (Yes, I'm being overly-dramatic but you know how it is when they change your favorite shoe.)
The Cascadia 14 came out the summer of 2019, and I wrote my very first review here on RunRepeat about them. Given this shoe was my Trail Shoe of Choice, I was really hoping that the 15th iteration fixed the things that were broken in 14.
Some high-level stats about the Cascadia 15:
Foot Strike
Neutral and/or Underpronators
Heel to Toe Drop
8mm
Weight (Women's 7B shoe)
8.8oz**
Features

Ballistic Rock Shield (rock plate)

Gaiter velcro on the back heel

BioMoGoDNA midsole

TrailTac outsole Rubber

Mud Guard

Colorways (Women)

Black/Ebony/Coral Cloud

Nocturne/Zinfandel/Black

Colorways (Men)

Ebony/Silver/Deep Cobalt

Black/Raven/Tomato

Sizing
True to size
** Note that this is the weight I found my shoe to be with my own scale. The advertised weight for the Women's size 8 is 9.2oz and Men's is 11oz.
The colorways are not terribly exciting and you only have two options. I am not sure if Brooks thinks that trail shoe colors should be like Rental House Wall Paint, but they are not something I look at and say: "Ooooh! Those are fun!"
Brands like Hoka and Nike do a much better job making appealing color options for trail shoes.
The sizing is, for me, what I normally wear for running shoes. I am a 6B in street shoes and wear a 7B in these (I could probably have gotten away with 6.5B but I didn't want to risk toe box issues on very long runs).
For reference, I wear this same size in New Balance and Nike. In Salomon and Adidas, I wear a 6.5, Mizuno a 7.5.
Arrival & Unboxing
At first glance, I was hopeful this version might return to their pre-Cascadia 14 glory. The fabric on the upper is more tightly woven.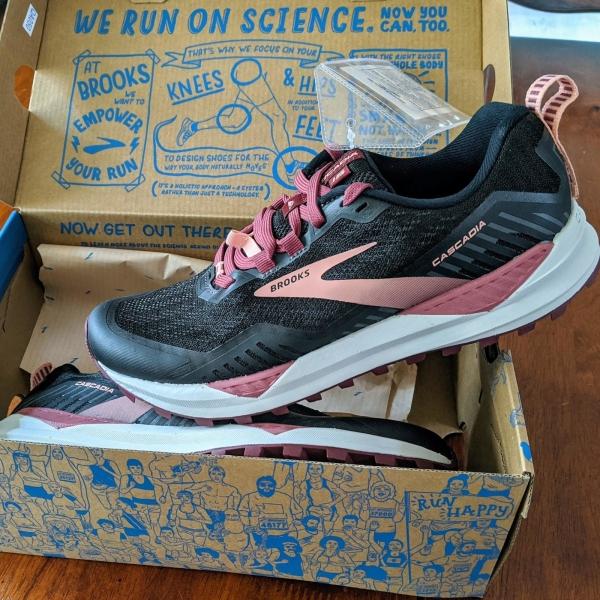 One of the biggest issues I had with the previous version was that the fabric was far too porous. I could dump out a small pile of sand after a double-digit trail run. While the fabric was lighter and thus less weight, it was not a tradeoff I felt was acceptable.
I then checked how "bendable" the shoe was, as in how flexible. Another issue I had with version 14 was that it was stiffer than previous versions. I noticed it when running more rutted singletrack.
The shoe had little give; it felt awkward and not nimble. The 15s seem to have a bit more flexibility.
In general, the shoe seems to be a little lower profile than previous versions. I will have to see how this plays out on rougher, rockier, rutted trails.
First run
I had some faith that the shoe would not be a total failure and went for an almost 7-mile trail run. I did not have a massive amount of dirt in my shoes at the end.
They performed well on the rockier stuff (stable and my feet felt protected). I did feel as though they are not as flexible as the 12s and 13s, but are more flexible than the Cascadia 14 (those were like bricks).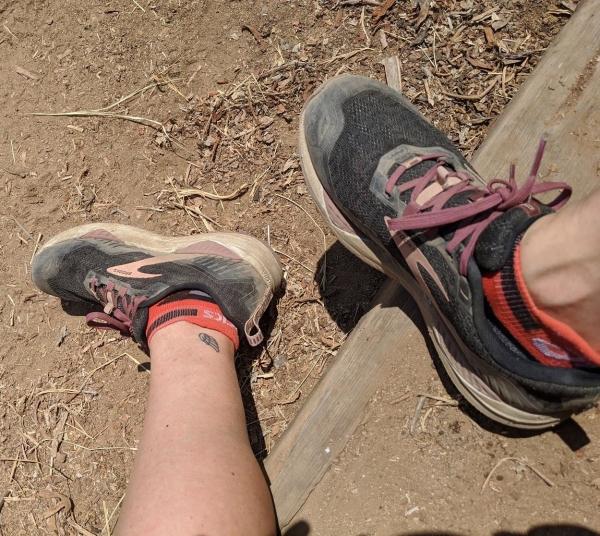 The real test(s) though is with longer efforts in the 16+ mile range out in backcountry trails where we have rockier, dustier, and vertier (is that a word? "Vertier" = steeper climbs!) conditions.
Some things I noticed when I first put them on, the lace garage is gone (no biggie, this wasn't a huge plus for me), but the tongue feels a bit cheap. It has what feels like a foam filling, but not in a plush way, but in a kind of stiff way.
I definitely feel like they made adjustments here for weight. Perhaps over time the tongue on the 15 will compress and feel less awkward.
Taking Them on a 25+ Mile Trail Excursion
After two 7 milers, I felt like the shoe was going to be OK in the very long run, so I said: "What the heck! Let's see how they do."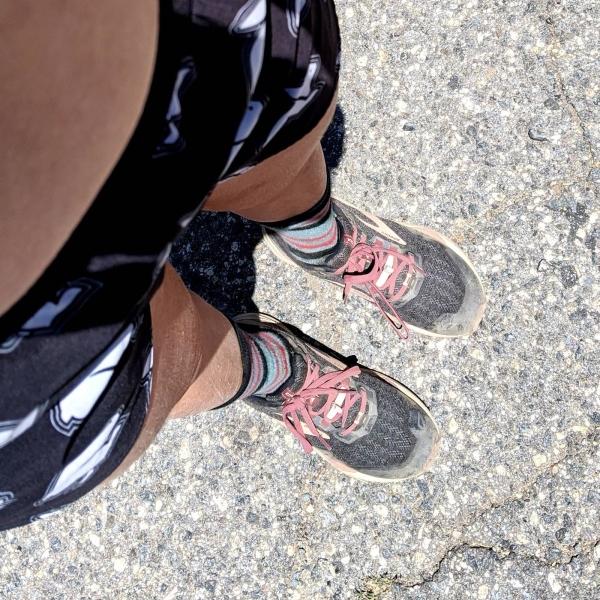 They did pretty well. They did not let in hoards of dirt like the 14s (and we ran in the same state park trail system as I did with the 14s when I poured out a small mound of sand at the end of 16 miles). This is a win.
They are more flexible than the 14s, but sticker than the 13s. So there were times when we were in more rutted or technical spots where if I hit the trail not square on but angled (since in ruts, there often isn't space to hit it squarely/straight), my foot would slide around laterally inside the shoe rather than the shoe just give a little bit and help me out.
This happened a few times. It's hard to say if it is fit of the upper or the increased stiffness of the outsole. I suspect the TrailTac outsole and/or the rock place length/flexibility are part of the issue.
It is a harder rubber that is more durable than versions prior to 14, but it is also less forgiving. I would prefer to sacrifice some durability for comfort, ride, and fit.
The other thing I noticed is that the laces on this model come undone easier than previous models. Yes, they were double knotted, but they still got loose in slightly overgrown trail conditions and I had to re-tie and tighten up about midway through.
No blisters or hot spots. Toes and toenails were in the same condition as when I started the run.
With Gaiters - 21 miles in the Cleveland National Forest and 30 miles in Cuyamaca and Anza Borrego State Parks
So thankfully this version still has the gaiter velcro at the back, but the surface area is smaller. So it did hold, but I had to make sure I put it on exactly right as the first time, it didn't grab enough of the velcro.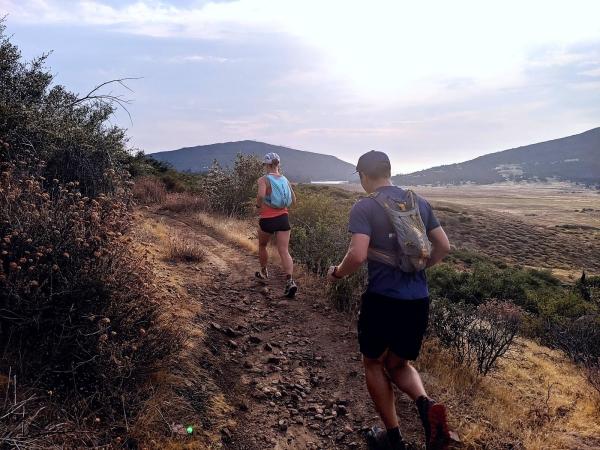 Shortly after this run, I took them on a 30-mile night training run with gaiters. I did have some bruised toes on my right foot but given it was a training run of ultramarathon length, I had less beat up feet than I was expecting.
Dry, Rocky, Steep Climb up Mount San Jacinto (10,833 feet)
Their next excursion was up to Mount San Jacinto where the last half mile to the peak is a bouldering scramble and the grip was good.
I have grippier shoes than these but I never felt as though they weren't getting good contact and I would slip. Even in the dustier sections on the downhill, they held pretty firm.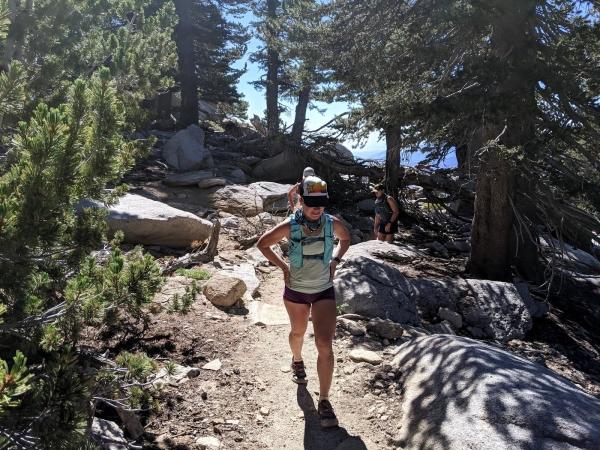 Water/wet conditions
It's summer here in San Diego and water on trails is hard to come by; if you do find it, it's stagnant and swampy where you really try to avoid putting your feet in it.
So I can't speak to how well they perform wet and how quickly they drain and dry out. My instinct is that it will be good.
I have put the 12s and 13s into creeks on runs/races and they were fine. The 15s are lighter and more breathable so I would be surprised if they didn't have good drainage.
I did have to traverse some wet rocks and I have no issues to report - the grip was good!
Weight
A size 7 women's is 8.8 oz. That is light! I don't know how they got lighter and improved but they did.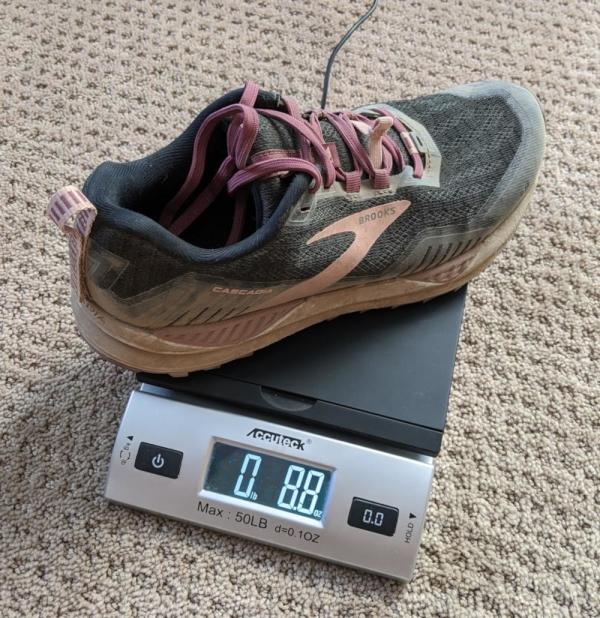 I was seriously concerned that with the changes in the Cascadia 14, Brooks would have a challenge at fixing the issues and keep the weight the same, yet it's even lighter.
However, I have two pairs of the Cascadia 13s stashed (I picked up two pairs once I realized the 14s went in a direction that completely didn't work for me), and I tried them on when I unboxed the 15s to compare.
I still prefer the 13s. They hug the foot much better, the tongue is form-fitting around the top of the foot, and they have a more flexible sole.
Durability
At the time of writing this review, I have 113 miles on the shoes. They don't show much wear.
The outsole shows almost no wear. There is minimal creasing of the midsole. No holes or tears. I tend to be hard on my shoes - I have very short legs so my cadence is quite high (190+ steps per minute on roads, around 175-180 on trails).
I probably take 20% more steps per than an average height runner. Most shoes are done for me by 300 miles (sometimes sooner). These are holding up better than expected.
But possibly part of the reason it is is also why it is stiffer with the fit than any of my trail shoes.
The verdict
I think the jury is still out for me but I'm leaning towards yes (unless I find a better replacement option).
The 12s and 13s for me are still a superior shoe even considering the additional weight. Shoe weight isn't everything, especially for the trail. You're running with pounds of water and gear on your back. An extra ounce on each shoe is trivial. For road running/racing, I think weight matters a whole lot more.
For the trail, it's not as crucial as fit and functionality. When running ultramarathon distances, if your shoe fit is sub-par, you may end up having to swap them out mid-race with blisters or hot spots (happened to my partner at mile 30 of his 100K with the Cascadia 14s because of the dirt and sand that had entered the shoe from the fabric.
His feet were gnarly at the end of that race and that is not the norm for him).
In my opinion, Brooks improved some of the critical issues with version 14 that made the shoe practically unusable for me (stiffness, porous upper that let in the kitchen sink from the trails, clunkiness on anything technical).
However… This version still needs work with the fit and ride. I find that it is a bit clumsy on more technical trails because the shoe doesn't have enough flexibility.
If you run plush, flat trails, this shoe will perform well. If you find yourself running narrow, rutted, banked, often technical trails, this shoe might not be your best bet.
My initial impression of the Brooks Cascadia 15 was very positive, and I was a bit surprised. I had never considered a Brooks trail shoe and had always seen them as a road shoe company.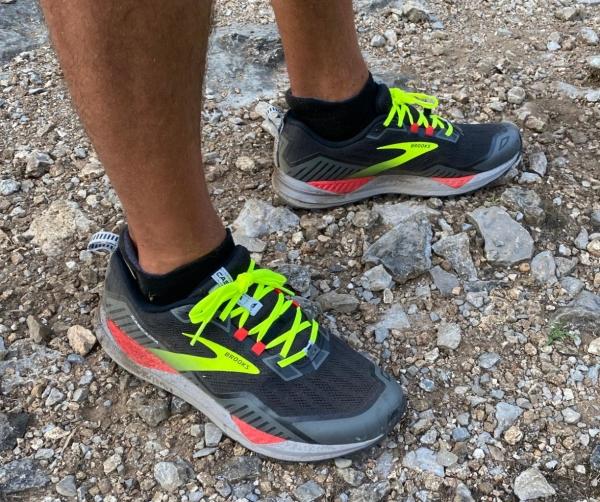 Like most Brooks shoes, the Cascadia 15s were very comfortable right out of the box. I did not feel that any break-in period was necessary. The engineered mesh upper is soft and flexible while hugging the foot and the lacing system allows for good lockdown on the midfoot.
I did not experience any heel slippage, and foot felt very secure within the shoe. The heel counter and tongue have enough padding but are not overly plush. Rock shield and Pivot Post system provide protection and a stable ride on rocks and roots.
Overall, I was very impressed with my first experience with Brooks trail shoes.
Stats
Weight: Men's US size 9 – 10.75oz (estimated)
Midsole: 24mm / 16mm, 8mm offset
Price: $130
Tester profile
Greg Pirtle (Male / 6' 0" / 180lbs / 38 years old) road and trail runner who has run everything from 5K to 100K races. Runs 70-90 training miles a week with about 20-30 of those miles being on the trail. Typically run 80-90% of my road miles easy/low HR (less than 145bpm) @ 9:00 to 9:30/mi.
Upper
The upper is an engineered mesh with some welded overlays to provide some extra stability and structure. The mesh is soft and flexible, which allows the shoe to hug the midfoot very well. The toe box is wide enough to be comfortable, but it isn't so wide that it's sloppy.
The overlay on the tip of the toe box does not feature any drainage holes. There are slits on the sides and near the heel, but if you are a forefoot striker, the water can stay accumulated in the toe box.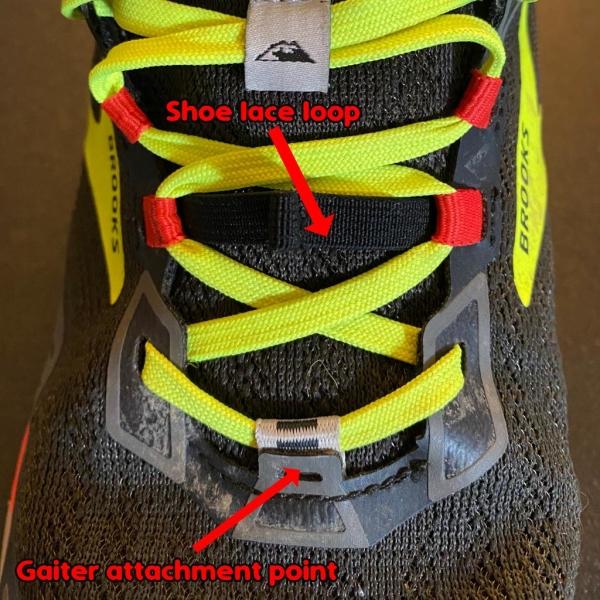 The lacing system features some eyelets supported by welded overlays and others by nylon loops. It allows for cinching down of the laces over a very comfortable but not overly plush tongue. The area over the midfoot also features a strap to tuck in excess laces as well as an attachment point for gaiters.
The inside of the upper is very soft on the skin and features a very comfortable, removable insole. The entire heel counter is well padded but not overly plush or bulky. On the back of the heel counter is a rugged nylon pull tab with Velcro gaiter attachment point underneath.
Overall the upper is comfortable and very functional. It protects the top of the foot and locks down nicely to keep it stable and secure. It feels like it is made of quality materials that will be durable and hold up very well to the rough conditions on the trail.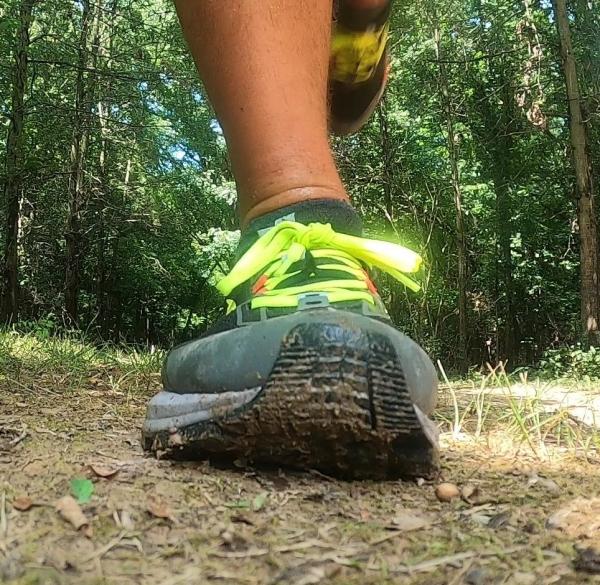 Midsole
I really liked the upper in the Cascadia 15s, but the best features are in the midsole of this shoe. The durable midsole features an 8mm drop and provides good protection underfoot.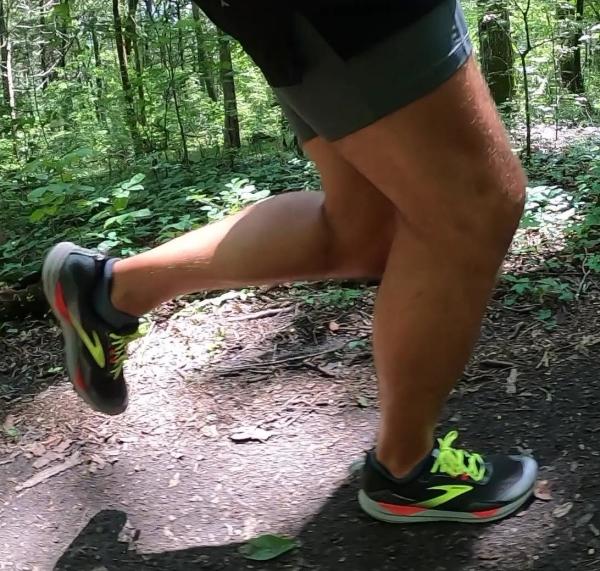 I went with good and not great because the "ballistic rock shield" is only in the forefoot and does not run the length of the shoe. Despite the limited rock plate coverage, I found the midsole to provide ample protection and experienced minimal issues with jagged rocks and roots.
The midsole is two different colors. In the colourway I have, there are some red triangular sections above the main section of gray midsole material.
These exposed red sections are the Pivot Post system, which provides excellent stability on uneven trails with rocks and rocks. I did not experience any issues with control or ankle rolls.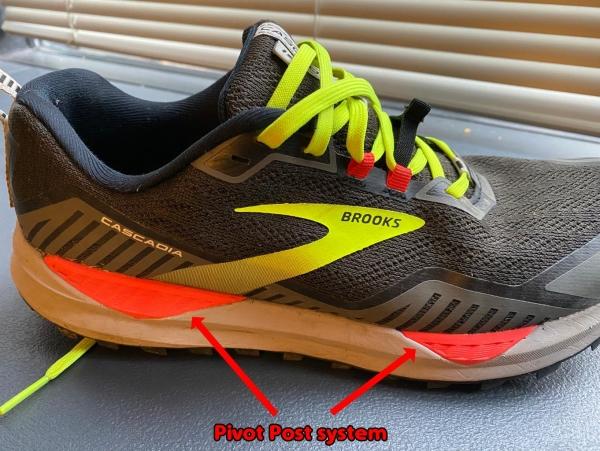 As for the cushioning, I think it falls more into the firmer category, but it does not make for an uncomfortable experience. I am disappointed with the amount of pop and energy return from the midsole, but the comfort more than makes up for this inconvenience.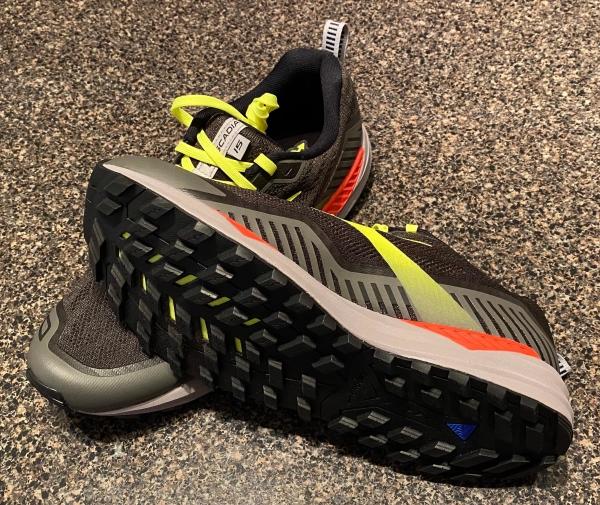 I took the Cascadia 15s out on some very technical trails and always came back feeling good without any leg or foot issues.
Outsole
I was not overly impressed with the outsole. It is very durable and protective with full coverage of blown rubber, but I experienced a lot of slippage.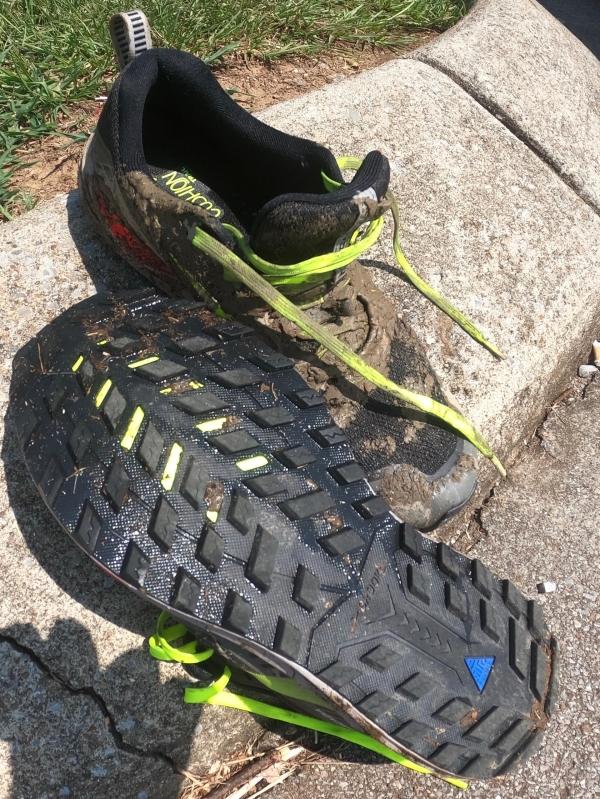 During one of my test runs, I had to finish out the last 3 miles in the rain. I found the mud and wet rocks to be a big issue. I am not sure if it is an issue with the lug pattern, lug depth, or the texture of the rubber.
There are plenty of very pronounced lugs in a multidirectional pattern, but this did not translate to the same grip as experienced in my preferred trail shoe option.
Ride
I have hit on this experience in some of the previous topics, but the ride wasn't what I was expecting. The Cascadia 15s are durable and well-cushioned, but the cushioning is firm bordering on stiff.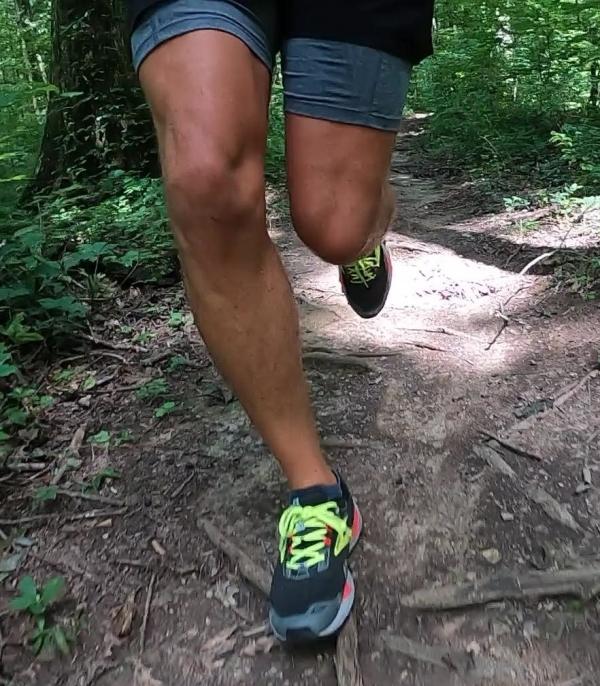 Typically, I like a firmer trail shoe that has some rigidity, but these did not have any rebound or energy return. It felt like a very flat ride without any spring to the toe-off.
If I am going to give up some of that plush cushioning, I would like to get something in return for it. I did not experience that with this shoe.
Style
I am a big fan of bold, bright colorways on shoes that have really cool names like Citron Mutant. The Brooks Cascadia 15s don't have a lot going on in the style department.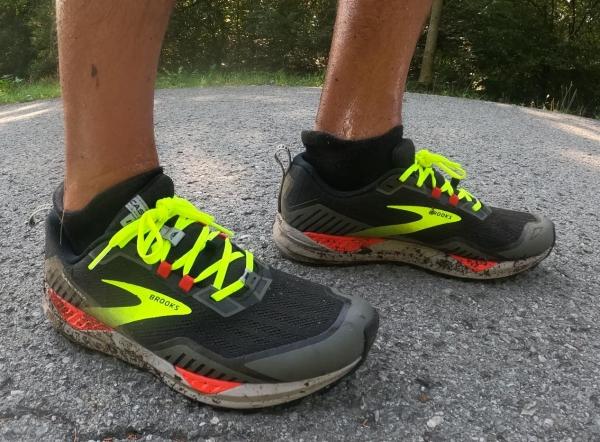 Aside from the fluorescent yellow laces and a touch of red highlights, they are mostly dull and unassuming unless you really like black and gray.
Conclusions
I tested the Cascadia 15s on several different surface types. I ran on technical trails, buffed out single track, greenway to trail, gravel fire road, and even did a quick 4-mile road run.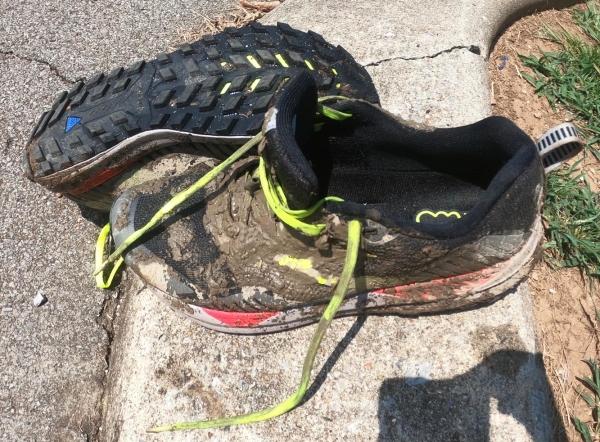 They tested very well in durability and protection while also finding them to be very comfortable in the upper and midsole. It isn't a great shoe, but it is a solid "good".
Aside from the outsole slippage and lack of energy return, there aren't many dislikes about my experience with the shoe. This experience has definitely changed my view of Brooks and would definitely give their trail shoes another try in the future.
Pros
Comfortable
Upper is breathable and soft
Cons
Not much bounce or energy return
Flat ride
No drainage holes in the tip of the toe box
Traction and grip is not great in muddy and wet conditions
Brooks Cascadia 15: Deconstructed
Part of the trail running shoes from Brooks, the Cascadia 15 has several noteworthy features that allow runners reap the following benefits:
Stable ride because of the multi-directional traction (prevents unnecessary movements sideways and backward) provided by the shoe's TrailTrak outsole and its heel and forefoot pivot systems.
A snug fit created by the platform's engineered mesh upper.
Maximum protection from sharp ground objects because of the Ballistic Rockshield technology sandwiched between the midsole and outsole of the shoe.
Cascadia 15 vs. 14
Here are some of the improvements Brooks made to the 15th iteration of the Cascadia to generate better performance than its predecessor:
Wider toe box for natural toe splay
New engineered mesh upper secures a more breathable in-shoe experience
Incorporation of hydrophobic materials to boost drying properties
Special version of the Cascadia 15
Brooks Cascadia 15 GTX. The Cascadia 15 is also available in a waterproof version. The differences between the original Cascadia 15 and its GTX version are: the latter is more pricey and it's almost completely impermeable. We say 'almost' because despite its waterproof properties, it can only withstand light rain.
How Cascadia 15 compares
Corescore: 55-58
1 shoes (0.3% of shoes)
Corescore: 59-62
1 shoes (0.3% of shoes)
Corescore: 63-66
4 shoes (1% of shoes)
Corescore: 67-70
7 shoes (2% of shoes)
Corescore: 71-74
15 shoes (4% of shoes)
Corescore: 75-77
24 shoes (7% of shoes)
Corescore: 78-81
77 shoes (23% of shoes)
Corescore: 82-85
103 shoes (31% of shoes)
Corescore: 86-89
76 shoes (23% of shoes)
Corescore: 90-94
27 shoes (8% of shoes)
Price: $60 - $78
20 shoes (6% of shoes)
Price: $79 - $97
25 shoes (7% of shoes)
Price: $98 - $116
56 shoes (17% of shoes)
Price: $117 - $135
98 shoes (29% of shoes)
Price: $136 - $154
65 shoes (19% of shoes)
Price: $155 - $173
45 shoes (13% of shoes)
Price: $174 - $192
17 shoes (5% of shoes)
Price: $193 - $211
5 shoes (1% of shoes)
Price: $212 - $230
2 shoes (0.6% of shoes)
Price: $231 - $250
2 shoes (0.6% of shoes)
All shoes average:
10.4oz
Weight: 6.3oz - 8oz
35 shoes (11% of shoes)
Weight: 8.1oz - 9.7oz
75 shoes (24% of shoes)
Weight: 9.8oz - 11.5oz
132 shoes (42% of shoes)
Weight: 11.6oz - 13.3oz
61 shoes (19% of shoes)
Weight: 13.4oz - 15.1oz
9 shoes (3% of shoes)
Weight: 15.2oz - 16.8oz
3 shoes (0.94% of shoes)
Weight: 16.9oz - 18.6oz
1 shoes (0.31% of shoes)
Weight: 18.7oz - 20.4oz
0 shoes (0% of shoes)
Weight: 20.5oz - 22.1oz
0 shoes (0% of shoes)
Weight: 22.2oz - 23.9oz
1 shoes (0.31% of shoes)
Weight: 24oz - 24oz
1 shoes (0.31% of shoes)