As the name suggests, the Trail Scout 2 from ASICS is a trail running shoe that's all about providing support in every stride. It's an easy-day trail runner that doesn't dig deep into the pockets, but the opposite. Even more, it proves its value with its versatile performance. Whether it's on the trail or the road, the ASICS Trail Scout 2 can also be your hiking or walking partner.
Pros
All-day support
Durable
Grippy on rugged and mountain trails
Impressive heel lockdown
For heavy runners
Can double for hiking and walking
Astonishingly CHEAP
Cons
Narrow for wide feet
Lacks responsiveness
Heavy
Who should buy the ASICS Trail Scout 2
The ASICS Trail Scout 2 is a trail shoe that best fits runners who are looking for a:
budget shoe for off-road adventures
supportive trail running shoe for mellow days
trail shoe that can double as a light hiking and walking shoe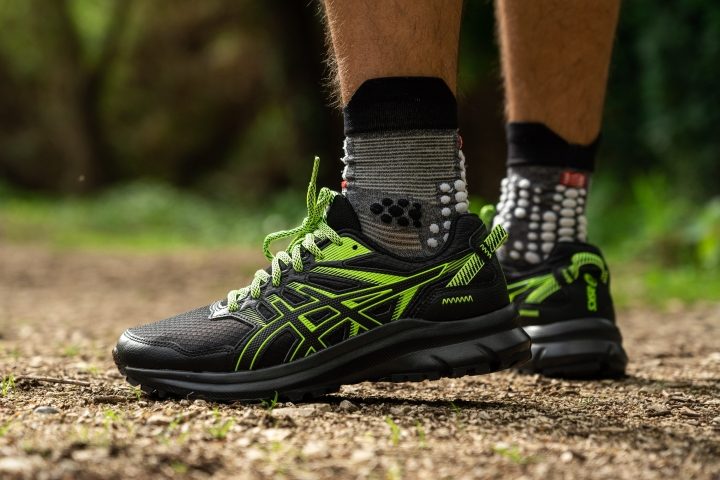 Who should not buy it
If you're seeking luxury or a premium experience in the mountains, this shoe isn't for you. It's a budget-friendly, all-purpose shoe without a fancy midsole, ultra-padded upper, or cutting-edge technologies.
For those features, consider checking out the carbon-plated Saucony Endorphin Edge or the Hoka Challenger 7.
Trail Scout 2 vs. 1
The second version of the Trail Scout from ASICS only meets one significant update. The outsole now has a redesigned pattern, and it provides anchored steps on uneven terrains. The rest of the shoe's construction takes after its predecessor.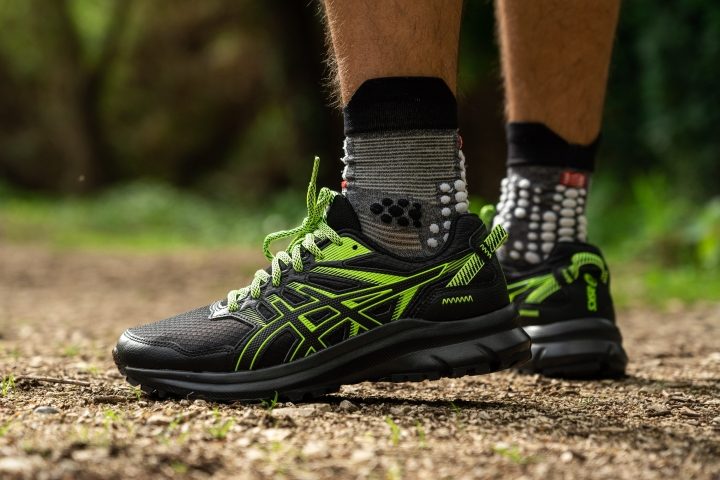 A built-to-last upper
After 2 months of use on both road and trail surfaces, runners say that the shoe is still "holding up well." There are still no damages on the outsole and upper, and the midsole is not packing out.
Fact check
Upon closer inspection of the upper, we confirmed that ASICS used thick and durable materials in this shoe. It features an abrasion-resistant mesh and multiple layers of sturdy synthetic leather.
Of course, breathability now is a concern. The more layers there are, the more airflow is compromised.
Fact check
Luckily, the Japanese brand did a great job by incorporating thinner layers in the upper's top section to enhance ventilation.
The light test confirmed ASICS' strategy. While it's not the most breathable shoe out there in the trails—especially in this black colorway which can be too hot for summer—it still performs OK. With a breathability score of 3 out of 5, it's on par with the average trail shoe.
Dull ride
There's not much bounce from the Trail Scout 2. A couple of trail runners even find it too rigid for their liking despite Asics' attempt to make it softer. If you're in for a more forgiving and lively ride, they recommend going for the Nike Wildhorse 8.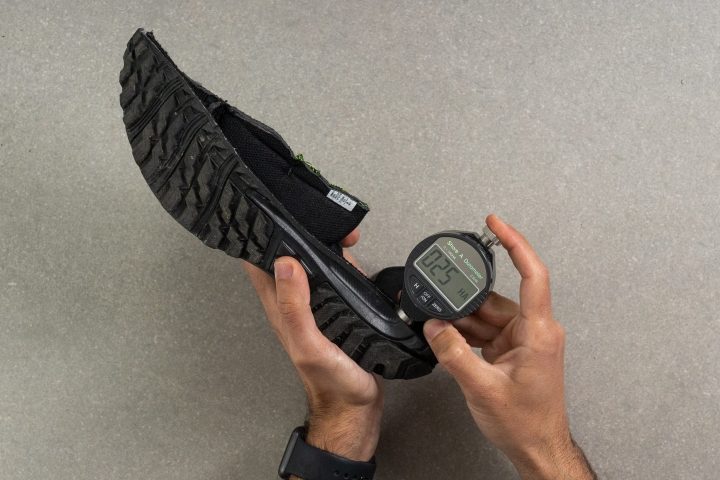 Disclaimer: We average four measurements and eliminate any outliers. This image depicts only one.
Fact check
We tested the foam and found it to have a hardness rating of 25.5 HA, which is below average. This means that the shoe provides a moderately soft feel, but don't anticipate a lot of bounce from the EVA-based foam.
Fact check
Based on our manual assessment, we gave this shoe two "relatively rigid" scores: 3 out of 5 for longitudinal flexibility and 4 out of 5 for torsional flexibility. This is the main reason why several testers perceived the shoe as rigid, rather than due to the softness of the midsole.
Disclaimer: We do 4 measurements and exclude any outliers. The video above displays just one measurement.
Then we did our classic bending test, where we measure the force required to bend the shoe to a 90-degree angle. And we discovered that this ASICS model is more flexible than the average trail shoe.
Having said that, it's crucial to take into account that the median calculation includes incredibly stiff carbon-plated trail shoes. Therefore, it was not surprising at all when we excluded those shoes from the comparison and discovered that the Trail Scout 2, once again, falls on the firmer side of the spectrum.
Painless and stable steps
Those who are on their feet all day and those with high arches commend the ASICS Trail Scout 2's underfoot support. According to them, it keeps their strides steady; they don't experience foot fatigue and strain at all.
This is also the same reason why heavy/large runners prefer this shoe for their trail runs.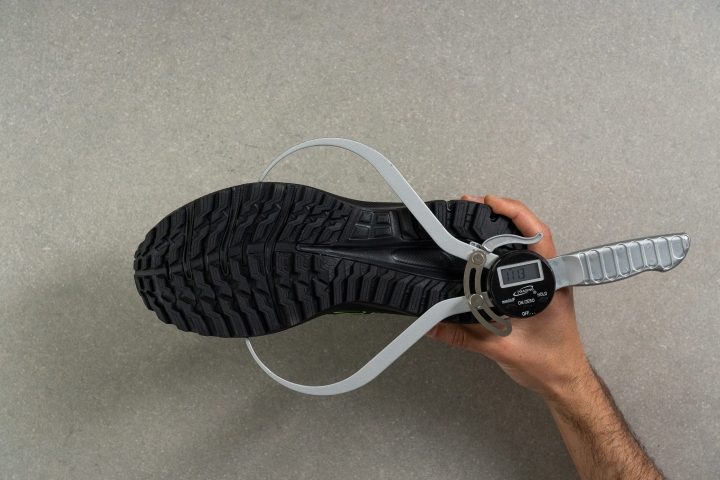 Featuring a wider-than-average forefoot and heel, it's an excellent pick for pronation-troubled runners seeking a non-motion-controlled shoe.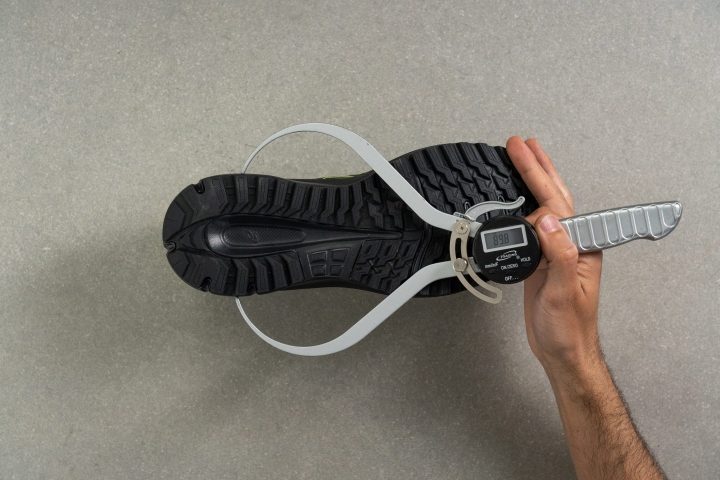 The EVA-based midsole, in conjunction with the outsole, provides a stack height configuration of 22.5/32.8 mm.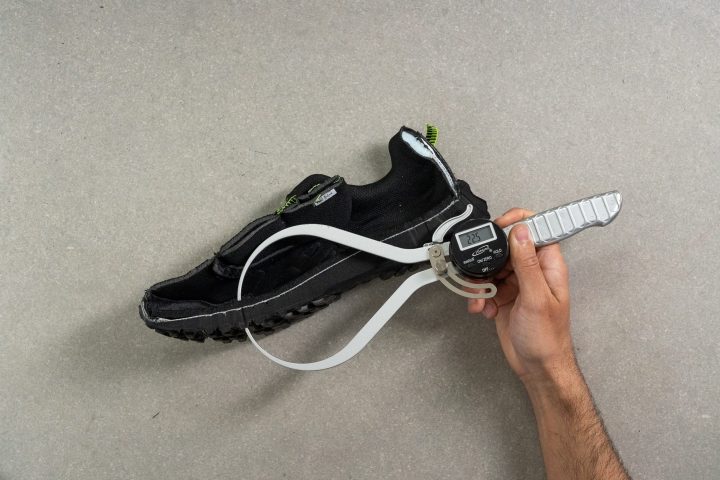 This may not be sufficient for your typical Sunday long run, particularly for those who strike with their forefoot. Yet, it should be enough cushion for the majority of runs.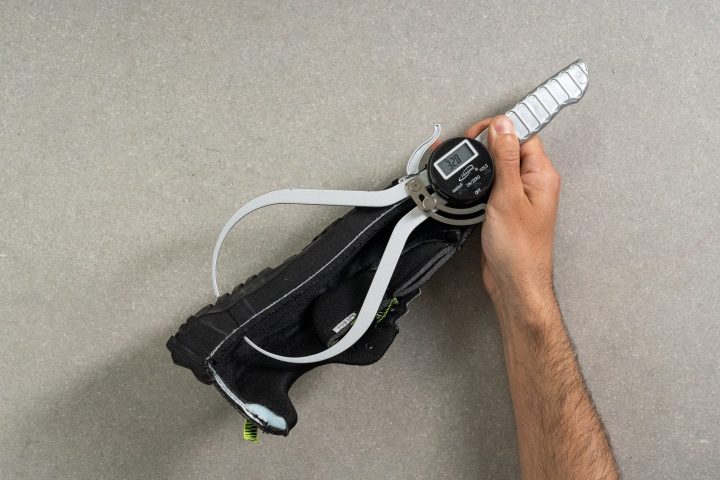 Finally, there's absolutely zero rocking action in this shoe, and that's exactly what we were expecting.
It's almost laughable how this shoe refuses to balance when it starts rolling towards the midfoot!
Winter delight!
After +200 shoes analyzed in our lab, we discovered a clear correlation that shows cheaper foams becoming bricks in cold temperatures. To our amazement, the Trail Scout 2 performed at a high-level in this regard.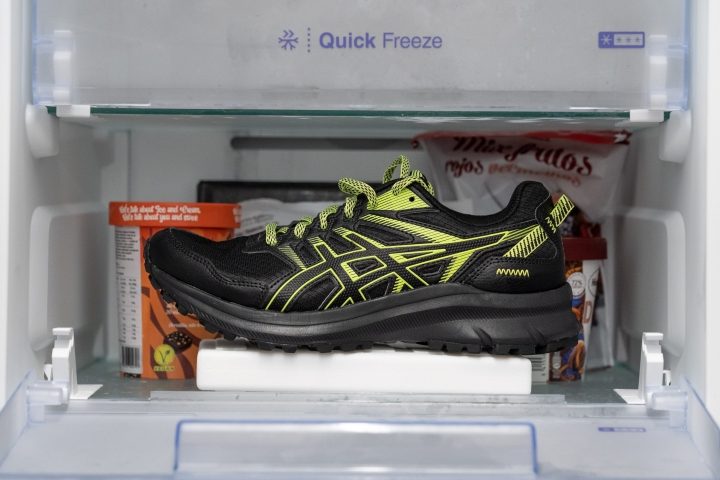 This shoe really surprised us, becoming only 13.7% firmer and 31.8% stiffer after spending 20 minutes in our freezer.
Fact check
This is significantly lower compared to shoes that cost twice or thrice as much, such as the
Salomon Ultra Glide 2
(81.9%/31.8%) or the Nike Wildhorse 8 (41.3%/37.2%).
The ASICS Trail Scout 2 outsole is durable and clings like claws
On mountain terrains and rugged trail surfaces, various testers state that the shoe grips well. So much so, there are NO reports of slips or missteps.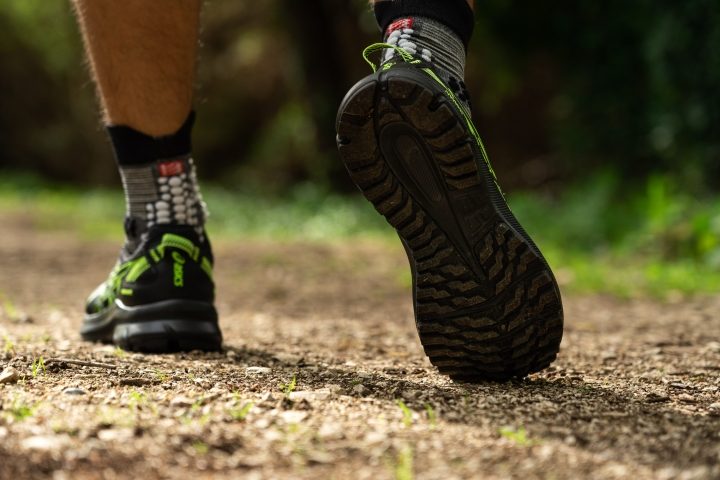 A running expert stated: "The outsole rubber is abrasion resistant too, so these should last for many miles of running."
Fact check
ASICS made a deliberate choice to use a rubber compound that is slightly firmer than the average—87.8 HA of hardness—aiming to strike a balance between durability and grip, with a slight emphasis on durability.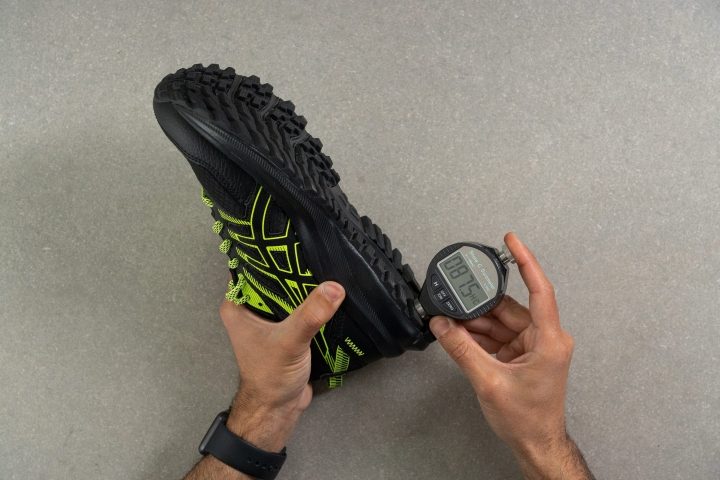 Disclaimer: We take an average of 4 measurements and exclude any outliers. This image shows just one of our measurements.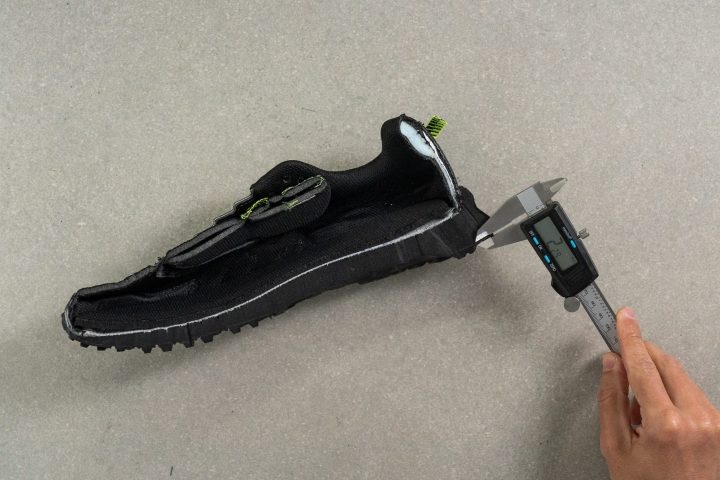 A funny thing about running shoes is that customers hope that the cheaper shoes will outlast the more expensive ones. That's why ASICS needed this model to be super durable, so they went ahead and made the lugs and rubber thicker than usual.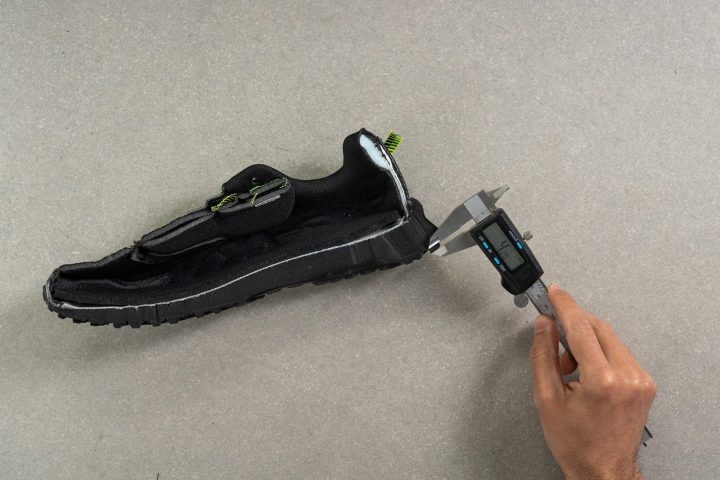 How thick? Well, let's do a little comparison...
| | | | |
| --- | --- | --- | --- |
| Shoe | Outsole (mm) | Lugs (mm) | Total (mm) |
| ASICS Trail Scout 2 | 2.3 | 4.2 | 6.5 |
| Salomon Ultra Glide 2 | 1.6 | 2.8 | 4.4 |
| Nike Wildhorse 8 | 1.7 | 3.5 | 5.2 |
| Hoka Challenger 7 | 1.7 | 3.1 | 4.8 |
| Kailas Fuga YAO | 1.8 | 1.7 | 3.5 |
| Saucony Xodus Ultra | 2.1 | 3.8 | 5.9 |
With 6.5-mm-thick pure hard rubber, it's difficult to imagine this outsole getting destroyed with anything less than 1500 or even 2000 kilometers.
Heel clutch is A-OK!
Thanks to the shoe's internal heel counter, the Trail Scout 2 has a supportive heel lockdown and we awarded it 5 out of 5 in our heel stiffnest test. This prevents slips to inspire confidence during the run.
If you're a fan of soft heel counters, this shoe may not be the best choice for you. Pick the New Balance Fresh Foam Hierro v7 instead.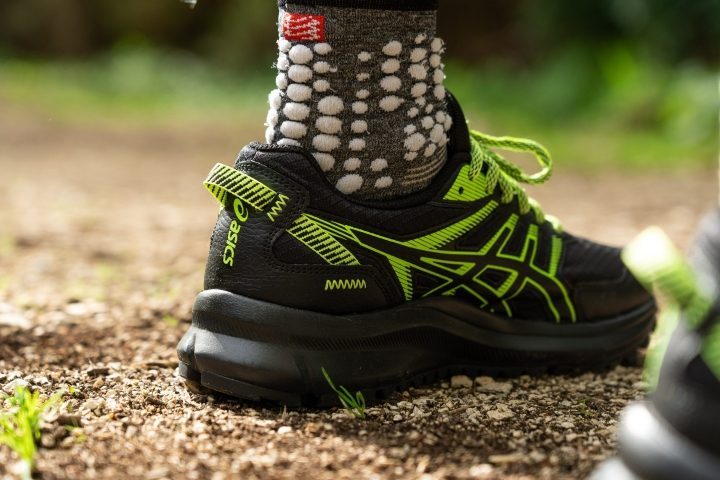 Also in the heel area, you'll find a convenient finger loop pull tab, which is a feature not present in every trail shoe. This cool addition makes it easier to slide your foot into the shoe, especially when the upper is as sturdy as this one.
Toe box is not wide-feet-friendly and runs long
The toe box is "just the right fit" for those with narrow to medium-width feet. However, broad-footed runners find it "constricting."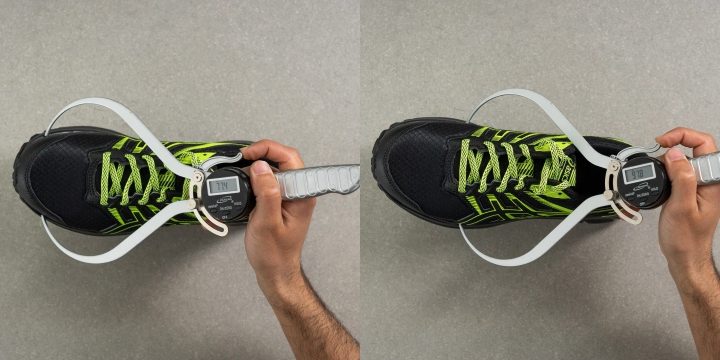 Fact check
After our precise measurements of the toe box, we confirmed that runners with wide feet would need more real estate.
We measured a maximum width point of 97.8 mm and 77.4 mm for the big toe area, which is almost identical to the average shoe's measurements of 98.8 mm and 76.6 mm.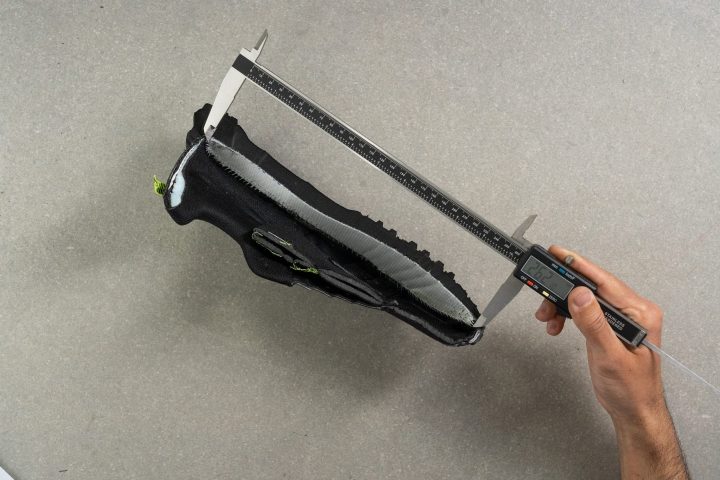 The issue for those with wide feet is that choosing a half-size larger is not a suitable option for this shoe. In typical ASICS fashion, this shoe runs long. For instance, the US size 8 measures 262.1 mm, which is only 1 mm shorter than the US Size 8.5 in the Nike Wildhorse 8.
Tongue troubles
The tongue on this shoe has a whopping 43% more padding than your typical trail shoe. That's amazing, but here's the catch—it's not attached to the sides.
That means the tongue moves around more than we'd prefer, and here's another bummer—it doesn't keep out little debris or rocks from sneaking into your shoe during your runs.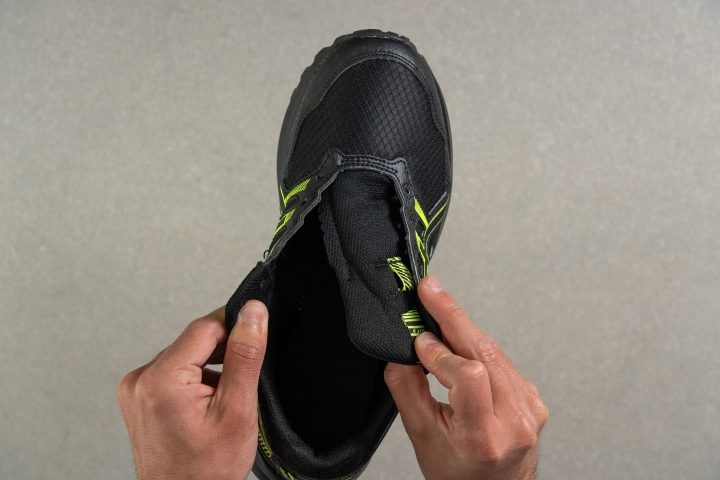 That's why most trail shoes rock a full or semi-gusseted tongue—but hey, you can't have it all for $60, right? On average, trail shoes retail for $130.
Doesn't tip the scales
The Trail Scout 2 is not bulky, which is the reason why trail runners also use it for their off-road hiking. While it weighs 323g in US size 9—more than the median—, testers said that "it feels lighter when running or hiking".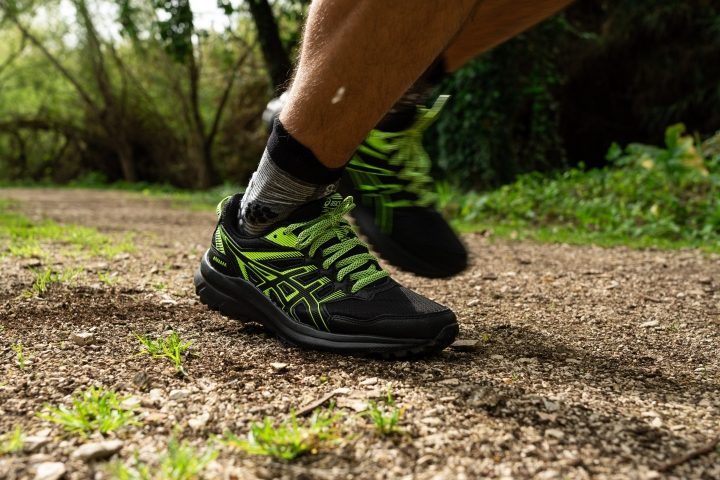 Given the excellent durability and the materials used to build this shoe, the weight seems reasonable.