Coming off the back of the
Pegasus Trail 4
's release, the Wildhorse 8 has had its work cut out to match its road-to-trail counterpart's phenomenal acclaim. Fortunately for fans of the
Nike Trail
line, the remodeled v8 delivers in every aspect that matters—getting top marks in comfort, protection, and performance. It's a no-fuss, wear-it-and-forget-it runner that can confidently traverse long distances even in the roughest of terrains.
Pros
Superior upper comfort
Durable
No need to break it in
Superb lockdown
Ample toe box space
Great traction on muddy, boggy, snowy trails
Also comfortable on hard surfaces
Sheds mud easily
Stable and protective midsole
Smooth, enjoyable ride
Best for daily training and trail LSDs
Cons
Not as protective for the toes
Does not like to go fast
Can be unstable at fast paces
Who should buy the Wildhorse 8
The Wildhorse 8 is an ideal choice for:
Runners who are looking for something more protective for long days on the trails.
Experienced trail junkies who need a pair that can cruise through technical terrain.
Anyone looking for a comfortable, beginner-friendly trail shoe.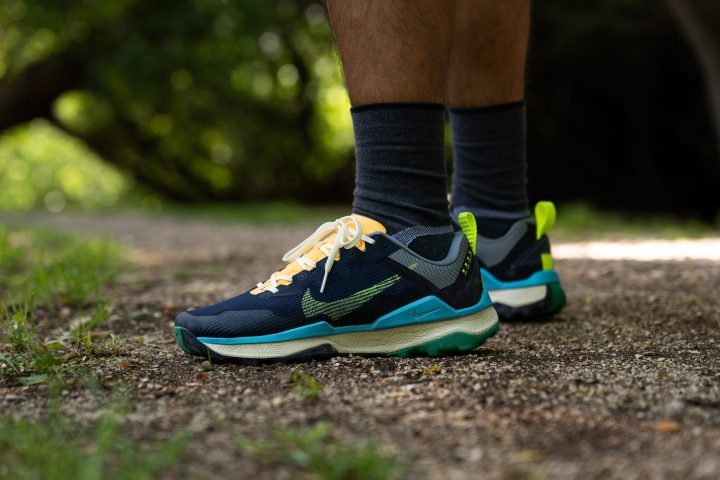 Who should not buy it
For runners looking for a more summer-friendly trail option, check out the Saucony Xodus Ultra. If it's a speedy ride you're after, try the Zoom Terra Kiger 8.
You won't need to tame the Wildhorse 8
Taking this pair of Wildhorses on a test run through various terrains, we had an extremely comfortable experience throughout! There is no need to break it in, no irritation, or hot spots.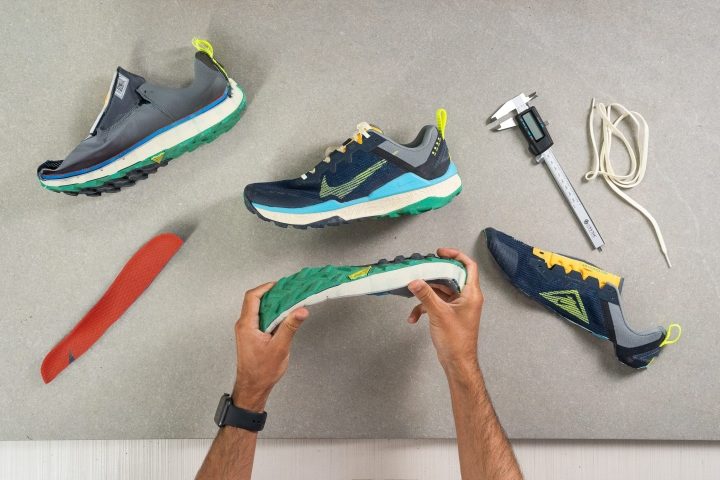 Pretty good airflow
Our state-of-the-art breathability test revealed that there's a pretty decent airflow through the shoe's upper, making it hard to recommend for the hottest summer runs. On a 1-5 scale, where 5 is the most breathable, we gave it a rating of 3. That's just average for a trail running shoe.
The truth is that Nike really nailed it in terms of comfort by going the extra mile. They ditched the standard single layer and opted for not one, but two layers of mesh.
If Nike had chosen to put airflow as a priority, we wouldn't have the internal mesh layer inside the shoe.
To try that, we put the material to the test under our bright light, and let us tell you, if they went that route, airflow would be absolutely mind-blowing. If you're feeling adventurous, maybe you could get a little wild and try tweaking the Wildhorse by cutting that internal layer... just saying!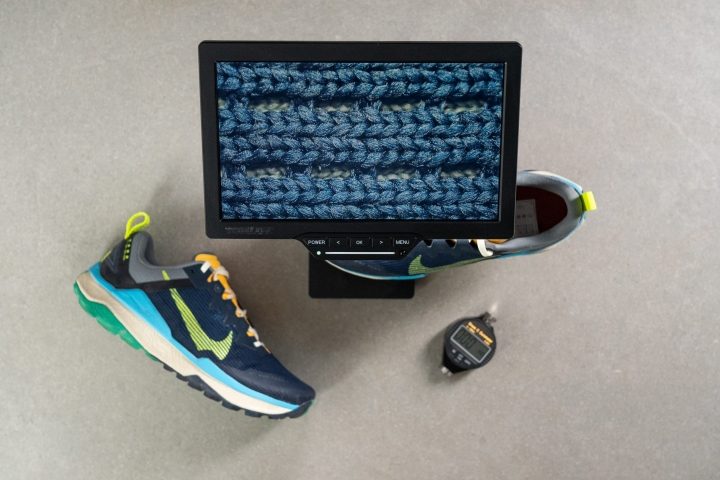 Now, let's dig deeper and get a closer look under the microscope to see how it looks and why airflow is so poor in this shoe.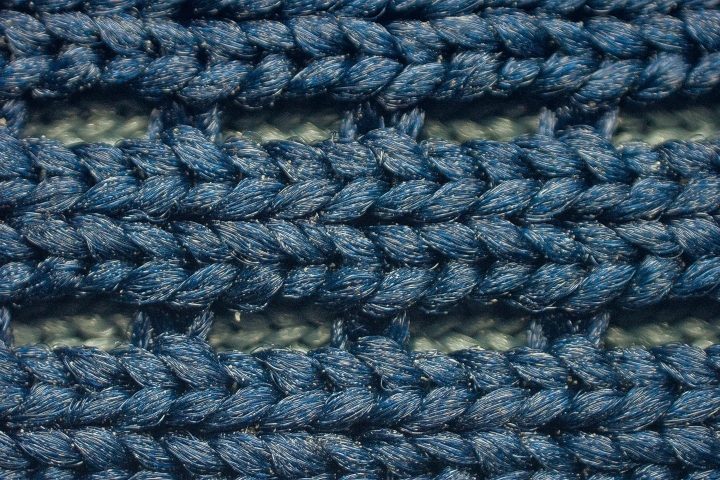 The blue external mesh it's great, sporting plenty of ventilation holes. However, behind that, it's the beige layer, which is the culprit for the fantastic comfort but at the same time, lack of breathability.
Durability takes a hit in the v8
In the world of trail running shoes, there's an unwritten law: the more comfortable the shoe, the lower its durability tends to be. This correlation usually holds true in our lab, and the Wildhorse 8 is no exception.
Take a look at the video above. We conducted our intense Dremel test—subjecting every shoe to a relentless 3.2N force. And the results are jaw-dropping. The upper ends up looking like it took a direct hit from a bullet. The damage is just crazy!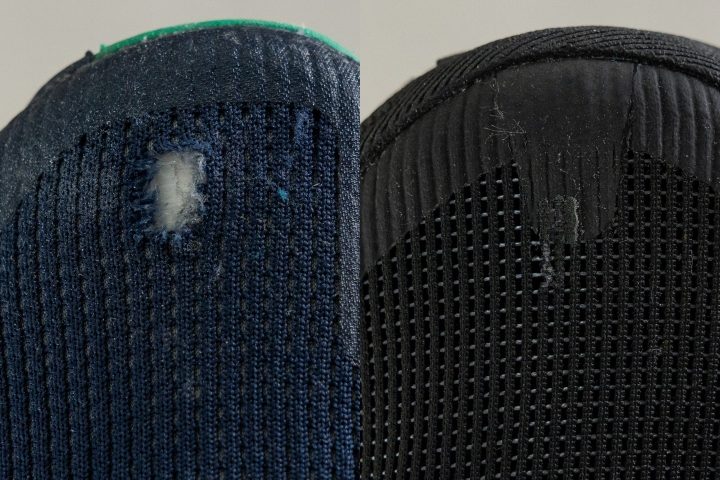 It gets even worse when you compare it with another Nike shoe like the Nike Terra Kiger 9 (on the right).
Now, let's shift our focus to the heel, and honestly, the results are no surprise at this point. Yep, you guessed it—more crazy damage. So, if you're someone who tends to wear out the heel counter of your trail shoes, I'm afraid that the 8th-edition Wildhorse won't hold up as well.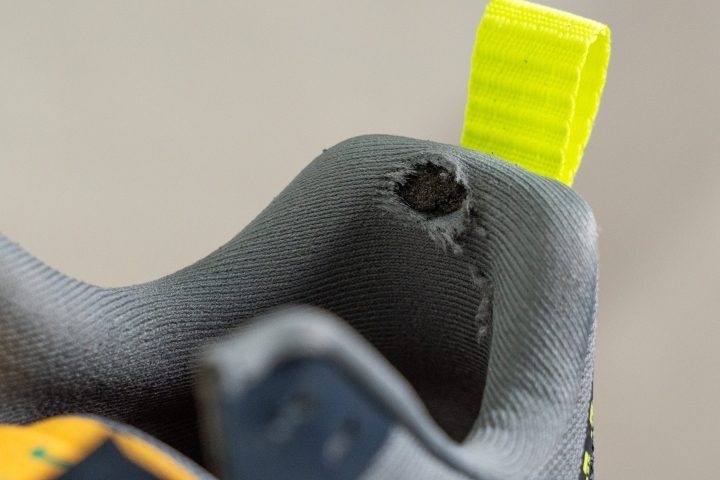 A full React midsole that's been reined in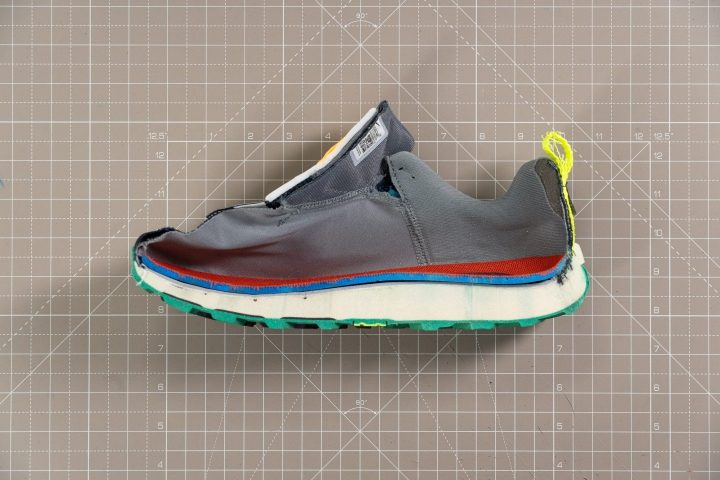 Complementing the shoe's technical trail proficiency is its full React foam midsole. We found it to be amazingly comfortable and ready for seriously long distances.
Nike made some tweaks to the shoe's React formulation to make it incredibly plush. We're talking so plush that when we used our durometer on the foam, it measured at 16.0 HA—125% softer than the previous Wildhorse. And 70% softer than trail running shoes on average.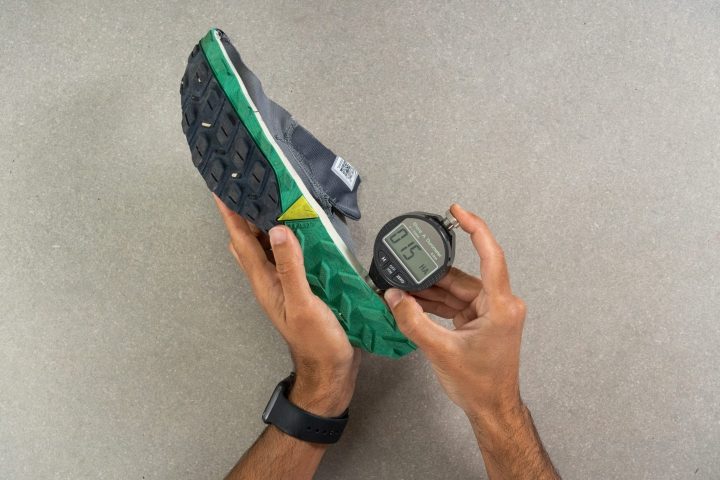 Disclaimer: We average four measurements and eliminate any outliers. This image depicts only one.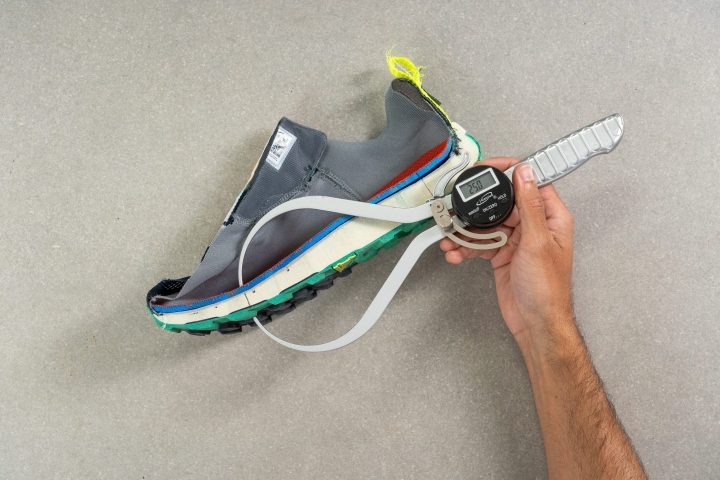 We measured the shoe's stack height at 25.0/34.2 mm, resulting in a 9.2-mm heel-to-toe drop. Both measurements are higher than the average trail shoe, providing ample cushioning for your long runs in the mountains.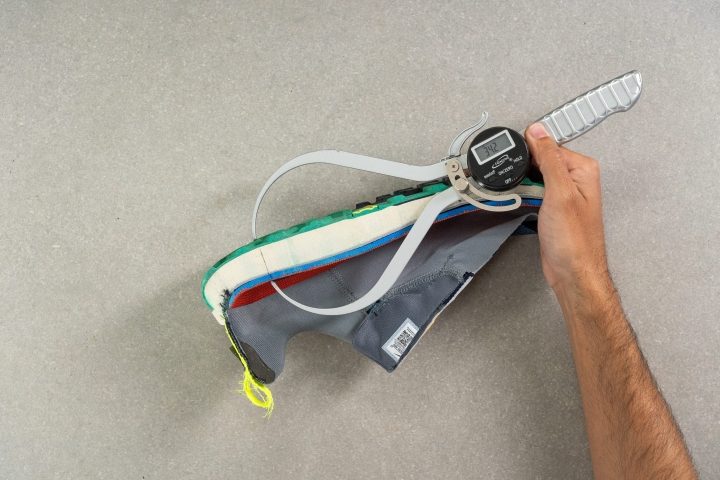 It's pretty clear that you're in front of a soft and tall trail shoe, so critics who aren't fans of React's wobbliness on the uneven ground were pleased to see the guide railing—which Nike calls a 'midfoot saddle'—around the shoe.
We found it to be quite helpful in feeling more stable on technical parts of the trail.
And despite the presence of a rock plate in the heel, the shoe still had luxuriously comfortable underfoot, even on hard surfaces.
React is renowned for its exceptional flexibility, and even though the WH8 is a trail shoe with more rubber than a typical road running shoe, it manages to maintain a good balance of flexibility.
In our tests, the Wildhorse 8 scored 2 out of 3 in longitudinal flexibility and 3 out of 5 in torsional flexibility on a scale where 5 is the stiffest.
Additionally, in our 90º bend challenge, we found that it required only 21.7N of force to reach that point, which is 40% less than the average trail shoe. This makes the Wildhorse 8 a good all-rounder.
A stallion on the outside but a pony on the inside
The Wildhorse 8's upper features a dual-mesh construction. It consists of a soft, plush-feeling internal layer, and a tougher, more durable outer layer.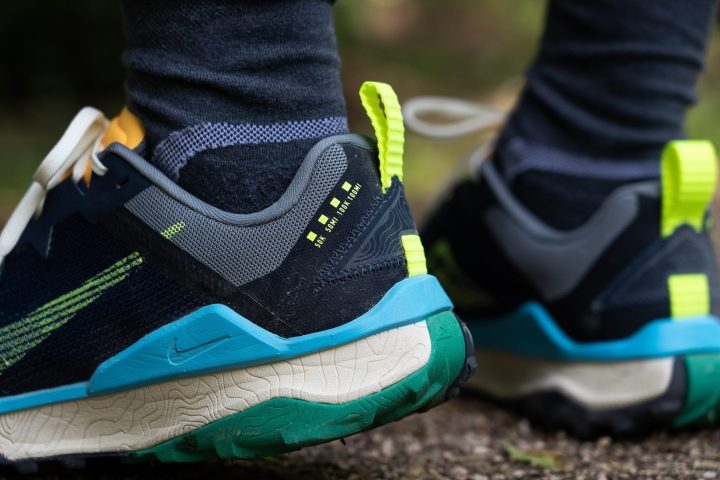 Even the shoe's substantial toe bumper wasn't felt because of its cozy interiors.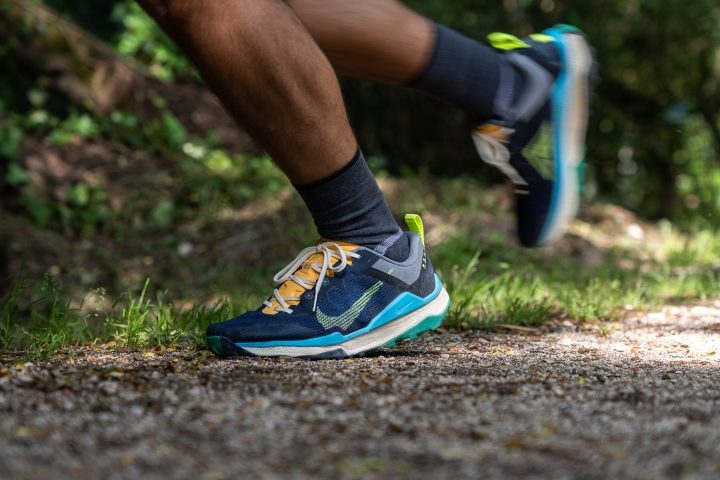 Finally, let's talk about slipping your feet into this shoe. It's not the most challenging shoe to put on, but Nike went the extra mile and added finger loop pull tabs, which is a nice bonus.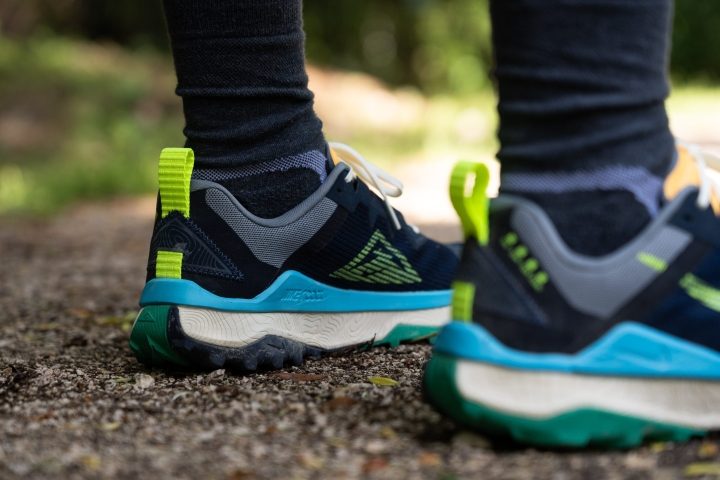 Will keep you saddled up all the way
The v8's lockdown was just as impressive, thanks to its rigid but moderately padded heel. Though its stiffness caused some initial concerns, we found very soon that it was actually quite comfortable and held the heel really well.
With a score of 3/5 on our heel stiffness test, there's no way we can categorize the WH8 as "stiff." It strikes the perfect balance of rigidity, effectively preventing heel slippage while maintaining a comfortable feel. Well done, Nike!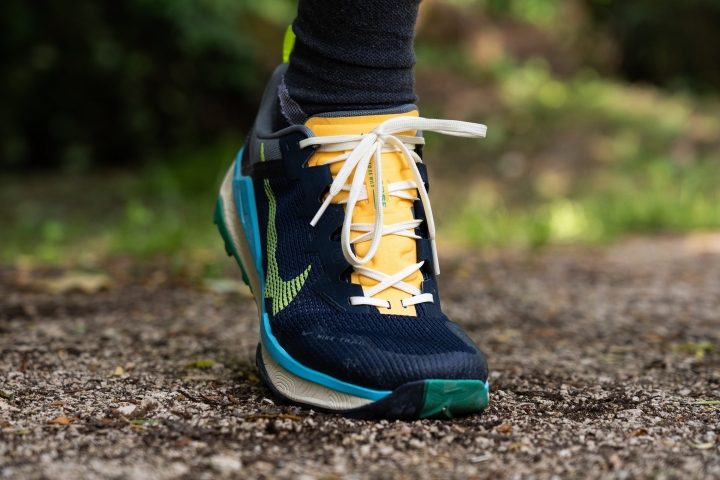 The laces also played a big part in providing a solid midfoot hold. Never once did he have to stop to readjust the laces in the Wildhorse 8.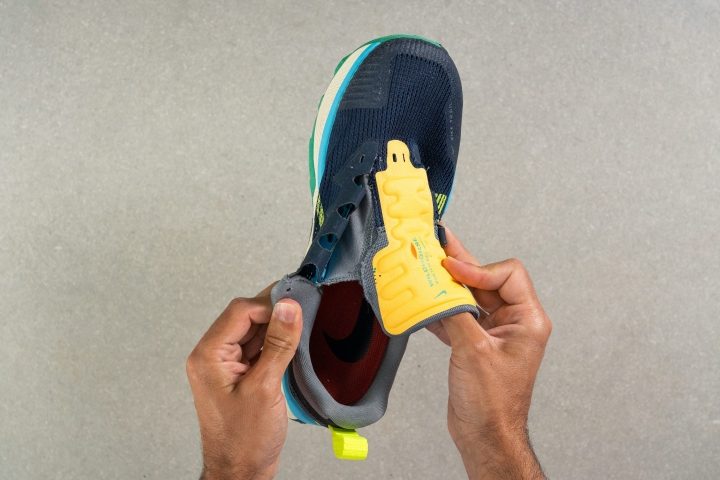 Now, let's talk about the tongue, as we have some good news for you. It's fully gusseted, which is fantastic for keeping rocks and debris out of the shoe. But that's not all—it's also 35% thicker than your average tongue, showing that Nike went all-in on comfort here. So, no worries about lace bite, fellas.
The tongue in the v8 outperforms the v7 in both metrics, as the v7 was only semi-gusseted and 40% thinner. That's a lot!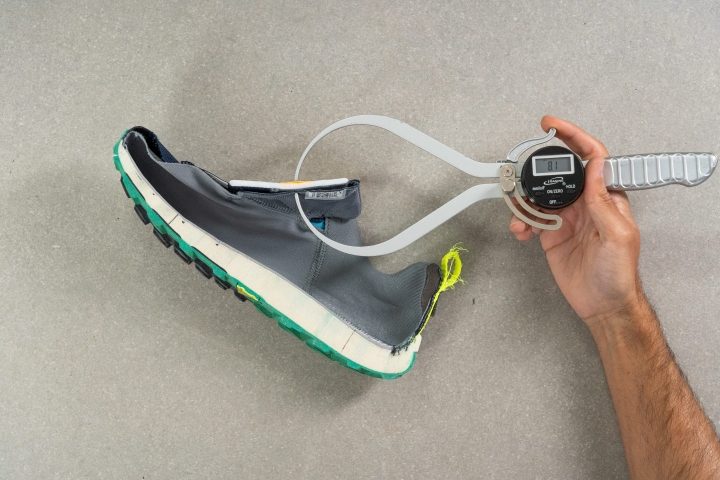 The Wildhorse 8 has wide hooves
From our bitter experience, Nike shoes rarely provide ample toe space... But the Wildhorse 8 becomes a welcome exception to this!
Taking inspiration from recent Nike trail shoes such as the Zegama, the Wildhorse now boasts an improved fit, offering just the right amount of space in the toebox. Those with wide feet will find ample room to move comfortably within this shoe.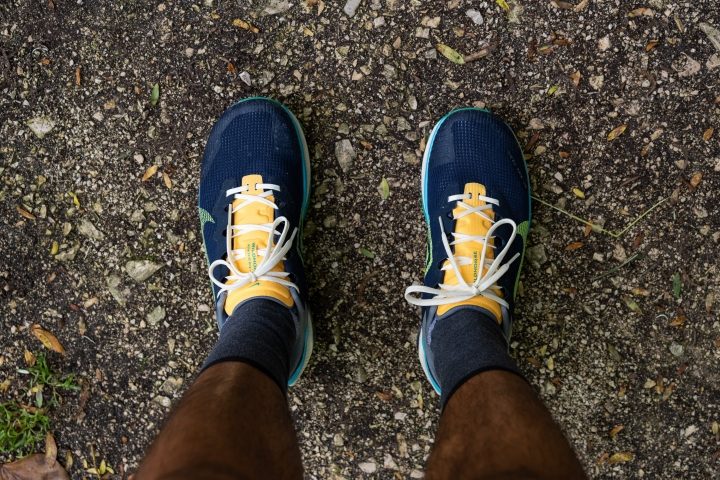 In the widest part of the toebox, our caliper shows 100.1 mm, and around the big toe, the width is 79.1 mm. We are happy to announce that this is a few millimeters wider than average! A shoe with similar parameters would be the Brooks Cascadia 17.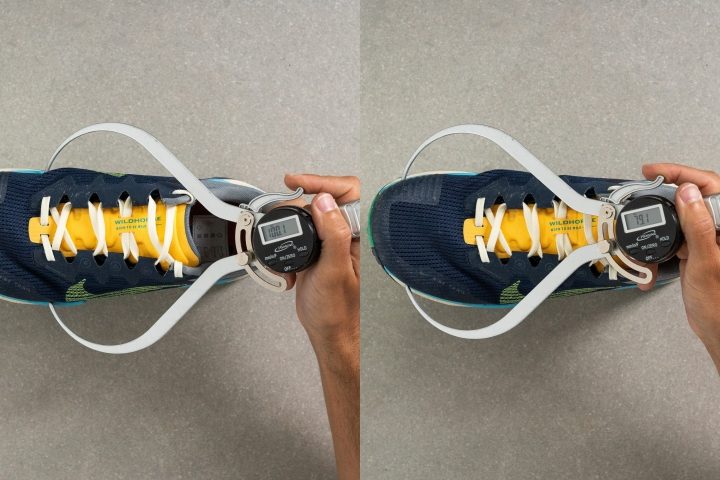 Is it winter-ready?
If you remember correctly, we praised the comfort of this shoe at the start of the review, but we also said that it's like an oven in summer. This suggests that it would provide warmth and coziness during winter, trapping heat inside the shoe. However, there's a catch.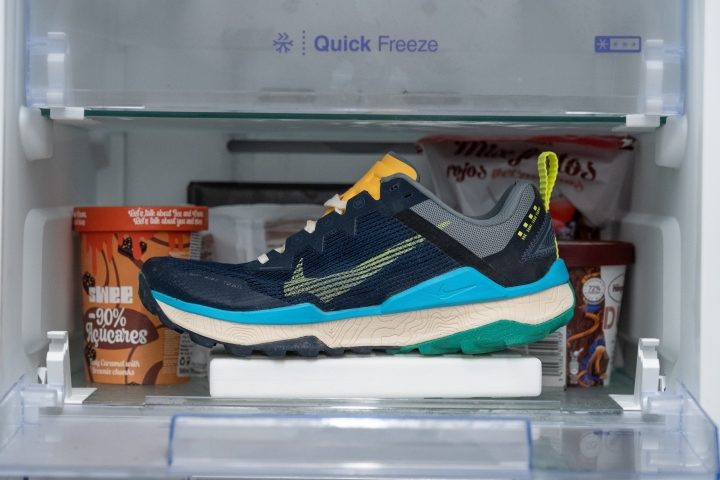 While all of that is true, we should also consider how the midsole performs in cold temperatures. And it's not the best one.
After being in our freezer for 20 minutes, the WH8 became 41.3% firmer and 37.2% stiffer. Unfortunately, this isn't great news if you often run in extremely cold temperatures.
Since React is made of TPE, it's not surprising that it tends to underperform in colder weather. In fact, we've categorized it as a non-resistant foam in our temperature and foam guide.
A Wildhorse, but not a racehorse
It's not lightweight—it's actually smack-dab on the average for trail running shoes at 11.3 oz (319g)—but it runs lighter than its weight suggests thanks to its cushioning.
The shoe's ride felt pretty well-balanced and nimble to us!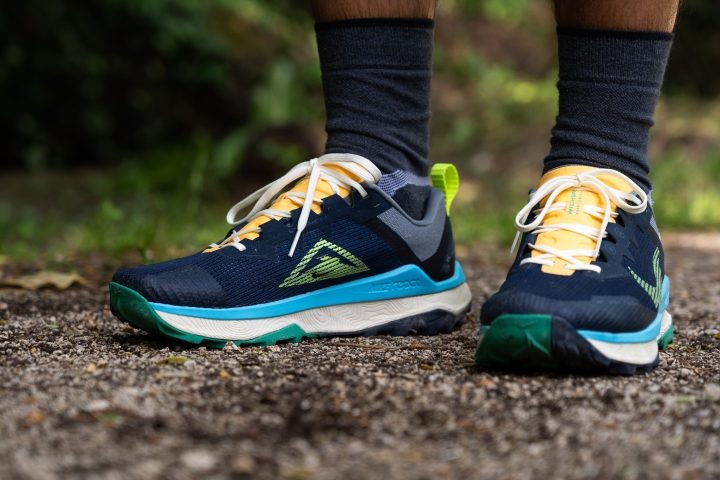 So it's clear that, despite its name may evoke the need for speed, the Wildhorse 8 is not a fast trail shoe. With comfort as its priority, this Nike shoe works best for daily training and steady, relaxed runs over long distances.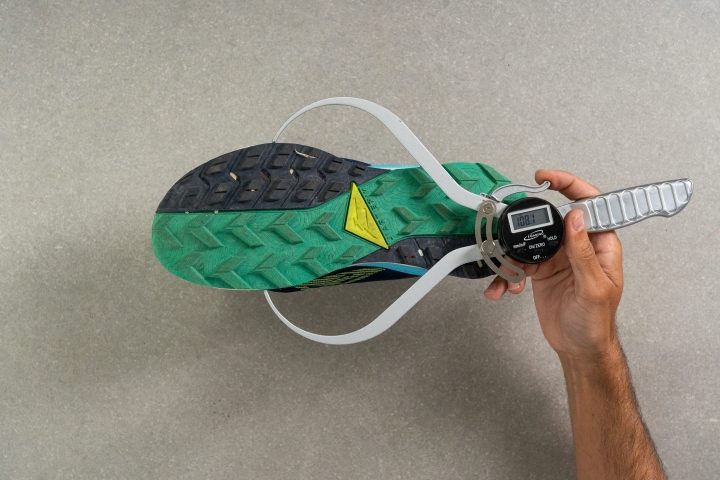 The shoe's dimensions don't bring anything extraordinary to the table. They're pretty much average for both the forefoot and heel, which accommodate a wide range of runners. And it worked!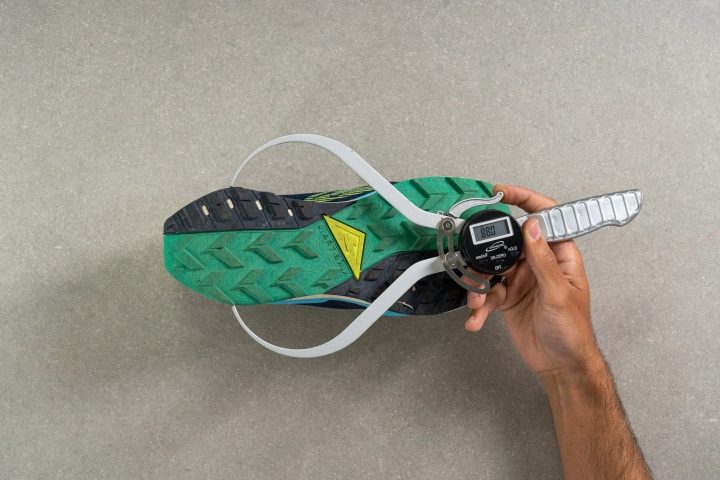 Additionally, the 8th edition of the Wildhorse has a slightly rockered ride, but nothing crazy.
Not just for galloping on wide open plains
Nike markets the Wildhorse as their rough terrain-ready runner primarily due to its high-abrasion rubber. We can agree with that given that the shoe's outsole actually performed very well on difficult trails, and was also comfortable on hard trails and tarmac.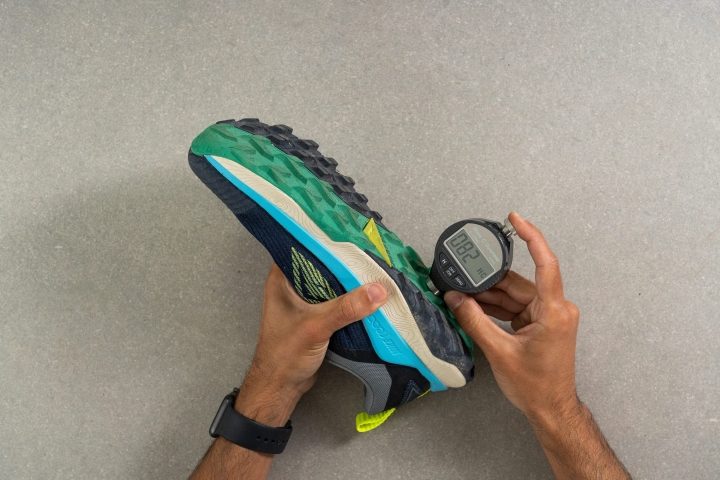 Disclaimer: We calculate an average of 4 measurements and disregard any outliers. This image portrays just one of those.
The American brand often faces criticism for its trail shoes' subpar grip. So this time Nike stepped up its game by using a softer compound. The rubber in the Wildhorse 8 is a whopping 6% softer compared to the New Balance Fresh Foam Hierro v7, and it's also softer than the median.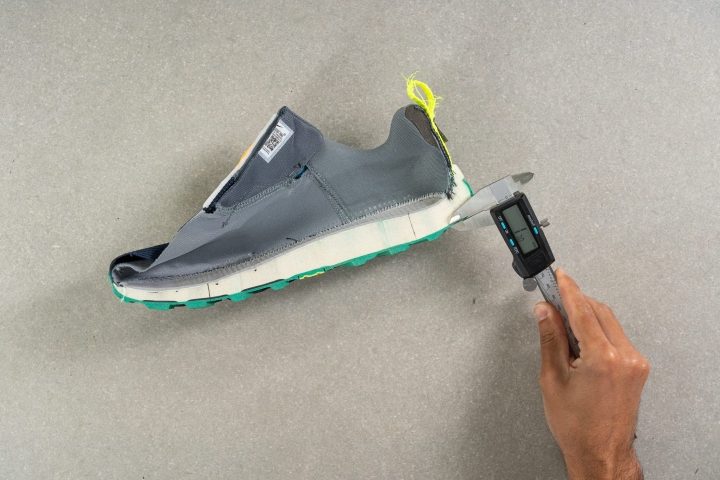 Its chunky and aggressive tread excelled on thick mud, boggy forests, and even some snow patches.
The lug spacing also sheds the collected mud pretty quickly. There's no Vibram in here, but it's good enough for most scenarios.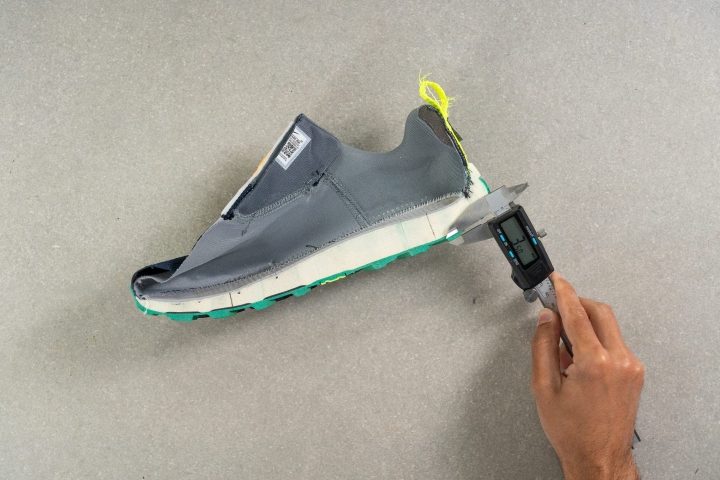 The 3.5-mm lugs in this shoe are slightly shorter compared to those in the Terra Kiger 9 (4.4 mm), making the Wildhorse a good road-to-trail hybrid.