When runners think of racing flats, they generally think in terms of speed. The word support does not usually come to mind, but that's what Brooks offers in the unique Asteria model.
Does the Asteria deliver on speed and support? See the verdict below.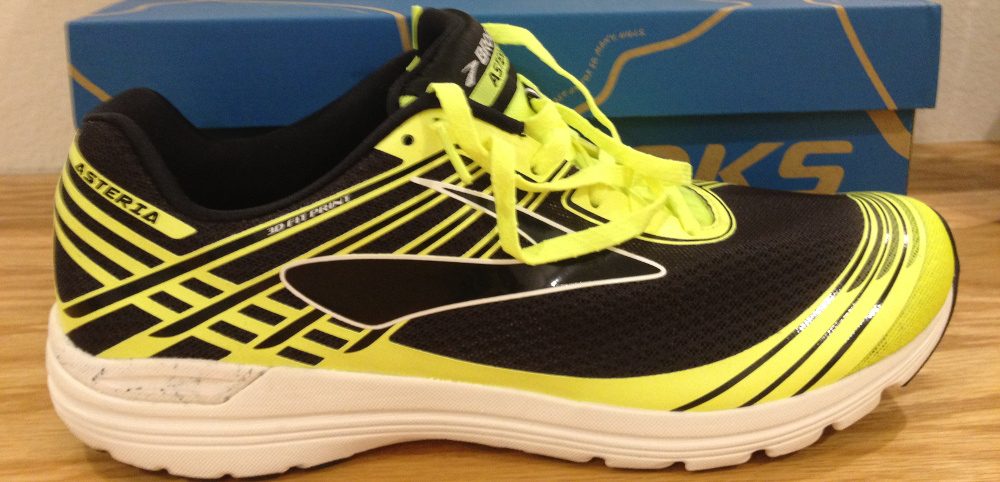 Fit
The Brooks Asteria weighs just 8.1 ounces yet feels lighter on the feet, offers a 10 mm heel drop, is semi-curved but appears to the eye to be virtually straight, and has a "snug and adaptive fit."
The breathable mesh upper on the model I received from Brooks provides for a perfect Goldilocks fit. The fit in the heel area is exemplary for a racing model and results in zero heel slippage while running.
Support
What makes the Asteria unique is its rearfoot guide rail system, a type of dual density firm support material that wraps around the back of the heel.  That's right, the Asteria does not offer a medial post but instead a brace behind and around the heel area. This is intended to support the feet of mild pronators on long runs.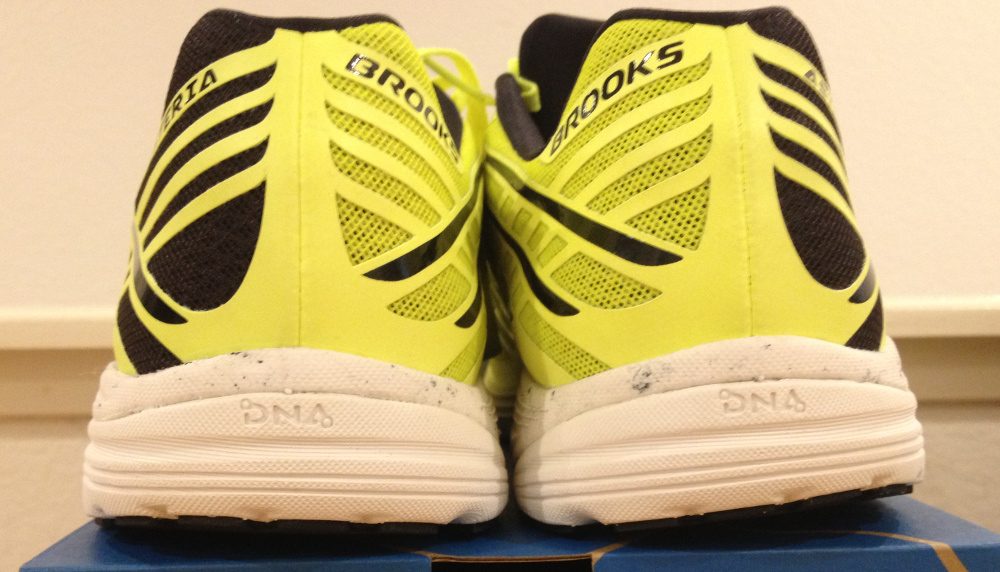 Outsole
The sole on the Asteria is surprisingly grippy for a racing flat. When combined with the properly snug fit upper, this means no slipping or sliding on road runs.
The BioMoGo DNA cushioning gets an A grade when it comes to being protective. I could feel the different grades of surface under my feet but there was never any discomfort from stepping on something hard or sharp.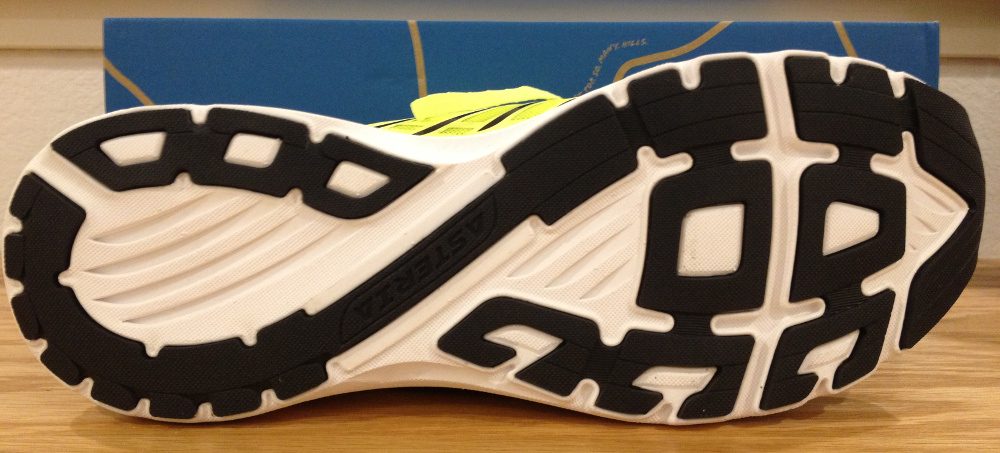 The Asteria offers B level responsiveness, which is just fine. There's a decent amount of springiness and bounce but not so much that it will slow you down in a race.
The blown rubber forefoot contains one very deep flex groove, sufficient for its intended purpose, and what Brooks calls forefoot propulsion pods. The pods provide excellent cushioning but in an unobtrusive way.
Feel
How to describe the feel of road running in the Asteria?
Well, if you ever ran in the Pearl Izumi EM Road N1, which offered a "lightweight and buttery smooth underfoot" (Pearl Izumi) and a "fast dreamy feel", you will feel like you've re-encountered an old friend in the Asteria. Yes, this is a positive.
The Asteria accommodates all three running styles, so you can "coast, float or fly."
The shoe will gladly let you pound on your heels, land in a relaxed fashion on your midfoot, or get up on your toes for speed. No problem.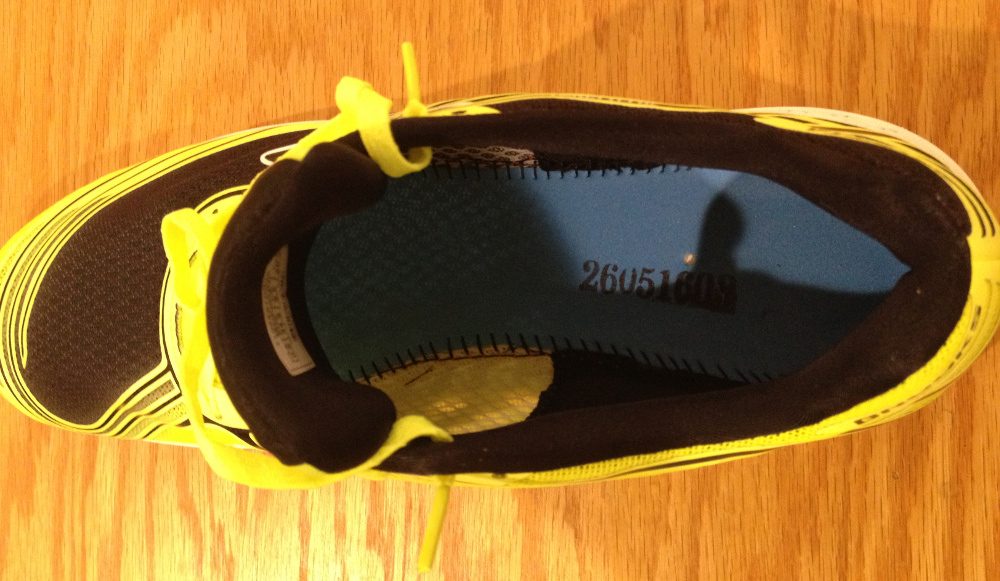 The Asteria permits and enhances rapid foot turnover, so you can "pick-em-up and put-em-down" rather quickly when doing speed training or seeking a PR.
Before arriving at the verdict, you may notice that I've described the shoe's strengths but no weaknesses. That's because I have not noticed any weaknesses in the shoe, which is a good thing.
Verdict
The Asteria is a mild support racing flat.
One might use it to run 5Ks but that would not permit the shoe to play to its strengths. The Asteria is a light, high quality shoe that can serve as a trainer for lighter, smaller and perhaps not naturally efficient runners.
The rearfoot guide rail system builds confidence that one can maintain a level, consistent stride on race day. Yes, the system works, especially on longer runs.
The Asteria flat is also a race day shoe best used in distance runs from 10K or 10 miles up to 50K. The Asteria allows one to experience joyful abandon on the track known as life. Thanks, Brooks!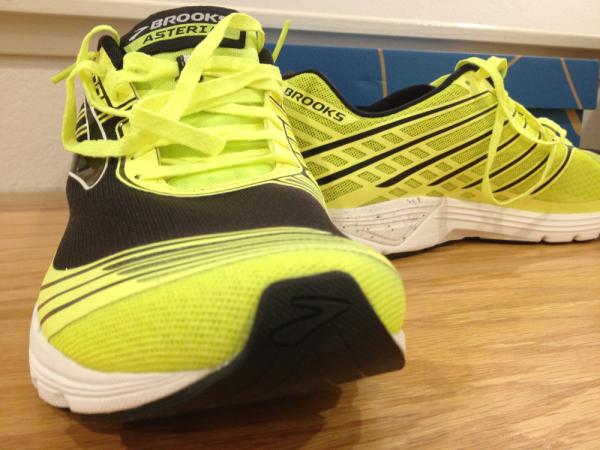 Highly recommended!