The running shoe industry might be looking nervously at the Brooks Adrenaline 17!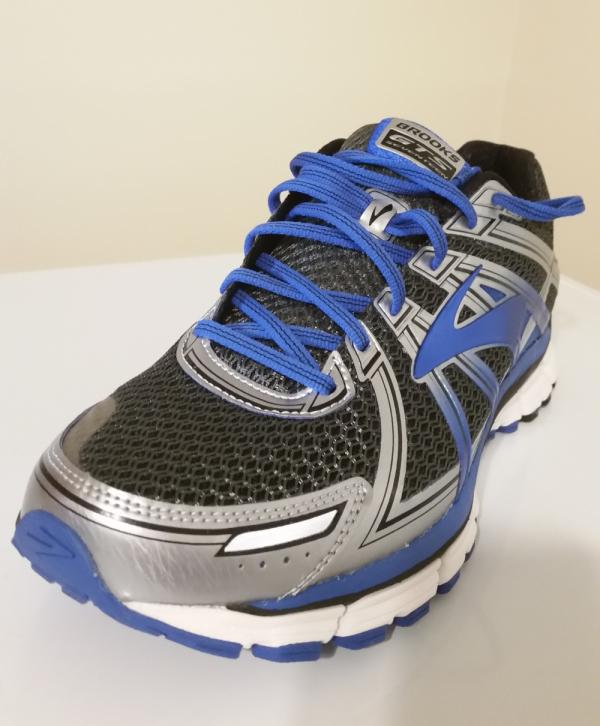 Weight
The Adrenaline 17 felt light out of the box, the digital scale read 12.3 oz./349 g for size 12 US, 46 Europe.
Quality
High-quality construction with no misplaced glue. The highest quality stitching in all areas, including the hidden areas usually out of sight under the sock liner/insert.
Fresh Ideas
White Arrows point to the reinforcement of the big toe area, well-placed reflectors giving 360-degree coverage, and to second lace keepers.
The flat laces distribute stress over a greater surface area resulting in more comfort. Definitely all great ideas!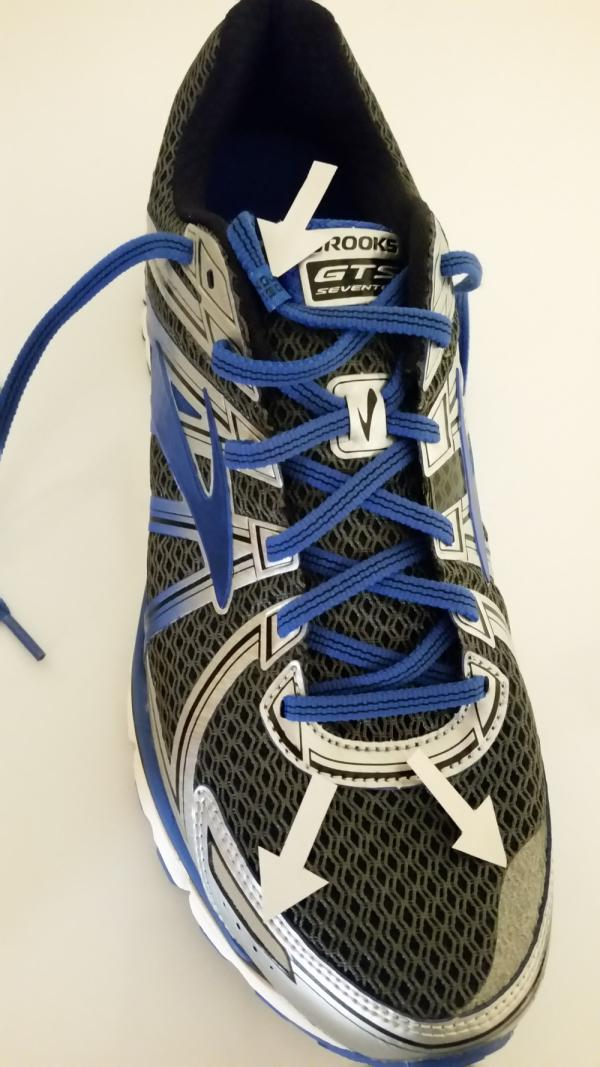 Performance
These shoes run very quietly and smooth, much like the Brooks Ghost, fast, smooth and quiet, no wasted energy.
These shoes are a joy to run in and have a good grip on wet pavement, they seem to disappear under the runner which helps you get to more important issues such as breathing.
The shoelaces have a good stretch. Heel to toe drop is 12mm. Its outer sole though may pick up small rocks from time to time.
Brooks DNA
Brooks has cushioning they call DNA and I am beginning to think that DNA is something that actually works.
My observation although not scientific is simply that the shoes seem to have a bit more spring on toe-off and more importantly, the bottoms of my feet hurt a little less after a long weekend run with these shoes.
It is difficult to compare DNA to Asics Gel while standing around, the Brooks DNA is dynamic and changes on the run.
Value
I did try to buy last year's version but they had none in my size, however, I do not regret having paid full price for these shoes, they are an excellent value.
I have had two previous versions of this shoe but have never enjoyed them as much as these, they get better each year!
Summary
The Brooks GTS 17 continues to evolve with annual changes that are well thought out improvements that come from engineers and scientists, and not simply marketing experts and rushing managers.
The Adrenaline GTS (Go To Shoe) is best suited for the marathon/half marathon with no changes needed.
Run happy, run safe!