Verdict from 20 experts and +100 user reviews
8 reasons to buy
The segmented design of the crash pad assisted in cushioning the landing impact, many runners noted.
Those who have tried the Brooks Adrenaline GTS 16 generally agreed that it felt lightweight.
'Comfortable' was a word that runners listed as a part of this model's 'Pros'.
A lot of users stated that the mid-sole unit was able to support the arch and correct over-pronation.
According to a lot of reviewers, this running shoe felt true to its size.
Many testers appreciated the fact that this version came in different widths—narrow, medium, wide and extra wide.
Some runners were able to use it on both the pavement and on light trails; they didn't feel short-changed in terms of performance and durability.
There were reviewers who wrote that the materials used in this running shoe were reliable and consistent.
3 reasons not to buy
A tester felt that it had too much padding; it caused some discomfort to their feet.
The mid-sole unit felt stiff for one runner.
The toe box was narrow for several runners; the fabrics rubbed uncomfortably against the toes, resulting in blisters.
Bottom line
Runners stated that the 16th version of the Brooks Adrenaline GTS mostly delivered. They felt that this versatile running shoe was durable, that its cushioning systems were comfortable, and that its pronation control feature was effective. Also, the accommodating width choices made it easy for consumers to get a more relaxed fit. Still, some complained that the coverage felt uncomfortable, and that the mid-sole felt unwieldy.
Tip: see the best running shoes.
Our reviews
The stability shoe that weighs 11 ounces and has a 12 mm heel drop.
It was released November 2015. They are available in both men's and women's.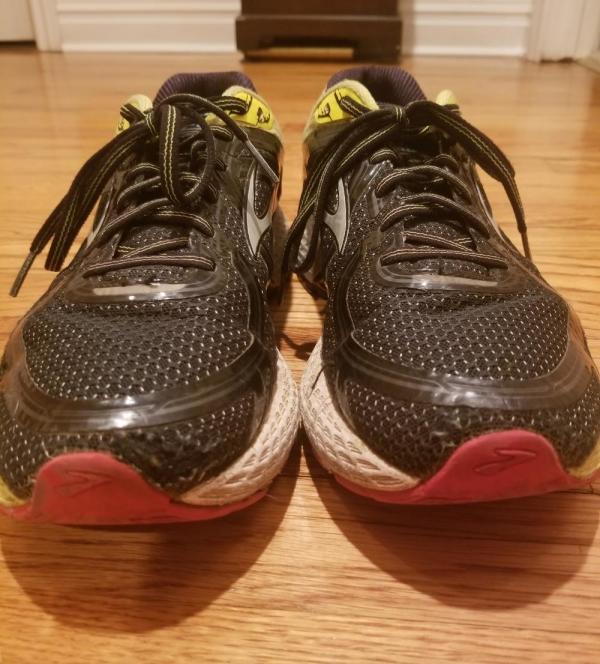 Comfortability
The worst thing about these shoes is the heel slips since there is so much thick cushioning all over the inside of the shoe.
Because of this, it makes the shoe feel a little bulkier but not necessarily heavier. You will probably have to experiment a little with your running shoe lacing techniques.
Since the shoe is so thick a lot of the shock gets absorbed. It's the type of shoe that would reduce injuries on long distance runs. (I know this because I seem to be injury prone and these are one of the only shoes that I haven't gotten injured in yet.)
Also because of the thickness, it seems to contain more heat which makes my feet sweat. And I don't know about you guys but when my feet sweat they smell terrible.
Durability
I've ran hundreds of miles and what I found out is the durability in these shoes are insane!
I've beat these things up so much over the course of a year and it looks like I have been running in them for a month.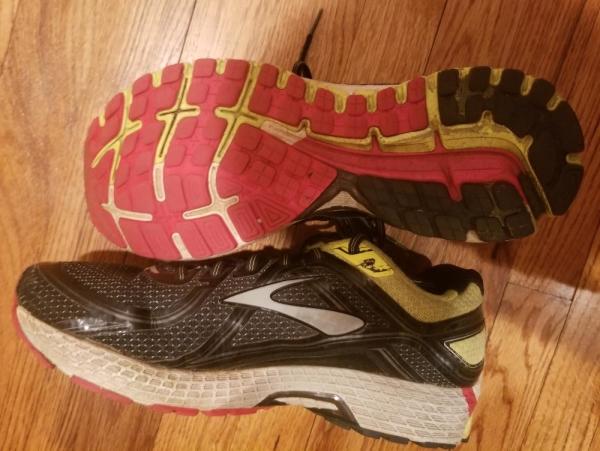 The sole looks pretty much brand new which is insane because I've ran on roads and trails with them and it barely took a beating.
The inside cushioning is the only thing that started to fade a little and started to wear down but only minimally. I guess the GTS in the name stands for Go-To-Shoe.
The outside of these is easier to clean than most shoes. Dirt comes right off with just water and a towel. Overall, the durability is amazing and you will get lots of life out of it.
Looks & Design
Personally, I'm not a huge fan of how they look.
They definitely aren't the worst looking shoe though.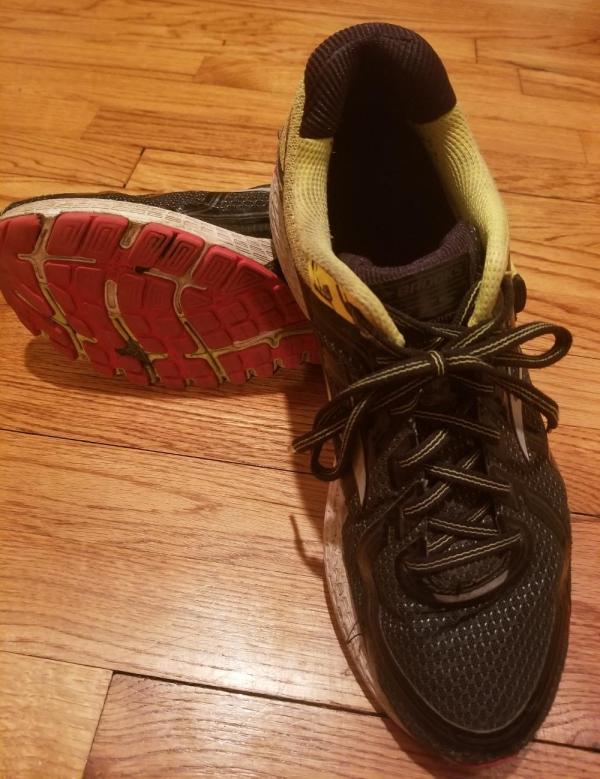 They come in a decent amount of different colors but none of them are really for me in my honest opinion.
On the bright side, you're paying for the quality and performance which are much more important. These definitely stand out in the latter.
Performance
The Brooks Adrenaline GTS 16 stands out in performance for distance. I wouldn't recommend doing speed workouts in them though.
To me sprinting in these felt uncomfortable. When you take a step you can feel a really decent bounce off the pavement.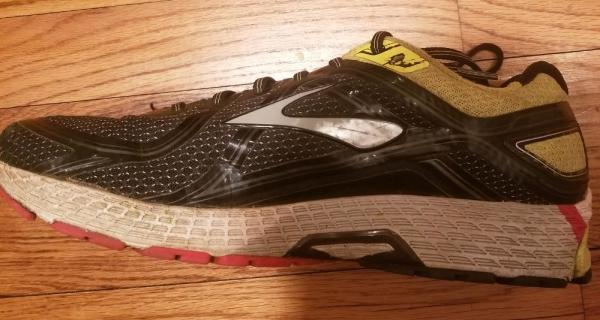 These were very responsive which made me very happy. It gave me a pretty decent confidence boost which helps my workouts mentally and not just physically which is always a good boost.
I also liked its performance during rougher terrain like mounds of sand and gravel. I felt myself being able to slip less and keep my balance in these very well.
Pros
Comfortable for longer runs
Less strain on the legs which helps reduce major injury
Extremely durable so you will get what you paid for
Easier to clean to make your shoes look fresher for longer
Good bounce off pavement
Kept stable against tougher terrains
Comes in both men's and women's
Cons
A little loose fitting causing heel slips
Not breathable enough causing feet to sweat more
Not the best looking shoes in the world
Uncomfortable for speed workouts
Verdict
The Brooks Adrenaline GTS 16 are great trainers overall and I would totally recommend them to anyone who is more susceptible to injury.
Another thing to think about is the newer shoes in the chain. These are the 16s and Brooks Adrenaline GTS 18.
Good to know
The Brooks Adrenaline GTS 16 comes with an updated upper specifically the overlays. In the latest version, the overlays are more symmetrical in both medial and lateral side. These overlays were brought closer to the little toe and big toe. Those wide footed and have big bunions will find a tight fit because of the repositioning of the overlays.
The V-Groove in the shoe's outsole was also changed. It is deeper than the previous version to improve shoe transition and to deliver an added cushioning.
This Brooks running shoe for the roads is available in regular running shoe length. The fit is medium in the heel and forefoot with a snug midfoot like previous version. It is a fit that most runners will find very comfortable. Available widths are normal, narrow, wide and extra wide.
The outsole utilizes a high-abrasion rubber that delivers reliable traction and sole durability. The outsole also has the full-length segmented Crash Pad that efficiently accommodates foot landing impact and offers a smoother heel-to-toe transition. The updated V-Groove delivers a more flexible ride without affecting the cushioning.
The Adrenaline GTS 16 uses the brand's BioMoGo DNA cushioning that efficiently adapts to every stride to deliver a responsive ride. The Progressive Diagonal Rollbar (PDRB) reduces excess pronation and guides the body to do its natural movement pattern.
The upper of the Brooks Adrenaline GTS 16 uses a mesh material that is highly breathable and durable. It is as impressive as the upper material of the new Brooks Adrenaline GTS 19. It has moisture-managing capacity that keeps foot cool and dry especially on warm conditions. The inner linings keep feet moisture-free and give added comfort.
The overlays are strategically positioned in the shoe to deliver a secure and snug fit. This works perfectly with the adjustable saddle construction that gives a more secure and personalized midfoot fit.
Rankings
How Brooks Adrenaline GTS 16 ranks compared to all other shoes
Popularity
The current trend of Brooks Adrenaline GTS 16.