In our previous study, we found 41.38% of gym members were "avid gym members", or those who stated gyms, health clubs, fitness centers, studios, or bootcamps were their primary way to stay fit coming into 2020.
Going into 2021, that number has dropped to 15.18%; a 72.14% loss in this core membership of gyms.
In this study, we analyze the survey results of 835 avid gym members that are planning on exercising differently in 2021 in order to learn what they intend to replace the gym with to continue experiencing the benefits of working out.
Key Findings:
72.14% of gym members who used the gym as their primary form of fitness at the start of 2020 are exercising differently in 2021.
39.14% of these avid gym members are switching to home fitness options
Nearly half of these gym members (47.59%) are switching to running and other outdoor activities such as cycling, hiking, or walking.
If interested in an interview, quotes, or additional findings, please reach out to Nick Rizzo at nick@runrepeat.com. Otherwise, feel free to use the findings and graphics from this report freely, we just ask that you reference this study with a link back to this post for your readers.
You can also view our most recent research on gyms, fitness trends, and the pandemic, here:
How are these avid gym members choosing to stay fit?
Out of the avid gym members replacing gyms as their primary form of fitness, 86.73% chose options like home fitness, running, and other outdoor activities like hiking, walking, or cycling.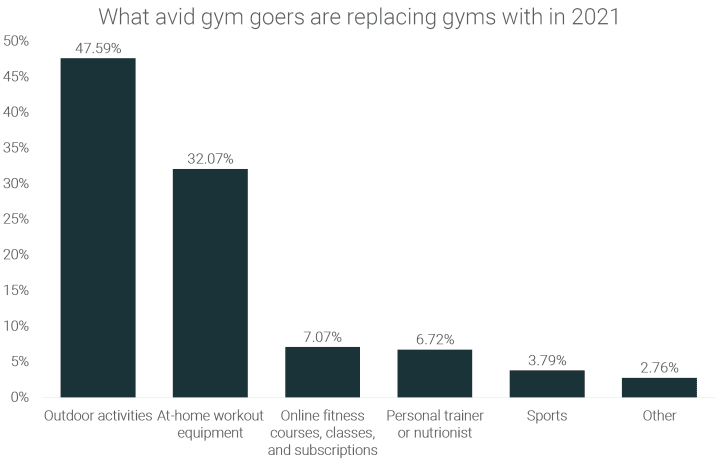 Almost half of these avid gym-goers (47.59%) are taking their fitness outdoors by running, hiking, cycling, and other outdoor activities.
39.14% are switching to home-fitness options like at-home workout equipment (32.07%) or online fitness courses, classes, and subscriptions (7.07%).
Gender also plays a role in what these members are replacing gyms with.
Women that were avid gym members at the start of 2020 are switching to:
Online fitness, classes, courses, and subscriptions 2.2x more than men (13.41% women vs 6.02% men)
A personal trainer or nutritionist 2.10x more than men (12.20% women vs 5.82% men)
Men that were avid gym members at the start of 2020 are switching to:
At-home workout equipment 1.3x more than women (24.39% women vs 33.33% men)
4.42% of men are opting for sports to stay fit in 2021; while no women reported switching to sports
Conclusion
Gyms have been a pillar in the fitness industry for quite some time. 2020 has put the gym industry to the test, with the IHRSA estimating 25% of gyms will be permanently closed by the end of the year.
It was previously known that many gym members rarely frequented their own gyms and that many gym members were switching their form of exercise in 2021. But now, nearly 75% of avid gyms are switching, with almost 40% of them going to gyms' direct competitor, their own house.
Data and Methodology
We surveyed 835 avid gym members between 11/7/2020 and 11/23/2020
The gym members that participated were from 61 different countries
The survey was conducted on RunRepeat.com