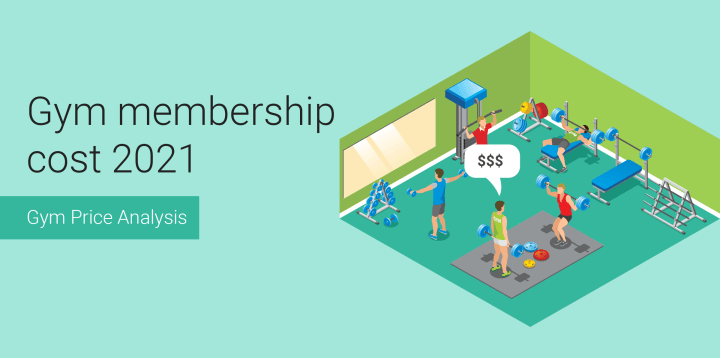 We compiled the prices of the different membership plans at 16 popular gym chains in the US (as of January 15th, 2021) to analyze the average gym membership costs in 2021. The comprehensive analysis specifically addresses:
What does the average gym membership cost per month in 2021?
After analyzing the prices of 16 popular U.S. gym chains, we found that the average monthly cost of a gym membership to enjoy the benefits of working out in 2021 is $37.71. Prices vary as well based on the membership; ranging from $31.00 with lower-tier memberships to $44.42 on higher-tier memberships.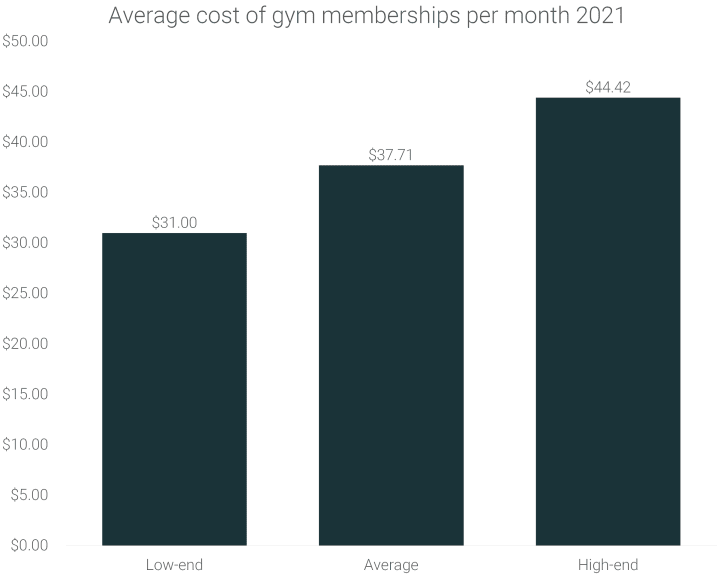 The monthly rate of higher tier memberships cost an average of 43.29% more than low tier membership.
This $13 price difference between the average lower and higher tier memberships comes with it's perks. Many upper-level memberships include unlimited access to pools, basketball courts, saunas, hot tubs, premium machines, personal trainers, meal plans, daycare, multiple gyms across the state or country, guest privledges, weight machines, cardio machines, fresh towels, locker rooms, and showers.
How much does the average annual gym membership cost?
In the US the average annual membership cost is $507 for the first year. The cost drops to $479 for the succeeding years because you no longer pay any initiation or enrolment fees.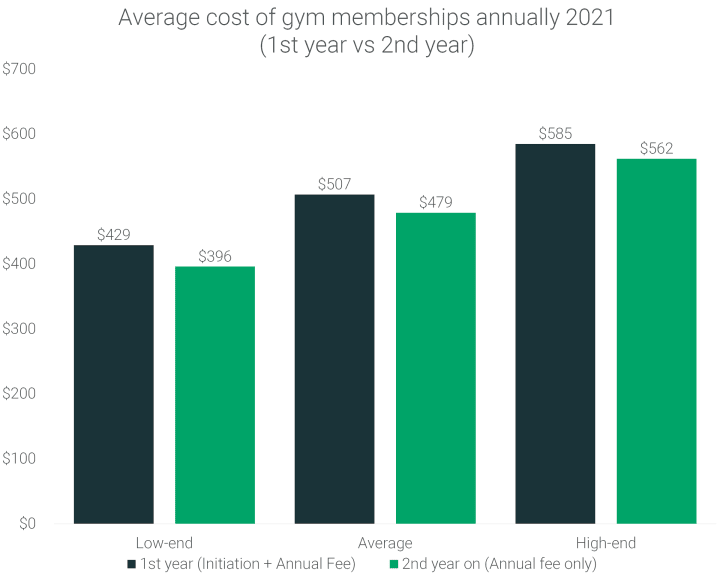 During the first year, the high-end tier is 36.36% higher compared to the average cost of low-end gym memberships. In the second year of your membership, the average high-end price is 41.91% more than the average low-end tier.
Gym membership cost comparison
37.5% of the 16 gym chains charge $20 dollars or lower per month for their lower tier memberships. The higher tier plans at these gyms are still relatively inexpensive, ranging from $22.99 to $36.99 per month.
If you have more budget to spend on monthly gym membership fees, you can also consider Gold's Gym, Goodlife Fitness, and Life Time Fitness. Their low-end tiers range from $40 to $70, while their high-end tiers cost somewhere between $55 to $80 a month.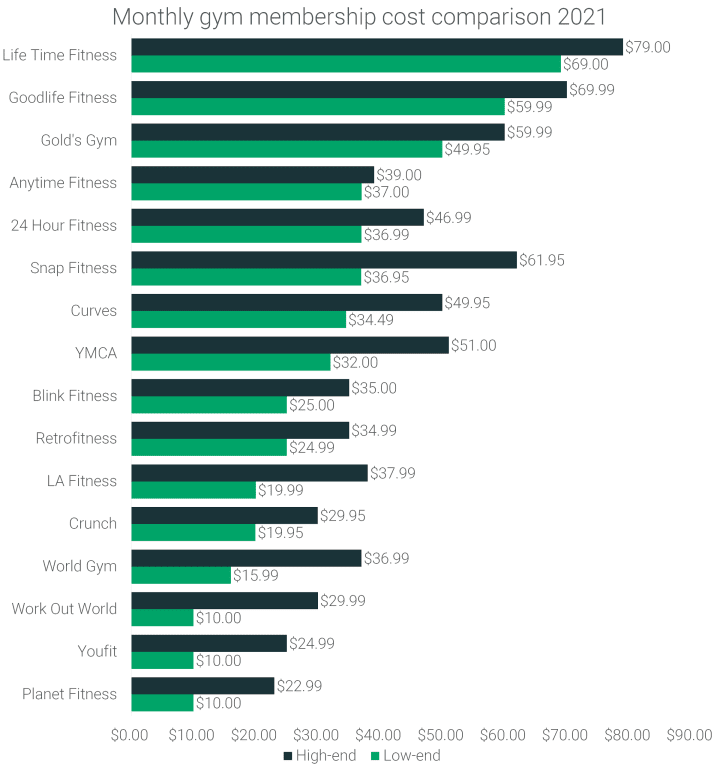 The prices stipulated above are just the monthly fees and you can expect to pay to $1 to $150 more in the first month if there are initiation fees included.
When including the annual fee, which some gyms charge by the second or third month, that's another $20 to $60 added to your total cost.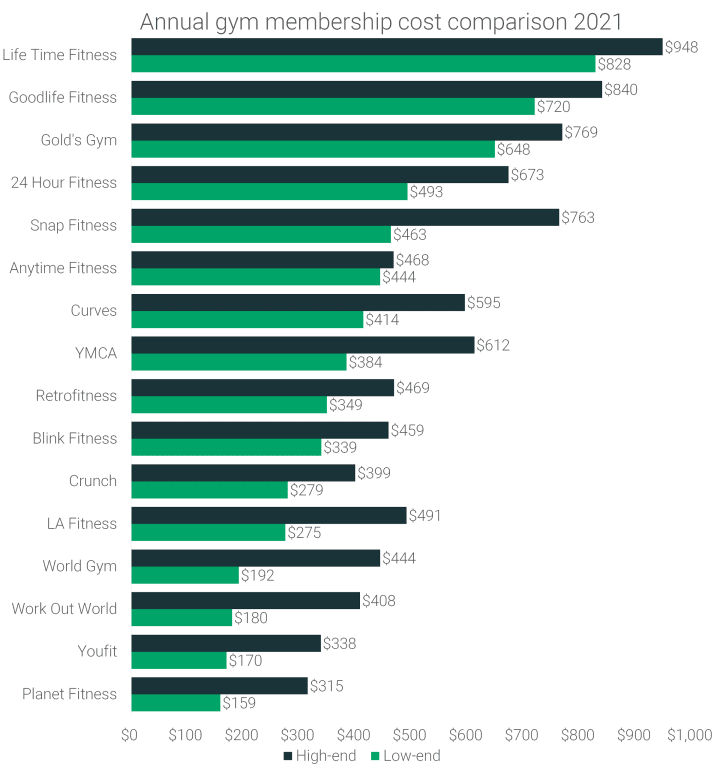 62.5% of US gym chains charge less than $500 for both their high and low-end plans with the overall annual prices range from as low as $159 for Planet Fitness's low-end membership to as high as $948 at LifeTime Fitness.
These affordable gyms include Planet Fitness (low - $159 and high - $314.80), Youfit ($170 and $337.99), Crunch ($279 and $399.30), Work Out World ($180 and $407.99), Blink Fitness ($339 and $459), Anytime Fitness ($414 and $468), Retrofitness ($349 and $468.88), and LA Fitness ($275 and $490.88).
The 5 cheapest gyms to join on a budget (under $20/month)
1. Planet Fitness
How much does a Planet Fitness membership cost?
Yes, Planet Fitness really does charge as low as $10 dollars per month and up to as high as $22.99 for a Black Card membership (billing all members on the 17th of every month). In addition to these monthly costs, Planet Fitness charges an initiation fee of $29 for Classic members and $1 for Black Card. On top of that, you will be billed $39 for the annual fee. The annual cost of a gym membership at Planet Fitness ranges between $188 to $315.
What amenities does Planet Fitness have?
Free fitness training through their PE@PF program with a certified trainer.
Free WiFi access for all members.
Digital classes through the Planet Fitness App for all members to provide guided workouts, workout tracking, and class schedules.
Planet Fitness is open 24-hours a day at many locations.
There are very spacious and clean locker rooms, as well as showers available to all members.
Unfortunately, Planet Fitness does not provide features such as a sauna, a steam room, or pool.
Cost of canceling your Planet Fitness membership
If you decide to cancel your membership, you need to send a letter to your "home club" or the gym location where you signed up or fill out a cancellation form in person by going there. Each club has different cancellation policies and fees which range between $58 to $99.
2. Youfit
How much does a YouFit membership cost?
A YouFit membership costs anywhere from $10 per month for the basic level membership to as high as $24.99 for their "best value Lime Card membership". With an annual fee of $49.99, the total annual price tag for a YouFit membership ranges between $180 to $351.
What amenities does YouFit have?
YouFit memberships come with free lockers and showers
a personal trainer to help guide you and create personalized plans to achieve your own fitness goals
YouGX Group Fitness Classes
Top of the line fitness and cardio equipment, machines, free weights, squat racks, and more
Select locations include access to saunas, tanning, massage beds, and steam rooms
Some locations also offer smoothie bars, cardio cinema, HIIT areas, and child care
Free Wifi
Cost of canceling your YouFit membership
To cancel your membership you must fill out a cancellation form, which you can download from the Youfit site, and bring it to your gym or deliver via certified mail. You have to pay all outstanding fees, making the cancellation fee at YouFit reach as high as $60.
3. Work Out World
How much does a Work Out World membership cost?
Work Out World membership options ranges anywhere from $10 to $39.99 per month. They don't have an initiation fee but they charge an annual fee of $59.99 for both membership offerings. When all fees are accounted for, the total price tag annually ranges from $179.99 to $419.87.
What amenities does Work Out World have?
Steam rooms & saunas
3000 square foot Aerobics studio
30 - 50,000 sq. foot fitness center area
Women's only area
Free personal training session with every membership
Unlimited tanning for platinum members
Cost of canceling your Work Out World membership
To cancel your Work Out World membership, know that they do not accept phone, fax, e-mail, or in person cancellation requests. You need to send a cancellation letter certified. Also, you need to pay for the dues in the month you applied for a cancellation and the dues for the following month. That fee could be anywhere from $60 to $240.
4. World Gym
How much does a World Gym membership cost?
To join World Gym, it costs anywhere from $15.99 to $36.99 per month. When the initiation fee is accounted for, the total annual price for a World Gym membership ranges from $221.88 to $473.88.
What amenities does World Gym have?
Free WiFi
Free fitness evaluations
All plans above the basic plan open up access to other World Gym locations and guest privileges
The Kids Club child care services at World Gym are available to all but free for one child to all VIP All-Access Plan members ($419.88 / year)
Best in class cardio, fitness, and strength equipment and machines
Free weights and accessory equipment for group exercise classes and HIIT
Personal training and coaching services
Access to Les Mills classes
Cost of canceling your World Gym membership
World Gym doesn't accept cancellations over email. You must provide a 60-day written notice sent by mail or drop it off at the gym where you signed up. Their policy also states that they consider the monthly fees of the last two months as the "cancellation fee."
5. Crunch
How much does a Crunch membership cost?
Crunch Fitness' monthly membership costs anywhere from $19.95 a month on their base plan to $29.95 per month on their peak results plan. When including their annual fee of $39.90, the total annual price of a Crunch Fitness membership ranges from $279.30 to $399.30 per year.
What amenities does Crunch Fitness have?
The base plan provides access to the home gym only while all other plans have access to 319 different clubs
Cardio and strength training machines, as well as free weights
Locker rooms with showers for all members
Online nutrition support
For all members above the base membership, you also get access too:

Guest privileges
Group fitness classes
Crunch Live Online Workouts
Hydromassage
Advanced HIIT Classes
3D Body Scans
Free T-Shirt
Cost of canceling your Crunch Fitness membership
To cancel your membership, you can call or email your gym or the main support line and tell them you wish to cancel your membership. They will then walk you through the process of canceling. For canceling your membership, you are charged an early termination administration fee, as well as an additional cancellation fee for a total of $200.
About RunRepeat
RunRepeat is the largest database of lab-tested shoes. We publish these reviews for running, training, basketball, and even stylish sneakers. We buy all the shoes on our own, run/train in them, and cut them in half in the lab. This results in more than 20 parameters that help us describe the shoe and its performance in the most objective way possible.
If you're heading back to the gym and in need of a new pair of workout shoes, you can check out our vast collection of trainers to help you decide which one would suit your needs. Whether you're into CrossFit, HIIT, weightlifting, or just general workouts, RunRepeat has got your back.
Use of content
If the topics in this article piqued your interest and you want to know more or do an interview, don't hesitate to reach out to Nick Rizzo, the Fitness Research Director, at nick@runrepeat.com.
Materials found in this article can also be used freely in any web coverage related to the topic. In return, we request that you refer and link back to this original source.