The ASICS GT 2000 7 is a cushioned stability shoe that is generously padded all the way around. Materials are of higher quality. It is not suitable for long-distance runs but is very comfortable for casual runs and all-day wear.
Pros
Super stability
Supportive
Secure lockdown
Absorbs shock
Durable
Cons
Heavy
Not flexible
Not for long distance
ASICS GT 2000 7 review
ASICS GT-2000 7 has smooth uppers made from multi-layered, super soft materials. The top layer has breathable mesh holes.
Today, running shoe companies seem to be eliminating upper overlays as much as possible. ASICS probably still uses overlays for added durability. However, the downfall is any additional rubber adds to the overall weight.
In my opinion, the toebox feels roomier and wider than most other brands. I can easily wear my heavier running socks without any problems—fortunately, no blisters or calluses ever developed even after 2–3 hour-long runs.
By now, I realize the uppers will never achieve the glove-like fit I prefer. Nonetheless, my toes and upper feet feel comfortable run after run.
Look how good the materials are holding up after 250+ miles—absolutely no frays or holes!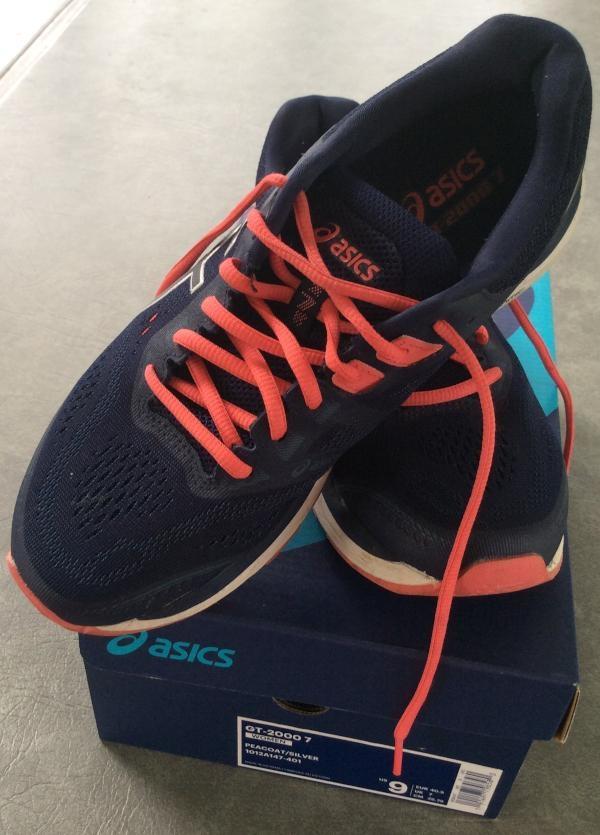 GT 2000 7 m

idsole

In my opinion, the midsole is the meat of a running shoe. However, knowing what quality grade to buy and understanding the difference is challenging.

Shoe manufacturers explain key ingredients using all kinds of action words. Often, it sounds like a foreign language to us consumers.

For example, ASICS are made with Flytefoam and SPEVAFOAM combined with a Dynamic DuoMax Support System.

In spite of technical jargons, I am still pleased. Several of my friends are loyal ASICS fans, so I gave GT-2000 7 a try.

During my first few trial runs, I felt the midsole absorbing bodily shock nicely. Since I read "it takes midsole foam 24 hours to bounce back to its original shape," I alternated with another brand of 10mm drop shoes.

After 300+ miles, the majority of midsoles start breaking down from the repeated stress of running, but not my GT-2000 7's. The midsoles look and feel fairly new.

However, I am starting to feel ankle pain after 10 mile runs. For this reason, I'd never considered GT-2000 7's for a full 26.2 marathon.

Instead, if I raced in them at all, it would be shorter 5K, and 10K distances and a 13.1 half marathon would be tops.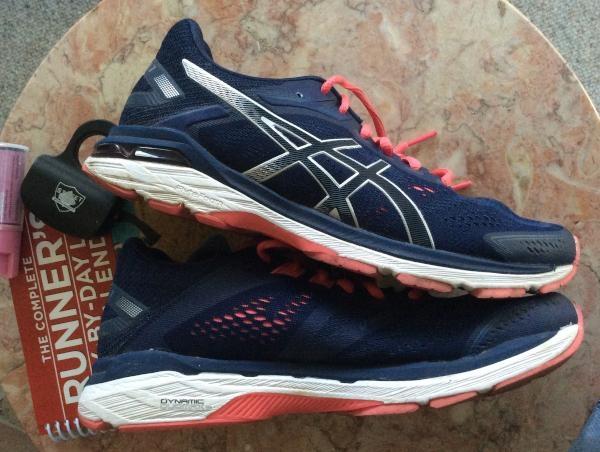 GT 2000 7 h

eel counter

Runners will be happy with ASICS strong, durable heel counters. These running shoes are generously padded all the way around. Materials are of higher quality and still very much intact.

There is no movement or breakdown when slipping on or off, even recklessly! Remarkably, they show no visible wear and tear even after months of running.

There's nothing worse than slippage in the heels. One time, I tied both shoes way too loose and immediately knew my heels were not going to hold.

I had to re-tie properly to secure correct positioning. Otherwise, I knew I'd be stopping to adjust later on. I don't know about you, but I don't stop a run unless I absolutely have too!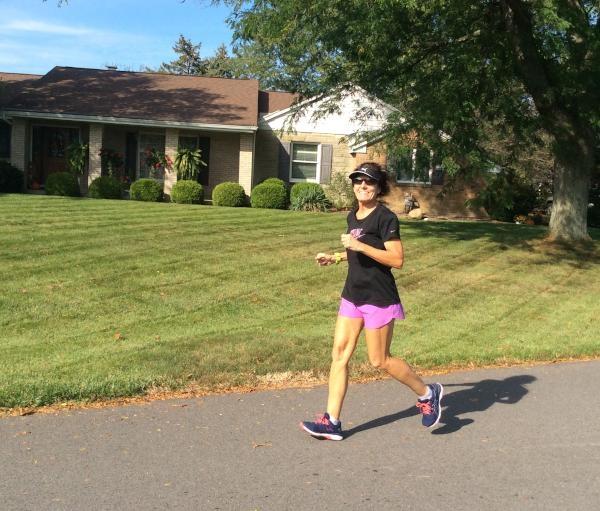 ASICS GT 2000 7 outsole
ASICS outsoles are made with different types of rubber throughout the forefoot and heels. Some outsole materials are more durable than others. Usually, it's the softer rubber that doesn't last as long.
Even though I continuously work on my running form and try not to heel strike, both back heels wore right down. If you look closely, you'll notice several grooves are eroding.
If I run a couple hundred more miles, my heels may be into the midsole!
Repeated pounding against the pavement has certainly taken its toll on these ASICS outsoles. Rubber is being pushed in and starting to wear down at the forefront. Both front tips, however, are still in excellent shape, so if no one turns the shoes over, they'd never know!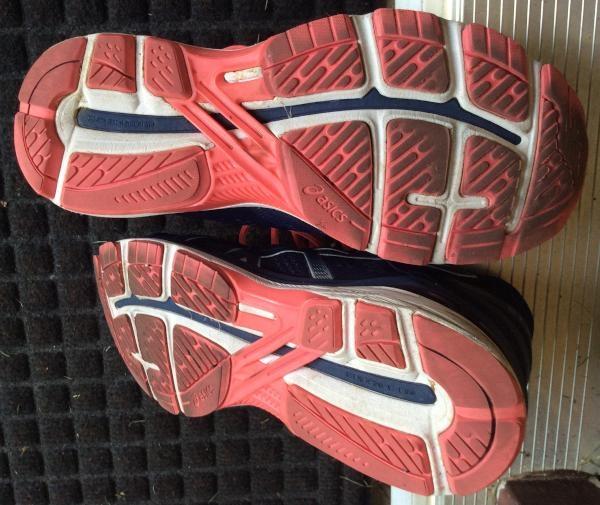 Tongue/laces/eyelets
ASICS tongue scores an A+ for extra length combined with high-quality padding. Runners will appreciate the comfortable mesh material. My favorite aspect is how effortless each tongue lays out and pulls into place.
The shoelaces are strong, colorful, and formed in a nicely rounded shape. Best of all the laces are extra long for tying quick double knots. They slip through big, well-cut-out eyelets with minimal, attractive overalls.
ASICS GT-2000 7's outsole probably won't withstand 200 more running miles, but the upper construction certainly will. Soon, I may be wearing these ASICS around town because look how lovely peacock blue coordinates with jeans!
Ideally, they'll make a great walking shoe, especially when visiting Cedar Point Amusement Park in Sandusky, Ohio. My guess is ASICS GT-2000 7 will achieve their 400–500+ mile limit, even if it's not all running.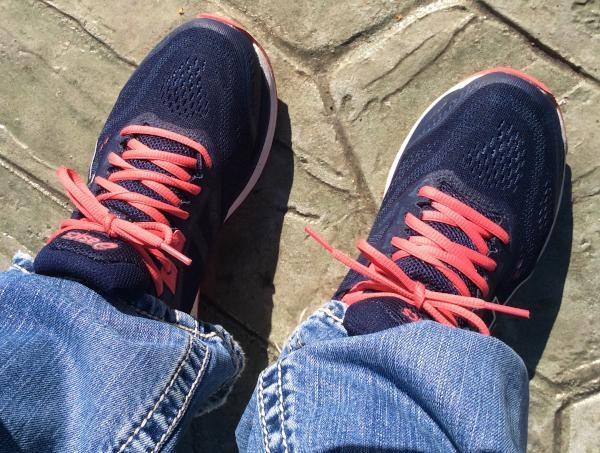 Specs
Type: Stability trainer
Drop: 10 mm
Weight: 9.6 (Women); 10.6 (Men)
Price: Sale = $59.95–85.95 (was $120.00!)
Conclusion
Overall, I'm happy I gave ASICS brand a chance—no doubt I will purchase again. But, being a distance runner, I'd prefer a more lightweight, racing model. Therefore, after research, I'll visit a couple running shoe stores and try on several pairs.
I'm sure I will wait to purchase, though because I need to save money for higher priorities. Luckily, I learned to buy the perfect model right before the next newest version comes out.
It sounds like a hassle following release dates and definitely will try my patience, but it will be a lesson keeping my instant gratification in check!
Before long, I'll hear "cha-ching" at the cash register when I buy a different ASICS model. Maybe ASICS Gel Nimbus or Gel Kayano can withstand the full 26.2 marathon miles.
Either way, hopefully, you'll read another Runrepeat.com review next year. Perhaps, Fall 2021?
Until then, Happy running!