Who should buy the Nike Air Edge 270
The Nike Air Edge 270 is perfect for those who:
Who should not buy it
Consider the Nike Air Max 270 if you need an instantly comfortable lifestyle sneaker. The Jordan Maxin 200 is a cheaper sneaker that has features making it a hit both on and off the court.
The Nike Air Edge 270: A deeply hoops-inspired look
Key to its look is its bulbous Air Max 270 unit, which a wearer says gives it a "retro Nike basketball vibe." Some reviewers said it boosted their heights, with one claiming that "if you are 5'7 you can be 5'10 in these."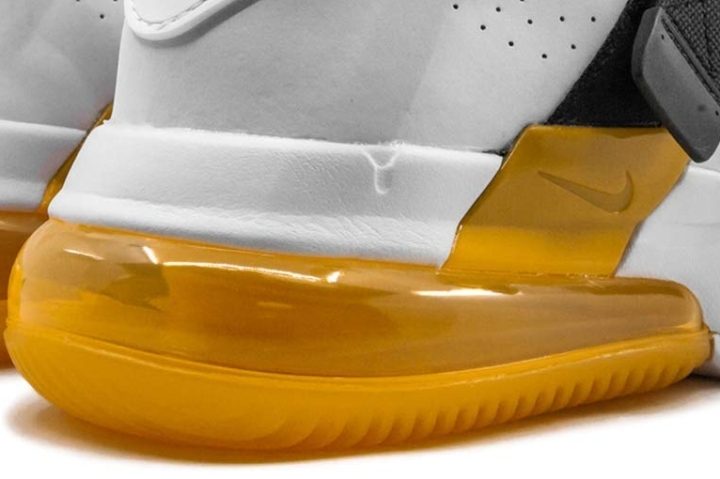 One fan admires its "edgy look" saying it reminds them of tactical boots. This look was completed by its strap-on design and lace system, which reminded a lot of older sneakerheads of Charles Barkley shoes such as the Nike Air Max CB 94 and Uptempos.
The Nike Air Edge 270 makes outfits pop off
The sneaker was found to be the perfect complement to joggers, tight dark-colored jeans, and sweatpants with a simple T.
Its Parachute Beige colorway was a fan-favorite when it comes to fashion. It features different tones including nice shades of green, purple, teal, and orange placed alongside its beige upper. One sneakerhead says this makes it perfect for graphic tees which feature one of its four accent colors, with another saying they'd like to wear a Teenage Mutant Ninja Turtle shirt to hit all four.
The Nike Air Edge 270's comfort is pure lifestyle gold
Testers love the sneaker for several lifestyle-focused features that make their strides feel great. Its sleeve-like interior was compared to a sock, giving a great fit to feet. In addition, has been praised for good cushioning after the break-in period has passed.
In addition to providing a bit of a height, its air unit was found to raise the heel a little bit "which makes your foot really really comfortable," giving "a little bit of a bounce" and giving a feeling of "walking on air."
The Nike Air Edge 270 can hit courts hard
The sneaker was also used by a few sneakerheads for some hooping. On top of adding to the aesthetic, the three straps on the sneaker's upper were said to allow for good lockdown and additional support.
A fan said they "got a good grip" even when playing on a dusty court. They went on to say they had that "grip and snap when you cross somebody up."
The Nike Air Edge 270 is on the pricey side
The Nike Air Edge 270 retails at $160, which is significantly higher than that of the average mid or hi-cut basketball-inspired Nike sneaker at $120. However, one reviewer says "I don't think that's a bad price point at all for a basketball shoe with an Airmax unit."
Compare popularity
Interactive
Compare the popularity of another shoe to Nike Air Edge 270: