Verdict from 1 expert and 100+ user reviews
7 reasons to buy
Many people liked the affordable price of the New Balance 510 v4.
Some consumers noted that this running shoe functioned well as a general-purpose option.
Several testers claimed that the durability of the components proved to be reliable.
The underfoot platform had a firmness that worked well on the trails, several runners commented.
The width profiles were deemed as adherent to expectations.
According to some consumers, the upper unit was able to hug the foot securely and comfortably.
The grip capacity of the outsole was lauded by those who have tested this shoe.
4 reasons not to buy
Some consumers lamented that this running shoe wasn't very fashionable.
A handful of consumers claimed that the cushioning system wasn't responsive; they didn't feel any bounce when taking a step.
Some people complained that the materials looked cheap and flimsy.
A tester reported that after only a few months, the internal lining tore apart while the tread on the sole unit wore off.
Bottom line
The New Balance 510 v4 trail shoe was appreciated because of its comfortable construction. Neutral runners liked how the shoe fit and how the materials meshed together to deliver a pleasant in-shoe environment. The low price was also a positive element, as well. Contrariwise, some people had complaints, such as a not-too-appealing design, the inconsistent sizing scheme, and the questionable quality of the materials.
Tip: see the best trail running shoes.
Our reviews
The New Balance 510 is a neutral trail running shoe. It was designed with mild lugs that can transition easily between trail and road running.
The tread, design and cushioning attempted to be effective as an all-around shoe, and the sizing allows for a variety of foot sizes. The excessive weight and poor cushioning tend to make for a less luxurious ride than other options though.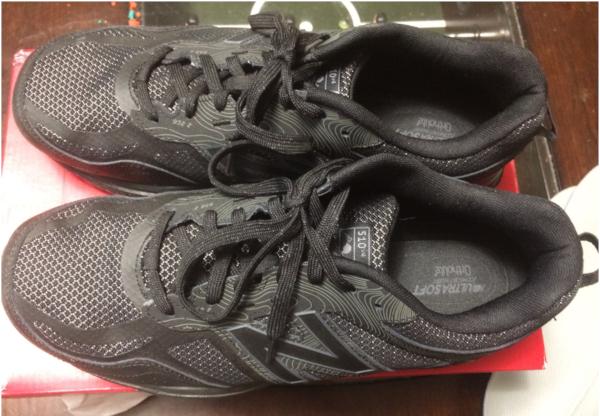 Comfort- Extremely average feeling
When I first got this shoe, I appreciate the padded collar and minimal tongue. They held my foot in place without being too fancy. The leather on the sides rubbed against my pinky toe, and I was a bit worried that it would become an issue.
But within a couple runs, the materials softened, and I didn't notice any issues while running. The shoe came with an "ultra-soft Ortholite insole" which was just a thin piece of foam that I threw away and replaced it with something better.
The arch in this shoe is essentially non-existent. It provides the right amount of room for my wide feet and for my toe to splay while walking or running.
Sometimes I wish that the collar would hold my heel in place better. It doesn't feel like I'm wearing a sock-like any modern running shoe, but the 510 does feel adequate. There's nothing much to complain about, but comfort-wise there's nothing that sets this shoe apart.
Midsole - A firmer ride than I prefer
I was a big fan of the 3rd version of this shoe and especially loved the cushy foam. From conception, the New Balance 510 was supposed to be somewhat of a maximalist shoe. The 4th version of the shoe seems to have stepped away from that.
The cushion in this shoe was really firm, and while I did appreciate a little more energy return it provided, I miss cushy, the pillowy-soft feel of the V3.
The shoe is responsive and flexible. But if you prefer to feel the ground, you may like this shoe. The heel-toe transition seemed to be quite quick and efficient.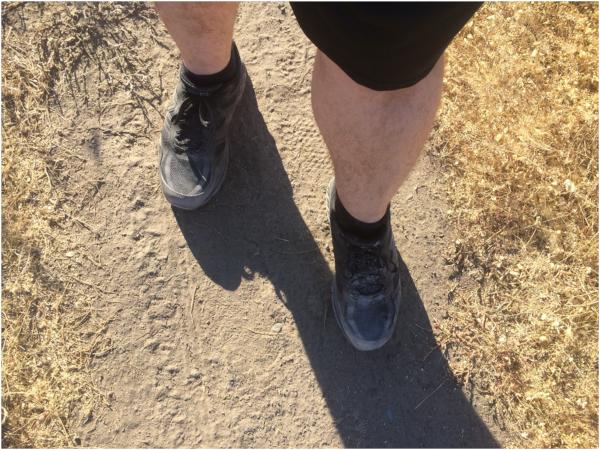 Performance - 4 months later
The blown rubber outsole on these shoes gripped every surface the way I would want it to. No surprises were moving between wet to dry or concrete to dirt or mud.
Once again, the lugs on this shoe are not extremely aggressive. If I were to go running on anything technical, I would probably wear a different shoe (these shoes weren't designed for that). This shoe is designed for a runner that wants to go from trail to road smoothly without swapping out shoes.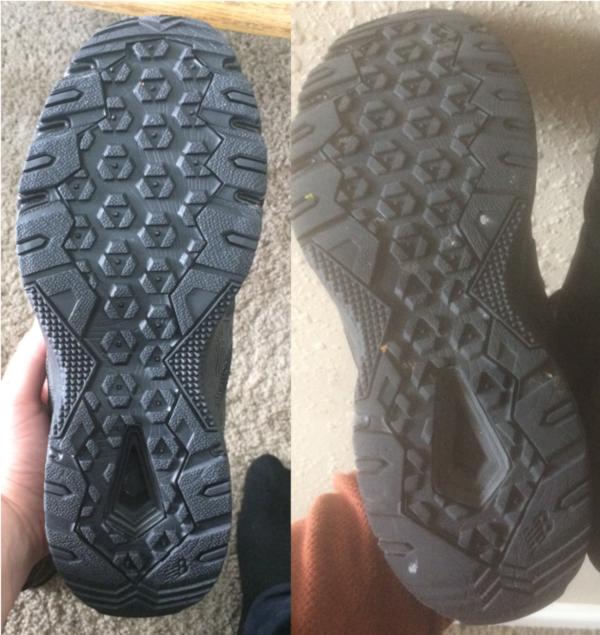 Another good thing about the rubber compound used in these shoes is the surprising longevity. I used these shoes as my every day walking shoe as well as running in them (and the tread barely showed).
At the same time, my Brooks GTS 18 showed significant wear from running exclusively. If you want a lasting shoe, this one will fit the bill.
Style and upper - Urf
The main color schemes on this shoe are bugly. I'm a big fan of the topographical map design, but the color schemes are really lame. I wish they would spice these shoes up and made them look more modern.
It wouldn't have taken much for these shoes to look fantastic. They use much less leather and rely more on the synthetic mesh, which makes the shoe breathe a lot better. I chose all black (which isn't my first choice) and it's presentable to wear at work.
Value – Still a strong point
You can get this shoe regularly for between 40-60 dollars, which to me is a deal for a shoe with as much longevity and versatility.
Honestly, if you are looking to run a marathon or a competition and looking for optimal efficiency, this shoe is not for you. But if you want to run casually on light trails and road, this shoe will work for you.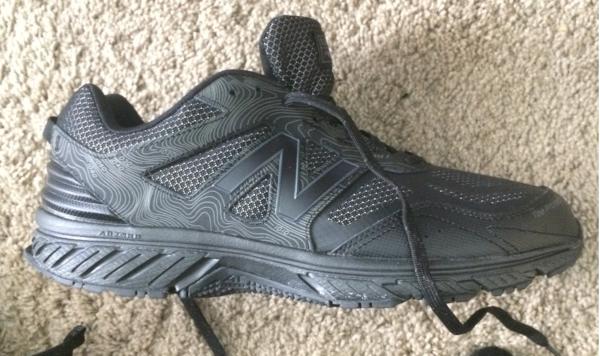 Overall – A fair everyday shoe with good adaptability
I like this shoe for its fit. That is exactly what I expect from an average shoe - long tread life, and good versatility, especially for an affordable shoe. On the flip side, I wish there were much more cushion and a better style.
Also, the weight of this shoe is surprising as there are less leather and less midsole, but it still gained weight. I expected more out of this shoe.
Good to know
The New Balance 510 v4 is a trail shoe that's designed for the neutral pronator. It is also an update to a relatively fresh series. It makes use of a breathable mesh upper with leather overlays for protection and support. A padded collar and tongue help in securing the foot in place.
When it comes to the design, this NB running shoe is mostly the same as its predecessor, the 510 v3, except the upper has a more open construction for heightened durability.
Cushioning is provided by several foam technologies. When combined, these cushioning materials offer a soft, responsive and durable running experience. Moreover, a thin sock liner brings additional underfoot support.
The outsole unit of the New Balance 510 v4 makes use of a rubber compound that is wear-resistant. Its job is to protect the rest of the platform from the abrasive nature of the surfaces. It has an all-terrain configuration which allows relaxed trail-to-road transitions.
The New Balance 510 v4 was designed to follow the usual sizing preferences of runners. The use of standard measurements helps in achieving such a task. When it comes to width, the available options are the standard ones, though the men's iteration has the 4E – Extra Wide option, thereby catering to many foot-shapes and dimensions.
The New Balance 510 v4 makes use of the AT Tread, which is a lug pattern that's capable of adjusting to both trail adventures and road running. The trail-specific protrusions on the external pad aren't too aggressive to prevent transitioning the activity to the roads.
ACTIVA™ is a full-length foam that's meant to cushion the foot throughout the running session. It is touted to be 12% lighter than the industry-standard options, and it's made to last longer too.
ABZORB® is an add-on that's made using a mix of proprietary foam and isoprene rubber. Its purpose is to absorb impact shock during the landing phase of the gait cycle and enable energized transitions through each step.
A soft insert is placed on top of the primary foam units. Its purpose is to add a bit more cushioning to the underfoot. It can be removed or substituted with a custom sock liner.
The New Balance 510 v4 makes use of a breathable mesh to provide a dry and well-ventilated interior environment for the foot. Its visible breathing pores are the ones that accommodate the flow of air into the foot-chamber.
Leather serves as the overlay system of this shoe. It's stitched onto the façade, bolstering it and keeping it intact. The design and placement are not as restrictive as the 3rd version's, thereby maintaining the breathable nature of the upper.
The plush tongue and collar hold the foot in place and prevent it from exiting the shoe involuntarily.
Rankings
How New Balance 510 v4 ranks compared to all other shoes
Popularity
The current trend of New Balance 510 v4.