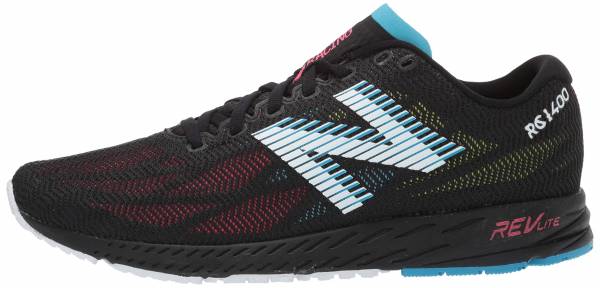 A handful of wearers agreed that the New Balance 1400 v6 is a dependable shoe for daily walking and running sessions. Although some of them have problems with its thick insole and reflective details, others still lauded the shoe's perfect fit and performance. Overall, the footwear is a good option for those who are looking for a comfortable and flexible footwear.
---
Verdict from 14 experts and 100+ user reviews
5 reasons to buy
The shoe is comfortable to use especially when running and walking, according to some buyers.
Its lightweight feature was admired by a lot of testers.
Reviewers said that the flexible upper part of the shoes wraps the foot evenly.
Some users noted that the New Balance 1400 v6 leaves no rubbing spots. It prevents hurtful feelings on the foot.
A significant number of consumers agreed that the fit was excellent.
2 reasons not to buy
The insole of the shoe is too thick, based on one review.
Some wearers commented that the back part of the shoe lacks the capability of being reflective.
Bottom line
A handful of wearers agreed that the New Balance 1400 v6 is a dependable shoe for daily walking and running sessions. Although some of them have problems with its thick insole and reflective details, others still lauded the shoe's perfect fit and performance. Overall, the footwear is a good option for those who are looking for a comfortable and flexible footwear.
Best price from 30 shops
We earn affiliate commissions at no extra cost to you when you buy through us.
83% say it's true to size.
Our reviews
According to the Running Warehouse website:
"The speedy New Balance 1400 v6 road racer is ready to tackle anything from the 5k to the marathon. Keeping the midsole and outsole from the previous version, the 1400 v6 remains a versatile racing shoe with a protective and springy ride."
Do we agree with this assessment? See the verdict below.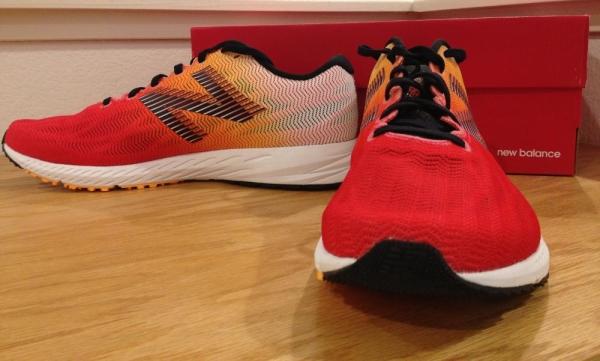 The New Balance 1400 series flat became one of my favorites back in 2015 when I received a media sample of the 1400 version 2. The shoe was then described by the company as being "designed for fast, efficient training runs."
It was certainly a light flat weighing – depending on the source, either 6.3 or 6.4 ounces. By Version 5, which I've run in, weighed 7.4 ounces. The new version 6 weighs 7.1 ounces.
What impressed me about version 2 was the REVlite midsole that provided more than adequate protection for the feet no matter what the surface.
The 1400 v6 has a 10mm drop, and retains the REVlite foam midsole, something prominently noted on the exterior side of the midsole.
The outsole is made of blown rubber, which is, and feels, soft. On the road, the shoe feels like it has an 8mm drop.
Version 5 versus Version 6
When I compared the 1400 v5 to v6, the new model's outsole felt firmer. There appears to be less flexibility in the forefoot.
However, when walking in version 6 the shoe feels softer, more cushioned and protective than the prior model.
On the run, version 6 does feel firmer in the forefoot. While I like more flexibility in a trainer, this firmness is a positive attribute in a shoe used for fast and long runs.
I very much liked the "just right fit" upper on version 5, so I feared that the remodeled upper on version 6 would be a step back. Instead, version 6 provides a slight increase in roominess – facilitated by a thin rubbery tongue which stays in place – that is welcome for feet that might swell on a long training or race day run.
The heel counter on version 6 is rather firm – as it was in version 5, but the top of the counter is well padded and it is not an issue during a run.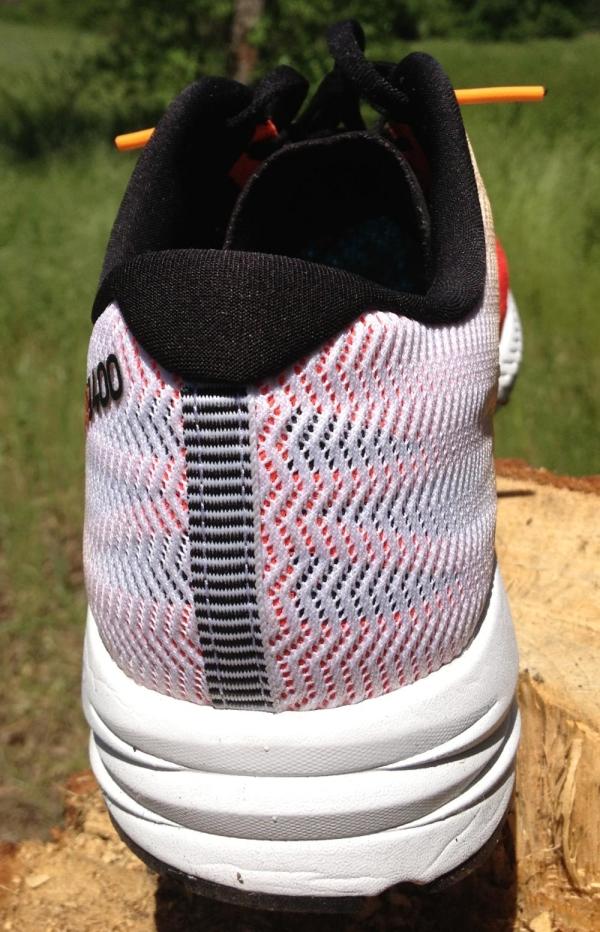 The insole supplied with the 1400 v6 – as with version 5, appears to be too thick for its intended purpose. (It's an insole fit for a standard trainer.) I replaced it with a thin Ortholite sock liner.
On the Road
The 1400 v6 is protective on concrete; protective enough that the shoe feels more like a trainer than a racing flat. And, yes, there's a nice springy bounce on asphalt. It would be a joy to run a 10k or a half-marathon in these shoes.
One of the nice features about this shoe is that it allows your feet to go through the full range of motion on landing – from heel to mid-foot and onto the well-protected forefoot.
On a dirt and gravel-covered road, the 1400 v6's small triangular lugs provide a surprising amount of grip. There's no sliding around or slippage. (In 2015, I was rather surprised to find that the 1400 v2 could be used as a light trail running shoe. The same remains true for version 6.)
While I did not have an opportunity to run on a track in version 6, I found in my previous experience with 1400 series shoes that they are excellent for pace training runs. Lock onto a certain lap pace and the 1400s will gladly maintain that pace like a German Shepherd pup.
The grip provided by the outsole also assists in piling up what I call "confidence miles." The shoe feels so faultless on a track that one's confidence of doing well on a race day builds with each completed lap.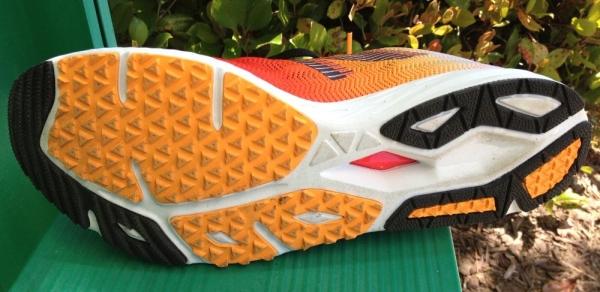 Stability
I usually have good experiences in mild support running shoes, and I know that New Balance makes a "hint of support" shoe in the 1500 v4. But I've never been tempted to try it.
Why? Because the 1400 series shoes provide all the support one needs for straight ahead jogs, and these shoes do not interfere with one's normal foot strike pattern. So why use a shoe that weighs 8.1 ounces instead of 7.1 ounces?
Durability & Value
The 1400 v6 is not a flat that will last for only 150 or 200 miles. It's built solid enough that if you get, say, 275 or 300 miles out of your standard trainers, you'll likely get 275 or 300 miles in the 1400 v6.
At a list price of $99.00 (and sold for $10 less by certain online retailers), it's a great value.
Protectiveness
As mentioned earlier, the 1400 v6 feels like a much more substantial shoe than it is on the road. There are racing flats that I would love to run in but they provide so much road feel that they punish the feet.
A recent example is the Asics LyteRacer TS 7. I love the fit and retro finish look of this shoe, but each time I take a test run in it, my feet wind up complaining after just a few blocks. ("Take it off!") And this shoe weighs 8.2 ounces.
How can a shoe that weighs more than the 1400 v6 feel less protective? It's a mystery to me.
The 1400 series shoe has felt protective even when it weighed just slightly more than 6 ounces. That's some kind of magic on the part of New Balance.
Three for the Road
When training for a meaningful race, it's useful to have three pairs of shoes in the rotation: A daily trainer, the race day shoe, and a recovery shoe.
For the runner loyal to New Balance, three shoes will fill the bill: the 890 v6 (9.6 ounces), the 1400 v6, and the 860 v8 (11.3 ounces). The 890 v6 trainer, like the 1400 v6, has a REVlite midsole.
The 860 v8 is an excellent recovery shoe due to its well cushioned TruFuse midsole and a "barely there" medial post. The dual-density post may look somewhat intimidating to neutral runners but it is not felt while running.
For those not tied to a single brand, the Adidas Adizero Boston 6 (8.8 ounces) – soon to be the 7 – works well as a durable trainer with bouncy cushioning that feels relatively soft on impact with hard surfaces.
And the Mizuno Wave Sky (11.1 ounces) is a great rest and recovery shoe for tired feet and leg muscles.
The Verdict
Yes, you can both train and race in the New Balance 1400 v6.
And, yes, it's a shoe that can be used to quickly transport and protect one's feet on runs from a 5k to the marathon. It is a bargain shoe for its price considering that the 1400 v6 is quite durable and can serve as either a daily performance trainer or race day shoe. Or better yet, both.
Highly recommended.
My first thought when I tried on the New Balance 1400 v6 is that it felt natural on my foot while running fast. I test a lot of shoes on the treadmill at the running store I work at, and this was one of my favorite test experiences.
The ribcage wraps the foot while allowing the ankle to flex naturally. The ride is neutral, balanced, fast and will favor those who strike with their mid-foot and run with a forward lean.
They are a bit narrow but fit true to size. I ended up buying a pair shortly after trying these on. The 1400 v6 has easily become my favorite racer (M: 7.2oz).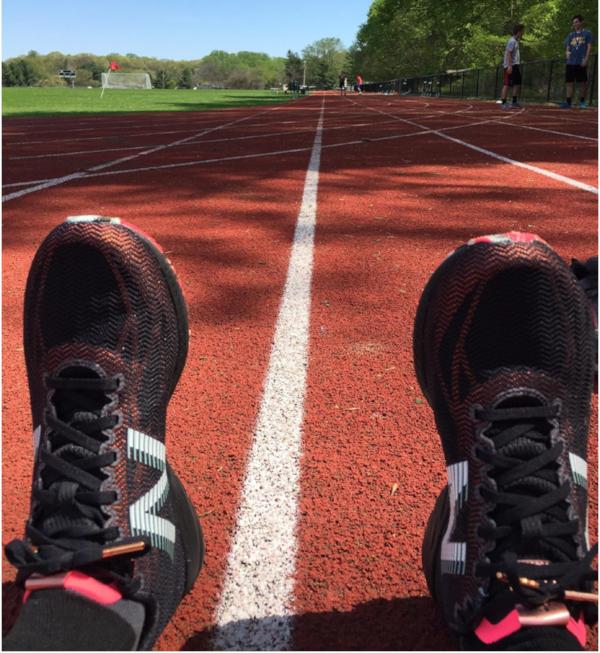 Picking up the 1400, it feels almost too light to possibly have enough support. However, when running, these perform amazingly well. There is plenty of cushion underneath while still feeling very light and fast.
The fit feels more like a pair of flats, meaning it is snugger than how a trainer typically fits. I initially had a wrong idea about running flats and racers and the difference between the two. A flat is generally more minimal and has a lower drop. A racer such as this has a little bit more support, and the NB 1400 has a 10mm drop.
This shoe is not a flat like the Nike Streak LT. For distance track runners or those looking for something more minimal, there are flats out there like the mentioned Nike Streak or Brooks Hyperion better suited for race day.
For me, this shoe offers plenty of support up to 10K on roads at 170 pounds. For lighter or stronger runners, the 1400 could be worn up to the marathon.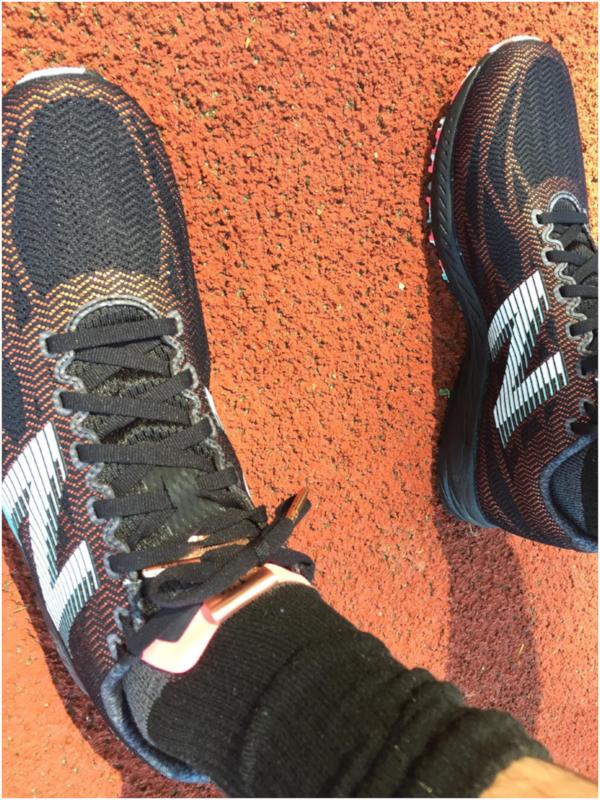 All of the above makes the New Balance version 6 perfect for track workouts. On the track, they simply feel excellent due to having so much foot and ground feel. Newer track athletes could even get away with racing in 1400 for events at 1500m and up.
These also could be a good option for someone who doesn't respond well to true flats or spikes. Light runners with enough foot strength might even be able to get away with training in the NB 1400 v6 daily.
Tech specs
The New Balance 1400 v6 features a no-stitch mesh upper. The no-sew construction is breathable and creates a very sock-like fit.
The tongue was redesigned to remove volume, which makes it fit much more like a flat than a classic trainer. The outsole is grippy and aggressive and somewhat narrow.
The outsole is constructed from blown rubber which is responsive, making it suitable for crushed gravel or even hard trails. The triangular lugs work well on dirt and overall the ride is springy, lightweight, and very fast.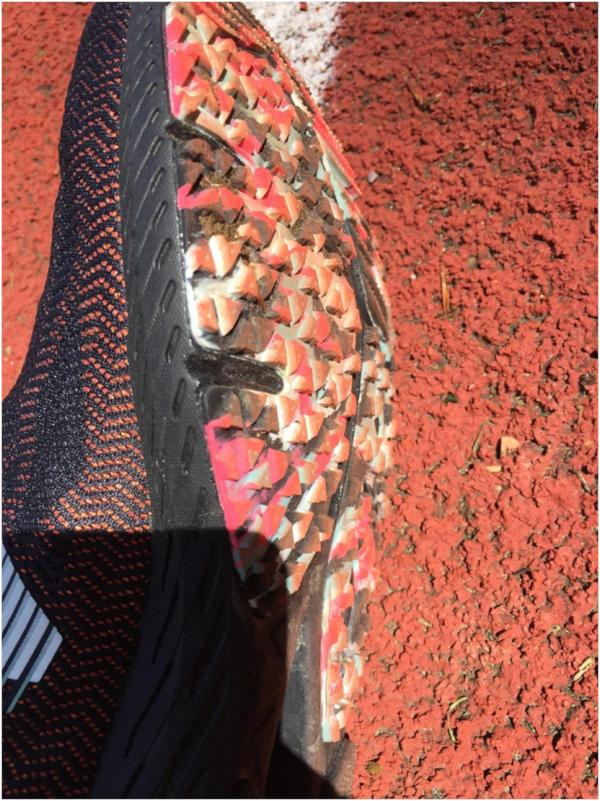 With a stack of 25mm at the heel and 15mm at the toe, the 1400 v6 has a 10mm drop. This works perfectly for me as I train in the Brooks Ghost 11, which has a 12mm drop.
This creates a natural transition for most runners that run in more cushioned, supportive daily trainers. This shoe is flexible yet feels firm on most surfaces. There is a lot of foot feel running on both track and pavement.
The heel counter is also rather firm and locks the foot in place when moving up and down hills. The REVlite foam is soft and spongy while maintaining a lot of ground feel.
The insole has a decent amount of padding, which can be replaced with something lighter or removed to reduce weight. In my opinion, the shoelaces that came with the NYC version were a bit cheesy and too short, so I swapped them out with normal black 54" NB laces.
I also ultimately cut off the NYC overlay on the tongue because I didn't like the way it looked and felt when the shoes were tied.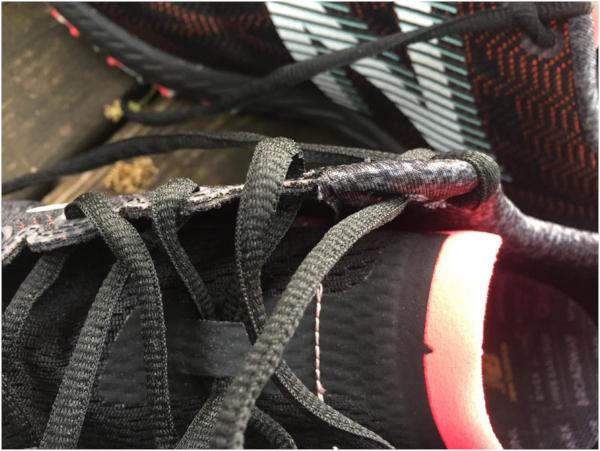 Protectiveness
As I mentioned earlier, the 1400 v6 provides a decent amount of cushioning and support, but it is not for runners who aren't ready for a racer. These shoes have the potential to provide a false sense of security as they are comfortable but may not be suitable for all runners as a daily trainer.
While they might work for some, I don't feel they provide enough support to work as a daily trainer for the majority of runners. Simply put, I personally do not feel comfortable using this as an everyday trainer.
With that said, these are in my weekly rotation and are my go-to racer. For most runners, at the minimum, I would suggest something more substantial for recovery runs.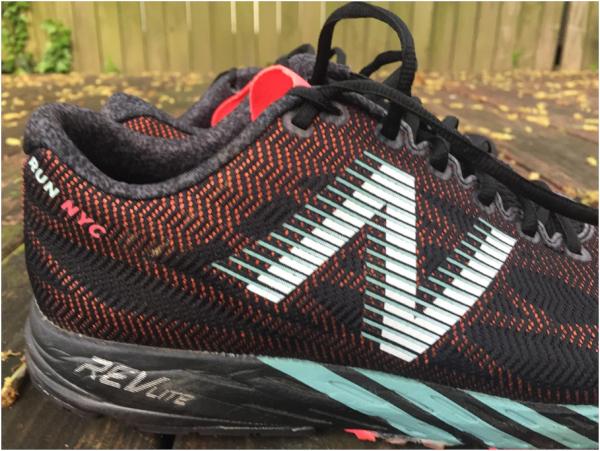 Style
I love the way these shoes look. I got a pair of the NYC edition off of Amazon for $77.00 via RunRepeat. The colors are bright and complex, which gives the shoe a unique look.
There are a variety of color options for this shoe that look great, and I have considered getting another pair to rotate simply because I like this shoe so much. This shoe is stylish and comfortable enough to wear just walking around.
I have even worn this shoe at the running store and received multiple compliments on them. With that said, there aren't a lot of completely neutral color options available for this shoe. The black/green option is a good choice if searching for a simpler design.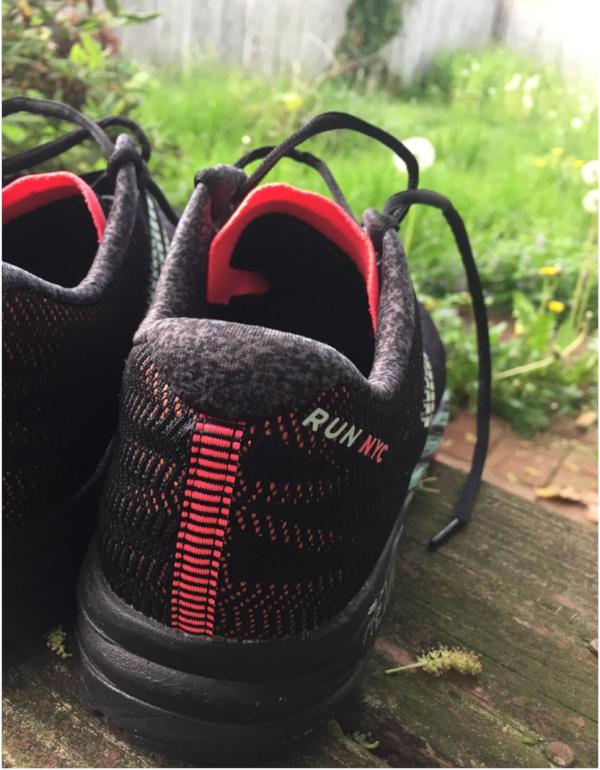 Pros
Lightweight and flexible
Enough support/speed balance for tempo runs and racing (can even be used on the track)
Looks great, lots of colors
Neutral locked in ride, very responsive with lots of ground feel
No-stitch mesh upper is very comfortable, can be used for triathlons
Good comparable value at $100 retail
Cons
Maybe too snug or narrow for some runner
Not suitable for runners that require more support or cushioning for racing
Not a suitable everyday trainer for most runners
The laces are too short
Conclusion
This is an excellent lightweight racer that I would recommend to anyone ready for something lighter than a daily trainer. If looking for comparable options, I would think about the Nike Pegasus Turbo or the Brooks Launch.
All in all, this is a shoe that provides a great balance of speed and support. The NB 1400 v6 is comfortable and fast while maintaining the feeling of a racer comfortable enough for long distance races and tempo runs.
At $100.00 retail price, this shoe is reasonably priced when compared against comparable racers — highly recommended.
The 1400 v6 is New Balance's latest in the 1400 series racing flat.
This shoe is a proven winner for those looking for a shoe that can be used for training runs or for race day. The 1400 v6 provides comfortable cushioning with a fast snappy ride.
As you continue to read, you will come across 3 sections: Why?, Why Not?, and Conclusions. My review will focus on the reasons the shoe could work for you (Why?), what may not work for you (Why Not?), and some final thoughts (Conclusion).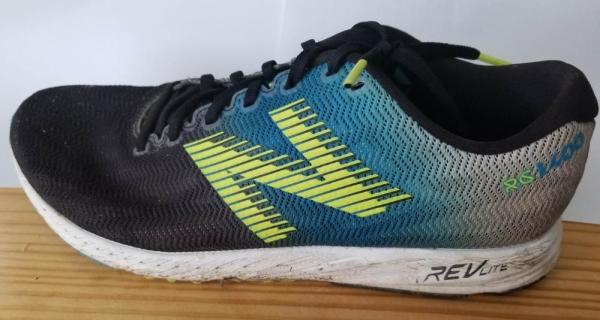 Why?
1. The ride/performance.
This shoe performs well at a variety of different paces and distances. This is a shoe which can perform well whether running 400m intervals or a marathon.
The 1400 v6 has a 10mm drop which may seem high to the minimalist and zero drop fans. However, the 10mm drop feels quite natural to me. With a stack height of 25mm at the heel and 15mm at the toe, the 1400 v6 has plenty of ground feel.
The REVlite foam is a winner for me providing plenty of cushion while remaining responsive. It's not overly cushioned but also not too minimal or harsh. The foam is also pretty durable as creases are just starting to appear in the midsole at 200 miles.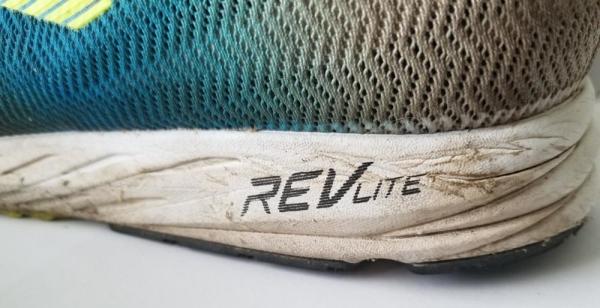 New Balance has also placed a plastic shank in the midsole which gives a snappy feel to the shoe.
I can't emphasize how much I enjoy running in this shoe. It feels natural at any pace or distance. It is a shoe you forget you are wearing because of how natural it feels.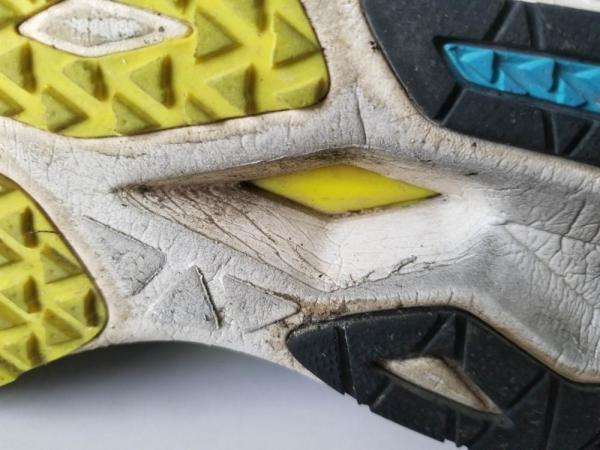 2. Breathable upper.
This upper is a no stitch mesh without overlays. This creates a light breathable upper. This is great for those hot summer days. I feel the upper has a bit more room than previous versions.
The structure of the mesh provided plenty of support holding my foot in place. I had no hot spots or problem areas. Those who enjoy running without socks should enjoy the no stitch upper.
The tongue is unpadded which is different from the previous version. This may be the reason for a slight roomier feel. The upper is also very durable no signs of fraying or ripping at 200 miles.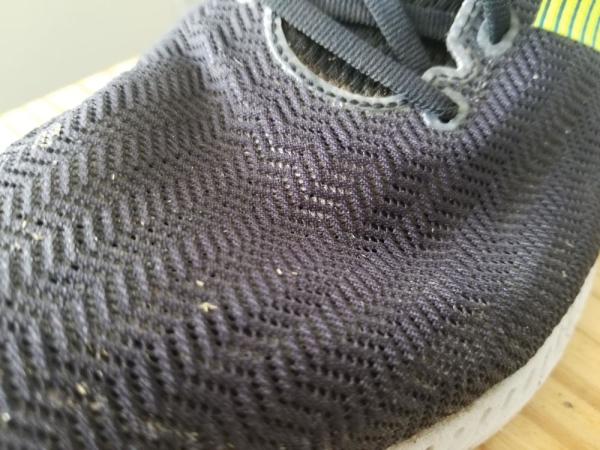 3. Flexibility.
I love a flexible shoe with a little bit of ground feel and the 1400 v6 is just that. Flexible and fast.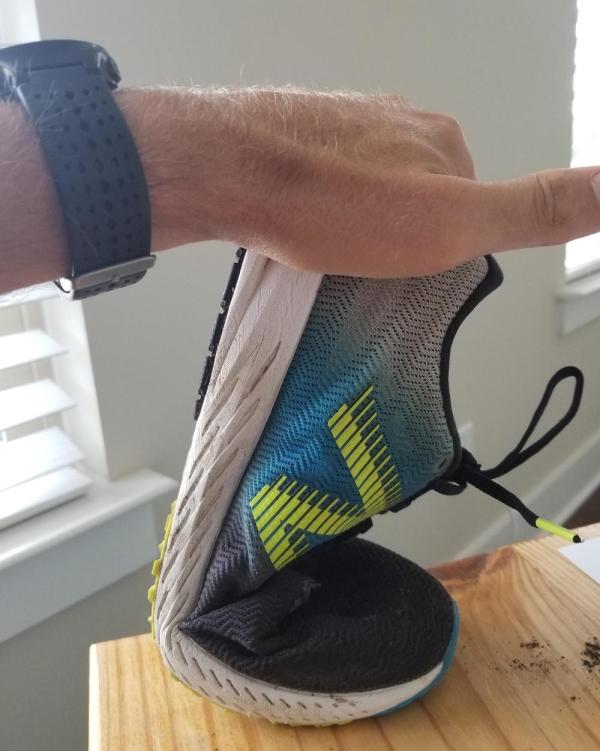 4. Lightweight.
My size 12 1400 v6 came in at 8.5 oz or 240gram. This is great for a shoe with good durability and cushioning.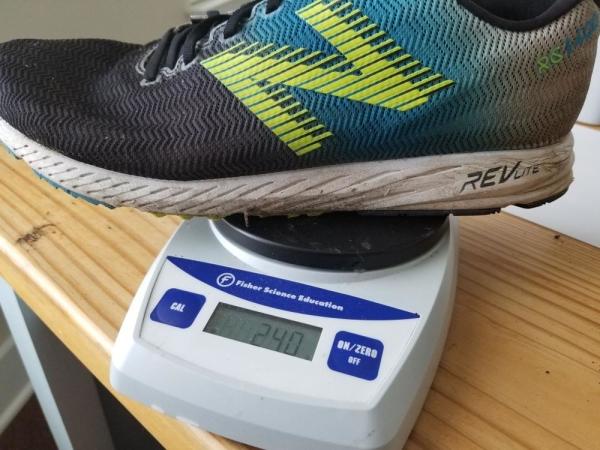 5. Price.
With a retail price an of under 100 US$, this shoe is a bargain. You could buy trainers and racing flats at $120 each and they still might not perform as well as the 1400 v6.
Why Not?
1. Outsole.
This a huge disappointment. The outsole of the 1400 v6 appears very similar to v5. However, my pair is showing more wear at 200 miles than my v5 had at 300 miles.
There's lots of wear at my toe off point. Also, a piece of the outsole ripped off mid-run at about mile 100. Additionally, the rubber seems to lack grip in wet conditions. I did not have this problem with the previous version.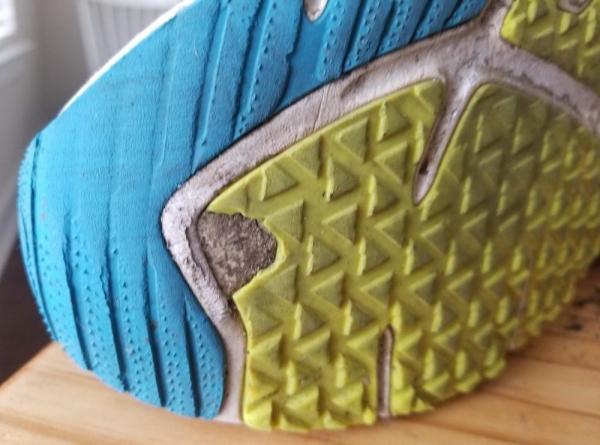 2. Sizing.
As with the previous version, the 1400 v6 is about a half size too small. I normally wear a11.5 and I needed a 12 for a comfortable fit.
Conclusions
The New Balance 1400 v6 is one of my favorite shoes. It is versatile and comfortable no matter the distance or pace. If you are a runner who goes to different shoes for different workouts, this may be a fix-all solution for you.
The newest version lacked some durability in the outsole but there are some improvements to the upper. This shoe is a winner.
I love these shoes. They are my favorite trainers at the minute. They just make you feel you can run past any other runners out there.
You just want to run and run in them, stride after stride, mile after mile effortless.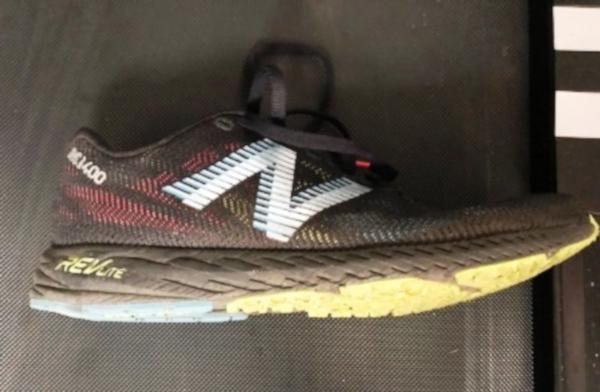 The only thing that stops me putting in more miles is I've told the wife what time I'll be back home so she's making me tea for that time, otherwise, it will go in the bin and usually get "So you decided to come home then" (She is just joking, my wife is extremely supportive of my running.)
I use these on a multitude of surfaces, treadmill, road, path, and trail, no matter what the surface, they feel light, comfortable, responsive, flexible and fast, everything you want from a good pair of trainers.
I use these when I'm doing quality workouts and racing ranging from 5K up to a recent hilly half marathon, and I'm sure they would give enough support to compete in a marathon.
No matter which you wear them for they make you feel the same, fast, supported and comfortable, I found them a little lacking in grip in wet or damp surfaces, but other than that can't fault them.
Profile
I currently run 60+ miles every week 7 days a week usually. I'm no expert but I do know when I like a running shoe, not all in these trainers, but still do their fair share of the miles each week.
I love running races in these. Just recently, I ran a 1:21 hilly half marathon and knocked 8 minutes of my last great north run time, thanks to these quality training sessions in these shoes.
I am looking forward to the next race or quality workout to carry on improving my PBs.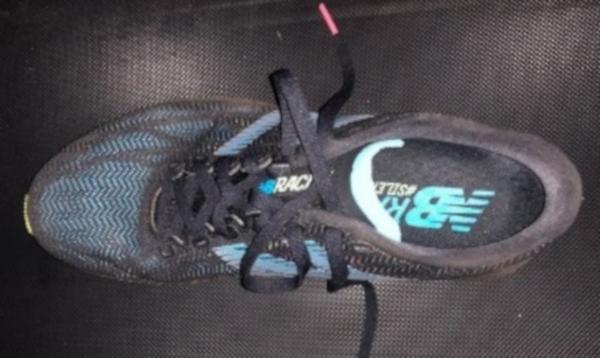 How they make you feel
Every time I pick up these trainers, I get a tingle down my spine. If it's the FantomFit upper and or the Revlite cushioning, I'm not sure but there is something about these trainers.
I just can't wait to get them on and out running, I know when they're on, I'm going to have a good quality run. I'll be up on my toes and plod along pushing myself and enjoying every stride.
Miles covered
Only 150 miles covered so far on these shoes and no signs of wear on the shoes as yet and still looking new.
Wear these for race days or quality workouts.
Durability
Some 150 miles in and still feel as if I've just put them on for the first time, and no signs of wear.
The sole, midsole and the upper are still really comfortable and in great condition.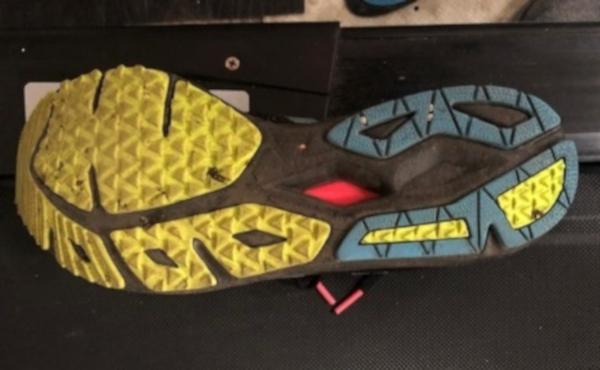 Comfort
FantomFit support cage feels very snug and comfortable and lightweight, just like your best pair of slippers. It will help you race and train to your potential, even during warm days.
After any run, my feet still feel really good not wet or moist, and I've had no blisters from these shoes too.
Support
The FantomFit support cage holds the foot in place without feeling intrusive.
The Revlite midsole allows you to feel every time your foot interacts with the ground, feeling the grip, flexibility, bounce and energy return.
Speed
Always feel like your run is effortless and fast, you just feel as if your bouncing along.
Every time your foot touches the ground, you can feel your foot caressing the ground.
The shoes, through the Revlite midsole, absorbs the impact and return energy back through your foot, making you feel your bouncing along.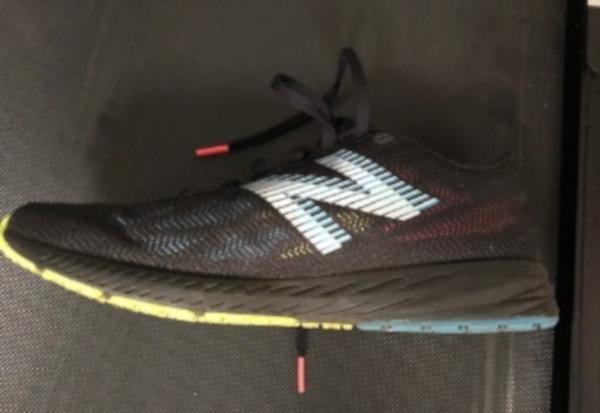 Pros
Lightweight, really fast, supportive, comfortable, every time I slip them on I just want to run.
Cons
Lack of grip when the running surface is damp or wet.
Makes you back off a little when approaching a corner or bend, as in the back of your mind you know that sometimes you feel your foot just loosen in grip, but when dry or on a straight run, just bounce along.
The New Balance 1400 may be the most iconic pre-4% racing flat. Not only does every collegiate/sub-elite athlete I know own a pair (or two), some even go so far as to use it as their daily trainer.
One guy famously refers to them as the G.O.A.T. shoes. Better yet, the 1400 comes with a lower price tag than most other racing flats out there.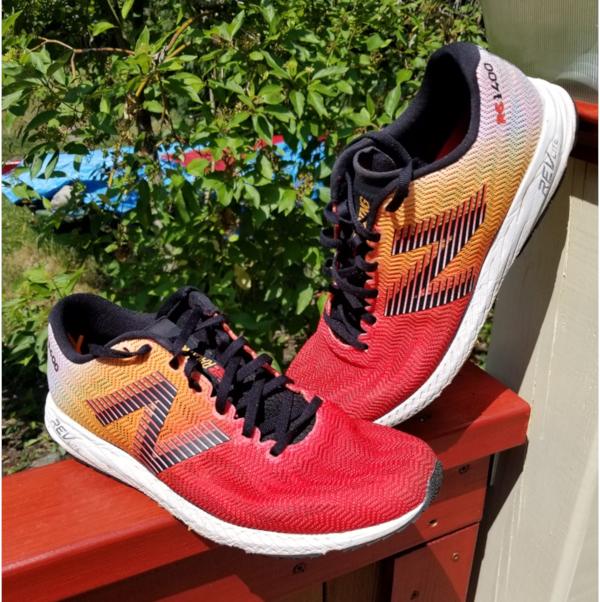 Make no mistake; the New Balance 1400 is not just a good shoe for the money. One that you shouldn't second guess adding to your collection.
Upper
The 1400 v6 upper is a single piece of fabric that is stitched together at the heel in the final product.
This creates a seamless design without overlays or external cages. The result not only looks sleek, but it produces a superb fit with no hotspots and little risk for rubbing or blistering.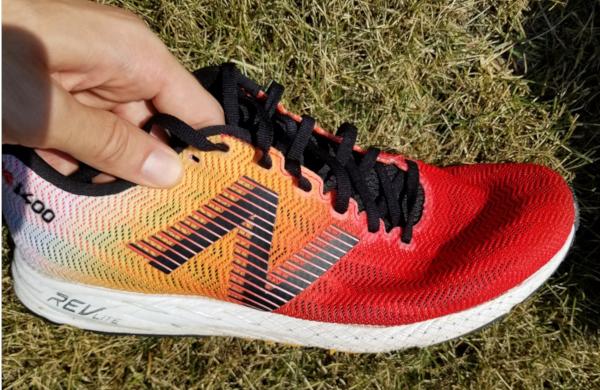 That said, I rarely find the minimalist design a cause for concern. A complimentary internal mesh and heel cup provide adequate support for most uses though I do find my foot slips a bit during faster track work.
The breathability for NB1400 is pretty standard. It retains appreciable water in rain or damp conditions.
This may have been done to improve the durability of the upper. Through ~100km on my current model, I have no signs of wear or tear.
The tongue is very minimal; I've had no problem with bunching or shifting during use. I'm happy to see shoemakers moving away from padded tongues as they add unnecessary bulk for little to no benefit.
Tops of your feet uncomfortable? Try loosening your laces. Problem solved.
The only real knock I have against the upper (to echo my previous review of the Salomon RA Sonic Max) is the limited colorways.
Most of the men's options are some form of black, which, as we've clearly established, is NOT a fast color. I have an older red model, and I love it. Women have a bit more variety in this regard.
TLDR: I love the upper in this shoe; it might just be the best in the game. It is sleek, comfortable, and sufficiently sturdy for most uses. Hope you like black!
Midsole
The 1400 v6 midsole strikes an elusive balance between being soft yet responsive. The REVlite foam is softest in the heel and the toe, and firmest in the midfoot towards the heel.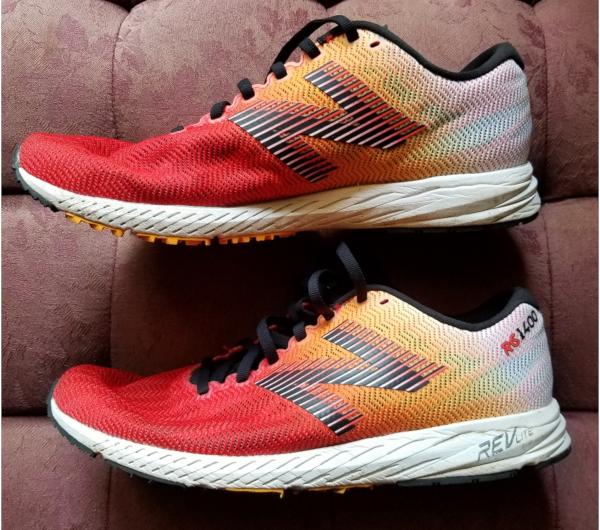 The result is more comfort at slower paces when you'd be more likely to heel strike, but can kick it up a notch when the pace picks up, and you'd land on your midfoot.
However, as someone who lands on their forefoot at any pace, I can't help but describe the midsole as a bit mushy for lack of a better term.
This goes back to earlier models of the shoe and is unlikely to change at this point, for better (i.e., for me) or worse (i.e., for almost everyone else).
I like the plastic shank that runs through the centre of the midfoot. I feel it adds noticeable structure to the flat, and presumably restricts lateral torque while allowing the sole to spring back into place.
Though, does it have to be so vividly on display through a large rhomboidal hole in the midfoot? Perhaps this is to cut down on weight, but for me, large rocks or debris always seem to get caught in holes like this.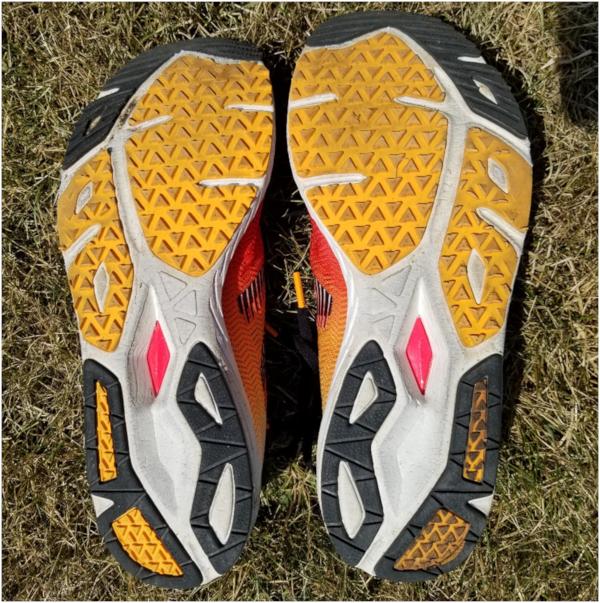 I'd be remiss if I did not mention the (10-mm) drop. Most up-tempo shoes go for a more neutral feel (i.e., lower drop). However, I actually feel the relatively high drop gives the 1400 more versatility as a daily trainer.
High drop = less Achilles strain = more miles = more smiles! It's simple math!
That said, I know some runners avoid high-drop shoes like it was the plague, so it is definitely worth mentioning if you're one of those people.
TLDR: The 1400 v6 midsole is well-designed, responsive, and plush at any speed. The high drop might not be everyone's cup of tea.
Outsole
This is my biggest gripe with the recent New Balance shoes. I find the durability of their rubber outsole to be very poor indeed.
I usually blow fully through the toe after 400 km or so. Some might say this is a typical lifespan for a racing flat, but I have had other flats last me a good deal longer than that.
Furthermore, I've noticed this outsole does not handle wet or soft surfaces, as well as some other options.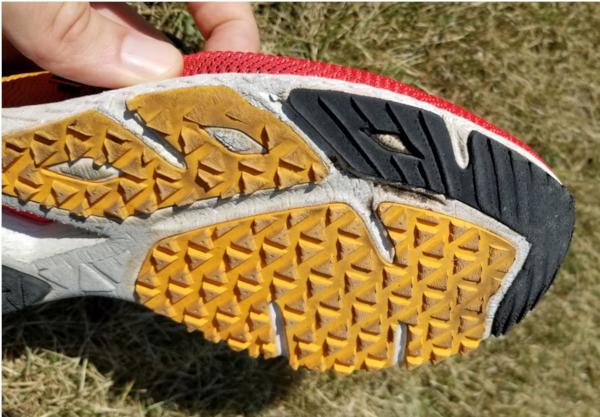 TLDR: It's bad. New Balance, I love you, but please fix this.
The good
The price is right
Up for anything: racing, workouts, or easy days
The upper (as comfortable as your favorite pair of slippers)
The bad
The outsole is shorter-lived than Professor Quirrell from the Harry Potter series
The upper (limited color options)
Overall
The New Balance 1400 v6 might be the most versatile and best bang-for-your-buck shoe available.
It feels good on easy days and even better on harder efforts; it's best used as a training flat for up-tempo or long-interval training. Happy running!
The New Balance 1400v6 is the 2nd generation of the fantastically made NB 1400v5. This shoe is touted to be a neutral racing shoe that can be used from a 5k race up to a marathon.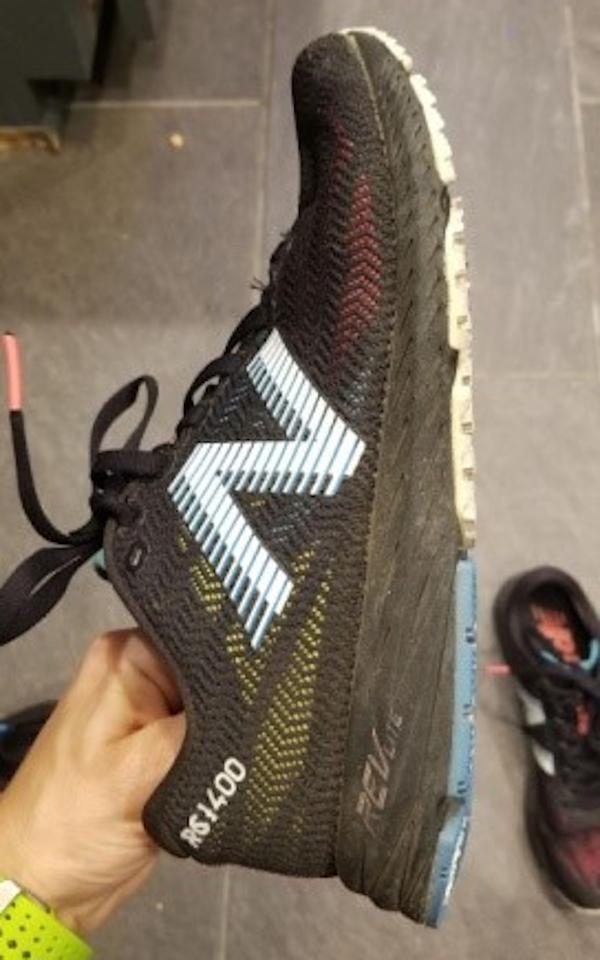 Intrigued? So was I. I had not worn NB since high school, and honestly didn't care for them back then (okay that was a really long time ago). But intrigue won over as I was training for my most recent marathon.
My first purchase was in the coral color. I used my usual running shoe size 6.5, and the fit was on point. It felt like putting a shoe on that was made for your foot. It was love at first feel.
Let's dive into all the things I loved about the shoe starting with its design.
The outsole
I am a midfoot striker when running, and I was not disappointed with my first run in these. The REVlite technology in the midsole is extremely noticeable in a GOOD way.
It's snappy and fast. You feel like your king or queen of the world when you take off. I'm assuming if you are a heel striker, you will not get the same feeling as the shoe was intended for.
It has a 10mm drop. Generally, I do not run in shoes over 6mm drop as those can cause knee soreness for me. I prefer 4mm to zero drop.
But, these are so well made I never noticed a difference between these and my Altra Escalante 1.5—a zero drop shoe. They also have a nice wide toe box that isn't overwhelmingly wide like Altra's.
The grip on the soles is fantastic. Even on wet roads, I never feel like I'm going to slip on a turn, which is always a peace of mind on speedy runs/racing.
I have not taken these shoes on any serious trail runs. I have run in them on gravel trails, and they hold their own.
Plus, after putting in 400+ miles on the coral color, the tread is noticeably worn where I am landing/toeing off. In the black/polaris shoe picture, you can see the little teeth of the grip still showing.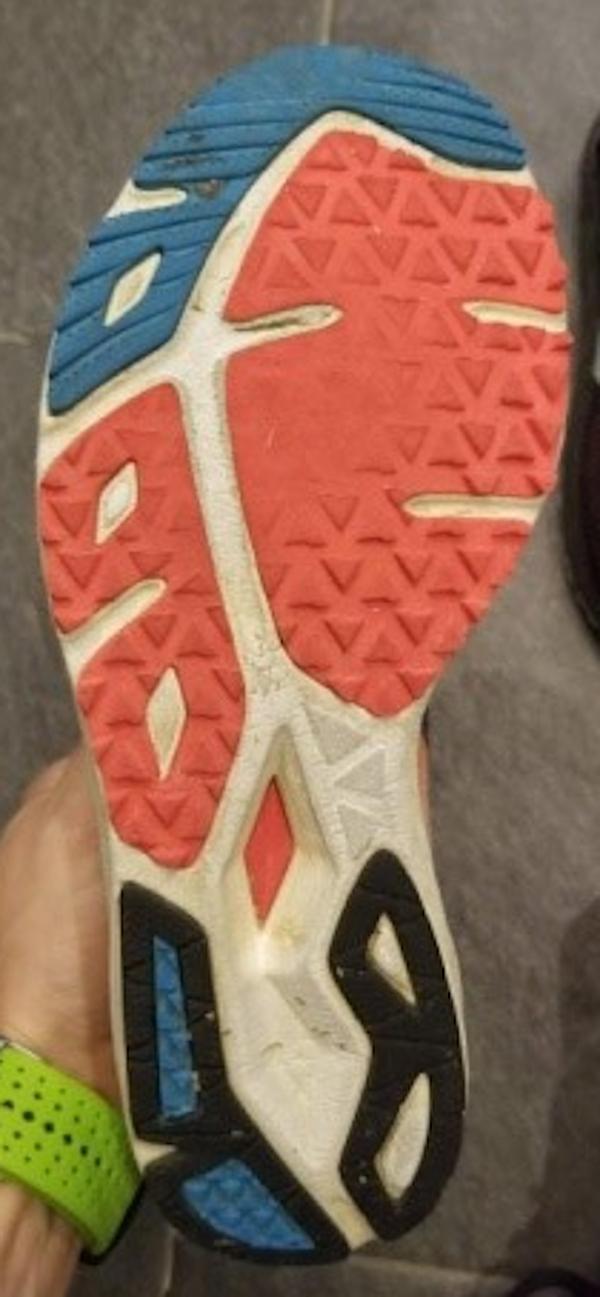 These shoes have over 200 miles on them. Impressive! This shoe is also flexible, note the bend in the picture as well, which makes it so comfortable.
Midsole
The cushioning in the midsole is a perfect blend of comfort but not overly pillowy soft where you feel you are not getting any speed/return out of them. This is where the racing/training in these shoes for a marathon are perfect.
You are going to have protection after hitting 20+ miles in your race or training long runs. This is where the soles of your feet can start to feel every stone and your soles start getting sore, but the cushioning is there to keep your feet feeling in great shape.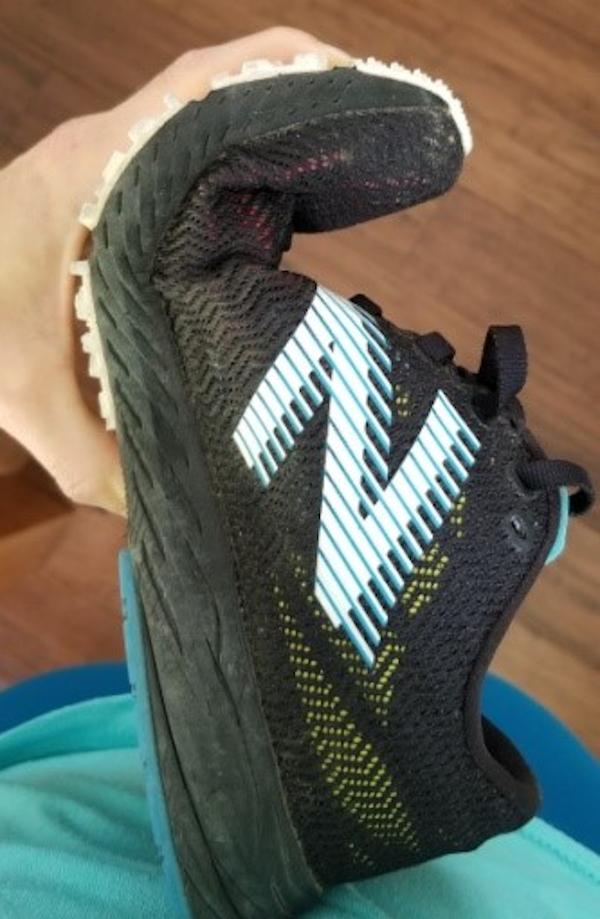 And with the shoe being so lightweight, after 20 miles, you aren't feeling like you're running with rocks glued to your feet.
In fact, I don't think about having the shoes on when doing long runs/racing and that right there is the "gold star" sign of a well-made shoe. You can remove the innersole and replace with orthodontics if needed.
The men's shoe averages out to 7.2oz, but for women, it is around 6oz. The weight of these shoes is surprising for how comfortable they are on your feet.
Upper:
I have wide feet and have had issues with Mizuno Hitogamis, Brooks, and others being a tad tight with the fabric, rubber, and stitching of the shoe.
Some brands have narrow to boxes that pinched my toes and caused some unnecessary bleeding. But the 1400 v6 has a perfect width for my tootsies to splay naturally.
The fabric on the top of the shoe is breathable/flexible and allows heat to expel, which is nice but also is where I had to ding a couple points off.
These are a no-stitch upper fabric, which means fewer chances of blistering, less weight in the material, and added stretch so your toes can splay naturally!
The thin tongue and entire upper of the shoe is extremely comfortable and weightless. When the shoe strings are tied, they stay tied. Not once have I had to stop midrun to re-tie my shoes.
Due to being a racing shoe, their road life is limited. They weren't made to be used every other day in rotation.
But, I feel their durability is outstanding. I am small framed, usually around 108 lbs, 5'2" and by 300 miles, I noticed they aren't quite where they used to be. But, these are still comfortable and fast feeling.
For larger-framed people, 200 miles could be the max for them. If just using for races, they could last a long time. But, I am making them pull double duty, so durability is 100 points out of 100.
My scoring on the NB 1400v6 is a 97 out of 100 points. I have my reasons why I took three points away.
Reason number 1: They have no reflection on them. Zero, zip! If only being used as a racer, I'd be more lenient on this problem. But, a lot of us don't follow the "what it's always meant to be for".
Reason number 2: I feel my toes are very normal, and I keep my nails trimmed very short. Yet, the fabric has a hole where my big toenail rubs on, as you can see in the pictures.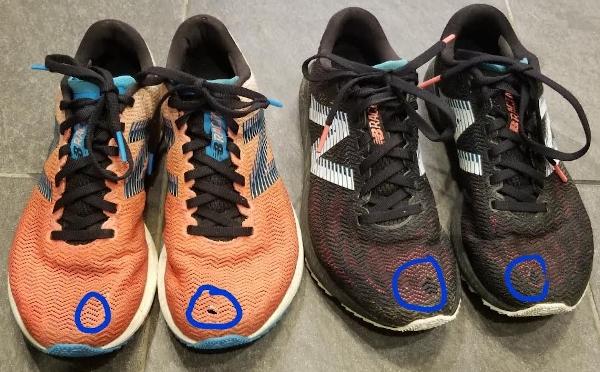 Both pairs had this issue, so I do wish the fabric was a bit sturdier.
Overall, this is an amazing shoe. Yes the fabric and reflection are two items I'd like to see changed, but the durability of the sole, cushioning, and tread continue to hang on even after many miles past its "prime".
To me, that's worth the 100$ price tag for these shoes. I don't like investing in a shoe that is going to disappoint in the end. These shoes did not disappoint.
New Balance has created a beautiful racing shoe that hits all the points for a quick 5k racer to an amazing marathoner shoe. And, for some of us, a daily training shoe that is willing to do anything you ask of it.
I have been converted to the New Balance brand, and I am excited to see what the 3rd generation has to offer.
Updates to New Balance 1400 v6
The New Balance 1400 V6 is made especially for the comfort of the foot when running on different paved surfaces. The updated upper area utilizes the breathable mesh package. This material is light that provides an airy feeling to the foot.
This affordable running shoe features the new tongue construction. The goal of which is to deliver an exceptional fit that is ready for road running activities.
Size and fit
The New Balance 1400 v6 has improved its space. The shoe's toe box is a bit shallow but does not affect the comfort it provides to the runner. The shoe comes in regular measurements in terms of the size. The available widths are D - Medium for the men's version and B - Medium for the women's version. Its form-fitting feature ensures a hassle-free running experience.
Outsole
The outsole of the 1400 v6 utilizes the blown rubber. This material is described to be soft and light, yet durable enough to provide traction while running on roads, tracks, and flat trails. Its thick rubber application is expected to last from 200 to 300 miles' lifespan. This responsive material gives added underfoot cushioning as well. The runner can feel a softer impact when running on hard surfaces.
Midsole
The RevLite foam is used in the midsole of the footwear. This innovative foam compound delivers a responsive and lightweight cushioning as well. This component of the shoe also provides more protection for the foot throughout the running session. The RevLite foam is also used in the New Balance 1500 v5.
Additional underfoot cushioning is offered by the traditional sock liner. As a result, a more comfortable ride is experienced by the user. Even with the use of the sock liner, it does not affect the overall performance, responsiveness, and flexibility of the shoe.
Upper
The Engineered Mesh is integrated into the New Balance 1400 v6. Covering the majority of the upper section, this material is updated to provide a lighter and softer coverage.
The shoe uses Synthetic Overlays. These overlays are strategically-placed in the upper section to wrap the foot. Foot-wrapping is essential in providing a more secure fit.
With the utilization of the no-sew upper construction, the foot is held securely on the platform. These soft and supple no-sew materials ensure an irritation-free ride
The NB-J is another notable feature of the shoe. New Balance added this racing-specific last to provide a higher performance running.
Rankings
How New Balance 1400 v6 ranks compared to all other shoes
Popularity
The current trend of New Balance 1400 v6.