7 Best ASICS Running Shoes in 2023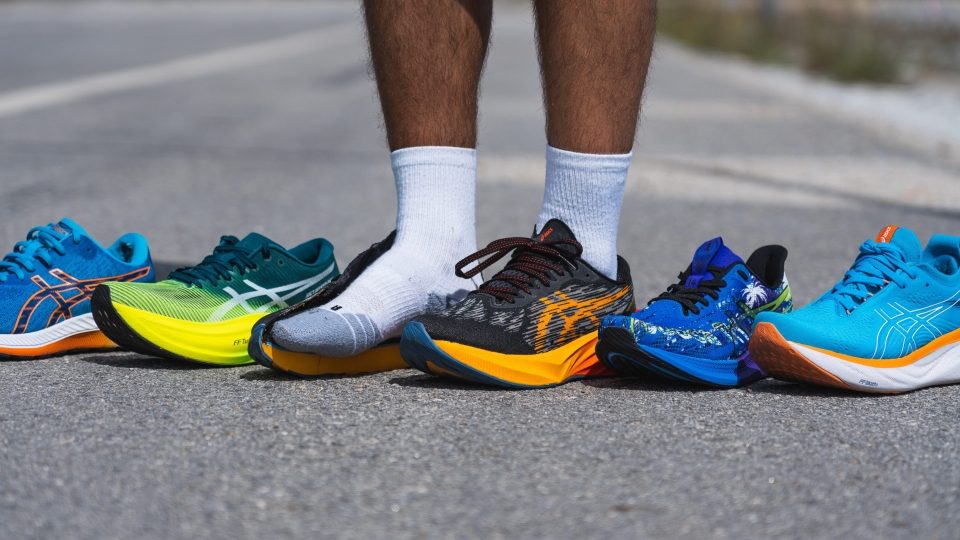 We earn affiliate commissions at no extra cost to you when you buy through us. Why trust us
ASICS is a big name in the world of running shoes.
With such an extensive collection of ASICS shoes to choose from, there are options for all types of runners. Whether you need a comfortable cruiser for long miles, a carbon-plated racer for new PBs, or a stability shoe for overpronation, ASICS has got them all.
And we are here to help you find the best. We have tested over 100 ASICS shoes in our lab. Not only that but we wear test each of them to completely immerse ourselves in what they offer! Here are our top picks in different categories.
Comparison of the 7 best ASICS running shoes
| | | | | | | | | |
| --- | --- | --- | --- | --- | --- | --- | --- | --- |
| Best | | | | | | | | |
| CoreScore | | | | | | | | |
| Users rating | | | | | | | | |
| Experts | | | | | | | | |
| Best price | | | | | | | | |
| Ranking | | | | | | | | |
| Popularity | | | | | | | | |
| # of colorways | | | | | | | | |
4 factors to consider when buying the best ASICS running shoe
Terrain: Will you be running on paved roads or trails?
Arch support: Do you need one in running shoes?
Distance: How long your runs are going to be?
Cushioning: How much cushion will benefit you the most?
The sections below will help you answer these questions and pick the right ASICS shoe.
Terrain: road or trail ASICS shoes?
ASICS' road and trail running shoes are designed differently. They offer various levels of durability, traction, and foot protection depending on the running surface. Trail running shoes can provide safety and performance that road shoes cannot but they may come with extra weight. Here's the comparison: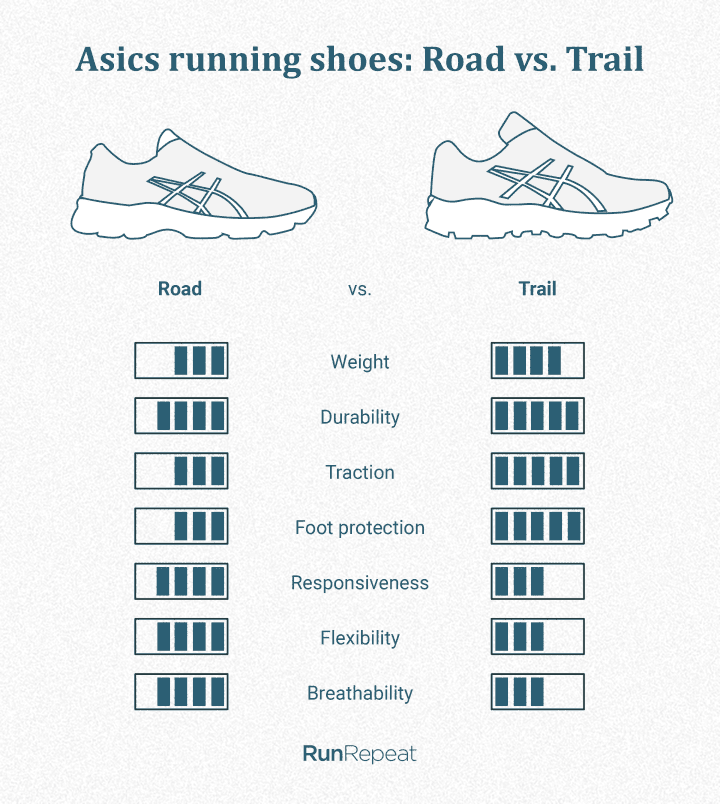 Consider arch support and your pronation type
Your arch type and foot mechanism will help you determine the right shoe for you. If you are unsure about yours, here's a quick guide:
The foot arch wet test
Wet the feet, one at a time
Stand onto a piece of paper or cardboard (make sure to put your weight on it)
Step off and compare the footprint to the ones shown below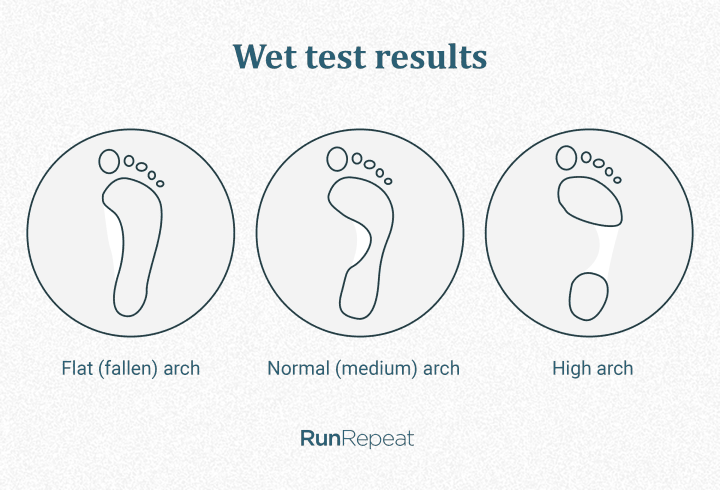 ASICS classifies their running shoes according to users' pronation:
neutral
overpronation
underpronation.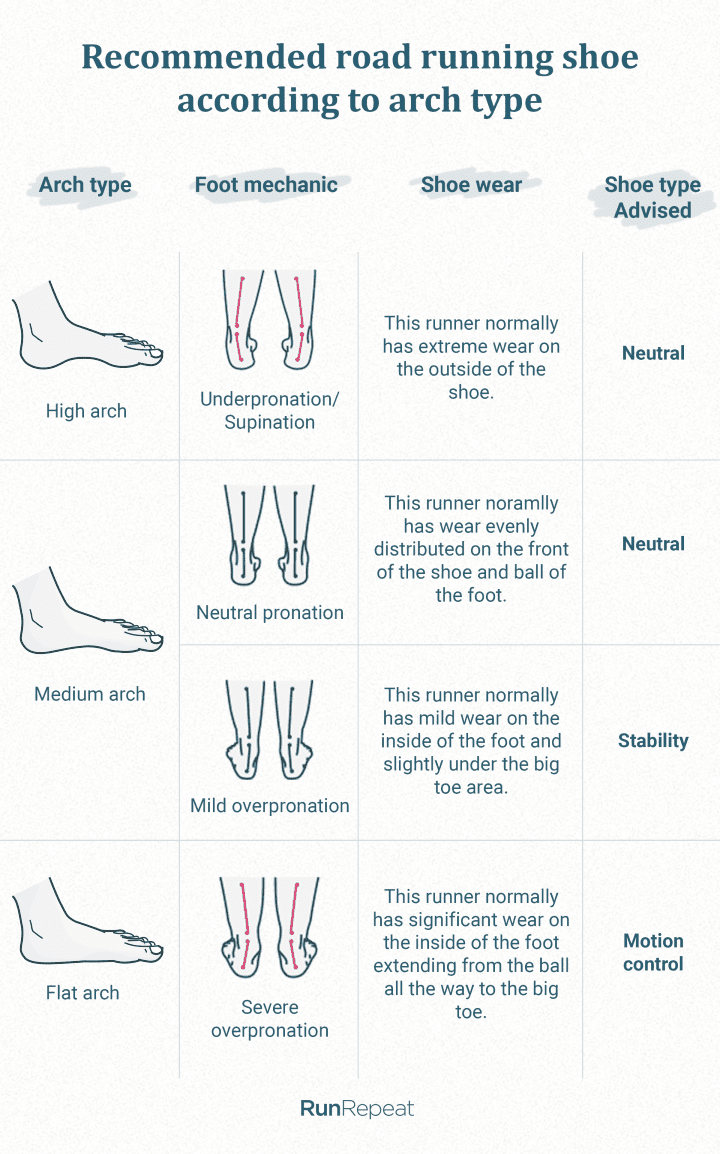 Distance: how far will you go in your ASICS shoes?
Consider the average distance you run in a week and if you are participating in a race or just doing it for leisure. These things are important to determine if you need a light and fast shoe or a cushioned pair.
Depending on your goals, here are the things you need to consider when buying a pair of ASICS running shoes:
Daily Training/ Easy Jogs

5K/10K Race

Half Marathon

Marathon

- Cushioned

- Snug in the heel and midfoot

- Roomy toe-box

- Durable rubber outsole

- Lightweight

- Snug fit

- Fast

- Cushioned

- Durable solid rubber outsole

- Forefoot striker: look for added forefoot support

- Heel striker: look for extra heel padding

- Breathable

- Durable solid rubber outsole

- Trail: look for a grippy outsole and extra foot protection

See: list of ASICS lightweight running shoes

See: list of ASICS marathon running shoes

ASICS Cumulus (daily trainer), ASICS Magic Speed (5K/10K race flat), ASICS MetaSpeed Sky (marathon race shoe)
Cushioning level in ASICS running shoes
ASICS classified their running shoes based on the level of cushioning - regular, extra, and maximum. Here's how the cushioning level differs:
Regular

Extra

Maximum

Characterized as traditional running shoes
Cushioning is not too thick nor too thin
Average impact protection and flexibility
Most often features an 8-12mm drop

Added cushioning for comfort and impact protection
Ideal for short and long-distance daily running

Thickly cushioned for maximum impact protection and plush feel
Helpful in reducing fatigue on high-mileage runs
Heel height above 30mm; forefoot height above 25mm

See: list of ASICS cushioned running shoes
Example of a regular-cushioned ASICS shoe (Cumulus):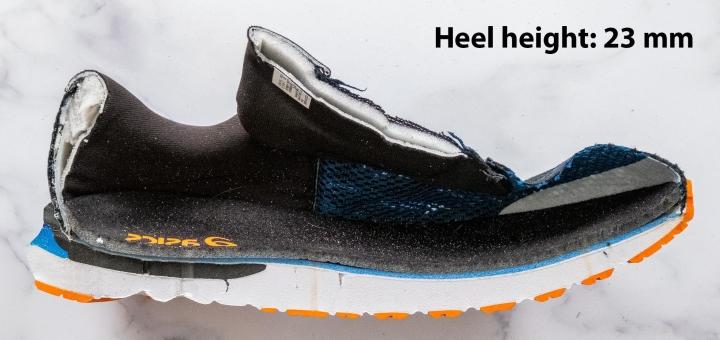 Example of a max-cushioned ASICS shoe (MetaSpeed Sky):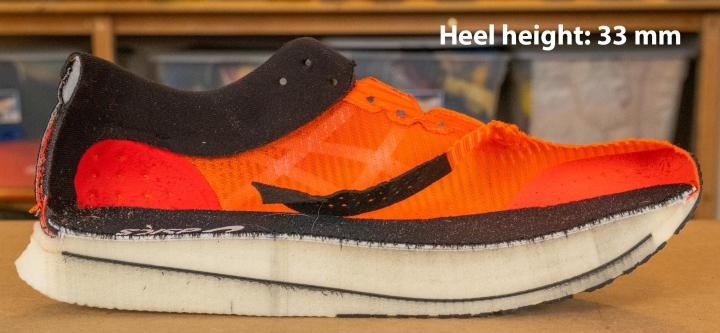 ASICS running shoe technologies
Here are some proprietary running shoe technologies from ASICS that help them stand out:
Outsole
| | |
| --- | --- |
| Technology | Description |
| AHAR/AHARPLUS | The ASICS High Abrasion Rubber is a durable outsole material with an abrasion resistance feature. It also delivers the necessary grip. |
| Wet Grip Rubber | A durable outsole material that delivers excellent grip on wet and slippery surfaces. |
| FluidAxis | These are irregular-shaped grooves added in the heel area of the sole that encourages stable and natural foot movement. |
| Guidance Line | It is a vertical groove that runs through the outsole, from heel to toe. It is meant to deliver gait efficiency from heel strike to toe-off. |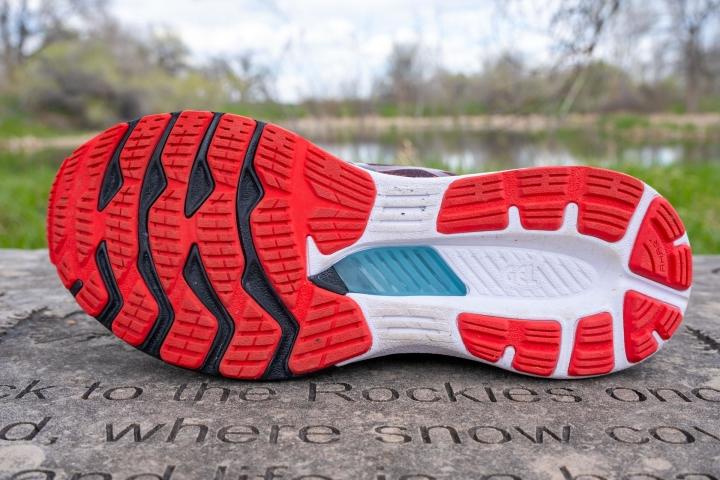 AHAR is ASICS's most durable rubber compound that's used on premium trainers. See all ASICS shoes with AHAR.
Midsole
| | |
| --- | --- |
| Gel Technology | A soft midsole material that provides shock absorption and protection. It is placed in the rearfoot, forefoot, and sometimes in both areas. |
| FlyteFoam | Made from organic super fibers, this cushioning technology delivers responsiveness and bounce without adding too much weight. |
| FluidRide | A two-layer foam that is designed to deliver rebound and shock absorption while keeping the shoe light. |
| DuoMax | Set at a 35-degree angle, this dual-density foam is added in the midsole to give added support and reduce the stress on the foot due to overpronation. |
| Trusstic | It is placed in the midsole to prevent the shoe from twisting, delivering a more stable and comfortable foot movement. |
Gel Cushioning: ASICS best-known innovation
The Gel Cushioning is the brand's best-known midsole technology that has been used in most ASICS running shoes since 1986. The soft Gel material is inserted into the midsole to give users shock-absorbing cushioning for a comfortable, smoother ride.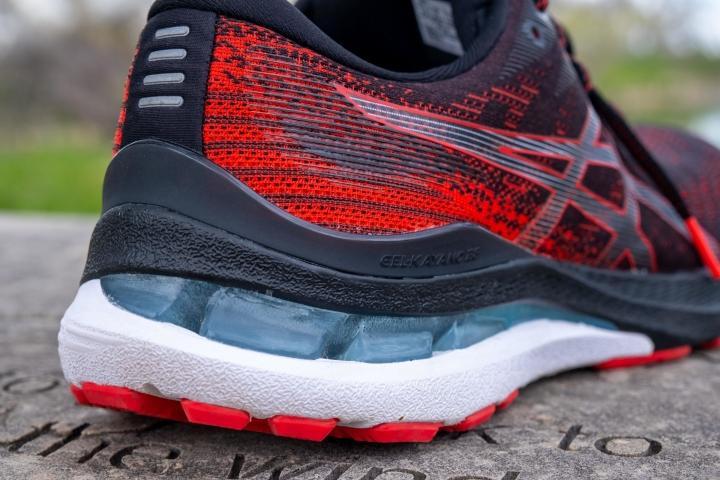 Premium shoes like ASICS Kayano use a combination of Gel and other technologies for maximized cushioning and support.
Also used in some ASICS sneakers, the performance and function of the Gel Cushioning are often compared to Nike's Air Zoom technology.
FlyteFoam cushioning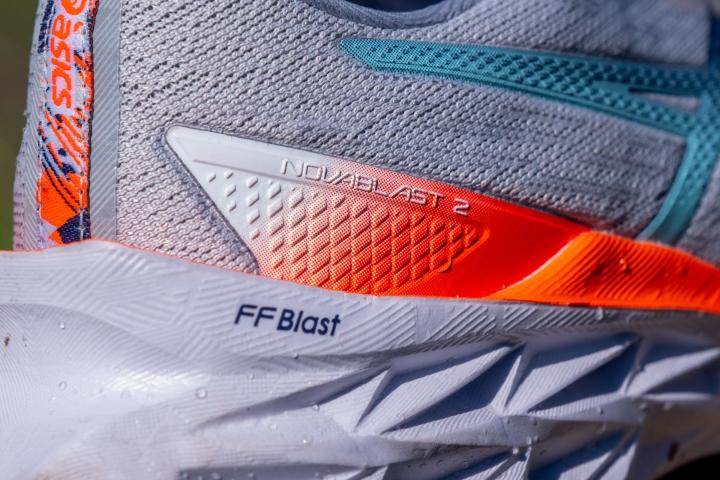 FlyteFoam Blast is the lightest and most responsive edition of the foam. It's used on the brand's high-end speed shoes like the Novablast.
Upper
| | |
| --- | --- |
| Asymmetrical lacing | An asymmetric arrangement of eyelets designed to improve the fit of the upper. |
| Discrete Eyelet | The eyelets are arranged separately to efficiently transmits lacing tension evenly across the foot and deliver a more comfortable, natural fit. |
Kayano, Cumulus, Nimbus: Legendary ASICS running shoes
The Kayano, Cumulus, and Nimbus are the three flagship running shoes from ASICS. The ASICS Kayano is the brand's all-time favorite stability shoes while the other two models are considered the best for the neutral shoe category. The ASICS Nimbus is the premium counterpart of the Cumulus series.


ASICS Kayano (left), ASICS Cumulus (center), ASICS Nimbus (right)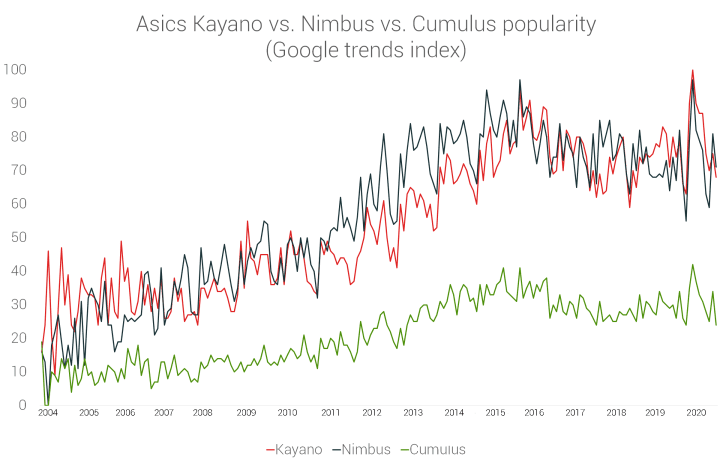 All three models have been on the market for more than two decades and ASICS continues to release new versions each year.
How we test running shoes
With nearly 200 ASICS running shoes on the market, our mission is to help you find the best one. We purchase all ASICS shoes with our own funds to keep the reviews honest.
Spending at least 7 hours on each shoe, we are dedicated testers that put it through the wringer in our shoe testing lab:
First, we run 30-50 miles on average to test the pair in real-life conditions and provide comprehensive feedback.
Second, every ASICS shoe is sliced into pieces in our lab. Ever wondered what a Kayano looks like from the inside?
We use scales, durometers, calipers, and even a custom smoke machine to measure 30+ parameters. It helps us translate what "durable" and "breathable" look like in concrete data.
Finally, we list the cream of the crop right here.