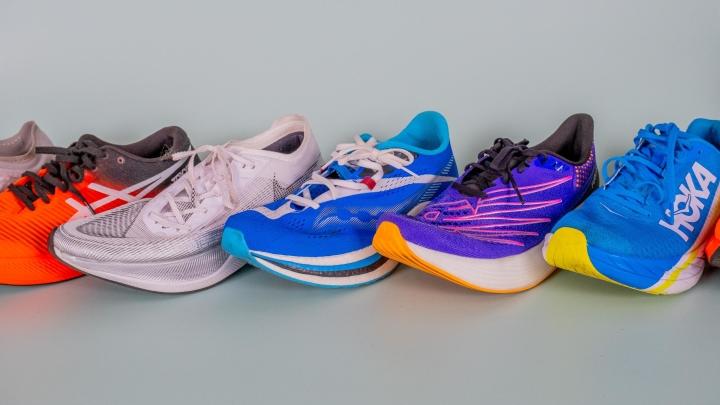 This guide covers what to expect from carbon plated shoes, how much they can improve running times and when they will not work. We've spent 20+ hours researching the topic and summarising scientific conclusions and our lab data. 
Here, we don't take sides in the "what did the carbon-plated shoes do to running" debate. 
The majority of carbon-plated shoes are race-ready. Given that these shoes were made and tuned for elite runners, they work best if you're a competitive runner who is: 
Fit 
Forefoot/midfoot striking
Fast 
Able to afford their premium price.
How much faster can you be in carbon-plated running shoes
Runners wearing carbon-plated shoes managed to break every woman and man record from 5km to a marathon since the introduction of carbon-plated running shoes in 2016.
The most comprehensive studies have been conducted based on the Vaporflys. Nike's claim that the shoes allow for the 4% improvement in the running economy was confirmed (here, here and here). Translated to running performance, this means 2-3% better finish times. Here are a few examples of how those improvements translate to finish times:  
| | | |
| --- | --- | --- |
|   | Finish time | 2.5% improved finish time |
| 5k | 00:34:37 | 00:33:34 |
| 10k | 01:02:08 | 01:00:16 |
| Half marathon | 02:14:59 | 02:10:56 |
| Marathon | 04:26:33 | 04:18:33 |
It's worth noting that at higher running speeds, the improvement in running economy is higher than the improvement in speed. At slower speeds, the improvement in speed is a bit greater than the running economy improvement (as shown in this study). 
Example: at 5.5m/s (world-class marathon pace), it's predicted that the improvement in velocity is ⅔ of the improvement in the running economy. For someone who's doing a 2:04 marathon, and has a 3% running economy improvement, this means they will run the marathon 1.97% faster: 2:01:36.
Fun fact: back in 2019, Strava released a report claiming that the fastest runners wore Nike running shoes: Next% and Vaporfly. 
Why are these improvements possible? Running in carbon-plated shoes allowed for metabolic savings due to: 
Superior energy storage in the foam
Clever lever effects of the carbon plate on the ankle joint mechanics 
Stiffening effects of the plate on the metatarsophalangeal joint. 
3 reasons they won't work for you
Because they aren't made for everyone. 
1. Recommended runner's weight for carbon-plated shoes 
Heavy or too skinny runners might not feel the expected benefits. Professional athletes are usually in the middle: fit. 
2. Recommended pace for carbon-plated shoes 
Mind your pace. 
Activating the plated shoe: fast-paced run + avoiding the heel strike: 
These shoes might be unstable at slower paces and, chances are, you won't feel that special "pop" when just jogging. Pick up your pace. This study even suggested that Nike Vaporfly could be used for track racing next to road racing. 
There are, however, some carbon-plated daily trainers. In that case, you are good even at slower speeds. It's just the matter of affording an expensive daily trainer (for context, New Balance Lerato costs $230). 
3. Recommended foot strike for carbon-plated shoes
The design of carbon-plated shoes either dictates a forefoot-midfoot strike or leaves it "open for all". 
When there are enforcements across the forefoot of the outsole, they suggest the shoes are made for forefoot/midfoot striking runners and they are there to ensure proper grip and durability. 
Outsole rubber coverage in carbon-plated shoes (as seen in our lab when testing ASICS MetaSpeed Sky, New Balance FuelCell RC Elite v2, Nike ZoomX Vaporfly NEXT% 2): 

However, there are carbon-plated shoes whose outsoles are completely covered with rubber or have reinforcements at the heel area as well. This suggests they were made for heel strike. It's always best to try them on and feel whether they actually propel you forward. 
If you want to learn more about footstrike, read our Ultimate guide on foot strike.  
How to choose THE BEST carbon-plated running shoe FOR YOU
Option A: Comfort.
If you already answer the 3 requirements mentioned above, find the most comfortable carbon-plated shoe. We always say comfort is the key. 
Perfect fit in New Balance Elite v2: 
Option B: Lab test. 
However, if you want to make every second of your run count, hit the lab. Other athletes have been doing it as well (look at the Tweet from Dan Nash, or read how Malindi Elmore used the lab data to choose the better shoe). 
What this means is that you should find a physiology lab where you can perform running tests on a treadmill in different shoes and at different paces while a physiologist measures your oxygen consumption (you should be breathing through a mask). 
The personal approach was proved highly valuable even in the case of Bekele, since the original Vaporflys worked much better for Kipchoge than him. 
This is the only way you can accurately measure which shoe will make you the fastest possible. 
8 things that distinguish carbon-plated shoes from other running shoes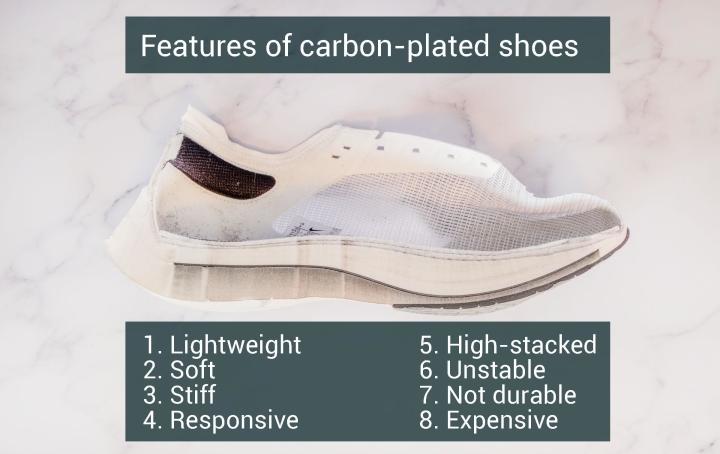 While it's still not clear where the 4% improvements come from (is it the plate, the straighter toes, less work for the ankles, or the foam resilience, or…), we test and dissect the shoes and know what makes them different. 
This is not a list of what to look for but rather what you should expect and be aware of when you decide to add a carbon-plated running shoe to your shoe rotation:
Lightweight 
Soft
Stiff 
Responsive
High-stacked 
Unstable
Not durable
Expensive
We'll cover all these features separately below. 
Carbon-plated shoes are lightweight 
The weight of the carbon-plated shoe came as a surprise at first, given their stack height, but quickly became a norm, given all the new technologies that are making the foams superlight. 
For some context, here's the overview: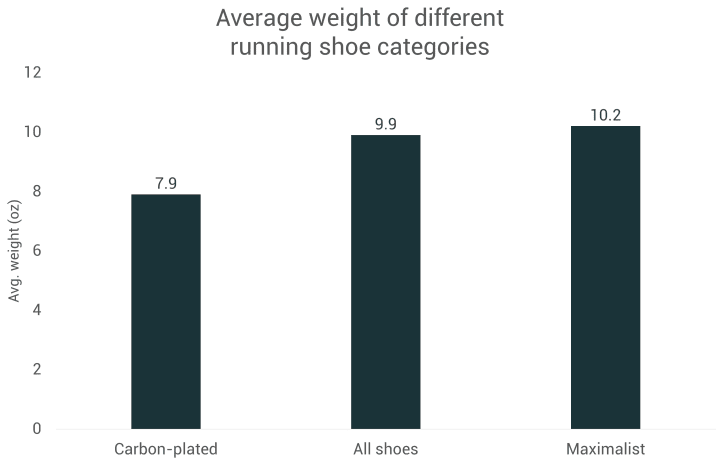 Measuring the weight of carbon-plated shoes in the lab (both in ounces and grammes):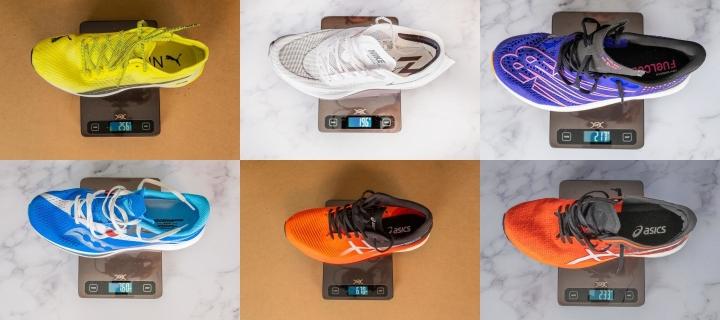 Plated midsoles are soft and stiff 
Carbon-plated shoes are 13% softer and 55% stiffer on average than other running shoes. 
Without carbon-fibre plates, these shoes would just let your feet sink in and would not be responsive at all. Plates stiffen them up and make them pop. The fact that running in stiffer shoes might reduce muscle fatigue on long distances is a cherry on top. 
Here, we're using a durometer in our lab to measure midsole hardness: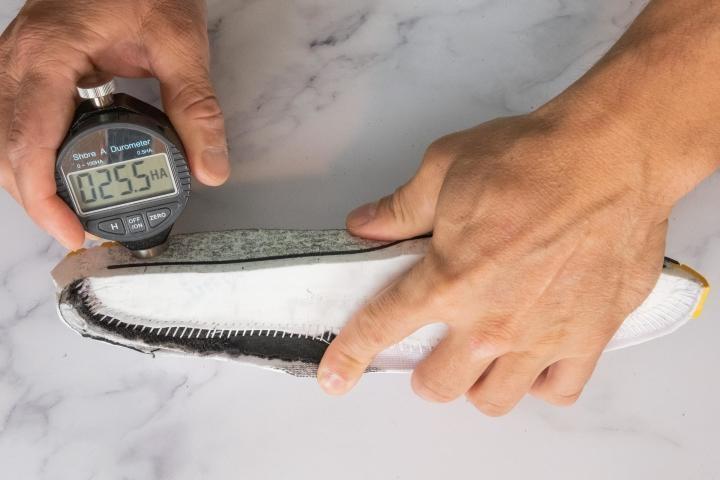 What makes them different is also being resilient: the foam returns most of the energy you use to squish it. 
If you're unsure about the difference between midsole hardness and stiffness, look at our 2 guides: Guide: Soft vs. Firm Running Shoes and Guide: stiff vs. flexible running shoes.  
For reference, based on our lab tests:
The average softness of carbon plated shoes: 20.1
The average softness of other running shoes: 22.8
When it comes to stiffness, we do 2 types of tests. Subjective, where we try to bend them and twist them, and objective, where we use a force gauge to measure how much force is needed to flex them completely (flexible being the opposite of stiff). 
Subjective tests for shoe stiffness (1-5, 5 being the stiffest)
 
Carbon-plated
All other shoes
Avg. longitudinal stiffness
4.8
2.9
Avg. torsional stiffness
4.7
3.1
Testing longitudinal stiffness by hand looks like this:
When doing the flexibility test with a force gauge, the greater the force, the stiffer the shoe. 
The average force needed to flex carbon-plated shoes: 70.0N
The average force needed to flex other running shoes: 31.5N
Using a force gauge to test flexibility in the lab: 
Stiffer shoes are better for sprint performance (source) and even for long distances but it's important not to go too stiff as shown below.  
We've covered this in-depth in our guide on stiff running shoes. 
Superb springiness 
Most common descriptors: Bouncy. Like a trampoline. Pushes you forward. Wants you to run, wants you to run fast. Propels you. 
It's how good these shoes are. 
A fast ride offered in ASICS MetaSpeed Sky: 
This extraordinary spring comes from a carbon-fibre plate that works in perfect tandem with a highly resilient foam:
Premium price of carbon-plated running shoes 
These come at a steep price. On average, they are 55% more expensive than other running shoes.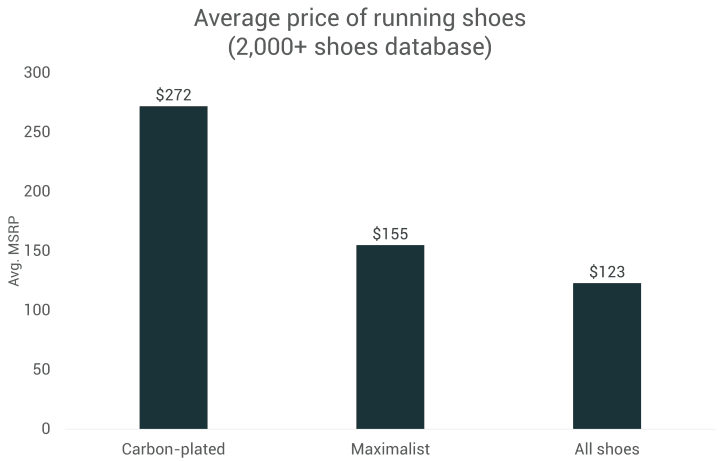 Since these shoes are really popular and usually released in small quantities, you might consider signing up for emails so you're notified when the shoes are available. They tend to sell out fast. 
High off the ground in carbon-plated shoes 
So high that World Athletics had to come up with regulation and limit the height of the shoes to 40mm. Anything above and you're disqualified in road running events. Pushing all the boundaries right now is Adidas Adizero Prime X at 50mm in the heel. 
Running in New Balance Elite v2 with 34mm in the heel: 
In numbers, it looks like this: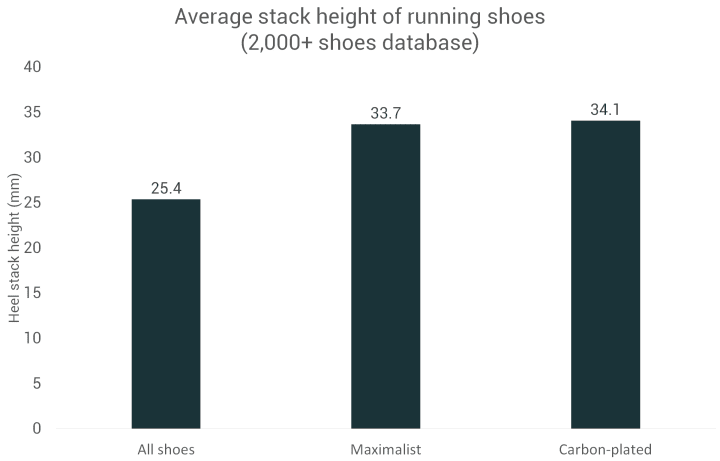 Here's how we measure heel and forefoot stack height in our lab: at 12% and 75% of the internal length of the shoe on the centerline. 
Using a calliper to measure forefoot and heel stack height in the lab: 

Unstable for walking, sharp turns and uneven terrain
As mentioned above, due to their high stacks and race profile, carbon-plated shoes are usually really unstable. Especially at the rearfoot area. That's why they ask for some adaptation period and are not recommended for trails (unless we're talking about carbon-plated trail shoes). Best for running fast and running straight ahead. 
Here's how that instability looks like in Nike Vaporfly Next%2 (left) and New Balance Elite v2 (right):
Carbon-plated shoes are not durable
They started as race shoes. Even though we can find some plated daily trainers, when it comes to plated competition running shoes, they should be saved for race days given their lack of durability. They usually lack thicker rubber at the bottom or have too much of the midsole exposed. 
Length of the carbon plate
Carbon-fibre plates can be full-length or partial. In our lab, we've seen only ASICS Magic Speed with a partial one. 
Below you can see examples of 1 shoe with a partial plate and 5 shoes with full-length plates.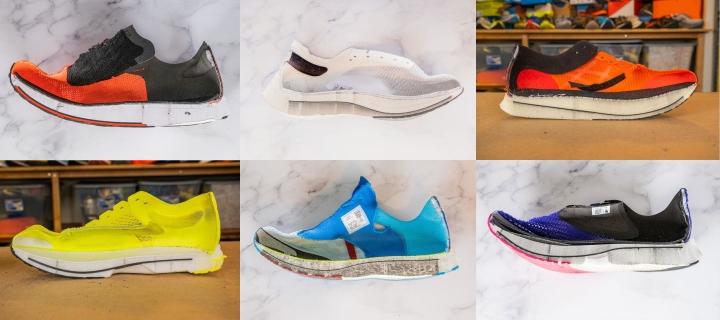 Carbon-plated shoes for trail
It was only a matter of time. The North Face has moved the carbon-plate game to the trails when they launched The North Face Flight Vectiv and The North Face Vectiv Infinite. The best thing is: no complaints in the stability department. However, they do ask for some adaptation period (if you're new to the carbon-plated ride) and they are fun to run in. 
We're eagerly waiting for them, and all the other plated trail shoes, in our lab. The band saw turned on already!