Who should buy the Nike Zoom Fly 5
According to one video reviewer, as long as you're running with "no real concerns about the pace," the Nike Zoom Fly 5 is a great pick. This said, it's best use is for steady efforts, and medium to long-distance runs. This is all thanks to its smooth and rockered ride.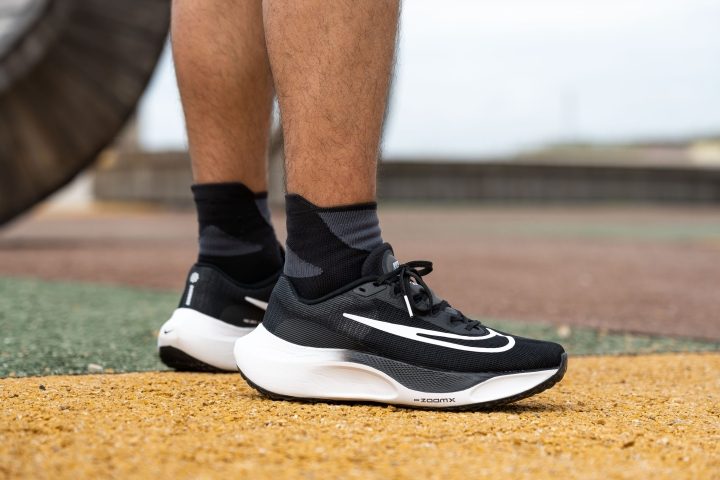 Who should NOT buy it
The Zoom Fly 5 also has its downsides, and one thing that sticks out is its "bleeding heavy" weight as on expert would describe. On top of this, it's not the tempo trainer Nike says it is. This said, you're better off with its older sibling, the Nike Zoom Fly 3.
If you want comfort and speed combined, the Nike Vaporfly 4% or the Nike Pegasus Turbo 2 might suit you better than the Zoom Fly 5.
Nike Zoom Fly 5 vs. 4
It has a more flared-out heel and forefoot for better stability.
It integrates a ZoomX foam for, in the words of one runner, a "mellower ride."
It's gone from clunkier to clunkiest! The Nike Zoom Fly 4 was 207 grams/7.3 ounces in US men's 9, which was already too much for some runners, while the Zoom Fly 5 now weighs in at 10 ounces.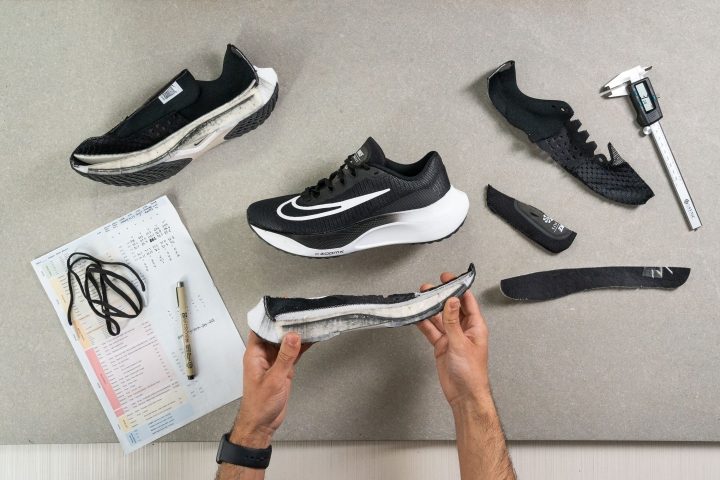 The upper kills it when it comes to comfort
"Step-in feel is excellent" is how one expert describes the shoe's upper. This is because it's well-padded. Even its tongue is padded, which prevents lace pressure.
While in our breathability test the shoe scored 2 out of 5, which usually means it's not an airy shoe, no reviewers complained about this.
Nike Zoom Fly 5 (left): some smoke is coming out from the shoe; Adidas Runfalcon (right): its toe box is not breathable at all. We use a smoke-pumping machine and cover up the shoe mouth entirely so that the smoke is only able to escape through the upper.
As a further check on breathability, we also test how transparent the upper material is. As you can see in the video below, the Nike Fly 5's upper material lets a good amount of light through, confirming that the shoe, while not the best, has decent breathability.
Solid as a rock
"The brick is back" is a statement from one running shoe reviewer. Many were excited to finally have a ZoomX foam in a Zoom Fly after years of it having a Nike React foam. However, they have been left disappointed because the ZoomX doesn't run full length.
How does this translate on the run? It doesn't feel soft, and spongy, making it a firm ride.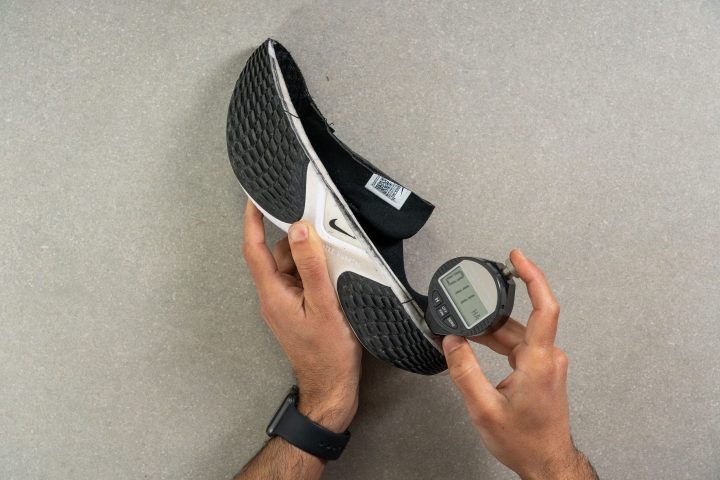 Disclaimer: We take an average of 4 measurements and exclude any outliers. This image shows just one of our measurements.
Fact check
In our lab, we tested the midsole with the help of a durometer. At 11.0, the foam is extremely soft (79% softer than average) but the presence of a carbon plate in the midsole makes it feel firm underfoot.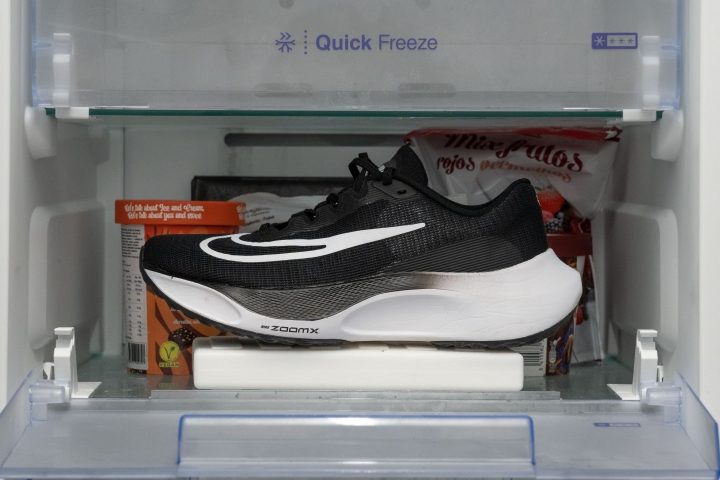 What's more, when the shoe is in cold temperatures, the foam gets 31.8% firmer. This is quite common in running shoes, but the average percentage of change is usually a bit lower, around 26.9%.
Time to change its category
Almost all experts agree that the fifth iteration of the Nike ZF line is no longer a tempo running shoe. With its maxed-out cushion, it feels "heavy and cruisy," reports one long-time runner. Another adds that when it comes to energy, the shoe is "not giving anything back either."
And because of all this, a Nike fan says that he's "not looking forward for a tempo run" in it, which he adds is "a bit of shame" for the Zoom Fly collection.
So where does it fit better? As runners recommend, it's better off as a daily trainer for long distances.
The Nike Zoom Fly 5 gives you stability
On the bright side, the shoe's firmness delivers a well-supported underfoot experience. On top of this, the shoe's heel and forefoot are also more flared-out than before, inspiring a confident ride even when cornering.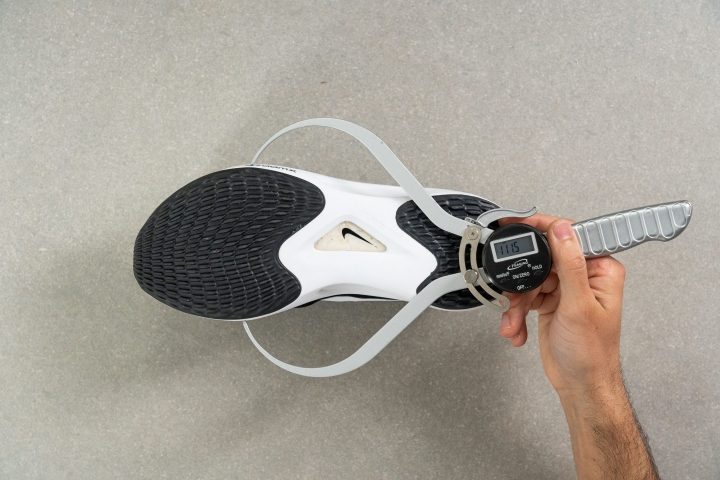 Stack height
Disclaimer: Our stack measurements are taken with the insole included.
The weight is discouraging
As you've already read, the Zoom Fly 5's weight is a downer—quite literally. For context, each shoe has different sizes (men's US 9 left: 286 grams/10 ounces; right: 297 grams/10.5 ounces). And because of this, the shoe didn't get the nicest comments from testers:
"The biggest achilles heel of this shoe is its weight."
"You don't need all that weight."
"very heavy for a fast shoe"
The rubber-covered outsole plus the very padded upper are "not really shaving weight," expresses one critic. Some even advise runners to opt for the Saucony Speed 3 if they want a speedster that's fast and definitely lighter.
A stiff Nike shoe
Most plated running shoes are stiff, and the Zoom Fly 5 is no exception. It's 70% stiffer than most shoes we tested.
Even when we tested the shoe in our hands, we could feel how stiff it was. On a 1-5 scale where 5 is the most rigid, we rated it as 5 for the longitudinal flexibility, and 4 for the torsional flexibility. The good news is that in cold temperatures it doesn't get much stiffer, just 5.1% (while the average is 44%).
Cushion that eats up impact
This is also the reason why road runners prefer the Zoom Fly 5 for "relaxed, easy plodding," as one of them would say. According to another one of these commenters, the shoe is among "the best vibration-dampening trainers on the market at present."
The big stack height helps with increasing the overall protection. It's 36.9 mm at the heel and 29.4 at the forefoot, both higher than average (respectively, 10% and 18% higher).
Disclaimer: We always measure stack with the insole included.


Won't let your foot slip
"There is something about no-gimmicks conventional uppers that are brilliant in their simplicity." This statement comes from a veteran runner who also finds the Nike Zoom Fly 5's upper conventional. "A real workhorse type of upper" is a comment from another runner who also lauds the shoe's form-fitting wrap. According to him, the shoe gives a solid foothold once you lace things up.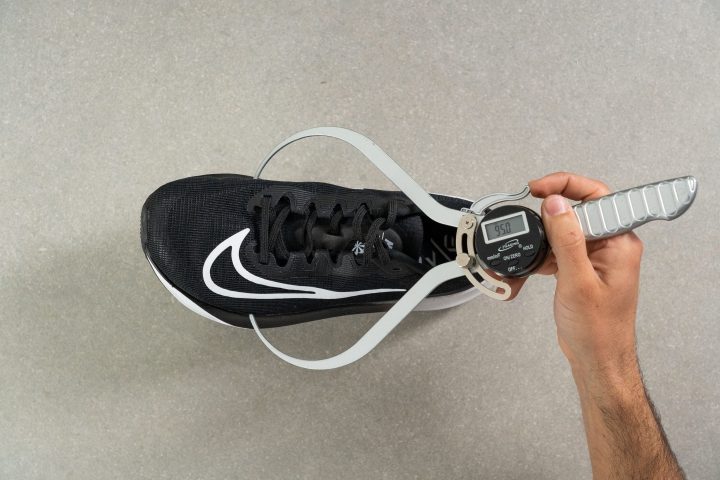 Outsole: Grippy and solid
The outsole's rubber coverage is generous, which makes it grippy on wet, dry, and gravelly surfaces. What's more, it's insanely durable. After 100km of wear testing, a shoe reviewer says that the Zoom Fly 5 from Nike shows "near-zero outsole wear."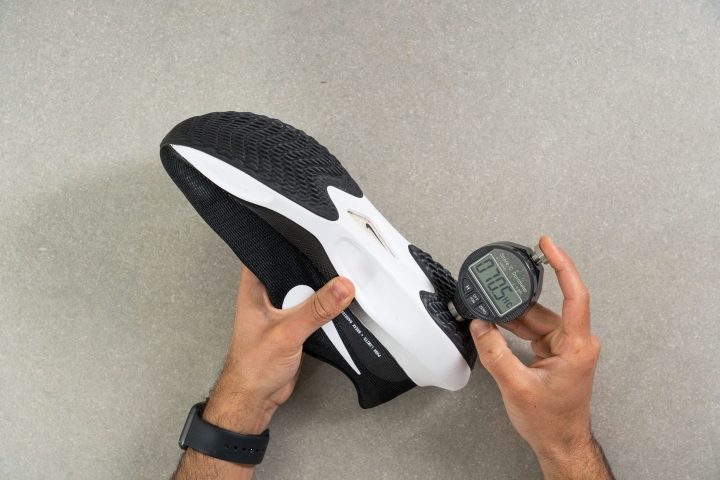 Complete lab-specs overview
Nike Zoom Fly 5
Average
Whole shoe

Weight (g)

263

263

Drop (mm)

7.5

8.7

Flexibility of the shoe (N)

71.0

34.1

Flexibility of the shoe (Freezer 20 min) (N)

74.6

46.9

Flexibility of the shoe (% of change)

5.1%

44.0%

Longitudinal flexibility (1-5 scale, 5 being the stiffest)
5

3.0

Torsional flexibility (1-5 scale, 5 being the stiffest)
4
3.2
Upper

Thickness - Tongue (mm)

7.9

5.7

Width Upper - Forefoot: Max width (mm)

95.0

97.7

Widt Upper - Forefoot: Big toe (mm)

71.1

71.3

Width Upper - Heel (mm)

71.1

75.0

Flexibility of the heel counter (1-5 scale, 5 being the stiffest)
3
2.6
Tongue: gusset type
no
Heel: pull tab
-
Midsole

Width Midsole - Forefoot (mm)

111.5

112.5

Width Midsole - Heel (mm)

86.4

89.5

Stack - Forefoot with insole (mm)

29.4

24.5

Stack - Heel with insole (mm)

36.9

33.2

Durometer Midsole Heel (Room temperature) (HA)

11.0

25.5

Outsole

Outsole thickness (Heel) (mm)

3.6

3.5

Lugs Depth (mm)
-
-
Durometer Outsole Heel (Room temperature) (HC)

70.3

79.7

Insole
Insole Heel Thickness (mm)

3.0

4.5

Insole: removable
yes
Compare popularity
Interactive
Compare the popularity of another shoe to Nike Zoom Fly 5: