It's not our pick for a standout model among daily trainers, but this shoe really made us swoon over in its comfort! The Triumph 18 from Saucony is a cruiser that can do little of everything. From easy paces (it excels at this!) to tempo runs and fartleks, it can manage. It's a heavy shoe, but it's all for the cause of durability and pronounced plushness.
Pros
Durable
Great foot lock
Super plush
True to size
Stable
Smooth ride
Reflective elements
Good traction
Cons
Not versatile
Heavy
Lacks breathability
The verdict from 11 experts and 100+ user reviews
Given the number of shoes Saucony has released in 2020, it's difficult to stand out, and yet, Triumph 18 managed to provoke comments like "Cadillac of easy run shoes" and "this shoe is a winner."
Even with an abundance of positive comments, Triumph 18 didn't get the "trainer of the year" nor "my #1 pick" title. It seems like it's too crowded in the Saucony trainer area, with experts leaning towards Endorphin Shift as their pick for a daily trainer.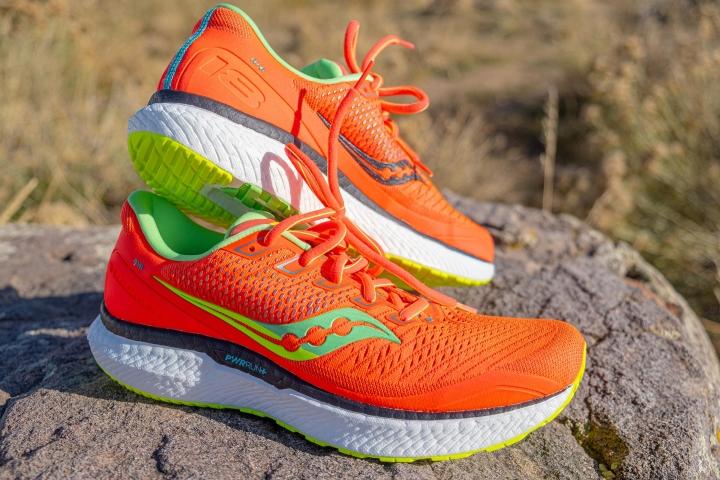 Who should buy Saucony Triumph 18
This is a neutral shoe aimed at runners looking for a daily cruiser that's all about comfort. It can manage tempo runs and fartleks, but it's not something it excels at. Being a highly-cushioned trainer, it's perfect for building up the mileage.
Who should NOT buy Saucony Triumph 18
Don't buy it if:
Saucony Triumph 18 vs. Triumph 17: unnecessary update
This is not an overhaul. One expert even said it "feels like 17.5." Many experts questioned the need for an update, especially so quickly. Given the overall feedback, Saucony Triumph 17 is the shoe to stick to. New iteration makes sense only if you've destroyed the first pair or you run on wet surfaces often.
To confirm this, experts summarized it well: "The Triumph 17 was literally flawless" and "it didn't need any improvements." Not even once was it said that the Triumph 18 is "the best Triumph so far" and that's something we usually hear about the last iteration of the shoe in general.
What's new in Triumph 18:
Triumph 18 vs. Triumph 17
What got better
More stable
More comfortable
Softer landing
A bit snappier
Works on wet surfaces
Less hot
Firmer heel cup
What got worse
Heavier
Questionable breathability
More padded tongue
Super plush comfort
Triumph 18 was built for comfort thanks to a generous amount of padding:
super-plush upper described by one fan to be "plush plush plush" and "the most plush tongue of any shoe I've ever worn"
heel collar with "more structure and support"
shoe laces which are "stretchy tubular" and "fluffy puffy spongy" and allow for "zero bite."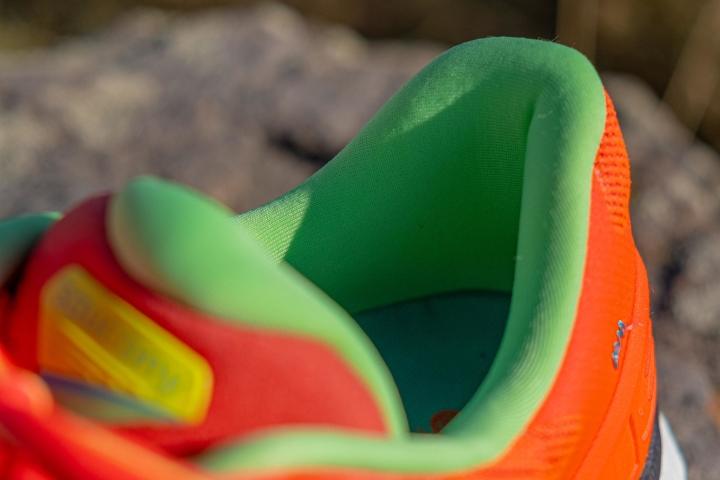 Superb foot lock
No tongue sliding, no heel slipping, and midfoot is secure. Your foot will stay put. Experts have described this excellence by saying "contour bed acts as a cradle" and "almost a performance fit."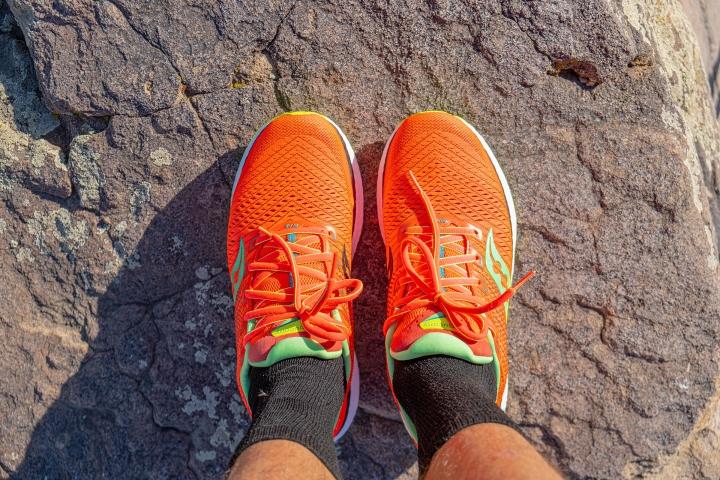 No break-in period needed
"The step-in feel is heavenly". This shoe is "comfortable right out of the box" with "no break-in required."
Triumph 18 is not built for speed
Saucony Triumph 18 is a daily trainer, ideal for easy runs and recovery runs and for building mileage. It surely can handle a fartlek or an uptempo run, but it's no one's #1 choice for this mainly due to its weight and lack of versatility.
As an expert put it: Triumph 18 is a "cruiser that's all about comfort, with little regard for speed."
Soft but not versatile
This shoe is "soft without being mushy, responsive without being firm." In it, you can feel a "nice combination of bounce and responsiveness." This means you'll get a "decent pop" when you pick up the pace, but also will feel the soft midsole.
Triumph 18 offers a "soft, springy feel." However, it's not the fastest shoe out there, nor it's super soft. The middle ground obviously lacks a better pop. Some experts said "I expected a little more spring" and "lacks a little speed" which makes the shoe not versatile.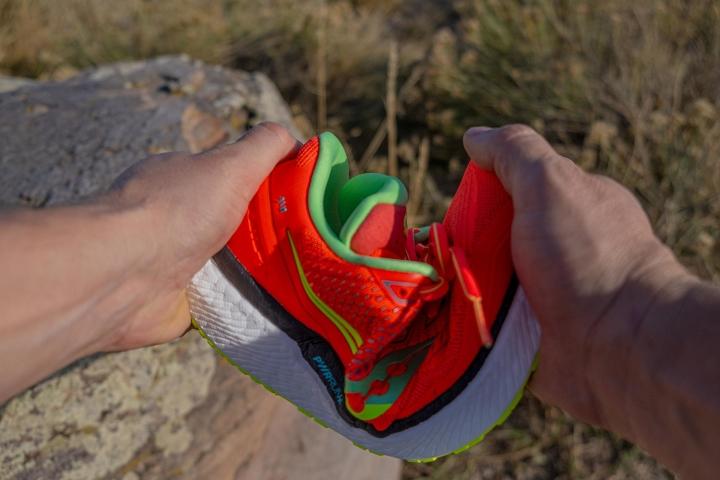 Really thick tongue
It's padded. Maximally padded. While it makes the shoe more comfortable, it also makes it less breathable, to the point where experts questioned the need for this. Especially with the thick and soft laces, the chances for a lace bite were minimal already.
At least this "heavily padded bootie tongue" doesn't slide.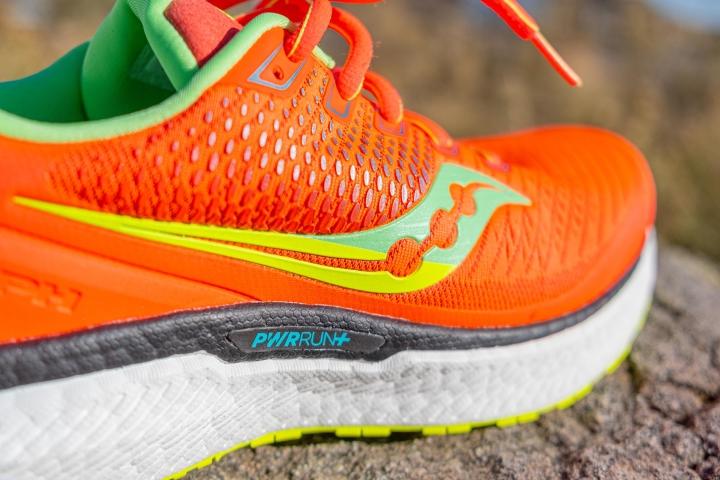 Heavy, heavy Triumph
As one expert said, "This kid is in need of a 2-ounce diet."
It weighs 11.1oz (315g), which is 0.3oz (10g) more than Triumph 17, and 1.3oz (36g) more than an average running shoe.
Good for rainy days
This was a good fix, compared to the Triumph 17. Now, the shoe grips to wet surfaces and we've found no complaints about traction. As one expert described it, it's "solid on all surfaces."
Unattractive price tag
Not many experts commented on the price. This might be the case due to Saucony releasing so many shoes in the same year - almost all with a high price tag. Given that this is a non-versatile daily trainer, it should be more affordable.
Excellent durability
Nothing but praise for this. After running more than 50 and 70 miles, experts found no signs of wear. Overall, they expect the shoe to be able to log more than 300, 500, and even 700 miles, depending on the expert.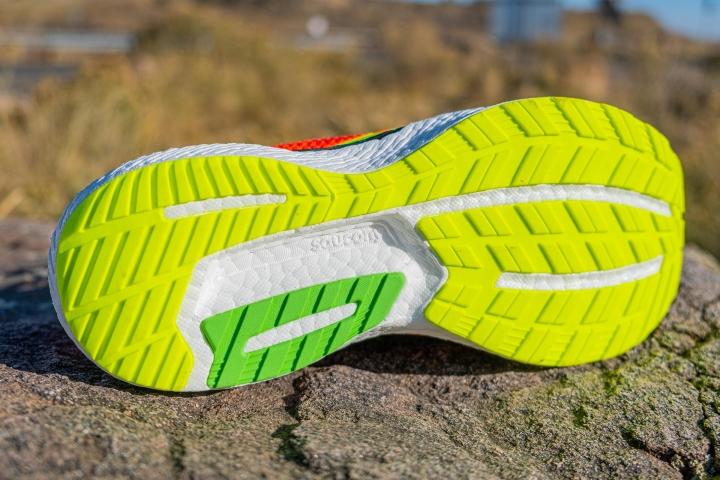 Saucony Triumph 18 is true to size
Triumph 18 runs true to size. It offers a smooth fit with a roomy toe box. As experts described it, it's a "premium fitting shoe" with "plenty of room for your toes to splay."
Breathability issues
"Did feel a little hot"
"upper is warm"
"lacks breathability"
"far from airy"
These are only some of the comments experts had. Some even reported the feeling of "soaked shoes" since the padding absorbs sweat and the shoe gains weight during runs.
When it comes to Saucony's upper design, experts lean more towards the one on Endorphin Shift.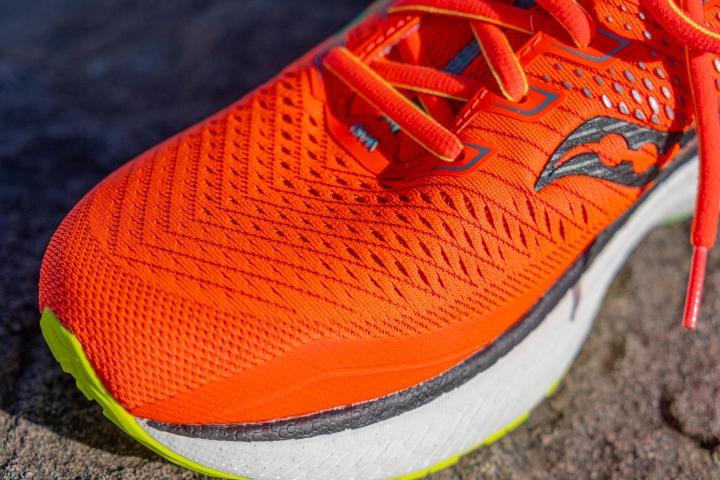 Stable and smooth
"A very stable ride for a neutral shoe."
While it's not the most versatile shoe out there, the ride Saucony triumph 18 offers is smooth and stable. Experts described the ride as "velvety smooth" and "super stable."
Details worth mentioning
Due to a super smooth interior, one expert recommended socks which allow for friction, otherwise super-slick material will give the impression of slipping
Reflective stripes (night runs visibility!)
Experts loved the mutant colors