Saucony Triumph 17 review
92
The Corescore is a score from 0-100 that summarizes opinions from users and experts. Below shows the distribution of scores for all running shoes.
Verdict
If we had to pick a shoe that's going to beat every other long-distance cruiser, it's the Saucony Triumph 17! It's soft, flexible (even for a max-cushioned shoe), and durable, it just excels in every area. And for a neutral shoe, this daily trainer kills it in the stability department!
Pros
Comfortable, plush upper
Soft and bouncy midsole
Wide and stable base
Super durable, grippy outsole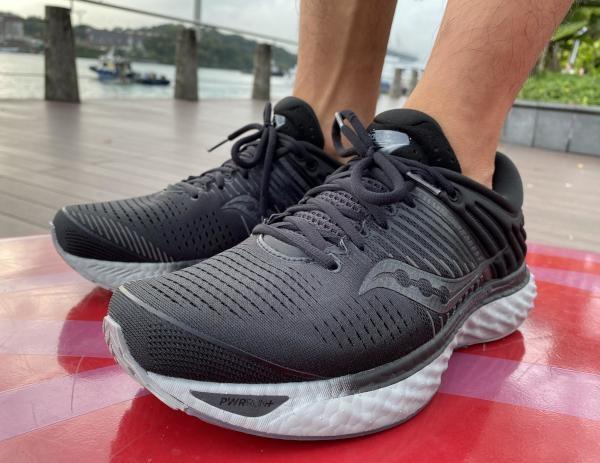 81% say it's true to size.
We earn affiliate commissions at no extra cost to you when you buy through us.
Comparison to similar running shoes
| | | | | | | | |
| --- | --- | --- | --- | --- | --- | --- | --- |
| | Add a shoe to compare | Add a shoe to compare | Add a shoe to compare | Add a shoe to compare | Add a shoe to compare | Add a shoe to compare | Add a shoe to compare |
| CoreScore | | | | | | | |
| Users rating | | | | | | | |
| Experts | | | | | | | |
| Best price | | | | | | | |
| Ranking | | | | | | | |
| Popularity | | | | | | | |
| # of colorways | | | | | | | |
Saucony Triumph 17 review
I'm just going to say this now. The Saucony Triumph 17 is the best shoe I've ever run in.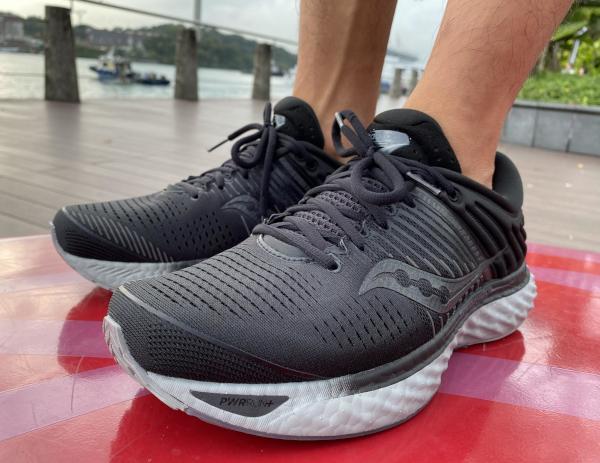 The Triumph 17 is everything I've ever wanted in a long-distance cruiser. It has a plush, comfortable upper, a soft, responsive midsole that doesn't feel like a tank, and a durable outsole to last for years.
Love at first run
I never used to believe in the idea of there being one, single, perfect running shoe for every runner. That was until I took my first run in the Saucony Triumph 17.
My first run was a 25km Saturday morning run. You know you have something special on your feet when while you're running, you can't stop yourself from smiling like a child with a new favourite toy.
I distinctly remember the last time this happened was 10 years ago when I took my first run in my Nike Zoom Vomero 3's.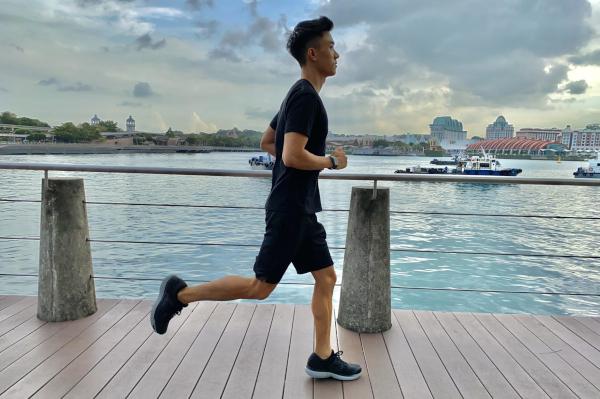 My last pair of Saucony's I bought was the Freedom ISO 2 last year. While being a fantastic daily trainer, I felt the midsole to be too firm and heavy. The Everun foam felt dated. There was also lacing pressure at the top, around the ankle.
It was a relief to hear that Saucony was changing their Everun midsole foam to a lighter, bouncier material in their upcoming shoe releases. The first shoe to get the new midsole treatment would be the Triumph 17. I knew then that I had to buy it.
The Triumph 17 is a complete rework. It gets a new, plusher, more comfortable upper, a new, lighter, bouncier midsole made from their new compound Pwrrun+ and also a new outsole layout made from blown and crystal rubber.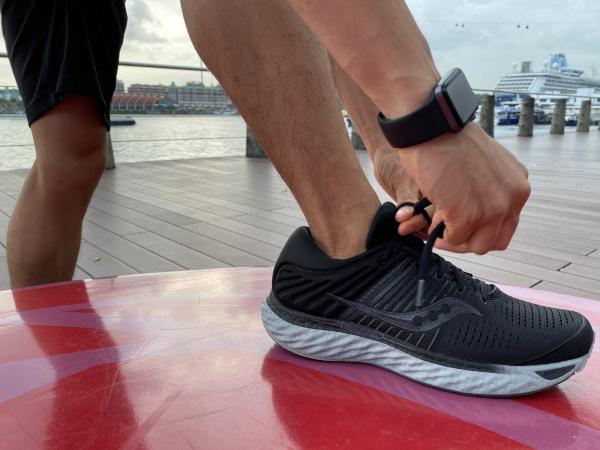 The result is a perfect combination of comfort, cushioning, and durability. If you have read any of my previous reviews, you'll know that I'm a sucker for a soft shoe, and the Triumph has softness in spades.
It would be easy to assume that with all this cushioning, it would weigh down the shoe like a lead sinker, but that's where you'd be wrong. The Triumph 17 is even 28% lighter than its predecessor, the Triumph ISO 5, and lighter than other max cushioned shoes like the Ultraboost 20 and the Glycerin 17.
Upper & fit
When it comes to uppers, it's safe to say that Brooks uppers are the gold standard that everyone strives for.
If you were to blindfold me and hand me the Triumph 17, I would bet my bottom dollar that it's a Brooks upper. That's how good the Triumph 17's FormFit upper is.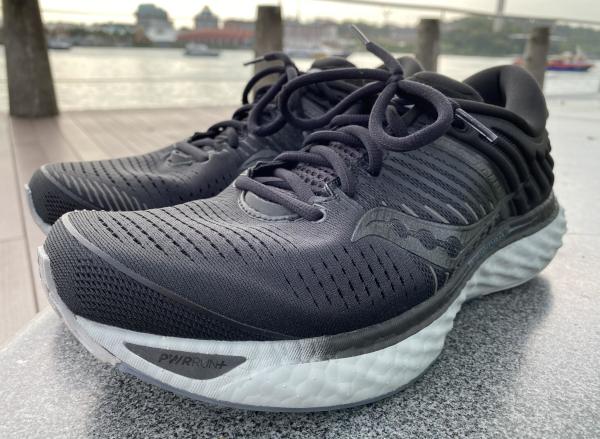 The plush tongue and heel collar are generously filled with foam, so the upper runs on the warm side.
The tongue is not sleeved, but bands are attaching the tongue to the sides of the shoe, so there is zero lateral tongue slide. I found the tongue to slide down slightly on runs, but it didn't cause me any discomfort.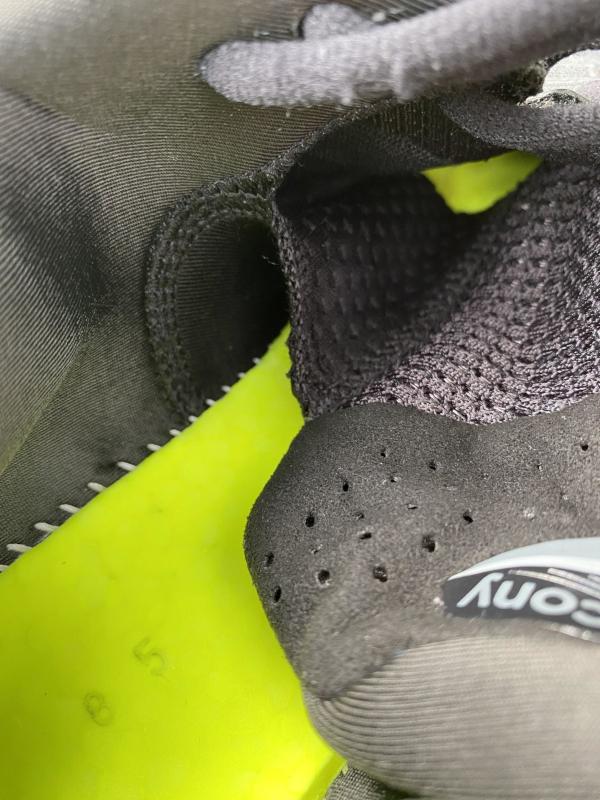 The heel collar lining is super smooth and rounded at the back, so I had to use all the rows of eyelets to stop my heel slipping out.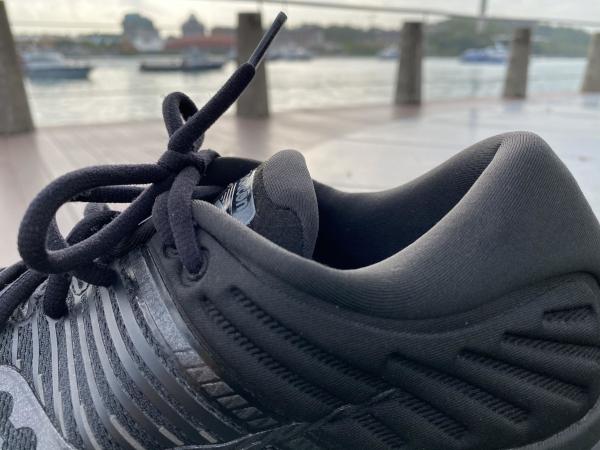 There are fused on overlays on the midfoot of the upper to provide some structure and visual depth.
These overlays are a million times more comfortable than Adidas' caged midfoot.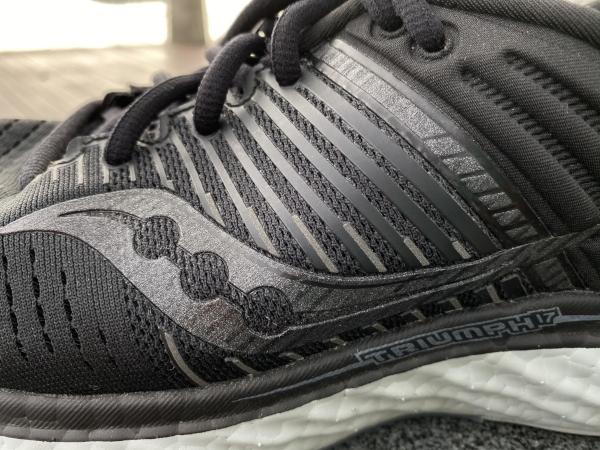 There are no hot spots or irritating seams, so the Triumph 17 padded upper fits like a glove.
It's true to size and has plenty of forefoot room for your feet to splay.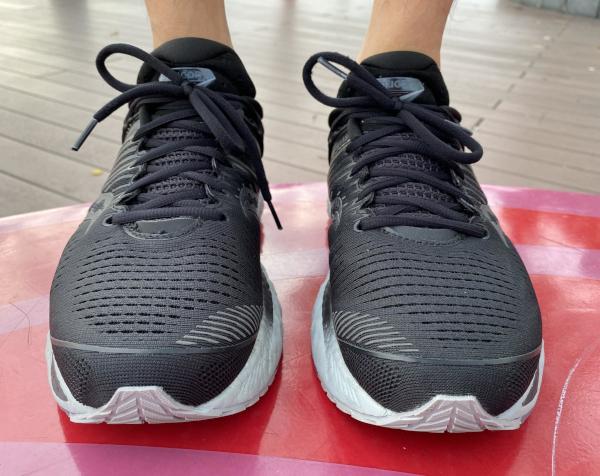 I got the blackout version, which looks stealth and very "Batman."
This version has the midsole painted grey, which is a bonus because white TPU midsoles start to turn yellow over time as they are exposed to air and sun.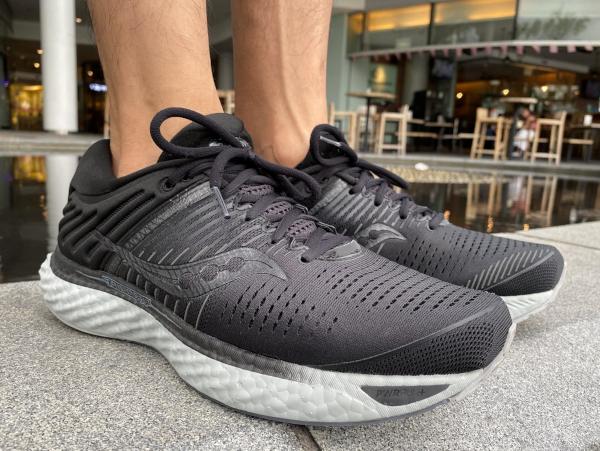 The Triumph 17 doesn't follow the industry trend of having a knitted upper with a swept-back heel counter like the New Balance 1080 v10 or the Ultraboost 20, so the Triumph 17 has a slight "dad" look to them.
Luckily the blackout version looks more modern and appealing to the younger generations.
You also get reflective overlays on the heel, toe cap, midfoot, and below the last row of laces for night visibility. They thought of everything.
You can feel Saucony's premium cushioning
The one single word which defines the Triumph 17's midsole is bouncy. It can go toe to toe with the industry super foam leaders in Nike's ZoomX and Reebok's Floatride.
It weighs slightly more than ZoomX and Floatride, but it feels like a more "solid" and durable cushioning system.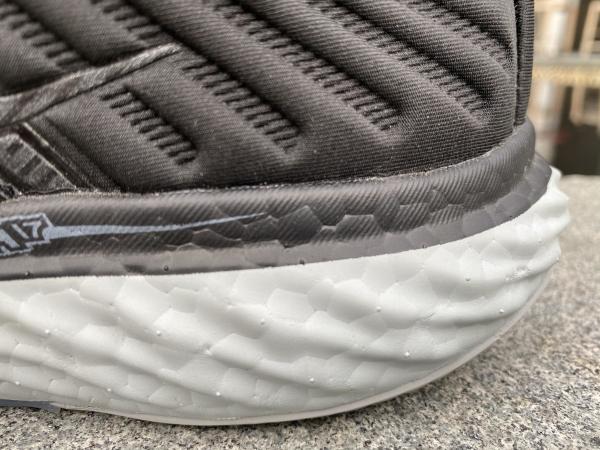 The new Pwrrun+ midsole looks more similar to Adidas Boost than its evolution Everun.
The TPU pellets are larger and shinier than they used to be when it was called Everun. You can't see the shine in this version because it is painted.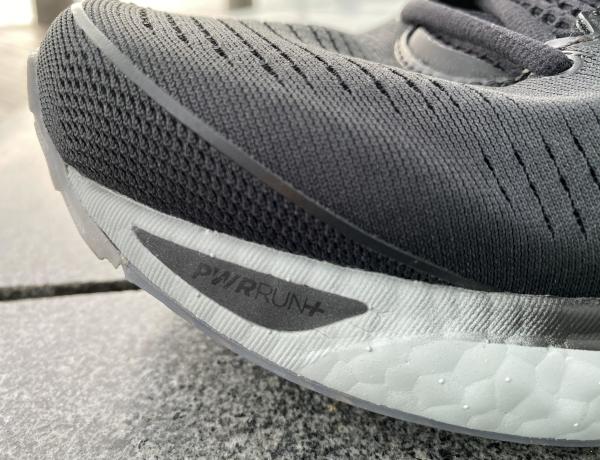 It's not often that a product does exactly as advertised, but the hype is real. Saucony's Pwrrun+ midsole is springy and responsive. It's also 25% lighter, so it's an all-round improvement over its predecessor.
The Triumph 17 was designed for long, easy or recovery runs and that's what it does best. Runs over 20km at speeds slower than 6 minutes per kilometre are where the shoe shines.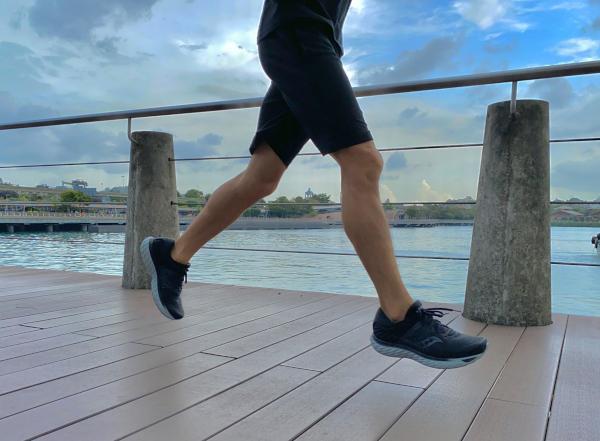 Transitions are super smooth due to the one-piece midsole.
Pwrrun+ is made from expanded polyurethane, which means that it is temperature resistant: it won't firm up in cold temperatures either will it get mushy in warm temperatures.
Triumph 17 is a very stable neutral shoe
The sidewalls of the midsole raise up to create rails that keep the foot centered. The black part of the midsole is the raised part.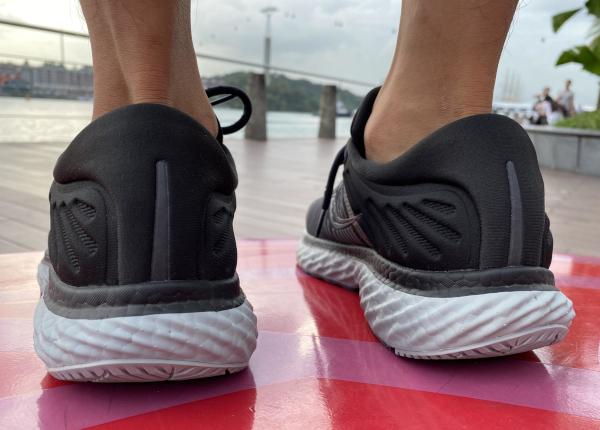 The foot sinks down into the soft foam and cradles the foot. This makes you feel like you're running inside a shoe and not on top of a shoe like with the Ultra Boost 20.
There's no arch prominent, but the shoe is stable enough for light pronators or supinators to use without discomfort.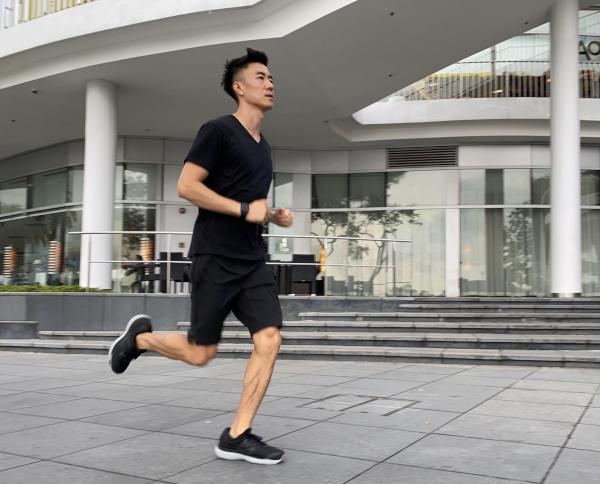 SO flexible for a max-cushioned shoe!
The soft midsole makes the Triumph very flexible. It flexes in the middle of the shoe at the arch section, where there is no outsole, which is an interesting flex point.
I would love to know why Saucony made it flex in the middle and not at the forefoot, like most shoes.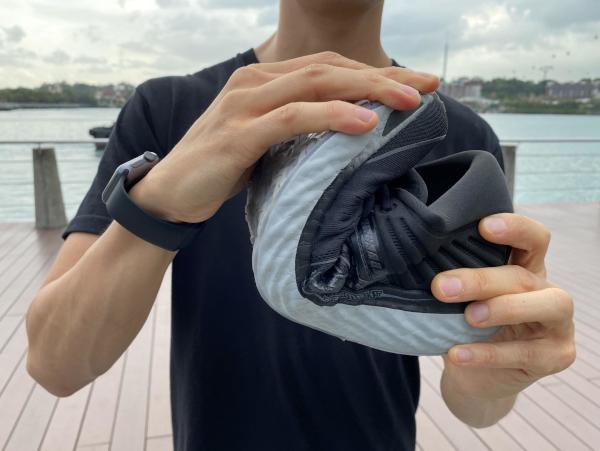 Insole adds to the comfort
The Triumph 17 has a thick insole as well as an additional thin TPU layer underneath the insole.
Saucony doesn't specify if it's made from Everun or Pwrrun+, but it's lime green in colour, as it was in the Triumph ISO 5, so it's probably Everun.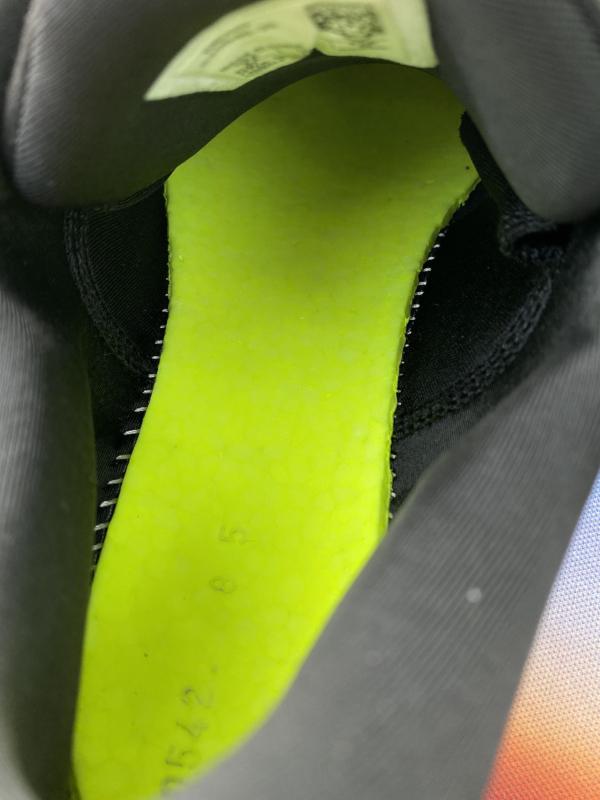 This insole and TPU top sole combine to give a plush sink-in comfort experience that comes second to none.
Get hundreds of miles in the Triumph
The Triumph 17's outsole is supremely durable. Crystal rubber is one of the industry's most durable, and the blown carbon rubber used in the heel and the toe is also super durable.
There is an area under the arch which is not covered by rubber to save weight, so the outsole is not full contact. The outsole is flat, so it distributes wear evenly. Flat outsoles also result in a smoother ride.
Crystal rubber doesn't usually grip well on wet surfaces, but on the Triumph 17, you get blown rubber to help with that issue.
Blown rubber is softer than crystal rubber, so the addition of it makes the overall ride softer than if it were full crystal rubber.
The cavity under the heel where the word "Saucony" is written also makes the heel softer by acting as a trampoline as the rear of the shoe is loaded. The heel is beveled at the edge, so the shoe helps you to rear foot strike instead of heel strike.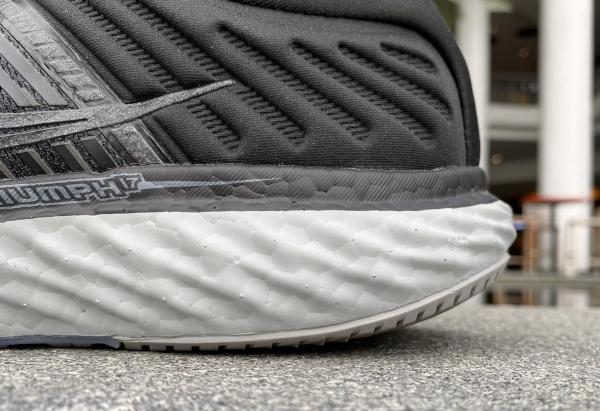 The shoe has no weak points on the upper. The TPU midsole will not compress much over the life of the shoe.
Also, the outsole shows no major signs of premature wear, so I expect it to last me over 1000 kilometres.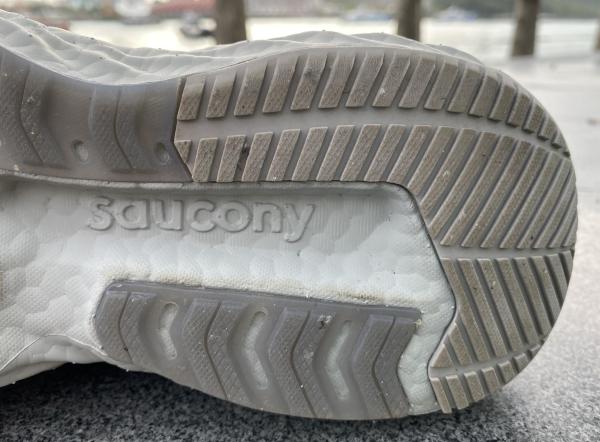 Comparison
Saucony Triumph 17 vs. Saucony Freedom ISO 2
It's almost like these two shoes were made by completely different brands.
The Triumph 17's upper is plusher and more comfortable, its midsole softer and more bouncy, and its outsole is softer and grips better on wet surfaces. The Freedom is a faster, firmer shoe, but I would choose the Triumph 17 any day of the week.
Saucony Triumph 17 vs. New Balance 1080 v10
The 1080 v10 has a more breathable and lighter upper and is a more versatile shoe. However, the Triumph 17 wins on being plusher, more comfortable, and softer for long runs, which is what both shoes were designed for.
My nod goes to the Saucony Triumph 17.
Saucony Triumph 17 vs. Brooks Glycerin 17
Both shoes have excellent, plush uppers but the Triumph 17 has a midsole technology, which is light years ahead of Brooks' DNA Loft. It's softer, lighter, and bouncier.
The Triumph 17 also has a much more durable outsole. The Triumph 17 wins, and it's not even close.
Saucony Triumph 17 vs. Hoka Clifton 6
Both shoes are very well cushioned. The Clifton 6 is softer, and your foot sinks into the thick midsole, so it makes your feet tired on long runs as you continually push off with your forefoot into the soft foam.
The Pwrrun+ foam of the Triumph 17 has more bounce and rebound, so I have to go with the Triumph 17.
Saucony Triumph 17 vs. New Balance FuelCell Propel
The Propel is softer than the Triumph 17 and feels more like running on clouds. The Triumph 17 midsole feels much more lively and springy, though.
The Triumph 17 has an upper that's far superior and makes the Propel feel like it has a budget upper. The Propel is much cheaper than the Triumph, but the extra amount that you pay for the Triumph is well worth it. I pick the Triumph 17.
Saucony Triumph 17 vs. Adidas Ultraboost 20
The Ultraboost's Boost midsole feels heavy and outdated compared to Pwrrun+. The Ultraboost's knitted upper looks more modern, but the Triumph 17's upper is more business-like.
The Ultraboost 20 still feels like a casual shoe trying to be a running shoe. The Triumph 17 is cheaper and by far the superior shoe.
I want to grow old with the Triumph 17
This shoe is literally flawless, so it doesn't need any improvements, but if I had to knit pick, I found the shoelaces to be too soft and fluffy. The laces began to fray after one run, so I would change them to a more durable, tougher lace in the Triumph 18.
What I like about the Triumph 17 is that it makes me want to be a better runner. I find myself wanting to run longer and more frequently and even on my rest days because of the Triumph.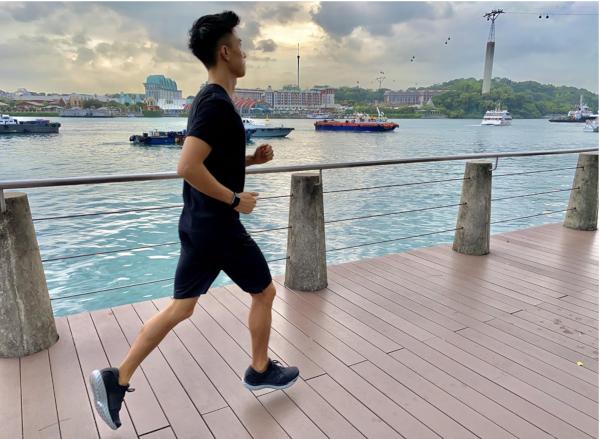 The Saucony Triumph 17 is the shoe that I can picture myself getting old with, me wearing them while sitting in my rocking chair on the porch.
I can confidently say that for me, the Triumph 17 is "the one."
Compare popularity
Interactive
Compare the popularity of another shoe to Saucony Triumph 17:
Saucony Triumph 17 video reviews