As befits a Nano, the Nano X is a versatile cross-trainer which is pretty good at everything and really good at lifting. It's a one-stop-shop for workouts if you're not running. It's one of the best trainers out there and you can even rock it as an every day sneaker.
Pros
Versatile gym and CrossFit shoe
Superb stability for lifting
Secure fit and heel support
Very durable
Spacious toebox
Excellent grip
Solid lateral support
Edgy style
Best for weightlifting
Doubles as an everyday sneaker
Cons
On the heavier side
Not for 2+ mile runs
Frail on rope climbs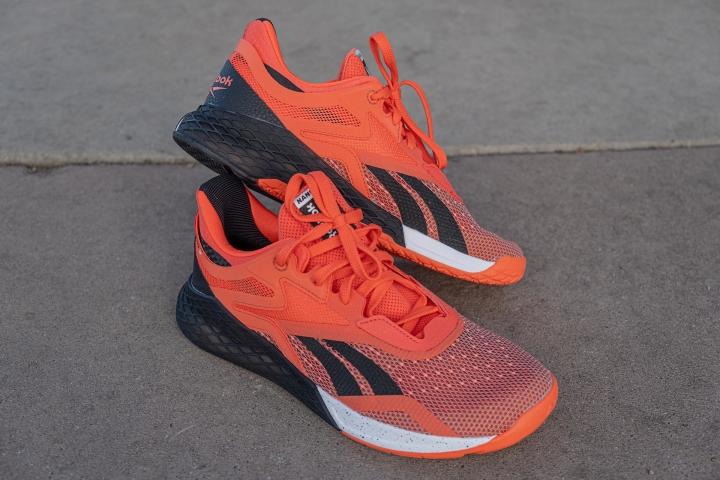 Who should buy the Reebok Nano X
Nano X is best for functional fitness and CrossFit-style workouts. It also works for an ordinary gym session with lots of lifting and a little bit of everything.
Who should NOT buy the Reebok Nano X
Don't get this shoe if you:
Reebok Nano X vs. Nano 9 - beefier and heavier
"It's basically an extra Nano 9," "expect something very similar," "both shoes are solid" - these quotes summarize the minor differences between the two. Here is the detailed overview:
Nano X vs. Nano 9
What got better
Enhanced heel hold and padding
Increased midfoot support
Toecage material no longer bunches up
More fashion-forward design
What got worse
1 oz (30 g) heavier: 14.1 oz / 400 g over 13 oz / 370 g
Narrower toebox (Nano 9 was better for wide feet)
Snugger fit
Less flexible
Less breathable
Which one is better?
It's a tie. The experts refrain from leaning towards either Nano 9 or X. It's the details that make the difference, even in the price tag, so it's up to you to choose.
Blown-up heel collar - the wow factor
This part of the shoe received the most comments and compliments. Extending high up the ankle, this extra-cushioned, foamy pillow makes the trainer feel more like a mid-top sneaker or even a basketball shoe.
An unusual feature for a cross-trainer, experts found plenty of benefits in it:
locks the heel and ankle "inside a cage of memory foam"
helps slide the foot into the shoe without unlacing it
keeps the heel stable during twists, turns, and jumps
prevents heel slip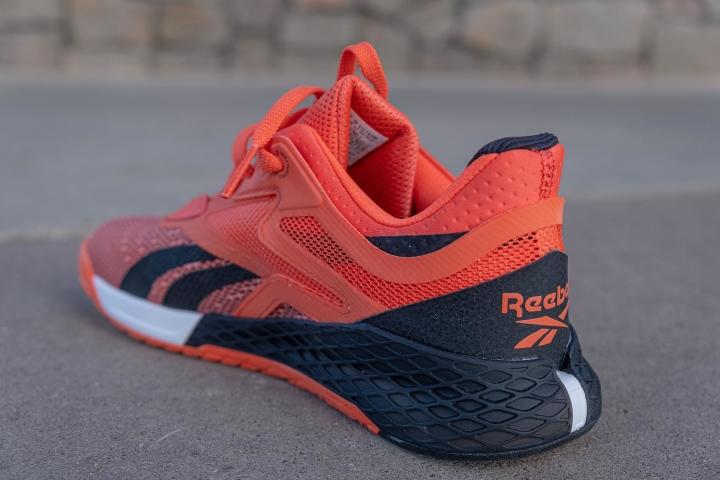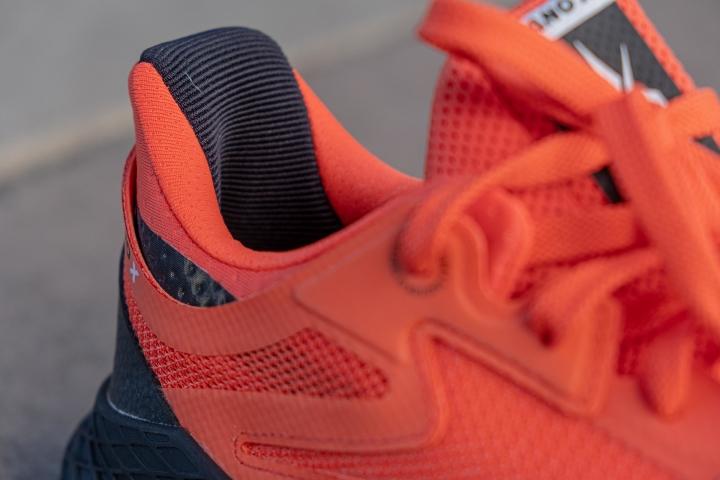 Weightlifting - Top-level stability
"If there's any reason to pick up a pair of Nano X, it should be to lift in," says one of the experts, summarizing the Nano X's strongest point. It is also where all that extra bulk and heaviness work for the benefit.
The reviewers swear by the shoe's performance in the following:
lifting up to 500 lbs (227 kg)
Olympic weightlifting (heavy squats, cleans, jerks, snatches)
deadlifting
dumbbell training
They describe their experience lifting in the Nano X as "rock-solid," "stable," "planted," "stuck to the ground," etc.
Jumping - Is a No
Those who have put the shoe through burpees, box jumps, double unders, and skipping admit that it would not be their first pick because of the heaviness. As one expert points, "you can definitely feel the bulk of the shoes."
It is flexible enough for mountain climbers, planks, jumping lunges, and the like but is still on the stiffer side compared to an average trainer.
Where it shines is lateral support and traction. The sturdy sidewalls "keep you securely on the footbed," while the outsole "grips everything": wet concrete, wood floors, carpet, asphalt."
Running - Far from "runnable"
None of the experts had a pleasant experience running in the Nano X: the majority doesn't recommend it for over 2-3 km, while some couldn't even get through 1 km in the shoe. The reason being its stiff midsole and overall heaviness.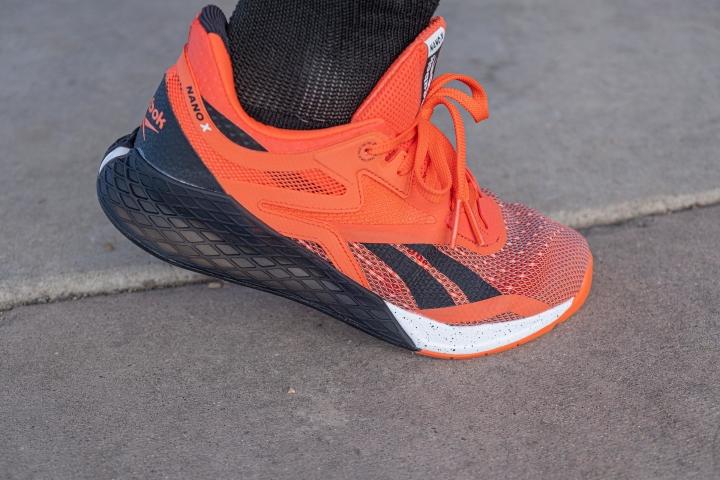 Rope climbing - Not good
Very few reviewers were able to test the Nano X on the rope. But those who did were disappointed in durability:
one reported the rope guard coming loose
another complained about the upper materials fraying more easily than expected.
All-day wear - Fine
Some of the experts eagerly emphasized the shoe's comfort for casual wear. One mentioned spending "days walking around in the Nano X with no problems," while another has been wearing it for "dog walks 2-3 miles" each time.
Along with the sneaker-y style and plenty of vibrant colors, this cross-trainer can make for a foot companion even outside the gym.
Size and fit of the Nano X
All experts warn that the Nano X is narrower and more form-fitting than the Nano 9. This is due to the extra padding and overlays throughout the upper.
However, it remains true to size and offers ample space in the toe box compared to most trainers. So the advice is to go with your normal shoe size. Going a size up is likely to feel long.
Reebok Nano X vs. Metcon 6
Those who compared the Nano X to Nike Metcon 6 find both shoes to be solid all-arounders that shine in weightlifting. But some nuances give each one an edge:
Nano X:
slightly wider in the toebox
more padding and support across the upper
better for all-day wear
Metcon 6:
lighter: 363 g over 400 g in a men's US size 10
better for rope climbs
more breathable
has Hyperlift inserts: increase the heel height by 8 mm (men's) / 6 mm (women's)
No more CrossFit branding?
The end of Reebok's 10-year contract with the CrossFit brand is signified by the elimination of CF branding from the Nano X. It was already minimal on the Nano 9, but this time around, it's just a hint:
a barely noticeable Delta on the rubber toe protector
a hidden one on the insole inside the shoe
Reebok's signature Vector is now taking up the most prominent parts of the shoe.