Reebok CrossFit Nano 8 Flexweave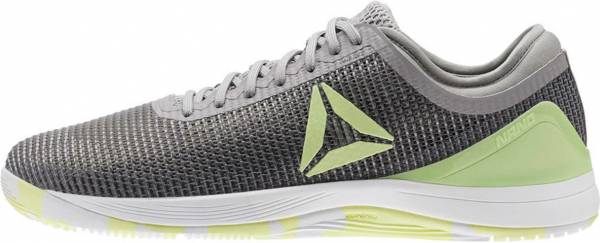 The Reebok CrossFit Nano 8 Flexweave was generally well-loved by the consumers. It was regarded for its versatility, comfort, and cozy fit. CrossFit aficionados also commended the flexible forefoot and supportive heel. Despite a few minor gripes about the shoe, it generally exceeded users' expectations as an all-around CrossFit trainer.
---
Verdict from 13 experts and 100+ user reviews
9 reasons to buy
A vast majority of users were impressed by the comfortable build of the Reebok CrossFit Nano 8 Flexweave.
The flexible forefoot worked well during plyometrics, sprints, and runs, according to droves of reviewers.
Various testers were pleased with the lightweight and breathable nature of the merchandise.
Plenty of owners claimed that the product was reasonably priced given its quality build and durability.
The heel was described as stable by a lot of weightlifters.
The upper was deemed supportive during lateral cuts by multiple purchasers.
Several wearers enjoyed the roomy forefoot that allowed for toe splaying.
A few individuals liked that sockliner was removable because they were able to use custom orthotics instead.
The style, diverse colorways, and customization options delighted a myriad of buyers.
2 reasons not to buy
A lot of naysayers reported that the Reebok CrossFit Nano 8 Flexweave caused heel slippage.
A handful of commenters were disappointed that the bumpers did not offer protection during toes-to-bar and burpees.
Bottom line
The Reebok CrossFit Nano 8 Flexweave was generally well-loved by the consumers. It was regarded for its versatility, comfort, and cozy fit. CrossFit aficionados also commended the flexible forefoot and supportive heel. Despite a few minor gripes about the shoe, it generally exceeded users' expectations as
an all-around CrossFit trainer
.
Best price from 50 shops
We earn affiliate commissions at no extra cost to you when you buy through us.
84% say it's true to size.
Our reviews
When it comes to crossfit shoes, the main model most people recognize is Reebok's Nano series. Nano was initially introduced in 2011 after the company launched a partnership with Crossfit Inc.
Fast forward 7 years, Nano 8 Flexweave was introduced in January 2018. Reebok definitely takes this business seriously and makes gradual improvements over time.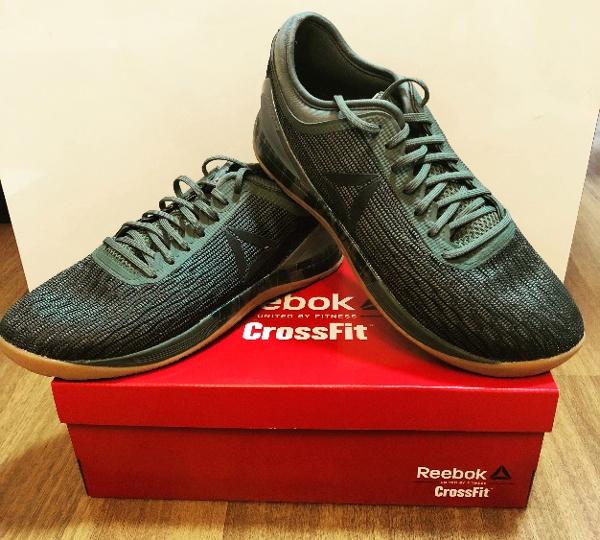 Structure
One of the changes Reebok applied in this model is the inner sole the shoe has. This part of the shoe is separate from its outsole and allows users to wear the shoe even on barefoot. It provides flexibility during the training.
For a strength training shoe, one of the first attribute consumers are looking for is durability. In general, durability means tougher outsole materials causing less flexible shoes. However, when I train with them at very challenging paces, I can feel that the shoe is a continuation of my body, providing enough flexibility I demand.
Flexweave outsole provides enough breathability without sacrificing durability. I may not be a fan of rope climbing but in order to test it, I did a few and the shoe doesn't show any wear and tear from this exercise. I believe the cross-weave design is providing this extra durability and pretty sure that it will last long enough before you would like to change to a more current model.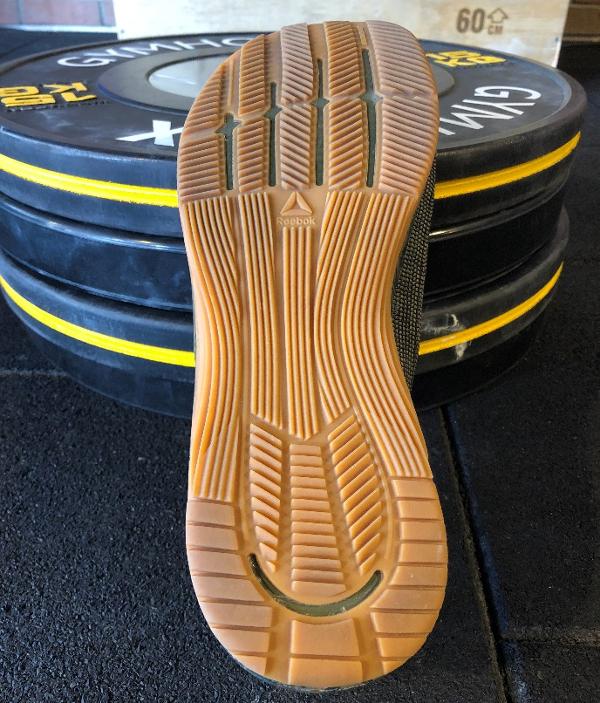 User experience
One common point of Nano 8 Flexweave with Nano 7 is the plastic heel cup. This is an important feature for me since as a runner, I do leg focused training and I'm not comfortable changing shoes mid-training when it includes metcon and weights.
I did a fair amount of squats (back, front and overhead) and I can easily say that I feel the support from the plastic cup. Yet of course, it is not a weightlifting shoe so the support would be limited (especially without elevated heel) but I didn't feel any insecurity.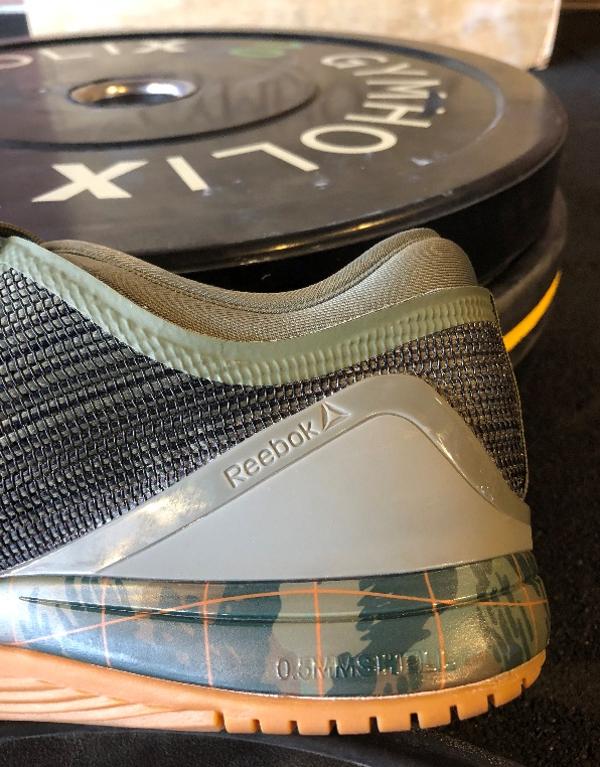 As I indicated, since my training is more focused on legs, I am benefiting from the wide toe box that the Nano 8 Flexweave offers.
The main reason is that as an overpronator, I always feel comfortable and has more grip when I spread my toes as much as possible. With a wide toe box, this is possible.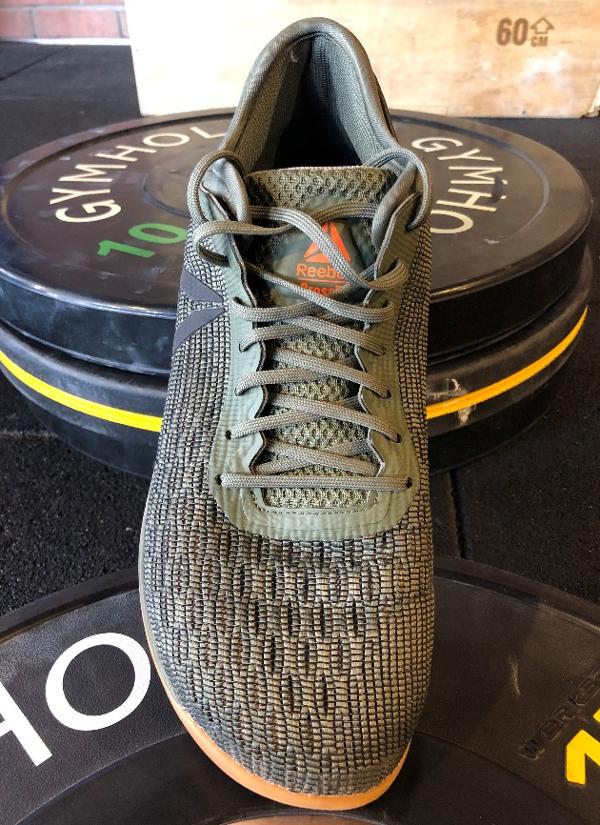 Verdict
If you are looking for an all-around shoe which you can use during different types of exercise, Nano 8 Flexweave is the choice you should make.
The shoe provides enough stability and support for weight training and as a result of its flexibility during plyometric training, it won't slow you down.
Profile of the Reebok CrossFit Nano 8 Flexweave
The Nano 8 Flexweave belongs to Reebok's prominent line of CrossFit shoes and takes cues from the original Nano 8. What makes it different is the updated upper. The newer version has been re-engineered for enhanced breathability, support, and durability. It sports a Figure-8 construction that ventilates and reinforces targeted areas.
Outsole
Durable rubber protection. The bottom of the Reebok CrossFit Nano 8 Flexweave is made from high-abrasion rubber. This compound is engineered specifically to deliver traction during dynamic routines involved in CrossFit and other high-intensity workouts.
Unhindered forefoot flexibility. At the forefoot, the "Metasplit" marking is clearly visible. It pertains to the deep grooves that mimic the phalanges of the foot, allowing the outsole to bend and move naturally with the foot.
Rope climbing add-on. The RopePro technology is seen at the lateral and medial sides of the midfoot. It has ridges that aim to bite the rope during rope climbs and descents for controlled motions.
Midsole
All-around support. The shoe uses a dual-density midsole to fulfill the various demands of CrossFit. The heel area is created to be rigid to give support during lifts. On the other hand, the forefoot is more flexible and cushioned to cope with high-intensity fitness routines and plyometrics.
4-mm drop. Such minimal heel-to-toe differential grants secure footing to the athlete. It leads to a more stable platform during heavy lifts.
OrthoLite insert. Inside the trainer is the OrthoLite sockliner. This component not only enhances comfort but also helps in attenuating shock that travels to the foot and the rest of the lower extremities.
Upper
Two layers of comfort. This unit of the Nano 8 Flexweave has two layers: the outer Flexweave and the inner cleatie sleeve. The outer layer features an innovative Figure-8 weave that interlocks each fiber for a durable and flexible support. Meanwhile, the inner cleatie sleeve gives the foot a pleasant sock-like experience. It offers comfort and a snug fit at the ankle area.
Extra protection with Toe Tection. The Toe Tection technology is installed on the upper to boost durability. It reinforces the toe box to prevent ripping and protect the toes against bumps during specific workout movements.
Stabilizing heel counter. At the back, a thermoplastic polyurethane (TPU) heel clip can be found. This structure is rigid, cupping the rearfoot to keep it steady and prevent slippage.
The next Nano in line
If you are a fan of what the Nano 8 Flexweave has to offer, then you might as well check out its successor, the Reebok Nano 9. Based on many user reviews, the newer iteration does everything that the Nano 8 does, but better. It is also described to have better side-to-side support and a more running-friendly design.
Rankings
How Reebok CrossFit Nano 8 Flexweave ranks compared to all other shoes
Popularity
No popularity data available for this shoe at the moment.