The Hoka One One is a niche brand that focuses on designing and manufacturing maximum running shoes. Developed by the French partners in 2010, Jean Luc Diard and Nicolas Mermoud, the brand is fairly a new presence in the running industry, but it already takes part in the new athletic movement participated by both casual and professional runners. Hoka One One running shoes are referred as "maximalist" pairs, in which a maximal cushioning in a lightweight platform can be noted. Based on running reviews, some of the popular men's and women's models in this new category include the Hoka One One Bondi, Hoka One One Conquest and the Hoka One One Clifton
Hoka One One Running Shoes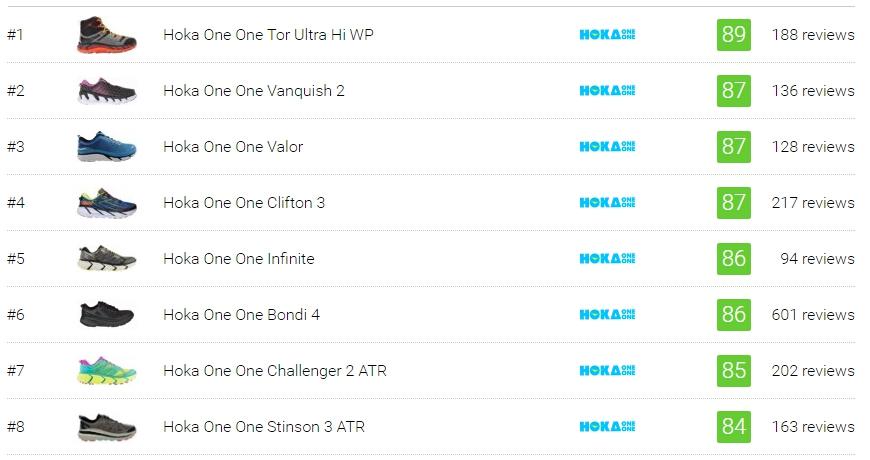 Designed with maximum comfort and a unique performance in mind, Hoka One One running shoes will keep runners light on their feet with great rebound properties and stability. Reviewers have pointed out that these maximalist shoes fare well for daily running and other casual activities. Its shoe ratings may not be as high as the ones from established brands, but the brand is truly pushing a running revolution. Hoka One One is translated as "time to fly" and runners will indeed have an energized ride on the road and trail.
According to 100, 000 reviews written by runners and sports enthusiasts, the maximalist revolution was further fueled by the existence of Hoka One One. Their progress and dedication in manufacturing top-notch cushioned platforms have increased their reputation in the running community. Read about Hoka One One shoes and how these make a difference in runners' lives.
What should you look forward to in Hoka One One shoes?
A natural running movement might not be expected in maximalist types, but Hoka One One minimalist shoes and Hoka One One low drop shoes will guarantee greater ground contact and flexibility on the road or trail.
The Hoka One One trail shoes are great for the off-roads and mountains since the incorporated technologies are specific for uneven and rugged terrain. As for roads, gravel and track, the collection of Hoka One One road shoes will guarantee top performance and protection against slight irregularities.
Racing-specific technologies can be observed in the construction of Hoka One One race shoes. Despite the bulk, you can expect a light platform that is designed for speed on the road or trail.
Pronation is a common biomechanical issue that is handled by the right type of shoe. High-arched and medium-arched runners are considered as neutral pronators, so Hoka One One neutral shoes will suit them well. Flat-footed runners need the stability-specific technologies and cushioning of Hoka One One motion control shoes and Hoka One One stability shoes. Their over pronation might lead to foot fatigue if ignored.
Why invest in the best Hoka One One running shoes?
Popularity. When it comes to maximalist shoes, Hoka One One is seemingly the top-of-mind brand in the running industry. As a young brand, Hoka One One focuses on the maximalist niche in conquering the community of runners, fitness enthusiasts and athletes. While many runners are doubtful in trying the best Hoka One One shoes, there are some who got convinced of the great benefits of a maximalist pair. Runner's World, Competitor, Outside Magazine and other sports authorities are slowly discovering what maximalist shoes have to offer to runners. In fact, in the past few years, the best Hoka One One shoes are awarded with various accolades and recognitions.
Pricing.Due to their maximalist cushioning, Hoka One One shoes are expensive. The brand ensures that the quality of the shoe remains top-notch from the upper to the outsole, so runners will get the value for their money with every purchase. The best Hoka One One shoes are determined to fall within the price range of $120 to $180. While fitness enthusiasts and casual runners might be discouraged to buy a pair because of the pricing, the maximalist cushioning will help them more than professional athletes.
Shoe technologies. Founded in 2010, Hoka One One's array of shoe technologies are still limited. However, runners are guaranteed performance and maximal comfort in every pair. Some of the popular technologies that are incorporated exclusively in the brand's performance collection are the Meta Rocker Midsole Geometry (Early Stage Meta-Rocker and Balanced Meta-Rocker), Speed Frame, Race Lace System, Lite Ride, RMAT outsole, Water Drainage System and Active Foot Frame among others.
This shoe has recently been added to RunRepeat. There are still not enough reviews for us to assign it a
Corescore
.
Corescore
A score from 1 to 100 that summarizes opinions from users and experts. The average Corescore is 78.
More...