I have been running with On Cloudflyer for more than 1,000 km (in two different pairs) and with so much time wearing them, I think it is good time to give this incredible shoe a review.
The Swiss brand is well known for their "Cloudtec" technologies. These are half decoupled cushioning pods that provide quicker release from the ground and intend to adapt to everybody's unique running posture.
With the second statement, whether you are overpronator or natural runner, On Running claims that you can use any of their models.
I have mild overpronation therefore, I chose Cloudflyer, which has 12 cloud pods that also provides enough support for the long runs.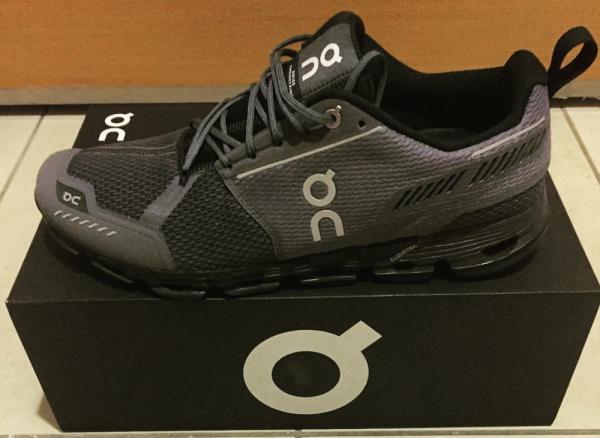 User Experience
I use my Cloudflyer in many different occasions. I used them for long runs up to 25km, and for short and fast runs. I used them on the treadmill and on the asphalt. I used them in a rainy day.
I can say that apart from rainy days, the shoe is very suitable for all conditions. During the long runs, you really have to thank "cloudtec" technology for allowing the shoe to be lightweight.
During your race day or fast runs, you will experience the "push back" from the ground. Cloud pods work very efficiently.
Grip & Cushioning
One comment I can make is, on the treadmill I always felt the ground much more than I did outside. So if you are a treadmill runner, you can consider other alternatives that provides more cushioning.
I can confirm general comments from many users about grip level during rainy day; it is more or less like driving around with slick tires.
Somehow, I felt like I need to be carefully otherwise, it would be easy to lose balance.
Cloud pods create another level between the feet and the ground, which increases "flight time" during your runs. I can say with high confidence that this results to a feeling of "running on clouds".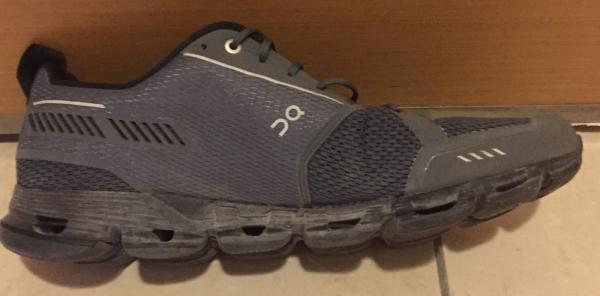 Even with the support it gives and cushioning it provides, it weighs just below 300gr (280gr to be exact) and I found that is a great weight for such a supportive shoe.
I have mild overpronation on my left foot and improving overpronation on my right one, and I never experience any kind of bad feeling after I completed my runs. No pains or bruises on my feet.
The mesh in upper part of the shoe provides good airflow during hot days. However, the protection from the rain is very limited.
With the decrease grip on wet surface, I concluded not to use my Cloudflyer during rainy days. If you would use only one shoe (which I do not suggest), you have to consider other options.
The Verdict
As a final words, my first pair was in Water and Flame (900km with them), and my second one is Rock and Black colors (200km with them), and both of them attract some attention with high quality of finishing.
From the first time you open up the box, to any day you put them on or take them off, you feel the high Swiss quality in every single part of the shoe.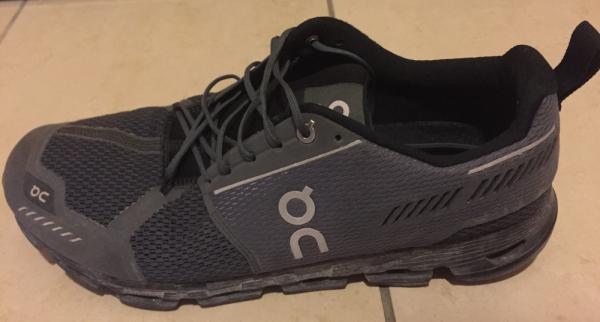 After so many distance covered, I still hesitate to give away my old pair, since they look quite all right from outside. I washed my shoes twice and no single color change and/or quality problems occurred.
If you are an overpronator and looking for a shoe that you can rely on during your training or your race day, I would strongly suggest On Cloudflyer.
When you process your order, it takes second thought due to high price (240 CHF as of now) but the shoe delivers what you expect for such a price tag.