I chose the Mizuno Wave Sky out of a catalog, researched the specs and took into account my need for a long distance shoe, I wanted something for marathons and Ultras.
Comfortable and functional was my criteria blueprint, the Mizuno Wave Sky resembled that constituent.

First Look (Unboxing)
The upper looks dated - stitched panels, mix and match of materials - more evident these days are seamless, no-sew, knitted uppers. With that same breath, I also admit that the shoe looks good in the traditional sense.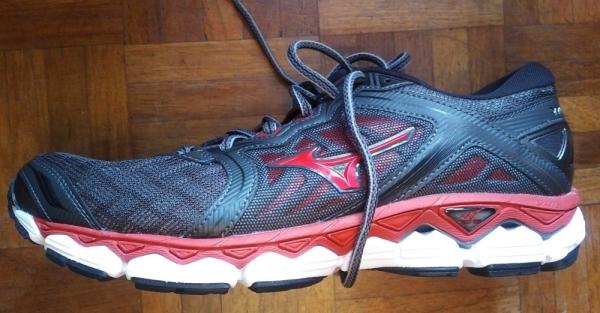 Material and build quality holds a high standard and no compromises – I looked the shoes well over and found no obvious flaws.
The outer sole is thick treaded and looks long lasting; a few runs will ascertain durability. Midsole has dual foam (light and spongy) that looks thick and plush.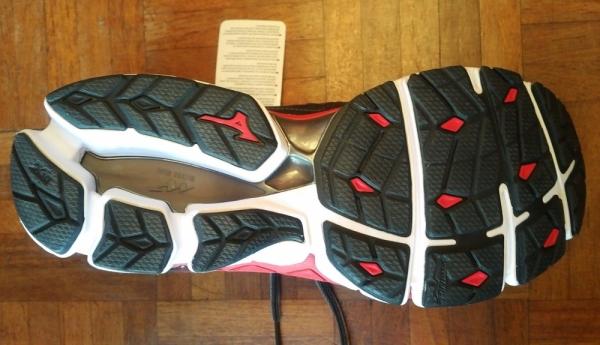 How Does It Run?
First run, the Achilles collar is well padded, your foot is locked firmly in place around the ankle. The stretch laces really help with footbridge comfort and lace tension.
I usually struggle with new shoes to get my laces to the perfect tension, this was so easy. The Mizuno Wave Sky has a full cushioned platform from back to front; I can only describe it as a bouncy marshmallow.
265km Later
The Mizuno Wave Sky is a hard working running shoe. Heel strike is smooth – push off on the forefoot is well padded. Landing feels like a cascading softness that rolls through the length of your foot as the mid-sole pods and outer sole lugs make contact through the transition.
Training runs and long runs are effortless with no hot spots or irritating rubbing.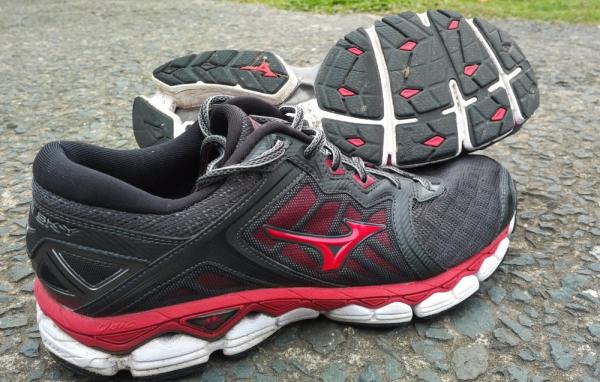 What To Like?
Spacious toe box
Excellent cushioning
Good heel & Achilles collar support
Thick durable Sole
Quality product & materials
What's Not To Like
Needs more ventilation
Heel cavity traps large stones
Pricey
Dated upper
Upper
The upper at face value looks mundane, until closer inspection and you will notice that there are so many different materials combined to make this upper.
There are different panels, underlays, overlays, supports, extra padding, stretch laces and reflective hill, there is also an additional length of "tape/ribbon" running under the big toe, I believe it to be there to prevent the toe from breaking through the upper.
You can see and feel that a lot of work, thought and tech has gone into making this upper.
On the other hand, I would like to see more integration of panels - more unity and simplicity, giving the shoe a more modern and lighter look. I would also appreciate a little more ventilation through to the toe box.
Midsole
The mid-sole consist of two layers of foam with a wave plate sandwiched in the middle.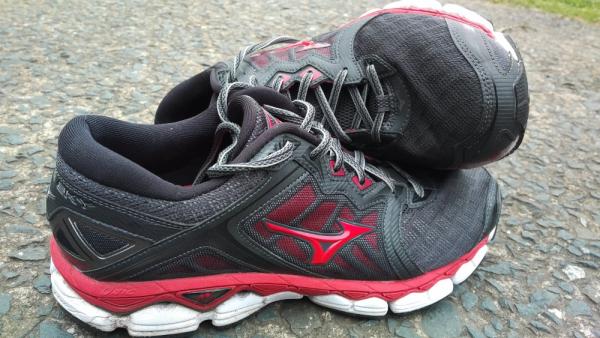 The wave plate and foam layers are at v-shaped arrangements from heel to toe. This V-shaped arrangement creates a cascading feel of cushioning through the landing. Cushioning is really good and at the same time push off is firm and not sluggish.
The heel cavity, however, traps large stones, these cause a lot of discomforts when pushed into your heel soft tissue when caught unexpectedly in running motion.
Sole
Plenty of rubber underfoot and surprisingly it does not make the shoe feel heavy. The rubber is firm but not clanky. I feel protected against irregular surfaces and confident that I might get a few extra miles out of the full sized lugs.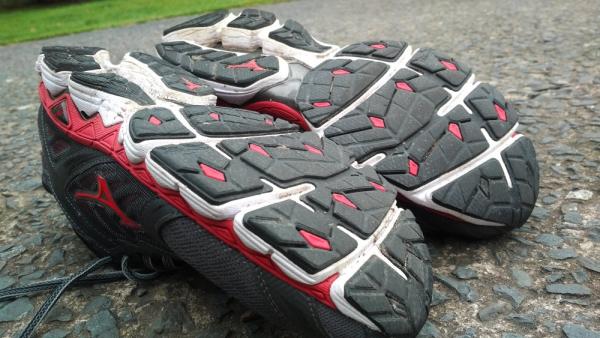 Durability is good, the thick out-sole shows minimum wear after 265km. Grip even in wet weather (grass or asphalt) was adequately presented.
Summary
Deluxe runner is what comes to mind when thinking about the Mizuno Wave Sky. It has an unusual cushioning that can best be described as a marshmallowy bounce. Quality materials, foam, and rubber have been utilized to manufacture a plush product.
For a runner who does vast training runs or ultras, sky's the limit as this shoe will get you there comfortably. My runs in the Mizuno Wave Sky consisting of distances between 10-32km, I felt less ground impact and reduced shock at my joints.
It has been a fortunate opportunity for me to have experienced one of my best rides in the Mizuno Wave Sky; really a nice smooth enjoyable ride.