7 Best Nike Cross-training Shoes in 2023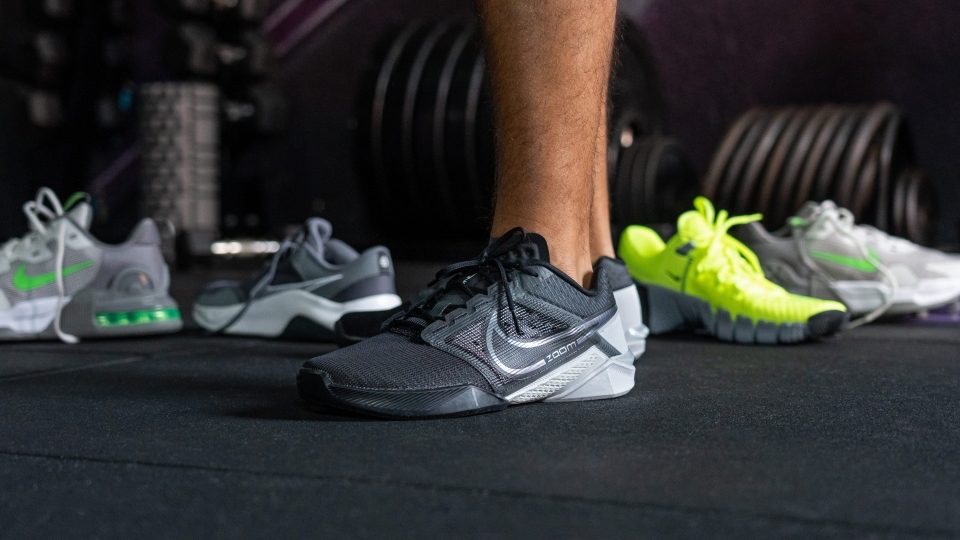 We earn affiliate commissions at no extra cost to you when you buy through us. Why trust us
From the do-it-all Nike Free Metcon series to the ever-popular Nike Metcon models, Nike offers several of the most highly-rated cross-training kicks that can handle multiple exercises. Whatever hybrid training needs you may have, there's a pair of Nike fit for you.
With an impressive variety of quality Nike cross-training shoes available today, it can also be a bit mindboggling to decide which pair is the best for you. To help you with that, we've acquired cross-training kicks from Nike and personally discovered all the positives and negatives behind them.
We tested them in different conditions and circumstances related to working out and we logged everything we observed. After that, we concluded which is the best overall and in various categories. Check out our top picks.
Comparison of the 7 best Nike cross-training shoes
| | | | | | | | | |
| --- | --- | --- | --- | --- | --- | --- | --- | --- |
| Best | | | | | | | | |
| CoreScore | | | | | | | | |
| Users rating | | | | | | | | |
| Experts | | | | | | | | |
| Best price | | | | | | | | |
| Ranking | | | | | | | | |
| Popularity | | | | | | | | |
| # of colorways | | | | | | | | |
Buyer's guide on Nike cross-training shoes
Nike has a long history of producing high-quality athletic footwear. Its cross-training shoes are designed to provide support, stability, and comfort for a variety of workout types.
What to look for in your future Nike cross-trainers
There are a few important parameters to consider before you buy a pair of Nike training shoes. Ticking off the following few boxes in Nike cross-trainers will help you get the best out of your workouts.
Support and stability
If you include a lot of weightlifting into your routine, your trainer should have a firm and wide heel, a stiff heel counter, and lots of side support. The best shoe for the job is the Nike Metcon.
Cushioning
The level of cushioning you need depends on the type of activities you will be doing. We use a durometer to measure each shoe's softness level and a caliper to find out its cushioning thickness. Most Nike cross-training shoes have a good balance of cushioning and support but some offer a little more cushioning for jumps and runs. Consider the Nike Air Zoom SuperRep if you focus on aerobics and cardio.
Breathability
Look for shoes that allow your feet to breathe, this will help to prevent your feet from overheating and prevent blisters. We assess each shoe's breathability level in our lab with the help of a smoke-pumping machine. Most Nike shoes have plenty of airflow but the Nike Zoom Metcon Turbo proved to be the airiest.
Durability
Cross-training shoes should be able to withstand the wear and tear of different types of activities. We put each Nike shoe through a series of durability tests involving a Dremel.
The most wear resistant by far is the Nike Metcon (on the left).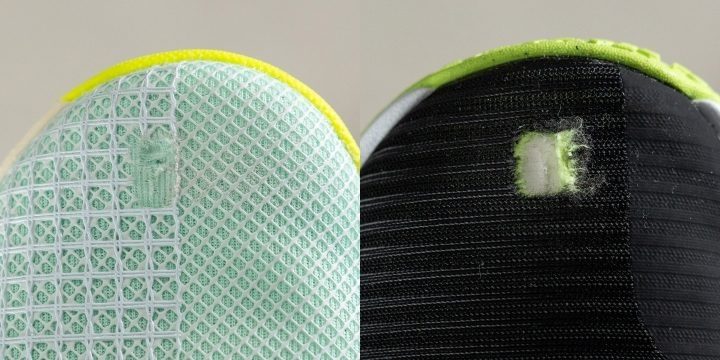 Flexibility
Cross-training shoes should have a flexible sole that allows for natural foot movement and help you pivot, jump, and change direction easily. If you prefer a very natural underfoot experience, get the super-flexible Nike Free Metcon. Or a Nike Flex Control, if you are on a budget.
Fit
Make sure the shoe fits well and is comfortable. Try on different sizes and widths to find the perfect fit. Make sure there is enough room in the toe box for your toes to move freely and that the heel is snug but not too tight.
We provide detailed information of each Nike shoe's fit on our lab reviews.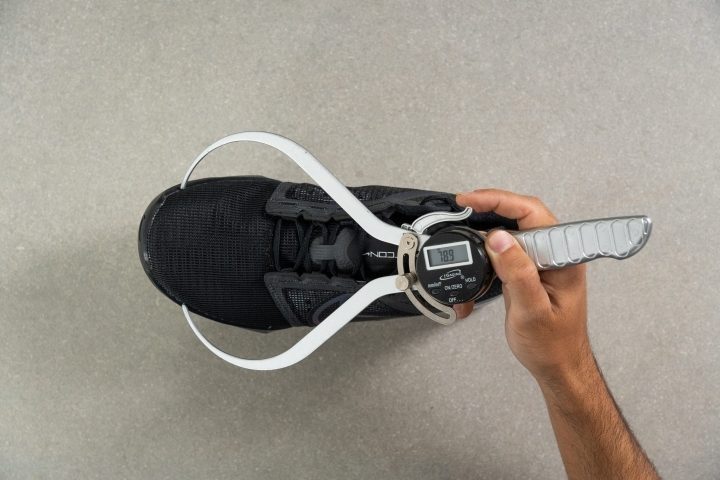 Cushioning technologies in Nike cross-trainers
Nike uses a variety of cushioning technologies in its cross-training shoes which vary depending on the shoe's purpose. Some of the most common types include:
React foam: The most common cushioning used in Nike training shoes. Durable and responsive, it also provides good impact protection and energy return.
Zoom Air: This is a type of pressurized air cushioning that provides plenty of energy return. These units are often found in the shoe's heel or forefoot.
Phylon: basic lightweight foam often found in the more budget-oriented Nike models.
In some cases, Nike also uses dual-density foam. It is a combination of two different types of foam where the firmer is placed in the heel for support and the softer one in the forefoot, for cushioning.
What's the difference between Nike cross-training shoes and Crossfit shoes?
Nike Crossfit shoes and Nike cross-training shoes are both types of athletic shoes that are designed for different types of activities.
Nike Crossfit shoes are specifically designed for the sport of Crossfit, which involves a combination of high-intensity functional movements, such as weightlifting, gymnastics, and cardio exercises. These shoes typically have features such as reinforced toes, sticky rubber outsoles, and sidewalls for rope climbs. Nike Metcon is the brand's flagship Crossfit shoe.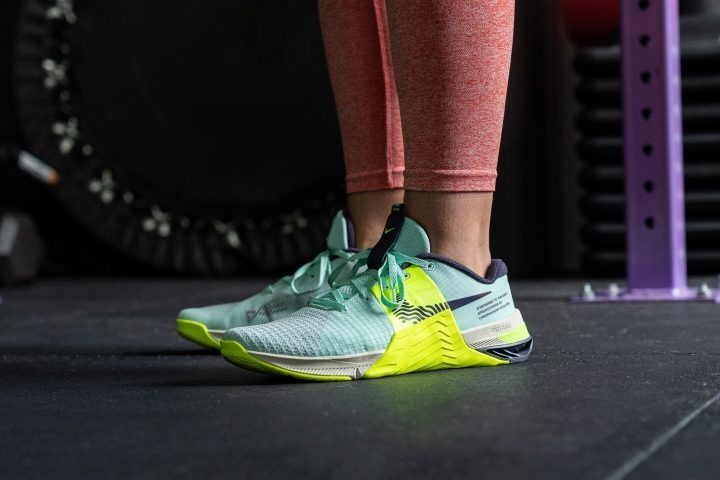 Nike cross-training shoes, on the other hand, are designed for a wider range of activities that involve a combination of different types of movements, such as running, jumping, lifting weights, and performing bodyweight exercises.
A brief history of Nike cross-trainers
Nike has a long history of producing athletic shoes for a variety of sports and activities, including cross-training. The company first began producing cross-training shoes in the 1980s and 1990s, with the introduction of models such as the Nike Air Trainer 1 and the Nike Air Trainer SC.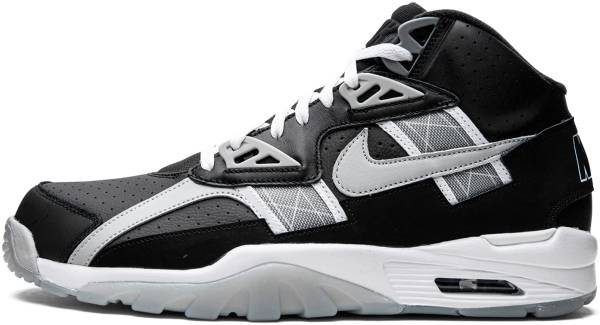 These early trainers had leather uppers and the iconic Air units. Nowadays, they have turned into retro sneakers.
In the early 2010s, Nike began to focus more specifically on the cross-training market, with the introduction of shoes such as the Nike Free Trainer and the Nike Metcon. These shoes were designed with features such as flexible soles, reinforced toes, and sticky rubber outsoles, making them well-suited for a wide range of cross-training activities.
How we test training shoes
Evaluating all the quality shoes in our repertoire requires serious testing in the gym. That means wearing the shoes for actual workouts to determine their real-world value and performance. We also analyze the shoes to their micro-level at the RunRepeat lab to check the technologies used.
Our selection procedures include the following:
Buy the Nike cross-training shoes for wear tests. We use our own funds for this to maintain our 100% objectivity.
Go to the gym for the hybrid training sessions, putting in around 10-20 hours for each particular model. We determine how the shoes feel and perform while doing multiple movements and workout regimens. We then take note of our assessments after each session.
Split the shoes in half and cut them into pieces. We also quantify the various properties of the training shoes. One thing we explore is stability. There are a few factors that affect this: platform width, cushioning, and overall and heel stiffness. Check out our reviews to know how we test for these parameters.